If you're confused about what to eat post IVF egg retrieval, then this is the post for you. With expert advice from a registered dietitian nutritionist and someone who has personally gone through IVF, we cover the basics and what you need to know to nourish you and baby to be.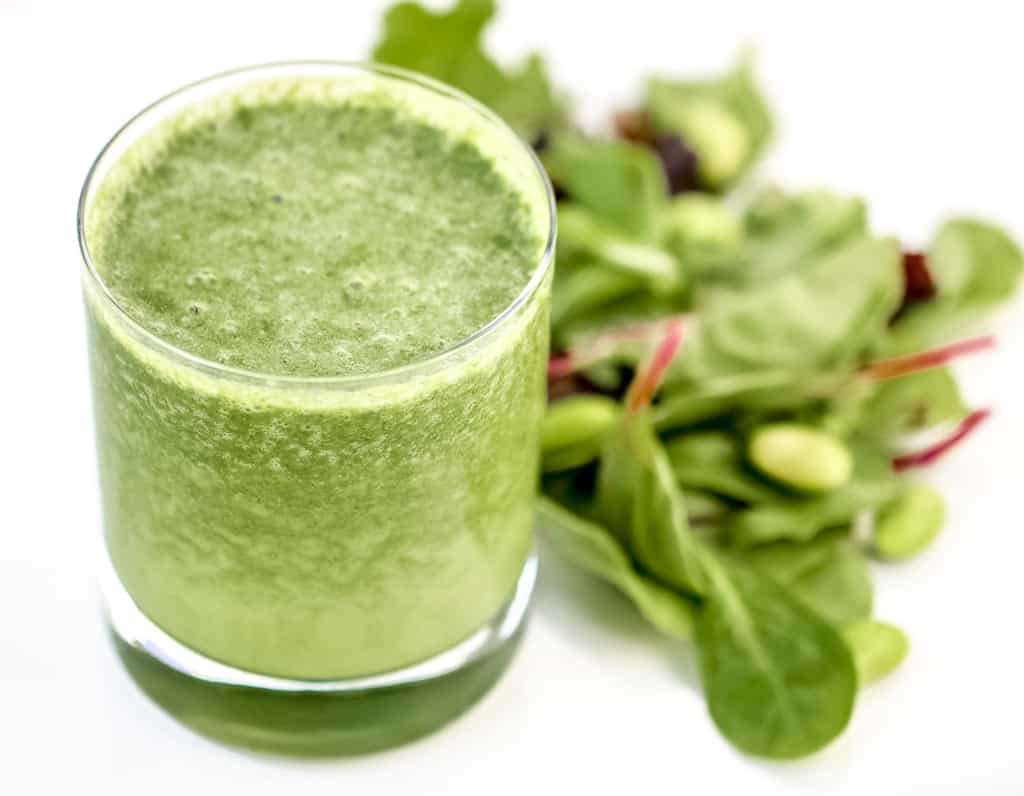 Nutrition Plan for IVF
This post is a long time coming. I've thought about what I wanted to share with you about how to nourish your body post egg retrieval for a long time but then never quite got the energy to sit down and write it.
It's funny because I'm realizing now why I've put this off: I was trying to erase the memories of the egg retrieval period during our first round of IVF.
Why?
Frankly, because it wasn't the most pleasant experience I've ever had! The pain, emotionally and physically, was more than I cared to remember!
But, that doesn't mean I won't for your benefit because I surely what you to be prepared! Before we get into the specifics of the nutrition plan post egg retrieval, let's talk about the actual process first.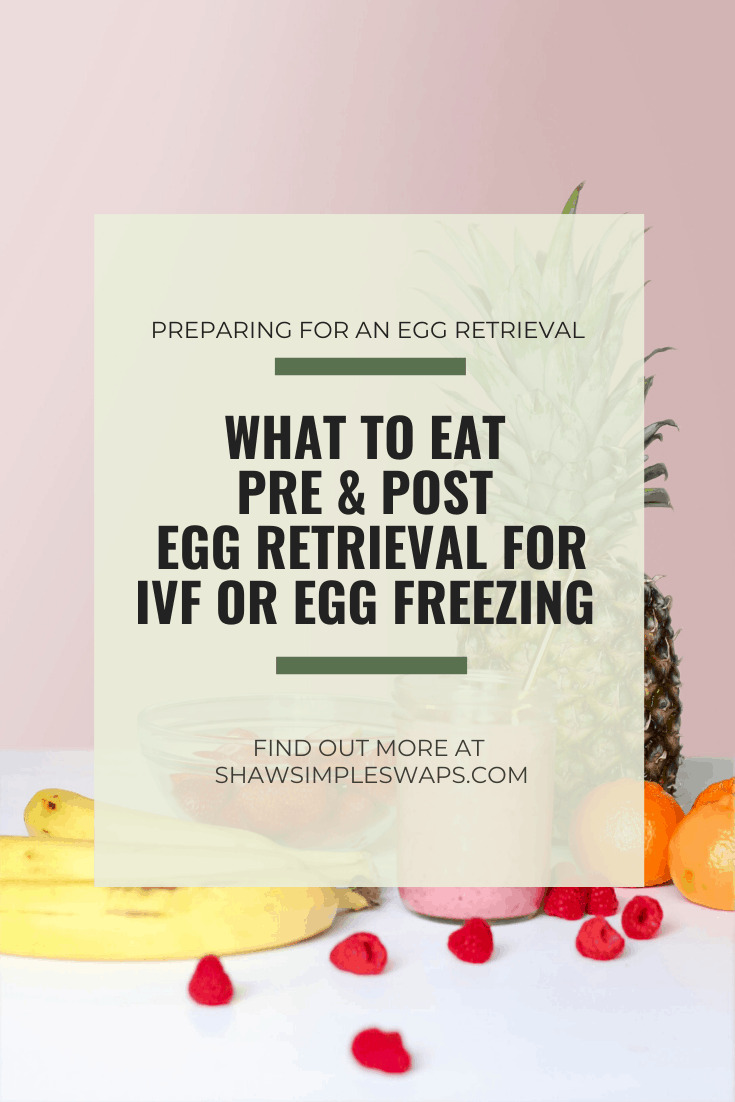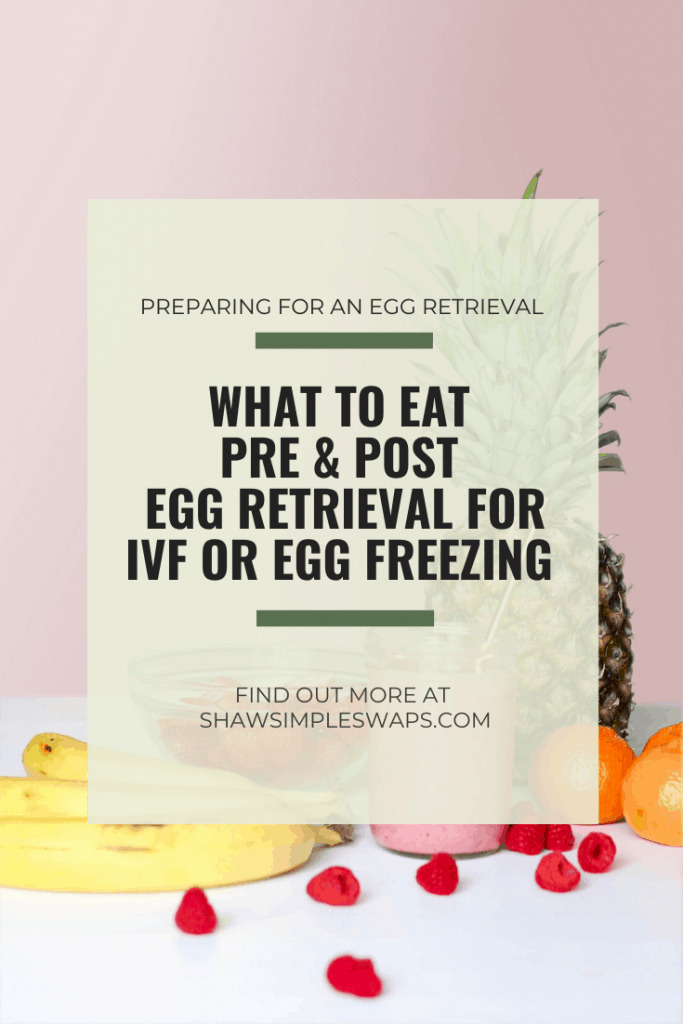 What happens during an egg retrieval?
Simply put, the whole experience with the egg retrieval went something like this from what I recall from my experience!
1. Enter facility. Undress, put on gown.
2. Mandatory weight check refused, settled on blind weight. Sit in chair.
3. Take pain killer. Take another pain killer, a precautionary measure I'm told.
4. Enter surgery room. Get hooked up to an IV.
5. Veins roll, IV insertion fails. Attempt 2, 3, 4, 5 and 6. Finally, a winner.
6. Arm numb, forget what I'm actually here for.
7. Stirrups aligned. Legs inserted. Zonk out.
8. Awake, see the hubs and lay for 30 minutes until released to go.
Now, it doesn't seem so bad, right?
Yep, that's what I thought too. But the kicker, between steps 7 and 8, a lot of puncturing, probing and priking went on. Though this will vary depending on the number of eggs retrieved, 2 or 20 eggs, both hurt equally.
I had 15 eggs retrieved, which essentially meant 15 puncture wounds to my ovaries by a looooong needle.
Well, suffice it to say, those precautionary pain meds came in use and definitely helped ease the pain initially.
When does the pain kick in post IVF egg retrieval?
While every person is indeed different with how their body will respond to the IVF egg retrieval process, most doctors will warn patients that day 3 and 4 post-op are usually the worst.
From my experience, this was spot on. I literally couldn't move. I sat in a chair, feet up with ice packs and heating pads rotating on my abdomen.
But, I've had clients who felt totally fine, just some minor cramping on these days. So, rest assured, everyone is totally individualized! Hopefully you will escape the pain too!
How to avoid Ovarian Hyper Stimulation Syndrome (OHSS)?
In order to help draw the fluid out of the ovaries and prevent accumulation in your abdomen, a high sodium diet is recommended post op.
This also can help prevent a condition known as OHSS (which can be life threatening if not addressed immediately. Learn more about OHSS here.)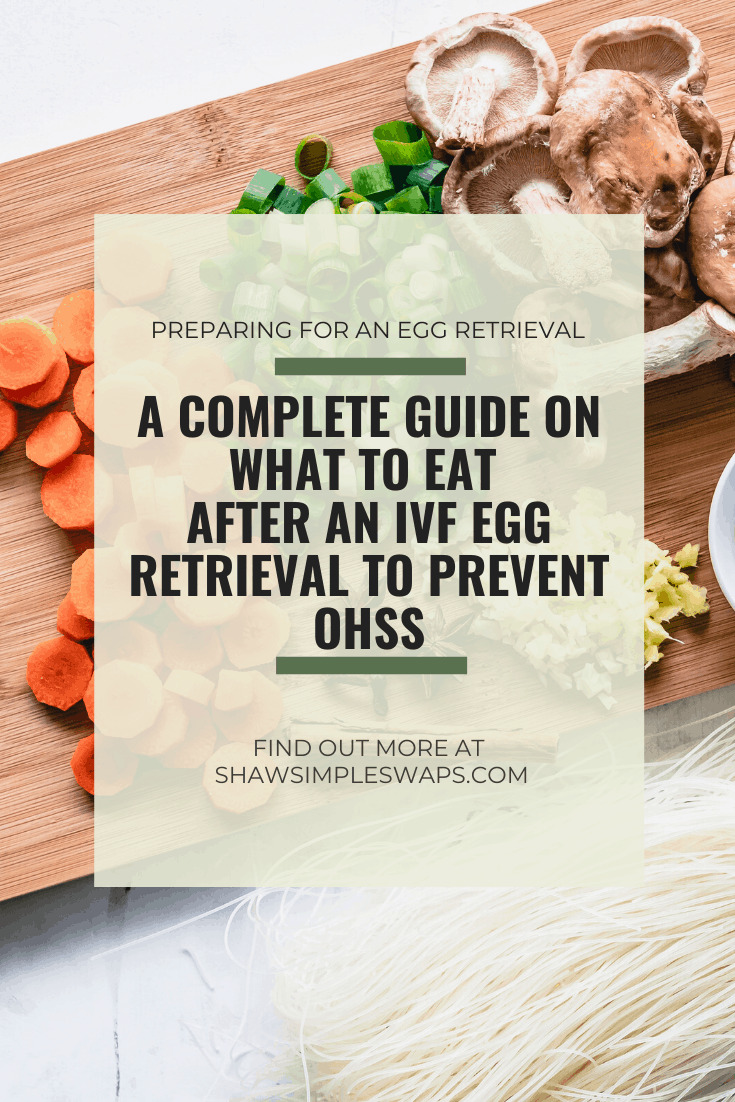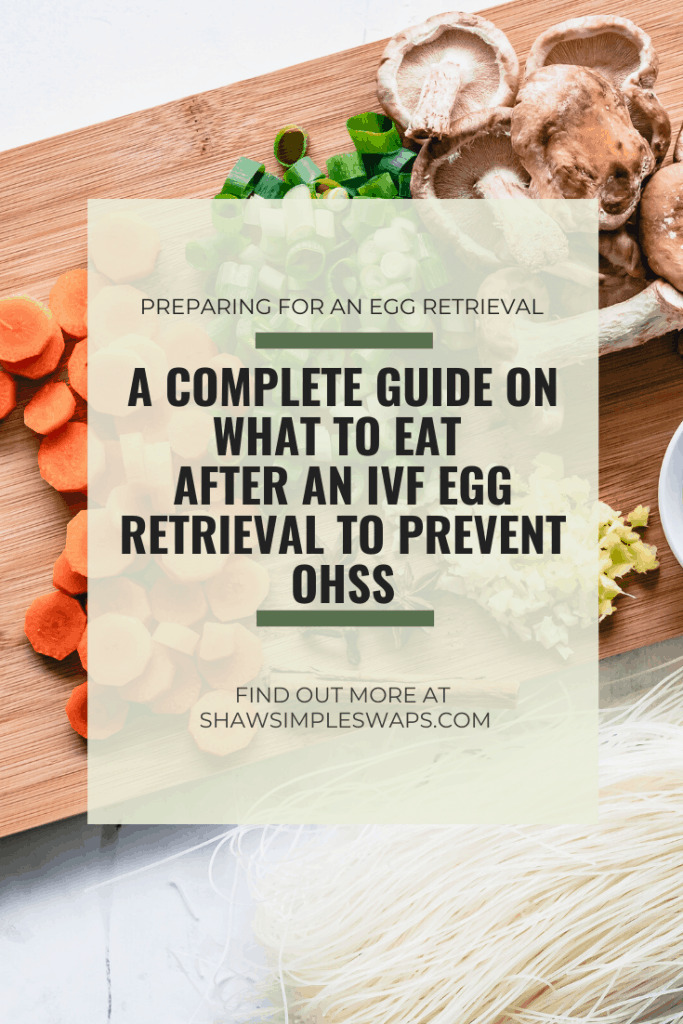 Yep, the big NO NO in society today is actually one of the first things your doctor will (or should) tell you when you leave.
You think a high sodium diet that is also nutrient packed would be easy for a professional to manage for themselves, right?
Wrong. There is so many other things going on inside your brain that even as a registered dietitian nutritionist I couldn't wrap my head around the right combinations of foods to eat!
Truthfully, I did the most anti-RDN thing ever post IVF egg retrieval.
I went and ordered a box full of fries and served them alongside cheesy pretzel thins and mustard.
Repeat this combo for 3 to 4 days and I gave myself a first class ticket to the WORST constipation I ever had in my entire life, coupled with extreme edema and nausea.
I consider that my "rock bottom" moment in this journey.
Sure, my doctor said the sodium intake worked for though I was still swollen, I bypassed the OHSS (ovarian hyperstimulation syndrome) that was a real concern. But, I was MISERABLE.
A valuable lesson learned- be prepared!
Recipe Suggestions for Post IVF Egg Retrieval
So my friends, I'm preparing all of us now with these sample high fiber and high sodium recipe suggestions to consider post IVF egg retrieval.
I'm not saying this will cure your baby blues, but I promise you, it'll help keep you sane, moving and hopefully ready to go for your 5 day transfer!
High Sodium Main Meals
* These meals can be eaten any time of day! Don't limit yourself, eggs make a wonderful evening meal!
Garden Fresh Omelet with Cottage Cheese – Shaw's Simple Swaps
Breakfast Pizza (sub with black beans) – Shaw's Simple Swaps
San Antonio Skillet – Shaw's Simple Swaps
Pistachio Turkey Meatballs – Shaw's Simple Swaps
Protein Packed Chicken & Bean Quesadilla – Triad to Wellness
Chili Cheese Taquitos – Homemade Nutrition
One Skillet Sausage Zucchini Casserole – Homemade Nutrition
Artichoke Bean & Tuna Salad – Cans Get You Cooking
Stir Fry Vegetables – Shaw's Simple Swaps
High Sodium Snacks
*Pair these with a big glass of water to help make sure your hydrated and keep the system moving!
Ancient Grain Snack Mix – Shaw's Simple Swaps
Salted Mocha Smoothie – Hungry Hobby
Loaded Lean Nachos – Shaw's Simple Swaps
Spinach Dip – Shaw's Simple Swaps
Roasted Peanuts – Shaw's Simple Swaps
Focus on making a list and prepping at least 3 to 4 items ahead of time. Though I wasn't given a specific sodium amount, I tried to hit 3500 mg a day during the 5 days post retrieval.
I failed on the fiber but for your own good, try to hit a minimum of 30+ grams a day!
Looking for a step by step approach to IVF nutrition?
If you'd prefer to have a handy guide right in front of you, don't worry, I've got you covered there too!
Checkout my latest book, The Stress-Free IVF Nutrition Guide, and relish in having an expert narrow down on what to eat, when, and what supplements to take, when, so you no longer have to stress!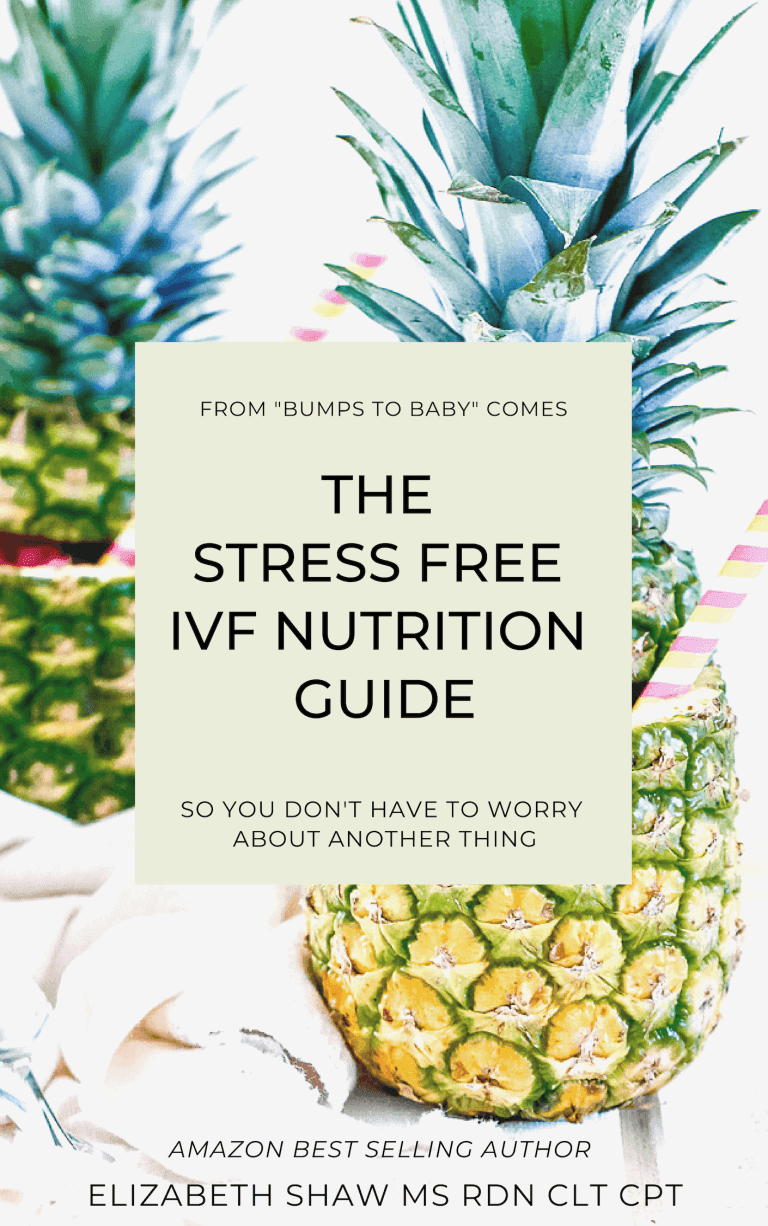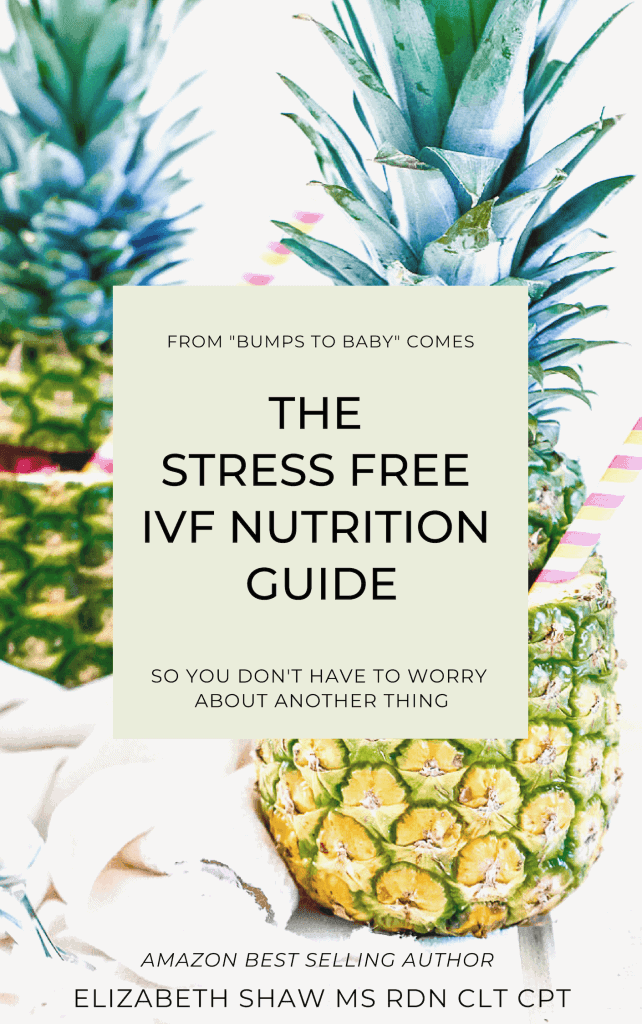 Questions? Comments? Don't be shy! Contact me here or reach out to me on social media @shawsimpleswaps so I can help!
Hugs & baby dust to you for a successful retrieval friends!