Take your meatloaf up a notch! Packed with Greek inspired flavors, this juicy Air Fryer Meatloaf Recipe is a crowd pleaser for all. Made in under 40 minutes, this air fried meatloaf freezes wonderfully and is a great recipe to simplify family mealtimes for the busy back-to-school season! Plus, it's packed with nutrient-rich beef, a foundational source of nourishment that supports a healthy diet and active lifestyle.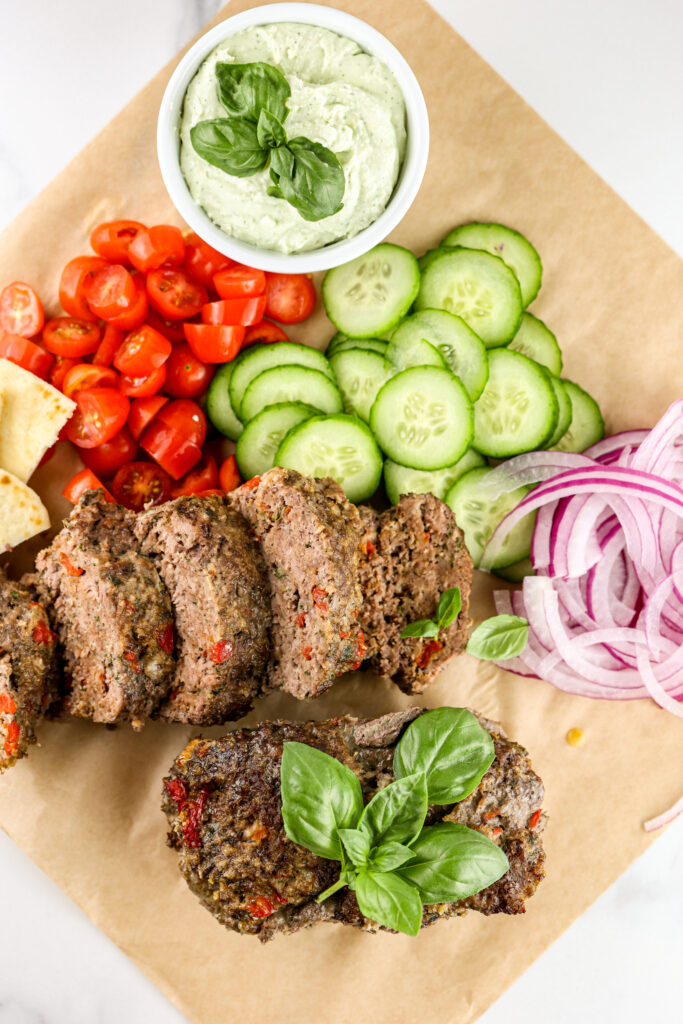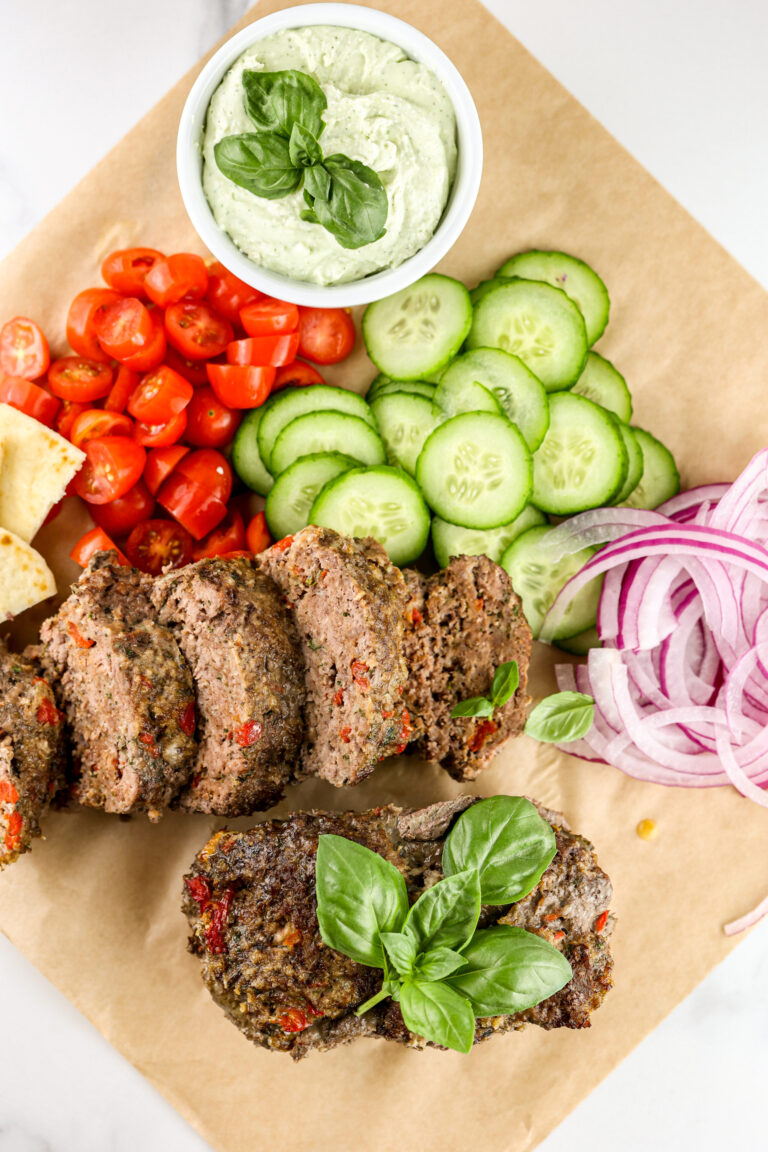 Disclosure: This post is in collaboration with Beef. It's What's for Dinner. managed by NCBA, a contractor to the Beef Checkoff. I received compensation, but all opinions are my own. Thanks for supporting the brands that keep the Shaw Kitchen running!
If the stress of going back-to-school and the return to a "new" sense of normalcy is weighing on you, then trust me when I say you aren't alone! This recipe was inspired due to my kindred spirit (or anxiety, TBD), to ensure you and I both have a solid recipe to fall back on when those crazy evenings leave you wondering, "What am I going to serve the crew for dinner tonight?!"
Why You Need to Make this Meatloaf in an Air Fryer Using Ground Beef
You're hot, it's hot, we're all hot. DYK that using your air fryer versus a convection or conventional oven actually keeps your house cooler? Yep! The compact air fryer allows you to cook your food thoroughly and tastefully but with less heat thanks to its smaller heating unit!
If that hasn't sold you, using your air fryer also keeps your electricity bill down in comparison to a larger oven, especially during peak hours! Air fryers cook your food in approximately 25% less time than an oven, resulting in less electricity being used! While I'm still waiting for a .gov resource to come out with a study to back this up, I promise you I am an air fryer expert! After all, I did write the book, The Air Fryer Cookbook For Dummies!
Now, the most important part of this recipe, you need to use Ground Beef. Yes, Ground Beef. Why?
Because Ground Beef has a stellar nutrient profile that provides your crew with not only a high-quality protein source, but also nine essential vitamins and minerals, like iron, zinc, and other B-vitamins. These nutrients help your entire family stay strong and healthy, physically, emotionally, and mentally!
Plus, nutrients like zinc found in beef also play an important role in your immune health, something I know many are eager to learn more about as we enter back into face-to-face learning!
Ingredients You Need to Make Meatloaf In the Air Fryer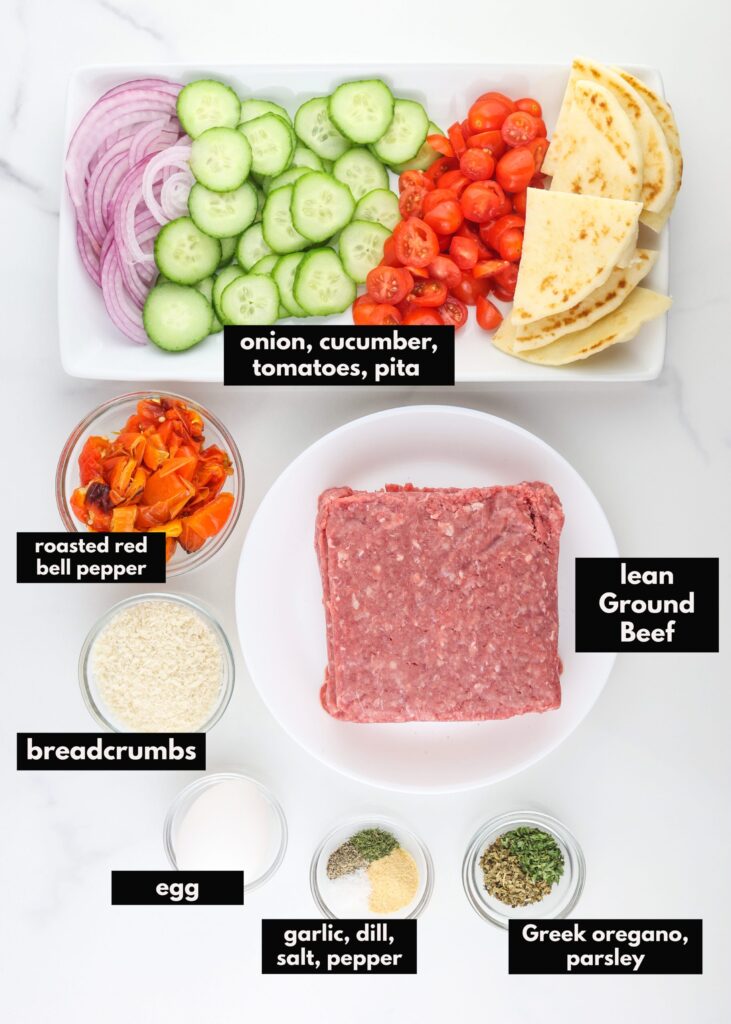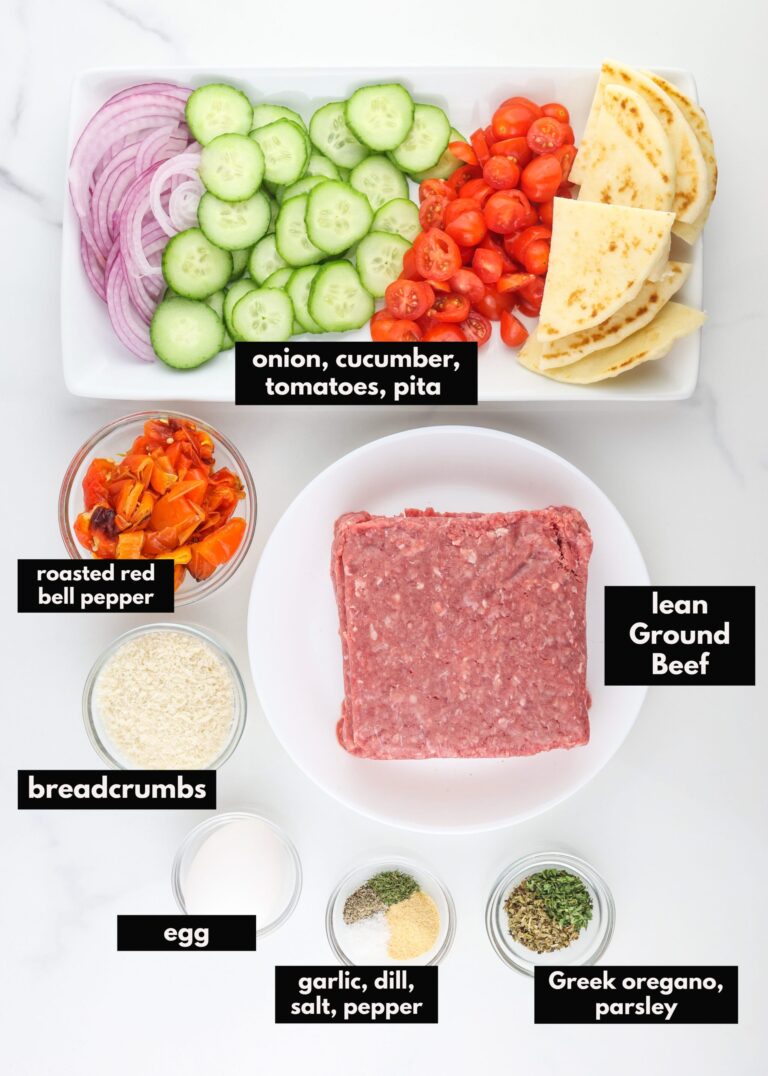 Ingredient Notes:
Ground Beef: Choose the desired level of leanness your family prefers. I opted for 90% lean/10% fat as that's what my market had on sale this week! But I did trial this recipe with an 85% lean/15% fat and that worked wonderfully too; so seriously, you do what works best for you (and your wallet!)
Breadcrumbs: I like to use a whole wheat breadcrumb in this recipe to boost the nutrition, but you can absolutely use what you have on hand. If you follow a gluten-free diet, be sure to purchase a gluten-free breadcrumb for this.
Roasted Red Bell Pepper: If you're tight on time, make sure to pick up a jar of roasted red bell peppers in water and keep it in your pantry. This is a great time saving hack! But, if you're making this during meal prep, roast up a big tray of mini bell peppers and save extra to serve as a side with the meatloaf.
Spices: I've experimented with a few staples I keep in my pantry to come up with this Greek inspired blend. There is nutmeg in this spice blend recipe (not mentioned above), however it is optional as I know it may not be a common spice in your cabinet (except maybe during the holiday season!)
Ingredient Swaps:
Breadcrumbs: You can sub in rice (like I've done in this recipe), but please note the texture and taste will be slightly different. This is really a suggestion if you need to keep this gluten-free and don't have gluten-free breadcrumbs on hand.
Egg: If you're allergic to egg, you can substitute an egg alternative in here, like a flax egg. To make a flax egg, combine 1 tablespoon of ground flaxseed with 2.5 tablespoons of water, mix, let sit 5 minutes, then combine in the recipe.
Spices: Purchase a Greek seasoning blend and add 3 teaspoons into the recipe, omit other spices.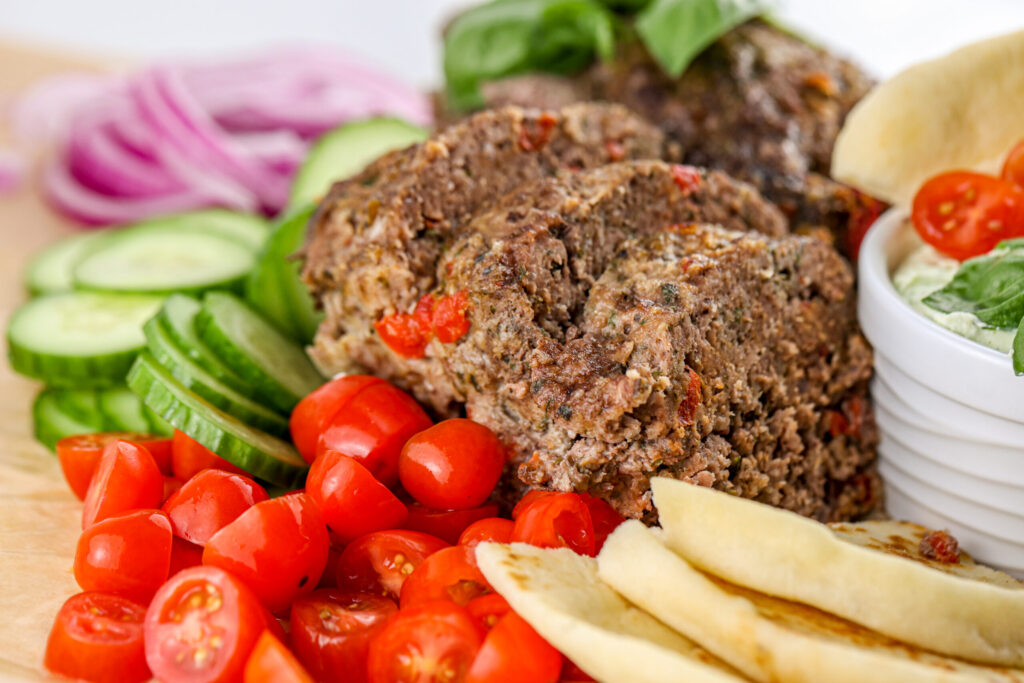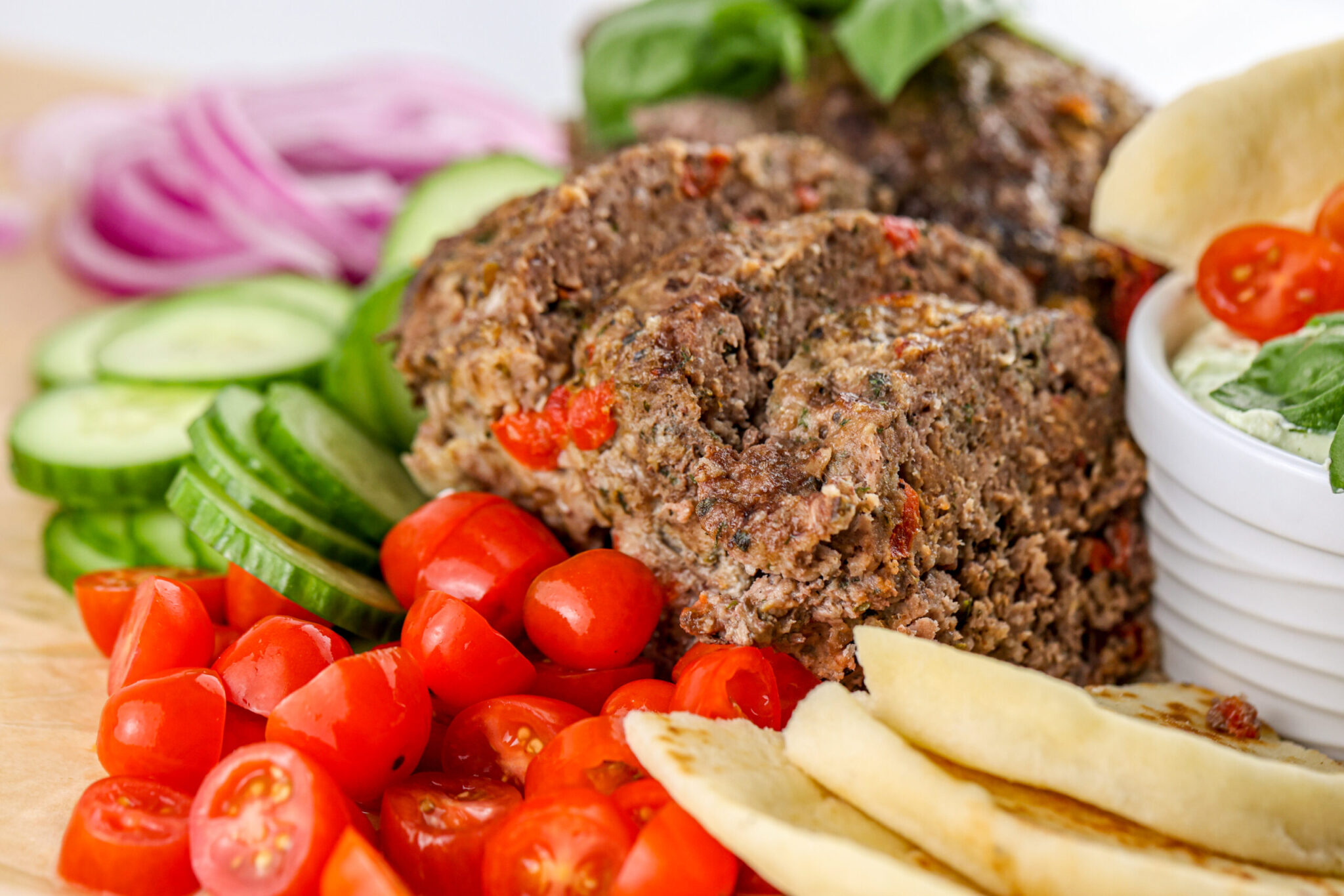 How to Make Air Fried Meatloaf with a Greek Twist
If you've got 15 minutes, you've got time to prep this meatloaf. And, the preparation could actually be done in 10 minutes if you pick up some of the suggested time saving swaps (see recipes tips and tricks below). Stick it in the air fryer for 35 minutes and viola, dinner is served!
Let me show you how easy it is!
Step 1:
Take the thawed, lean Ground Beef and add the spices to it.
Step 2:
Mix in the chopped red peppers, eggs, and breadcrumbs.
Step 3:
Liberally spray the 1-pound mini meatloaf aluminum pans (or silicon if you have them) with cooking spray.
Step 4:
Evenly portion the Ground Beef meatloaf mixture amongst the two loaf pans.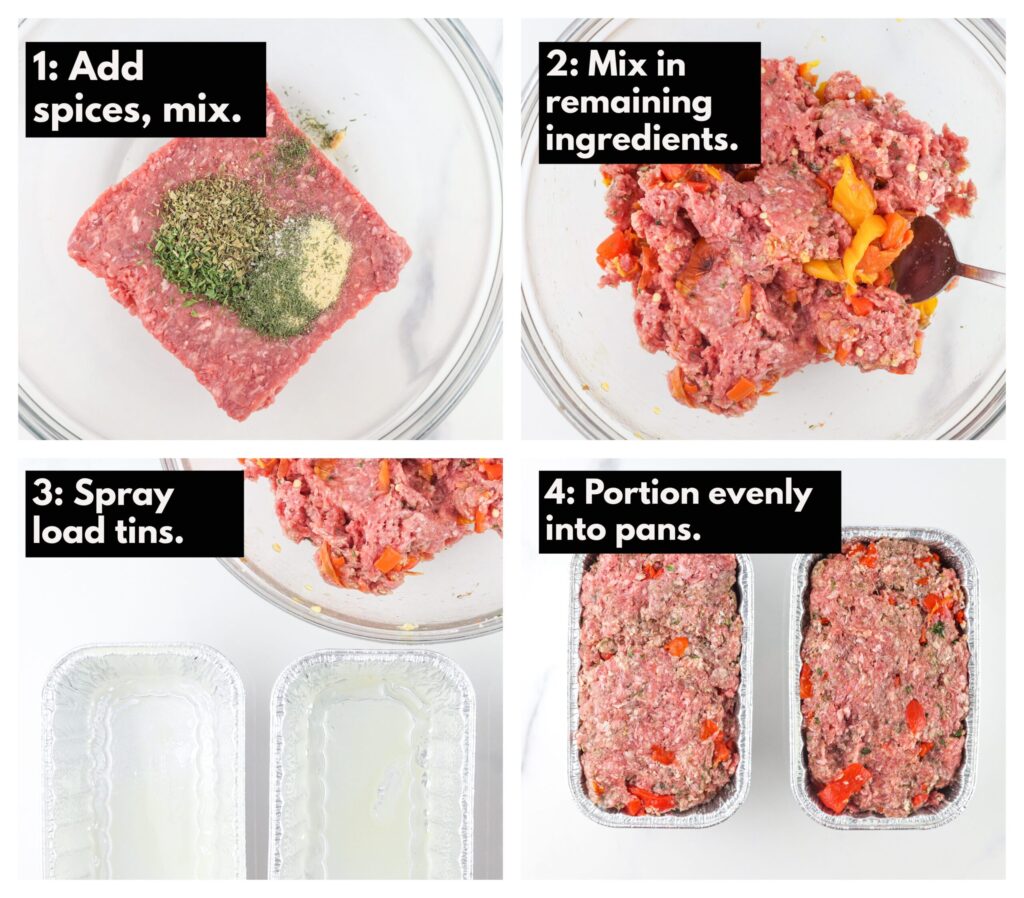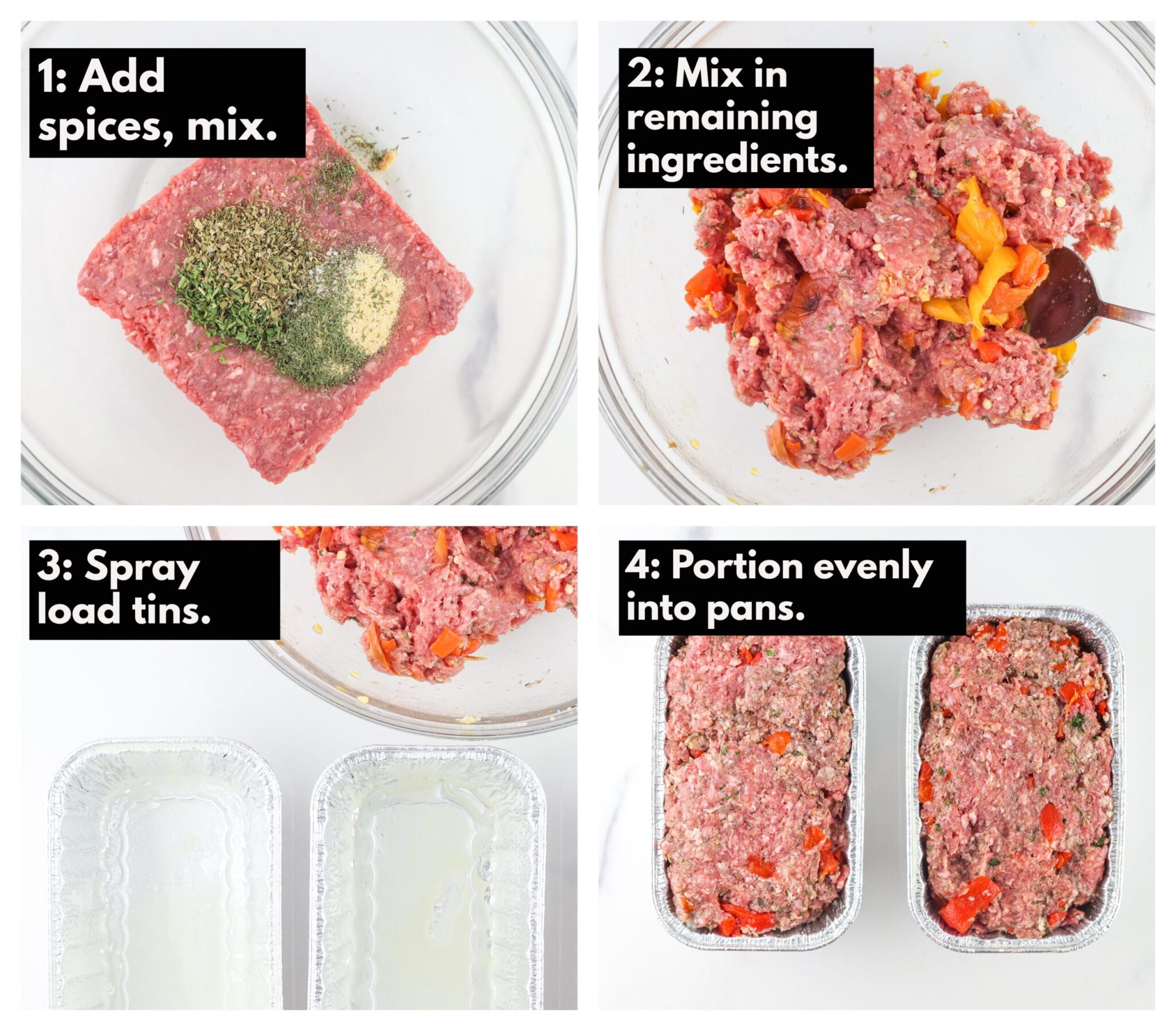 Step 5:
At this point, wrap the meatloaf pans in tin foil and place in the air fryer to begin cooking.
Step 6:
Set the air fryer temperature to 350 degrees F and place the two trays into the air fryer basket. Close the basket and set timer for 35 minutes.
Step 7:
When cooking is completed, remove the tin foil covers and place a thermometer into the meatloaf's center to test internal temperature. It should read 160 degrees when done. If it's not quite there, add 3 minutes back to the air fryer time and cook until 160 degrees F is reached.
Step 8:
Remove and let rest 10 minutes before slicing. Enjoy with desired sides!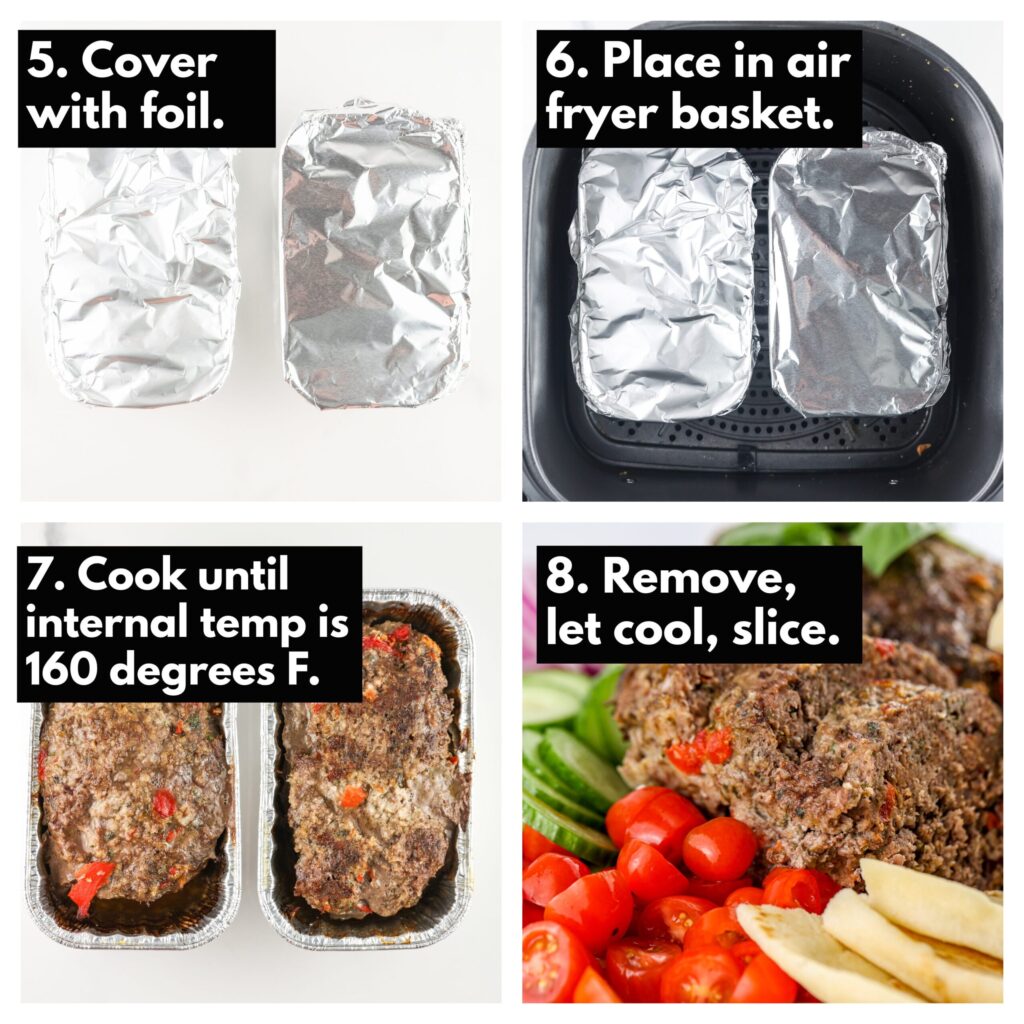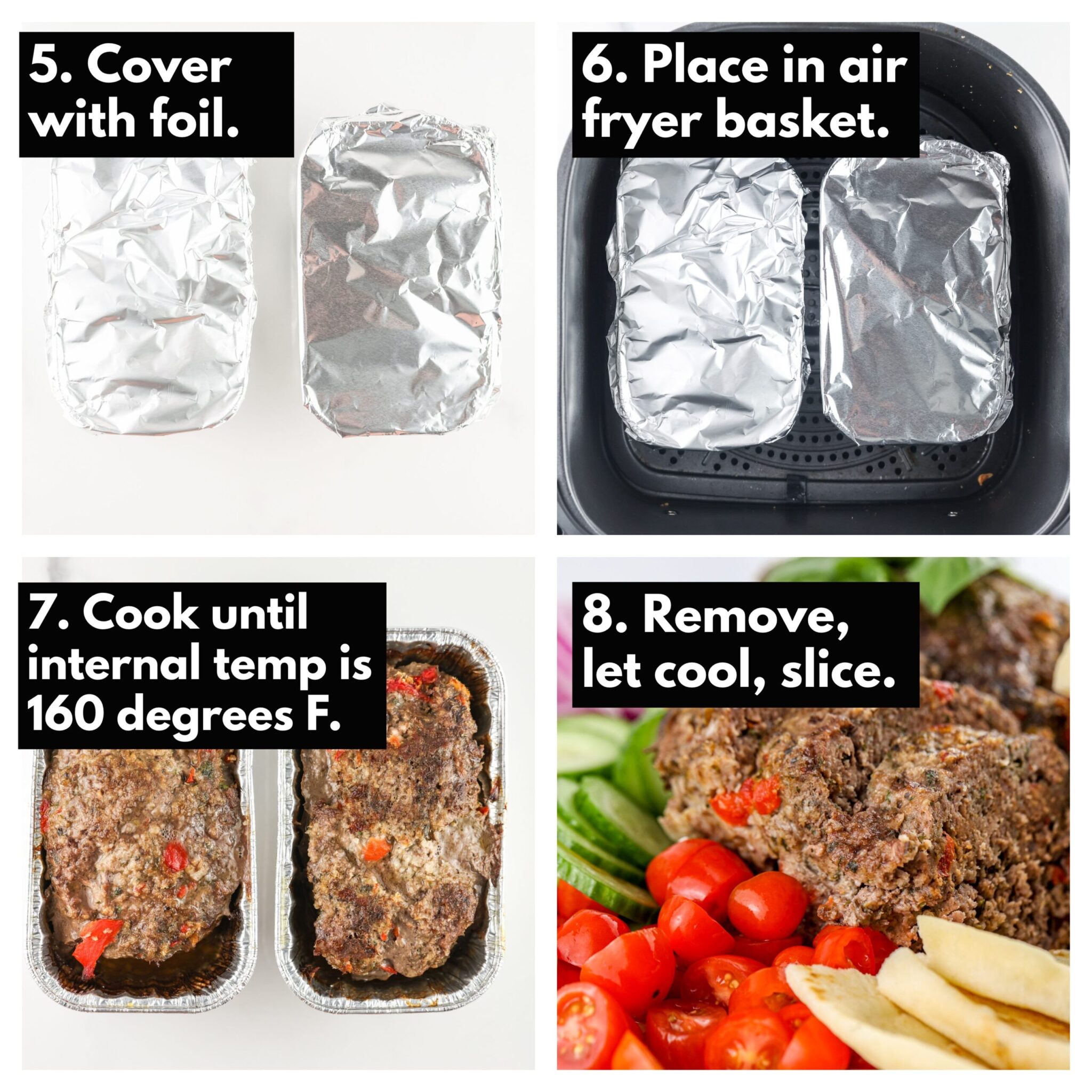 Recipe Tips to Make Meatloaf in the Air Fryer a Breeze
Keep these tips in mind as you add this recipe to your meal prep!
Stock up on mini loaf pans.

This allows for a no mess clean up and fits in almost every size air fryer!

You can purchase these at most major markets on the baking aisle or online. They do make silicon loaf pans as well that will work in your air fryer, so for a more sustainable option you can consider those!

Keep an eye on cooking time.

DYK every air fryer model actually "heats" differently? It may sound strange, but ask any air fryer owner and they'll tell you their air fryer gets "hotter" faster or slower than their friends and thus cooks a recipe either faster or slower than a recipe says. Get to know your air fryer and if you recognize it cooks "quicker," temp the meatloaf at 30 minutes to avoid overcooking.

Don't "over mix" the Ground Beef!

Use a gentle touch to maintain a tender and juicy texture.

Keep these food safety tips in mind when choosing your Ground Beef.

When selecting fresh beef, look for product with a bright cherry-red color and firm to the touch. Beef in a vacuum-sealed bag typically has a darker purplish-red color; when exposed to the air, it will turn bright red.

Always purchase beef on or before the sell-by date.

Ensure raw beef is safely and thoroughly refrigerated. Avoid temperature abuse of product.

Store your leftovers properly.

If you prep the meatloaf ahead of time to cook later in the week, be sure to refrigerate it and cook within 1-2 days for food safety reasons.

If you cook the meatloaf in the air fryer, you can store the leftovers in an airtight container in the refrigerator once cooled for up to 5 days, or in the freezer for up to 3 months.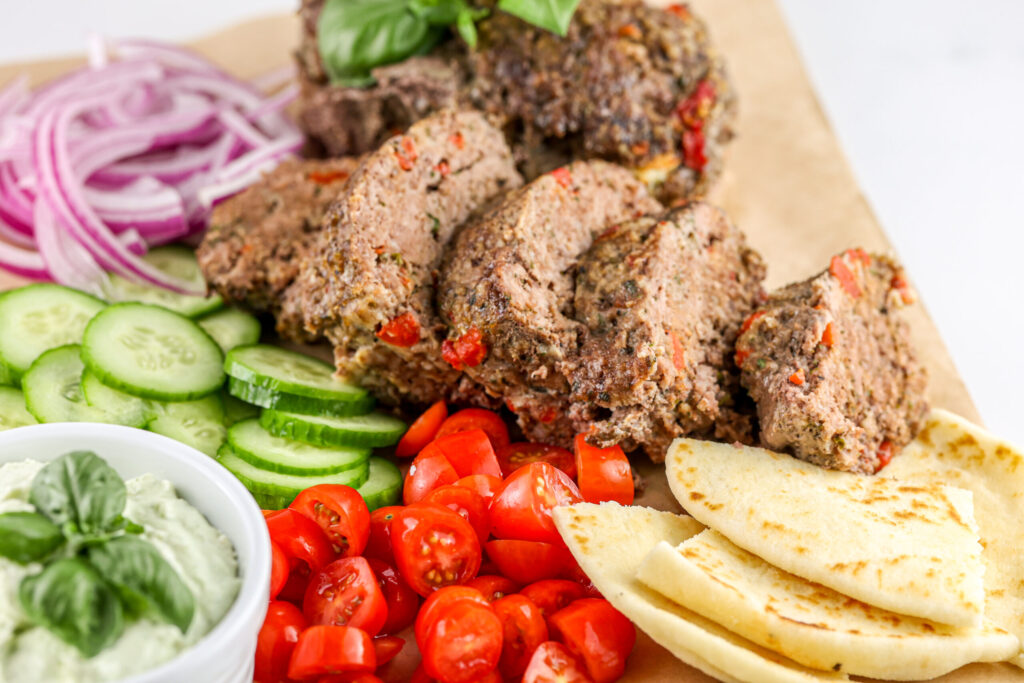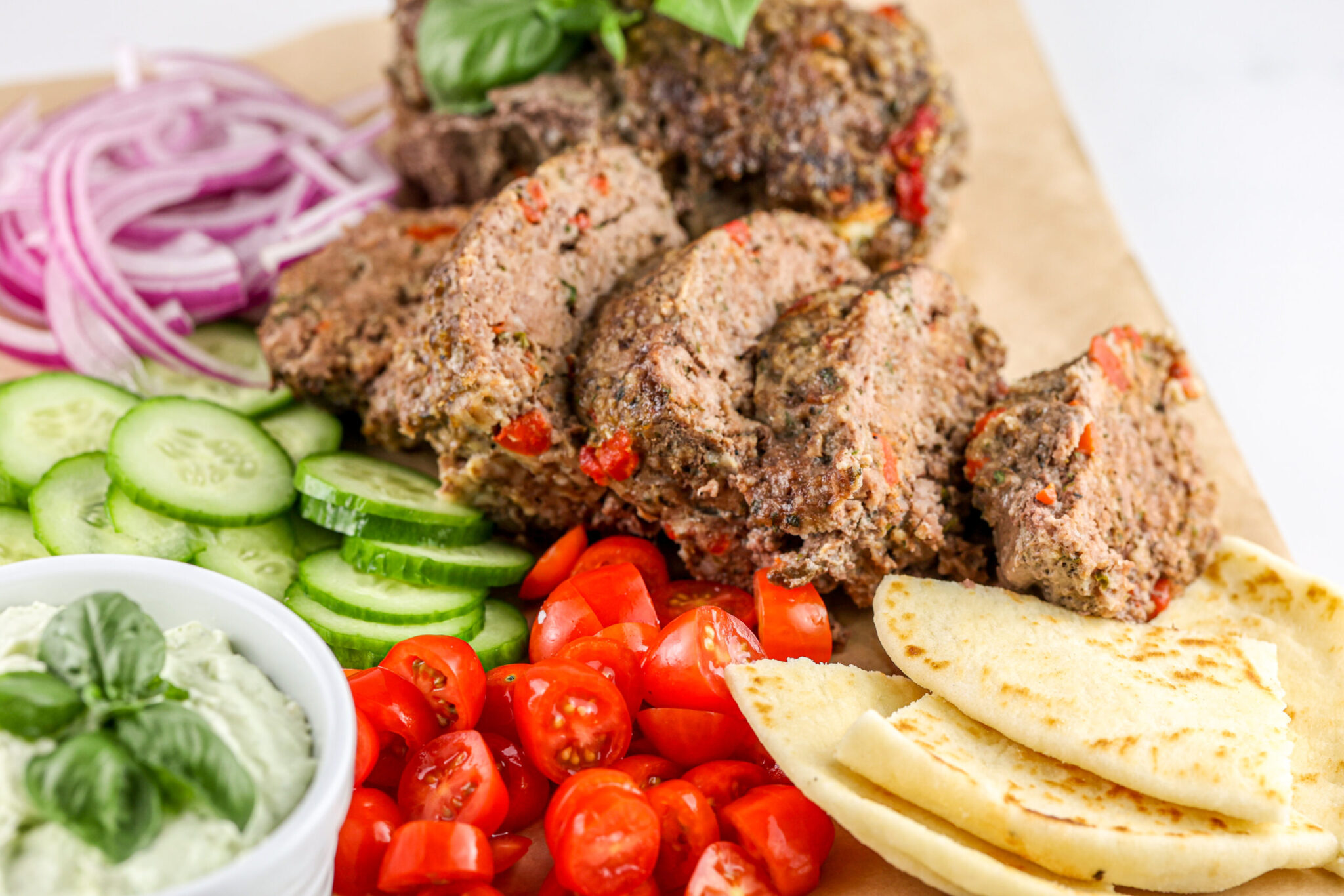 Ask the RDN FAQs: Nutrition & Beef
This section covers the most common questions I get from clients and followers about beef and the nutrition it provides, especially during the growing years!
I've heard a lot about beef being a "fundamental first food"? What does that mean?

Given beef contains 10 essential nutrients that are crucial in the first 24 months of life, it has been referred to as a "fundamental first food" by the Dietary Guidelines for Americans in their most recent edition. Incorporating beef in age-appropriate forms throughout a child's first 24 months allows them to receive the nutrients that will help support healthy growth and development.
Wait, should I only offer beef to my kids? Or is the nutrition found in beef important throughout the lifespan?
While it's important to offer beef to kids since it provides many important nutrients, like iron and choline, that support growth and development, it's also a wonderful, nutrient-rich source of high-quality protein that can serve as a great addition to one's diet throughout their life.

Do the nutrients found in beef vary depending on the type/cut?

Yes and no! But, let's make it very simple! All beef contains 10 essential nutrients, including protein, iron, zinc, choline, selenium, vitamin B6, niacin, riboflavin, vitamin B12, and phosphorus.

The main "nutrient" that varies will be the amount of fat the beef contains, with the leaner cuts being lower in total fat, as well as saturated fat, in comparison to other cuts.
Other Simple Beef Recipes to Prep Ahead for Back-To-School Season
If you try this recipe, would you please do me a favor and leave a star rating in the recipe box and/or comment below! This helps immensely in Google to continue delivering high quality content to you. And please be sure to tag and share what you made with me on social, I love seeing your creations! You can find me here: Instagram – Facebook – Pinterest!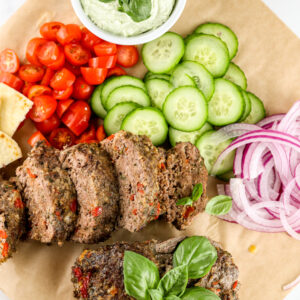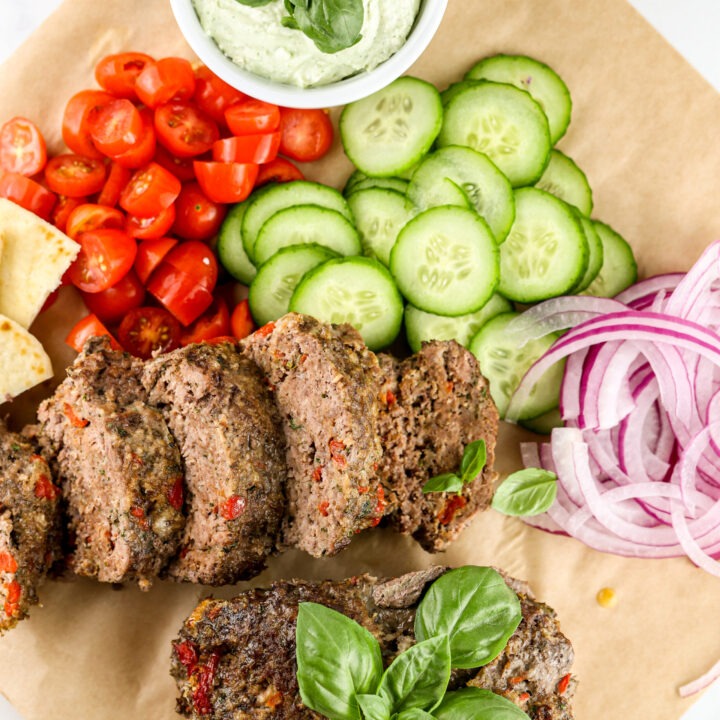 Air Fryer Meatloaf Recipe
Packed with Greek flavors, this juicy Air Fryer Meatloaf Recipe isa crowd pleaser for all. Made in under 40 minutes during your weekend meal prep, it freezes wonderfully and is a great recipe to pull out of the freezer to put dinner on the table in no time!
Print
Pin
Share by Email
Ingredients
24

ounces

90% lean/10% fat Ground Beef

2

teaspoons

Greek oregano

1

teaspoon

dried parsley

1/2

teaspoon

dried dill

1/2

teaspoon

garlic powder

1/4

teaspoon

dried nutmeg

optional

1/4

teaspoon

ground black pepper

1/4

teaspoon

salt

1

each

finely chopped roasted red bell pepper

1

each

large egg

1/2

cup

whole wheat breadcrumbs
Instructions
In a large bowl, mix together the Ground Beef and spices (Greek oregano, parsley, dill, garlic, nutmeg, black pepper, and salt.)

Mix in the chopped red bell pepper, large egg, and breadcrumbs until combined.

Liberally spray loaf pans with cooking spray or an olive oil mist, then evenly divide the meatloaf mixture amongst two mini (1-pound) loaf pans. Cover with aluminum foil.

Preheat air fryer to 350 degrees F and set the timer for 35 minutes.Place the two mini loaf pans into the air fryer basket, then close. Check the temperature of the meatloaves when timer stops to ensure they read 160 degreesF. Remove and let rest 10 minutes before slicing, or cool completely before storing.

Serve with desired sides like sliced cucumbers, tomatoes, onion, pita bread, and my Creamy Herbed Feta Dip.
Notes
Recipe Notes:
Recipe yields 2 mini loaves; or 8, 3-ounce servings
To make this recipe gluten-free, use a gluten-free breadcrumb or cooked rice in place of the whole wheat breadcrumbs.
If you need to sub out the egg, use a flax egg. Make this by using 1 tablespoon of ground flaxseed and mixing it with 2.5 tablespoons of water. Let it sit for 5 minutes before adding as the egg in the recipe.
Don't forget to spray your loaf pans with cooking spray or olive oil before putting the meatloaf inside. It makes a great difference in being able to easily get the meatloaves out of the pans!
Serve with my Creamy Herbed Feta Dip.
Storage:
If you prep the meatloaves ahead of time to cook later in the week, be sure to refrigerate them and cook within 1-2 days for food safety reasons.
If you cook the meatloaves in the air fryer, you can store the leftovers in an airtight container in the refrigerator once cooled for up to 5 days, or in the freezer for up to 3 months.
Nutrition Facts
Air Fryer Meatloaf Recipe
Amount Per Serving
Calories 171
Calories from Fat 81
% Daily Value*
Fat 9g14%
Cholesterol 56mg19%
Sodium 165mg7%
Potassium 279mg8%
Carbohydrates 6g2%
Protein 18g36%
Vitamin A 9IU0%
Vitamin C 2mg2%
Calcium 12mg1%
Iron 2mg11%
* Percent Daily Values are based on a 2000 calorie diet.