Looking for a delicious, mouth-watering beef Brisket recipe that won't take hours to make? Then this recipe is for you! These beef Brisket Nachos come to life in under an hour and can easily be transformed into tacos or a beautiful, nourishing salad too. They're the perfect way to stretch your dollar while still enjoying a hearty protein like beef!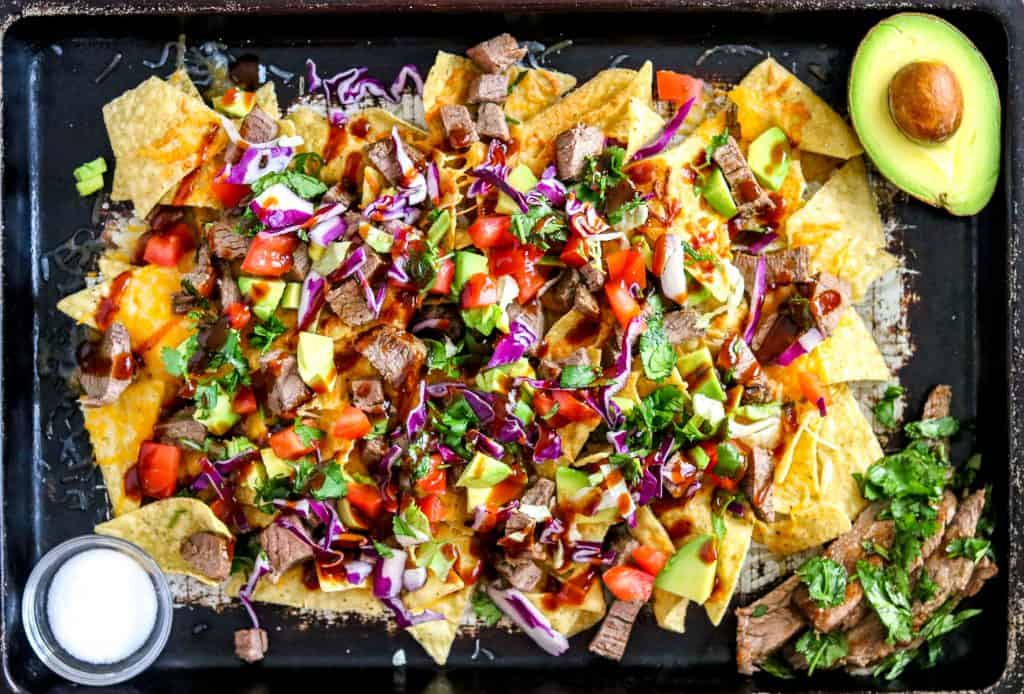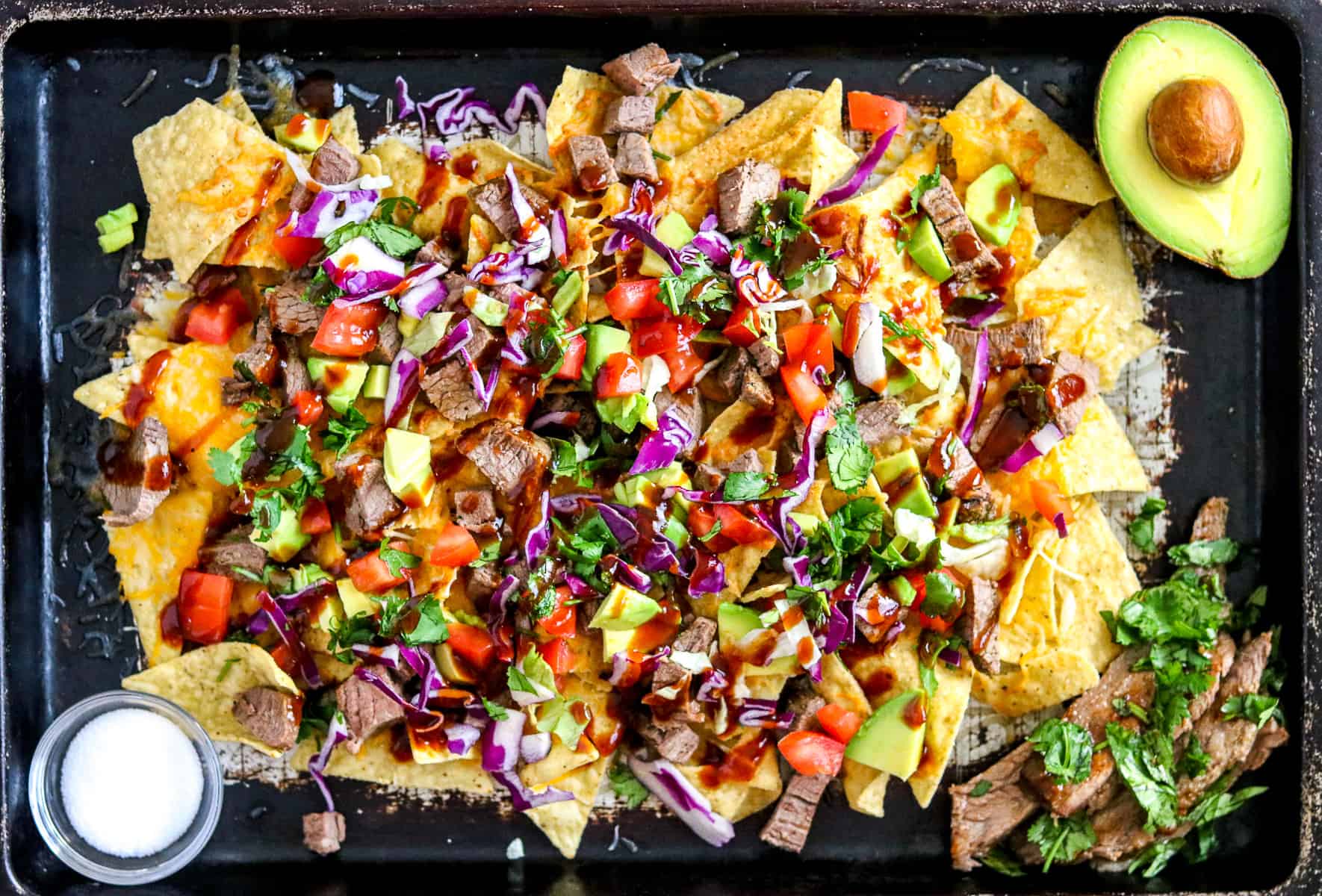 Disclosure: This post is a collaboration with Beef. It's What's for Dinner. on behalf of the Beef Checkoff and the #MeatTheMoment campaign. As always, I only work with clients I myself purchase for the Shaw Kitchen. Thanks for supporting the work that keeps Shaw Simple Swaps running!
Are you team nachos or tacos?
Lucky for you, I'm not making you choose sides today. While I'll show you how to make a tender, mouth-watering beef Brisket, the choice is up to you if you want to enjoy it on top of nachos, inside a taco or over a bed of leafy greens!
That's why I love this recipe so much. It's the best way I like to showcase the "build-your-own" concept to my clients who are trying to feed multiple family members with varying appetites and needs.
Have someone in the family whose gluten-free and following a low-carbohydrate diet? No problem. The beef Brisket Salad is just for them!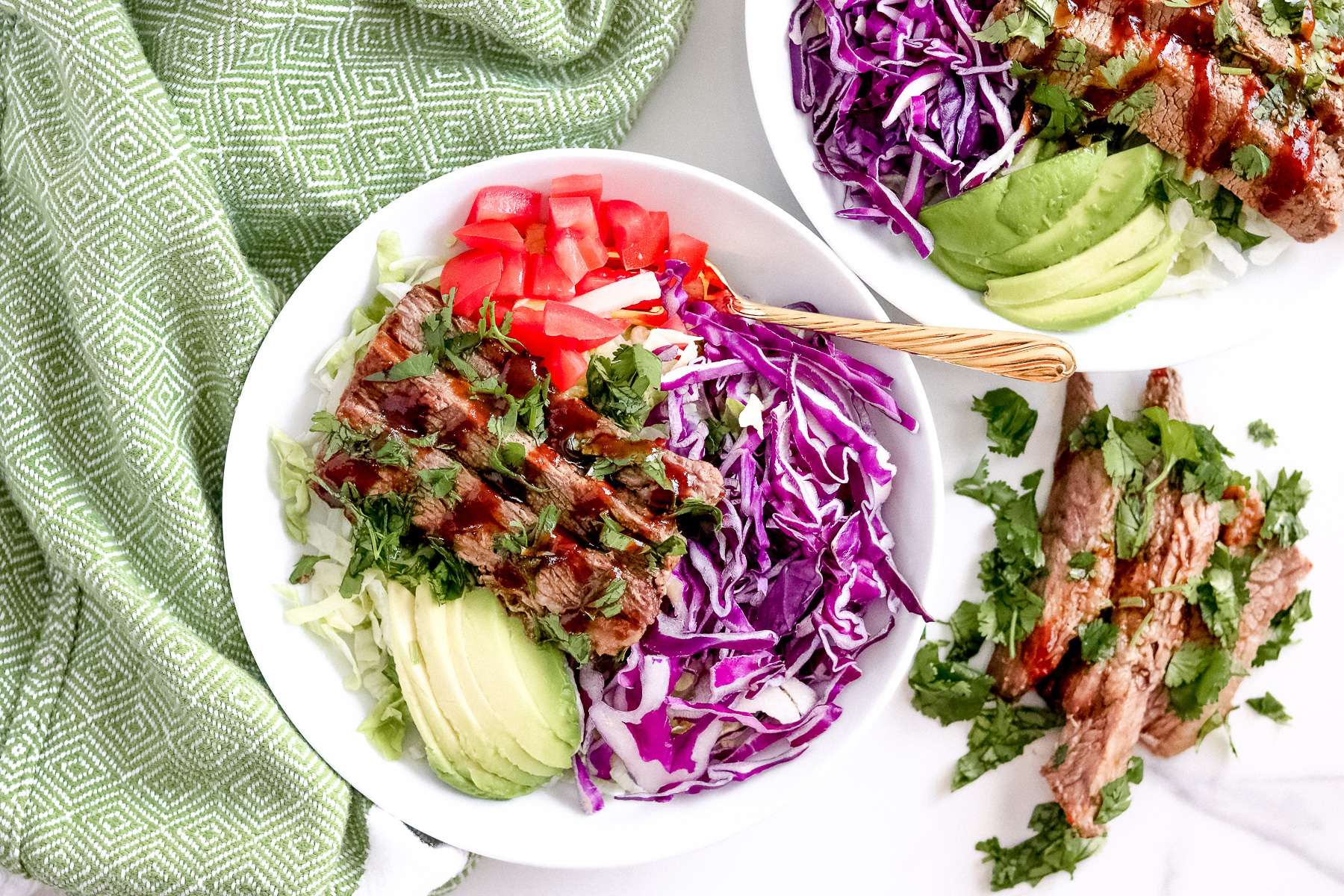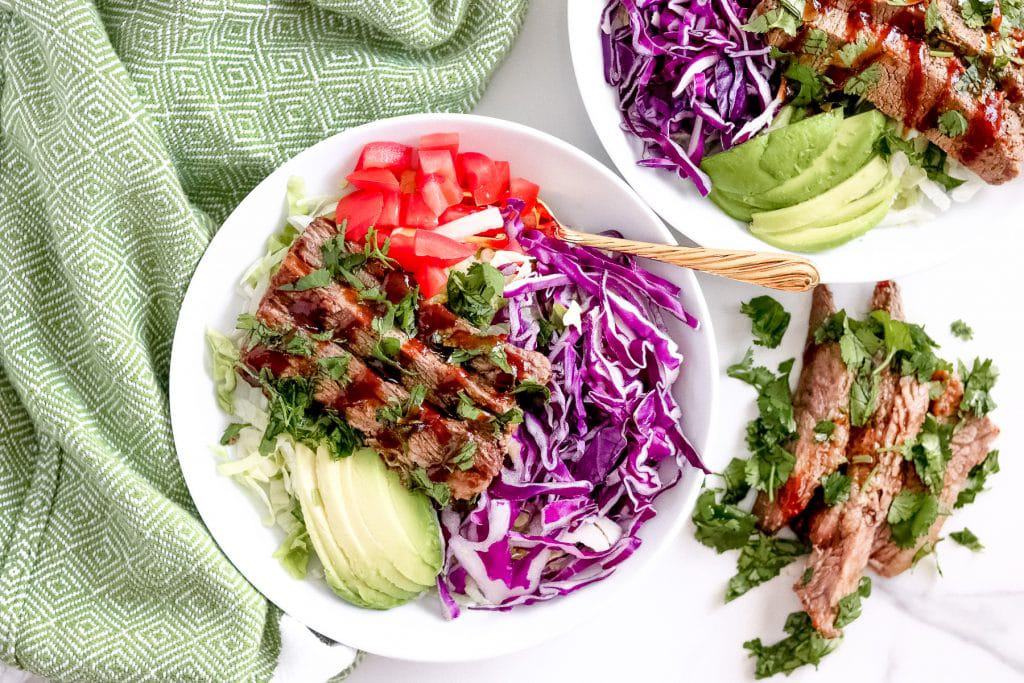 Need to feed those hungry college students who have found their way home during this unchartered time? Then these Beef Brisket Tacos are calling your name! SO easy to prepare and VERY filling! (You forgot how much those adolescent boys could eat, right?!)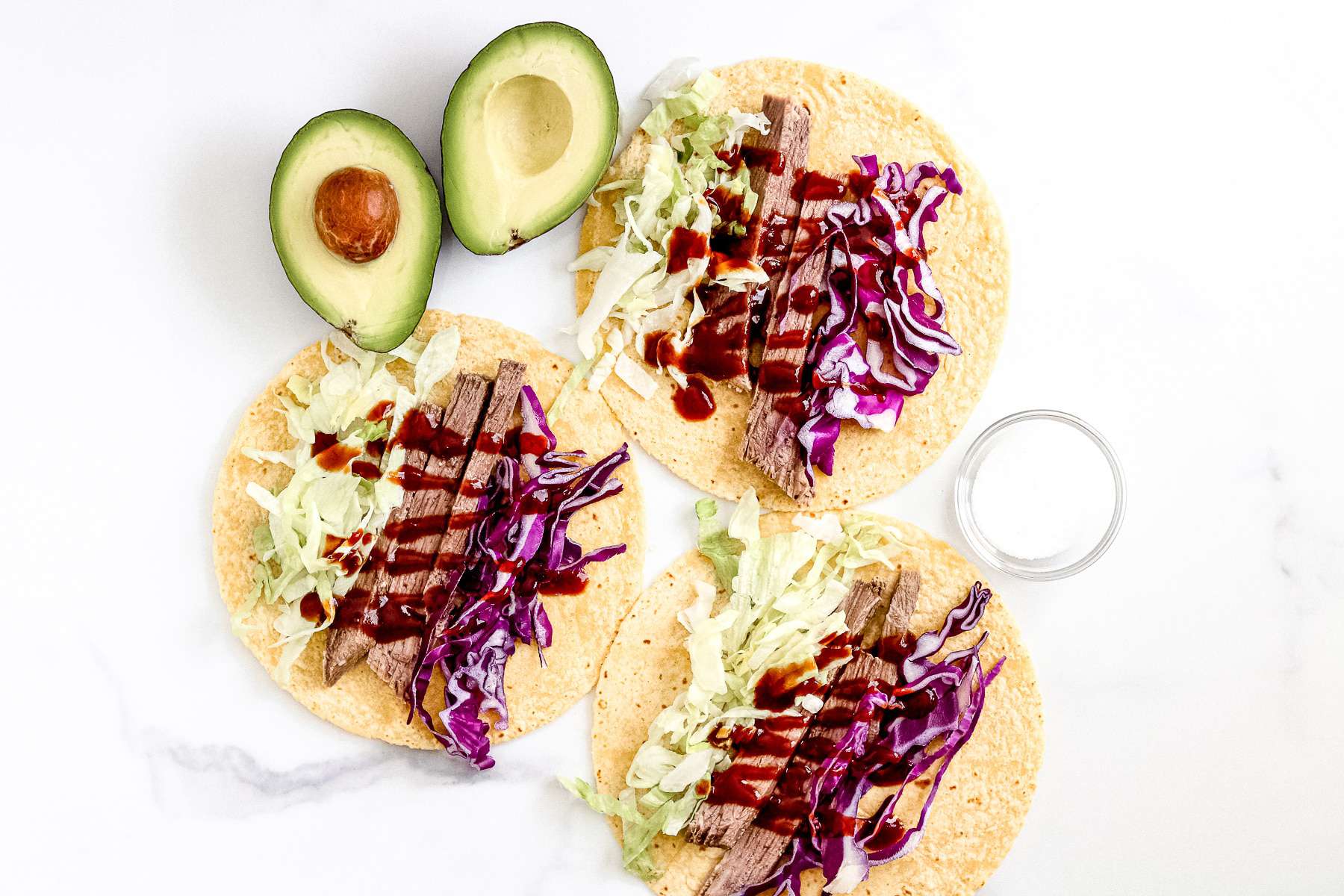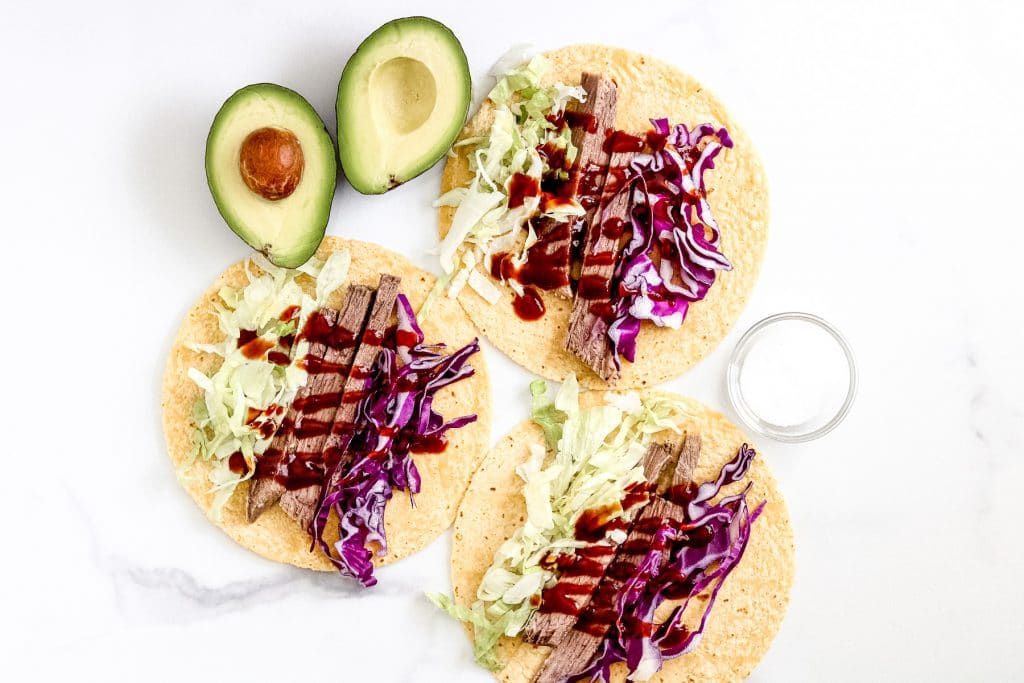 Rest assured, at the end of this post you'll not only know how to prepare a delicious beef Brisket recipe in under an hour, but you'll also know what other cuts of budget-friendly beef you can swap if brisket is out during your next grocery haul.
Is beef Brisket nutritious?
Put your worries aside when it comes to the beef bashing. If you don't remember from my post here, let me refresh your memory.
Beef is a nutrient-dense addition to the diet. For reference, a 3-ounce cooked portion of the Brisket Flat Half is an excellent source of protein, niacin, vitamin B12, zinc, selenium and choline (the nutrient if you remember 90% of Americans still aren't getting enough of!)
Plus, it's also a good source of iron, riboflavin, vitamin B6, and phosphorus.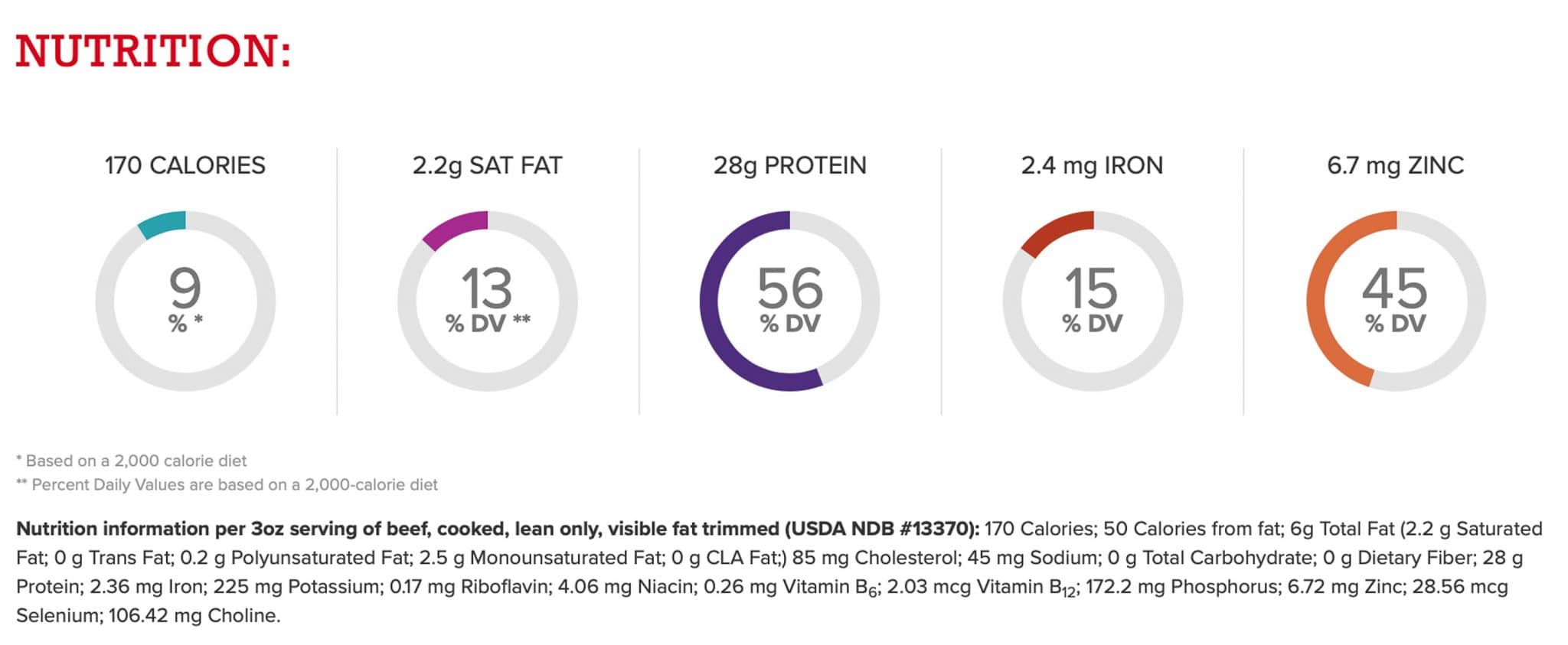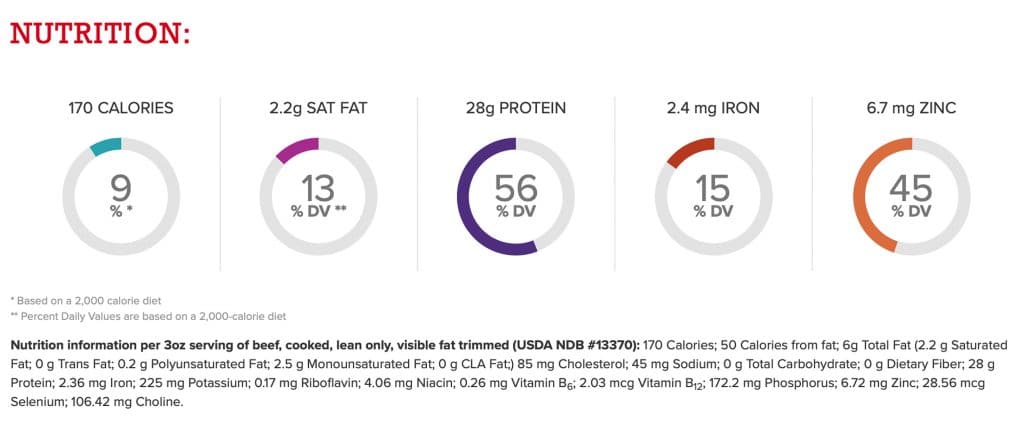 Beef can fit into a variety of meal plans: from Mediterranean to flexitarian to paleo! Seriously, you can absolutely still incorporate a plant-forward diet while enjoying a 3-ounce portion of beef.

It's about swapping the old mentality that used to be depicted with beef as the center-of-the-plate with a 20-ounce steak to a moderate portion accompanied with a variety of fruits and vegetables, just like the Beef Brisket Salad I've got for you here.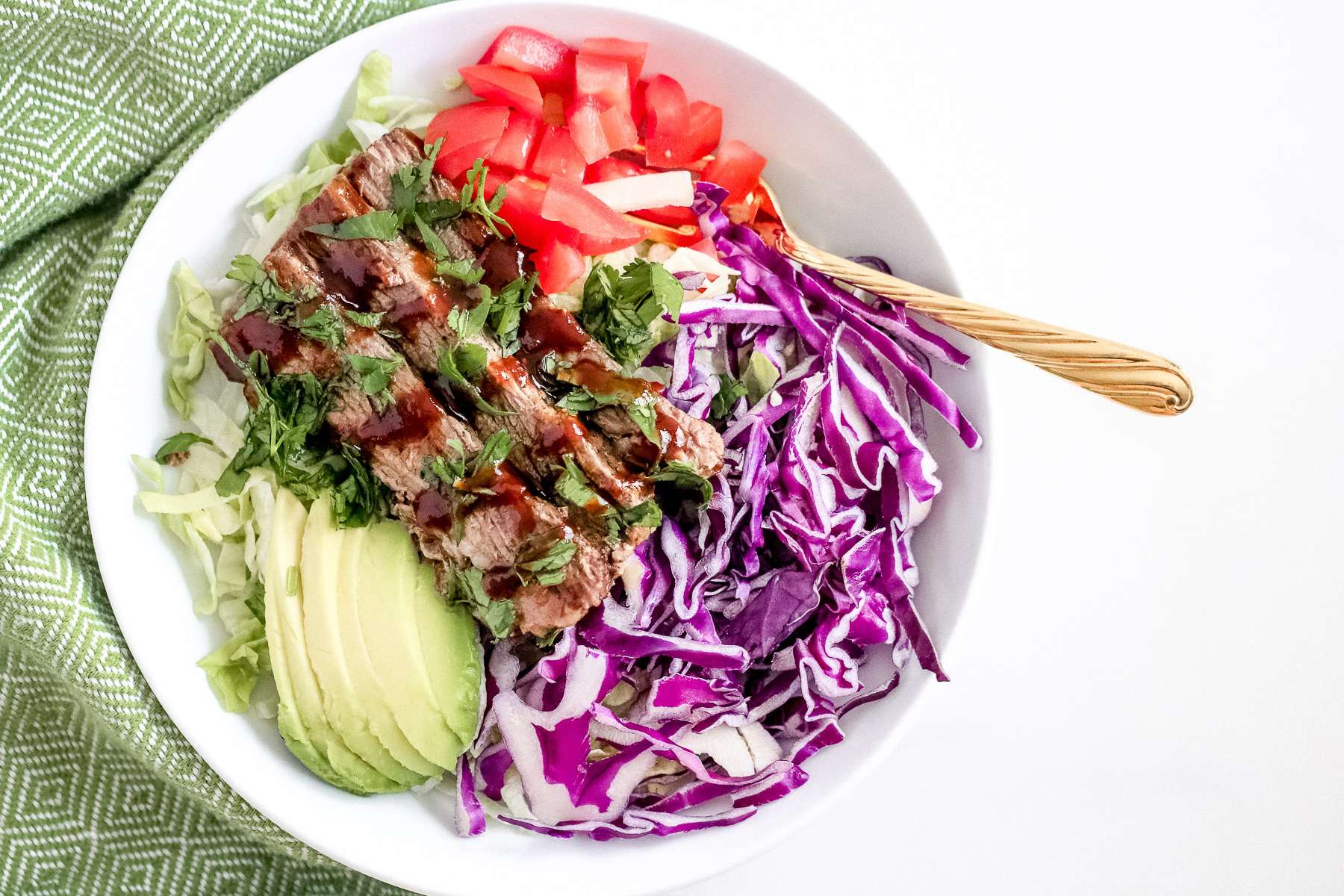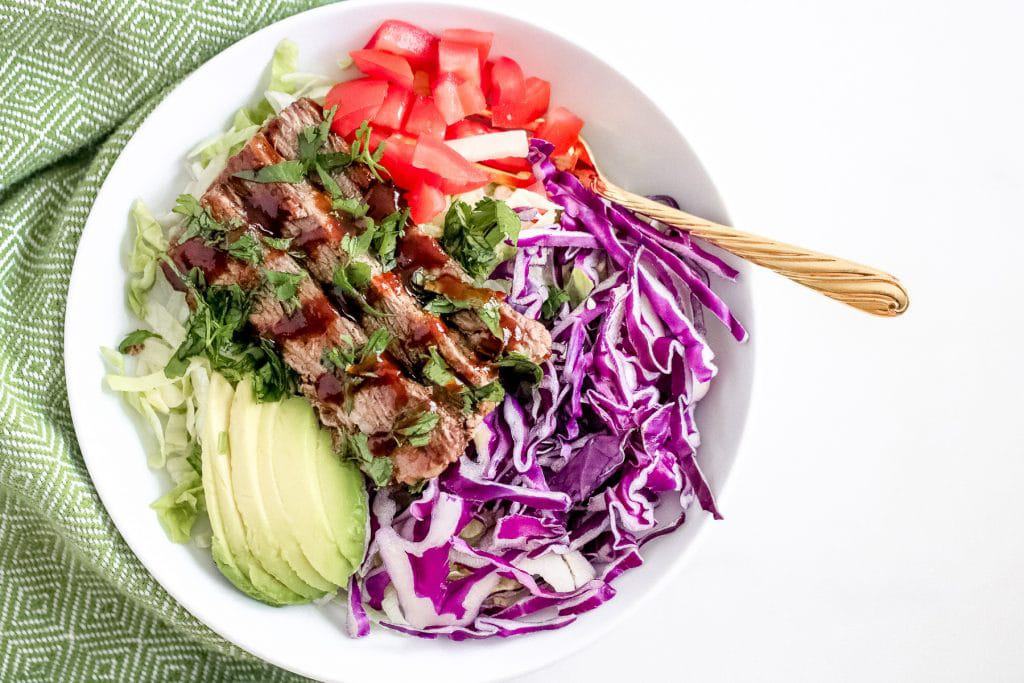 Helpful Swaps to Make this Recipe
Did you run to the market only to find the beef Brisket Flat cut you need for this recipe is sold out?
Don't stress! I'm here to help. Did you know that there are actually many affordable cuts of beef on the market today?
I highly recommend checking out this website here that covers the affordable yet delicious cuts of beef that are perfect for feeding families.
A few of the Shaw Kitchen favorites cuts of budget-friendly beef other than the Brisket Flat (a true favorite!) include:
Beef Eye of Round Steak
Lean Ground Beef
Beef Back Ribs
I'm sure many of you have prepared your ingredient list for a recipe only you get to the store and find out the cut you need is sold out. In addition to the swaps above, check out this little guide to other common cut swaps.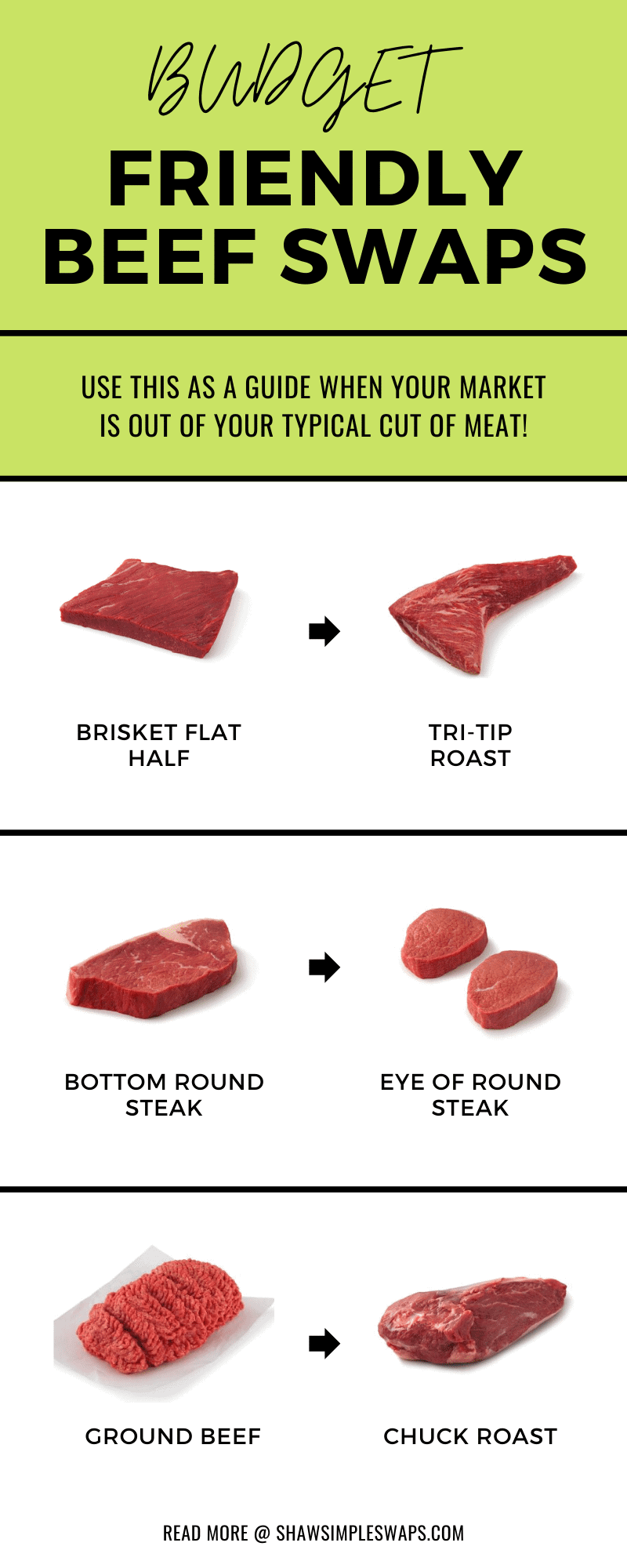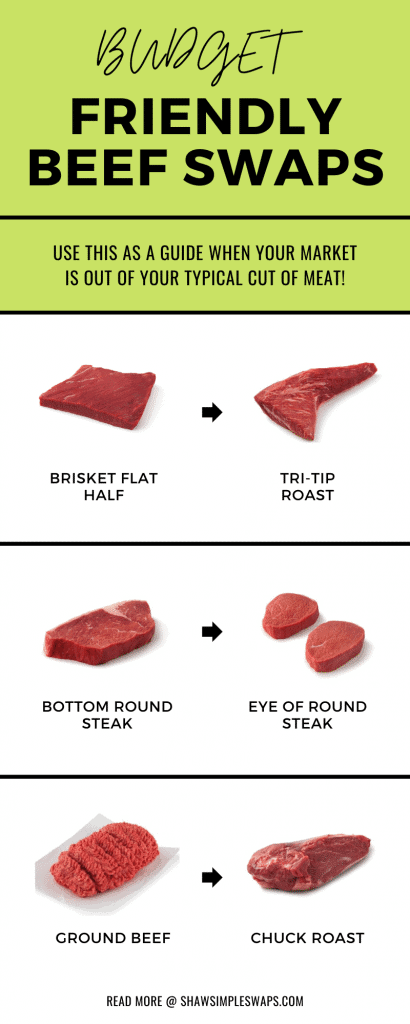 Note: it's fairly challenging to find a true swap for ground beef. However, you can certainly take a chuck roast and slow cook it to get tender shredded beef you can use in a similar fashion to ground beef!
For this Beef Brisket Nacho recipe specifically, here are three alternatives to swap in for the Beef Brisket Flat:
How to Make Pressure Cooked Beef Brisket for Nachos, Tacos or Salad
Here's the deal: whether you're craving the nachos, tacos or salad, you need to begin by cooking the beef Brisket base!


This magic happens with an 8-hour marinade, so plan accordingly.
Eight hours is the minimum time for marinating, but if you have more time you can leave it for up to 24 hours. Pro tip: prep it in the morning or the night before!
With the help of a pressure cooker, this recipe comes together in less than 45 minutes. Once you're ready to cook the beef, I suggest searing the beef Brisket first on the stove or inside your pressure cooker if it has the sauté function. It helps lock in flavor and just gives the end result a little extra UMPH!
Then, follow the recipe below to ensure you get that delicious and nutritious beef in under an hour!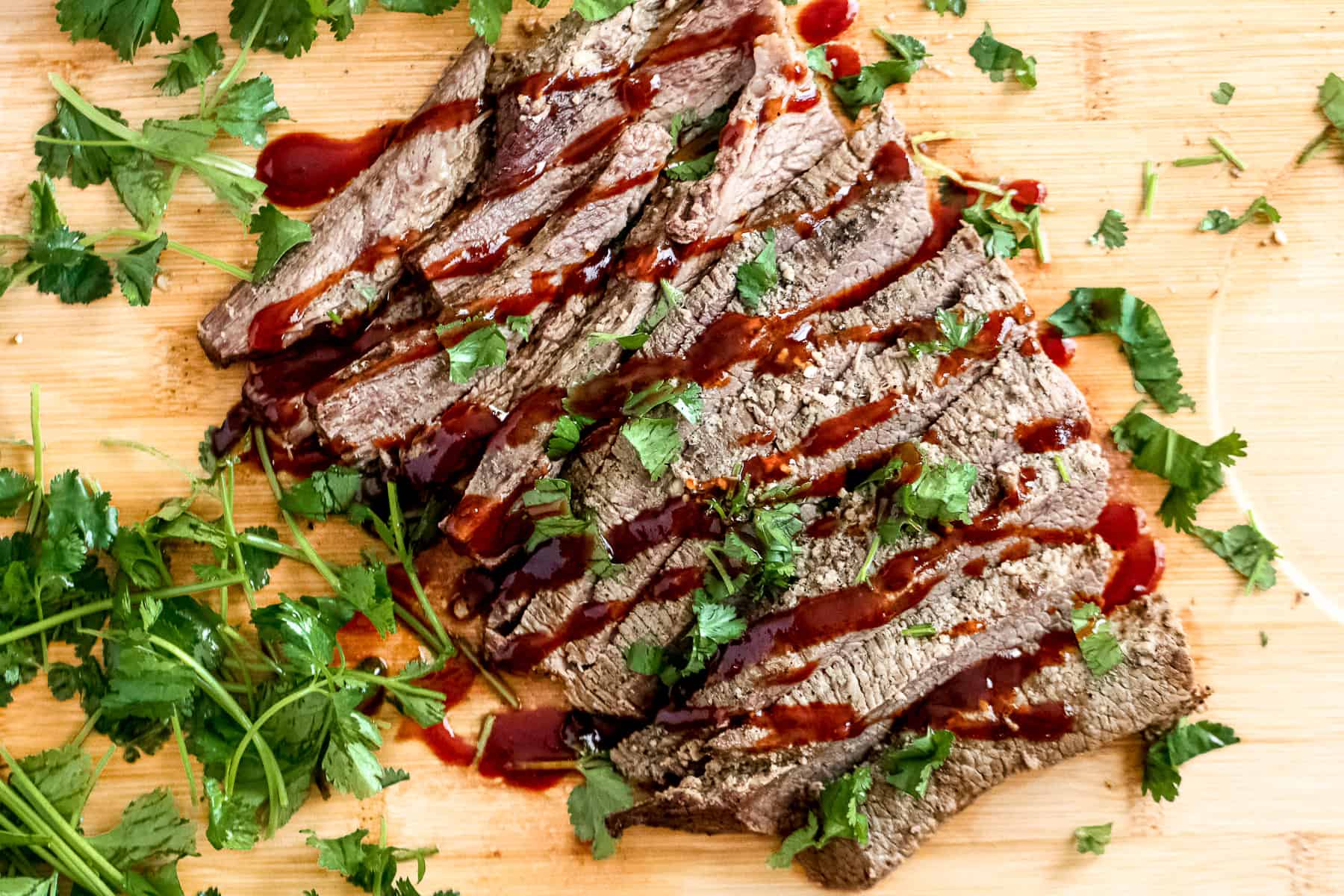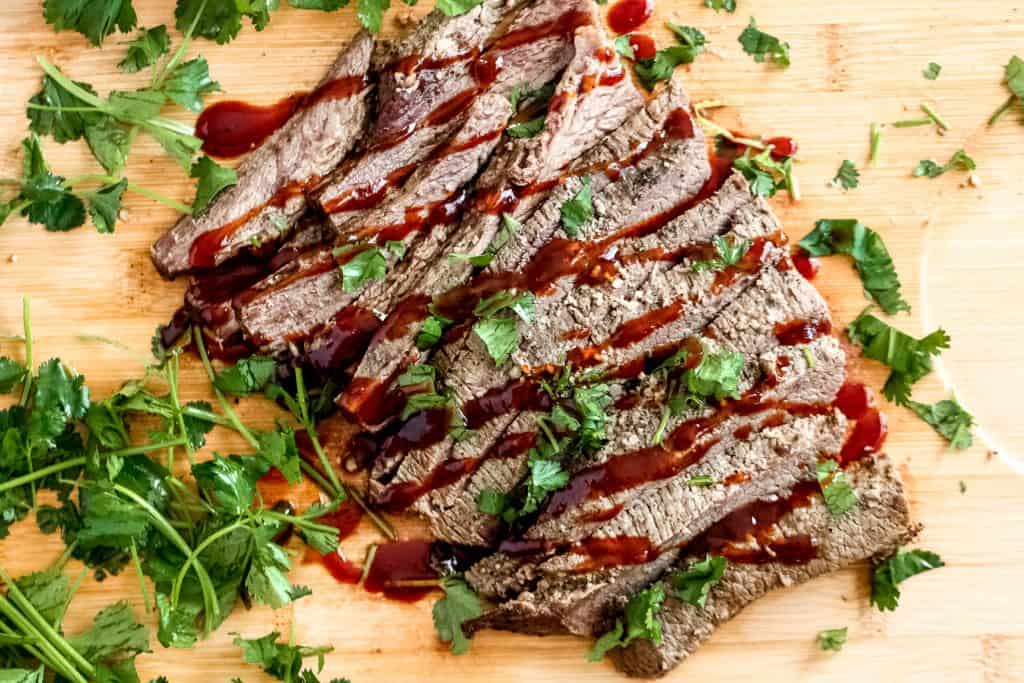 If you don't have a pressure cooker and still want to try this out in a slow cooker, then checkout the tips below for cooking better beef.
Pro Tips for Cooking Better Beef
Take note in the pressure cooker it's a good idea to set a lower time for pressure cooking and allow the machine to naturally release pressure to prevent overcooking your beef. A good rule of thumb is approximately 12 to 15 minutes of pressure cooking per pound with 5 to 10 minutes of natural release. During natural release, the internal temperature will continue to rise 5 degrees F to 15 degrees F to reach desired doneness. Allow 15 to 20 minutes standing time when you remove it from the pressure cooker.
If you decide to cook your beef low and slow on the slow cooker setting (or in a slow cooker itself), follow these tips:

Place 1 large onion, chopped, and 2 tablespoons minced garlic into your slow cooker; place roast on top.
Cover and cook on LOW for 9 to 10 hours, or on HIGH for 5 to 6 hours, or until roast is fork-tender.
Remove roast from slow cooker. Skim fat from cooking liquid, if necessary, and reserve 1 cup onion mixture.
Shred beef with two forks. Combine shredded beef and reserved onion mixture, if desired. Season with salt and pepper, as desired.
Now, who is ready to dive in?! Don't worry if you're tight on time, just pin this recipe for later.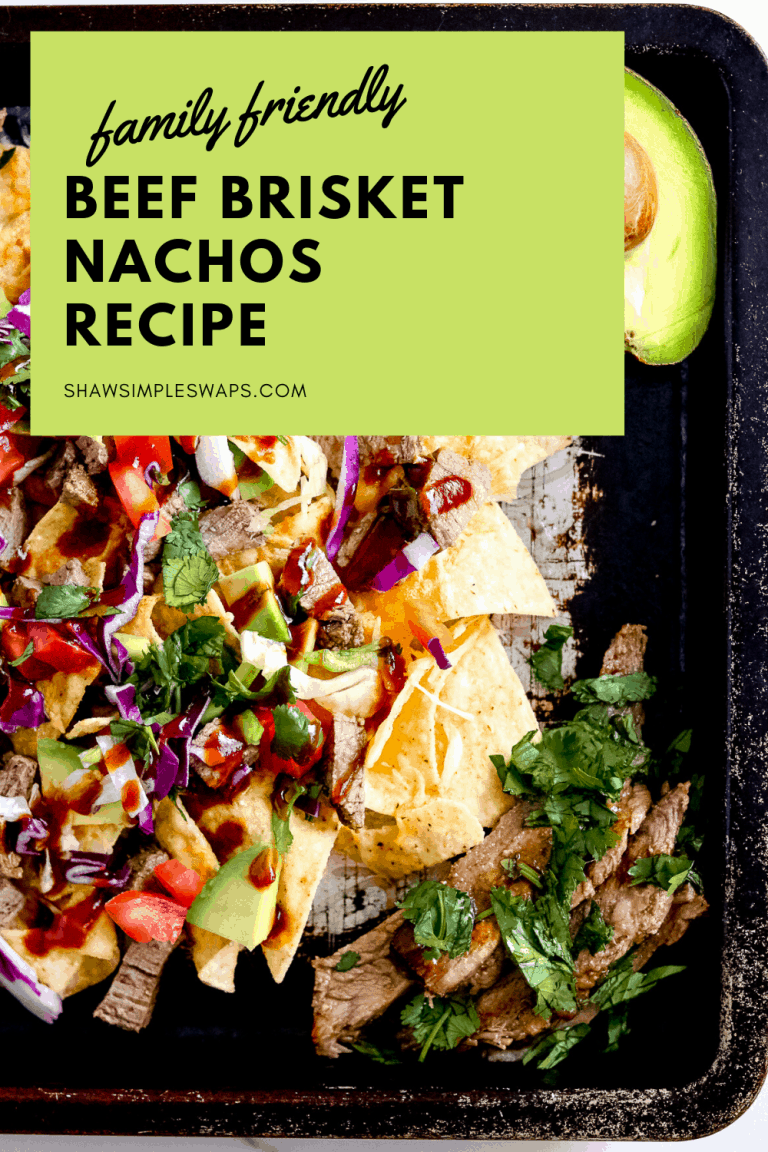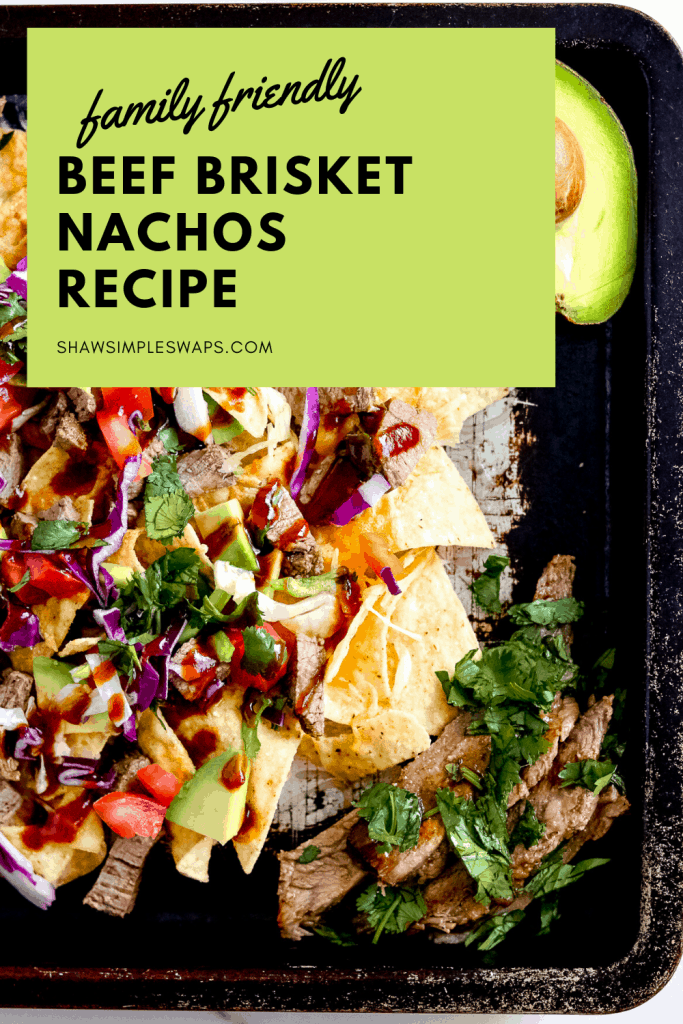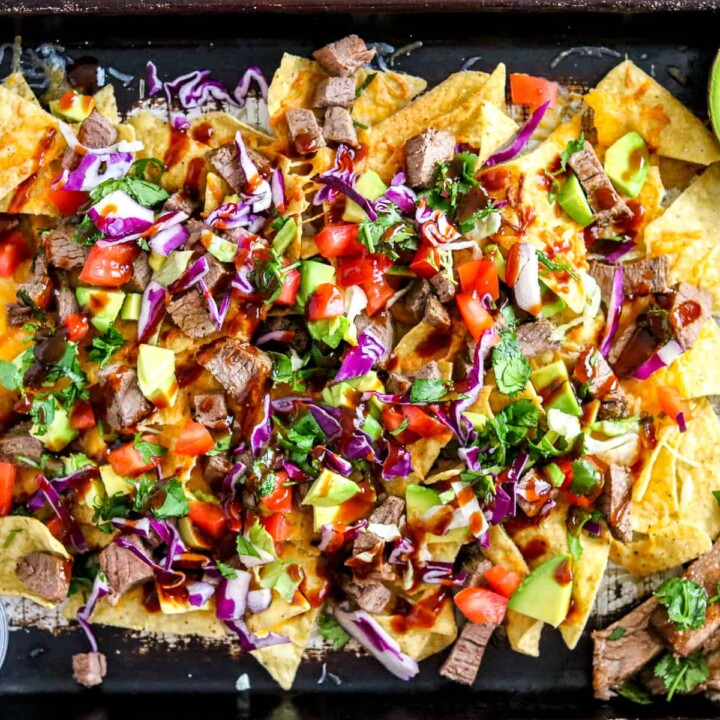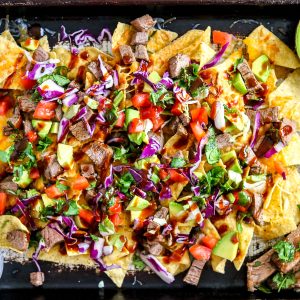 Beef Brisket Nachos
Looking for a delicious, mouth-watering brisket recipe that won't take hours to make? Then this recipe is for you! These Brisket Nachos come to life in under an hour and can easily be transformed into tacos or a beautiful, nourishing salad too. They're the perfect way to stretch your dollar while still enjoying a hearty protein like beef!
Print
Pin
Share by Email
Servings:
12
3 oucne servings
Equipment
Pressure cooker (or Instant Pot)
Ingredients
For the brisket
2.5

pounds

beef Brisket Flat Half

1/2

tsp

black pepper

1/2

tsp

salt

1/2

cup

extra virgin olive oil

1

tbsp

minced garlic

1

each

jalapeño

2

cups

beef broth
Instructions
To prepare the marinade
Liberally rub the black pepper and salt into the brisket. Place inside a zip tight bag and pour the olive oil, garlic and jalapeño inside. Note, if you prefer less of a kick, omit the seeds from the jalapeño.

Massage the beef with the olive and garlic then place the bag in a bowl in the refrigerator for 8 hours.
To cook the brisket
Remove the brisket from the marinade. Discard marinade. Turn the pressure cook to SAUTE mode and brown each side of the brisket for 3 minutes. Press CANCEL and remove the brisket.

Add the beef broth to the metal pot of the pressure cooker, then place the metal trivet inside. Place the brisket on top of the trivet and secure the lid. Press PRESSURE COOK and set the time for 30 minutes.

When cooking completes, allow pressure to naturally release for 15 minutes. Remove the lid and check the internal temperature of the brisket, it should be 145 degrees or above. Remove the brisket from the pressure cooker and let rest another 15 minutes before slicing.

Serve up the brisket as nachos, in tacos, or a salad; the options are limitless!

To store brisket, place inside an airtight container in the refrigerator for up to 5 days or freeze for up to 3 months. You can also store it in the beef broth to keep it a bit more moist as well.
Notes
To make as nachos:
Ingredients:
12 oz tortilla chips
1 cup shredded reduced fat cheese
1 cup salsa
1 medium avocado, chopped
1 pound cooked beef Brisket, cut into 1/4-inch pieces
1/2 cup chopped cilantro
1/3 cup BBQ sauce
Instructions:
Place chips on a baking sheet. Cover with cheese and broil for 3 to 5 minutes in the oven, or until cheese is melted. Remove and top with salsa, avocado, brisket, and cilantro. Drizzle BBQ sauce over the top. Serve immediately.
To make as tacos:
Ingredients:
12 6-inch corn tortillas
1 pound cooked beef Brisket, sliced thin
2 cups shredded lettuce
1 cup shredded cabbage
1/3 cup BBQ sauce
1/2 cup shredded reduced fat cheese
Instructions:
Warm tortillas in a frying pan. Place 2 strips of brisket on top of the tortilla, cover with lettuce and cabbage. Top with BBQ sauce and shredded cheese. Serve immediately.
To make as a salad:
Ingredients:
6 cups chopped lettuce
2 cups shredded cabbage
2 tomatoes, finely chopped
2 medium avocados, sliced
1 pound cooked beef Brisket, sliced
1/3 cup BBQ sauce
1/4 cup chopped cilantro
Instructions:
Place lettuce and cabbage in bowls. Toss with 3 strips of brisket, tomatoes, avocado, and optional cheese if desired. Drizzle BBQ sauce and chopped cilantro over the top, then any additional dressings if desired. Serve immediately.
Nutrition Per Serving
Calories:
190
kcal
|
Carbohydrates:
1
g
|
Protein:
20
g
|
Fat:
12
g
|
Saturated Fat:
3
g
|
Cholesterol:
59
mg
|
Sodium:
321
mg
|
Potassium:
333
mg
|
Fiber:
1
g
|
Sugar:
1
g
|
Vitamin C:
1
mg
|
Calcium:
8
mg
|
Iron:
2
mg
Looking for more recipe ideas with beef? Then visit BeefItsWhatsforDinner.com or try these other Shaw Kitchen favorites below!
I'd love to see your creations!
Be sure to tag me on Instagram or Facebook and use the #ShawKitchen so I can see what you whipped up! And, to join the #MeatTheMoment campaign use the # and tag @beefitswhatsfordinner on Instagram!