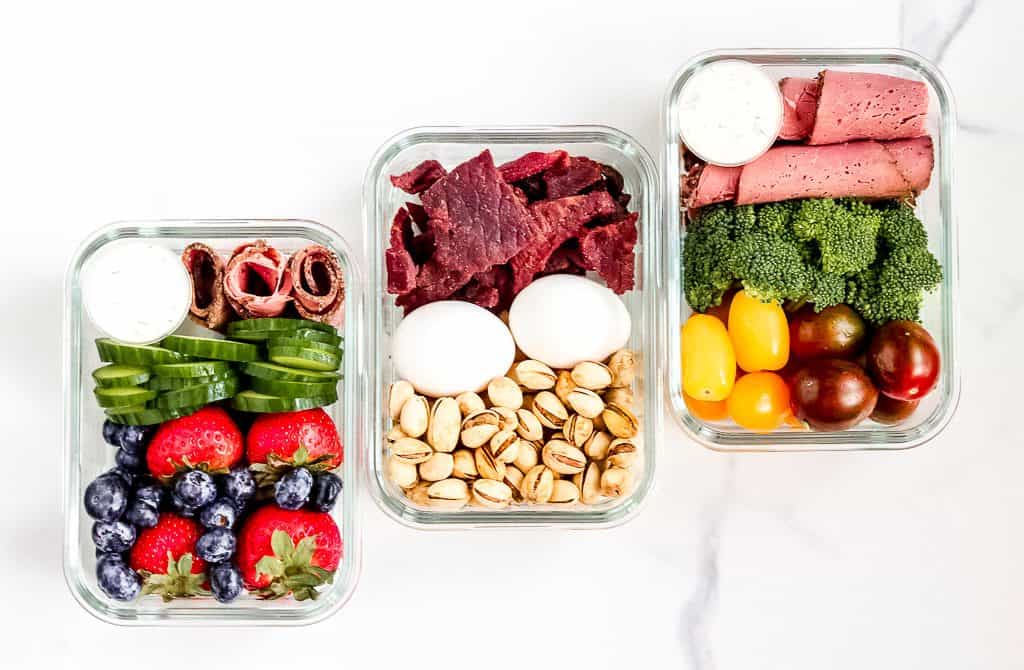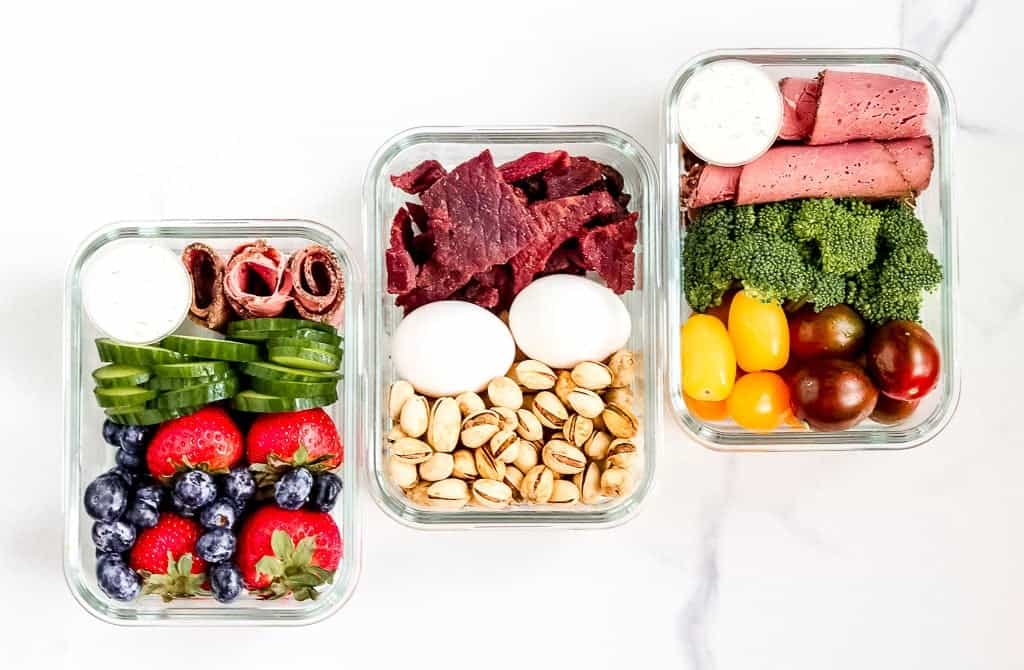 Disclosure: This post is brought to you in partnership with The North American Meat Institute (NAMI) , a contractor to the Beef Checkoff! As always, I only work with companies that Mr. CEO and I support in the Shaw Kitchen! Thank you for supporting the work that keeps this website afloat.
Okay, okay, so I know I'm about six months behind on your high protein asks, but better late than never, right?
In December when I sent out the Shaw Simple Swaps reader survey I received an alarming number of responses asking for more ideas that followed suit with a paleo eating style.
Why you need high protein snacks
While you know I have my love affair with carbohydrates, I recognized I was really falling short here in providing you with simple high protein, lower carb snack options to help satiate and satisfy you throughout your busy days.
Well, the wait is over because the Shaw Kitchen has a variety of High Protein Snacks featuring processed meats for you today. Yes, this registered dietitian is giving you full permission to enjoy processed meats and here's why!
First off, we really need to look at the term "processed".
"Processed" is literally just another term for "prepared". Just as you would buy a pre-chopped bag of mixed greens (read "processed salad"), you can purchase a "processed meat" like beef jerky, seasoned and cooked pastrami or a cut and trimmed beef roast at the market.
Whether preparation occurs at home or in a large scale manufacturing plant, the similar processes like cutting, chopping, seasoning and cooking are involved.
From a nutrition standpoint, not only does processed beef provide a convenient source of protein (especially for busy people on the go), it's also a great way to provide your body with important vitamins and minerals, like iron and zinc.
Are high protein snack recipes healthy
Everything in moderation has always been my mentality so if you're a fan of meat, you can rest easy knowing enjoying your high protein snack box below will not derail your health!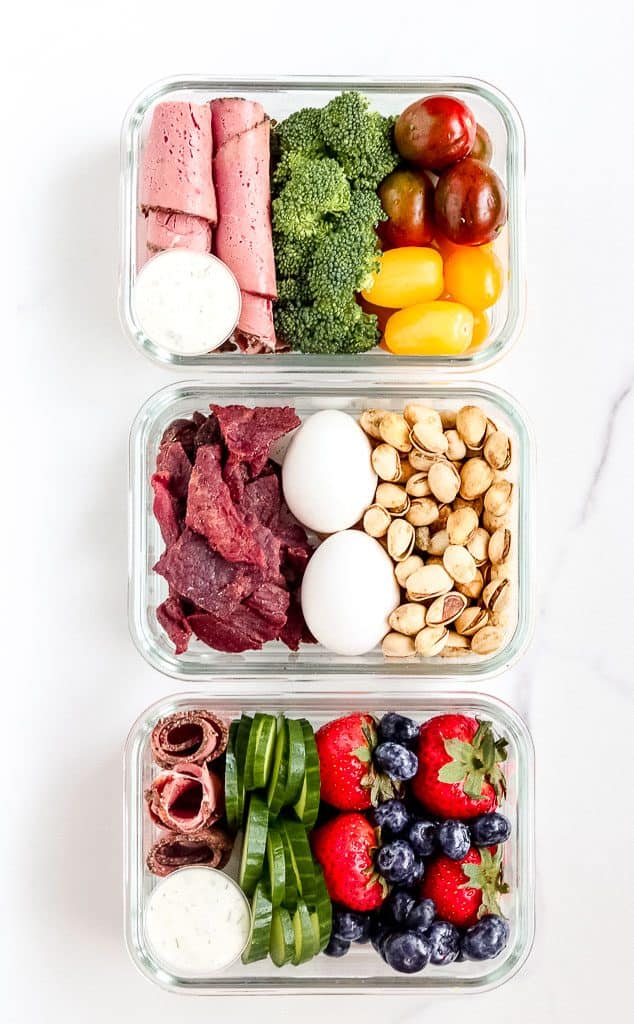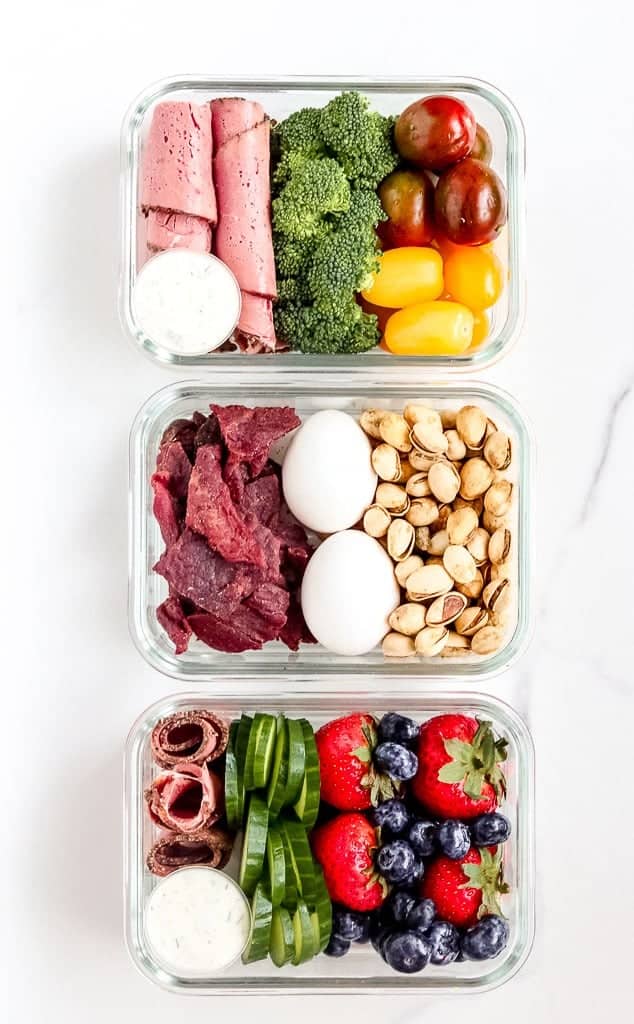 In fact, prepared meats have been a significant staple of global food cultures for centuries.
According to studies evaluated by the 2015 Dietary Guidelines Advisory Committee, followers of the highly regarded Mediterranean diet eat twice as much red and processed meat than followers of USDA Food Patterns.
You may be asking yourself, how can I eat like a Mediterranean and still eat processed meats?
It's actually quite simple! Balance your plate (or box) with at least 50% of volumizing fruits and vegetables! These foods add fiber, antioxidants and other phytonutrients that embrace the Mediterranean lifestyle.
These High Protein Snacks below are excellent examples of incorporating the Mediterranean emphasis of fruits, vegetables and healthy fats with a little added protein from the processed meats (read prepared meats!)
High Protein Snack Recipes

Veggie Box with Pastrami & Horseradish Dip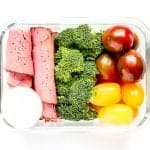 Veggie Box with Pastrami & Horseradish Dip for a quick high protein snack box!
3 ounces cooked pastrami
2 ounces broccoli florets
2 ounces heirloom grape tomatoes
2 tablespoons horseradish dip (yogurt-based)
Assemble ingredients in portable snack box.
Store in refrigerator (or use an ice pack) to keep snack box at proper temperature before ready to eat.
Jerky Protein Box with Hard Boiled Eggs & Pistachios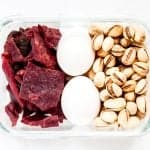 1 ounce beef jerky
2 each hard boiled eggs
1/2 cup in-shell pistachios
Assemble ingredients in snack box.
Store in refrigerator (or use an ice pack) to keep snack box at proper temperature before ready to eat.
Pastrami Box with Tzatziki, Cucumber & Berries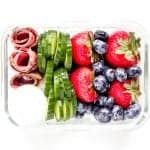 Pastrami Box with Tzatziki, Cucumber & Berries – high protein snack box choice!
3 ounces pastrami
2 ounces sliced cucumbers
3 ounces fresh mixed berries
2 tablespoons tzatziki dip
Assemble snack box with ingredients.
Store in refrigerator (or use an ice pack) to keep snack box at proper temperature before ready to eat.
When purchasing processed meats, you can rest easy knowing that the options available to you at your local market have all been inspected by the United States Department of Agriculture (USDA) before they are sold.
Depending on the type of processing that is done to the beef (read cooking, seasoning, etc.), certain additives may be included in the ingredient list to increase the safety and shelf stability of the product.
In the Shaw Kitchen, we purchase products (like the beef pastrami and beef jerky above) with natural nitrite sources, like celery powder.
But, that doesn't mean if you're a fan of a product that uses a more traditional nitrite source you're at risk of anything other than a safe, bacteria free product. 
Though many brands are now making their products using the natural alternatives, it's totally up to you as the consumer in making the choice that is best for you.
The government also regulates the use of nitrite to ensure it is used at the proper levels that have been scientifically shown to control harmful bacteria.
Nitrite has been studied carefully by the National Institutes of Health and other government researchers and deemed safe at the levels used.
Now, my job is to provide you with the full story, which I always intend to do! So rest easy knowing you can certainly use the ingredient statements found on ALL processed beef products to make the best purchase for you and your family.
I'd love to hear your questions when it comes to the processed beef category. Feel free to comment below or contact me here, I'm always happy to help you feel safe and secure about finding ways to enjoy the foods you love in moderation!
And, for more science based information on beef and nutrition, visit the North American Meat Institute here. 
Tight on time? Pin these High Protein Snacks for later!