Looking for a healthy snack that's high in protein? You've come to the right place! These High Protein Snacks are not only quick to make, they also can be modified to be keto, paleo and whole 30 approved! Ready in under 10 minutes, you're hangry self will thank you!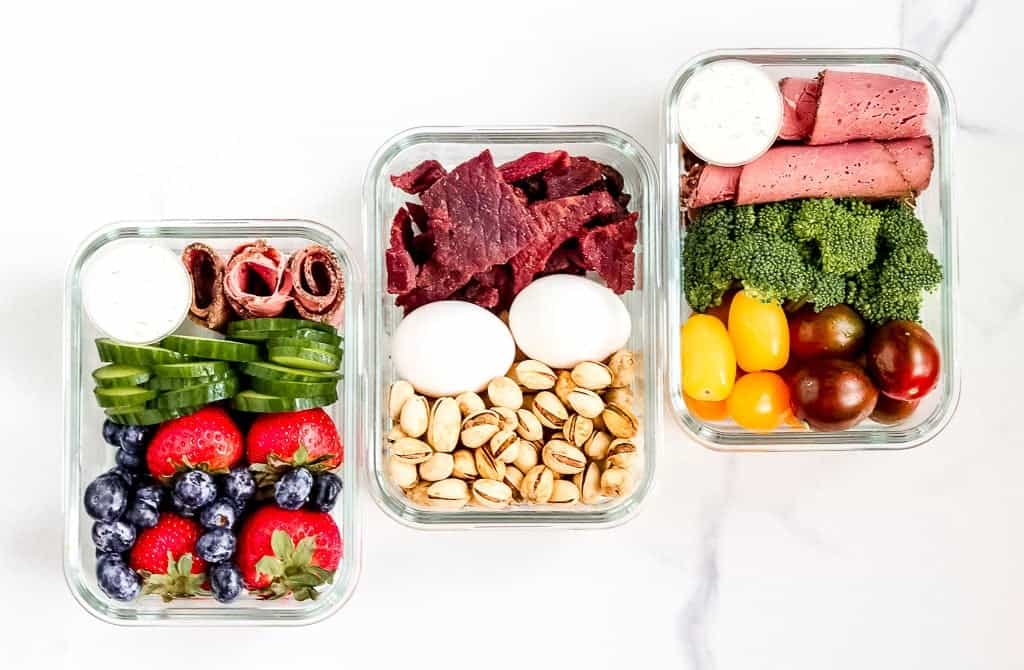 Jump to:
Why you need these protein rich snacks
While you know I have my love affair with carbohydrates, I recognized I was really falling short here in providing you with simple high protein, lower carb snack options to help satiate and satisfy you throughout your busy days.
Well, the wait is over because the Shaw Kitchen has a variety of High Protein Snacks for you today. I decided to use my tried and true simple swap, deli meats, because they are so convenient and affordable!
What You Need to Make High Protein Low Carb Snacks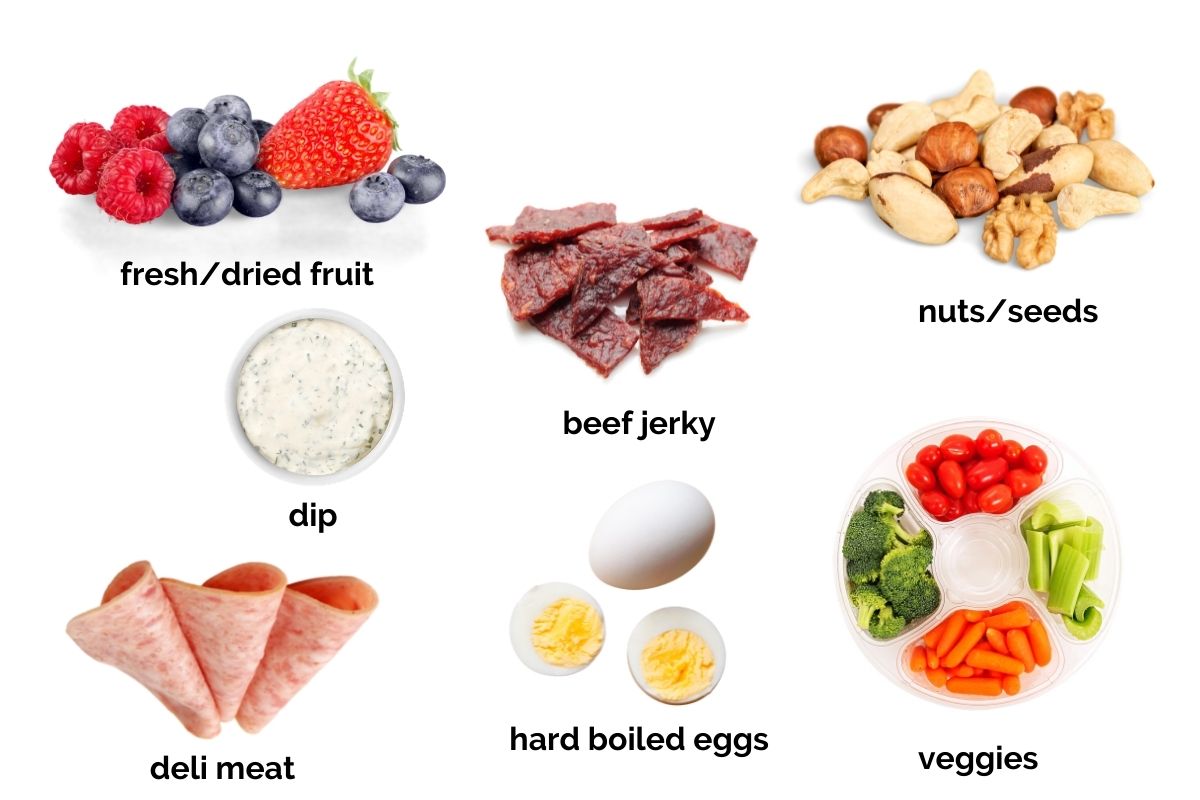 Ingredients Swaps + Substitutions
There are multiple ways you can prepare these low carb, high protein snack boxes. Here are a few other wonderful additions to the snack trays.
Higher Protein Dairy Options

cheese sticks, Greek yogurt cups, cottage cheese cups, individual chocolate milk

Dried Fruit (that satisfy a sweet tooth)

raisins, cranberries, dried figs, apricots, dates

Complex Carbs

100% whole grain crackers (or a gluten-free almond based cracker for a lower carb choice)
Popped amaranth or sorghum, or traditional popcorn
Recipe Notes + Expert Tips
I love this "recipe" because it's essentially a "no-recipe recipe", the best kind of recipe to work with! You can really build these high protein snack boxes using whatever you have on hand.
I recommend if you have a sweet tooth like me to consider making one of these to add into the boxes as well:
If you are adding a dip into the box, I also recommend considering making your own (like my Garlic Hummus, DIY Ranch Dip, or for a sweet alternative the Sweet Hummus Recipe.)
Note, if you are going to make these ahead of time and store in the fridge, be sure to keep your dried items separate from your refrigerated items. The glass bento box style work wonderfully for this, or you can invest in some small containers that fit into a larger air tight container as well.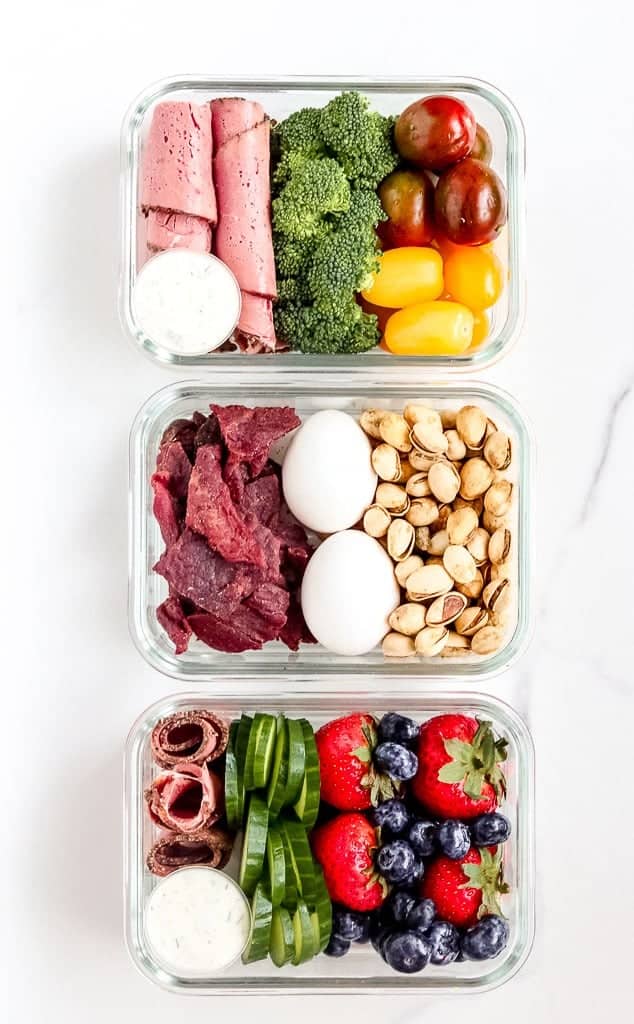 FAQ on Deli Meats
Why You Can Rest Easy Eating These Protein Snack Boxes
Yes, this registered dietitian is giving you full permission to enjoy processed meats and here's why! First off, we really need to look at the term "processed".

"Processed" is literally just another term for "prepared". Just as you would buy a pre-chopped bag of mixed greens (read "processed salad"), you can purchase a "processed meat" like beef jerky, seasoned and cooked pastrami or a cut and trimmed beef roast at the market.

Whether preparation occurs at home or in a large scale manufacturing plant, the similar processes like cutting, chopping, seasoning and cooking are involved.

From a nutrition standpoint, not only does processed beef provide a convenient source of protein (especially for busy people on the go), it's also a great way to provide your body with important vitamins and minerals, like iron and zinc.
Is meat a healthy choice for a protein snack?
Everything in moderation has always been my mentality so if you're a fan of meat, you can rest easy knowing enjoying your high protein snack box below will not derail your health!

In fact, prepared meats have been a significant staple of global food cultures for centuries. According to studies evaluated by the 2015 Dietary Guidelines Advisory Committee, followers of the highly regarded Mediterranean diet eat twice as much red and processed meat than followers of USDA Food Patterns.

You may be asking yourself, how can I eat like a Mediterranean and still eat processed meats? It's actually quite simple! Balance your plate (or box) with at least 50% of volumizing fruits and vegetables! These foods add fiber, antioxidants and other phytonutrients that embrace the Mediterranean lifestyle.

These High Protein Snacks below are excellent examples of incorporating the Mediterranean emphasis of fruits, vegetables and healthy fats with a little added protein from the processed meats (read prepared meats!)
Are nitrates and nitrites safe in processed meat?
When purchasing processed meats, you can rest easy knowing that the options available to you at your local market have all been inspected by the United States Department of Agriculture (USDA) before they are sold.

Depending on the type of processing that is done to the beef (read cooking, seasoning, etc.), certain additives may be included in the ingredient list to increase the safety and shelf stability of the product.

In the Shaw Kitchen, we purchase products (like the beef pastrami and beef jerky above) with natural nitrite sources, like celery powder. But, that doesn't mean if you're a fan of a product that uses a more traditional nitrite source you're at risk of anything other than a safe, bacteria free product. Though many brands are now making their products using the natural alternatives, it's totally up to you as the consumer in making the choice that is best for you.

The government also regulates the use of nitrite to ensure it is used at the proper levels that have been scientifically shown to control harmful bacteria. Nitrite has been studied carefully by the National Institutes of Health and other government researchers and deemed safe at the levels used.
Other Quick Snack Ideas You Will Love
Plan ahead and add these healthy recipes to your snack boxes too!
If you try this recipe, would you please do me a favor and leave a star rating in the recipe box and/or comment below! This helps immensely in Google to continue delivering high quality content to you. And please be sure to tag and share what you made with me on social, I love seeing your creations! You can find me here: Instagram – Facebook – Pinterest!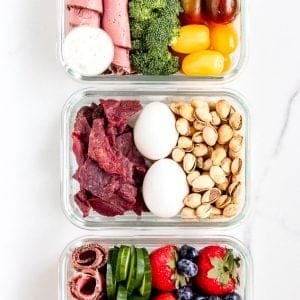 High Protein Snacks
These three simple, high protein snacks will satisfy and satiate everyone! Build them using your favorite fruits, vegetables, nuts, and dips alongside your protein pairings of choice!
Print
Pin
Share by Email
Jump to Video
Ingredients
Snack Box Option 1
3

ounces

deli meat

2

ounces

broccoli florets

2

ounces

heirloom grape tomatoes

2

tablespoons

horseradish dip

yogurt-based
Snack Box Option 2
1

oz

beef jerky

2

each

hard boiled eggs

1/2

cup

pistachios

in-shell
Snack Box Option 3
3

ounces

deli meat

2

ounces

cucumbers

sliced

1/2

cup

berries

2

tablespoons

tzatziki sauce
Instructions
Assemble ingredients in portable snack box or bento style box. Store in the refrigerator or in an insulated bag with an ice pack until ready to eat.
Nutrition Facts
High Protein Snacks
Amount Per Serving
Calories 251
Calories from Fat 126
% Daily Value*
Fat 14g22%
Cholesterol 28mg9%
Sodium 912mg38%
Potassium 559mg16%
Carbohydrates 16g5%
Protein 18g36%
Vitamin A 429IU9%
Vitamin C 22mg27%
Calcium 83mg8%
Iron 2mg11%
* Percent Daily Values are based on a 2000 calorie diet.
Want more Shaw Kitchen recipes? Then sign up here for my 5 Day Stress-Free Meal Plan delivered straight to your inbox!
Disclosure: This post was originally sponsored by The North American Meat Institute (NAMI) , a contractor to the Beef Checkoff, in 2018.