Ready to take your love of Mediterranean cooking up a notch? Well, up a notch but also doable in an appropriate time frame (read 30 minutes or less?!) Then friends, today's post has the answer for you!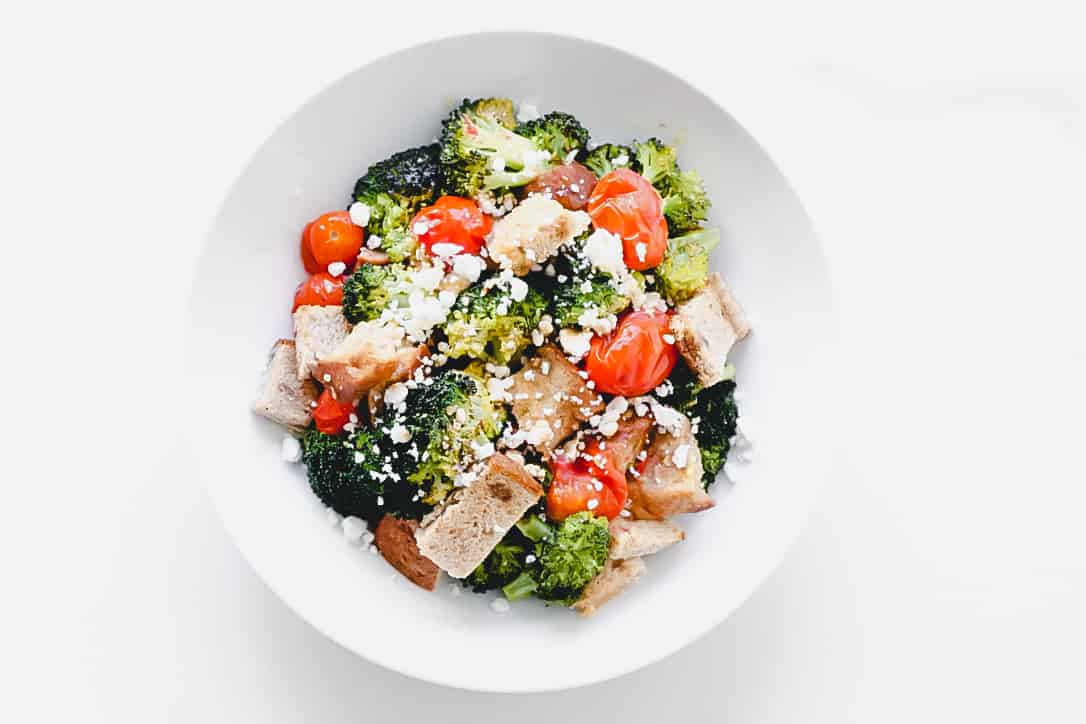 Disclosure: I received a review copy of The 30-Minute Mediterranean Diet Cookbook. As always, all opinions expressed are my own!
Dear Salad, 
I have a love-hate relationship with you.
For instance, I LOVE it when Mr. CEO chops you, it tastes like I'm eating at a fine dining restaurant, paying $20 bucks for a house chopped.
I LOVE it when you're there for me, like prepared, tossed and dressing on the side when I get home from a hard workout. 
But, I HATE it when I spend my hard earned money and you perish before I can even enjoy your beautiful taste.
I HATE it when your a boring blend of just iceberg and shredded carrots.
I NEED variety in my life. I CRAVE it. Please, grant me my wish and offer me some new options.
Okay, Thanks!
Liz
Yes, these are the conversations I have inside my head sometimes, like this past week when I had to toss way much more produce than I care to admit because of a bad batch of romaine picked up at Trader Joe's.
Literally, ask Mr. CEO, it pains me to waste food but I'm also not going to eat something of poor quality.
That's why I'm so excited today to introduce you to this Roasted Broccoli Panzanella Salad (read no wilted lettuce here!) and the creators behind the latest cookbook to hit the shelves, The 30-Minute Mediterranean Diet Cookbook!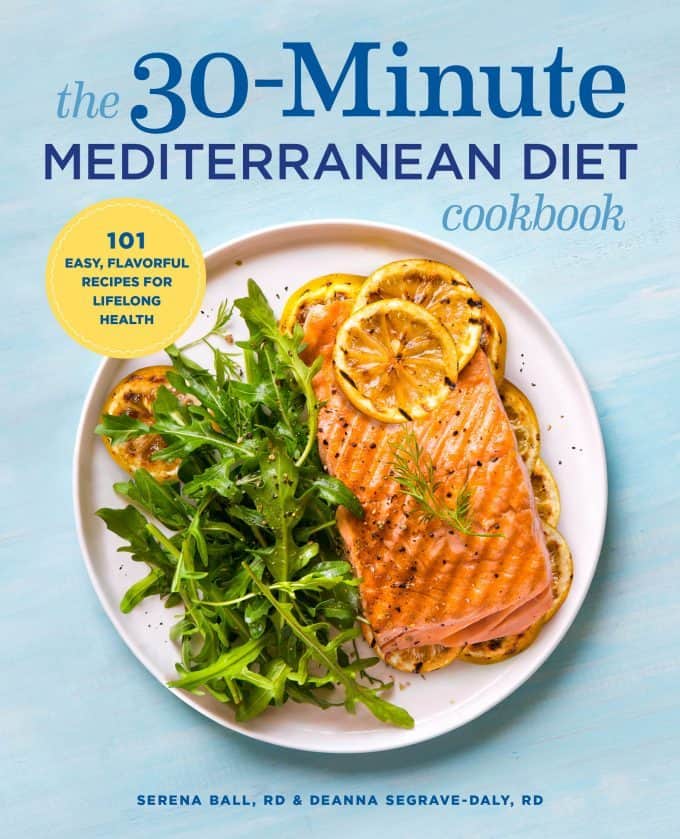 Now, you've met the masterminds behind this cookbook before! Deanna Segrave-Daly and Serena Ball are two of the three creators of The Recipe ReDux, the monthly recipe challenge club you've seen mentioned here time and time again (like these Roasted Potato Breakfast Tacos!)
When I heard these ladies were coming out with a cookbook, I knew it was going to be good!
You see, Teaspoon of Spice (the duo's blog) is a legend when it comes to the RDN world of blogging. These ladies were at the forefront of the wave when RDN's began to put their fingers to the keyboard and type away.
Essentially, they helped paved the way for entrepreneurs like me to have a space to speak our minds and share credible, relatable nutrition advice.
Now, put these two minds together and bind a book that not only has delicious, drool worthy recipes (like this Roasted Broccoli Panzanella coming shortly!), but also credible tools based on sound science to implement the Mediterranean Diet into a healthy lifestyle.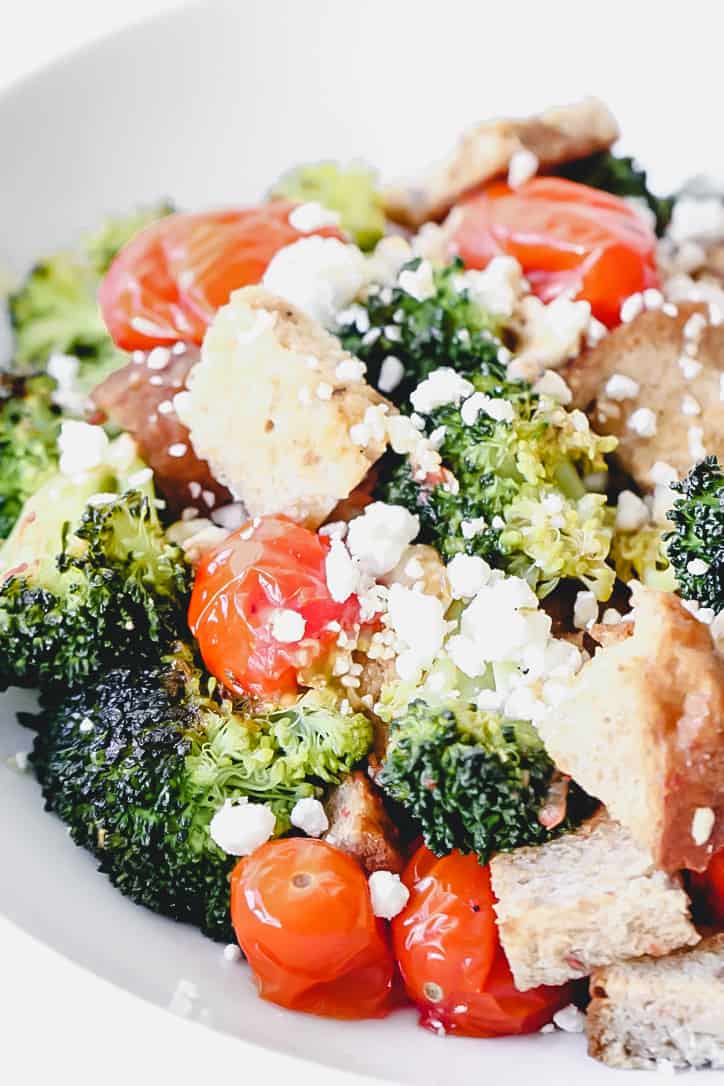 One of my favorite parts of the book is the section titled, The Mediterranean Kitchen. This provides a breakdown of the pantry essentials to stock up on so you can always have a quick fix healthy meal on hand.
Really, with a can of beans and a jar of roasted red peppers a lot of magic can happen! 
While The 30-Minute Mediterranean Diet Cookbook isn't released until October 30th, you can certainly get your hands on a preorder copy now (click here!)
Or, be sure to follow Deanna and Serena along on social media for a chance to win a copy!
Now, without further adieu, meet the answer to my salad love letter, Roasted Broccoli Panzanella Salad!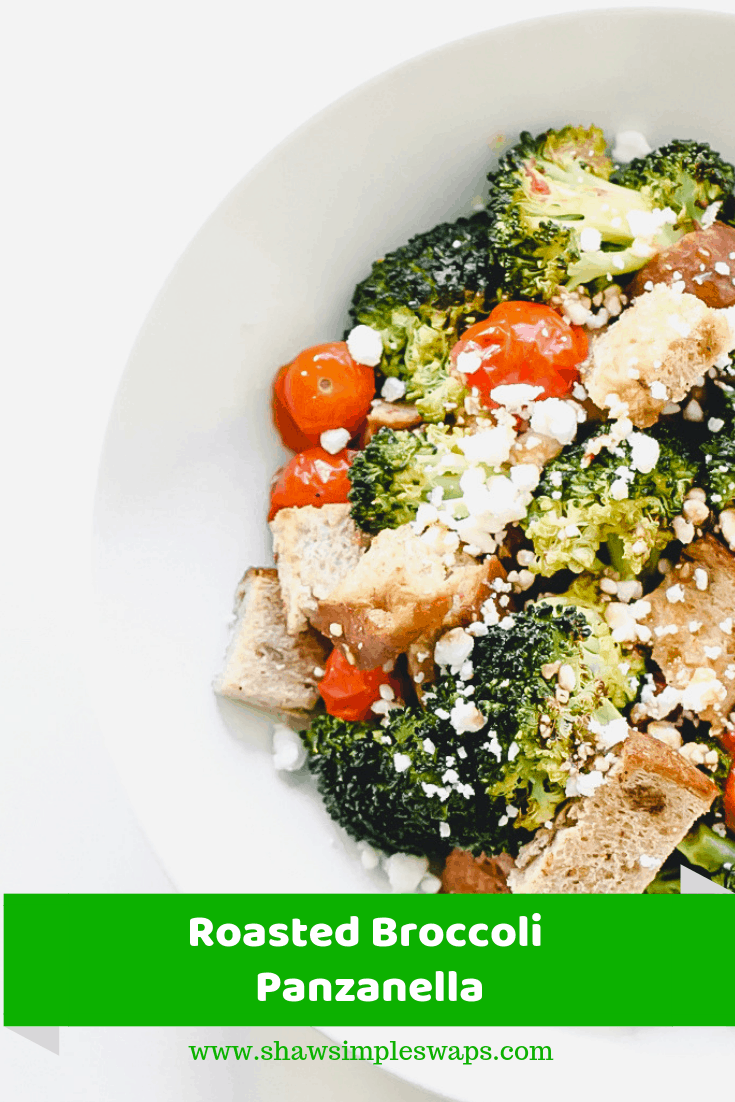 Roasted Broccoli Panzanella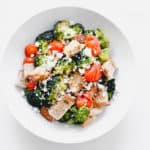 1 pound broccoli, trimmed and cut into 1-inch and 1/2-inch stem slices (about 3 medium stalks)
3 tablespoons extra virgin olive oil, divided
1 pint cherry or grape tomatoes (about 1 1/2 cups)
1 1/2 teaspoons honey, divided
3 cups cubed whole-grain crusty bread
1 tablespoon balsamic vinegar
1/2 teaspoon freshly ground black pepper
1/2 teaspoon kosher salt
grated Parmesan cheese (or alternative) for garnish
Place a large, rimmed baking sheet in the oven. Preheat the oven to 450 degrees F with the pan inside.

Put the broccoli in a large bowl, and drizzle with 1 tablespoon of the oil. Toss to coat.

Carefully remove the hot baking sheet from the oven and spoon broccoli onto it, leaving some oil in the bottom of the bowl. Add the tomatoes to the same bowl, and toss to coat with the leftover oil. Toss the tomatoes with 1 teaspoon of honey, and scrape them onto the baking sheet with the broccoli.

Roast for 15 minutes, stirring halfway through. Remove the sheet from the oven, and add the bread cubes. Roast for 3 more minutes. The broccoli is ready when it appears slightly charred on the tips and is tender-crisp when poked with a fork.

Spoon the vegetable mixture onto a serving plate or into a large, flat bowl.

In a small bowl, whisk the remaining 2 tablespoons of oil together with the vinegar, the remaining honey, and the pepper and salt. Pour over the salad, and toss gently. Sprinkle with cheese and oregano, if desired, and serve.
Cheese not calculated into analysis. Feta used in current recipe photo. 
Now, let's chat!  What's your favorite go to Mediterranean recipe!?