Fall isn't fall unless we talk about apples am I right? This delicious Apple Pie Oatmeal is the perfect addition to your morning routine not only because it's absolutely delicious, but also because it's filled with gut health benefits. Join me today for a look at the benefits of probiotics and a sneak peak at this Apple Pie Oatmeal!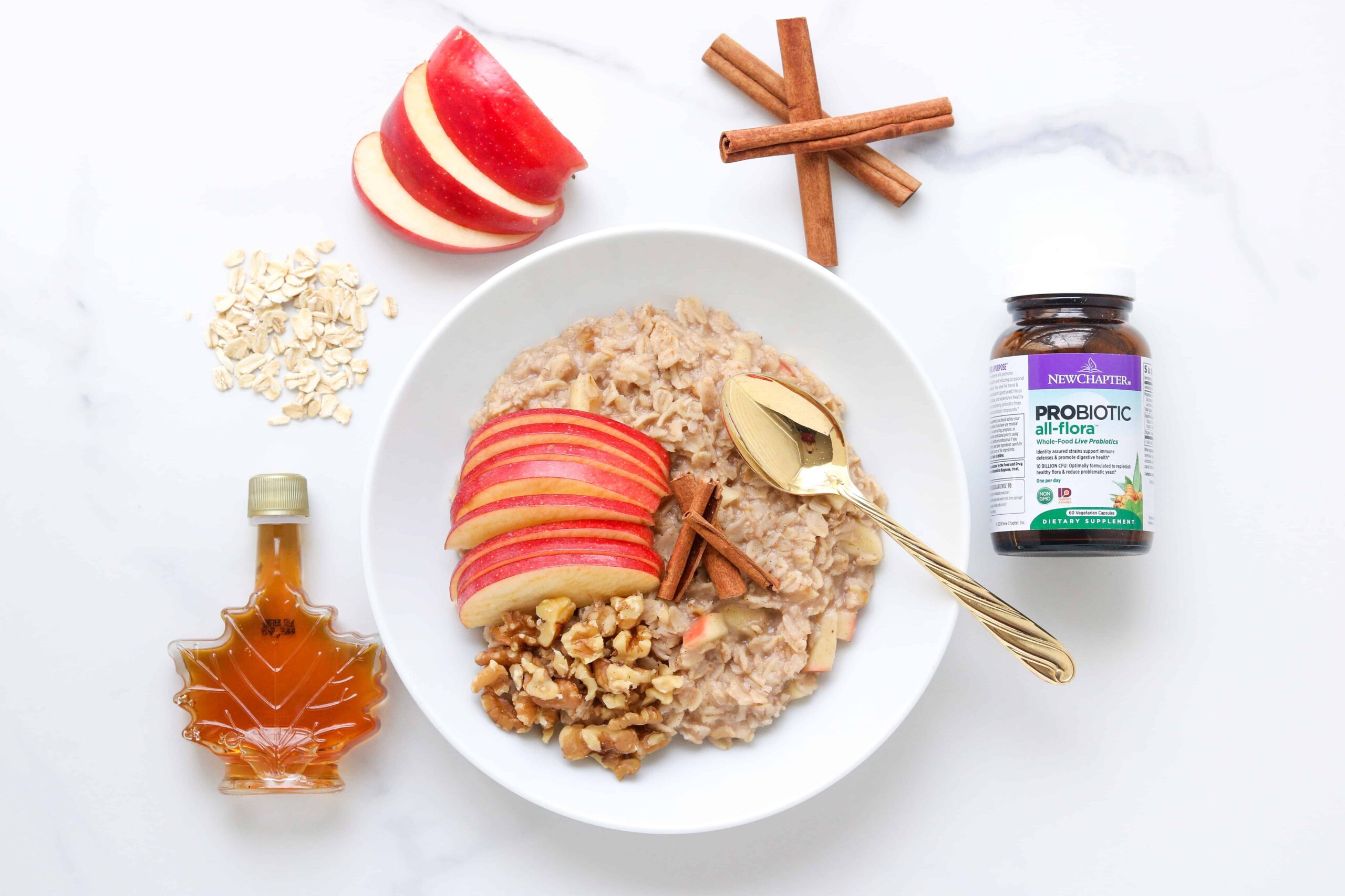 Disclosure: This post is part of a collaboration with New Chapter. As always, I only work with companies I endorse in the Shaw Kitchen. Thank you for supporting the brands that keep Simple Swaps up and running! 
It's been a while (insert 2015 when I made this Pumpkin Pie Oatmeal) since I cooked oats on the stovetop.
But, with the first rain of the season finally hitting San Diego whipping up a batch of Apple Pie Oatmeal felt necessary.
Truthfully, I'm not sure why I don't eat oats more often.
Oats are a nutrient powerhouse (read: filled with fiber and prebiotics) and really beneficial when it comes to your gut health.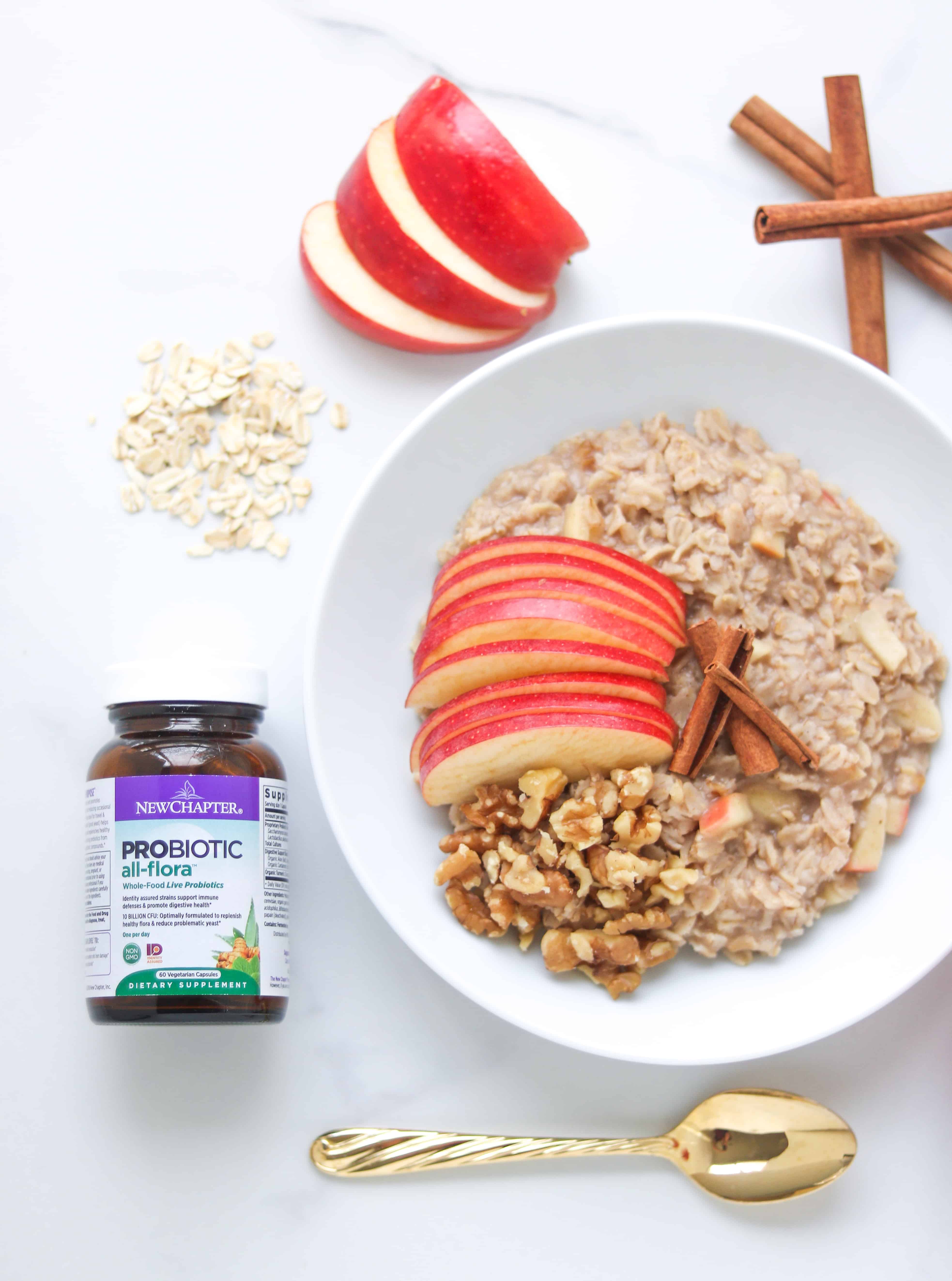 You may remember from back in the day when we chatted about our gut health here, but it's been a few years and a lot of new research has emerged so its time we revisit this important topic once again. 
First off, a quick recap: 
Probiotics are those good for you bacteria that naturally reside in your body and are found in abundance in both functional foods and whole foods. Functional foods could be snack bars or other foods that have probiotics added during manufacturing, whereas whole foods such as yogurt, kefir and fermented foods naturally have probiotics present in the way they are made.
Prebiotics are the food for probiotics. Great food sources of prebiotic foods are oats (hello Apple Pie Oatmeal!), onions, garlic and bananas.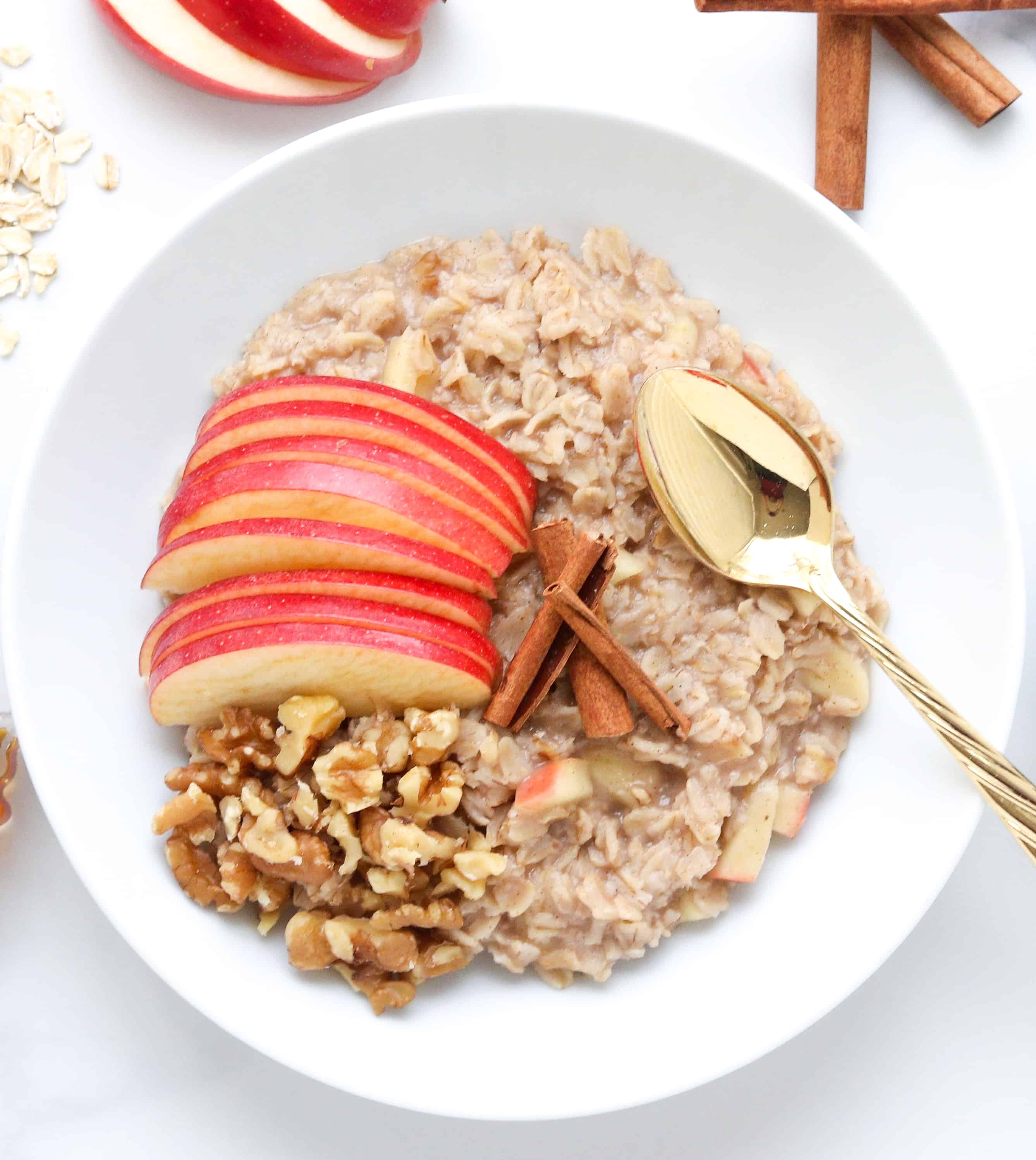 While there's not a recommended daily intake for probiotics as there is with vitamins and minerals, research continues to explore the range of benefits helpful bacteria can provide a host, ranging from:
While it's fascinating to see the variety of conditions probiotics may help to positively affect, MORE RESEARCH IS NEEDED in how, what, when and why they function the way they do!
For instance, there are many different strains of probiotics.  Since the strain in itself plays a major role in how it will function and what benefit it will provide each individual body, it's best to speak with a qualified professional if you are looking to specifically target a disease state with probiotic use. 
But, with that said, 70%+ of your immune system is said to reside in your gut (aka, your microbiome). So if you're looking to try and ward off the common cold or keep your body in its healthiest state, it's a good idea IMHO to focus on eating a pre and probiotic rich diet alongside taking a supplement.
Now, here's where the BIG question I get comes in:
What probiotic should I take?!
Truthfully, not all supplements are created equal and you really don't just want to buy the cheapest one at the market. You need to do your homework and find out what brand you can trust (but don't worry, I've done the work here for you!)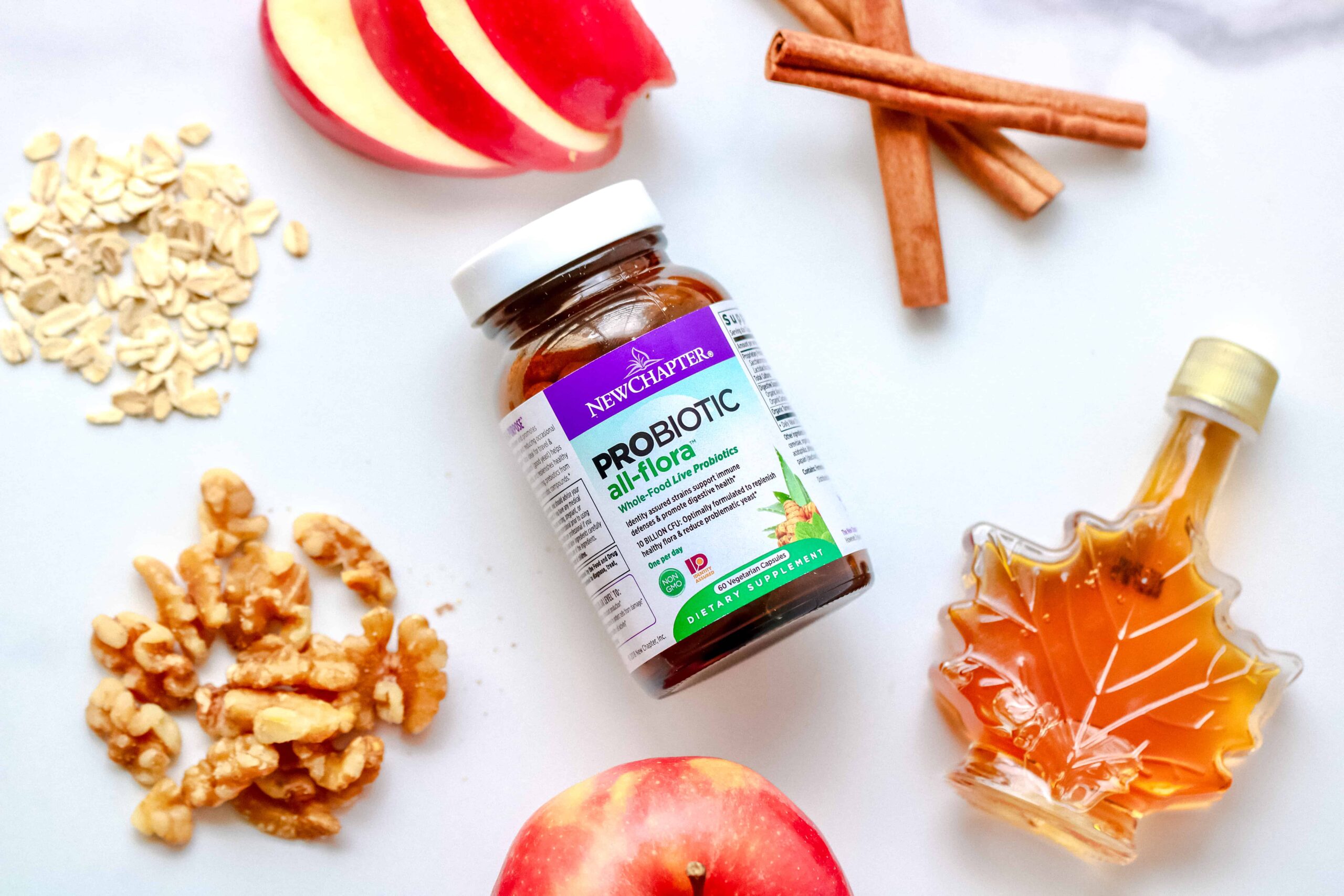 Probiotic All Flora delivers live probiotics to help replenish good bacteria, with prebiotics as fuel to boost probiotic activity to balance out a well-rounded gut!
In just one serving, Probiotic All-Flora delivers 5 billion CFU (colony forming units) of friendly bacteria and 5 billion CFU beneficial yeast that work in synergy to balance your total microbiome. Plus, it's gentle on your stomach too! 
New Chapter is a company that is built on pillars of values surrounding quality, purity, efficacy, potency and identity, making it a trusted brand for over 35 years in the supplement industry. 
Probiotic All-Flora tis Non-GMO, gluten free and 100% vegan, meaning those with special dietary considerations are safe to consume it too. 
Their Probiotic All Flora line is formulated specifically to support healthy immune defenses and promote digestive health*, including:
bowel regularity

 

and the reduction of occasional gas, bloating, diarrhea, and constipation*.

 

*These statements have not been evaluated by the Food and Drug Administration. This product is not intended to diagnose, treat, cure, or prevent any disease.
To help set you (and your gut) up for success, you can visit the New Chapter website to purchase. Or, if you'd prefer to pick up at your nearest market, you can locate them nearest you here!
Okay okay, no more waiting!
Here's the Apple Pie Oatmeal recipe to launch your gut health today! Or, if you're more into the pumpkin trend, enjoy the Pumpkin Pie Oatmeal here. Either way, enjoy!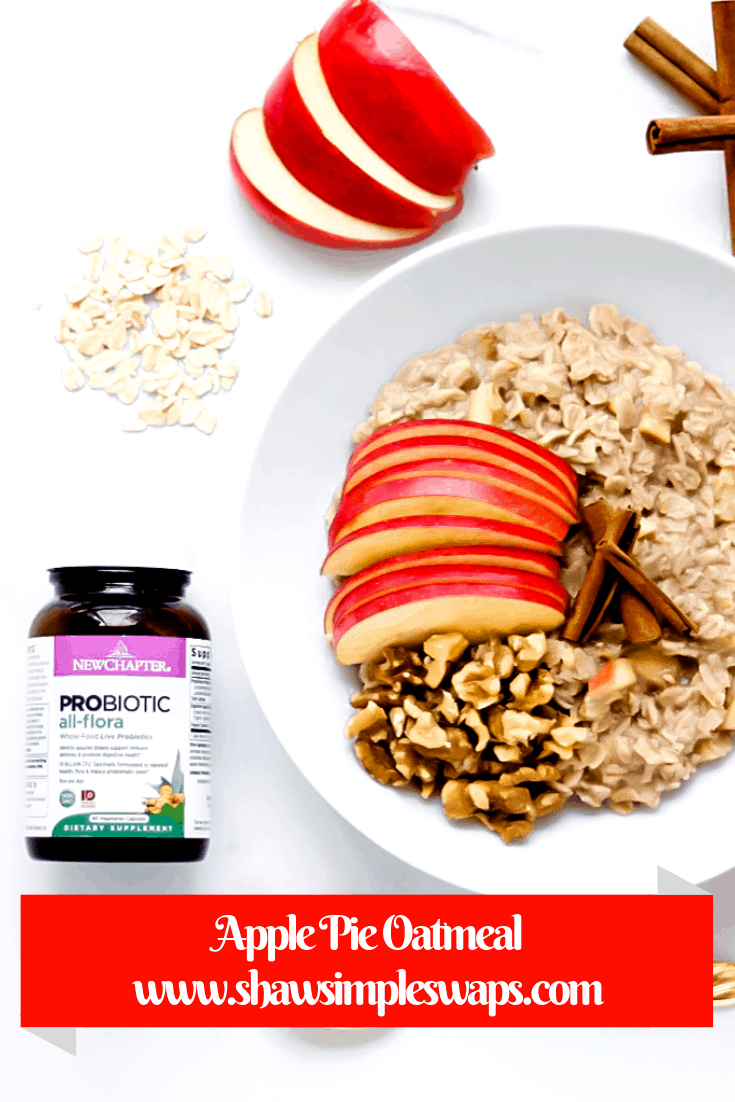 Apple Pie Oatmeal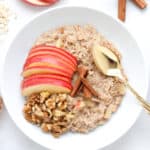 Apple Pie Oatmeal + The Benefits of Probiotics in Total Health @shawsimpleswaps #probiotics #prenbiotics #guthealth
3 cups water
1/2 teaspoon kosher salt
1 1/3 cups whole rolled oats (organic optional)
1 teaspoon vanilla extract
1/2 cup applesauce (unsweetened)
1 medium Gala apple (chopped)
1/2 teaspoon ground cinnamon
2 tablespoons pure maple syrup
1/4 cup walnuts (chopped)
Combine water and salt in medium stove top pan over high heat.  Once water is boiling, lower heat and add in oats. Simmer, stirring occasionally for 10 minutes.

After 5 minutes, whisk in vanilla extract, unsweetened applesauce, 2/3rds of the chopped apples, ground cinnamon, and maple syrup.
Continue to cook 5 minutes until a majority of the water is absorbed. Remove from heat and let cool 5 minutes. When ready to eat, pour into a bowl.
Top with chopped walnuts and the remaining 1/3rd of the apple, or other desired garnish. Save leftovers in airtight containers for up to 5 days in the refrigerator or freeze for up to 3 months.
Let's chat! Are you an oat fan?
How do you boost your gut health?
Let me know in the comments below!