As a national nutrition expert, I'm thrilled to have the privilege to share my passion for nutrition and health with the world at large!
While my day-to-day work offers the opportunity to weigh-in on nutrition trends and research for national publications and broadcast television, I've also been blessed to write as well for many of these outlets.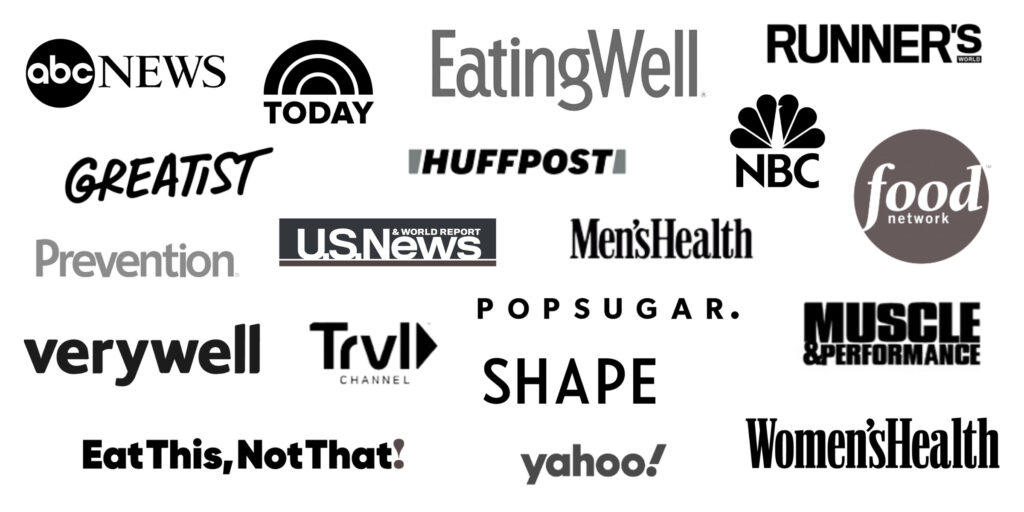 Nutrition Media Expert
Current outlets I contribute to currently:
Broadcast Appearances
Sonora Living Phoenix – Healthy Plant Based Foods to Add to Your New Year
AM Buffalo New York – Snack Healthy This Holiday Season
San Diego ABC 10 News – Healthy Halloween Snacks
NBC California Live – Top 5 Food Sources of Vitamin D
Celebrity Page Feature – Nationally Syndicated
NBC California Live – Dietary Guidelines for Americans
Daily Flash – Nationally Syndicated
Bill Martinez Live – Nationally Syndicated Radio
California Live – State Broadcast
ABC San Diego Connect – Local Broadcast
ABC San Diego Connect – Local Broadcast
Self-Produced Video for Clients
Beef Checkoff
Clif Bar & Company – Sustainability Bites Series
Online/Print Media Appearances
Written Pieces
What is the hCG diet, and is it safe?
4 Sneaky Reasons Your Dehydrated
Should You Drink Coffee On An Empty Stomach
The #1 Snack For Weight Loss When You Have High Blood Pressure
Can You Eat Dried Fruit If You Have Diabetes?
The #1 Nutrient For Brain Health As You Age
Content for: Clean Eating
90% Of Americans Aren't Getting Enough Of This Important Nutrient: Are You One of Them?
Is Astaxanthin the Next Big Trend? Here's What You Need to Know
Can You Be Body Positive and Still Want to Lose Weight? Top Experts Weigh In
5 Easy Ways to Add Protein to Dairy-Free Yogurts
10 Mocktail Recipes to Ring in the New Year (Without a Hangover)
These Top Nutrition Trends Are Going to Be Everywhere in 2022
What's the Secret to a Longer Life? Think Blue.
Need More Energy? Try These 5 Foods Full of Vitamin B12
Upgrade Your Oats: 5 Ways to Make Winter's Best Breakfast Even Healthier and More Delicious
#ThatDietitianWithABeard is Changing the Face of Meal Prep On Social Media. Find Out His Top Tips
Get Those Chestnuts Roasting On the Open Fire! Why This Nut is a Nutrient-Packed Addition to Your Holiday Menu
Content for: VeryWell Fit
Is the 12-3-30 Treadmill Workout Right for You?
Content for: Oxygen Magazine
Elimination Diets: What You Need to Know
How to Set an Approach-Oriented Goal This Year
10 Nutritionists Share Tips for Enjoying the Holidays
20 Health Tips to Create a Healthy Lifestyle
7 Protein-Packed Soups for Cozy Nights
10 Seasonal Fall Fruits and Vegetables to Add to Your Plate
10 Low-Sugar Pumpkin Products to Try This Season
What to Know About the New Nutrition Facts Panel
10 Creative Ways to Use Thanksgiving Leftovers
10 Winter Fruits and Vegetables to Add to Your Plate
10 Spring Smoothie Recipes to Help You Reach Your Goals
10 Minute HIIT Workouts You Can Do Anywhere
Content for: Vegetarian Times
What Is Mankai and Why Are People So Interested in This Tiny Vegetable?
10 Plant-Based Sources of Magnesium
4 Nutrition Trends to Watch in 2021
5 Vegetarian Sources of Vitamin D
8 Top Protein Sources for Vegetarians
5 Vegetarian Swaps to Boost the Nutrition of Baked Goods
Expert Quotes
Featured in: Parade Magazine
How to Defrost Ground Beef Quickly When You Have Guests on the Way
The Best Oils for Frying Chicken, Fish, and…
How to Store Your Onions Correctly
How to Tell If Your Salmon Is Cooked
How to Tell If Your Steak Is Safe To Eat
Featured in: Metro Parent + Chicago Parent
3 Immunity Boosting Recipes to Keep Your Family Healthy
Featured in: US Health and News Report
Easy Recipes Using Staple Ingredients
Healthy Cookbooks for Your Holiday Shopping List
Featured in: NBC Better
The Best and Healthiest Things to Buy at ALDI
Featured in: Eat This, Not That
10 Best Snacks to Boost Immunity By Dietitians
How to Reduce Inflammation to Lose Weight Faster
10 Mistakes Your Making When Ordering Takeout
Featured in: Women's Day
Healthy Thanksgiving Dinner Tips
Featured in: Mens' Health
The 14 Best Meal Replacement Bars and Supplements
Featured in: Food Network
How Nutritionists Shop During the COVID-19 Pandemic
10 Healthy Smoothie Ingredients According to Dietitians
Featured in: Everyday Health
10 Healthy Plant Based Cookbooks According to Dietitians
Featured in: Good Housekeeping
Sugar Nutrition – Health Benefits and Risks
Featured in: Pop Sugar
Foods to Eat During Your Period
Featured in: Prevention
Here's Exactly What You Need to Eat to Boost Your Immune System
Featured in: Yahoo
Yes, Honey is an Inexpensive Cough Remedy: Here's Why!
Healthy Cookbooks for Your Holiday Shopping List
Featured in: Men's Journal
Healthy, High Protein Breakfasts for Weight Loss
Featured in: VeryWell
Study Shows Pistachios Can Support Weight Loss
Featured in: LiveStrong