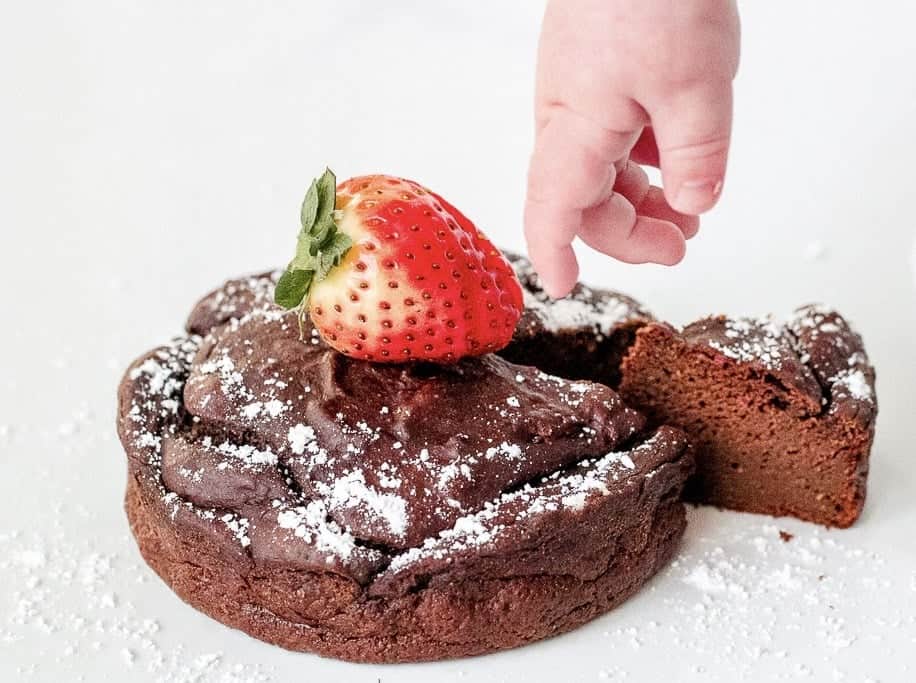 I have to admit, as a kid I grew up with chocolate cream pie as a staple in our house. Whether it was a family gathering, holiday or frankly just a Sunday night, more often than not if we were having dessert it was going to be a Coco's or Marie Calendars Chocolate Cream Pie. Basically, whichever was having their $7.99 pie sale got our money.
Yes, this little lady sure did love those pies. What kid doesn't love mounds of whip cream laid on top of a deliciously thick chocolate cream pudding? I took a sabbatical while I was in school and instead focused on those insanely good Cookie Dough Bars I found over at Northern Illinois University. But, flash forward a few years and pie has come back into my life.
Largely I attribute the return of the pie to Mr. CEO. He's #spoiled as you know and I like to bake him up delicious treats to entice him to get up on the weekends. One particular weekend about a month ago I had a sweet potato, box of chocolate pudding and a mission in mind to get him up so we could go on a hike! So, I decided to whip up a pie like creation that could be enjoyed as a breakfast treat or dessert delight (think #multimeals).
Frankly, when I get creative like this I really have NO IDEA what is going to come together in the Shaw Kitchen. Sure, I know many #simpleswaps are going to be made, but #realtalk, am always a little on edge if the outcome will even be edible. It's true, I'm not ashamed to admit it. I have these crazy ideas that sound sometimes so much better in my head than when actually created in real-life (I.E. the inedible chickpea chocolate chip cookies that I had to throw out last week).
Luckily though, this Sweet Potato Chocolate Pie Cake just happened to be a WINNER!
The beauty of this baby is that it's crust-less, meaning you save a ton of calories without losing any flavor. Plus, it's free of added sugar and filled with fiber (hello prunes), making it a go to if you're feeling, well, a little stuck if you know what I mean!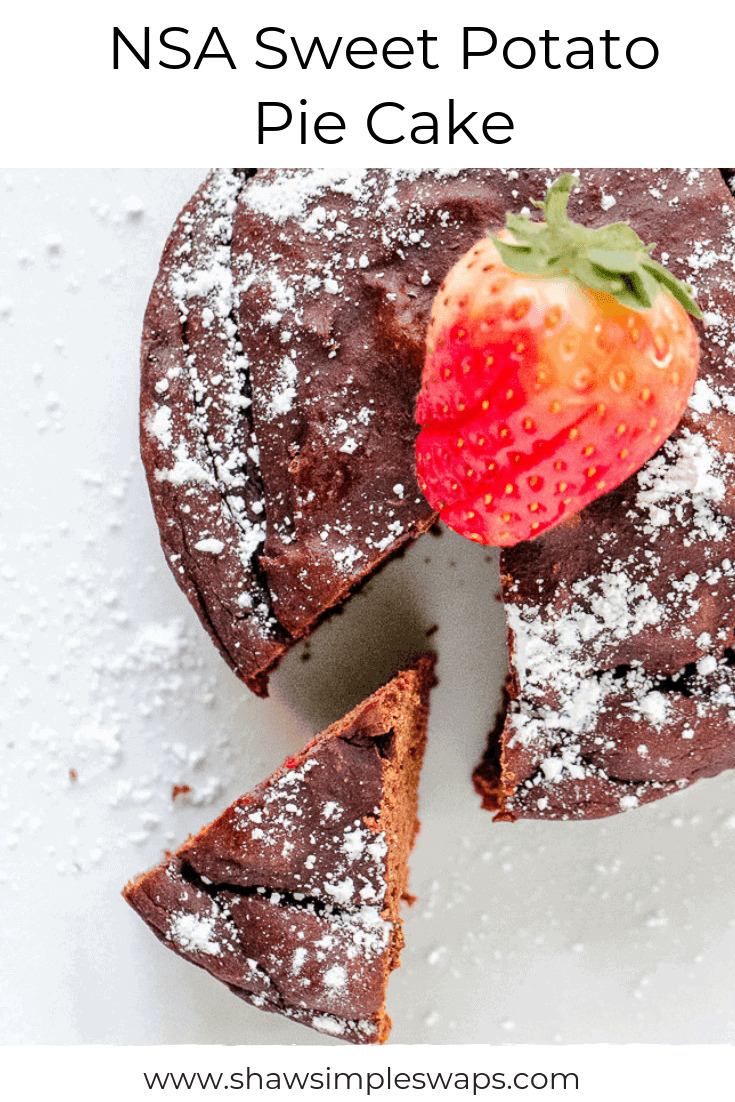 I hope you love this new #simpleswap creation as much as Mr. CEO and I did. And hey, maybe you'll even get your kids to spring out of bed just by knowing they're gettin' pie for breakfast! Here's to #dreamin', right?!
Enjoy!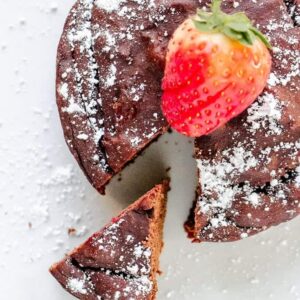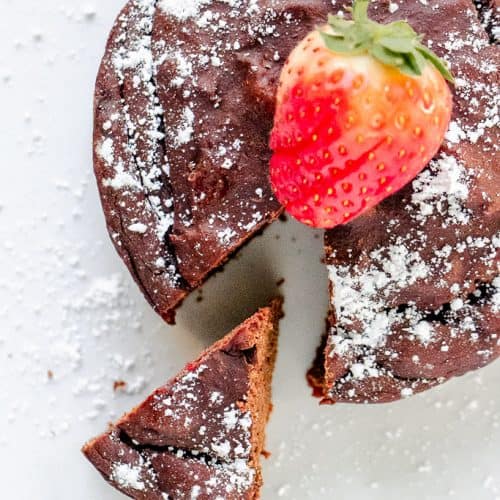 Sweet Potato Chocolate Pie Cake
Yes, it sounds interesting I agree- but it's absolutely amazing if you're looking for a fun twist on a pie in a cake form! Plus, there's no added sugar!
Print
Share by Email
Ingredients
3/4

cup

prunes

1

cup

mashed sweet potato

2

tablespoons

peanut butter

1

large

egg

1 1/4

cups

almond milk

unsweetened vanilla

2

teaspoons

vanilla extract

1

cup

whole wheat flour

1/2

cup

cocoa powder

1

teaspoon

baking soda

1/4

teaspoon

cream of tartar

1/8

teaspoon

sea salt
Instructions
Preheat oven to 375 degrees F. Heat a microwave safe cup with 1 cup of water for 30 seconds, add in prunes, and let sit, covered for 5 minutes.

To a Vitamix (or a high powdered blender/food processor), add in prunes with 1/2 cup of the water. Blend until a thick puree is formed.

Add in sweet potato, peanut butter, egg, almond milk and vanilla extract, blend 1 to 2 minutes until smooth.

In a small bowl, mix flour, cocoa powder, baking soda, cream of tartar and salt. Slowly add dry mix into Vitamix 1/4 cup at a time, blending until all is incorporated and batter is smooth.

Spray 8x8-inch square pan (or 6 individual 2x2-inch cake pans) with cooking spray.

Pour batter into pan and bake for 40-45 minutes, or until toothpick comes out clean.

Remove, let cool, and enjoy! Refrigerate in an air tight container and enjoy for best quality within 4 days.
Nutrition Facts
Sweet Potato Chocolate Pie Cake
Amount Per Serving (1 )
Calories 176
Calories from Fat 36
% Daily Value*
Fat 4g6%
Cholesterol 26mg9%
Sodium 266mg11%
Potassium 473mg14%
Carbohydrates 32g11%
Protein 6g12%
Vitamin A 6890IU138%
Vitamin C 6.8mg8%
Calcium 85mg9%
Iron 1.9mg11%
* Percent Daily Values are based on a 2000 calorie diet.