Grab a glass of milk & dive into these Chocolate Chip Cookie Dough Bars!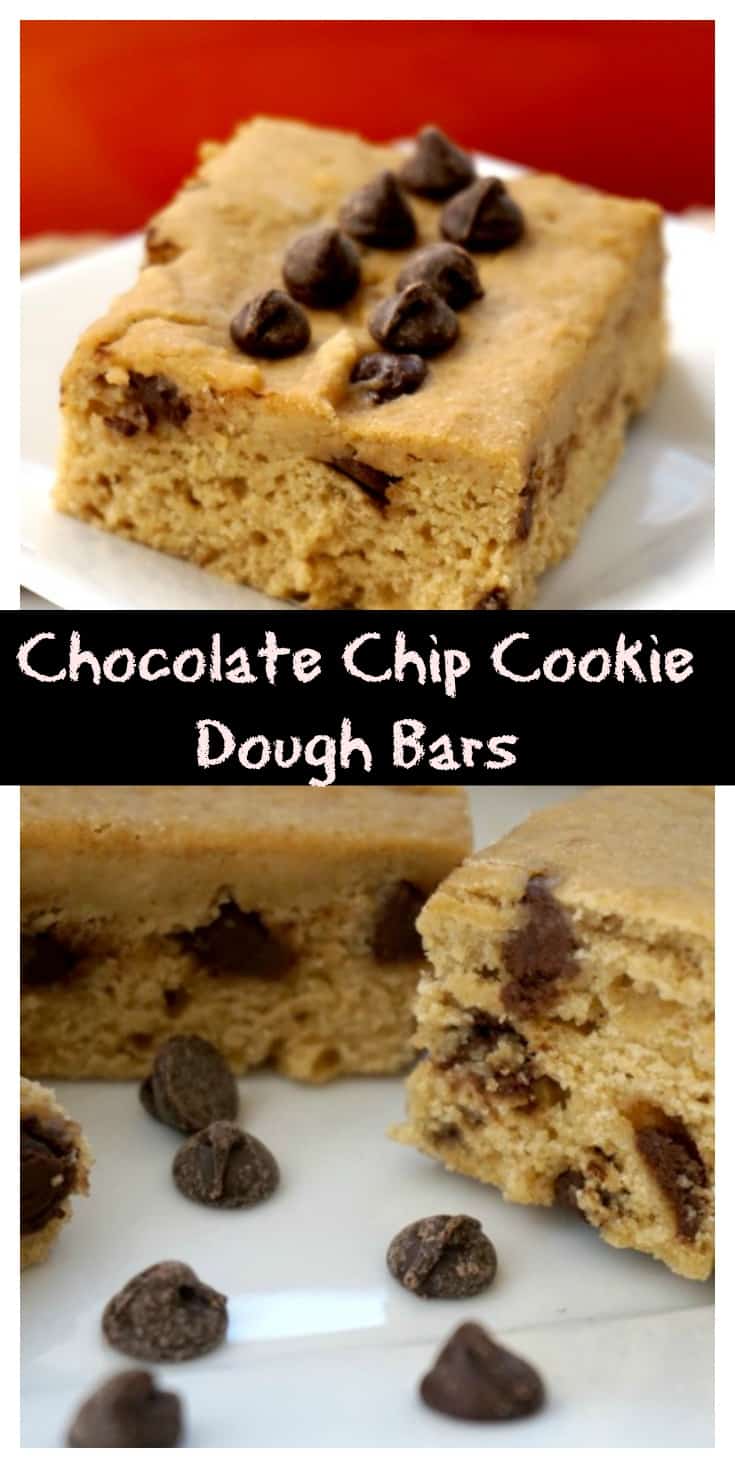 Do you ever have those days you wake up and think "Damn, the only thing I want for breakfast is a BIG FAT COOKIE?" Well, don't worry, you're not alone. I happened to have one of these mornings this past weekend and decided my PB2 & toast was just not gonna cut it!
Off to the kitchen I went with a mission in mind to recreate my favorite cookie bar from my days in the kitchen during my dietetic internship at Northern Illinois University.
It's amazing I didn't finish the program at a whopping 200 pounds because I can tell you, there wasn't a thing healthy about those bad boys. Butter…yep; sugar (and lots of it)…check; pounds of chocolate chips…but of course!
Since my metabolism doesn't quite work the same it did eight years ago, I knew it was time to #simpleswap that recipe into something Mr. CEO and I could enjoy as frequently as we used to indulge in those bars.
With chocolate chips in one hand and whole wheat flour in the other, I began recipe creation… not quite knowing if this was something that would even be edible!
Phew, 45 minutes later when the timer went off and the aroma of fresh baked cookies filled the house I knew I had created a winner! I swear, I'm not fibbing! Mr. CEO was even drawn away from his Nascar obsession to poke his nose into the kitchen to see if a taste tester was needed :).
So, what makes these bars a BETTER for you choice than its traditional counterpart? For starters, it's made with 100% whole wheat flour, providing an excellent source of whole grains and fiber.
Plus, applesauce is used as the fat replacer, making this cookie a low fat option! I took it a step further too since I'm experimenting lately with natural sweeteners from the stevia plant to add that sweet taste without the added calories from a traditional sugar.
When all was said and done, this 9 serving cookie dough bar serves 9; but somehow Mr. CEO and I managed to finish in two days! CAUTION… make and eat with self control!
Chocolate Chip Cookie Dough Bars
Ingredients
1/4

cup

butter

softened

1/2

cup

stevia

1/3

cup

brown sugar

1/2

cup

unsweetened applesauce

2

large

eggs

1/4

cup

almond milk

2

tsp

vanilla

2

cups

whole wheat flour

1/2

tsp

baking powder

1

tsp

baking soda

1/4

cup

chocolate chips
Instructions
In a large mixing bowl, add butter, sugars, and applesauce. Mix together with a handheld mixer on low speed (or vigorously stir with a whisk). Add in the eggs and almond milk and mix for 1 minute.

In a separate bowl, combine flour with baking powder and soda. Then, slowly stir in to the wet ingredients, adding in chocolate chips at the end.

Pour batter into an 9x11-inch nonstick pan sprayed with cooking spray.

Bake for 25 minutes or until knife comes out clean.

Enjoy warm with a dollop of peanut butter and a cup of morning coffee!
Nutrition Facts
Chocolate Chip Cookie Dough Bars
Amount Per Serving
Calories 164
Calories from Fat 54
% Daily Value*
Fat 6g9%
Cholesterol 45mg15%
Sodium 163mg7%
Potassium 122mg3%
Carbohydrates 24g8%
Protein 4g8%
Vitamin A 180IU4%
Vitamin C 0.1mg0%
Calcium 38mg4%
Iron 1mg6%
* Percent Daily Values are based on a 2000 calorie diet.
Are you a fan of Chocolate Chip Cookie Dough Bars?