Blueberry Almond Cookies – Celebrate Fruit & Veggie Month!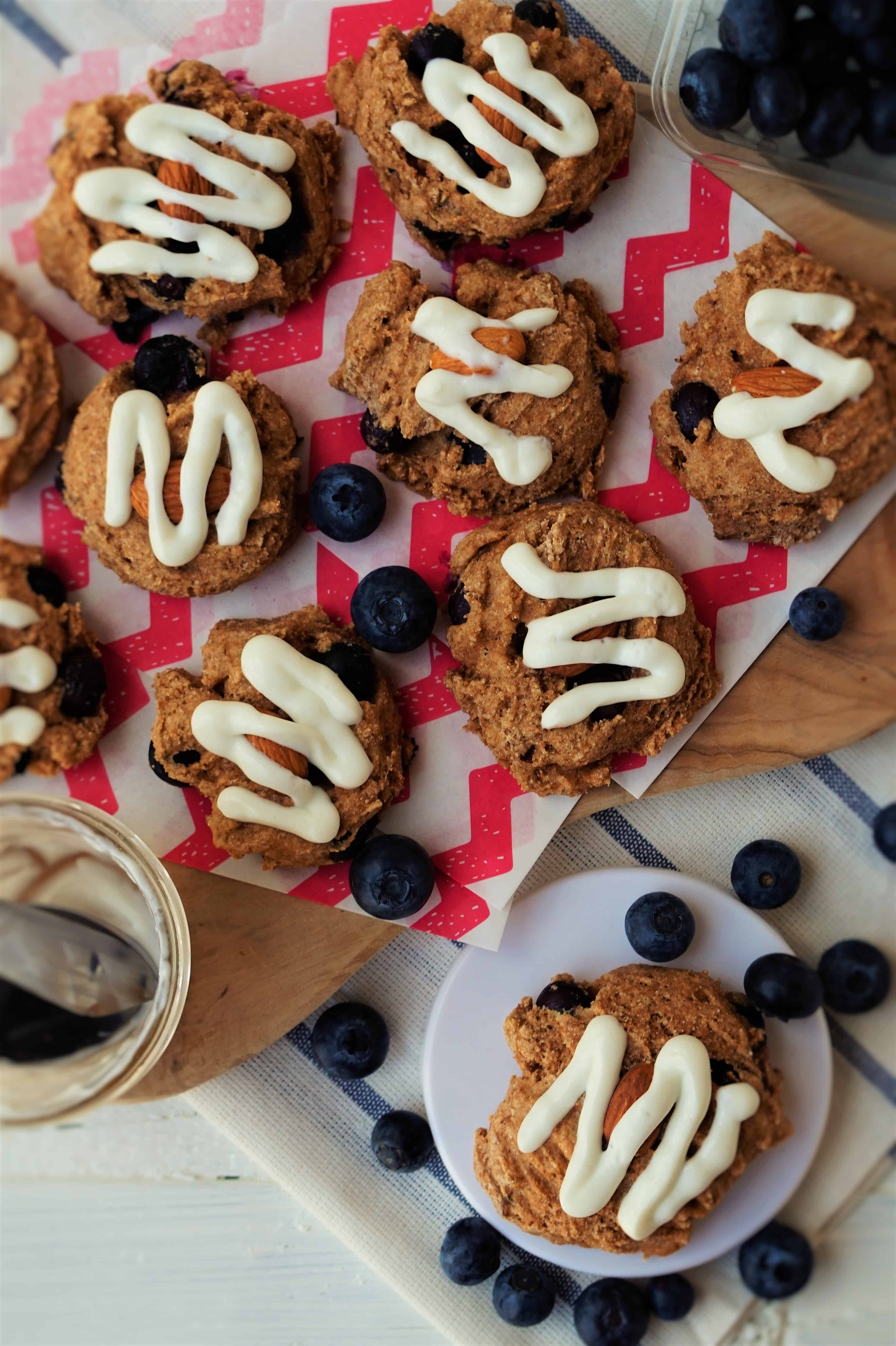 Howdy friends! Thanks for joining Sara and I for another round of Fertility Friday.
June just so happens to be national fruit and vegetable month, so we're on a mission to get that word out! Sara did a great job with those Greek Yogurt Smoothies so I thought I'd carry her flame and debut these Blueberry Almond Cookies.
I've been raving about these Blueberry Almond Cookies on Instagram for weeks! I overdid it a bit on the recipe testing, so had to wait a week or two before I could sit and write about it. Morale of that story: too much of any food is never a good thing!
Anyhow, back to the Blueberry Almond Cookies!
Blueberries are chock full of antioxidants, the good for your nutrients that help rid your body of free radicals. We've chatted about those bad guys in that Italian Grilled Cheese with Cauliflower Toast recipe, but let's refresh here.
Free radicals enter your body from the environment and certain foods we eat, such as fried foods and highly processed items. Free radicals can wreak havoc on your system. However, they do so secretly, sometimes presenting no symptoms at all. Over time, they can damage many important systems in our body, including the reproductive system. You can be proactive though by helping eliminate free radicals from your body by eating a diet high in fruits and vegetables.
Many fruits and vegetables, like blueberries, are high in antioxidants. Now, considering free radicals can do damage to both the male and female reproductive system, it's important for those struggling with infertility to really boost your intake of antioxidant foods. For instance, researchers have found a positive association of larger antioxidant intakes with a greater sperm count in males.
Additionally, researchers also found males who consumed higher intakes of vitamin C (above the RDI of 60mg/day) also demonstrated enhanced sperm motility and volume. Researchers postulate that the current RDI may need to be increased for males to achieve optimal sperm quality.
Now, listen up! Loud and clear, neither Sara nor I are saying if you EAT these cookies you'll automatically boost your sperm quality if you're a male (or develop sperm if you're female). However, I can tell you these Blueberry Almond Cookies are nutrient powerhouses, tasty and delicious; things we can all appreciate, right?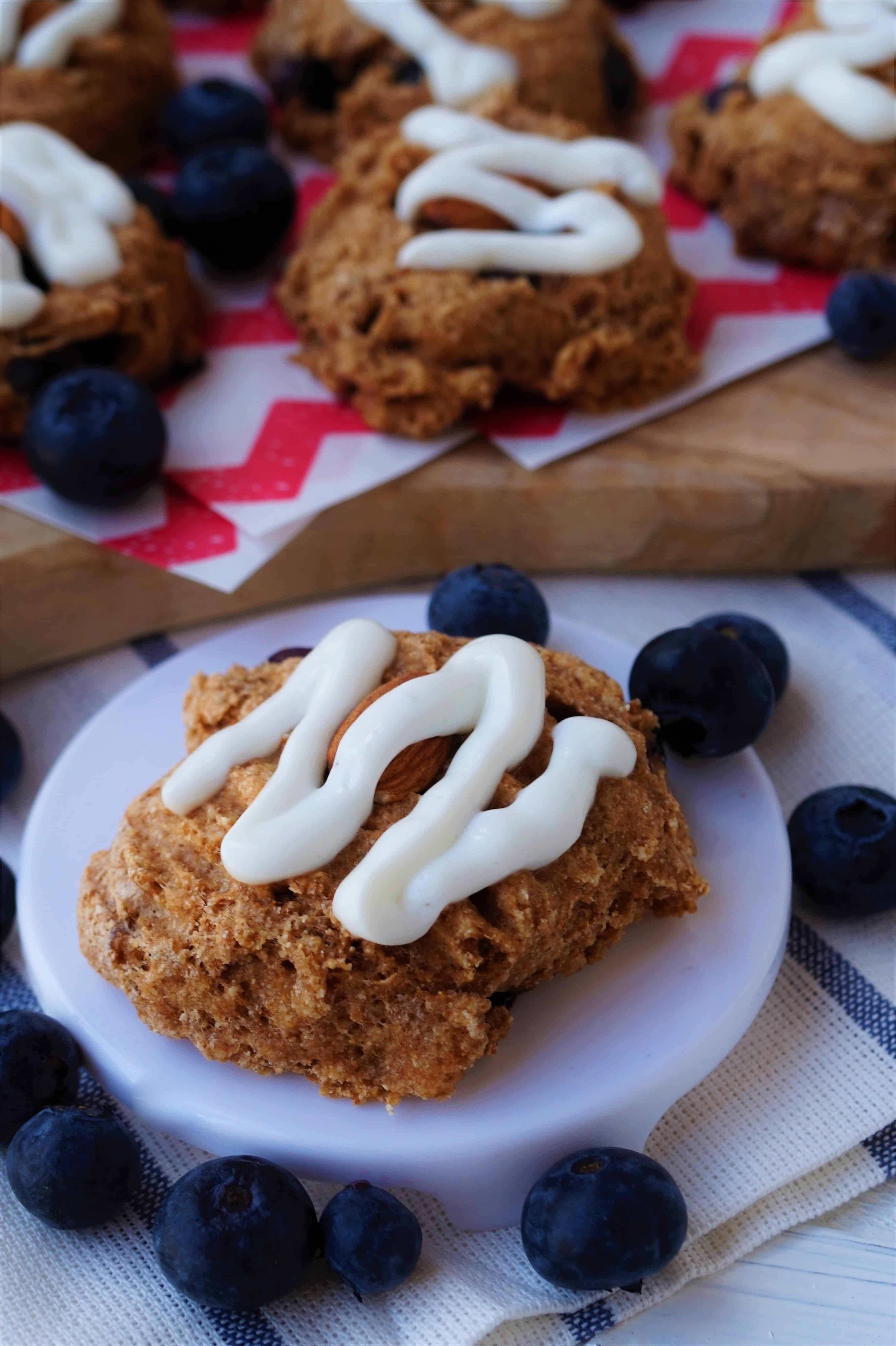 Double bonus, you can make these ahead of time and pop them in the freezer to grab and go for those busy mornings, mid afternoon sugar cravings or a midnight snack. The possibilities are endless!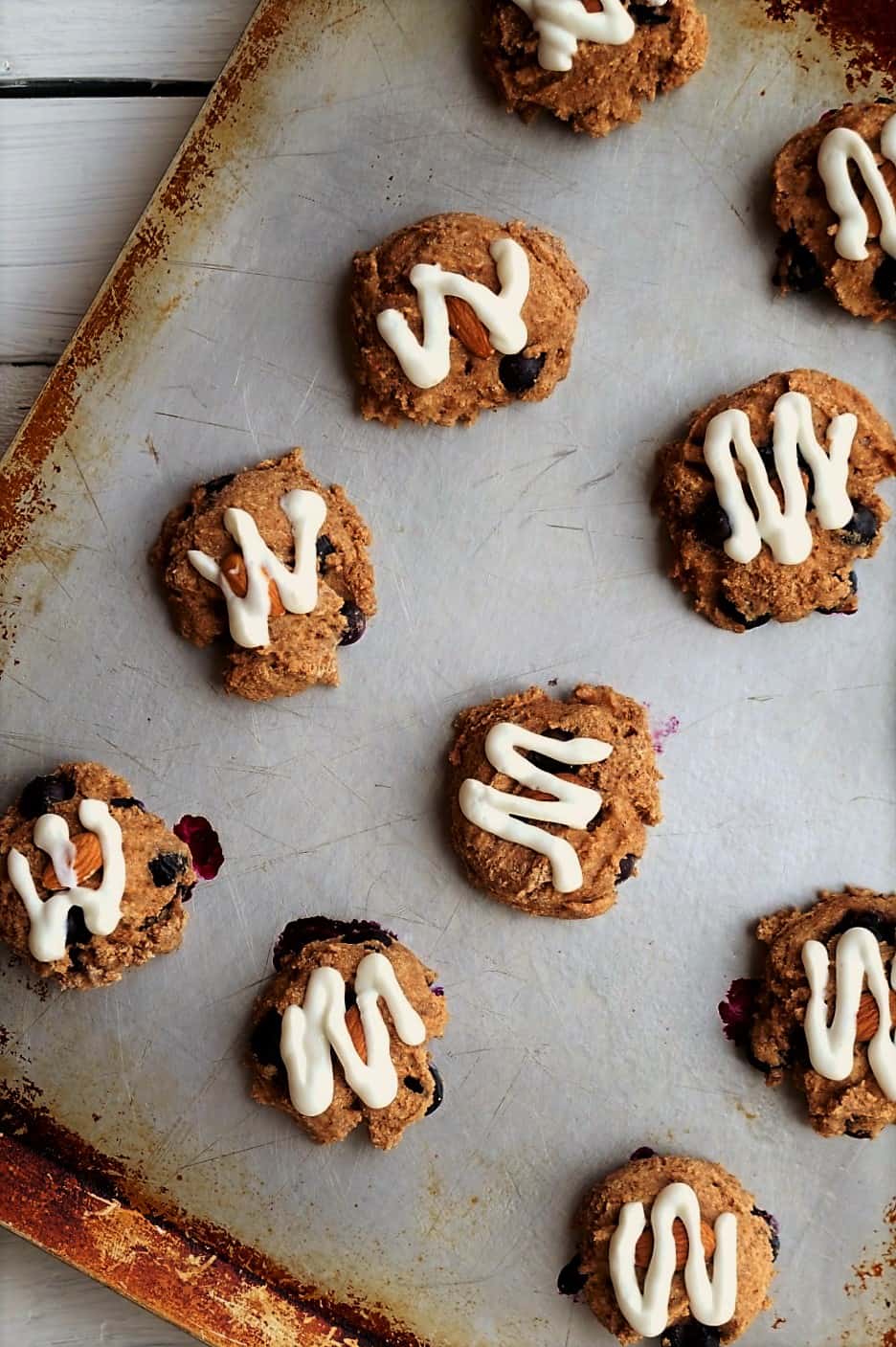 Blueberry Almond Cookies
Dive into these luscious, nutrient dense Blueberry Almond Cookies with me! Packed full of fiber!
Ingredients
1/2

cup

unsweetened applesauce

1 1/2

teaspoons

apple cider vinegar

1/3

cup

cane sugar

2

tablespoons

butter

1

teaspoon

almond extract

1

large egg

1

cup

whole wheat white flour

1

teaspoon

baking powder

2

tablespoons

raw almonds

chopped

1

cup

fresh blueberries

Frosting

1/3

cup

vanilla Greek yogurt

1

teaspoon

milk
Instructions
Preheat oven to 350 degrees F.

In a large bowl, combine applesauce, sugar, apple cider vinegar, almond extract, butter, and the egg. In a smaller bowl, combine the flour and baking powder.

Mix dry ingredients into the wet bowl.

Add chopped almonds and fresh blueberries, gently folding into the dough.

Portion out 1 oz scoops onto a pre-greased cookie sheet and bake cookies for 12 minutes.

Remove and let cool.

Combine milk with yogurt. Put into a ziplock bag and cut off the corner.

Create a zig-zag pattern over the cookie to "frost".

Store in an airtight container in the fridge, or freeze for up to one month.
Nutrition
Calories:
104
kcal
|
Carbohydrates:
17
g
|
Protein:
3
g
|
Fat:
3
g
|
Saturated Fat:
1
g
|
Cholesterol:
19
mg
|
Sodium:
25
mg
|
Potassium:
84
mg
|
Fiber:
2
g
|
Sugar:
9
g
|
Vitamin A:
85
IU
|
Vitamin C:
1
mg
|
Calcium:
28
mg
|
Iron:
1
mg
Not sure you can get on board with these? Don't sweat it! Sara's got a delicious Apple Oatmeal Cookie that will blow your socks off, while delivering a hefty dose of nutrients, too!