Dark chocolate, peanut butter, marshmallows … give me a glass of milk!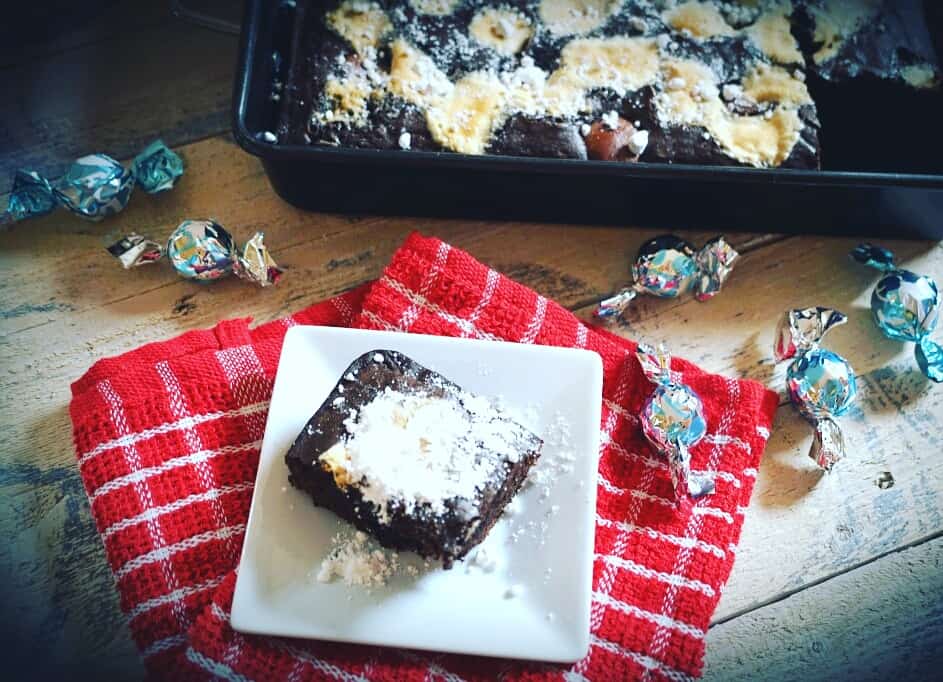 Sometimes the best creations come with a whole lot of heart and a bag of marshmallows, right? It's no secret, typically I enter my kitchen with a mission in mind but am never quite sure what will come of it! Prime example, last week I thought heck, I've got raspberries and ginger, this has got to be a KILLER combo. Boy was I wrong. Needless to say you won't be seeing that recipe anytime soon! #pinterestfail
Picking myself up off the floor, I took a second stab this week with these Hot Chocolate Cake Bars with Marshmallows. Phew, redemption achieved!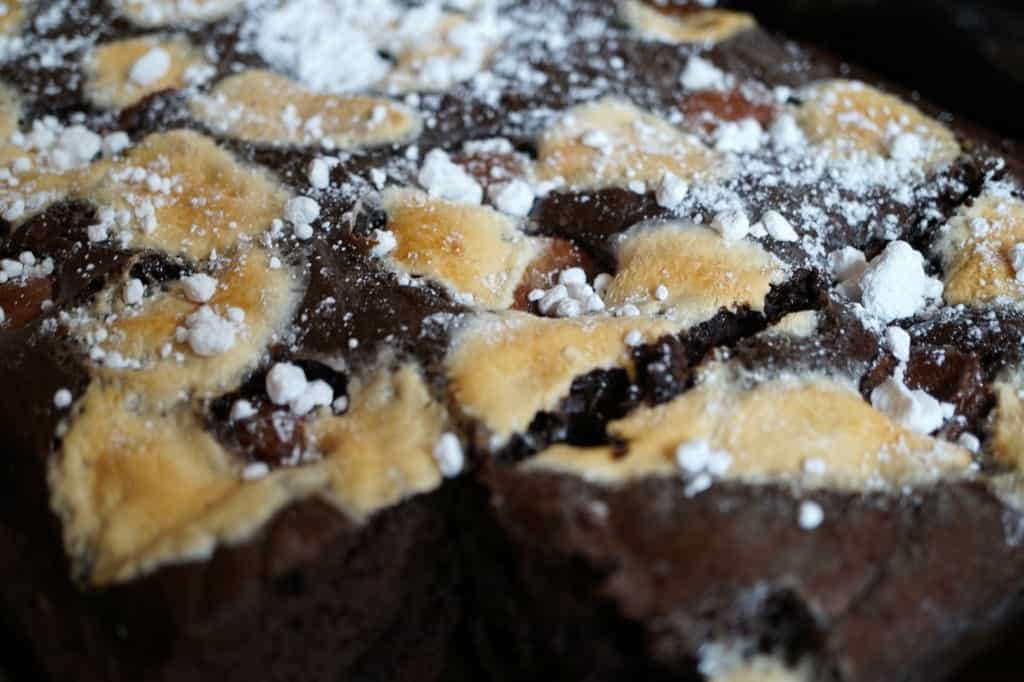 Gimme' some SUGAR!!!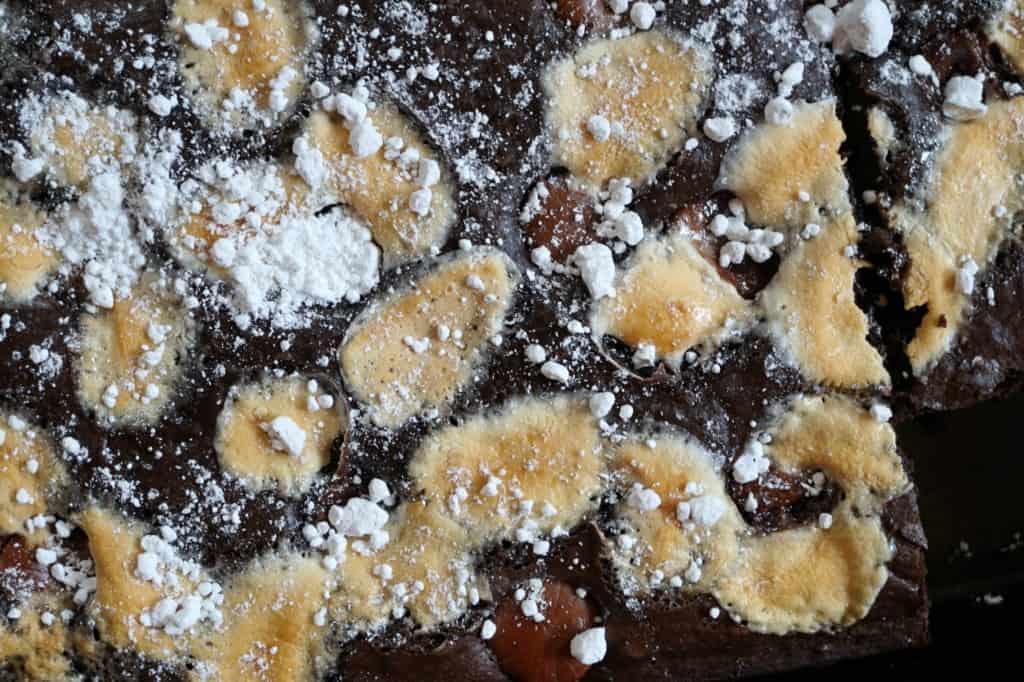 I whipped these babies up with so much love that I had no other choice but to share them with my lovely neighbors. These are the perfect holiday treats to dish up and serve with a few extra chocolates to spread that holiday cheer!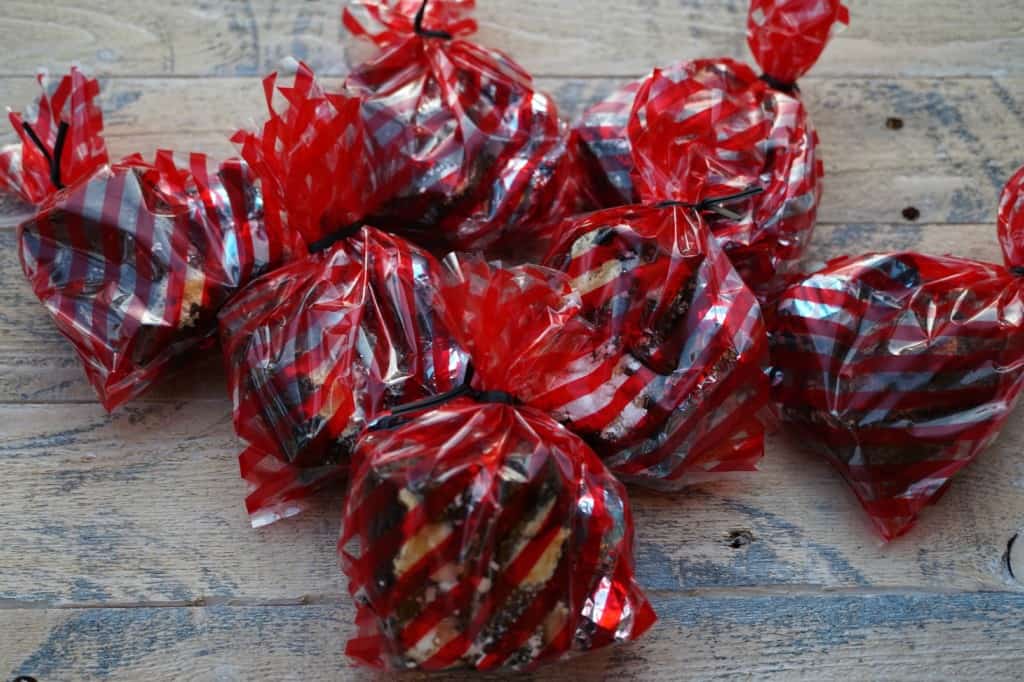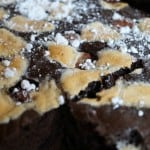 Hot Chocolate Cake Bars with Marshmallows
Ingredients
1/2

cup

light vegan butter spread

1/2

cup

semi sweet chocolate chips

10

large marshmallows

1/2

cup

vanilla unsweetened almond milk

1 1/2

cups

white whole wheat flour

2

teaspoons

baking powder

1

cup

powdered sugar

1/3

cup

brown sugar

packed

1/2

cup

cocoa powder

1/2

cup

powdered peanut butter

1/4

cup

mini chocolate chips

10

large marshmallows

cut in 1/2

3

tablespoons

powdered sugar
Instructions
Preheat oven to 350*F.

In a small pot over medium heat on the stove, pour the almond milk.

Then, melt vegan butter spread, chocolate chips and marshmallows. This should take 3-5 minutes tops.

In a large bowl, combine the flour and baking powder and mix together with your electric mixer.

Add in the sugars, cocoa powder, powdered peanut butter and melted stove top blend.

Thoroughly mix.

Spray 8x13" cake pan with cooking spray and pour batter in.

Bake for 45 mins.

Remove and place the 1/2s of the marshmallows on top of the cake bars.

Place back in oven and heat for 5 more minutes.

Remove and let cool completely before cutting. Sprinkle lightly powdered sugar over bars.

Place in goodie bags and serve up to your friends and loved ones!
 What's your favorite go to baked good to share the love?