Looking for a new way to enjoy the taste of pumpkin this season? Forgo the store bought instant packages and consider making your own Pumpkin Pie Oatmeal! It'll help control the amount of added sugars while boosting your fiber, too!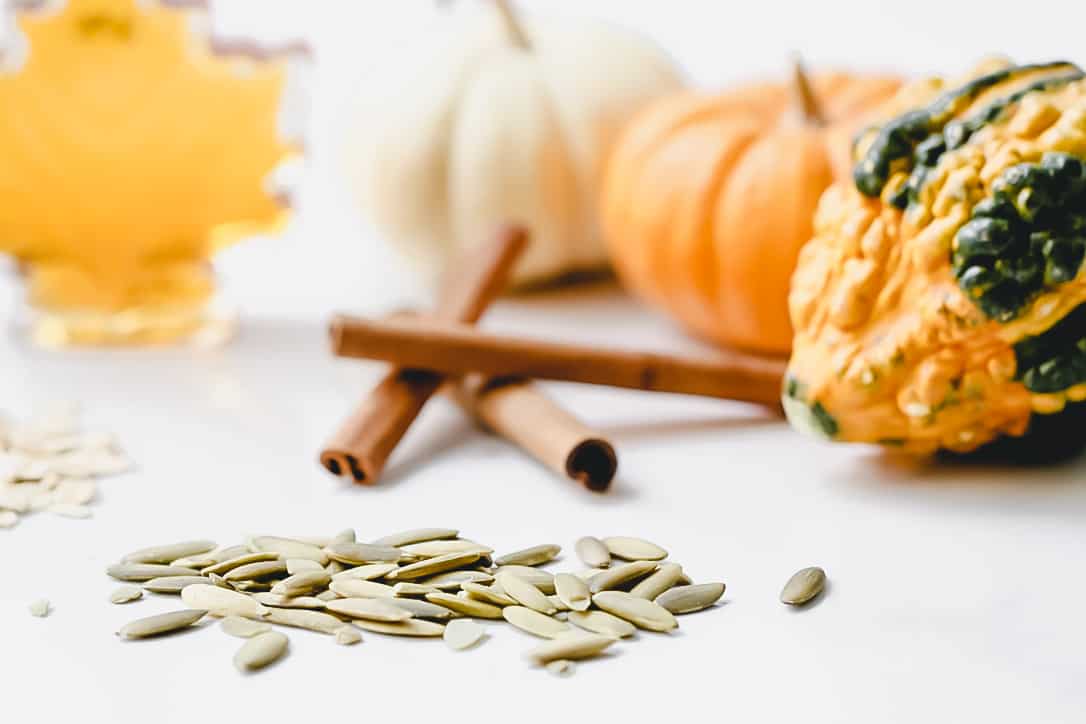 Rain… rain.. go away, come again another day! I hate to complain being in San Diego and all, but boy am I missing that 80 degree weather. Summer where art thou?!
Since the sun gods don't seem to be answering my calls right now, I had to pull out a new weapon to help warm my spirits. Using the extra pumpkin leftover from those chewy Chocolate Chip Pumpkin Cookies, I whipped up a new twist on overnight oats for a cozy Saturday breakfast.
Enter… Pumpkin Pie Oatmeal!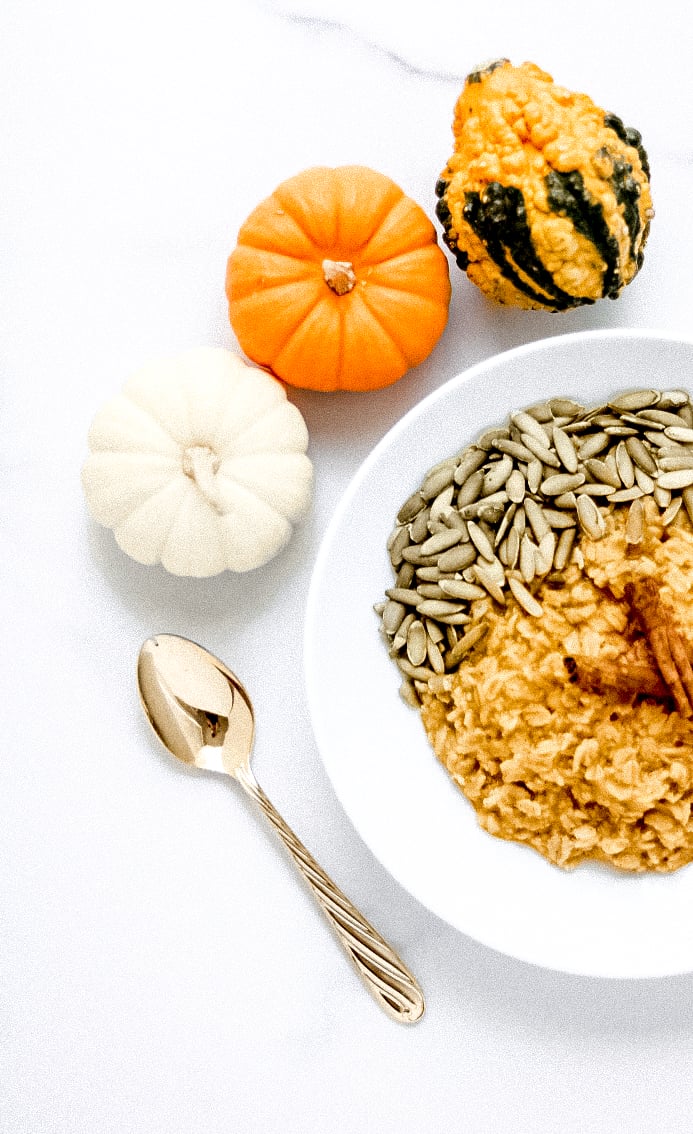 I am never one to throw out food, so I set out on a mission to figure out new and creative ways to use my canned pumpkin. Ever since I saw Delish Knowledge's PB & Jelly Overnight Oats I have been dreaming about making this recipe! But, since I have a few more weeks to go until I can introduce PB back into my diet, I knew I'd have to wait to try this baby out.
Off to the kitchen I went with canned pumpkin and oats in hand. I have to admit, oatmeal doesn't quite fill me up like an egg white omelet or breakfast sandwich.
Nutritionally, oatmeal is stellar, not only full of fiber but also a great source of whole grains and protein when made with milk. But, to me, it still just doesn't hit the spot for a hearty breakfast when it flys solo, so I knew I would have to doctor this up.
I did a bit of Pinteresting and found some excellent ideas on how to volumize my oats to make them DOUBLE IN SIZE! More food for the same calories, count me in!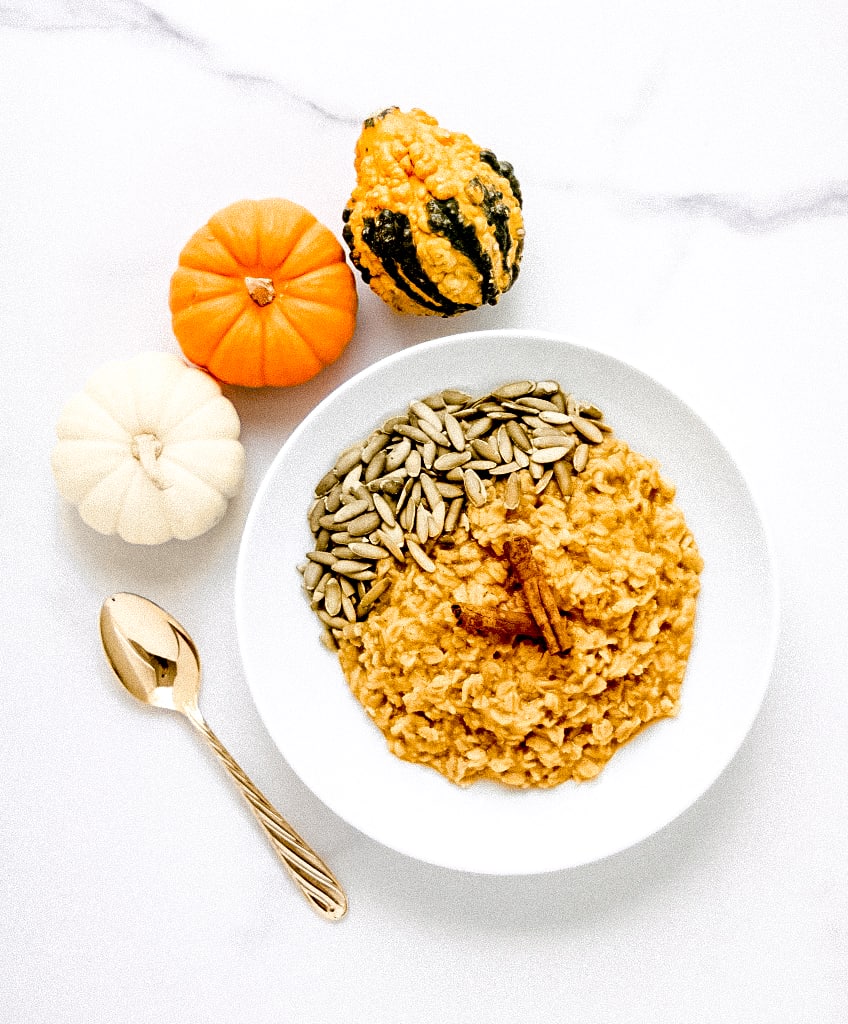 Now, for those looking for a quick breakfast idea, this is not your go to recipe. It does require a full 12 hours of overnight soaking plus an additional 15 minutes on the stove top; but trust me, it's so worth it! The secret to boost up the volume lies within the overnight soak followed by the stovetop cooking and adding an extra cup of liquid. The way the oats just soak up every ounce makes them fully hydrated (aka more satiating) and totally satisfying!
You can make this recipe and add whatever pizzazz to satisfy your craving (say Apple Pie Crumble, PB and Dark Chocolate or Cherry Cobbler).
Plus, when you pair a protein and fat (like a dollop of Greek yogurt and slivered almonds) you are getting a nice balanced meal to help keep you fuller longer… now that's always a win!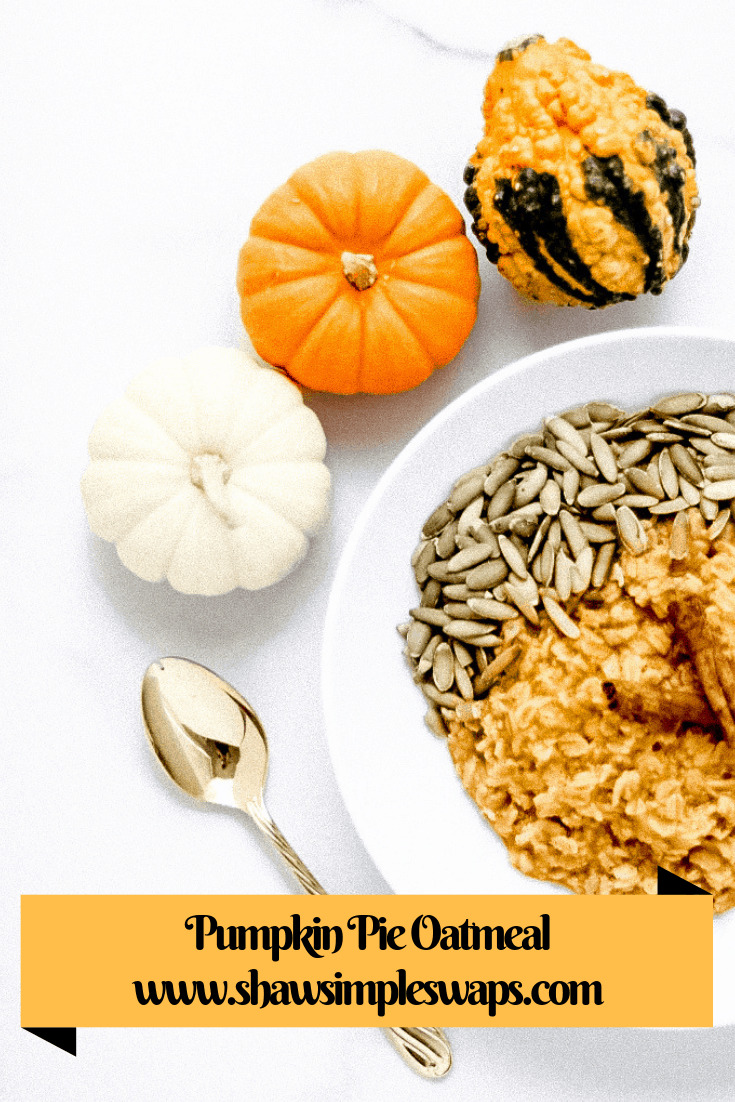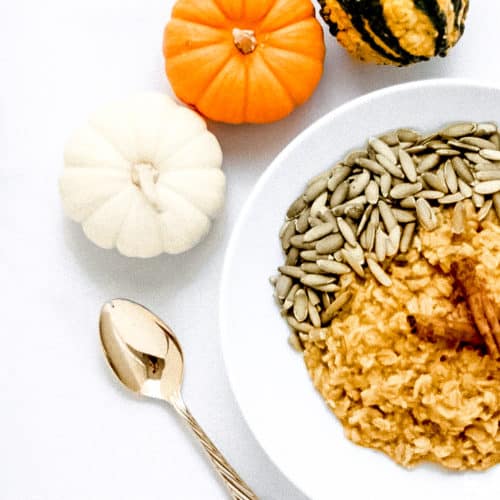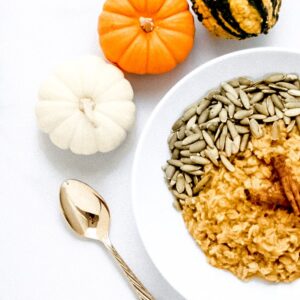 Pumpkin Pie Oatmeal
Pumpkin Pie Oatmeal via @shawsimpleswaps is the perfect blend of pumpkin, maple and sweet cinnamon to make this holiday season shine!

Print
Share by Email
Ingredients
3

cups

water

1/2

teaspoon

kosher salt

1 1/3

cups

whole grain oats

1

teaspoon

vanilla extract

1/2

cup

pure pumpkin puree

3/4

teaspoon

pumpkin pie spice

2

tablespoons

maple syrup

3

tablespoons

pumpkin seeds
Instructions
Combine water and salt in medium stove top pan over high heat. Once water is boiling, lower heat and add in oats. Simmer, stirring occasionally for 10 minutes.


After 5 minutes, whisk in vanilla extract, pumpkin puree, pumpkin pie spice, and maple syrup.

Continue to cook 5 minutes until a majority of the water is absorbed. Remove from heat and let cool 5 minutes. When ready to eat, pour into a bowl.

Top with pumpkin seeds or other desired garnish! Save leftovers in airtight containers for up to 5 days in the refrigerator or freeze for up to 3 months.
Nutrition Per Serving
Calories:
247
kcal
|
Carbohydrates:
38
g
|
Protein:
8
g
|
Fat:
7
g
|
Saturated Fat:
1
g
|
Sodium:
406
mg
|
Potassium:
325
mg
|
Fiber:
5
g
|
Sugar:
10
g
|
Vitamin A:
6355
IU
|
Vitamin C:
1.7
mg
|
Calcium:
59
mg
|
Iron:
3.1
mg