What do you turn to after a workout? If you're in the mood to switch up your routine, then these post workout recovery roasted potato tacos are for you!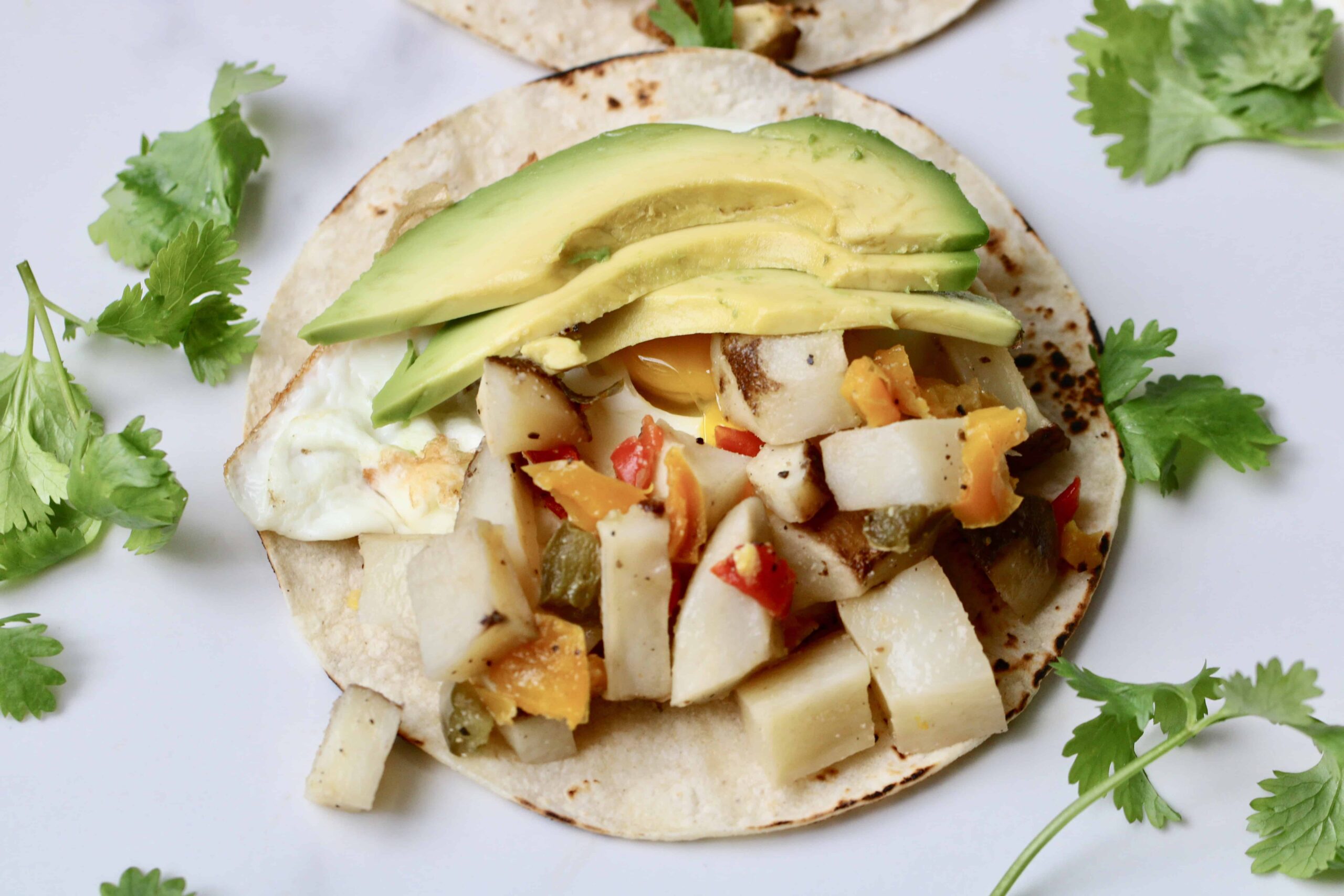 Disclosure:  By posting this recipe I am entering a recipe contest sponsored by Potatoes USA and am eligible to win prizes associated with the contest. I was not compensated for my time and as always, I only enter contests that use ingredients we promote in the Shaw Kitchen!  Thanks for supporting the foods that keep this website running! 
Roasted Potato Tacos with Eggs – Post Workout Recovery Fuel
Why hello there!
I figured it's about time I show face here again since it's been a solid month! My apologies… I was learning how to keep a tiny human alive (more on the birth of our little pineapple, here!)
Thankfully,  the ladies at The Recipe ReDux knew I needed a kick in the butt to get back into the kitchen and I'm so excited they partnered with Potatoes USA to get me to do so.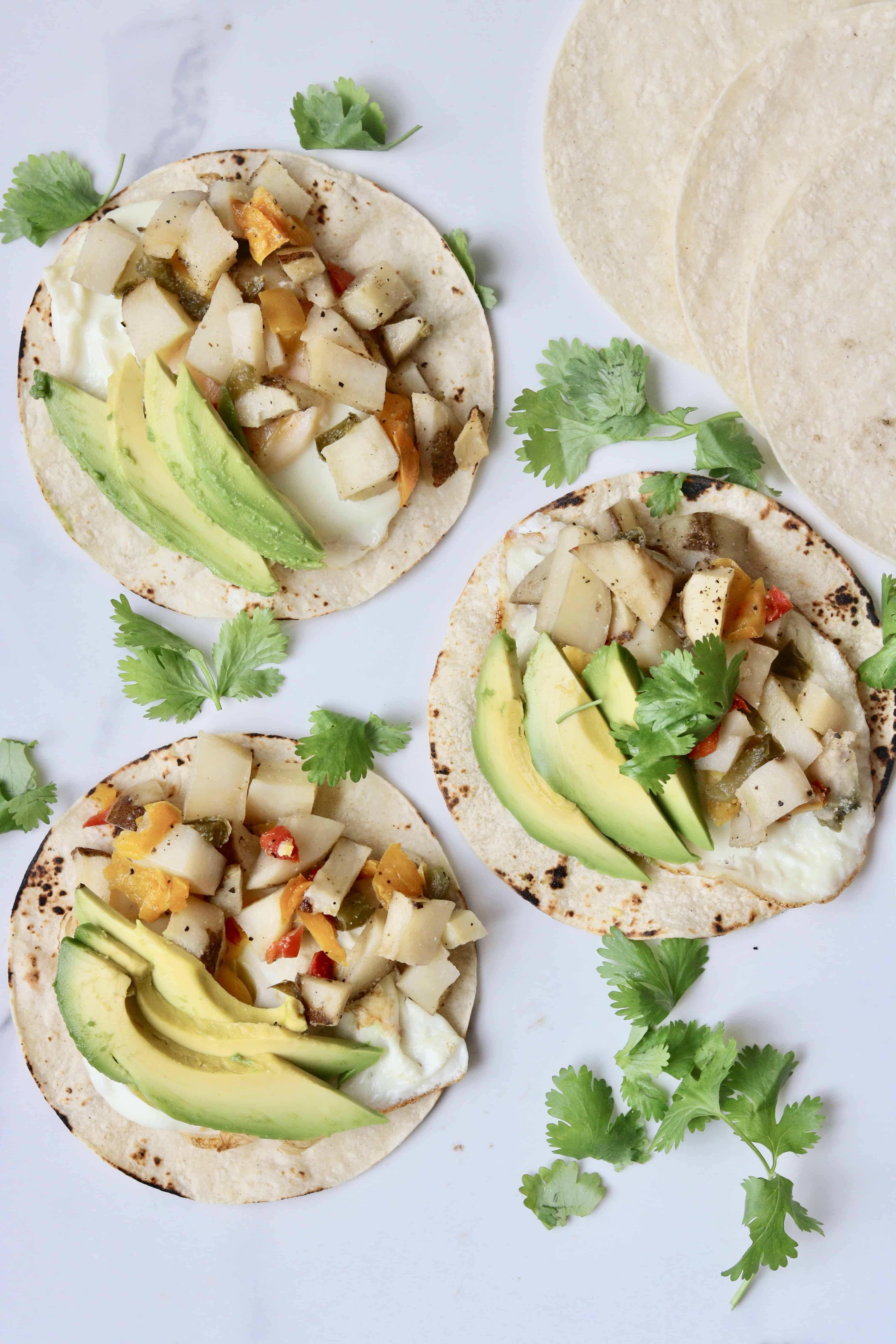 Now, why Roasted Potato Tacos for Post-Workout Recovery?
First off, when I think about the workout of being a mom these days with a newborn who only likes to chill when she's being pushed in a stroller, I'm logging about 7-10 miles a day!
While it's certainly no marathon training, coupled with breastfeeding I'm in need of a delicious source of fuel when I get back from our morning stroll.
And, if you are training or just simply working out with vigor,  these tacos certainly are for you.
For instance, did you know:
Potatoes provide the carbohydrate, potassium, and energy you need to perform at your best.
A medium potato with the skin provides just 110 calories, no fat, no sodium and no cholesterol, 30 percent of your daily value of vitamin C and more potassium than a medium banana.1
Potassium is an important electrolyte that aids in muscle, cardiovascular and nervous system func- tion. A medium potato with the skin contains 620 milligrams of potassium, more than a medium-size banana.1
Carbohydrate is important for optimal mental and physical performance. A medium potato with the skin has 26 grams of quality carbohydrate.1
With as much — if not more — of several essential vitamins and minerals found in spaghetti, brown rice or whole wheat bread, potatoes are a smart addition to your other favorite performance foods (compared on a per-serving basis).2
1 Nutritional data is based on a 5.2 ounce skin-on potato.
2 Gelibter A, et al Satiety following intake of potatoes and other carbohydrate test meals. Ann Nutr Metab. 2013;62:37-43
Now, if that's not enough to convince you to give potatoes a try, maybe this cute little hand is?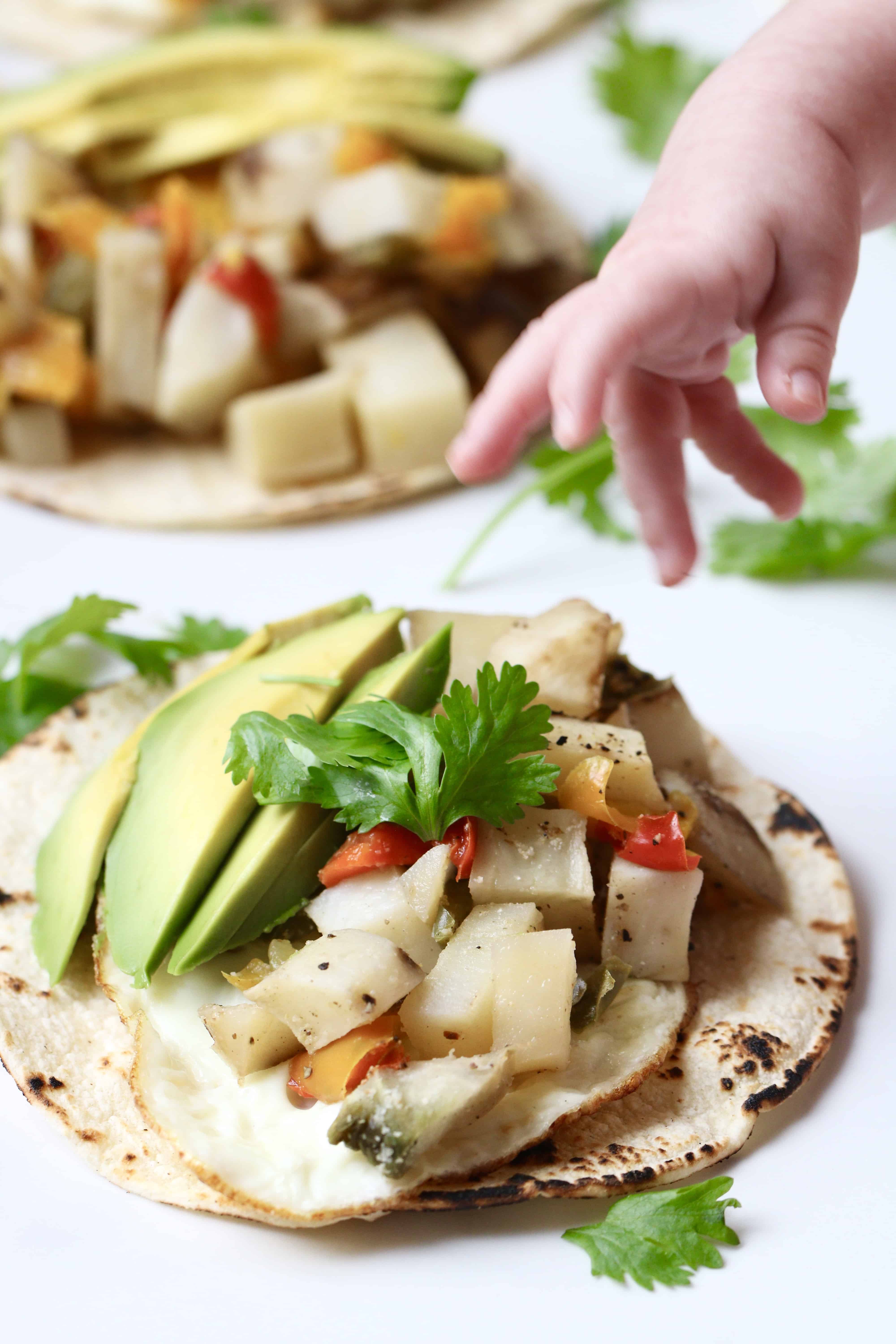 Case and point,  even a one month old is PUMPED to try these Roasted Potato Tacos, too!
Don't worry, I won't keep you hanging any longer, here they are!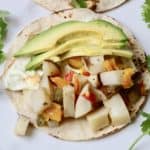 Roasted Potato Tacos with Eggs
The perfect post workout recovery fuel with protein, fat and carbs to refuel and repair your muscles.
Servings
:
3
servings, 2 tacos each
Ingredients
3/4

pound

russet potatoes

cleaned and cut into 1/4-inch cubes

1

cup

chopped bell pepper medley

1

teaspoon

table salt

1/2

teaspoon

ground black pepper

1/2

teaspoon

garlic powder

6

each

large eggs

6

each

6-inch corn tortillas

4

ounces

sliced avocado

optional
Instructions
Preheat oven to 400 degrees F. Spray large rimmed baking sheet with cooking spray. Set aside. Mix chopped potatoes and bell peppers with salt, pepper and garlic. Place in the oven for 45 minutes, flipping half way through cooking with a spatula.

When potatoes are done, let cool for 5 minutes and prepare eggs as desired. Over-medium or scrambled is preferred in the Shaw Kitchen! Assemble tacos with 1 tortilla, 1 egg, and 2 ounces of potato and bell pepper blend. Optional to top with avocado, salsa or topping of choice.
Recipe Notes
Avocado not included in recipe analysis.  
Nutrition Facts
Roasted Potato Tacos with Eggs
Amount Per Serving
Calories 400
Calories from Fat 99
% Daily Value*
Total Fat 11g 17%
Cholesterol 372mg 124%
Sodium 786mg 33%
Potassium 1044mg 30%
Total Carbohydrates 58g 19%
Protein 19g 38%
* Percent Daily Values are based on a 2000 calorie diet.
Nutrition Per 2 Taco Serving: Calories 400, Fat: 11 g, Cholesterol: 372 mg, Sodium: 786 mg, Carbohydrates: 58 g, Fiber: 7 g, Potassium: 1044 mg, Protein: 19 g, Vitamin C: 120 mg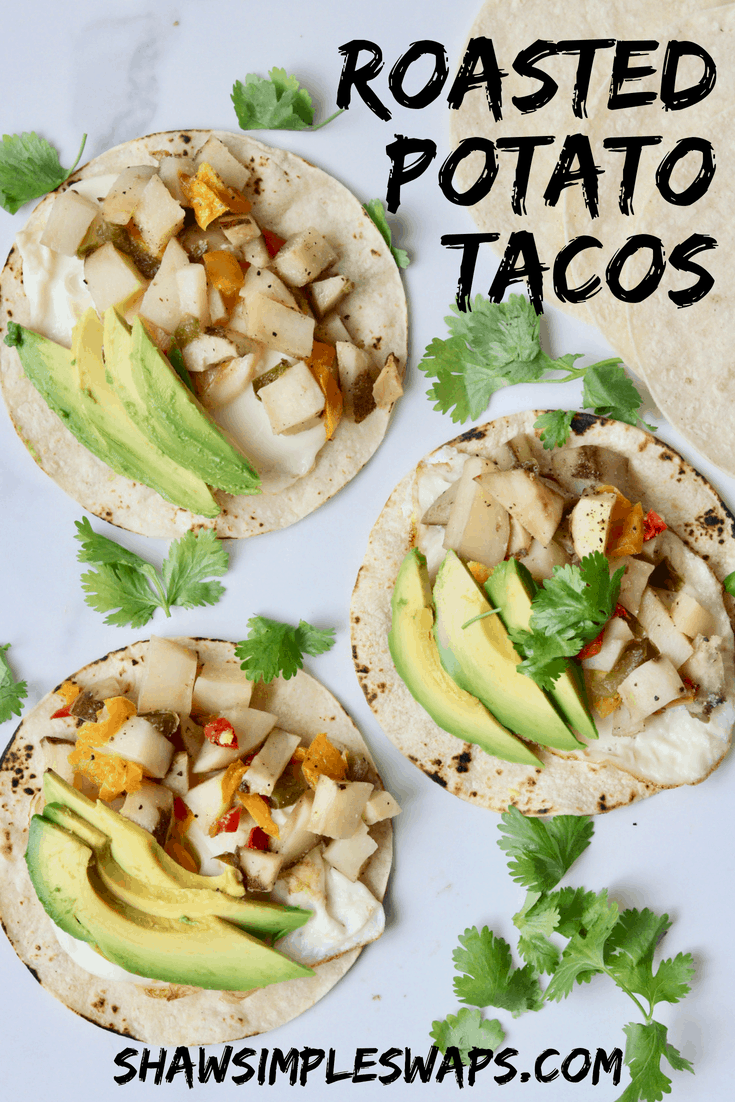 Be sure to checkout the many other ways you can use potatoes in the recipes linked up below!
Now, how do you like to use potatoes? Let me know in the comments!