Looking for a simple dinner idea that will please both adults and kids alike? Then this Steakhouse Chopped Salad with California Pizza Kitchen Frozen Crispy Thin Crust Margherita Pizza is just for you!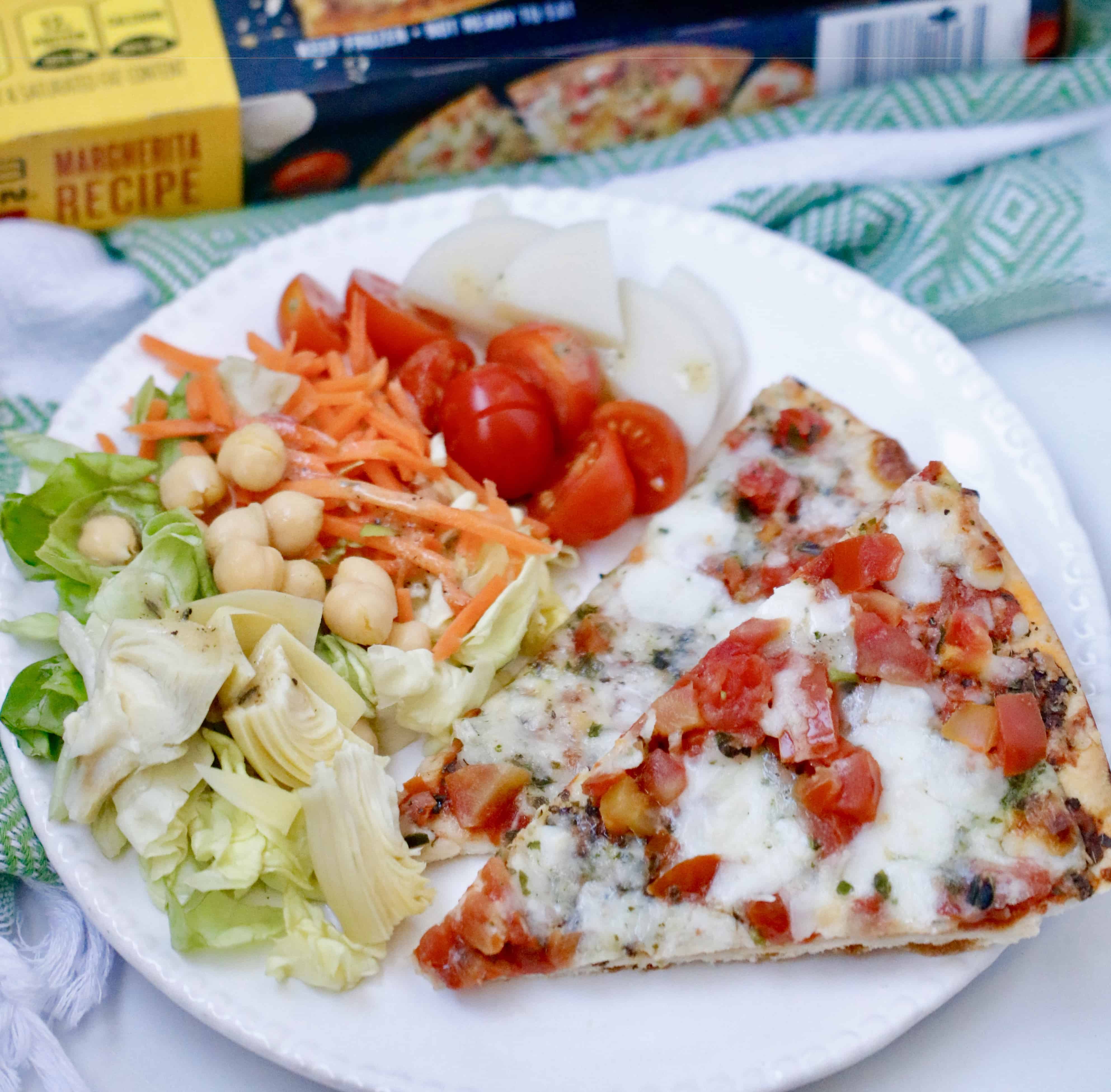 Disclosure: I'm so excited to be partnering with Nestlé's Balance Your Plate program and California Pizza Kitchen Frozen for this post. As always, the Shaw Kitchen only partners with brands that align with my core values. Thanks for supporting the brands that keep Shaw's Simple Swaps up and running!
Remember those 10 tips we chatted about to keep your New Year's Resolutions on track?!
Well my friends, I'm here to show you today with the folks from California Pizza Kitchen (CPK) Frozen that you can continue to reach your 2018 goals without giving up your favorite foods!
Sounds like a slice of heaven, right?
One of the key components of sticking to resolutions IMHO has always been to never label foods as off limits. The second we go into that dichotomous thinking that food is either "good or bad" we lose all hopes of changing our patterns and developing a healthy, sustainable lifestyle.
That's why I love Nestlé's program, Balance Your Plate. It gives you the tools to create a balanced meal, save time and still enjoy your favorite staples. There are no foods that are off limits! You can enjoy a variety of foods, including pizza and other frozen entrees, by balancing them out with a side selection of fruits, vegetables, lean protein and/or whole grains.
P.S., you may remember my post about it here back in September. Gosh who doesn't love Mac and Cheese made with REAL Vermont white cheddar?!
For instance, you can start with a delicious frozen pizza (like CPK Frozen) and pair it with a nutritious side, like this Steakhouse Chopped Salad I whipped up in the Shaw Kitchen.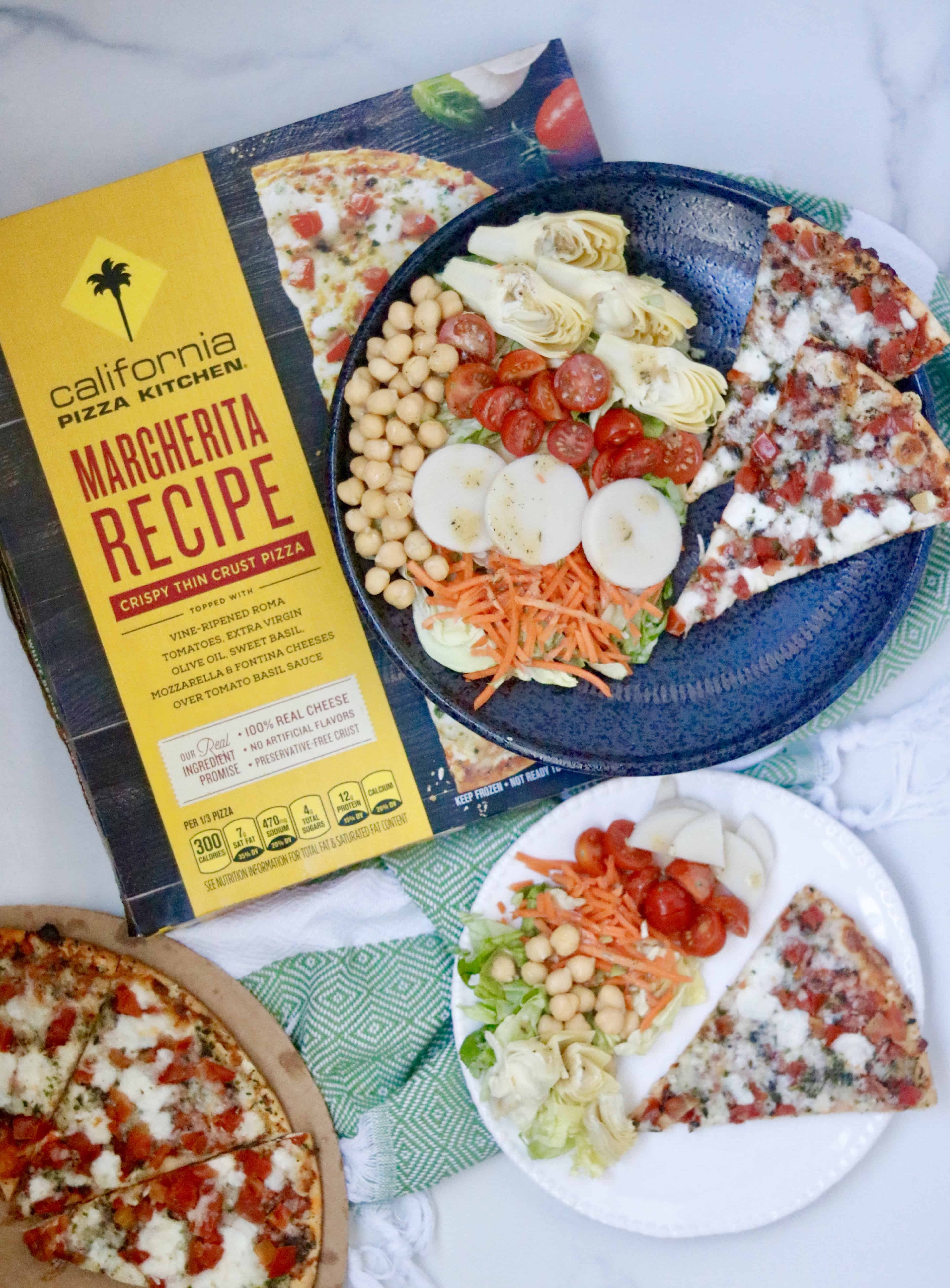 The beauty of incorporating frozen foods into your weekly routine is that they can lay a beautiful canvas for a healthy meal to come together in minutes. Whether you choose to place a variety of veggies on top of your CPK Frozen pizza or pair it with a fun side (like the variety of choices available here), the possibilities are endless for healthy, balanced eating.
If you're wondering how to break this down, let me give you a quick formula!
BYP Equation:
California Pizza Kitchen Frozen Crispy Thin Crust Margherita + veggies & protein + water/milk = A Balanced Plate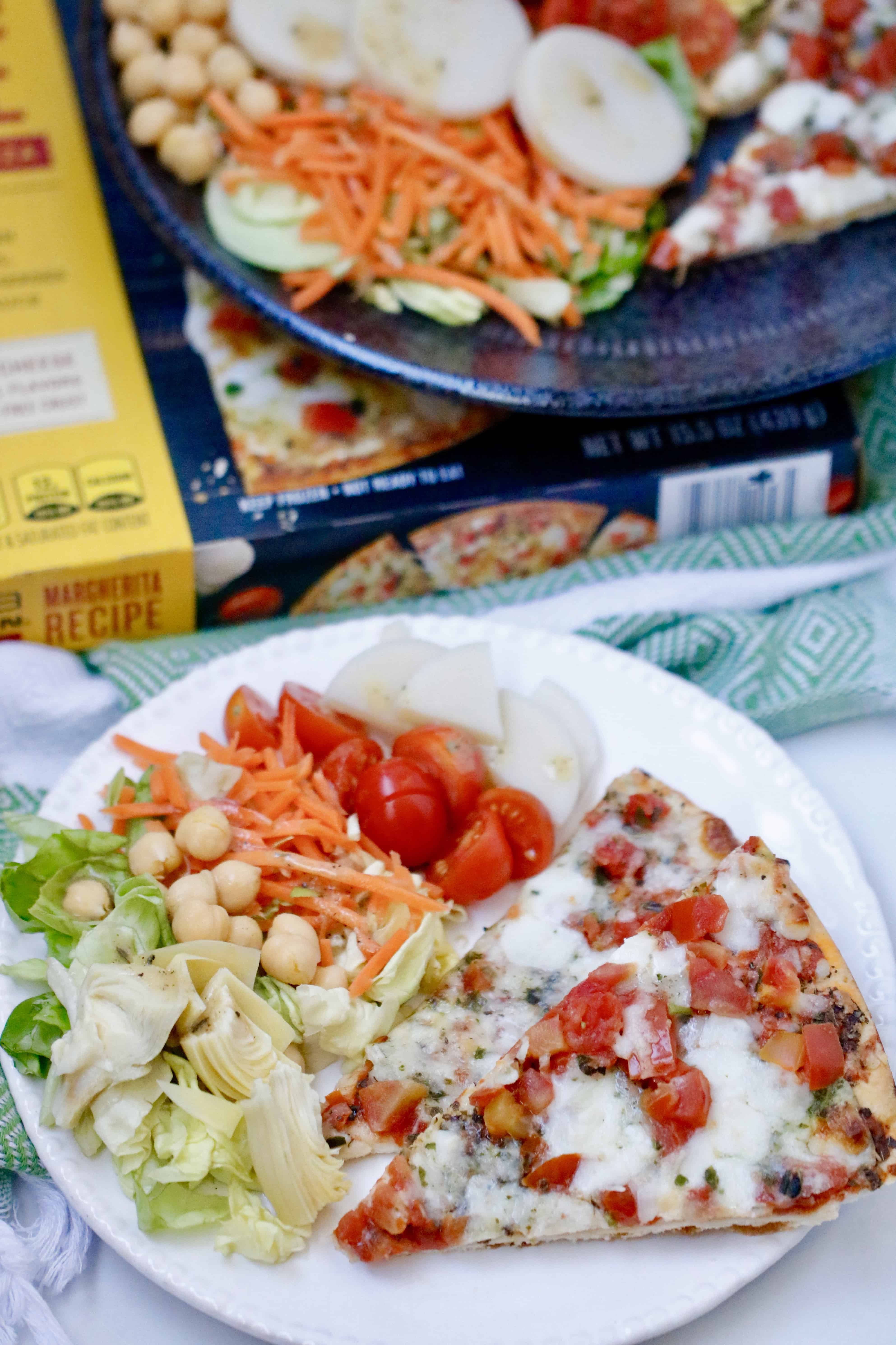 While the equation may seem simple (gosh if only all things could be this easy, right?!), there are a few other key areas to pay attention to when balancing your plate.
#1. Proper portions:
Pizza is a classic favorite that you can enjoy as part of a healthy diet when you're mindful of portions. Use your hand as a general guide for portion size – enjoy one hand's worth per slice. Since this is thin crust, most people find an adult serving is satiating at 2-3 slices. But, use your hunger and fullness as your own guide! As you can see, the slices pair perfectly with the Steakhouse Chopped Salad for a delicious, balanced dinner!
#2: Meet your nutrition needs and preferences:
Elevate the nutrition and flavor by adding more produce to your meal – we all could use more fruits and veggies in our lives! Whether you choose to add it on top (hello gorgeous zucchini pepperoni slices), or on the side, the possibilities are endless. And, another super cool thing about CPK Frozen? They've got gluten-free crust and options made with organic ingredients!
#3: Quality ingredients:
You know from my European adventures and explorations in New Zealand I love to travel! That's why I love how California Pizza Kitchen Frozen pizzas takes their inspiration from global cuisines! Their pizzas are made with hand-selected ingredients, including 100% real cheese, no artificial flavors and preservative-free crust. You can learn more about how their recipes are developed and their ingredients are sourced here: http://www.cpkfrozen.com/something-unexpected.
Now that we've got the basics out of the way, shall we dive in?!
I thought so!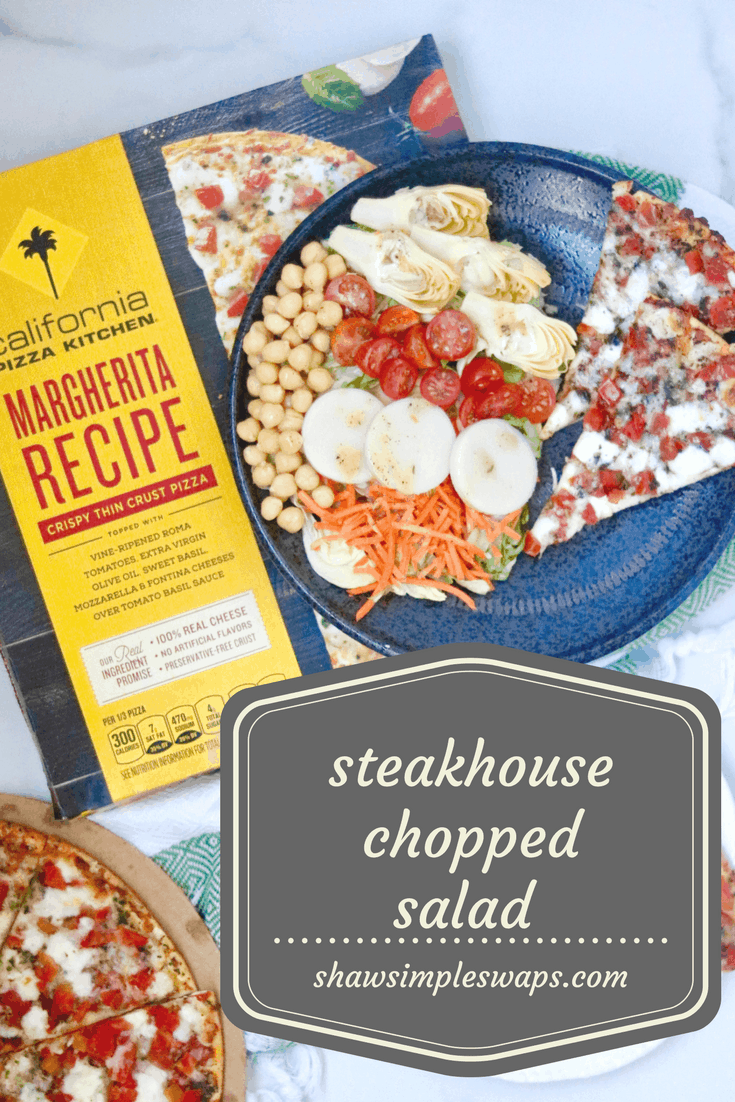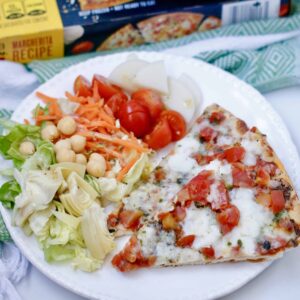 Steakhouse Chopped Salad
A fresh, crisp salad filled with all the goodies you'd find at a gourmet steakhouse!
Print
Share by Email
Ingredients
6

cups

butter leaf lettuce

chopped

1

cup

garbanzo beans

rinsed and drained

1

cup

cherry tomatoes

halved

½

cup

shaved and chopped carrots

½

cup

artichoke hearts

chopped

½

cup

hearts of palm

chopped

2

tablespoons

chopped red onion

optional

Dressing

2

teaspoons

Dijon mustard

1

teaspoon

honey

2

tablespoons

red wine vinegar

¼

teaspoon

lemon juice

⅛

teaspoon

garlic powder

⅛

teaspoon

ground black pepper

⅛

teaspoon

dried thyme

4

teaspoons

olive oil

Dash sea salt
Instructions
Begin by chopping all salad ingredients in said quantities if you haven't purchased pre-chopped.

In a medium bowl, add chopped butter leaf lettuce, garbanzo beans, cherry tomatoes, carrots, artichoke hearts and heart of palm together. Gently mix together with salad tongs.

Set aside and prepare dressing in a small bowl.

Using a whisk, mix Dijon mustard with honey, vinegar and lemon juice. Add in the spices and continue to whisk. Slowly pour in the olive oil and whisk vigorously to combine. Add a dash of sea salt at the end and mix one more time.

When pizza is cooked, prepare salad by mixing the dressing into the vegetables.

Serve pizza with side salad.

Enjoy!
Notes
Serve with a slice or two of a California Pizza Kitchen frozen pizza!
Nutrition Per Serving
Calories:
181
kcal
|
Carbohydrates:
28
g
|
Protein:
7
g
|
Fat:
5
g
|
Saturated Fat:
1
g
|
Sodium:
301
mg
|
Potassium:
951
mg
|
Fiber:
6
g
|
Sugar:
12
g
|
Vitamin A:
4893
IU
|
Vitamin C:
15
mg
|
Calcium:
61
mg
|
Iron:
3
mg
Looking for more inspiration? Don't forget, visit the Balance Your Plate Pinterest board at https://www.pinterest.com/balanceplate/ for more meal inspiration and ideas!