Craving a lasagna but can't handle dairy? I've got you covered. This dairy free lasagna recipe is filled with all the hearty staples you'll find in traditional lasagnas without the dairy. This also doesn't use a fake, vegan cheese. You'll find a subtle flavor of cheesiness added from a secret healthy ingredient. Find out what it is below!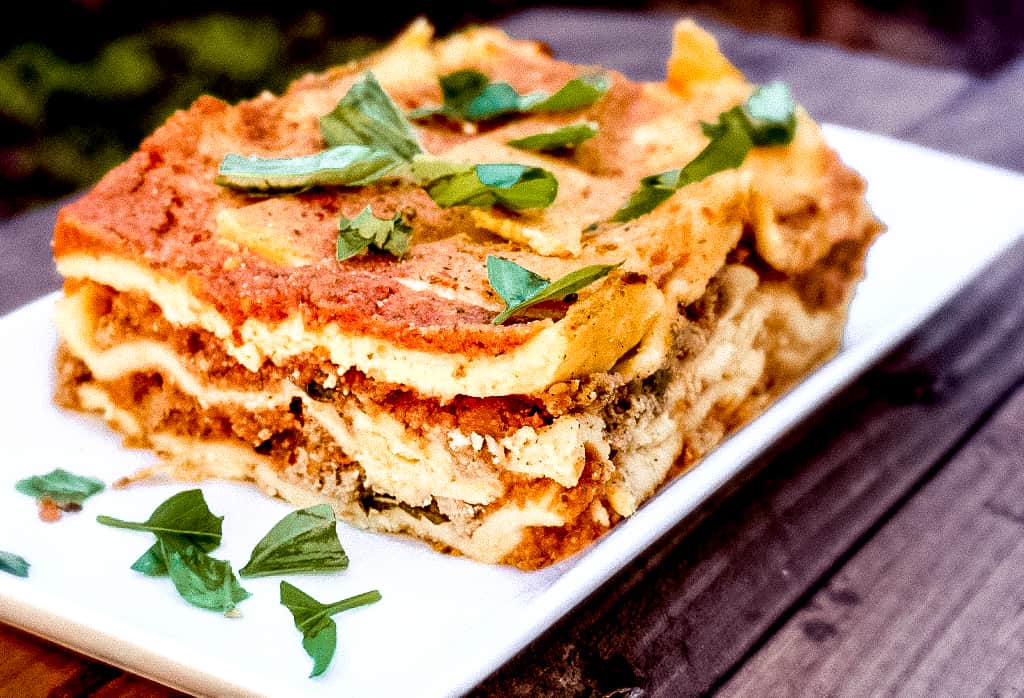 How to Make Dairy Free Lasagna
If you're a loyal simple swapper, you know I love me some dairy. But, too often I've seen clients who can't handle dairy.
I cannot imagine life without dairy personally (no I'm not sponsored by dairy either!) but wanted to treat them with a classic Italian dish that could satisfy their cravings.
To make this lasagna, you need a few things:
Oven ready whole grain lasagna noodles
Lean ground turkey
Marinara sauce (preferably low sodium and no added sugar)
Zucchini
Broccoli florets
Italian Seasoning
Nutritional Yeast (secrets out!)
Love
Once you have gathered all of the above, you can being to prepare your lasagna as directed below.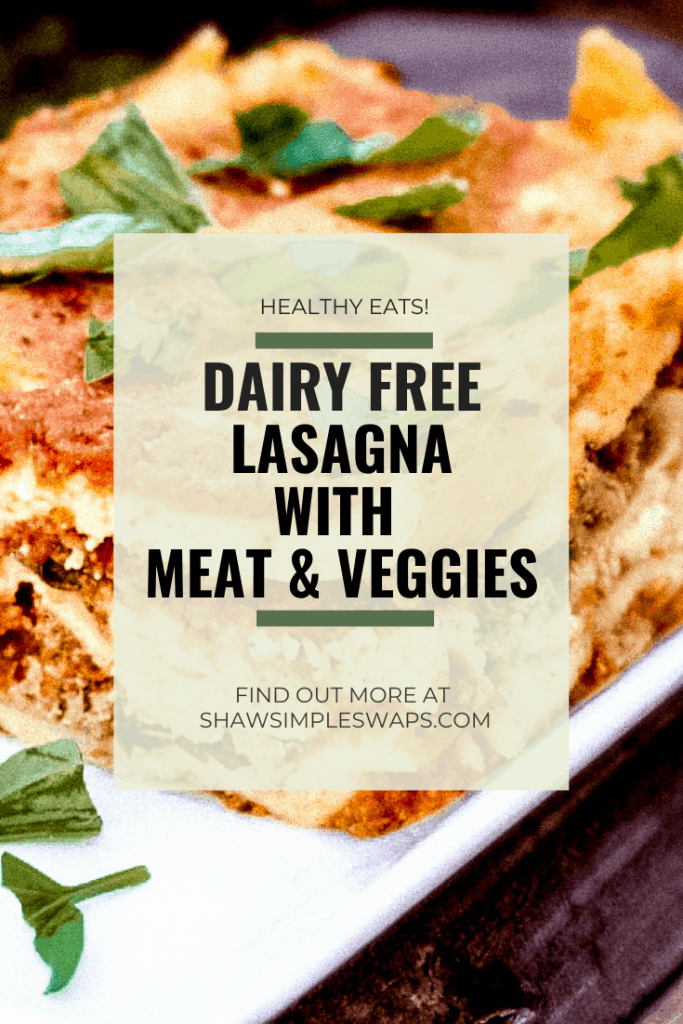 A word to the wise though, you do not want to skimp on the veggies! They add not only nutrition but a nice flavor enhancer with the meat.
Do most lasagnas have nutritional yeast?
Great question!
Unless your whipping up a traditional vegan lasagna (like this one here) most dairy based dishes do not contain nutritional yeast.
Nutritional yeast is an ingredient often used in vegan cooking because it has a cheesy flavor without containing any dairy.
It's filled with vitamin B 12, an animal based vitamin that is often deficient in the diets of vegans unless they supplement.
Is dairy free lasagna healthy?
You bet it is!
Just like that Tomato Pasta Soup, this lasagna has whole grain carbohydrates that help keep you full and satisfied.
I've also amped up the nutrition by adding in both zucchini and broccoli.
Since Mr.CEO (my tasting officer) doesn't like mushrooms, I left those out. However, if you do, I highly recommend adding them into the meat when you are browning it!
This lasagna is not only high in protein and a good source of fiber, but it's also easy to make.
Part of healthy cooking is making it simple to prepare. This is just that!
And, if you use that low sodium and no added sugar pasta sauce, it makes this dish even better for you too!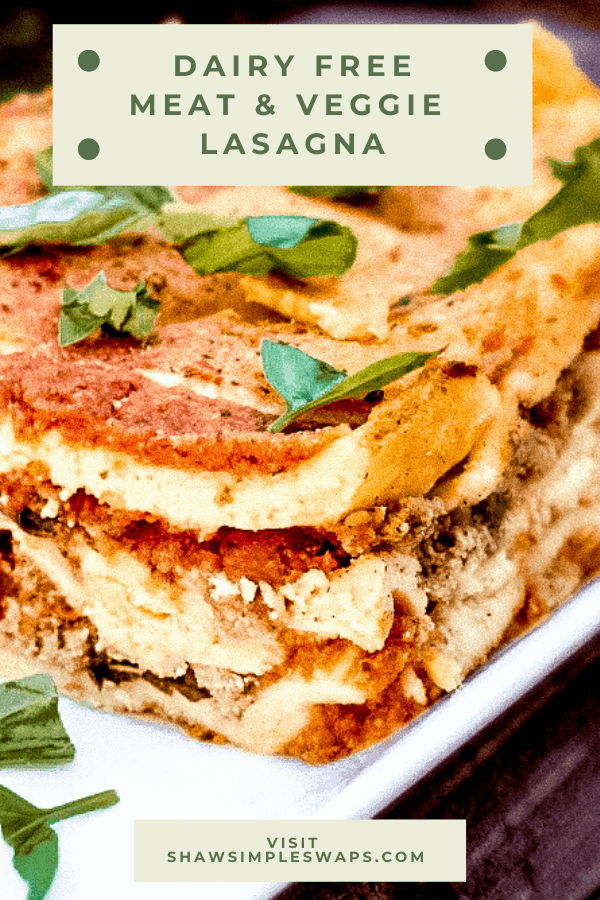 Can I substitute ground beef?
Yes, you can. I recommend looking for a lean ground beef to keep the saturated fat content down.
I'm sure one of you is thinking, "If I can't find oven ready noodles, can I use regular lasagna noodles?"
The answer is yes! Just cook them according to the package instructions and assemble lasagna as directed below.
Have any other questions on swaps to make?
Fire away in the comments or send me an email. It's time to dive into this now!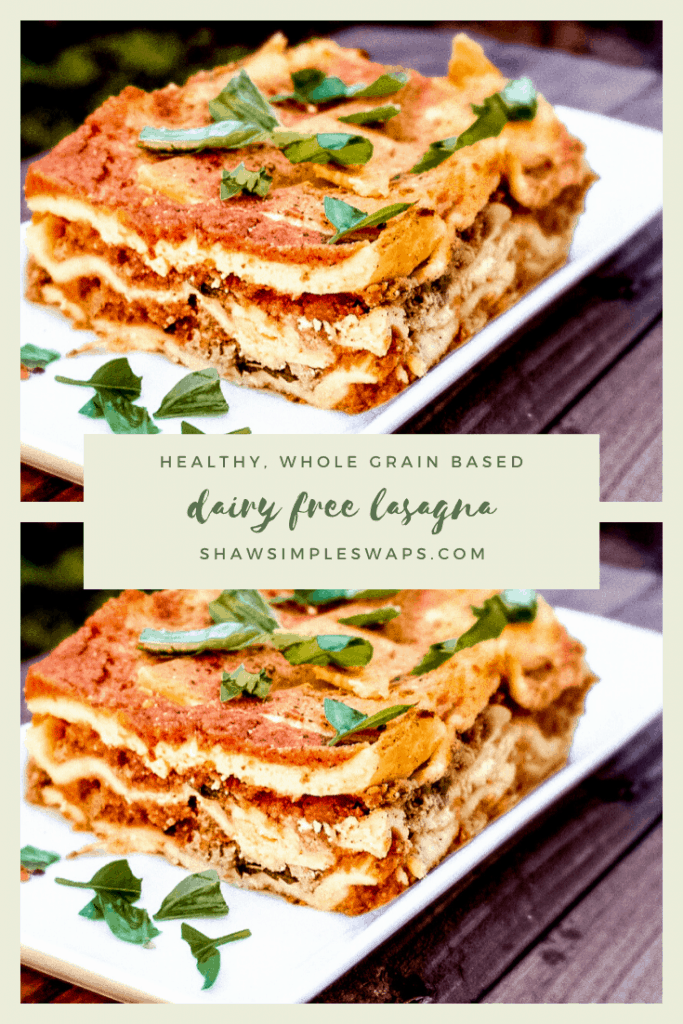 Dairy Free Lasagna
Ingredients
1

tablespoon

extra virgin olive oil

1/2

cup

chopped onion

2

garlic cloves

16

ounces

lean ground turkey

1

tablespoon

Italian seasoning

1

teaspoon

red pepper flakes

1

medium zucchini

shredded

1

cup

chopped broccoli florets

4

cups

marinara sauce

8

ounces

oven ready lasagna noodles

1/4

cup

nutritional yeast

optional

1/4

cup

chopped basil

fresh
Instructions
Preheat oven to 375 degrees F.

In a stovetop pan, saute the onions and garlic over medium high heat until translucent. Add in the ground turkey and mix in the Italian seasoning and red pepper. Cook until meat is browned.

Stir in the zuchini and broccoli to the meat and add 1 cup of marinara sauce. Set aside.

To an 8×8-inch pan sprayed with cooking spray, add 1/3 cup of marinara sauce to the bottom. Place lasagna noodles on top.

Add 1/3 of the meat mixture on top of the noodles, top with 1 cup of sauce. Sprinkle 1 tablespoon of nutritional yeast over the top. Repeat until ingredients are used up (about 2 to 3 layers.)

Place in oven and heat for 45 to 50 minutes.

Remove and let cool 15 minutes.

Garnish with fresh basil and enjoy.
Notes
Store in an airtight container in the fridge and consume within 5 days, or freeze for up to 3 months. 
Nutrition
Calories:
298
kcal
|
Carbohydrates:
41
g
|
Protein:
27
g
|
Fat:
5
g
|
Saturated Fat:
1
g
|
Cholesterol:
42
mg
|
Sodium:
909
mg
|
Potassium:
966
mg
|
Fiber:
4
g
|
Sugar:
8
g
|
Vitamin A:
934
IU
|
Vitamin C:
26
mg
|
Calcium:
64
mg
|
Iron:
4
mg