Spice up your lunchtime salad with this healthy twist on coleslaw!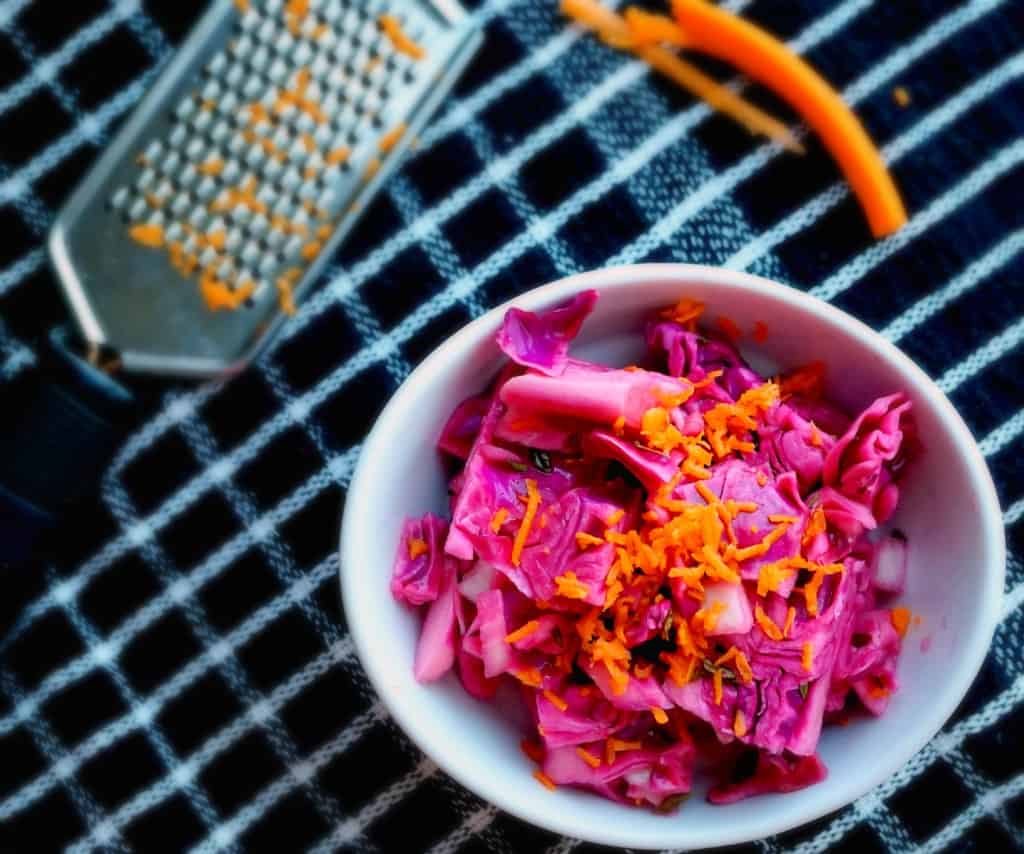 I know it's not summer anymore, but that doesn't mean we can't enjoy the delicious flavor of coleslaw all year long. I know for certain I would be perfectly happy having this as a side dish at every holiday party this season! Better yet, I'd even switch up and use green cabbage, mix in a few red bell peppers and call this the Christmas Coleslaw. Bingo, idea for next month noted right now!
Anyways, coleslaw has not always been a favorite of mine. Why? Well for starters, I hate mayonnaise. My mom always told me hate is a strong word and you shouldn't use it, but #realtalk, I can admittedly say I HATE mayonnaise. I won't get into details, but let's just say I spent one to many summers scooping 10 pounds vats of mayo out at the Ronald Reagan Library during my catering days…
Second, the coleslaw I grew up with was usually from my Grandma. Now, I love my Grandma but she's one sneaky lady. Her infamous coleslaw was a secret family recipe that was most certainly 75% mayonnaise and from a little restaurant you know as KFC. So yes, you get the picture, I did not know true coleslaw.
Thus, when I experienced the coleslaw served at the Los Angeles restaurant Pink Taco I was amazed at the vibrant color and lack of mayonnaise. I immediately asked the server, what's in this?! It's amazing. He came back with the chef and told me it was a marinade of vinegar and spices with fresh herbs. Bingo, I'll take another!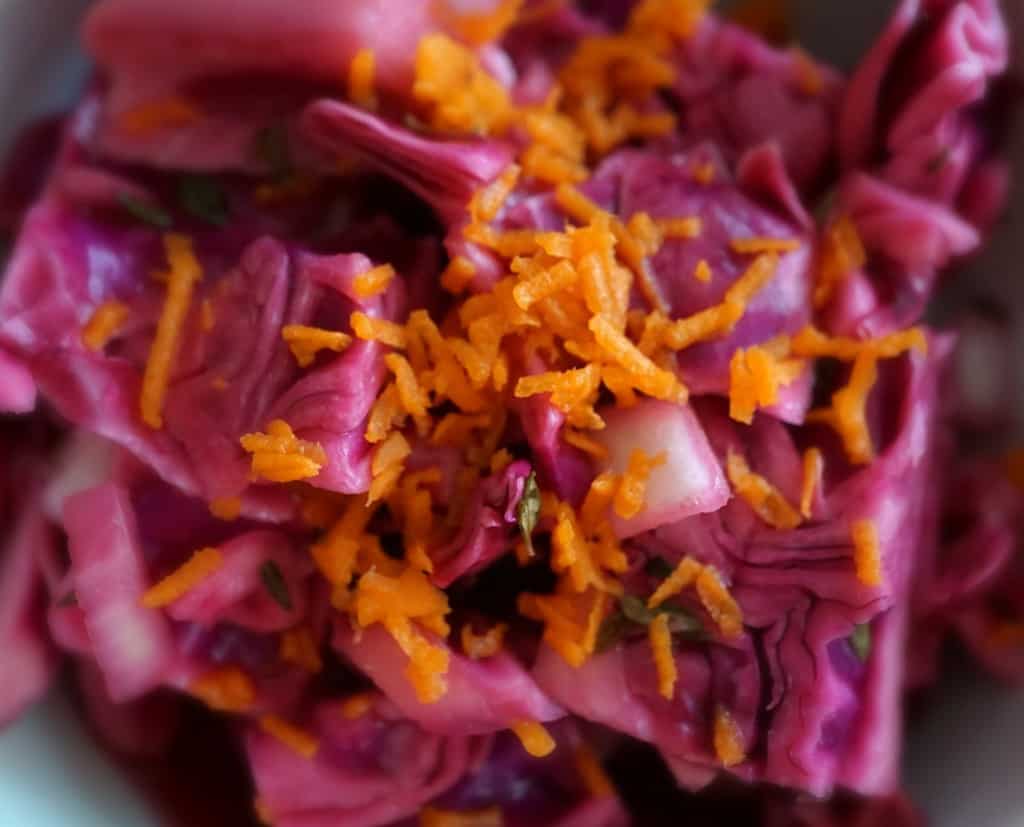 After two side orders of coleslaw, I told Mr. CEO we had to stop at Sprouts on our way back to San Diego. I needed a head of cabbage and I needed it now!
I spent an entire week coming up with variations on this simple slaw. You most certainly can alter and use vegetables and spices that you have on hand, but here's a great combo! It's a little sweet, a little spicy and a whole lot of tangy that will wow your taste buds without a doubt.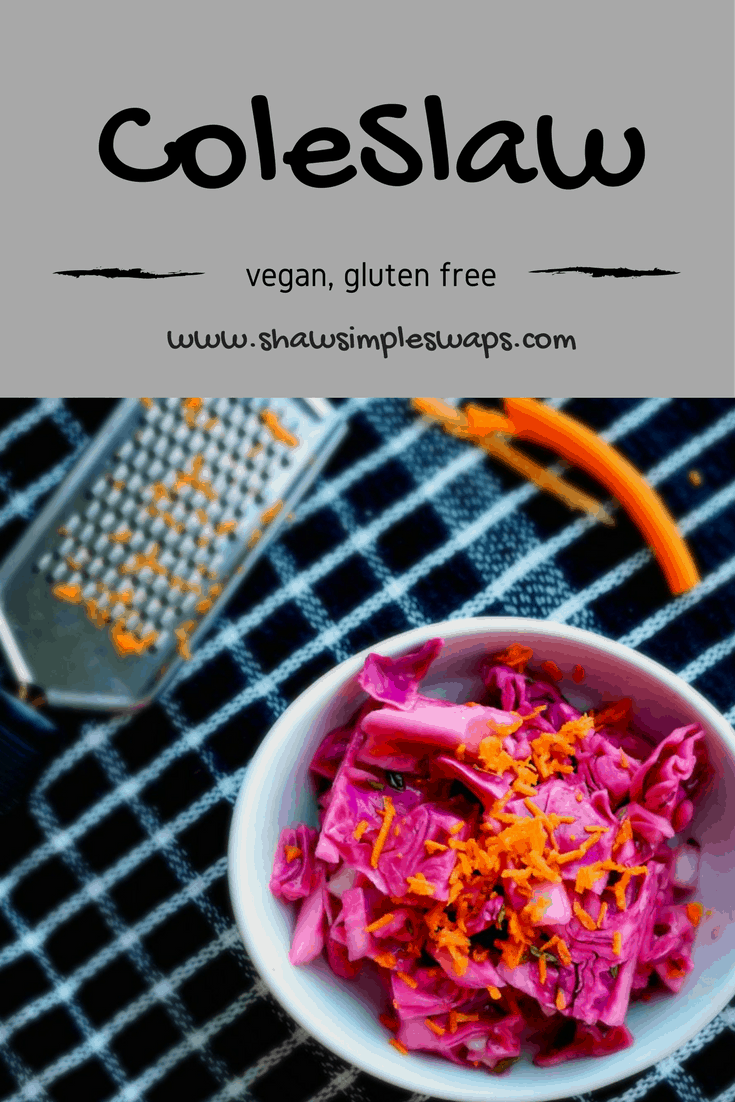 Plus, it also pairs perfectly with a lean protein source for a quick on the go lunch or dinner during the week.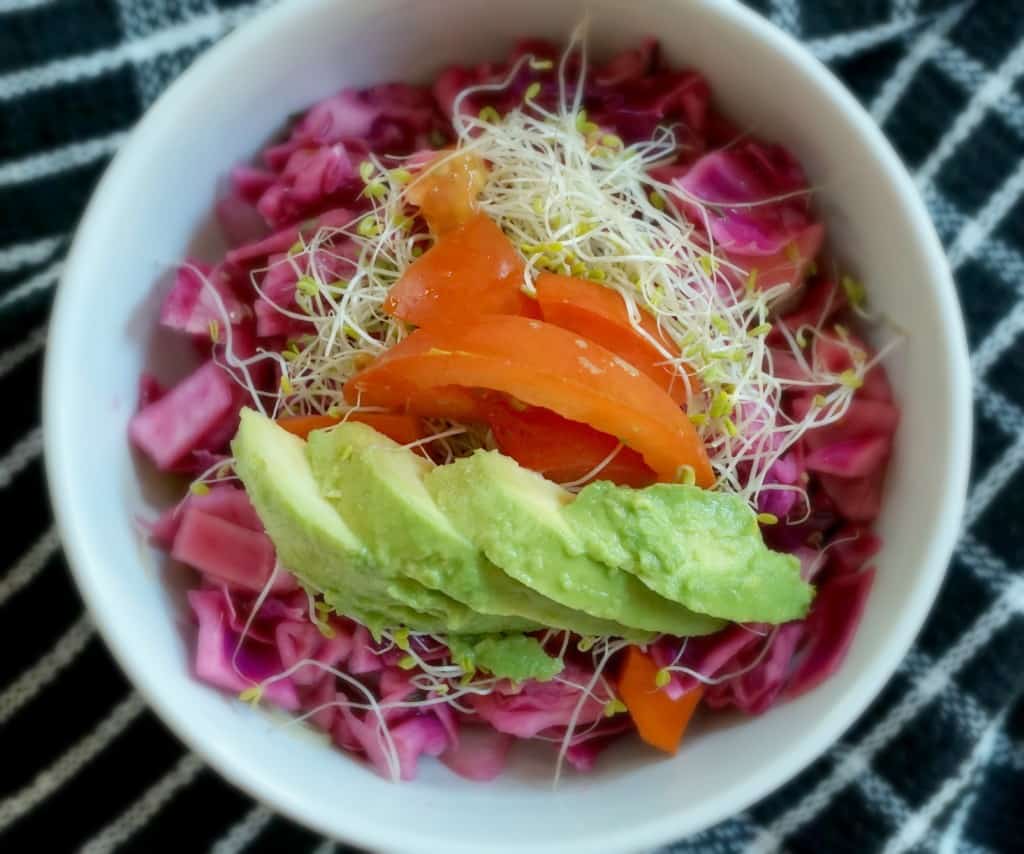 Happy coleslaw-ing!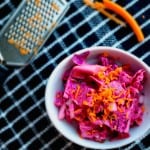 Print
Vegan Jalapeno Cabbage Slaw
Ingredients
1

head of purple cabbage

1/4" strips, washed and sliced thin

2

whole jalapenos

seeded and chopped

1

large carrot

grated

1

cup

of distilled white vinegar

1/2

cup

apple cider vinegar

1

cup

water

1

teaspoon

mustard powder

1

teaspoon

garlic powder

1

teaspoon

thyme

dried
Instructions
In a large bowl, combine all liquid ingredients.

Combine dry spices together and then whisk into liquid ingredients.

Pour all ingredients including cabbage and jalapeno into the large bowl, making sure they are completely submerged in the liquid.

Refrigerate for at least 8 hours before serving.

Top with grated carrots!