Trying to incorporate a healthier, plant-forward diet this year? Then add canned beans into your weekly meal plan! In this post I'll cover 5 benefits of canned beans in a healthy diet, as well as provide you with 10 delicious recipes to try on your own! From breakfast to main meals, and of course sweet and salty snack options, you'll be armed with the best Shaw Kitchen recipes to take your plant-based diet to a whole new level this year using convenient canned beans!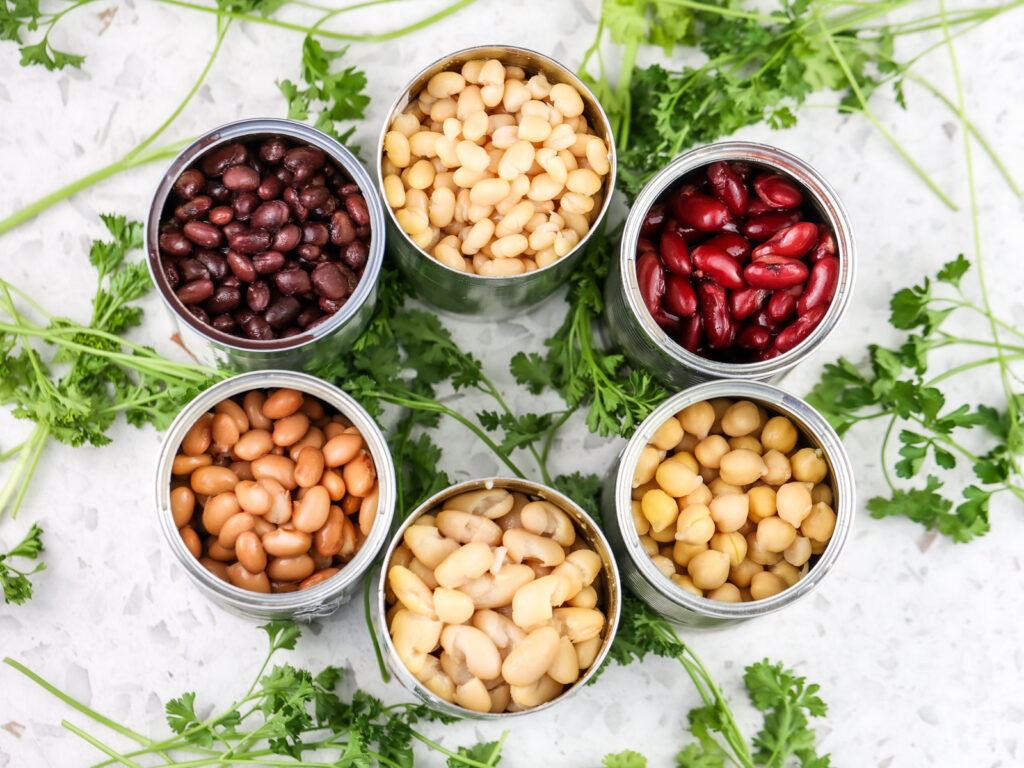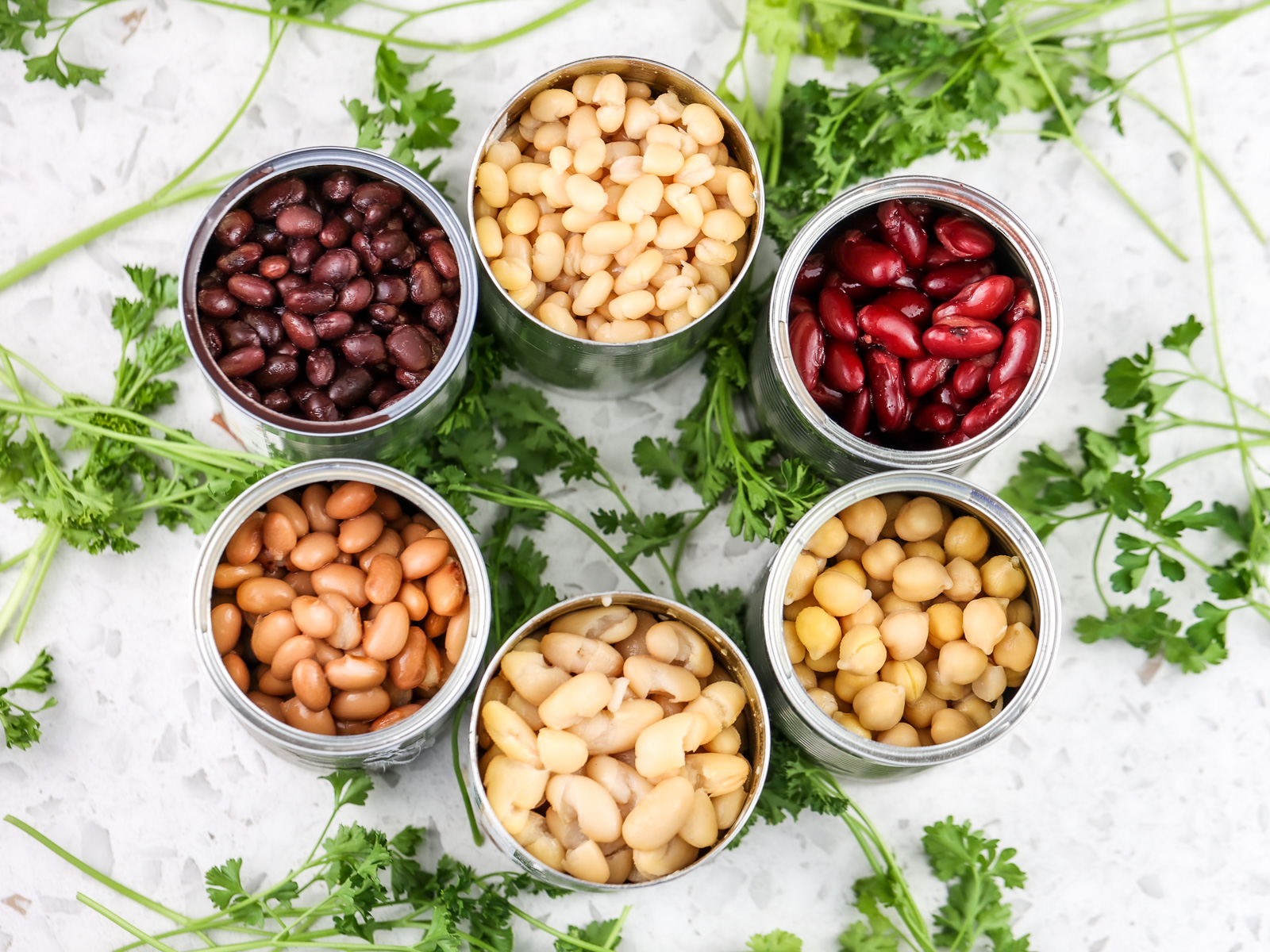 Disclosure: This post was in collaboration with Bush's Best to help raise awareness around canned beans. As always, all opinions expressed are my own. Thank you for supporting the work that keeps the Shaw Kitchen thriving!
Health continues to be a priority for many amongst the global fight against the COVID-19 virus, making nutrition that much more important.
While there is no one "superfood" that can stop one from becoming ill or overcoming a virus, we do know research as well as the new 2020-2025 Dietary Guidelines for Americans supports incorporating more plant-based foods, like canned beans, as part of a healthy diet.
To help clear up any confusion around using convenient products like canned beans in a plant-forward diet, let's jump in and talk about the 5 Benefits of Canned Beans in a Healthy Diet!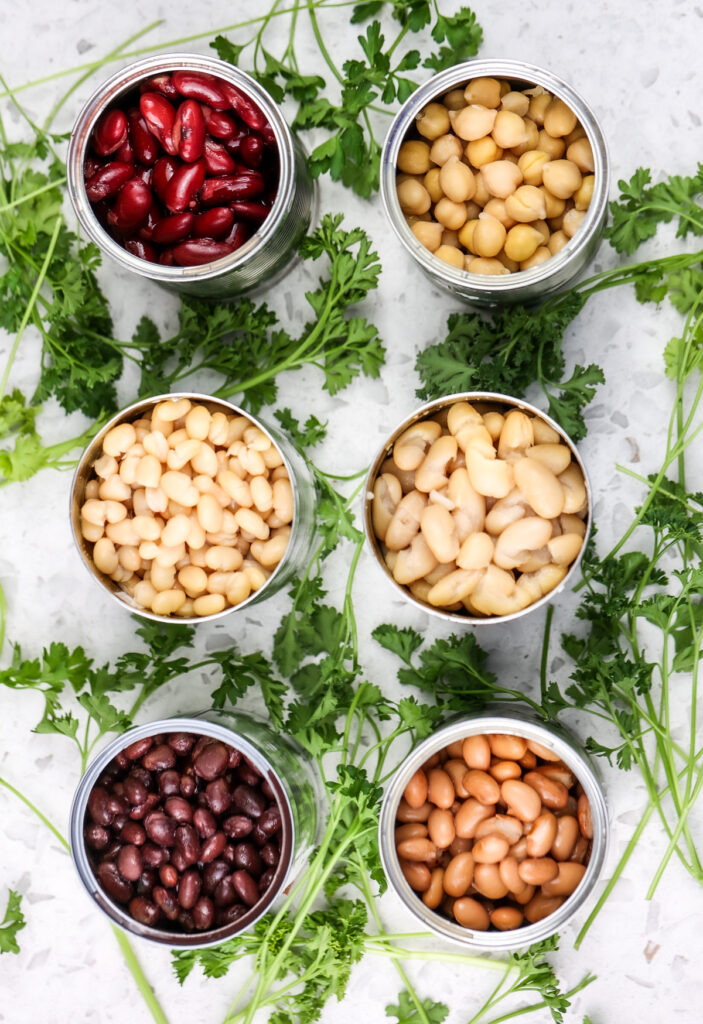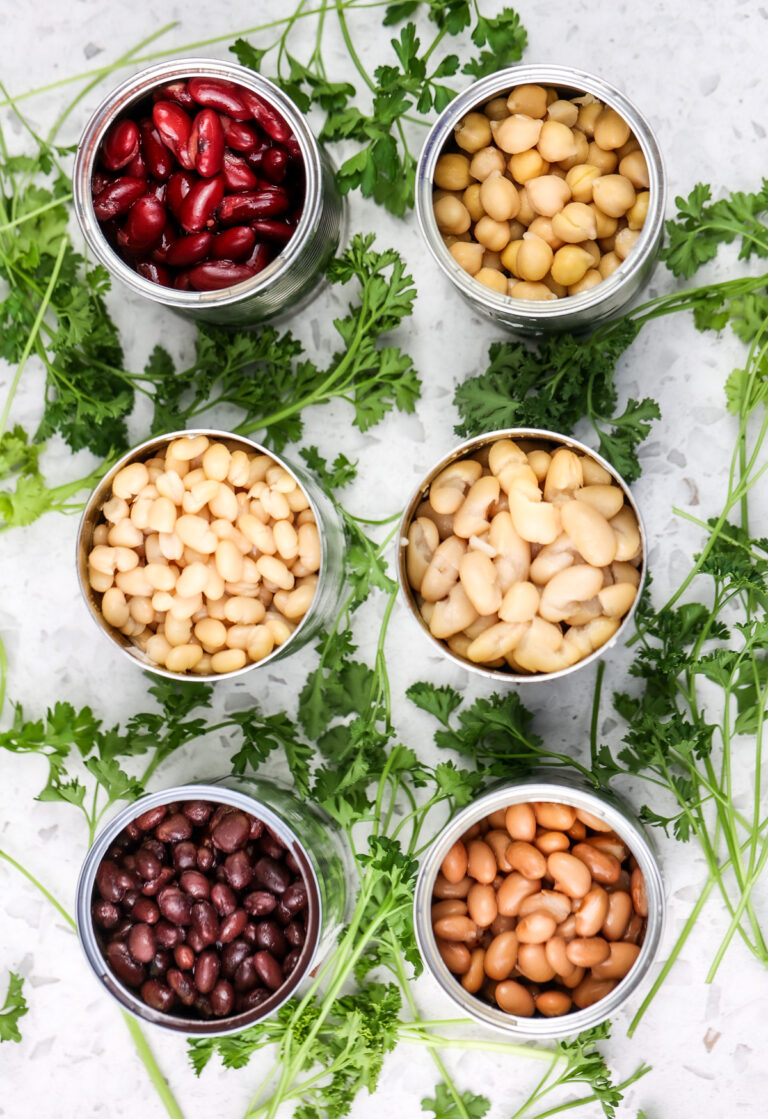 #1: Canned Beans promote a plant-based diet!
Did you know that the United States Department of Agriculture (USDA) actually classifies beans as a subgroup of the vegetable group as well as a part of the protein foods group?
This means canned beans actually deliver two times the nutritional punch!
Plus, because there is no standard definition of what a "plant-based diet" entails, this way of eating doesn't require my fellow carnivore loving friends to nix their meat all together. Rather, it embraces allowing all foods that fit into a healthy dietary pattern to be enjoyed based on individual preferences and budgets, as well as dietary needs.
I know this can seem confusing, so the way I always paint this picture for my clients is using the "center of the plate" analogy. You want your plant-forward menu items, like canned beans, to be in the center of your plate while adding your favorite animal proteins, like meats, as a fun side or topping.
Don't worry, I'll show you how to do this in the recipes below!
#2: Canned beans add more fiber and nutrients to a balanced diet!
It's no secret, Americans continue to fall short in meeting the recommended amount of dietary fiber needed per day (for reference, Americans currently only consume about 15 grams per day when in reality the recommendations are at minimum 20 to 30 grams per day.)
Given that one serving of canned beans can provide anywhere from 4 to 8 grams of dietary fiber, they're an excellent way to boost fiber intake too!
And, despite what you have heard, canned beans are not to be feared if you are following a low sodium diet. In fact, rinsing canned beans is an effective way to reduce total sodium content and improve their health profile with research showing a sodium reduction as much as 41% after draining, or draining and rinsing!
Benefit 3: Canned beans are convenient.
I think this benefit speaks for itself! There's nothing more convenient than popping the top off a pantry staple like canned beans to get dinner on the table in under 10 minutes. Canned beans are hands down one of my favorite Shaw Kitchen swaps we use on the regular.
Plus, canned beans are always in season, bringing year-round value, great taste, and enhanced nutrition to every dish.
Now, I want you to forget whatever myths you've heard about canned beans and safety, like the common misconception I hear surrounding canned foods and how the cans contain a chemical known as bisphenol A (BPA) in their lining.
According to the Can Manufacturers Institute, 95% of canned food manufacturers today use linings made from acrylic, polyester, non-BPA epoxies or olefin polymers instead of BPA. While I certainly understand the concern surrounding BPA and I myself avoid products with this as well, I want to assure you that you do not have to worry about BPA and canned beans!
These innovative linings were developed to respond to consumer preferences and have proven to be safe and effective. They are approved by regulatory authorities.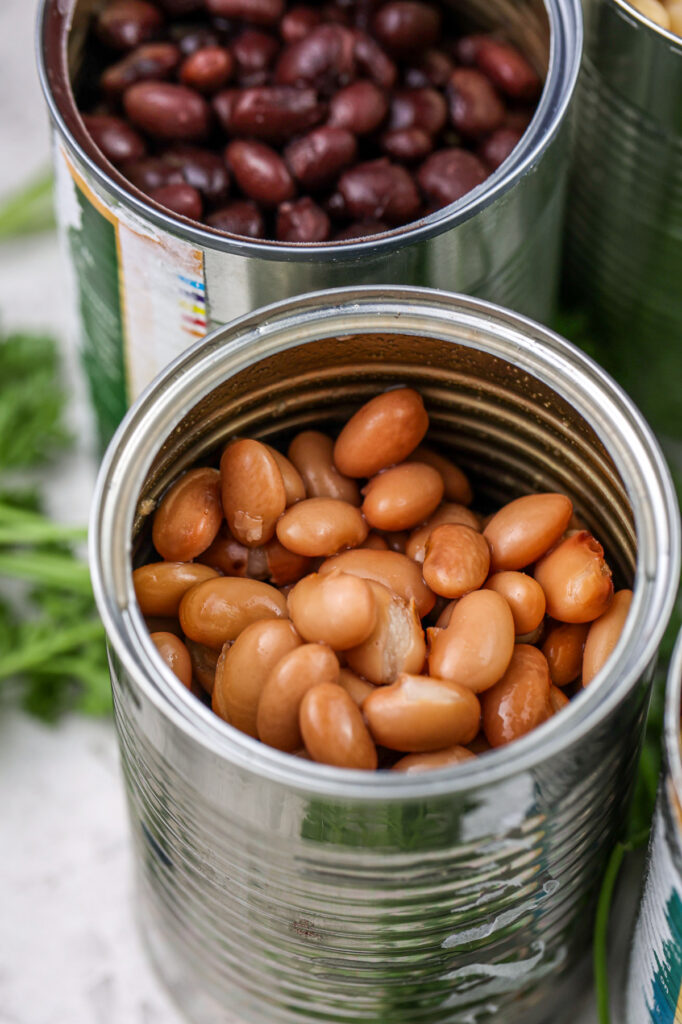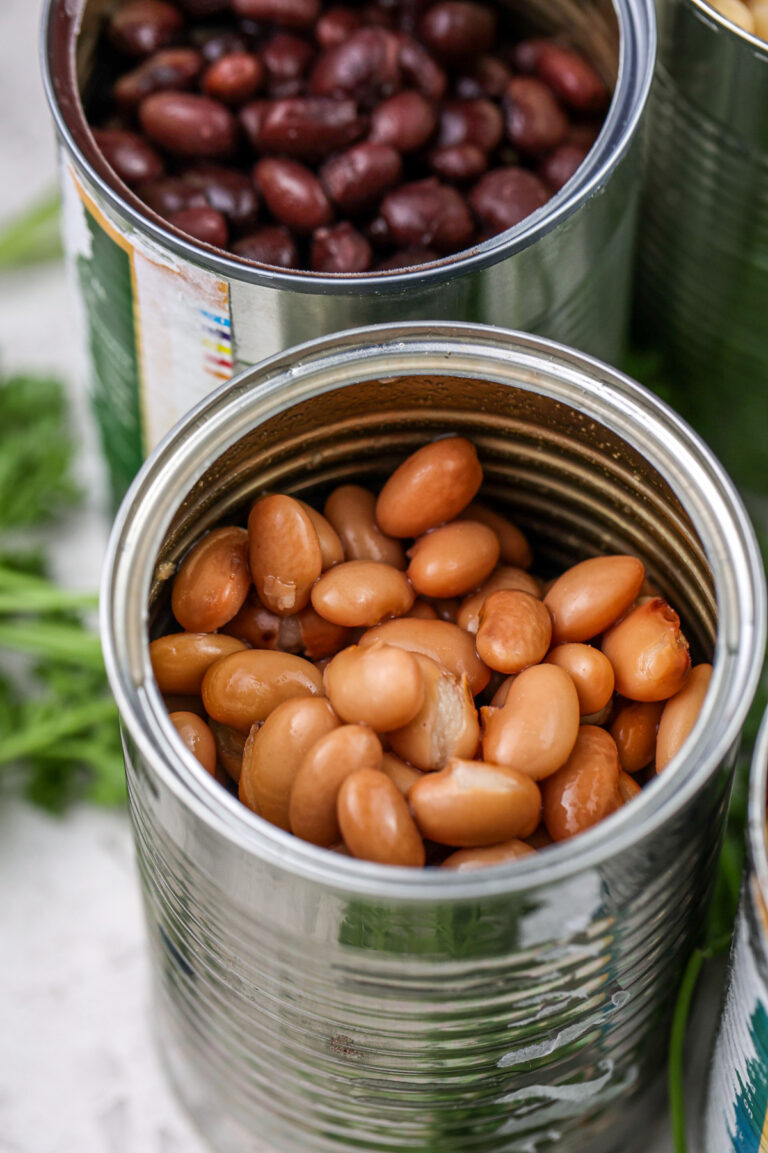 #4: Canned beans are affordable.
Who isn't looking for ways to save money? Canned beans are extremely affordable and convenient to use. Plus, you can usually find them on sale at your local market! For instance, I just snagged a 5 for $5 deal on five canned beans to replenish my pantry stash with.
And, because they don't spoil like fresh vegetables, canned beans help reduce food spoilage, meaning families can stretch their food budgets too.
#5: Canned beans are versatile.
There is a recipe for every dietary type and taste preference when you add more canned beans to your menu!
Because canned beans encompass such a wide variety of beans (think kidney, black, cannellini, garbanzo, Great Northern, butter, navy, and pinto beans to name a few), there are endless possibilities to create diverse cultural cuisines and dishes.
From breakfast to main meals to snacks, canned beans have you covered! Checkout the Shaw Kitchen's favorite recipes below that will hopefully please everyone in your crew!
10 Healthy Recipes Using Canned Beans
Breakfast Recipes
Sandwiches and Burgers
Appetizers
Main Meals
Sweet Treats
Where to get more information and recipes?