Want a nacho that can hold you over as a meal? Then I've got just the trick for you in this post! This Healthy Nachos Recipe is the perfect way to serve up a hearty quick fix dinner or a simple snack to please a crowd. They're high in protein and lower in saturated fat than you traditional nacho recipe too!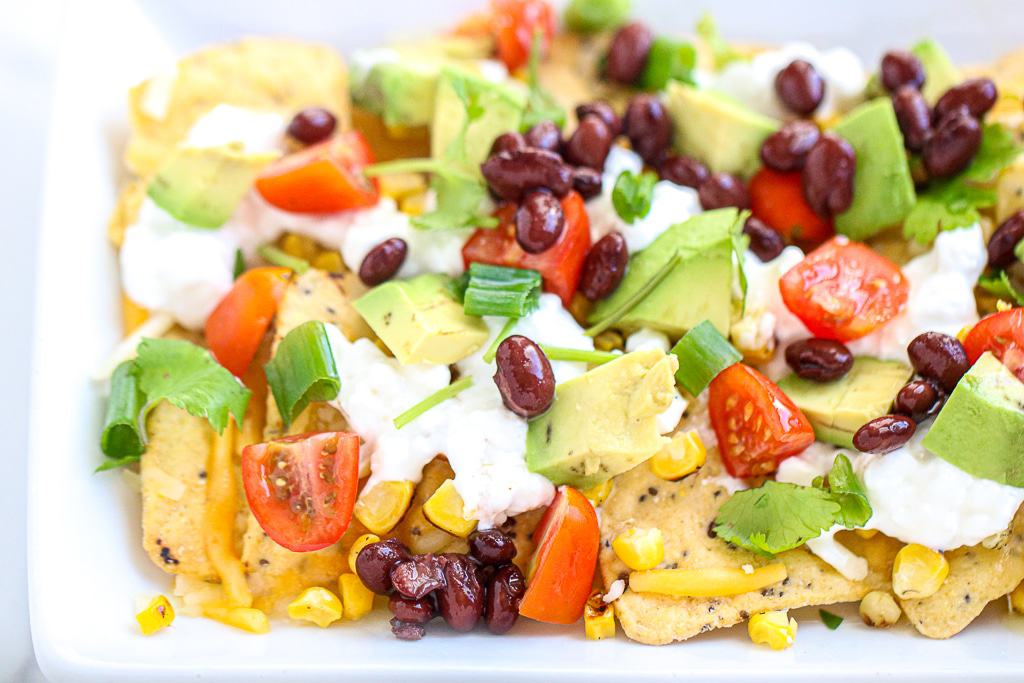 Can you really make a healthy nachos?
Yes, you certainly can!
I could eat nachos morning, noon and night. Anyone else with me on this one?
There's something so satisfying about the crunchy texture from those chips, the creaminess of avocado, and the oh so yummy cheesy goodness… it's like a match made in heaven!
The downfall is if I picked up the delicious nachos from my local Mexican restaurant everyday I'd probably weigh 900 pounds. Sure, they're the perfect treat to splurge on every now and then, but everyday, no way.
Just for reference, most loaded nachos rack in over 30 grams of saturated fat per container!
That's why I decided to come up with these Loaded Lean Nachos!
Not only can you dress these up to suit your particular craving, but they're also ready in no time flat, making them a convenient option to make last minute as an appetizer, meal or snack.
What you need to make this recipe: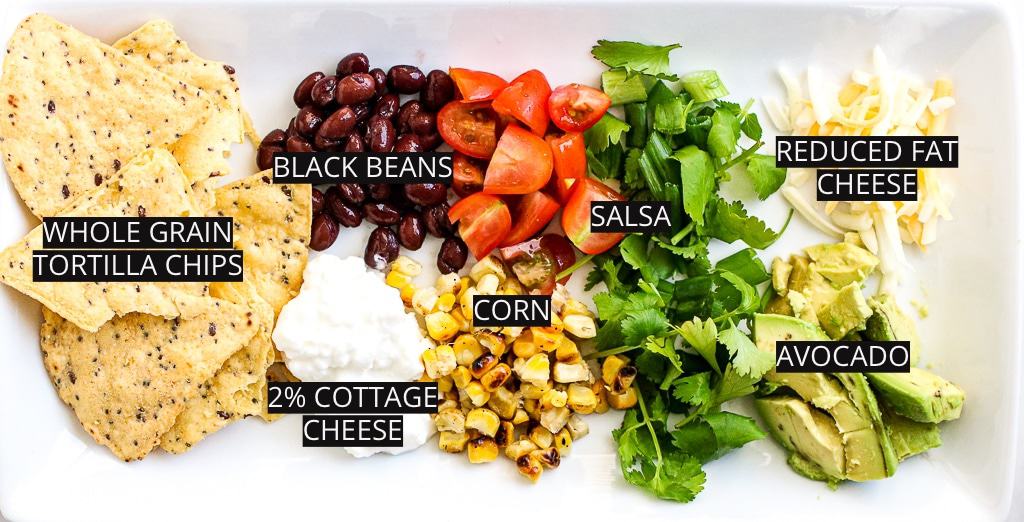 ♦ Baked Tortilla Chips
Fire up that oven to 425 degrees F and cut whole grain tortillas into small squares and triangles. Not only do you get a hearty dose of fiber (6 grams!), but one serving (20 chips) has over 7 grams of protein depending on the tortilla you choose!
♦ Creamy Cottage Cheese
Stealth health maneuver right here! To amp up the protein and add a little kick, I mixed 2% fat cottage cheese with hot sauce and dolloped over melted sharp cheddar cheese. It gave these nachos a super creamy flavor while also decreasing the amount of shredded cheese I needed to add; lowering the total saturated fat of the dish.
♦ Fresh Pico de Gallo
Store bought pico can be backed with sodium and truly doesn't carry the same fresh feel. Take one tomato, a 1/4 onion and some cilantro, chop it up and add a little garlic powder and dash of salt for taste. #winning
♦ Avocado Slices
Last but certainly not least, avocado is the icing on the nacho cake! Providing a hearty dose of heart healthy monounsaturated fat, fiber, and protein, the green goddess polishes these off with just the right touch!
Tips on how to make this recipe: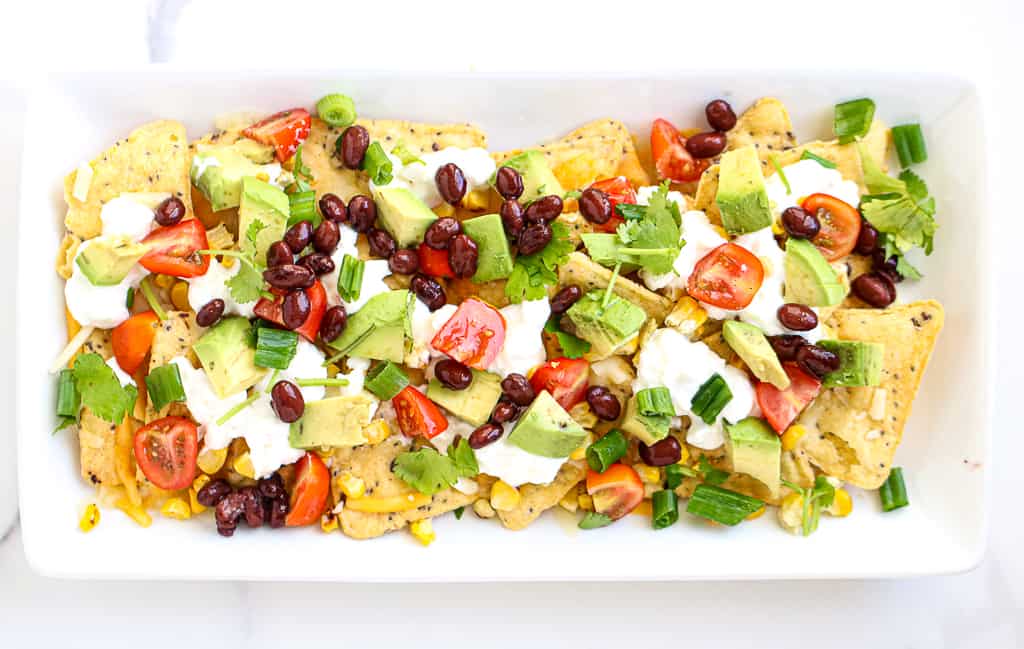 Use your oven or air fryer to bring these babies to life. The secret is making sure you flip them to get the even browning.
If you don't have black beans, use pinto or white beans! You can also mash the black beans to create a more "refried" consistency too!
If you really don't like cottage cheese, sub plain 2% Greek yogurt to keep the protein up and saturated fat down in place of sour cream.
Use a store-bought whole grain chip to save time.
Other Ways to Spice Up This Recipe
If you're looking for other options to try, I've got a few other ideas up my sleeve for you too! Enjoy!
Mediterranean Nachos: Top with hummus, feta cheese and tomatoes!
Dessert Nachos: Sprinkle with cinnamon before baking, top with melted nut butter, fresh banana slices and a dollop of vanilla infused Greek yogurt!
And don't forget, you should definitely pair any of these with that Spicy Skinny Margarita Recipe too!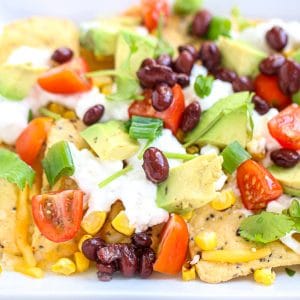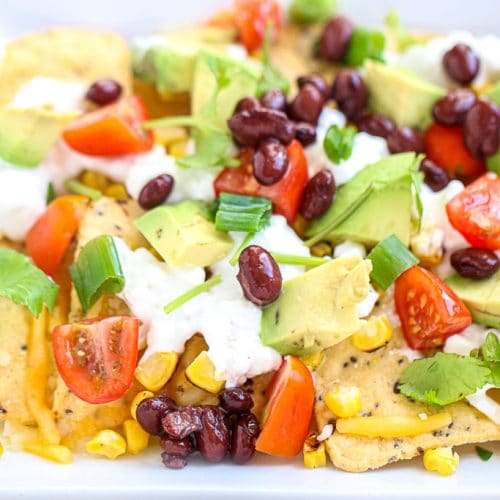 Healthy Nachos Recipe
The perfect nacho recipe to enjoy as a healthy snack or main meal!
Print
Pin
Share by Email
Ingredients
3

each

whole wheat tortillas

cut into squares and triangles

1/2

teaspoon

cayenne pepper

1/2

teaspoon

garlic powder

1/2

cup

reduced fat cheddar cheese

1

cup

2% fat cottage cheese

1/2

cup

black beans

1/2

cup

corn

1

cup

pico de gallo

4

oz

sliced avocado

1/4

cup

chopped cilantro

garnish

1

teaspoon

hot sauce

garnish
Instructions
Preheat oven to 425 degrees F.

On a cutting board, slice tortillas into small squares, yielding about 25 chips per wrap.

Spray a baking sheet liberally with cooking spray.

Lightly spray cut tortilla triangles with cooking spray as well.

Sprinkle cayenne pepper and garlic over chips. Flip once and repeat.

Place baking sheet with coated chips in oven.

Bake for 5-7 minutes and watch carefully! Oven times may vary, you don't want to burn them!

Remove chips from oven (turn off oven) and sprinkle 1/2 cup sharp cheddar cheese on top.

Place back in oven for 1 minute for cheese to melt.

Remove and top nachos with black beans, corn, cottage cheese, pico de gallo and avocado!
Notes
To make chips in the air fryer:
Preheat air fryer to 350 degrees F. Prepare chips as directed above with seasoning and oil.
Work in small batches depending on the size of your air fryer and place half the chips in the air fryer basket. Cook at 350 for 10 to 12 minutes, shaking the basket at 5 minutes, and then checking at 10 minutes for crispness. Once chips are golden brown spread chips out onto paper towels and allow to cool for 3 minutes before serving. Repeat with remaining chips.
Nutrition Facts
Healthy Nachos Recipe
Amount Per Serving
Calories 188
Calories from Fat 54
% Daily Value*
Fat 6g9%
Cholesterol 5mg2%
Sodium 749mg31%
Potassium 314mg9%
Carbohydrates 22g7%
Protein 14g28%
Vitamin A 582IU12%
Vitamin C 8mg10%
Calcium 102mg10%
Iron 1mg6%
* Percent Daily Values are based on a 2000 calorie diet.
I'd love to hear what you think about this Healthy Nachos Recipe! Did you make them!? Comment below and tag me (@shawsimpleswaps) on Facebook, Instagram, or Pinterest. I'd love to reshare!