Granola. A timeless classic! This nut free granola recipe is perfect for a weekday morning, or tossed into a lunch for work or school!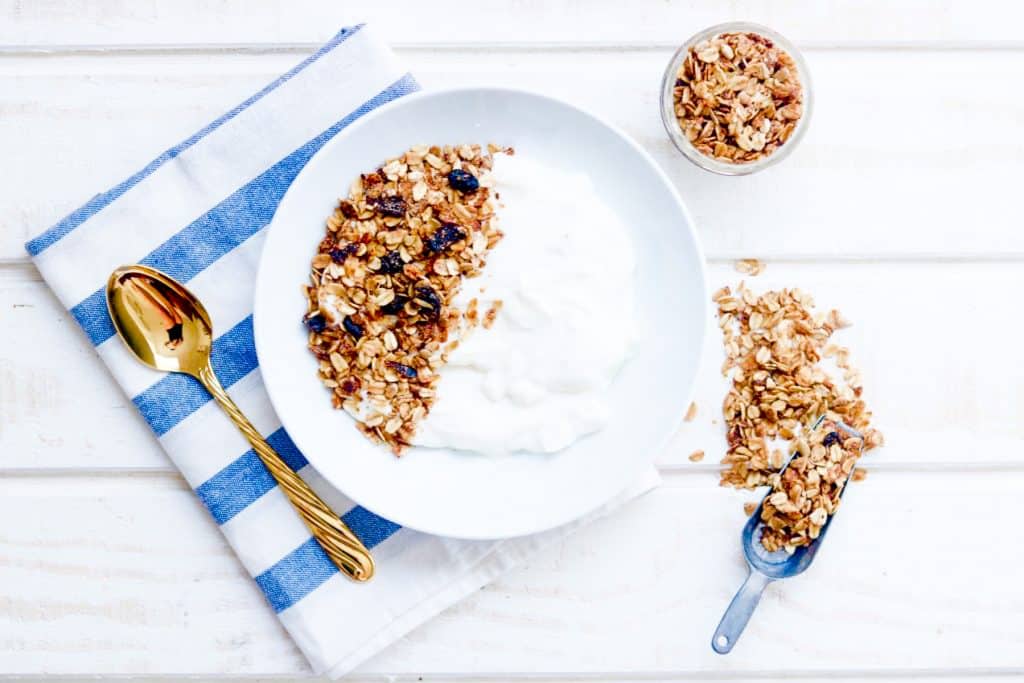 Yay. Yay all the way!
Granola is SO versatile. It's the perfect addition to your breakfast parfaits or thrown on top of a salad for a little extra texture.
Despite what countless media stories say, granola is actually super healthy and can be a great addition to your diet when you make your own!
Rest assured, I will show you how to do that now!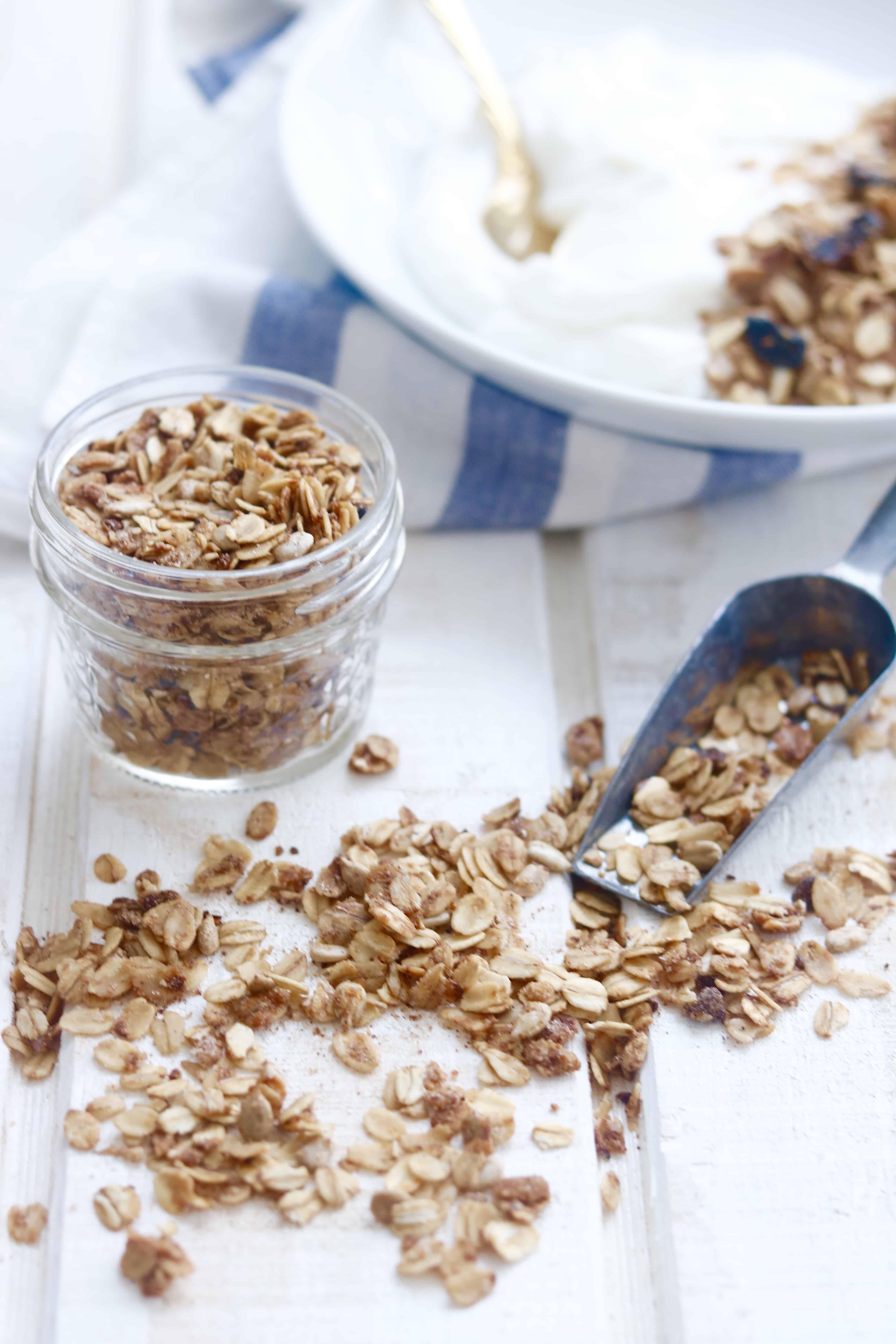 Why is this recipe healthy?
First off, it fits just about every single dietary preference out there! Meaning, part of things being "healthy" mean they are safe for you.
With the number of friends I know who have food allergies, this granola fits the bill for a SAFE, nourishing option for them!
Now, onto more specifics about the health of this nut free granola!
Did you know that a BIG portion of your immune system (70% to be exact) is actually housed in your gut?
That means that the key to preventing those winter colds (and flu!) actually begins in your GUT with proper diet and nutrition.
Foods like granola contain important fibers and ingredients that actually help feed your good gut bacteria.
To save us all time, click the link here for a complete run down on gut health & 15 parfait recipes to fuel your gut.
Another BIG thing about this granola is that it's substantially lower in sugar than store bought options that can rack up nearly 15 grams in one small serving.
This Nut Free Granola comes in at just under 5 grams total!
What You Need to Make this Recipe
I promise, you should have all these ingredients on hand (or a comparable swap!)
Sunflower Seeds
Old-Fashioned Oats
Oil (Vegetable, Sunflower, Safflower, Grapeseed)
Cinnamon
Vanilla Extract
Dried Fruit
Salt
Want to give this a twist? Feel free to add in the following to boost the nutrition while still keeping this recipe gluten free, vegan and nut free!
Chia seeds
Flax seeds
Pumpkin seeds
Vegan chocolate chips
Pumpkin pie spice
Turmeric
Pro Tips to Make This Recipe
A few helpful hints to make sure you get the perfect granola every time!
Bake low and slow! Do not bump up the oven temperature, you will result in a super toasty (read not so pleasant tasting) granola.
Do not use steel cut oats. It will be too hard and coarse (read not enjoyable!)
Do make this with love (we all could use more of that in our lives!)
Other Recipes You May Like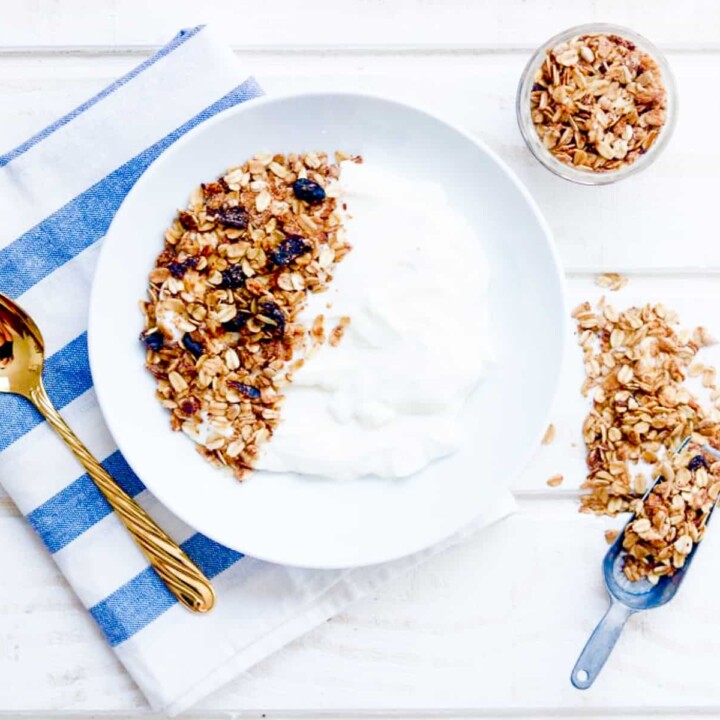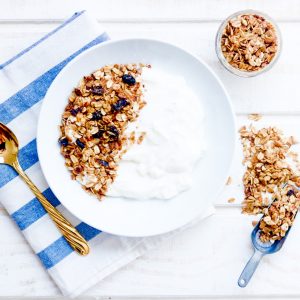 Nut Free Granola
This Nut Free Granola recipe is the perfect addition to breakfast or your afternoon snack! Naturally gluten free and vegan, it's a healthy recipe the entire family can enjoy.
Print
Pin
Share by Email
Ingredients
3

cups

rolled old fashioned oats

gluten free if gluten intolerant

1/2

cup

sunflower seeds

2

tablespoons

vegetable oil

3

tablespoon

maple syrup

1

teaspoon

vanilla extract

1

teaspoon

ground cinnamon

1/4

teaspoon

kosher salt
Instructions
Preheat oven to 325 degrees F.

In a large bowl, combine oats, sunflower seeds, oil, maple syrup and vanilla extract. Stir together with a spatula until evenly mixed.

Add in the cinnamon and salt, mix together.

Line a baking sheet with parchment paper and lightly spray with cooking spray.

Pour granola onto the baking sheet, making sure it's evenly distributed.

Bake for 10 minutes, then stir, baking another 5 minutes, until golden brown.

Remove and let cool.
Nutrition Per Serving
Calories:
217
kcal
|
Carbohydrates:
28
g
|
Protein:
6
g
|
Fat:
10
g
|
Saturated Fat:
1
g
|
Sodium:
76
mg
|
Potassium:
181
mg
|
Fiber:
4
g
|
Sugar:
5
g
|
Vitamin C:
1
mg
|
Calcium:
33
mg
|
Iron:
2
mg
You can easily jazz up this recipe to make it your own! Add your favorite dried fruits, nuts or heck, chocolate chips if you're feeling up to it!
I'd love to hear what you think about this Nut Free Granola! Did you make it!? Comment below and tag me (@shawsimpleswaps) on Facebook, Instagram, or Pinterest. I'd love to reshare!