If you're tired of spending $2.99 on those store-bought granola bars, then this post is for you! Naturally sweetened and extra crunchy, this Vegan Crunchy Granola Bar recipe is sure to be your new favorite snack.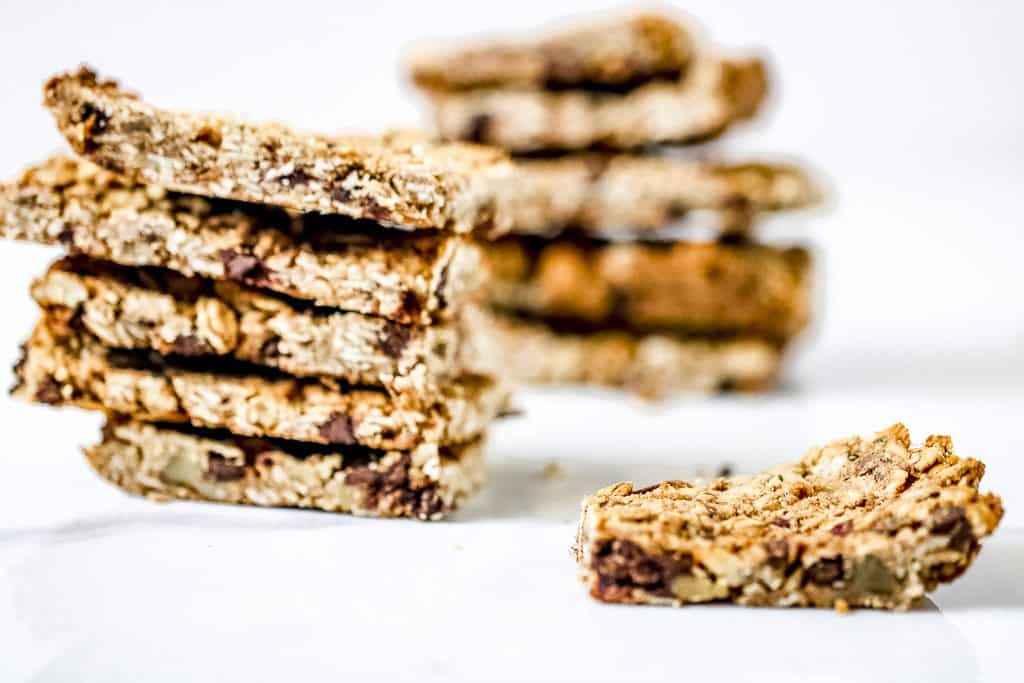 How do you make the perfect crunchy granola bar?
Sometimes I wonder why I spent 6 years in school to get my masters and RD credential when in reality all the Google gods really want to know is how to make the perfect crunchy granola bar.
Thankfully my street creds as an avid snacker and mom to a super snacker have found me answering this question.
Phew, thank goodness there's a space for me in the world-wide web!
To make the ultimate crunchy granola bar, you really need to pay attention to the texture of ingredients you use.
I've found the secret combo of walnuts, oats, almond flour, and hemp seeds to be the ultimate blend.
If you don't have the right layer of texture, you'll end up with something that resembles more of a soft cookie than a crunchy, nutty bar.
I'm not kidding when I say these are like the Shaw Kitchen copycat version of the KIND Crunchy Bars you buy at the market today!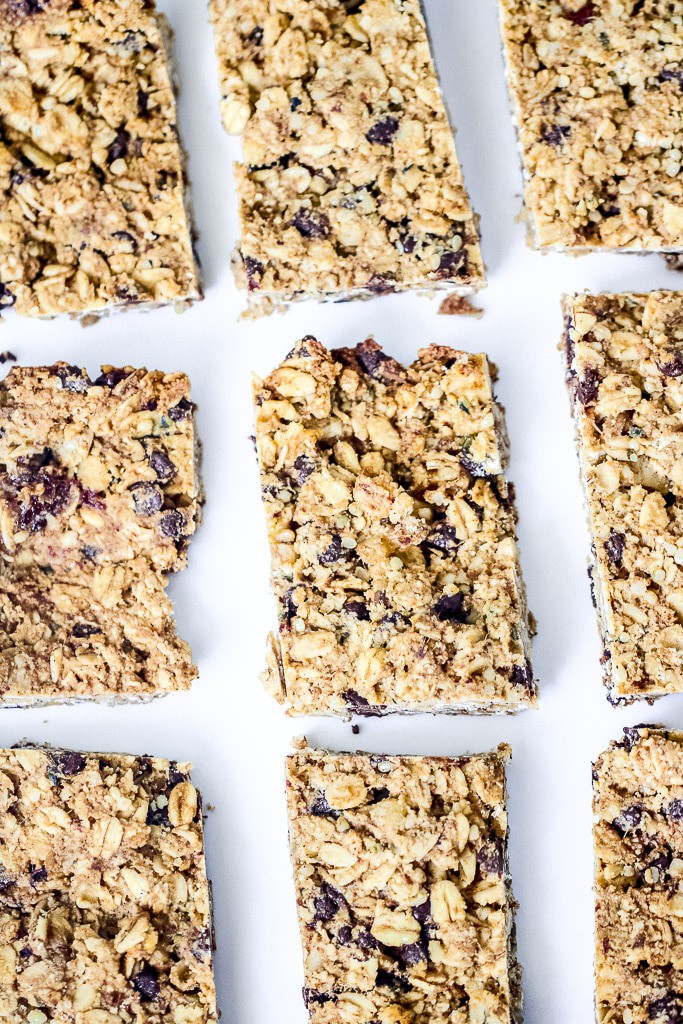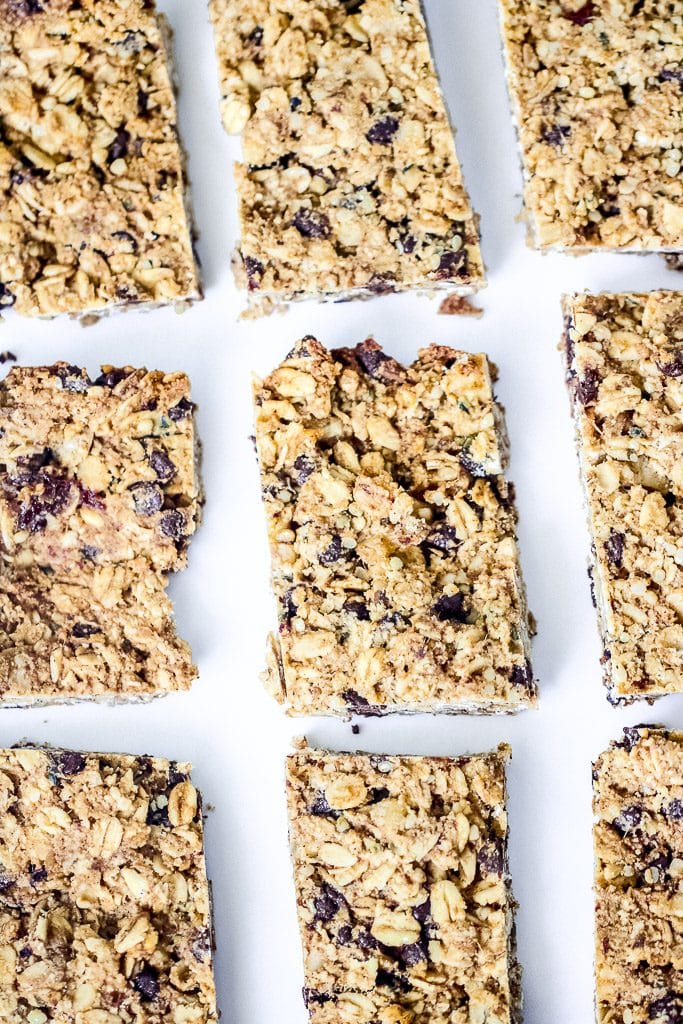 What if I don't have walnuts or date? What else can I use?
I get it, sometimes we run out of our kitchen staples and we need to simple swap it with something we've got on hand.
Enter, use almonds or cashews in place of the walnuts. It will impart a slightly different flavor and texture but still yield a delicious result.
If you don't have dates, you can sub with prunes or raisins, using approximately 10 dried prunes or roughly 1 cup of raisins.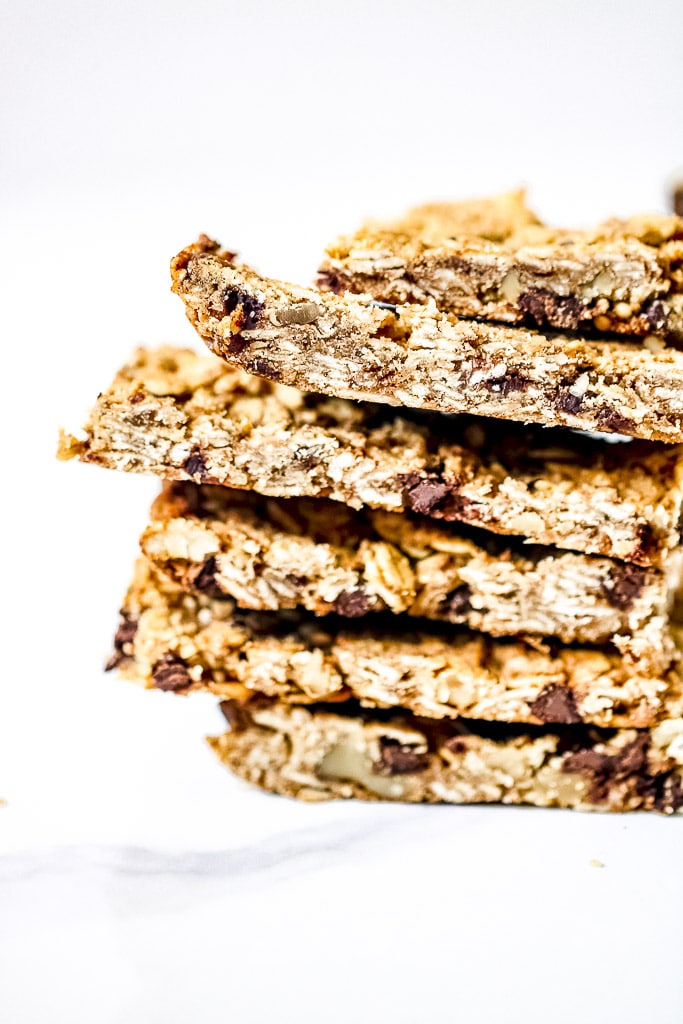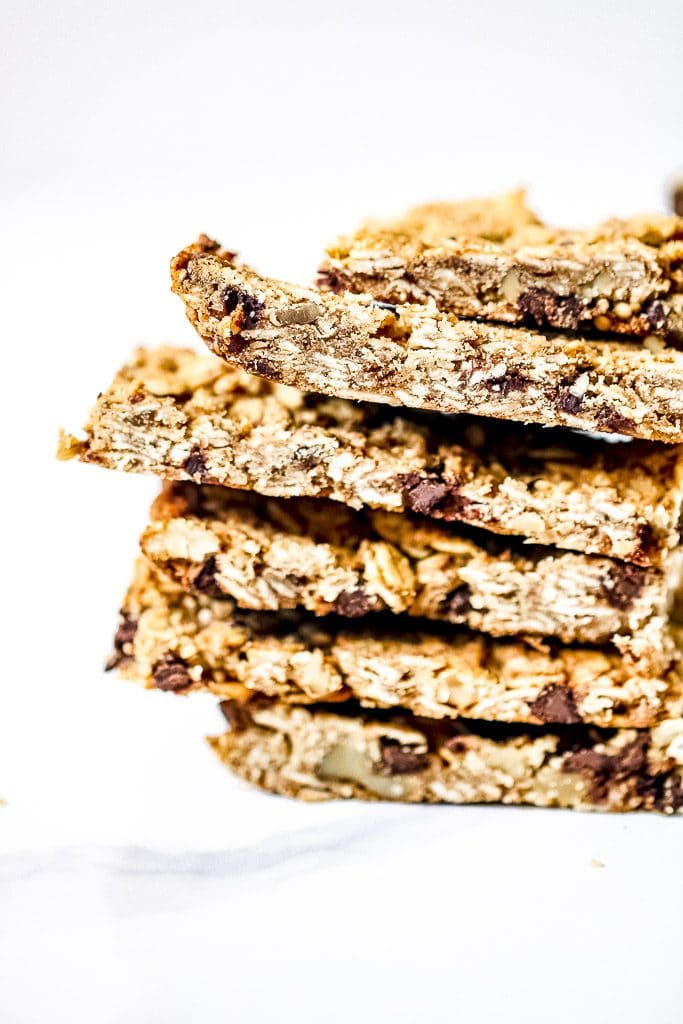 Is this crunchy granola bar healthy?
I always chuckle a little bit when someone asks me that because the definition of healthy is unique to everyone.
However, yes, in my book, these vegan crunchy granola bars are totally healthy!
Why?
Because they are very low in added sugar (really, just from the chocolate chips) and filled with heart-healthy fats. They're also filled with whole grains too, meaning an extra bit of those energy producing B vitamins!
Is this safe for school and sports?
Pending what the guidelines are at your kiddos school or sports activities, this recipe when followed as written below should be totally acceptable for peanut free requirements.
This recipe does have walnuts and hemp seeds, so take note of this if you do have classmates with tree nut or other seed allergies.
It's also perfect for work functions, too! A delicious sweet treat that's healthier than the standard store-bought cookie, etc!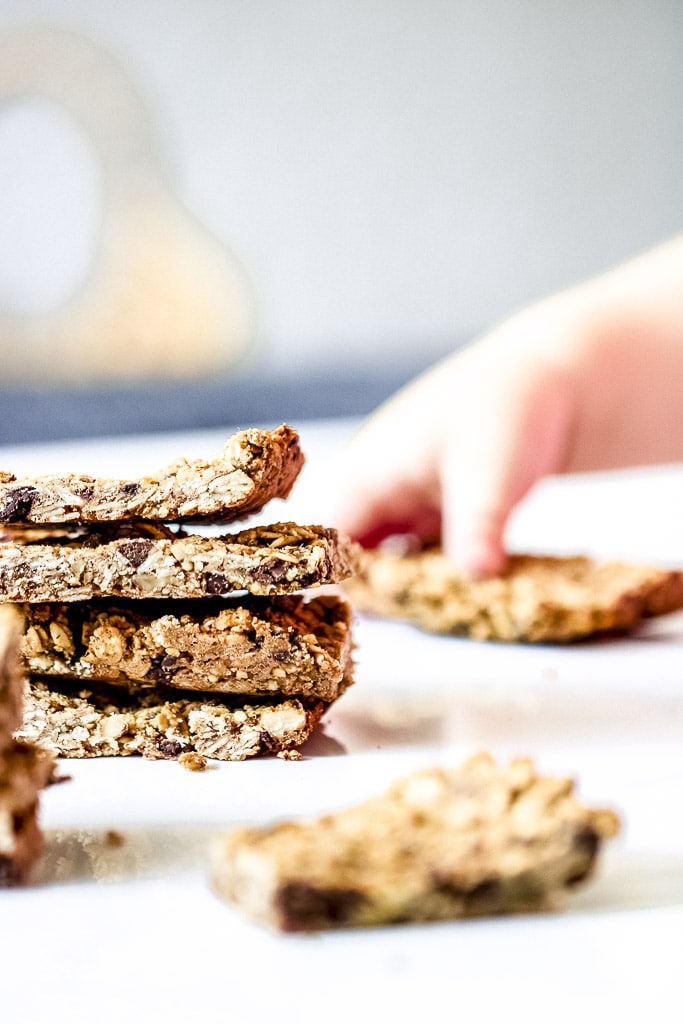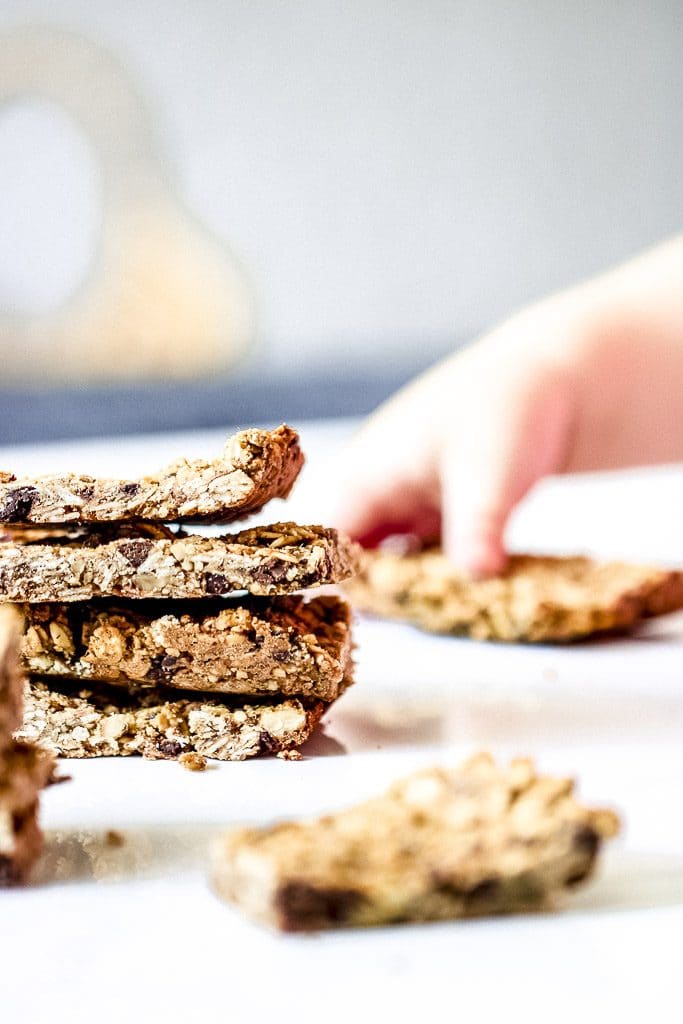 What are some other snack recipes I can try?
Glad you asked! Here are some of my favorite bar-like recipes I've whipped up in the Shaw Kitchen: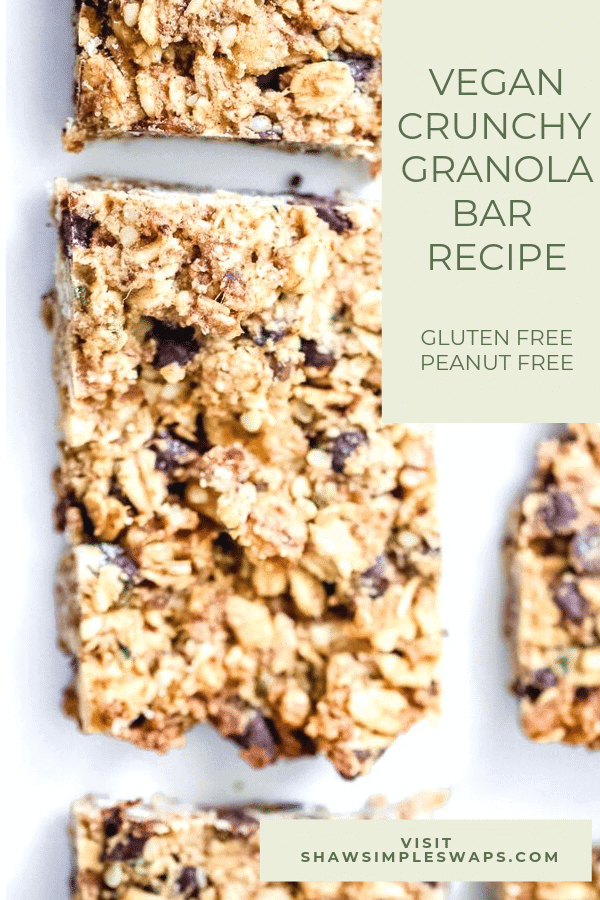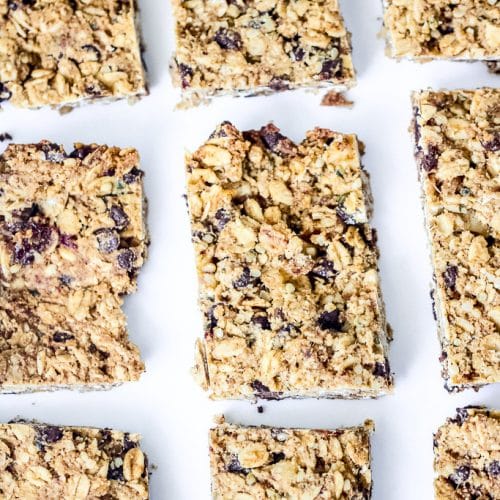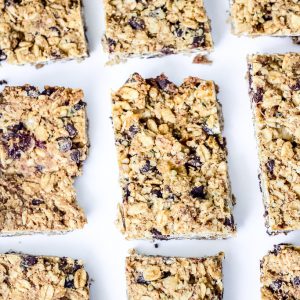 Vegan Crunchy Granola Bar Recipe
A delicious Gluten Free & Peanut Free granola bar recipe, ready in under 30 minutes! Perfect for kids and adults too!
Print
Pin
Share by Email
Ingredients
10

each

dates

1/2

cup

filtered water

1/3

cup

walnuts

finely chopped

1

cup

old fashioned oats

1/3

cup

almond flour

1/2

teaspoon

ground cinnamon

1/4

teaspoon

sea salt

1/3

cup

mini chocolate chips

dairy free for vegan variety

2

tablespoons

hemp seeds
Instructions
Preheat oven to 350 degrees F. Place dates in a microwave safe cup and add 1/2 cup of water. Microwave for 45 seconds. Remove and let sit 5 minutes.

Add dates and water to a food processor or high powered blender and pulse for 30 seconds or until paste forms.

Remove the date paste with a spatula and spoon into a mixing bowl. Add in the walnuts, oats, almond flour, cinnamon and salt. Mix together until incorporated.

Gently fold in the chocolate chips and hemp seeds.

Line an 8×8-inch square baking pan with parchment paper. Press the granola mixture into the pan and bake for 15 minutes.

Remove and let cool. Cut into 12 slices and store in an airtight container for up to 10 days, or freeze for up to 3 months.
Notes
These taste wonderful as an ice cream topping crunched up!
Nutrition Per Serving
Calories:
121
kcal
|
Carbohydrates:
10
g
|
Protein:
3
g
|
Fat:
6
g
|
Saturated Fat:
1
g
|
Cholesterol:
1
mg
|
Sodium:
53
mg
|
Potassium:
45
mg
|
Fiber:
2
g
|
Sugar:
4
g
|
Vitamin A:
24
IU
|
Calcium:
23
mg
|
Iron:
1
mg