Gluten Free Honey Oat Cereal Bars – There's no excuse not to eat breakfast!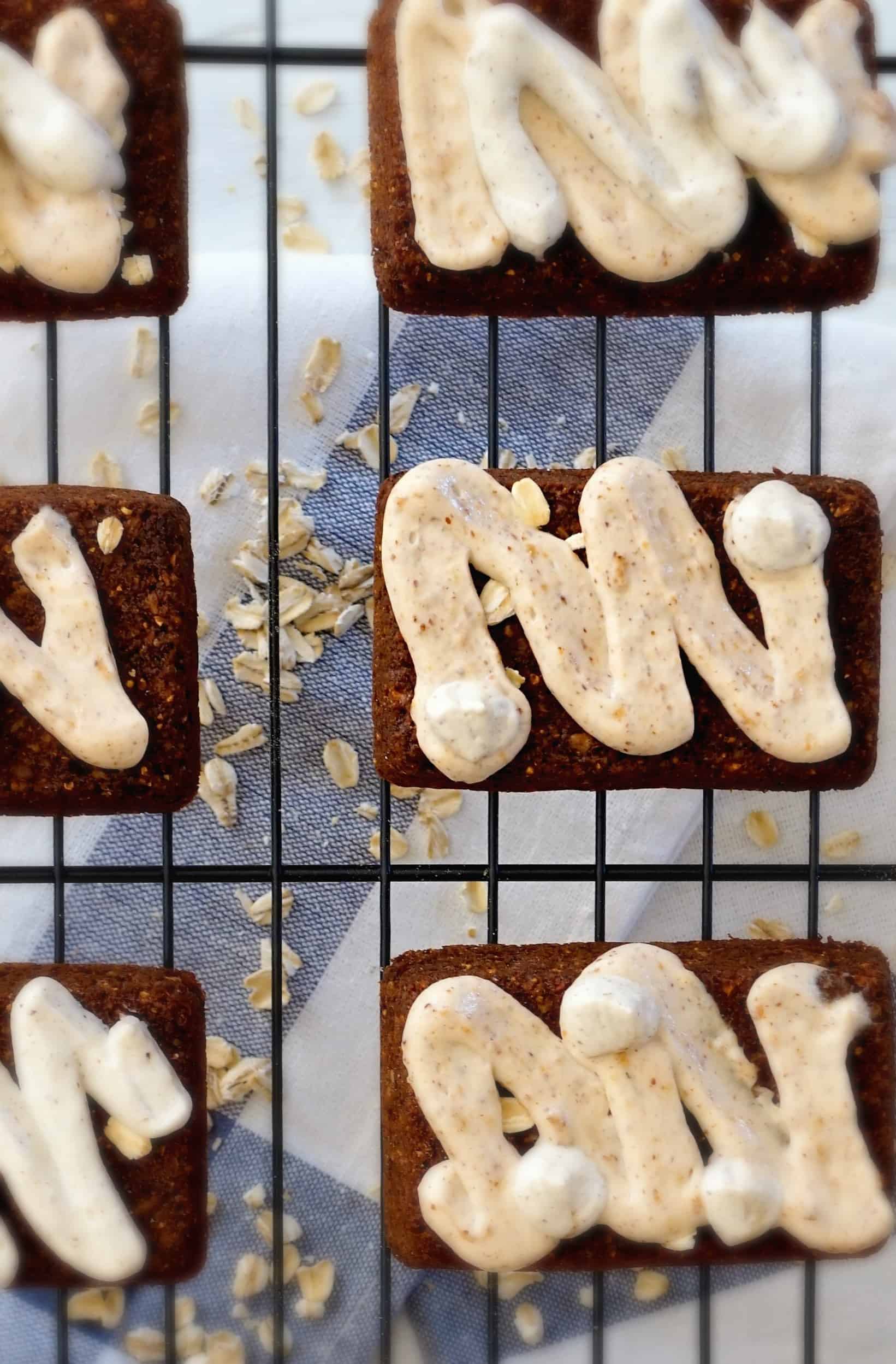 Welcome friends!
Geez, I am missing you lately.
I know, feelings mutual, huh?
I was up early the other day (no way, right?!), thinking about you and how I could make your life a little easier. I know many people are getting ready to bounce back into a more "routine" schedule once summer ends, so today seemed like the perfect timing for these guys.
Since we know breakfast is crucial to a successful day, it's important we get back into the swing of starting our days with healthy foods that fuel our bodies right!
Plus, being it's Fertility Friday, I HAD to share these Gluten Free Honey Oat Cereal Bars with you.
Why today?
Well, I read the most fascinating article while researching for the book about whole grains and fertility success. The research shows higher intakes of whole grains prior to undergoing ART (assisted reproductive technologies) actually increases your chances of a successful implantation!
Literally my mind was blown and I ran straight into the kitchen to come up with these Gluten Free Honey Oat Cereal Bars… #babygoals!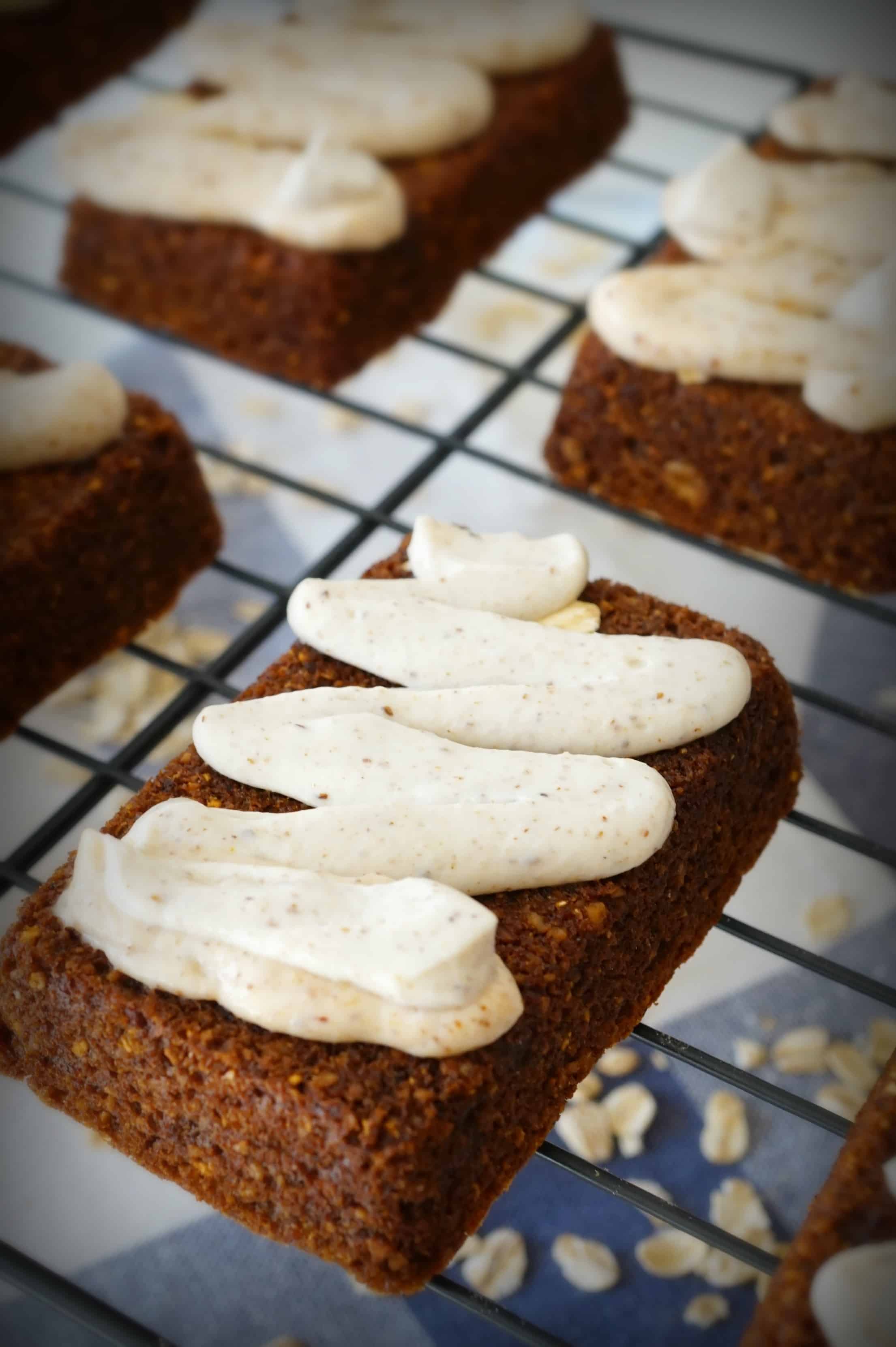 So, it was basically a no brainer, I HAD to share a collection of easy whole grain recipes with you! Plus, you can easily incorporate these into your daily routine. Not only do they provide excellent nourishment for you and your family members, but they also can be made gluten free!
There's research showing those with complications from gluten intolerance and Celiac Disease may struggle with infertility, so it's important to remember that whole grains come in many forms, not just whole wheat products! 
Whole Grain Recipes: Gluten Free 
Chocolate Chip Amaranth Granola
Cranberry Pumpkin Granola Bars
Peanut Butter Parfait with Amaranth
Sweet Potato Breakfast Chia Cake with Chocolate Chips 
Whole Grain Recipes: Gluten Filled
Ginger Carrot Cake with Vanilla Glaze 
Whole Wheat Chocolate Chip Muffins 
Just some food for thought, now let's dive into these Gluten Free Honey Oat Cereal Bars and enjoy the last few weeks of summer!
Bonus, I've baked the milk right in and these are not filled with added sugar!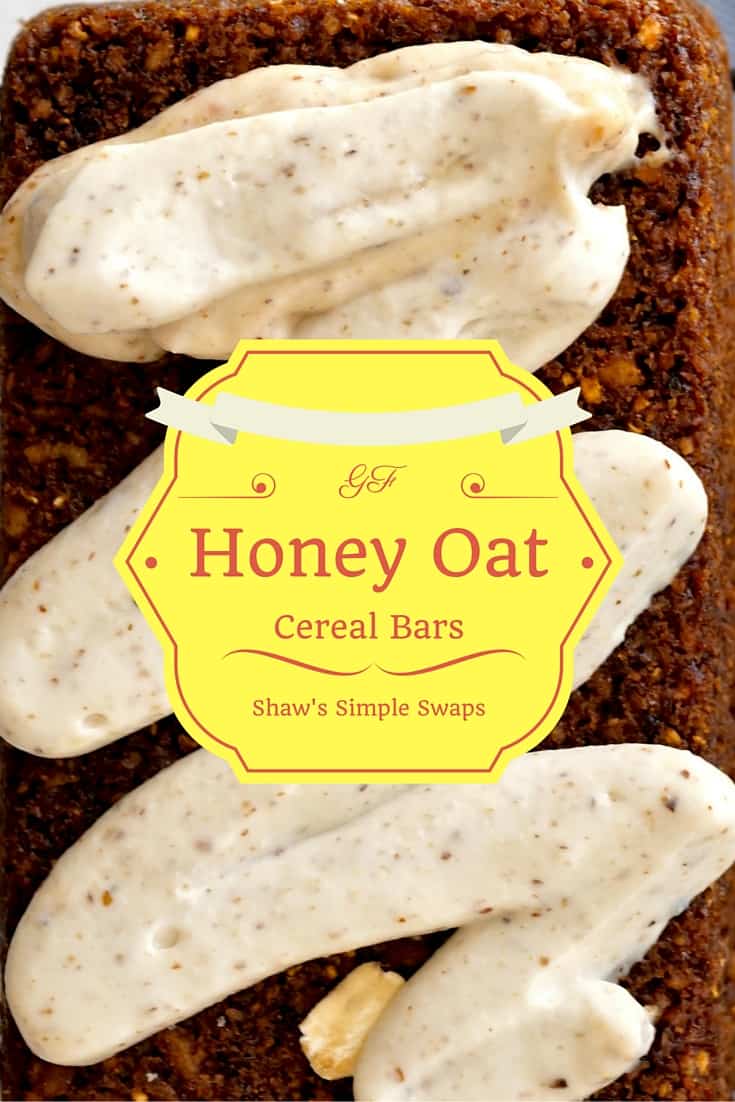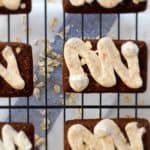 Print
Gluten Free Honey Oat Cereal Bar with Nut Butter Frosting
This is not your average milk and cereal bar! Nope, it's not only gluten free, egg free and soy free, but it's filled with whole grain goodness, baked with milk and topped with a hearty dose of nut butter and Greek yogurt!
Servings
8
bars, 12 muffins
Ingredients
2

cups

GF cereal

1

cup

GF rolled oats

1 1/2

teaspoons

baking soda

1/4

teaspoon

kosher salt

1

cup

pitted dates

1 1/2

cups

milk

1

stick butter

or 1/2 cup oil

2

tablespoons

honey

1

teaspoon

vanilla extract

1

cup

Greek yogurt

plain

1/4

cup

nut butter

or sunflower seed spread
Instructions
Preheat oven to 350*F.

Pulse GF cereal, oats and baking soda in a food processor for 3-5 minutes until flour like consistency achieved. Remove and set aside.

Add the dates and milk to the processor, fitted still with the metal blade.

Pulse 5 minutes until a thin paste is achieved, add in butter, honey and vanilla extract. Pulse 1-2 minutes.

Add in the flour mixture and pulse until mixture is combined. A thick batter should form.

Scoop into an 8-mold granola bar pan sprayed with cooking spray, or 12 muffins.

Baked for 26-28 minutes, until toothpick inserted comes out clean.

Let cool on a wire rack.

Make frosting by whipping Greek yogurt with the nut butter. Place in a zip lock fastened bag and cut a small hole in the corner. Frost each in a zigzag pattern.

Store in the refrigerator for 1 week, or freeze without frosting for up to two months.
Got a favorite whole grain recipe you'd like to share? Please do! Comment below or send me a note, I'd love to try it!