Have you heard your doctor talk about the importance of iron in pregnancy and infant development? It's a popular topic that comes up in women of childbearing age because of the crucial role this nutrient plays in growth and development. This post will cover just why iron is so important, as well as the top sources to incorporate this nutrient from a whole food perspective. Spoiler alert: we'll cover beef and demystify "if beef is healthy" with the latest science-based evidence!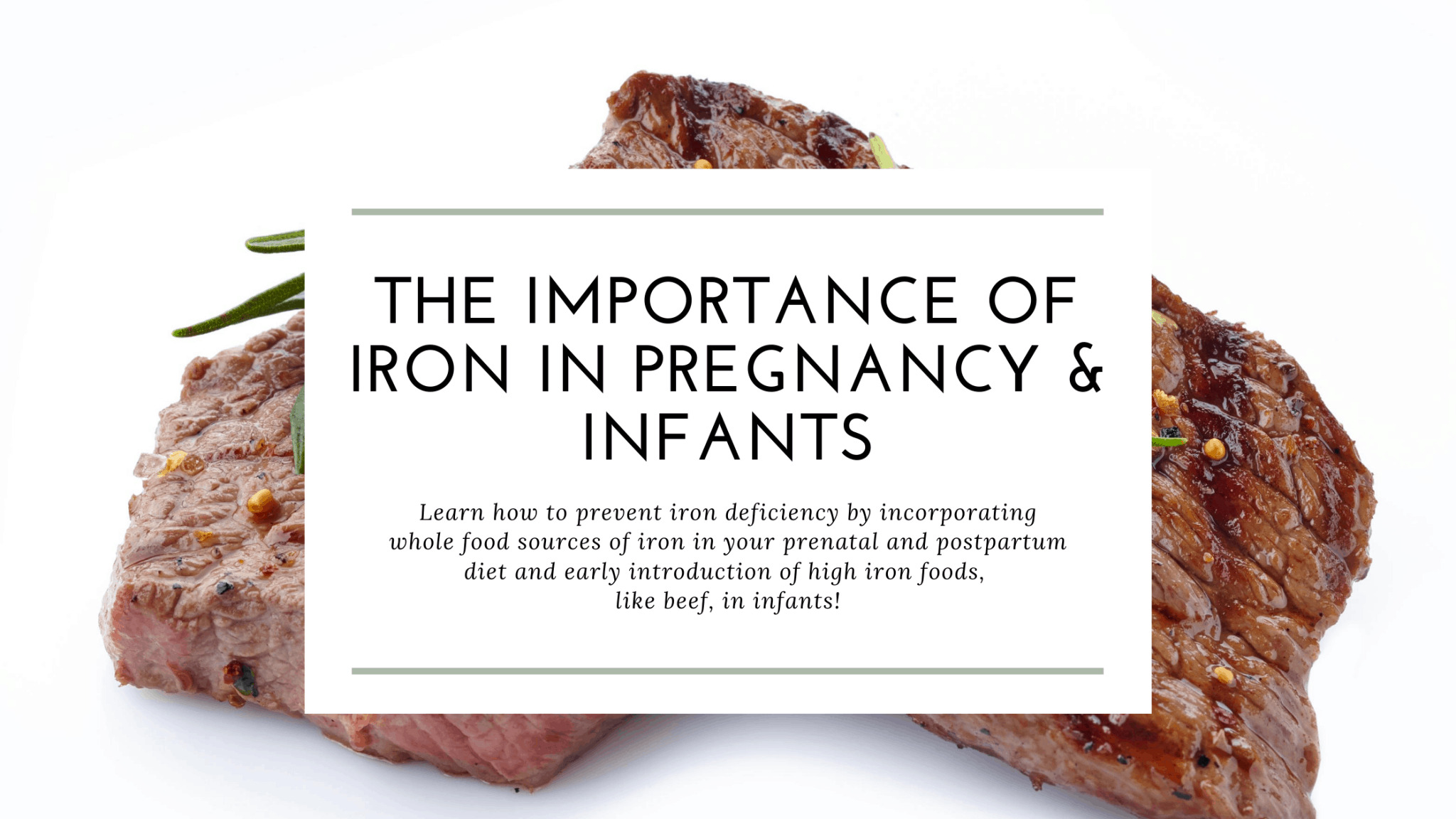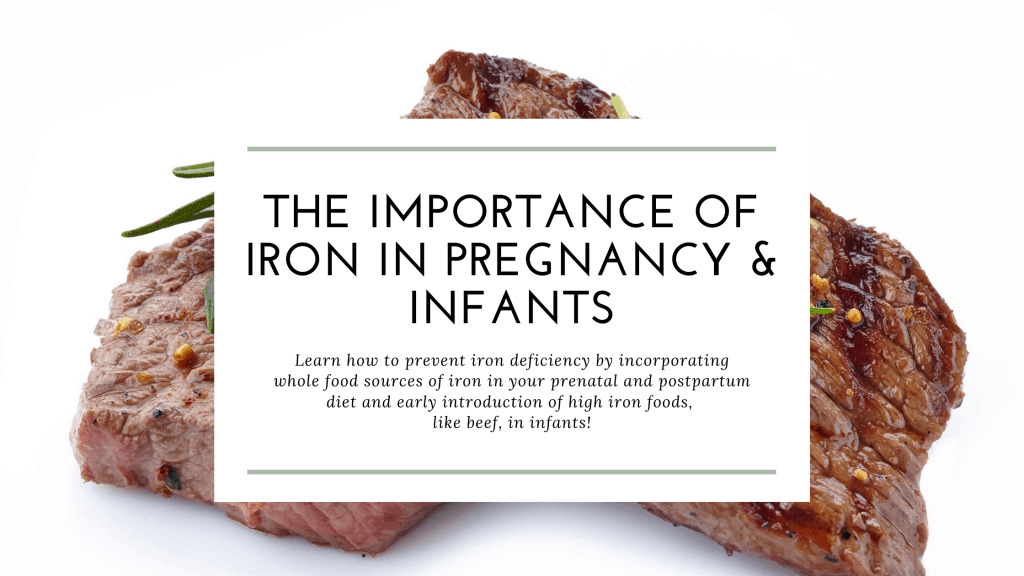 Disclosure: This post is in collaboration with Beef. It's What's for Dinner . on behalf of the Beef Checkoff. As always, I only work with companies that align with my nutrition philosophy and we regularly purchase in the Shaw Kitchen. Thanks for supporting the work that keeps my little corner of the web afloat!
Why is iron important in pregnancy and infant development?
Iron is a mineral that plays a pivotal role in carrying oxygen within our bodies, muscle metabolism and building healthy connective tissue. It's also crucial for neurological development, physical growth, and in the making of some hormones.
The important role iron plays in the body even begins before the baby is even developing in the mom's tummy!
Months prior to conception, the egg and sperm, that will become the embryo, are cells that the mature female and male reproductive systems produce, and the production of these cells require energy and nutrients from foods consumed in order to be created.
For the mom, it is important to eat an energy-appropriate and well-balanced diet (including her increased needs for energy, protein, and other nutrients including iron) so that she remains healthy.
If her diet is deficient, the female body will shuttle her body stores that include many nutrients like fat, muscle, bone minerals and ferritin to the fetus. Her body will do its very best to get the fetus what it needs.
But, if iron remains under consumed, iron deficiency anemia can result. This increases risk of preterm birth and low birthweight babies.
Given iron's crucial role in growth and development, having a deficiency at any part of the process is really a detriment to the baby to be. But, don't fret! It is a nutrient that can easily be found through many dietary sources, with beef being an easy option!
How much iron do people need?
As you may have guessed, iron needs will increase during pivotal growth periods in one's life, such as early infancy and pregnancy.
This chart from the National Institute of Health (NIH) breaks down the current Recommended Dietary Allowances (RDA) for iron based on age and gender: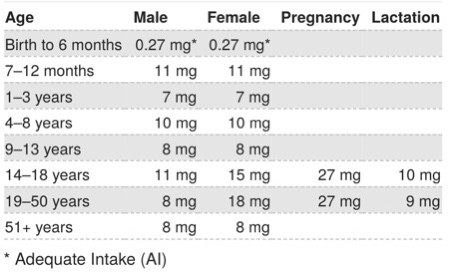 What are the best sources of iron?
There are two sources of iron you can get from food: heme and non-heme iron.
Heme iron is more readily absorbed by the body and can be found in your animal proteins from foods like beef, lamb, pork, chicken, turkey and seafood.
Non-heme iron is the plant-based form of iron that is not as easily absorbed by the body and can compete with other nutrients for absorption. Some of the highest plant-based sources of iron include white beans, lentils, spinach, tofu and broccoli.
When consuming non-heme sources of iron, it's best to eat them with a high vitamin C containing food to increase the absorption. You also want to avoid eating them with foods high in phytates, like grains and beans, that can inhibit absorption.
Here are the top sources of iron in the U.S. diet: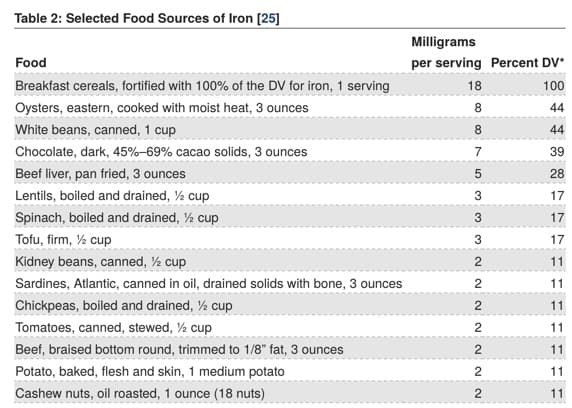 Since red meat packs 10 essential nutrients within a 3-ounce cooked serving, it's an affordable, convenient and healthy option to incorporate into any meal plan to help meet your iron needs on a regular basis.
It's also SO easy to customize into a variety of recipes. I'll share some of my favorites in just a minute, but if you remember from my post here, there are SO many ways you can "simple swap" with beef!
Plus, pairing beef with vegetables allows you to further increase your absorption of both sources of iron while also helping to meet the DGA as well as the MyPlate recommendations for consuming more produce: a win-win for all!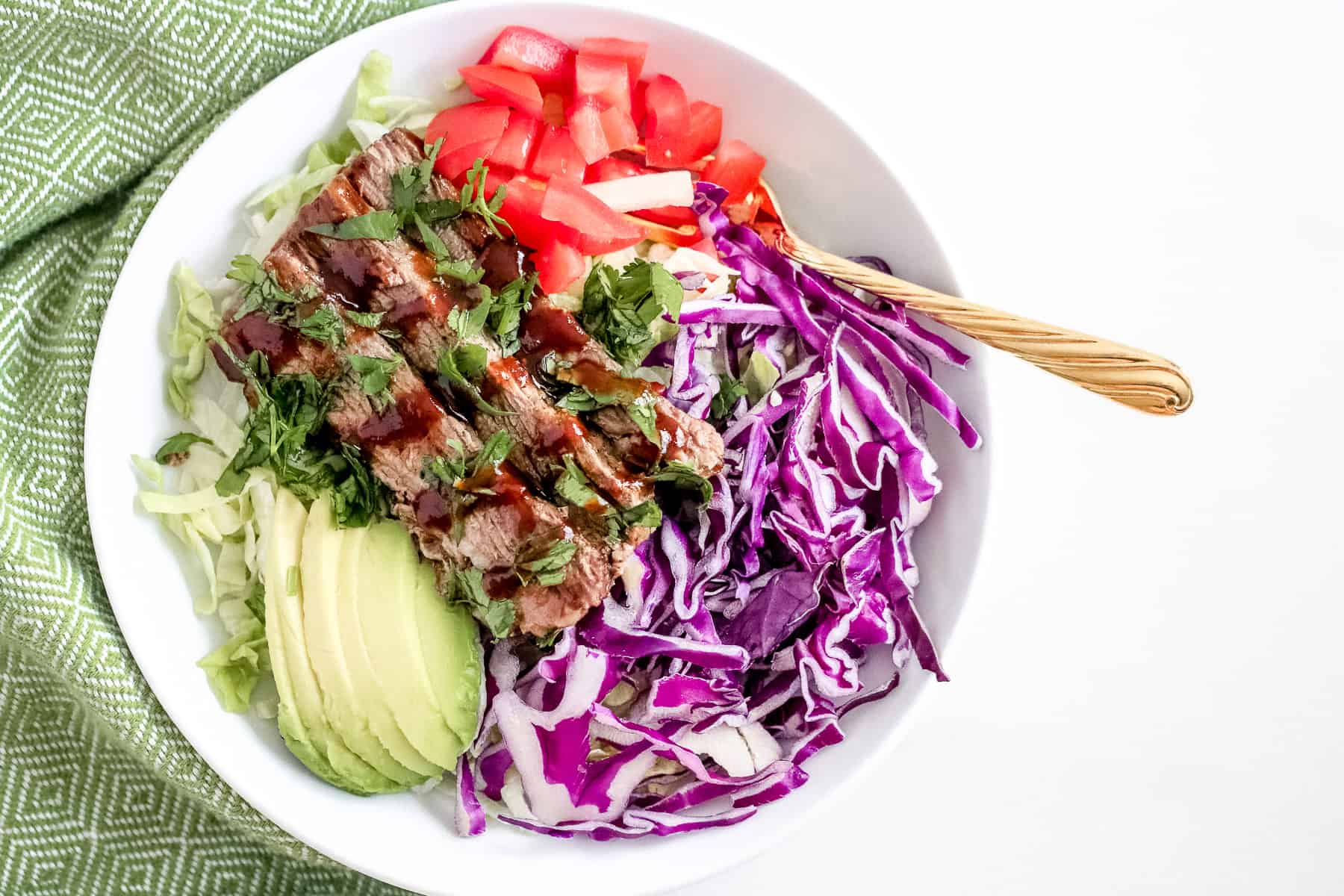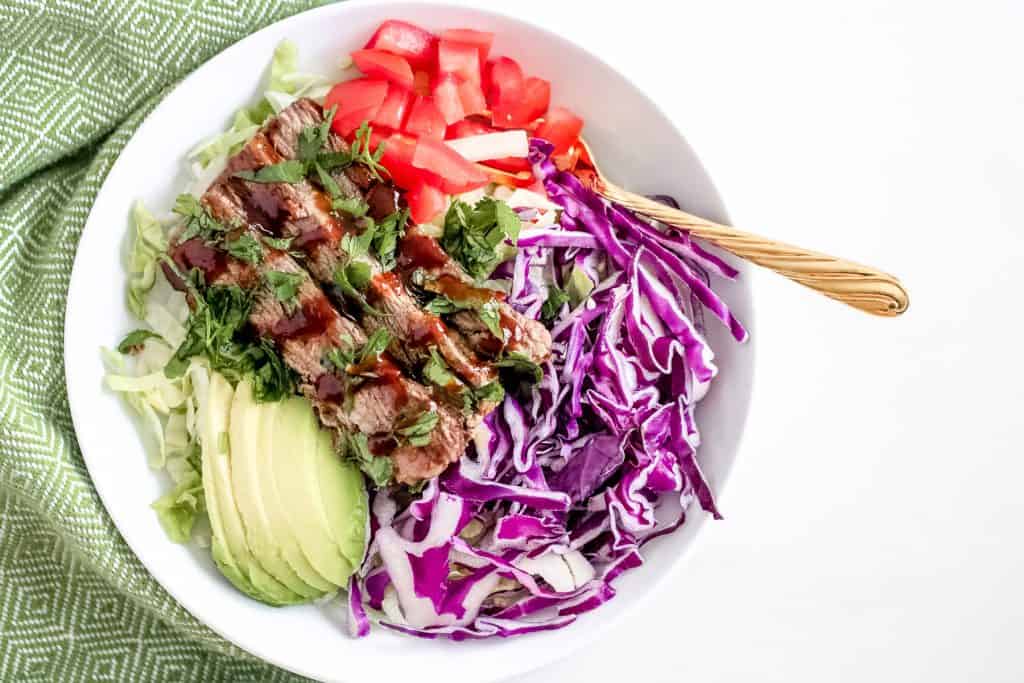 A Closer Look at Iron and Beef
While its evident beef is a source of many nutrients, including a good source of iron, it's alarming that 5.5% of the U.S. population remains iron-deficient. This becomes especially concerning when we look at women of child-bearing years, given iron's crucial role in growth and development.
According to the 2015-2020 Dietary Guidelines for Americans: "Substantial numbers of women who are capable of becoming pregnant, including adolescent girls, are at risk of iron-deficiency anemia due to low intakes of iron."
The issue of iron deficiency was verified even in the recent Scientific Advisory Committee Report that advised the 2020-2025 DGA recommendations to support the crucial life stages of pregnancy and early infant development that we spoke about last month here.
To help prevent iron deficiency in women, the 2015-2020 Dietary Guidelines for Americans has recommended females, particularly women of childbearing age and adolescents "consume foods containing heme iron, such as lean meats, poultry, and seafood, which is more readily absorbed by the body."
Before we jump too far ahead, let's revisit just why iron is so important within the role it plays in the body. Be sure to check out the video below as well for an in-depth look at iron and beef in this important developmental period as well!
Can beef be part of a healthy diet?
Yes! It can, but let's rewind first to revisit what "healthy" actually means.
It's no surprise that the word healthy actually means something unique to every person even though the Food and Drug Administration (FDA) did issue some guidance around the use of the term from a labeling perspective.
As a registered dietitian and mom, I always ensure I make recommendations on what to include in a balanced diet for my clients and what I feed my own family based on the science-based evidence in addition to other obvious factors (i.e. does it taste good?!)
So, long of the short, nutrient-rich beef continues to be supported by the Dietary Guidelines for Americans (DGA) and the National Institutes of Health (NIH) as a source of many important nutrients essential for growth and development throughout the lifespan.
Is beef healthy?
Beef is what we call a "foundational food", meaning that is nourishes and optimizes health at every life stage. Beef is filled with nutrients, such as high-quality protein, choline, iron, zinc, and many B vitamins.
In just a 3-ounce cooked portion, beef delivers:
51% of the DV of protein
39% of the DV of zinc
14% of the DV of iron
14% of the DV of riboflavin
25% of the DV of niacin
24% of the DV of vitamin B6
41% of the DV of vitamin B12
13% of the DV of choline
No other protein delivers the same nutrient-rich package that beef does in the same 3-ounce cooked portion for roughly 170 calories.
Beef. It's What's for Dinner. has an excellent webpage here that talks more about the specific benefits of beef. Plus, they have this great infographic that breaks down the facts as well and I'm sharing it below!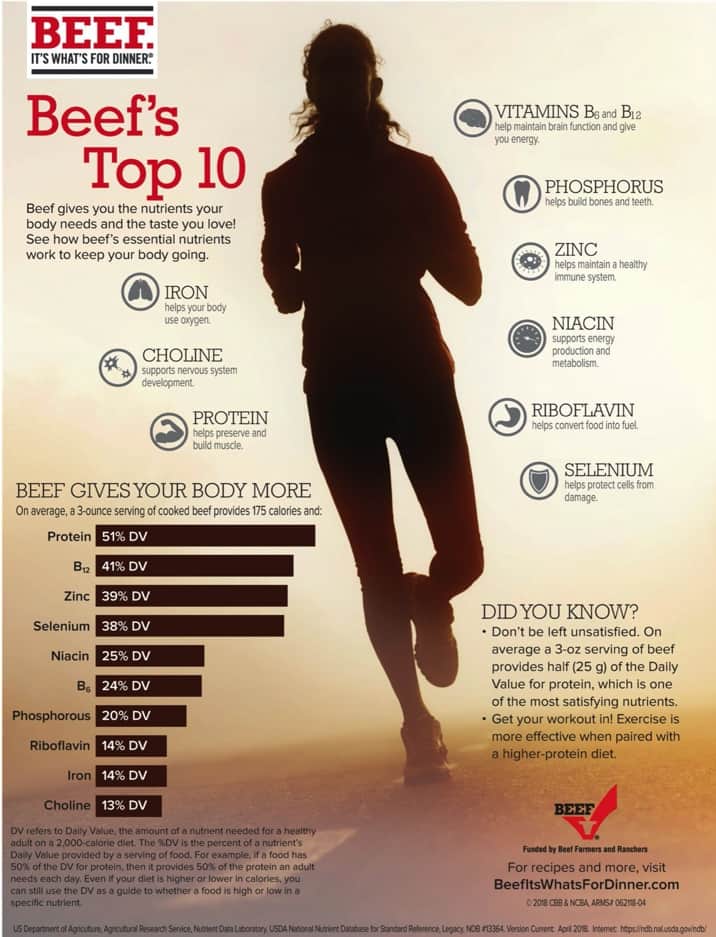 There is high-quality scientific evidence (available here, here and here) that beef, at current levels consumed, helps offset nutrient shortfalls and serves as an integral part of healthy diets.
Research from randomized controlled trials (basically the gold standard when we look at the research design) shows that lean beef can serve as a predominant protein source in many healthy eating patterns, like the Mediterranean and DASH (Dietary Approaches to Stop Hypertension) diets.
How to incorporate beef into a healthy diet?
If the idea of cooking a steak on the BBQ sounds so far-fetched right now with the current climate we're in, I get it! Time is tough and nourishing your body with all the right nutrients shouldn't be a stressor.
Here are my go-to recipe ideas to fit beef into a healthy diet depending on age:
Quick Fix Meal Ideas
Perfect for everyone, but especially a tired pregnant mom or a busy postpartum mom trying to manage all of the things!
This recipe is great on its own, but also wonderful when paired over a salad or tossed into a corn tortilla for a portable and convenient grab and go source of lean protein!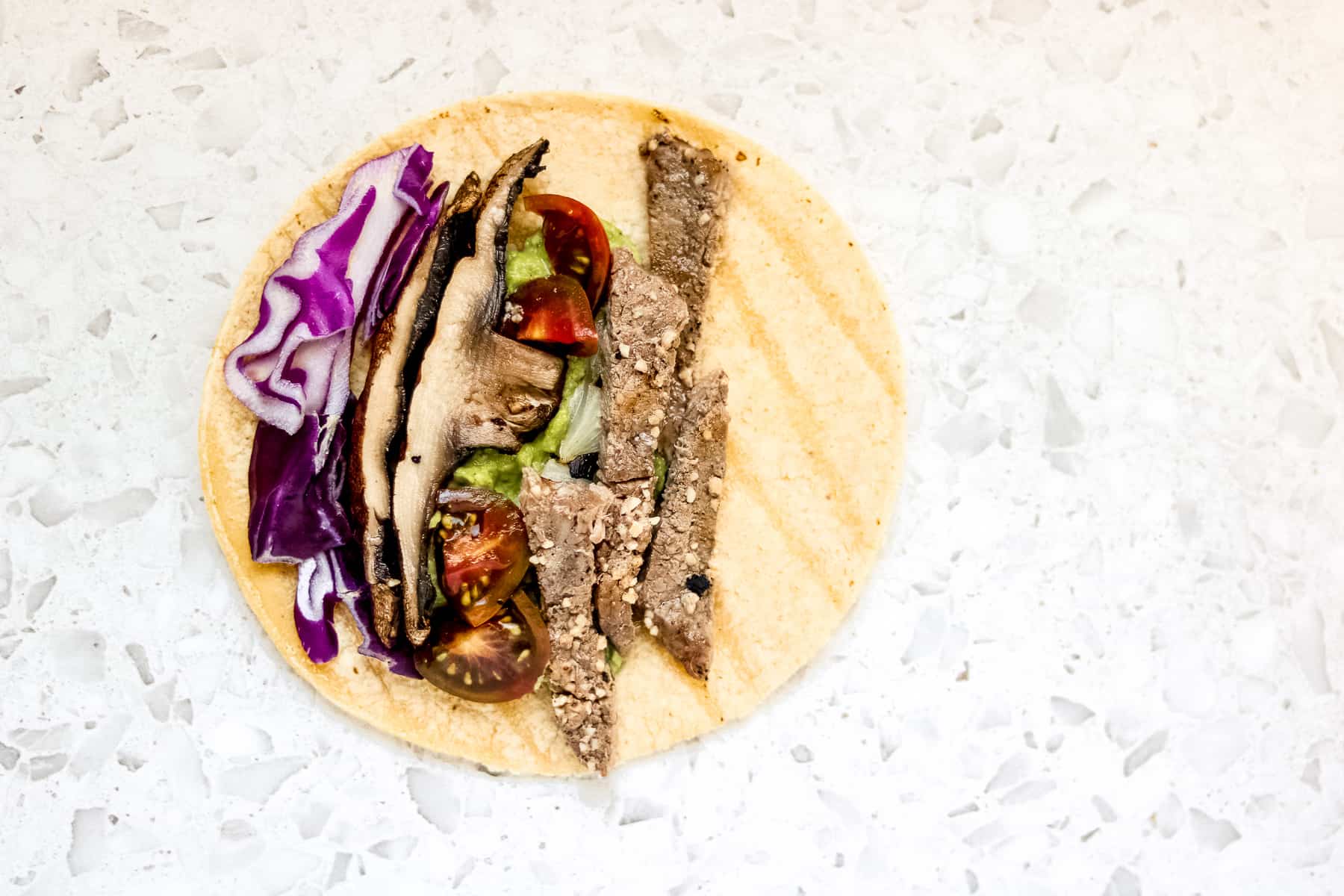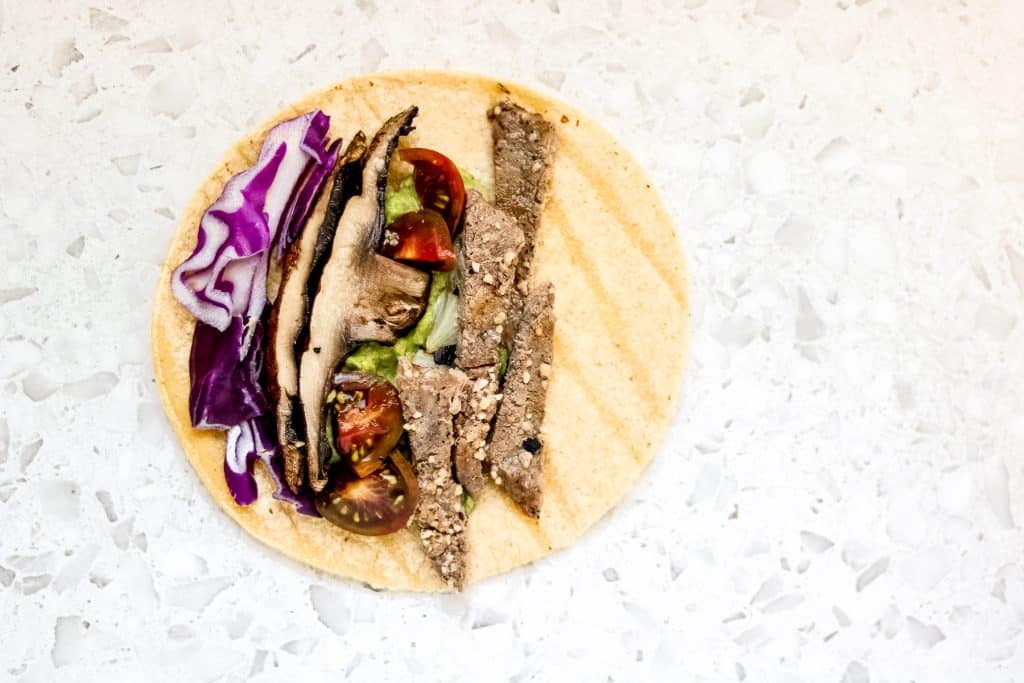 Another popular cut of meat that's great for a "cook once, enjoy all week" style of meal planning is a round roast. This can easily be served with plenty of veggies for a hearty meal, or wrapped into a grab and go sandwich!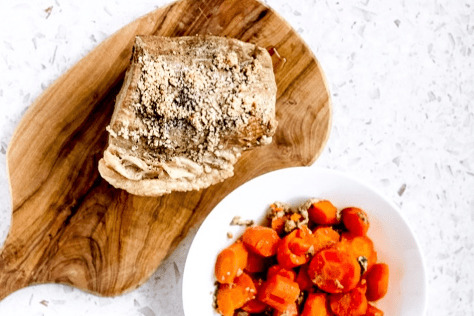 I also highly recommend trying out the Korean Beef Bulgogi Bowls from my latest cookbook! It uses ground beef, another excellent and quick source of nutrition that the entire family can enjoy.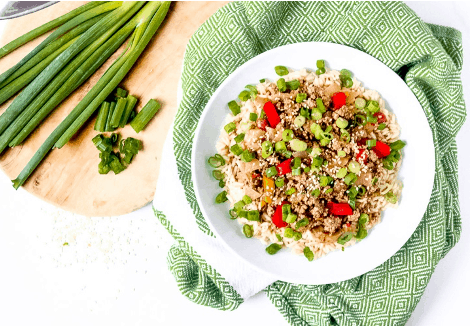 Early Infancy- Baby Led Weaning
Incorporating beef as one of the first foods when an infant is developmentally ready is a great way to deliver iron and the other 9 essential nutrients found in beef. I highly recommend following the book, Born to Eat, for an excellent introduction to including beef in your child's diet.
Here is a sample of the beef strips I served to my toddler when she was 6-months old.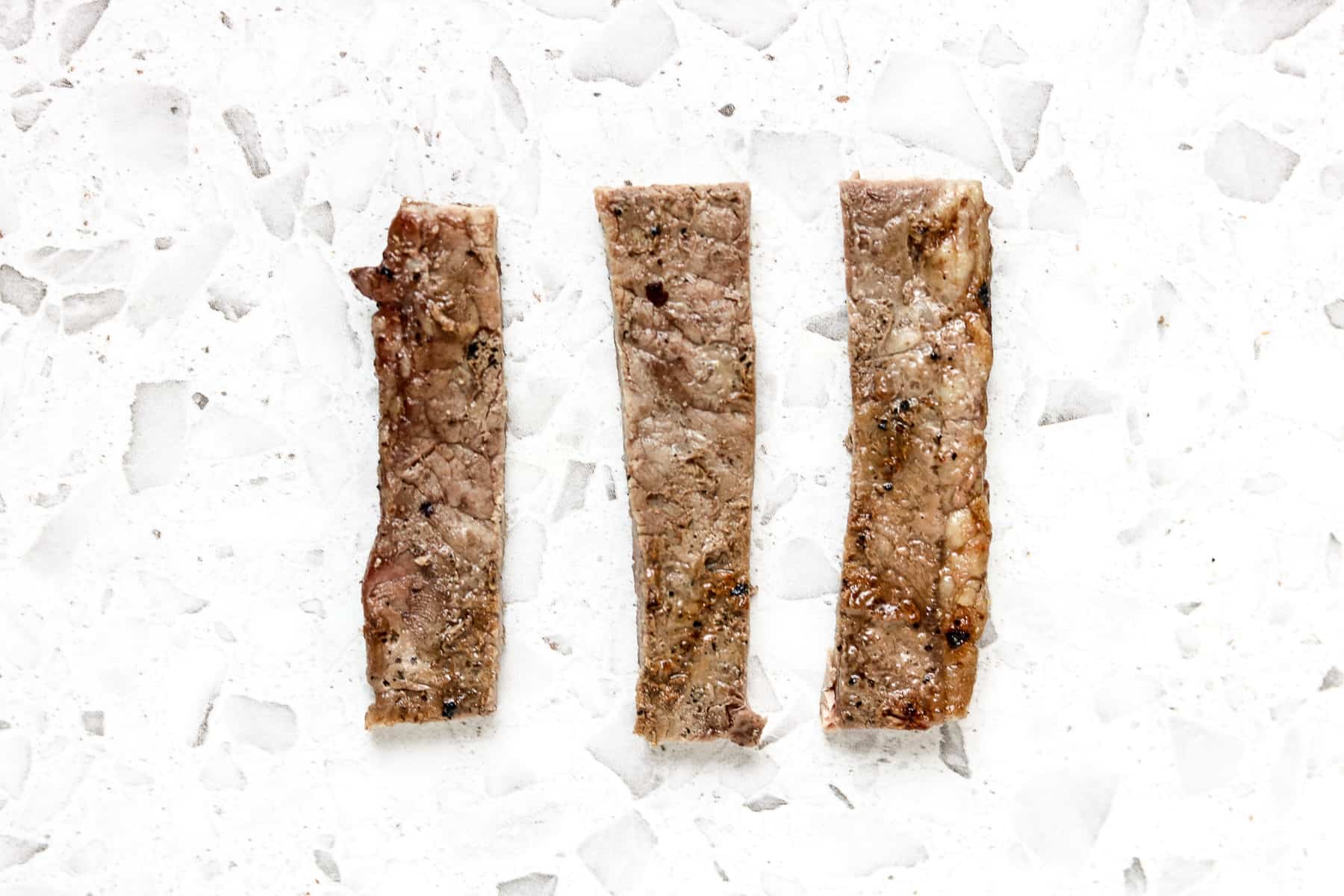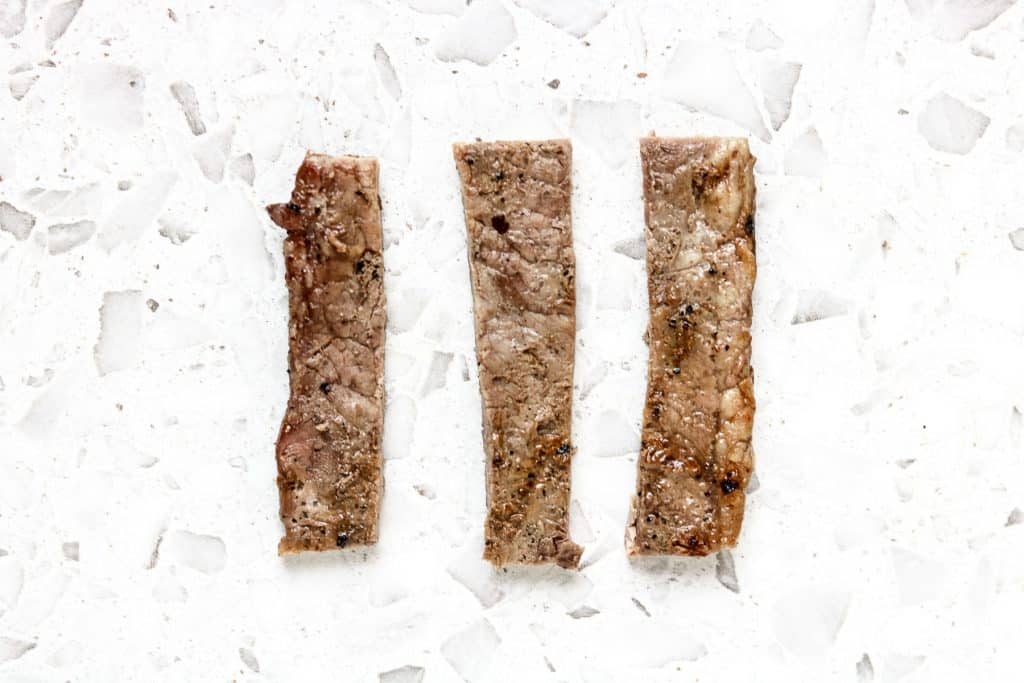 While infants won't actually be able to swallow the meat, by sucking and gnawing on the beef strip they are able to consume many important nutrients to help with their growth and development.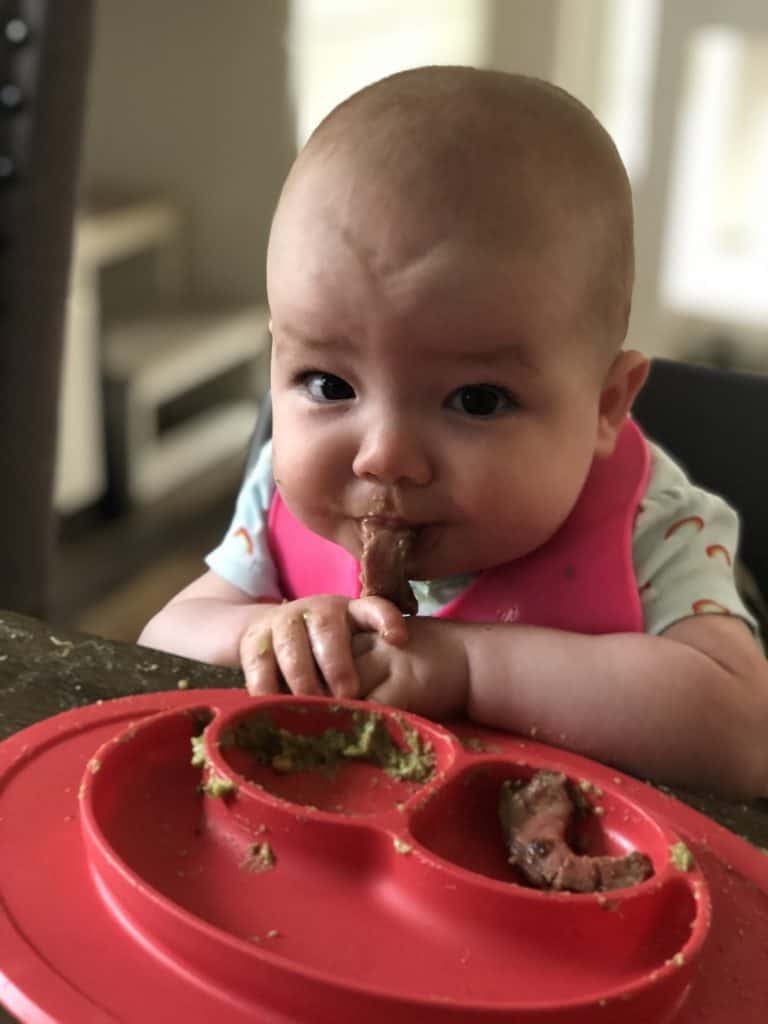 With her advancement in feeding skills and age (she's now 2 years old), we still focus on high iron sources in her diet, like beef, but are able to serve them in more bite sized pieces with the other foods from the meal, like this toddler friendly steak taco plate!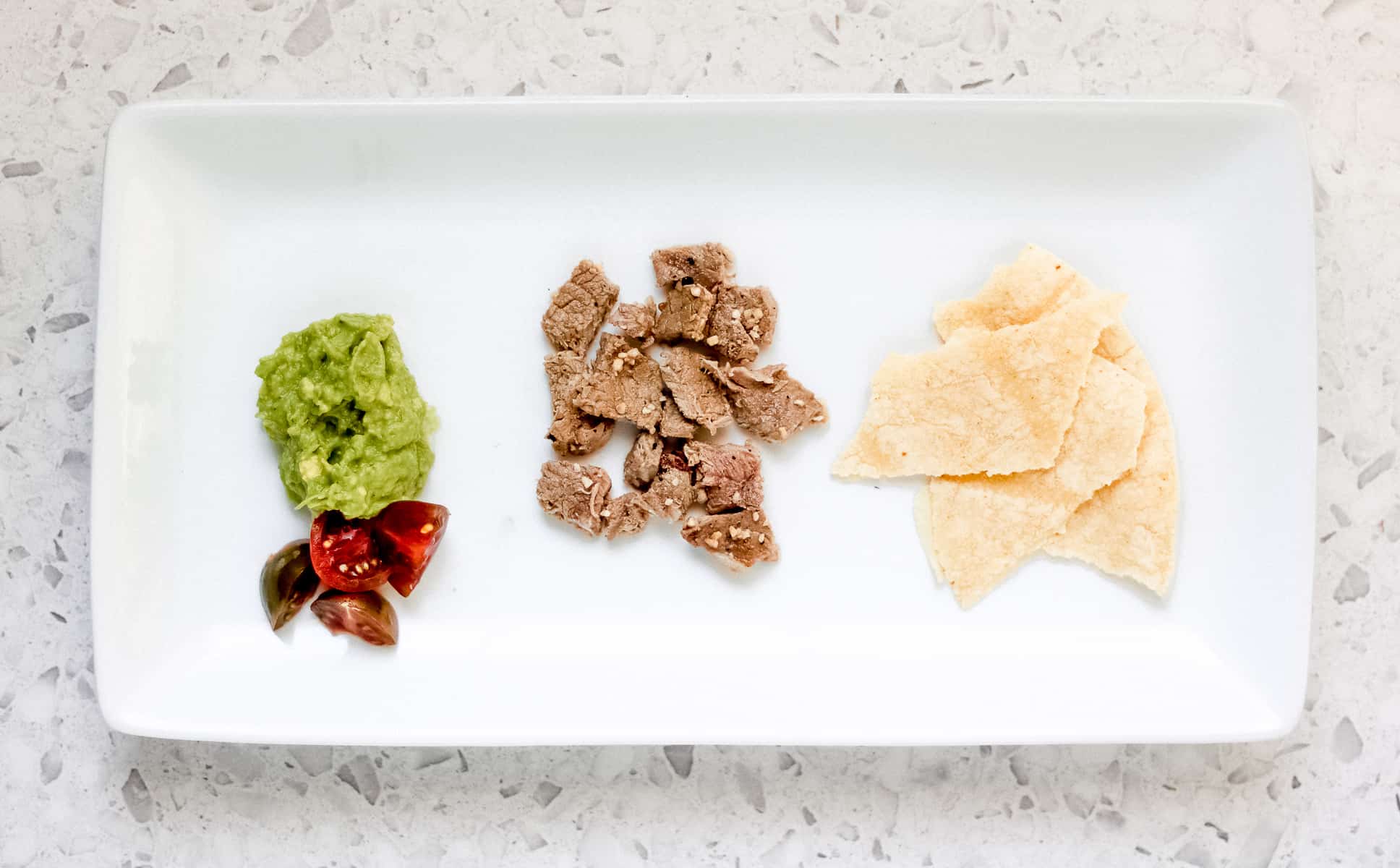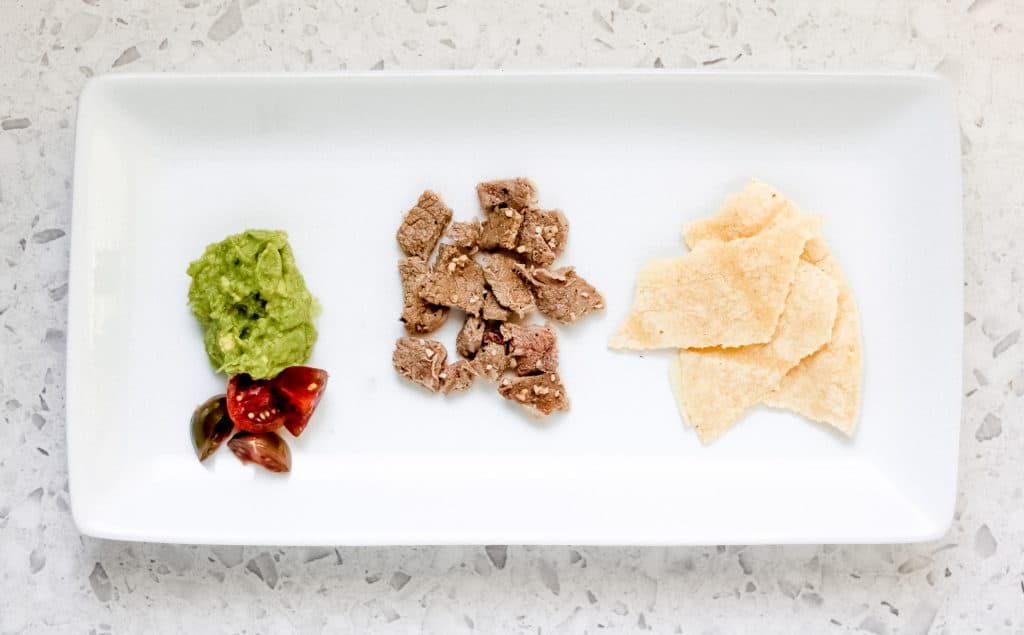 To give you even more inspiration, be sure to visit some of my favorite recipes from Beef. It's What's For Dinner.:
Where can I get more information?
For more information, delicious recipes, and nutrition information surrounding beef, be sure to visit Beef. It's What's For Dinner. To stay in the loop about the changes coming to the DGA 2020-2025, be sure to subscribe to the Shaw Kitchen newsletter!