A hearty, healthy beef recipe make with a round roast. Tender, moist and the perfect addition to a salad, sandwich or plated meal. The best part, it's made in the Instant Pot in under 50 minutes.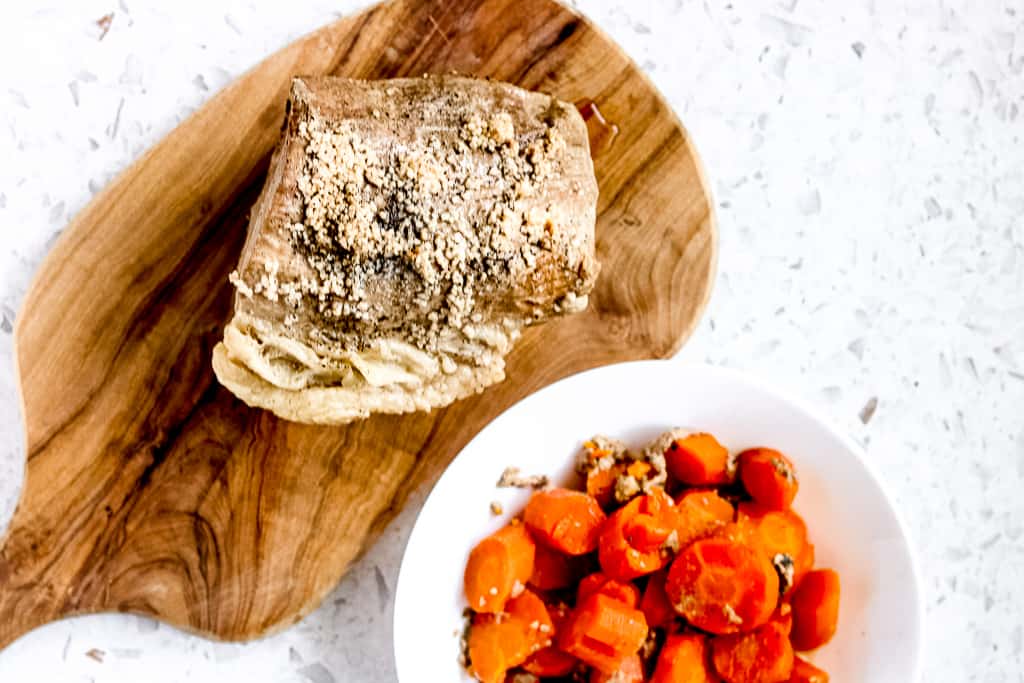 Beef. It's whats for dinner.
Fact. We're equal opportunity eaters in the Shaw Kitchen, meat included.
There's nothing like a hearty supper that soothes the soul and fills the belly. This recipe does both of those things in just under an hour.
Yes, no more slaving and waiting for hours for the slow cooker to finish your roast! The Instant Pot will do it for you in 1/4th the time (saving you time and energy).
The best part: you'll get the same tender, moist round roast quality you'd expect from a long and slow cook!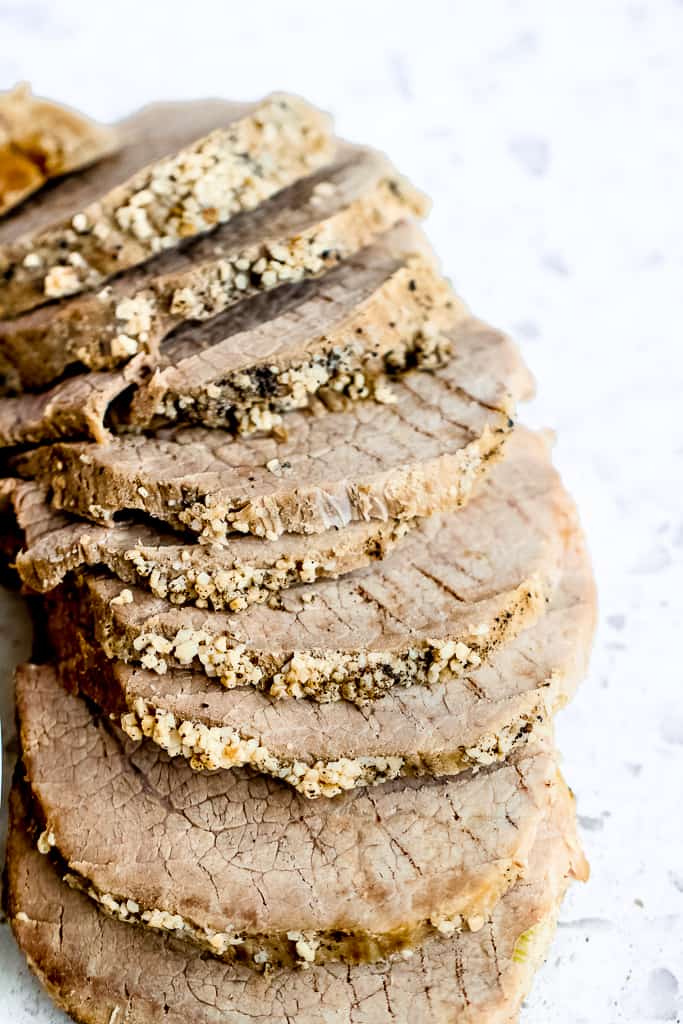 What You Need to Make This Instant Pot Round Roast Recipe
– Use a beef round roast. This is a less expensive cut of meat, typically tougher but not when you prepare it like below!
– All root vegetables will work here. Seriously, use this as an opportunity to use that leftover produce. Potatoes of all kinds, carrots and other root vegetables cook wonderfully in here.
– I have not used a frozen or canned vegetable in here and recommend to keep it with the thicker, more dense root vegetables in their fresh state.
-I've used both vegetable and beef broth and stock in this recipe. Use whatever you have on hand.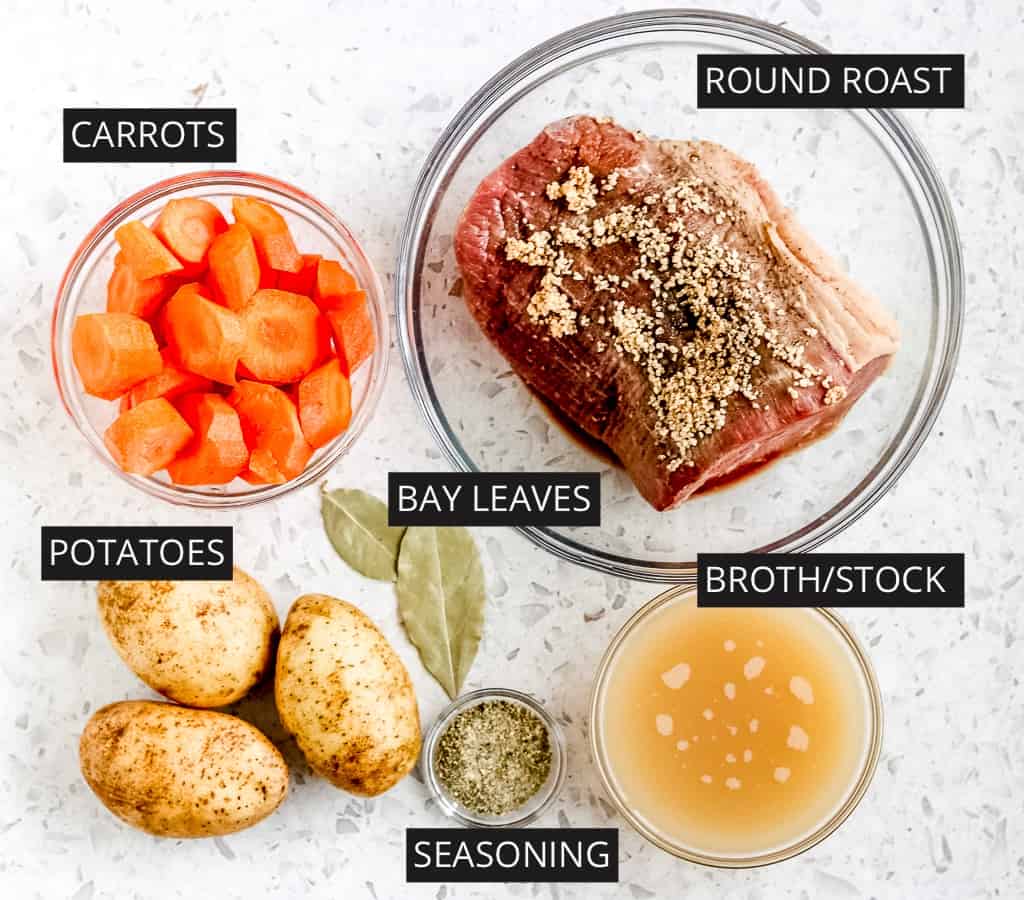 HOW TO MAKE THIS ROUND ROAST RECIPE
This recipe comes to life in literally just 48 minutes with the help of your Instant Pot.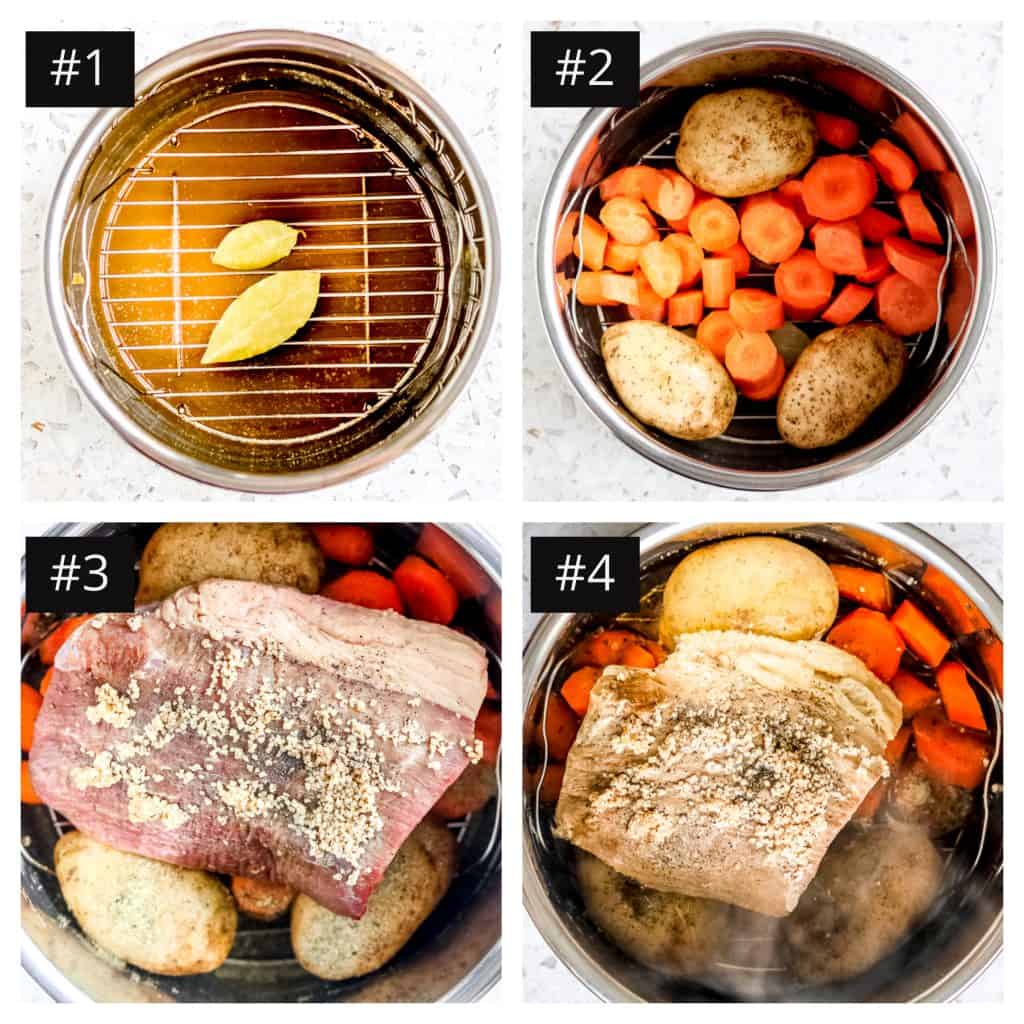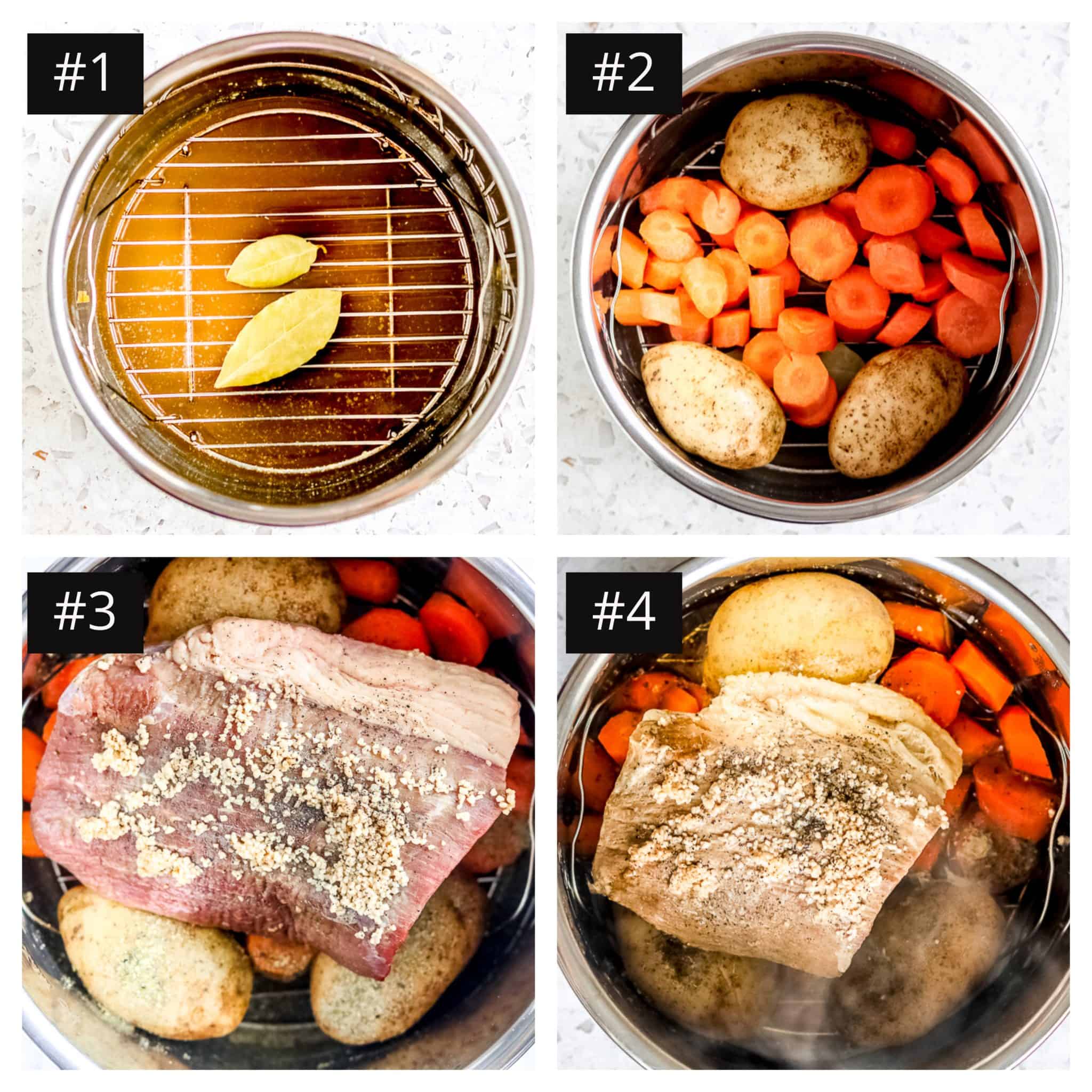 In Step #1, don't forget to put the metal trivet down in the metal pot. This will prevent the BURN message from appearing!
Keep the potatoes lined out on the side of the pot as shown in Step #2 so the roast sits directly on the metal trivet (like Step #3).
The final, finished product should look just like Step #4.
You can continue on and make a mashed potato as well. I like to add riced cauliflower to add another vegetable into the mix.
Mix in your favorite seasonings and some butter though to boost the flavor.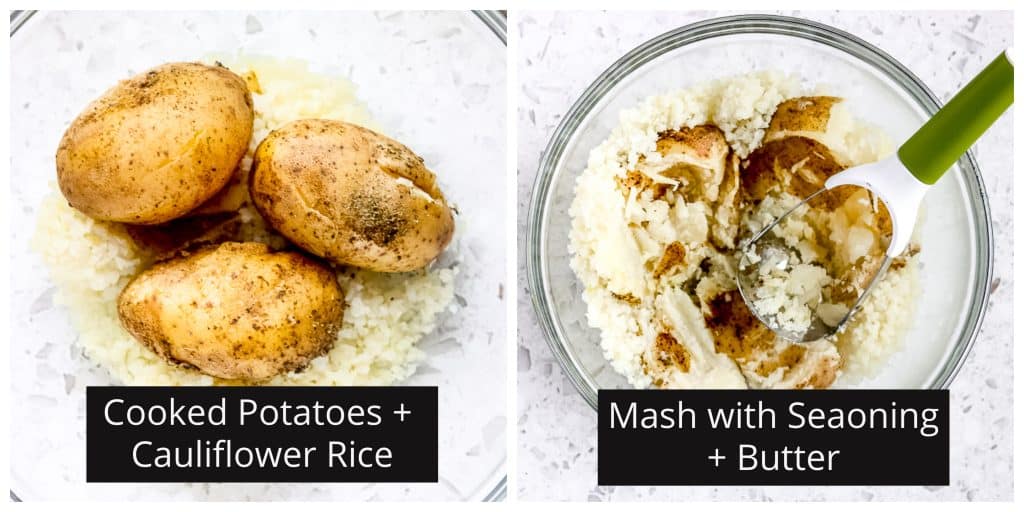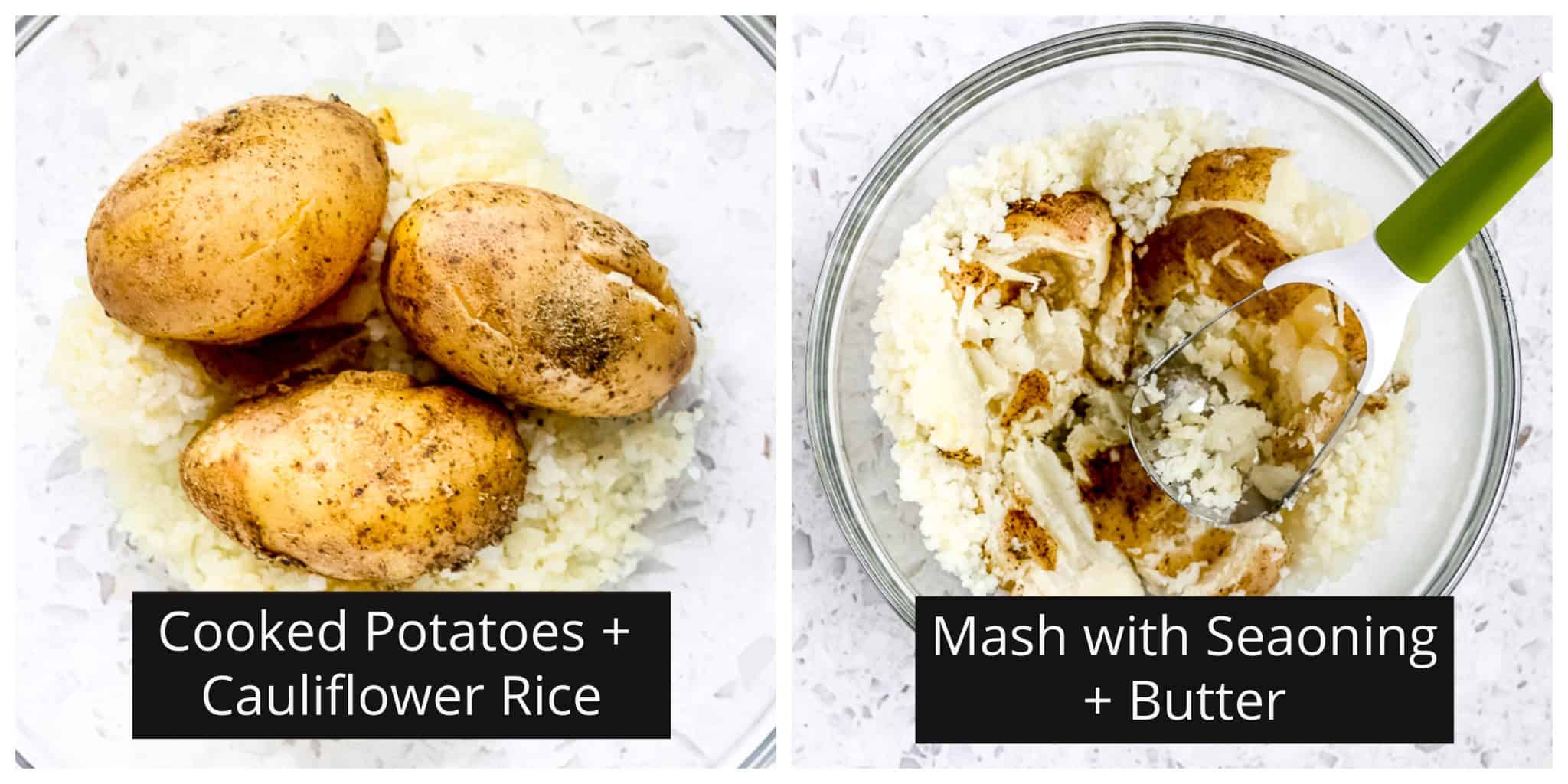 Here is a great Mashed Potato recipe to try too!
Notes and Pro Tips On Making This Recipe:
– Use a meat thermometer to test for doneness. The internal temperature should be 145 degrees F.
– Don't overcook the meat. Set a timer and remove the meat when 30 minutes of natural release ends.
– Savor the flavor. This meat is tender and juicy all on its own. No sauce required (this will save you from adding unnecessary sodium and sugar too!)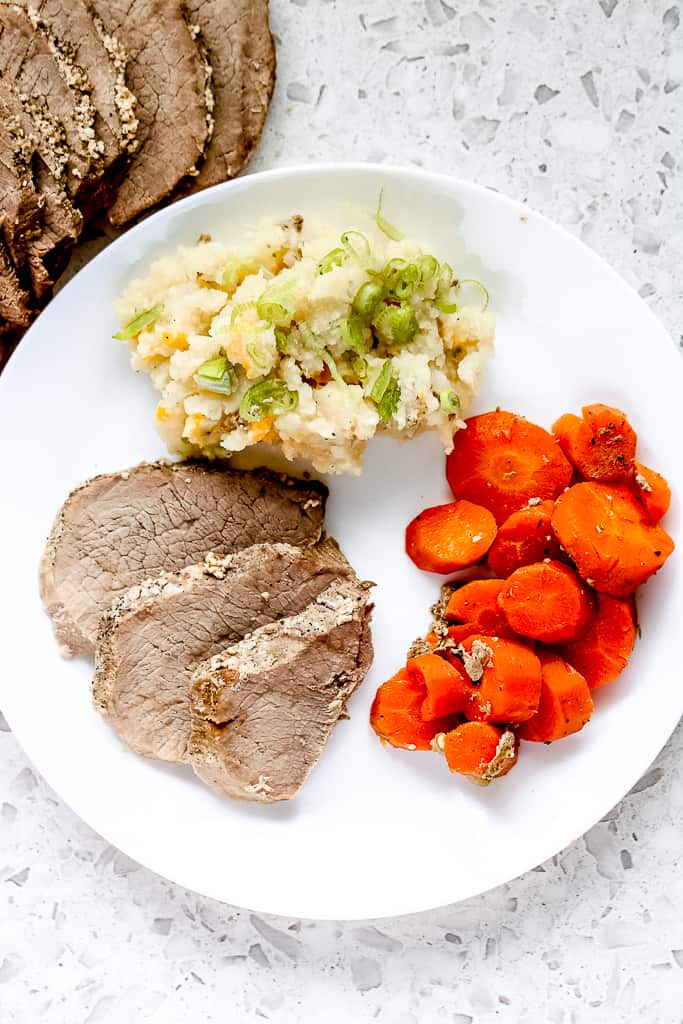 Other Recipes You May Enjoy:
If you liked this recipe, give these a try:
Instant Pot Shepherds Pie With Sweet Potatoes
And, if you like Instant Pot Recipes, be sure to checkout my latest cookbook, Instant Pot Cookbook For Dummies here!
I'd love to hear what you think about this Instant Pot Round Roast! Did you make it!? Comment below and tag me (@shawsimpleswaps) on Facebook, Instagram, or Pinterest. I'd love to reshare!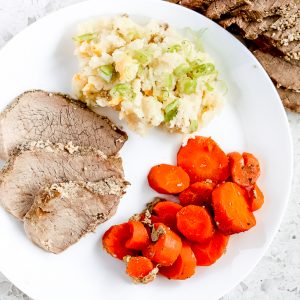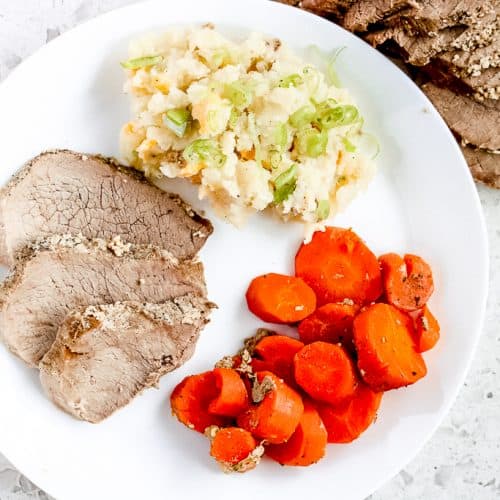 Instant Pot Round Roast
A hearty, healthy beef recipe make with a round roast. Tender, moist and the perfect addition to a salad, sandwich or plated meal. The best part, it's made in the Instant Pot in under 50 minutes.
Print
Pin
Share by Email
Equipment
Instant Pot/Pressure Cooker
Ingredients
2 1/4

pounds

beef round roast

1

tbsp

extra virgin olive oil

2

tsps

minced garlic

1

tsp

ground black pepper

1/2

tsp

salt

2

cup

beef broth

2

bay leaves

2

cups

chopped carrots

3

medium

potatoes
Instructions
Press the Pressure Cook – HIGH setting on the Instant Pot so the pot begins to heat up while you prepare the roast.

Massage the olive oil into the roast, then the garlic, black pepper and salt. Make sure the entire roast is covered.

Add the metal trivet to the inside of the metal pot of the Instant Pot. Pour the beef broth in, then add the bay leaves. Toss the carrots in and place the potatoes on the outside edges of the metal trivet.

Set the beef round roast on top of the metal trivet. Set the timer to 18 minutes. Secure lid and make sure the sealing valve is sealed.

Once cooking completes, let pressure release naturally for 30 minutes.

When the time completes, carefully remove roast and let rest for 10 minutes.

While roast is resting, remove carrots and place them in a bowl. Do the same with the potatoes. Remove broth and save for a gravy or sauce. If you want to make a mashed potato, you can do so now.

Slice roast and serve with carrots and desired potato.

Store roast in the fridge for up to 5 days or freeze (in broth) for up to 3 months.
Nutrition Facts
Instant Pot Round Roast
Amount Per Serving
Calories 200
Calories from Fat 72
% Daily Value*
Fat 8g12%
Cholesterol 79mg26%
Sodium 440mg18%
Potassium 467mg13%
Carbohydrates 1g0%
Protein 29g58%
Vitamin C 1mg1%
Calcium 29mg3%
Iron 3mg17%
* Percent Daily Values are based on a 2000 calorie diet.