Wondering which supplements you should consider incorporating into your daily routine? Then this post is for you! We'll take a look at supplements the entire family should consider taking as a safety net for those days (or weeks) when your life is thrown off course.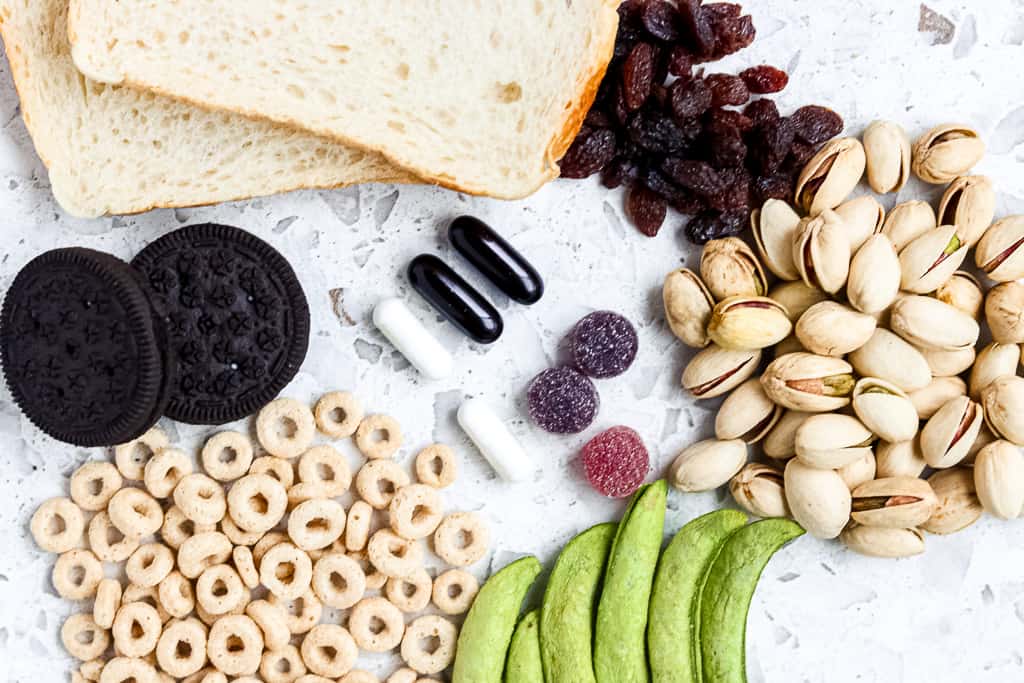 Disclosure: This post is in collaboration with VitaCholine. As always, I only work with companies that align with my values and nutrition philosophies. Thank you for supporting the work that makes Shaw Simple Swaps possible!
What is a "supplement safety net"?
Remember in the game of Monopoly when you drew the "get out of jail free" card?
Well, a supplement safety net is sort of like that card.
It's a way to provide your body a little more "nutrition insurance" when life gets in the way of letting you eat picture perfect.
Let me say this loud and clear: I have a food first philosophy, meaning I want you to eat foods first to get the nutrients you need to thrive.
But, I'm also realistic. This is an unprecedented time where food is flying off shelves, cabinets are emptying quickly with the whole family at home, and it is increasingly difficult to meet nutrient needs.
That's life. Here's the good news. Your nutrition doesn't have to suffer when you can't either access or incorporate more nutrient dense foods into your daily regimen.
Enter… the supplement safety net. Your "get out of jail free" card for optimum nutrient intakes!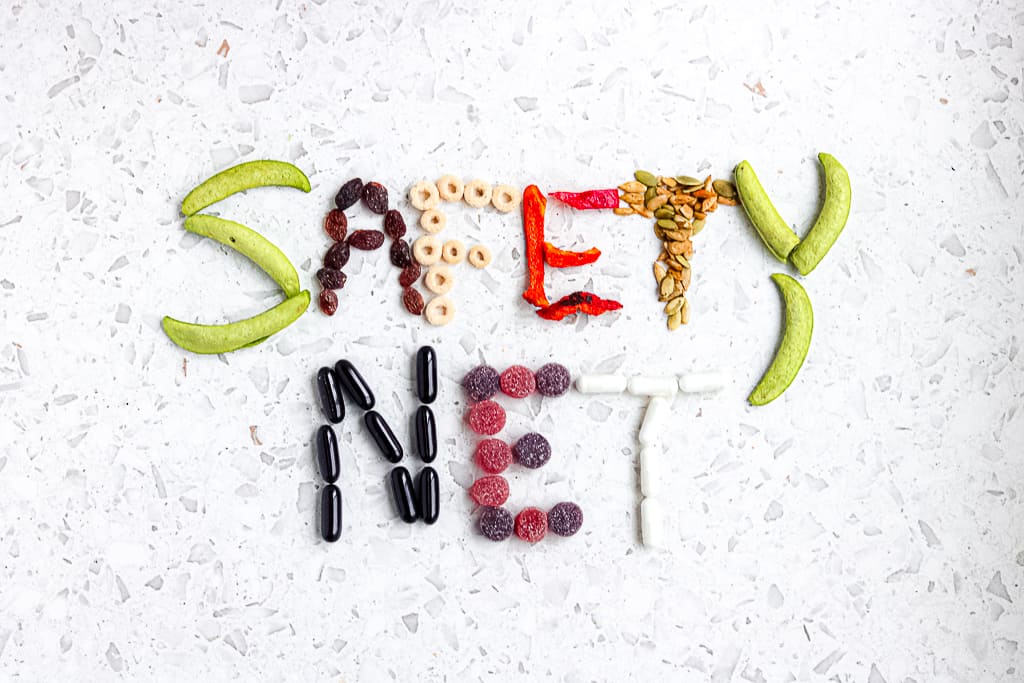 What supplements should make up your supplement safety net?
In full disclosure, this will vary depending on not only your age, gender, race/ethnicity, but also your personal health profile and what your "typical" diet looks like.
For instance, if you're a pregnant female, your supplement needs for specific vitamins like folate and choline will be different than a male counterpart. The same goes for iron and omega-3 fatty acids like DHA and EPA, too.
The Dietary Guidelines for Americans (DGA) 2015-2020 report found that the typical American diet was falling short in meeting the nutrients of most people.
While diet can certainly make an impact (and we'll cover that below), it's also important to understand that supplements can also play a pivotal role in providing that "safety net" we talked about above.
Underconsumed Nutrients and Nutrients of Public Health Concern
Potassium
Dietary Fiber
Magnesium
Calcium
Choline
Vitamin A
Vitamin D
Vitamin E
Vitamin C
Iron
Remember, this is just a sampling of the MANY nutrients we could cover. And, to be honest, so many individuals are also not meeting their needs for other nutrients not listed here (like omega-3 fatty acids) as well – whether it be related to poor diet quality, accessibility issues to food, or other factors.
Thankfully, multivitamins/minerals (MVIs or MVMs) are available that can provide this supplement safety net to help in meeting many of these nutrient needs, but not all.
Let's take a look at two of the most prominent brands of daily multivitamin supplements marketed toward women.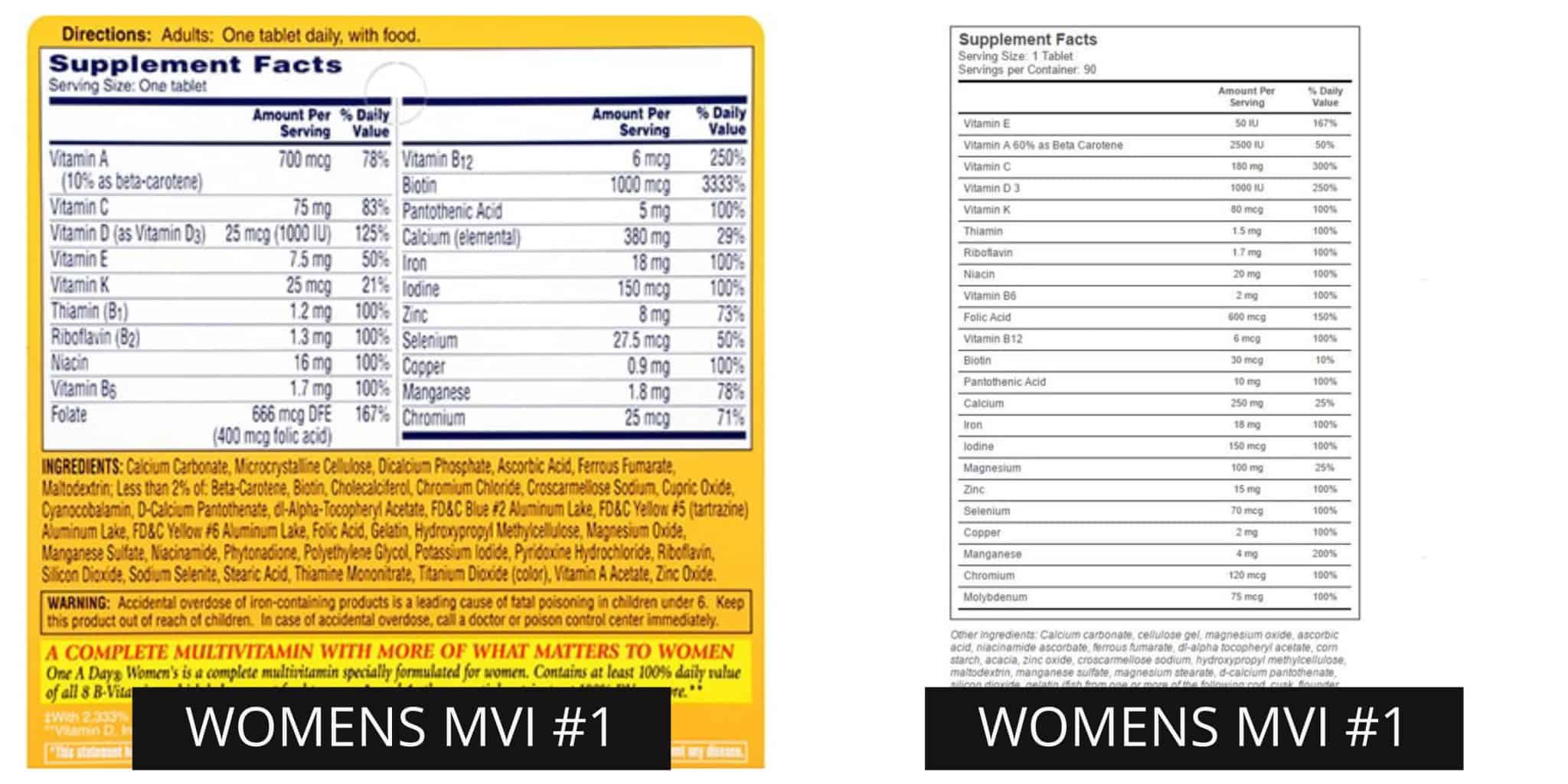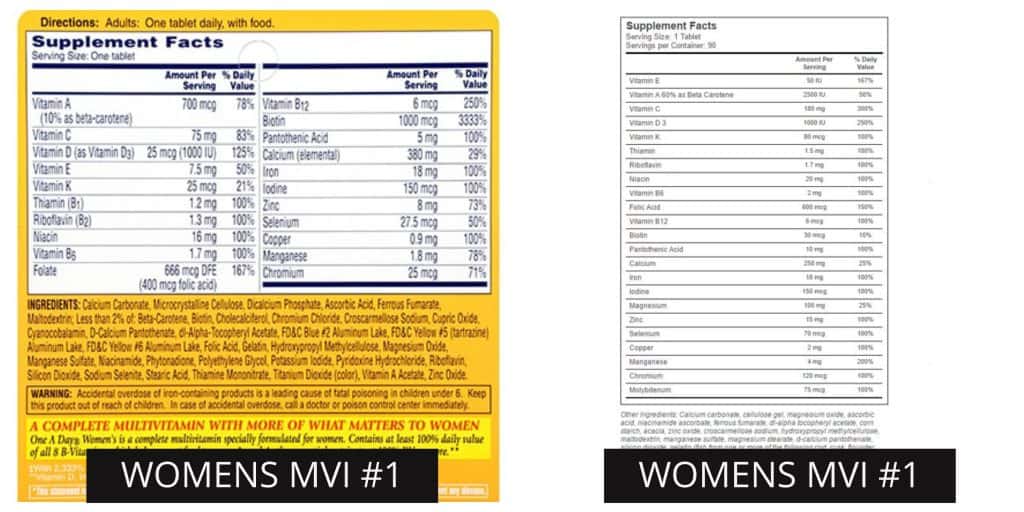 As you can see, they both contain Vitamins A, C, D, E, iron, and calcium. But, only one contains magnesium and neither contain choline nor omega-3(don't worry about potassium and dietary fiber here, we'll get to those in a minute.)
The reason I bring this up is that this panel is very reminiscent of many brands you will see on the market today. While filled with a variety of vitamins and minerals, they don't necessarily contain all the ones we KNOW most people are deficient in, like choline.
Research has found that nearly 90% of Americans are deficient in choline, which is why the DGA listed this as an underconsumed nutrient.
Rest assured though, you can easily cover your bases by taking a daily choline and omega-3 supplement, in addition to eating a varied and balanced diet. (Don't worry, I'll get into more about the food sources of all these nutrients below!)
If you remember from my post here, I took a deep dive into all the reasons adults, teens and kids alike need choline in their diet in the proper amounts (i.e. it's essential in cognition, metabolism, muscle memory, prenatal health, and so much more.)
But, here's a refresher about your needs. Adults need around 450 mg of choline a day (550 mg if you are breastfeeding, and even higher if you go by the recent research recommendations of 930 mg during pregnancy), whereas kids need anywhere between 125 to 375 mg/day.
Point being: all ages and stages of life require choline and unfortunately, it's likely not being consumed in the diet or the multivitamin supplement you're on. This means you need to consider what supplements you should take for your safety net!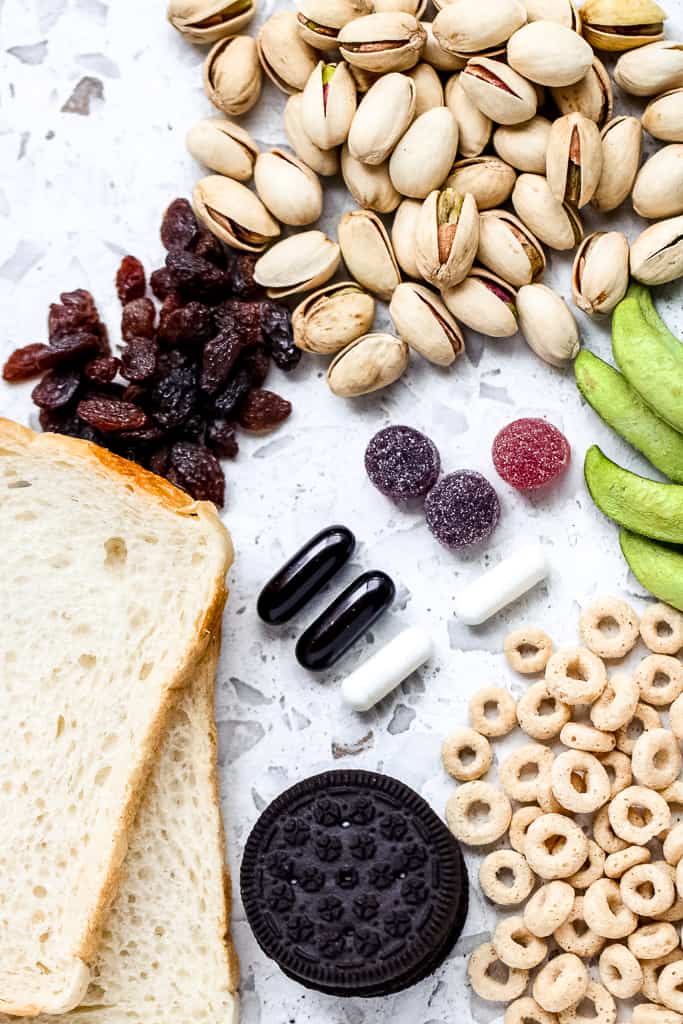 Do supplements work better together in the safety net?
You may have heard of the relationship of vitamin D and calcium and how these nutrients work together to maintain strong bones, but they aren't the only nutrient synergies out there!
Choline doesn't work alone. Many nutrients need one another.
You know folate and omega 3 already – but what you likely don't know is that with extra choline-containing foods or supplements the powerful role folate and omega-3 have sky rockets.
Let's take a look at closer look at choline:
Choline and Folate
Choline's role as a necessary nutrient in the prenatal, postpartum, and infancy periods to prevent neural tube defects and enhance the cognitive development of babies has long been established.
Though research on the connection between choline and folate proves when these two are taken together there is a reduction in the risk of neural tube defects, little strides to combine these nutrients in prenatal vitamins has been made. It's interesting because even if folate and vitamin B12 intakes are optimal, low choline intakes have been shown to nearly the double the risk of neutral tube defects.
This leaves me wondering… why aren't more OBGYN's talking about this nutrient with their prenatal clients?
If that wasn't enough, two independent studies, one on choline supplementation and one on folate, have both shown drastic improvements in brain and cognitive development in infants born to mothers who consumed these nutrients during pregnancy and beyond.
Can you imagine the dynamic duo effect if BOTH nutrients were consumed in adequate amounts together…?
Choline and DHA
One other relationship I want to talk about is that of choline and DHA, an essential omega-3 fatty acid.
While more research is needed on humans, the preliminary reviews of the preclinical research demonstrate that when taken together, DHA helps improve cellular uptakes of choline as well as suppresses inflammation in the brain and improves neurocognitive functioning.
Since omega-3 fatty acids are still being studied as well, we know the importance of consuming a minimum of two servings of fatty fish per week to increase intakes of DHA and EPA, two essential omega-3 fatty acids.
Imagine the benefits of topping salmon toast with an egg to get that choline and DHA combo from food! Not only does it sound delicious, it's also extremely good for you.
If you don't have an appetite for seafood, consider exploring a multivitamin that has DHA in it. Omega-3 fatty acids have an adequate intake (AI) recommended amount varying from 0.5 grams to 1.6 grams depending on age, gender and life stage (you can read more on that here.)
How to supplement with foods?
I mentioned before, FOOD FIRST is always my mentality. And, I'm glad VitaCholine agrees with that too. They've created a helpful cheat sheet that shows how someone can meet their daily choline needs using food first. You'll notice that even when following a choline-focused diet, it is very difficult to meet choline needs.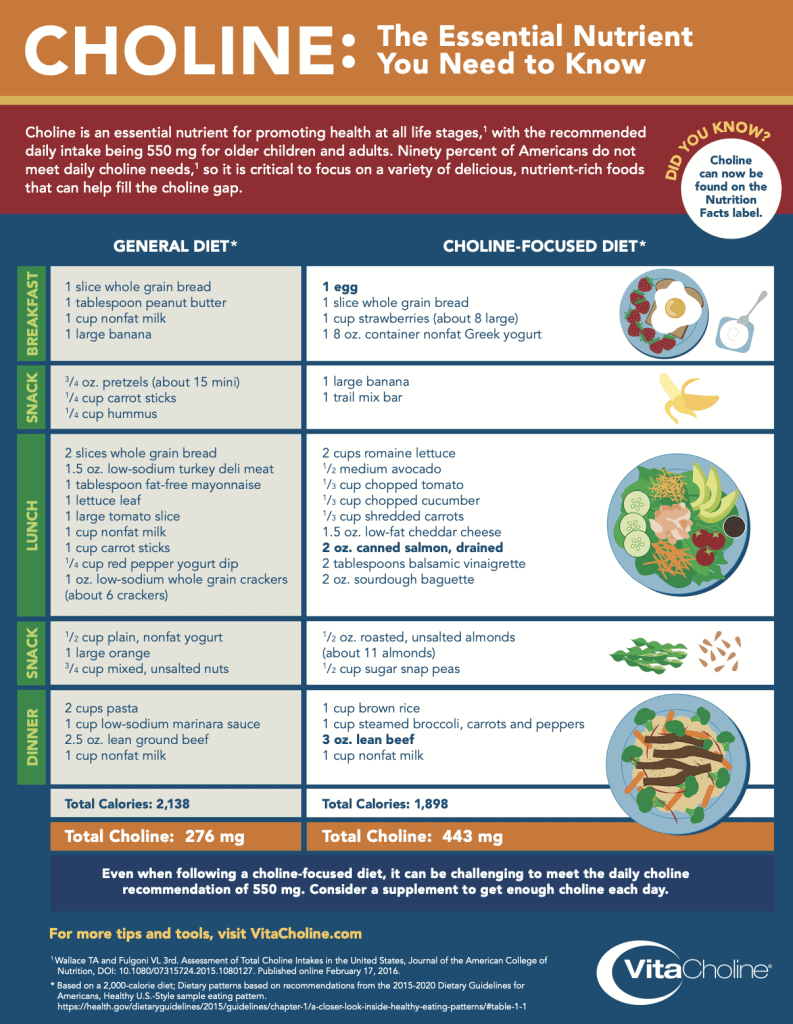 Now, while this menu is specific to choline, I want to share a few of the food sources you can incorporate into your diet to also help meet the other nutrients that were underconsumed.
Potassium: Now included on the nutrition facts panel on your packaged goods, increasing your potassium intakes from whole food sources has never been easier. Some sources include bananas, grapefruit, potatoes, and cooked broccoli and spinach.
Dietary Fiber: This will not be included in an MVI because you can certainly get this from whole foods and functional foods. Increasing intakes of a robust variety of fruits, vegetables, lentils and legumes, as well as whole grains will help increase this. Artichokes, for example, are a high fiber food!
Magnesium: Food sources include raw, dark leafy greens like kale, swiss chard and spinach.
Calcium: Dairy foods are naturally high in calcium, but so are vegan sources such as broccoli, tofu and some nuts.
Vitamin A: Think about those orange vegetables, like carrots, sweet potatoes and butternut squash to name a few. Also, liver, but who is really eating that?
Vitamin D: Besides fortified products, choose fatty fish like tuna and salmon, and mushrooms and egg yolks (for other reasons to eat the yolk, checkout this post here.)
Vitamin E: While breakfast cereals are often fortified with this nutrient, you can also get it from vegetable oils, some nuts and leafy greens.
Vitamin C: Besides citrus fruits, strawberries, red bell peppers and cruciferous vegetables like broccoli and cauliflower are good ways to increase vitamin C.
Iron: Animal meats like these turkey burgers are a good way to increase the heme form of iron, but for vegetarians you can also combine vitamin C with non-heme iron sources (think spinach and beans) to help increase iron as well.
I don't know about you, but even as a dietitian I'm not eating the foods highest in choline EVERY.SINGLE.DAY – especially in the middle of a pandemic when we're supposed to limit our market runs.
Added a highlighted word here and below – just felt it was missing.
Hence, real life happening and the need to consider that "supplement safety net!"
How to evaluate a supplement for safety?
You may have heard but supplements are not regulated in the same fashion that over-the-counter or prescription drugs are by the U.S. Food and Drug Administration.
For instance, manufacturers have to submit safety data to the FDA that demonstrates the use of any ingredient used that has not been used or sold in the United States in a dietary supplement before 1994. However, in regards to all other ingredients used in supplement manufacturing, the FDA is not authorized to review them for safety or quality before marketed.
To make sure the supplement you've chosen to include in your diet is safe, be sure to use the following tips when evaluating the brand:
Do they have research and clinical evidence to support their product and claims?
Is the brand third party verified? (Includes agencies like ConsumerLab.com, NSF, and USP)
Does the brand have any claims filed against then for labeling misuse?
Bottom Line: Focus on a foods first approach to meeting your nutrition needs but in today's current environment, a supplement safety net is critical. Be sure to speak with your medical team and consult a dietitian to figure out the best, personalized approach for you.
Questions on what supplements you should take for your safety net? Just ask! Comment below or contact me here.