The Importance of Eggs in a Balanced Diet for Maternal & Infant Health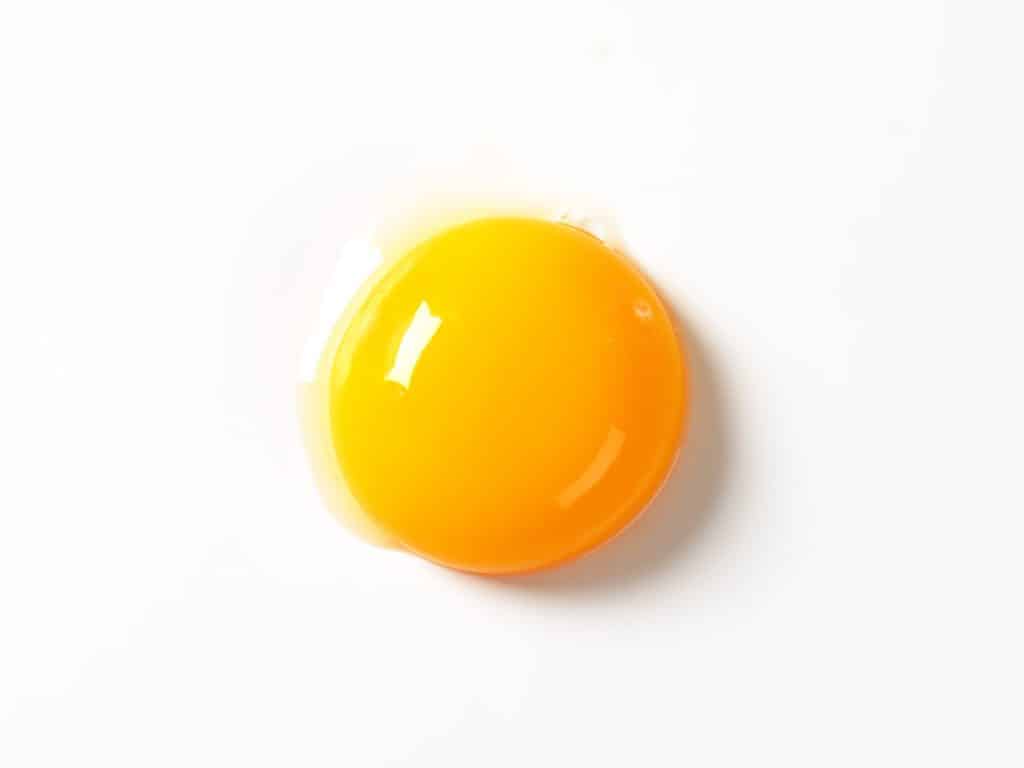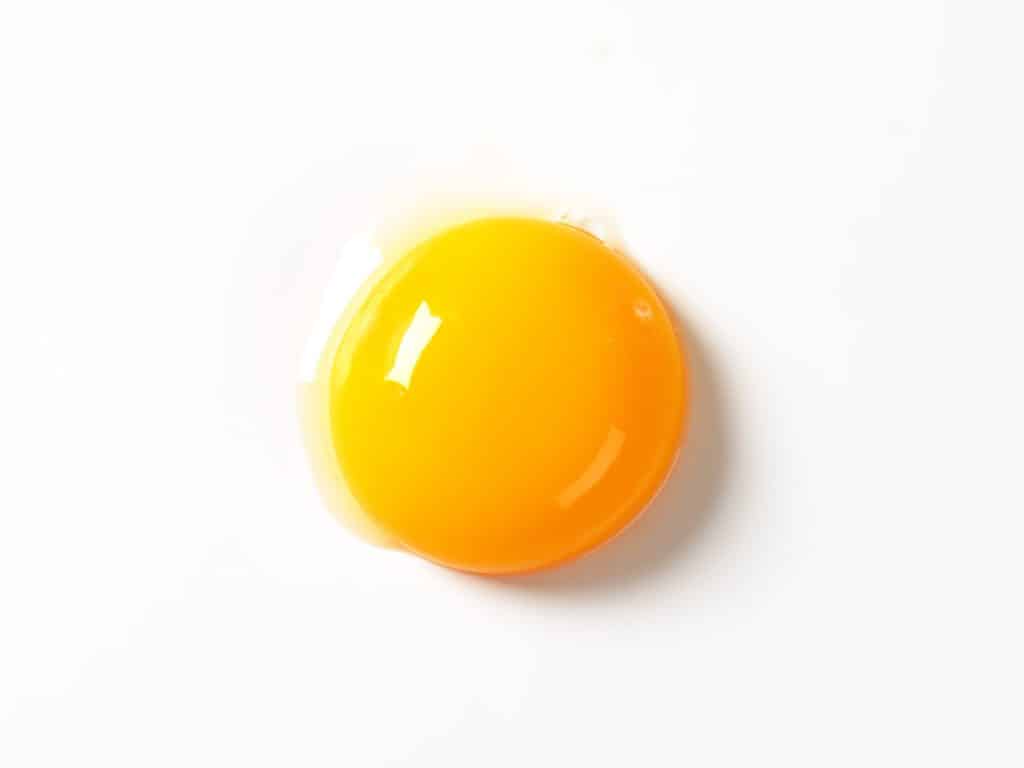 Disclosure: This post is in partnership with Egg Nutrition Center. It's an honor to work with them and share the facts when it comes to incorporating eggs (especially the yolk!) in a healthy diet, especially for mom and baby (to be!) As always, I only work with brands that I support and value.
It's no secret, I'm a sucker for bringing you the facts (not fads) when it comes to the latest research surrounding nutrition and health. And, with recent research demonizing eggs (particularly the yolk) yet again, it's important we take a step back and look at the decades of research available on egg consumption and just why they're a good choice for total health, particularly maternal health (and the health of your baby-to-be).
For instance, eggs are a great way to implement recommendations from the 2015 Dietary Guidelines. Not only do eggs provide a high-quality protein source that fits into a variety of eating styles (think Mediterranean, plant-based and low-carb to name a few), but they're also very affordable at about 15 cents per large egg.
Because eggs are a budget friendly protein source, most individuals can incorporate them into their diet (with the exception of those with egg allergies who, for medical reasons, need to avoid eating them).
And with emerging research highlighting the importance of nutrients like choline and lutein, which are found in the egg's yolk, it's time we surrender to the facts and steer clear of the trends that recommend only consuming egg whites.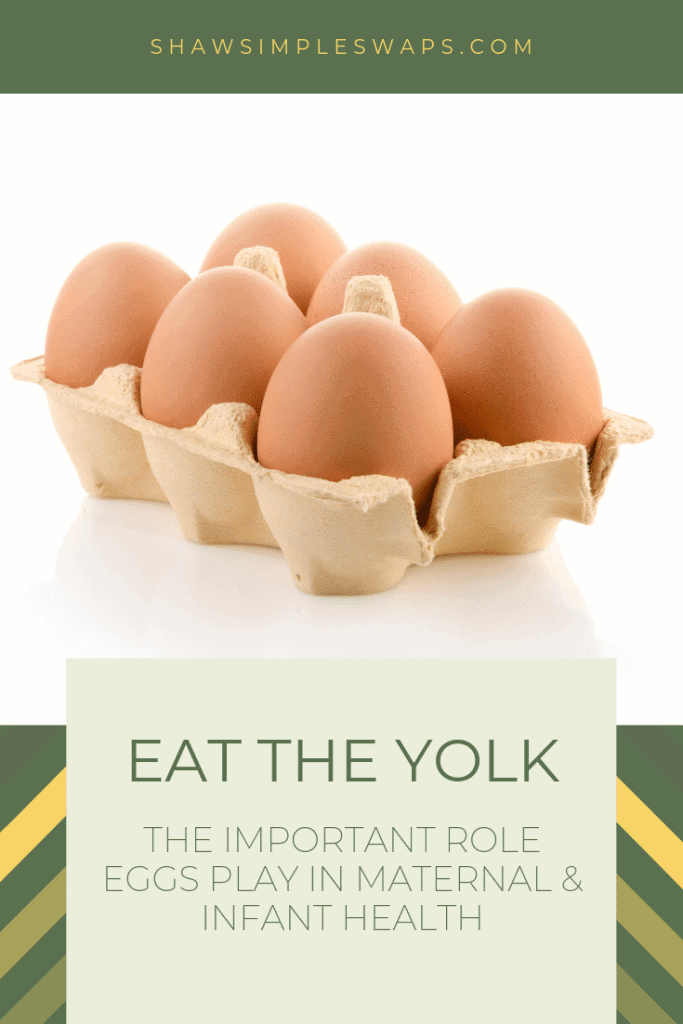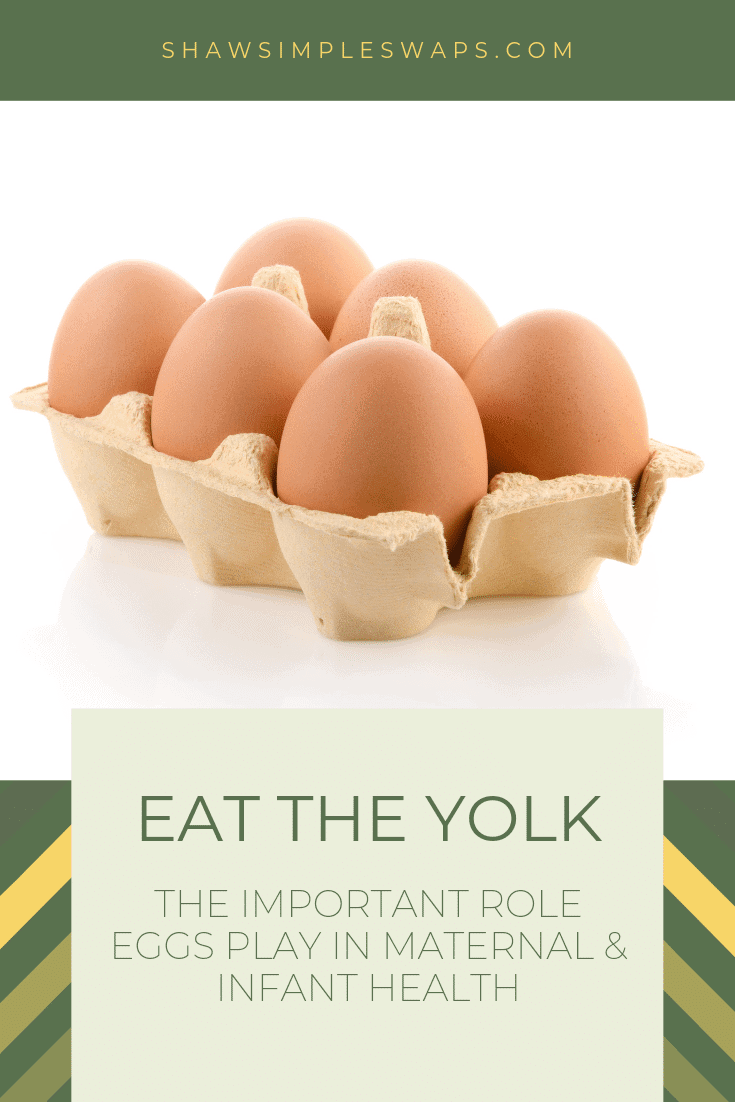 The egg yolk is where nearly all the vitamin and minerals, like choline, vitamin B12, vitamin D, vitamin A, B6, iron, vitamin D and zinc, are found. What a tragedy it would be to cut out the yellow nutrient powerhouse of the egg!
So, rest assured there's no need to. You see, one nutrient in particular, choline, is found in abundance within the yolk (about 150 milligrams, in fact) and the evidence is quite clear: we need to be consuming more choline in our diets.
Let's rewind a bit. We've chatted before on the importance of choline (I even gave you a full meal plan here) but with the latest research showing most Americans are not getting enough, it's time we revisit this nutrient.
First off, choline is important for cognition, metabolism, muscle movement and heart health, hence the reason the deficiency in nearly 90% of Americans is very startling.
The Important Role Choline Plays In The Preconception, Prenatal and Postpartum Period for Mom & Baby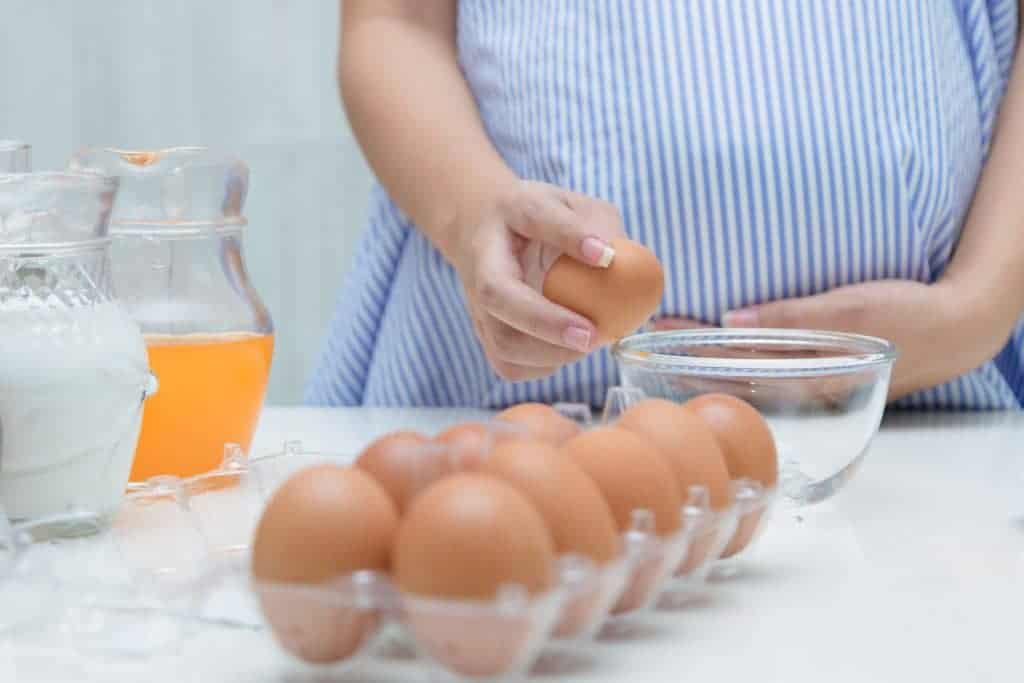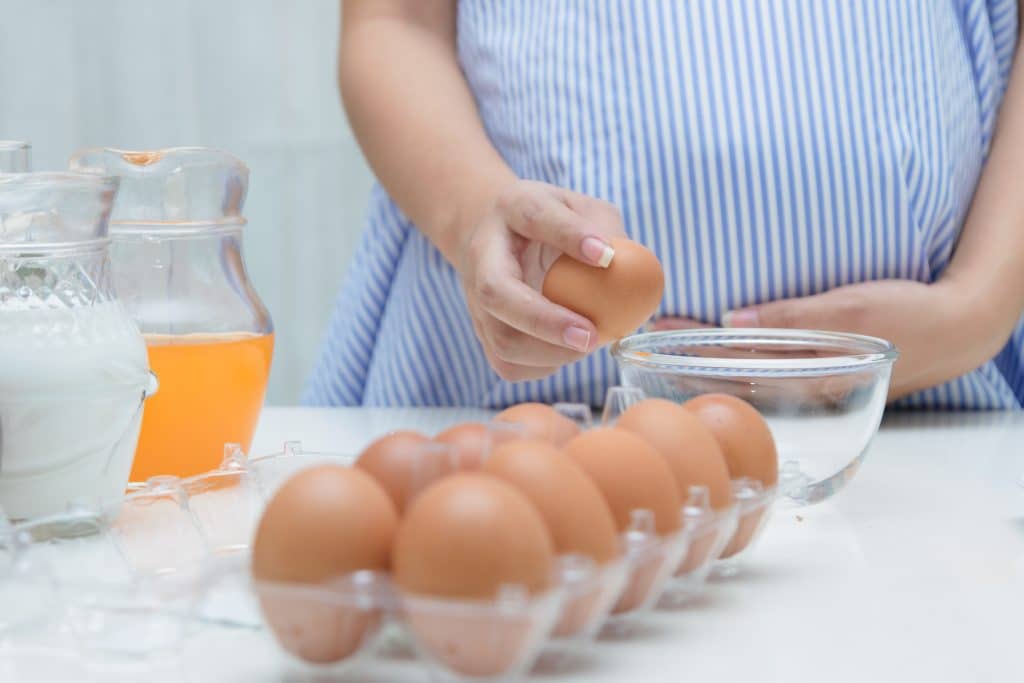 But, what's more concerning is the fact that about 90% of pregnant women are not getting enough choline in their diets either.
Since choline plays an important role in the development of a baby's brain and spinal cord, it's essential all women who are trying to conceive and/or pregnant focus on increasing the sources of choline in their diet. Plus, there's clear scientific evidence that suggests both choline and lutein (another important nutrient found in eggs) are vital for neurological development during the first 1000 days post-conception, meaning including them in mom's diet while pregnant will help to set mom and baby up for success postpartum.
Some may say this is putting the cart before the horse, but there's new evidence that shows maternal choline intake may even have lasting cognitive effects on the child well into their school-aged years. Every mom wants the best for their future little one, so why not start preparing them to perform their best before you even see your two pink lines?!
Lucky for us, one of the richest sources of choline are affordable, versatile, delicious eggs. One large egg is an excellent source (meaning over 20% of the daily value) of choline, as well as riboflavin, vitamin B12, biotin, selenium and iodine.


I'll break this down for you a bit further so you can see how eggs can fit into a choline-packed mama-in-the-making meal plan in no time. And, if you're thinking "but my prenatal vitamin has it", trust me, not enough!
Most pre-natal supplements only have between 0-55 mg of choline, much less than the 450 mg recommended for pregnancy.
For a quick refresher, the dietary reference intakes (DRIs) for choline are actually adequate intakes (AIs) at 425 mg for adult women (trying to conceive), 450 mg for those who are pregnant and 550 mg for those who are breastfeeding.
Sample Meal Plan for Mom (and Moms-in-the-Making)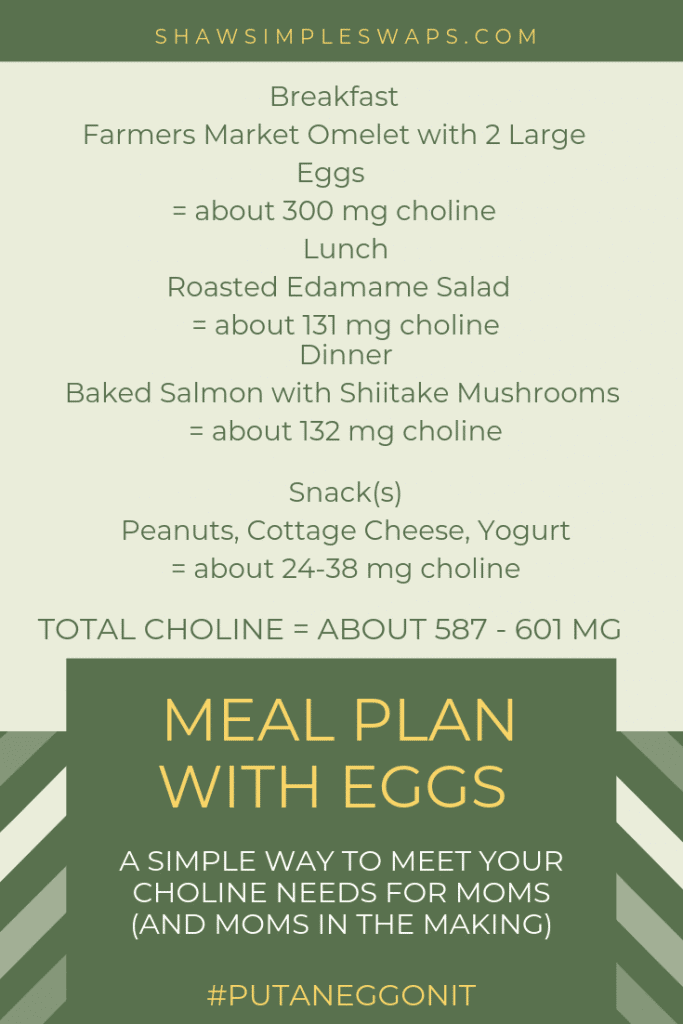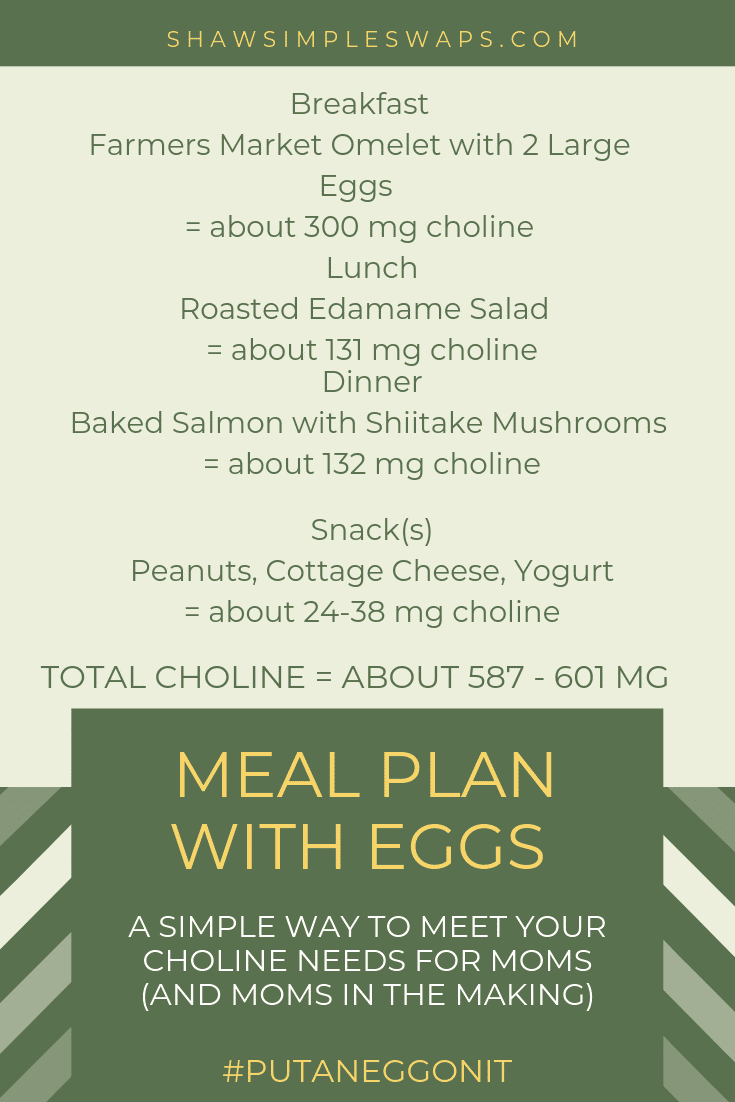 Breakfast:
Farmers Market Omelet with 2 Large Eggs (with the Yolk) = about 300 mg choline
Lunch:
Roasted Edamame Salad with Peanuts = about 131 mg choline
Dinner:
Baked Salmon with Sautéed Spinach & Shiitake Mushrooms = about 132 mg choline
Total: about 563 mg choline
*Curious about the content of choline in other food sources? Use this NIH link!
As you can see, with a little planning, mom's choline needs can be met through food, and it all starts with eggs!
To help give you a little more inspiration, I've created a handout with 5 simple ways to #PutAnEggOnIt! From scrambled to hard-boiled and even some suggestions for a family friendly frittata, meeting your nutritional needs with eggs has never been easier.
I'd love to see how you #PutAnEggOnIt so be sure to share your creations, tagging @shawsimpleswaps and @egg.nutrition! For the latest up-to-date information regarding eggs and your health, visit Egg Nutrition Center!