Choline- A Necessary Nutrient when TTC  (Trying to Conceive)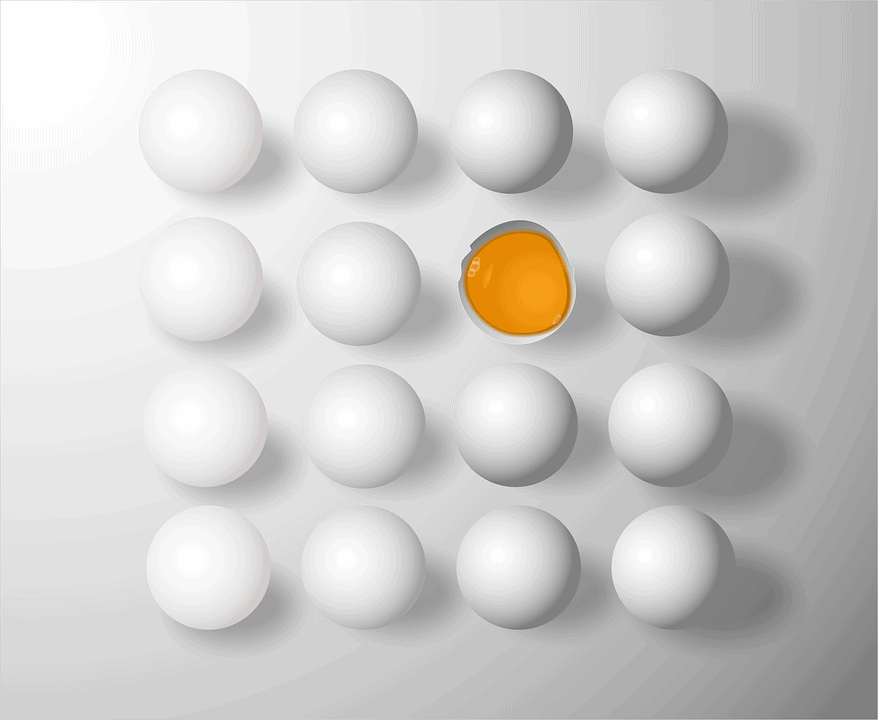 Disclosure: This post was sponsored by VitaCholine. As always, I only collaborate with companies who align with my mission and that are backed by science.
Spoiler alert — I'm not pregnant, but you all know I'd love to be!
That's why today I've teamed up with VitaCholine to chat with you about CHOLINE, an important nutrient YOU need in your diet, especially when TTC
Truth be told, choline is not just a nutrient that us wanna-be-moms need in our diet, but something EVERY person should be getting to support a healthy body.
Why?
Because choline is essential for:
Metabolism

Your liver is a vital organ in your body. In order to keep it running smoothly, choline is needed to help move fat out and convert food into energy.

Memory

Don't you want to remember just what you need to do tomorrow? Or, how about that awesome podcast you heard yesterday that inspired your next passion project tomorrow? Choline is essential to help improve your memory and retain knowledge!

Physical activity

Your muscles require a signal from your brain to get moving! Choline helps send this signal while also providing you the energy you need to keep that bicep curl going strong.

Heart Health

Homocysteine (aka, an amino acid in the blood) can increase your risk for heart disease. Choline helps to reduce your circulating levels.
Now that we've laid the framework, just why is choline NECESSARY for those TTC and pregnant?
Reason #1:
Choline is passed from mother to baby during pregnancy and helps not only prevent neural tube defects but also may improve your baby's abilities to process and store information later in life.
Plus, choline gives the mamma-to-be more energy when paired with those B-vitamins!
Reason #2:
Choline helps build and boost baby's brain.  During infancy and early childhood development, choline is essential to help build the brain and its functioning.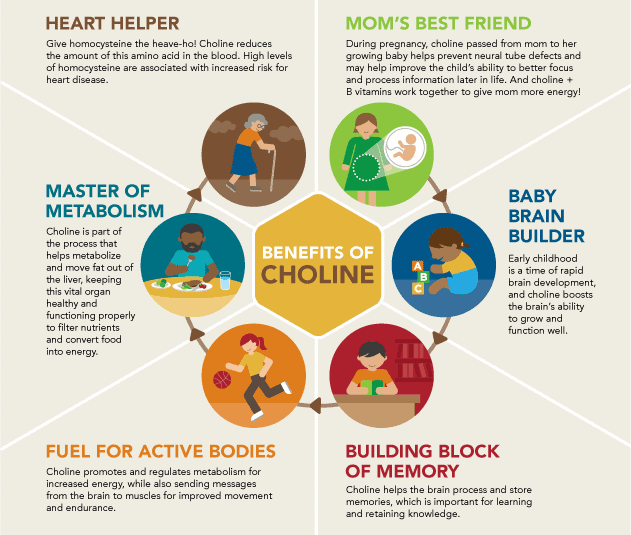 Alright, alright, enough on the WHY's, now let's talk about those sources and amounts.
Choline is unfortunately one of those nutrients that isn't found in your typical American diet. It takes some effort to meet your daily reference intake (DRI) of 550 mg for adult males and 425 mg for adult females. Needs increase during pregnancy to 450 mg/day for adult females.
Rest assured, I won't leave you hanging!
Let's dive into now just how you can meet your daily needs through whole foods.
Tip- Try to incorporate more animal proteins and green veggies into your diet. These often have higher amounts of choline and are a great addition to a balanced diet.
Breakfast:
Two scrambled eggs with YOLK (147 mg per egg) with avocado toast (23 mg)

Total = 317 mg
Tip: The yolk contains the choline! Don't skip out, you need that, baby!
Snack:
Greek yogurt with 2 tablespoons wheat germ & ½ cup berries

Total = 24 mg
Tip: Wheat germ is a great source of choline, however you have to eat a full cup to get nearly 40% of your daily needs. It does have a nutty flavor, so surely you can swap out your granola for this in your morning parfait or smoothie!
Lunch:
Salmon salad (74 mg per 3 oz.) with crisp vegetables and olive oil

Total = 75 mg
Tip: Salmon is not only a good source of choline, but also omega 3 fatty acids, the good guys that are stellar for fertility!
  Snack:
¼ cup roasted peanuts (20 mg) with dried fruit

Total = 20 mg
Tip: Roasted nuts are a great way to get a small amount of choline in your diet, while also providing you with heart healthy fats and fiber!
Dinner:
3 oz. chicken breast (70mg) with 1 cup Brussels sprouts (63 mg) (or ½ cup lima beans = 85 mg) and sautéed shiitake mushrooms (1/2 cup = 58 mg)

Total = 191mg
Tip: Mushrooms and those green vegetables your grandma used to make are great sources of choline! No wonder you're so sharp, right? J Add them to your stir fry and pair with a lean protein.
Total Daily Amount = 627 mg choline
And there you have it— Choline through natural, whole food sources prepared by your very own Registered Dietitian Nutritionist.
I can tell you this, though liver and salmon are great sources, I have a hard time stomaching both!
Thank goodness other seafood, like rockfish and lobster, are also choline containing foods. And, if you're a pork eater, so are the lean cuts. I suggest trying out the Slow Cooked Plum Pork, it's perfect for a delicious and nutritious meal when paired with those Brussels sprouts too!
But, if you're not a fan of any of these suggestions, be aware you should consider talking a supplement, especially if TTC. It's shocking but prenatal vitamins typically do not contain choline!
Now, let's chat.
What are the ways you get the super nutrient CHOLINE in your diet?
Comment below or tag me on social media with #cholinequest so we can keep the convo going!