These are the perfect crispy, crunchy air fryer potato wedges you've been looking for! Made with a few staple pantry ingredients, this recipe is so easy to assemble in under 45 minutes. Plus, it can easily become a great side or the star of the meal.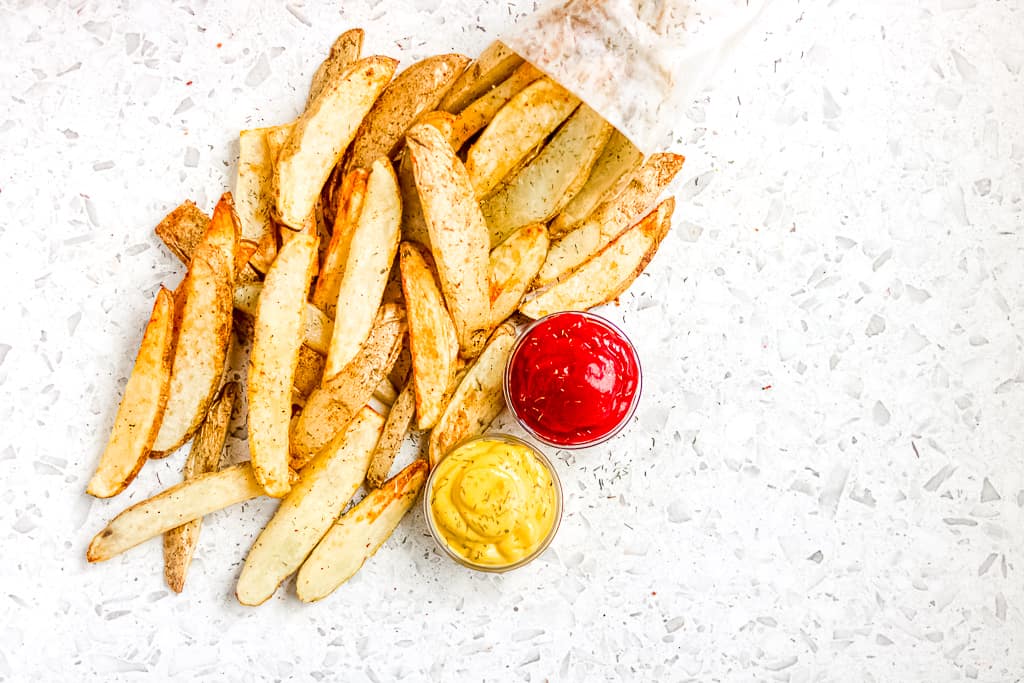 French Fries: Potato Wedges or Shoestring?
Honestly don't waste my time with a shoestring. I need a fry that can hold my dipping sauce, be it ketchup, a spicy mustard or cheese.
You feel me right?
That's why these Air Fryer Potato Wedges came to life.
I wanted that restaurant quality potato wedge from the comfort of my own home, with half the fat but all the goodness.
This recipe is just that. Perfect to please a crowd or just your pretty self.
Crispy, crunchy, and cooked to perfection.
What you need to make these air fryer potato wedges: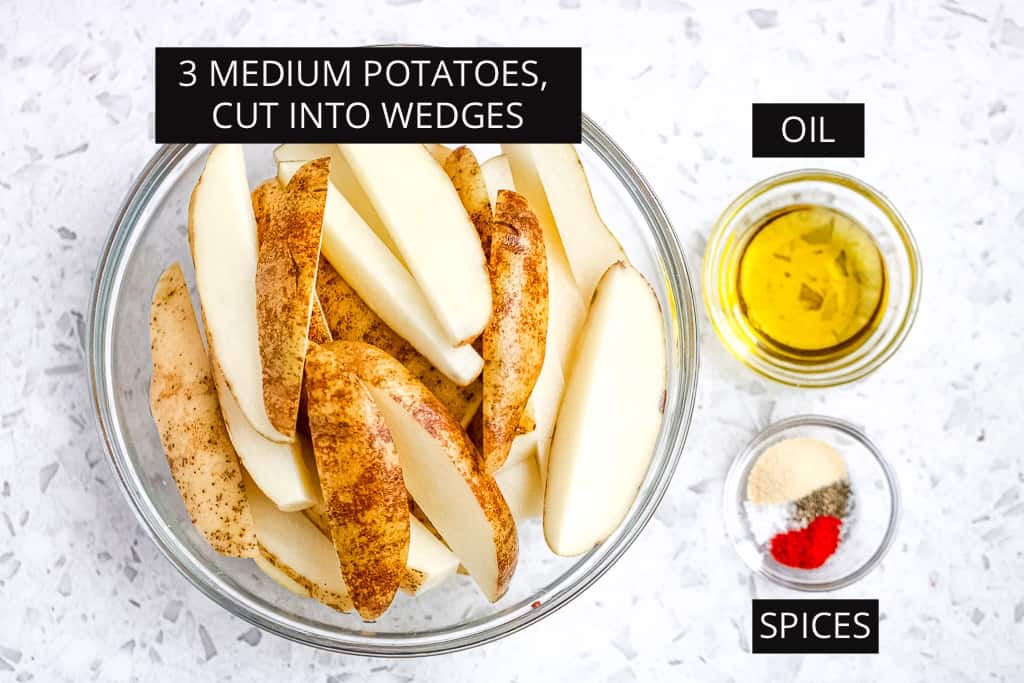 -Let's talk potatoes. I used good ole russets in this but you can certainly modify these with any you have on hand. Just remember to cut them thick enough if you want the wedge style of fry!
-The best oil in my humble opinion is avocado oil when I cook my potatoes in the air fryer. It has a high smoke point and is just the right flavor combo. However, extra virgin olive oil and peanut oil also work well.
-Have at it as far as the flavor combinations in here that will really excite your taste buds! I'm a fan of a garlic, pepper, paprika and salt combo, but my husband likes a little cayenne while my daughter loves a little turmeric!
How to make Air Fryer Potatoes Wedges: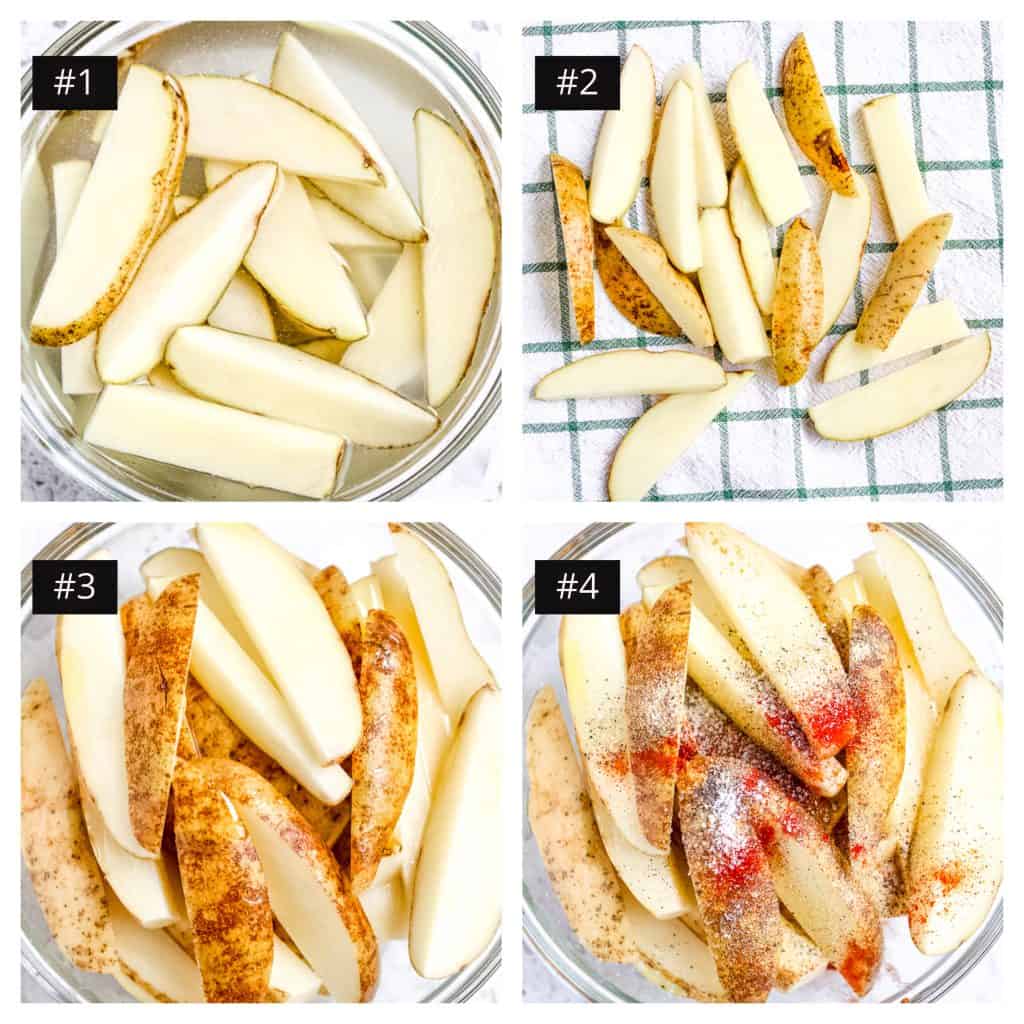 #1: After slicing the potatoes into wedges, let sit submerged in a water bath for 30 mins to help decrease the level of acrylamide (a potentially harmful compound that develops when cooking starchy foods at high temperature.)
#2: Be sure to pat dry the wedges after the water bath! This will help the seasoning stick.
#3 + #4: Toss with oil and season! They are now ready to go in the air fryer!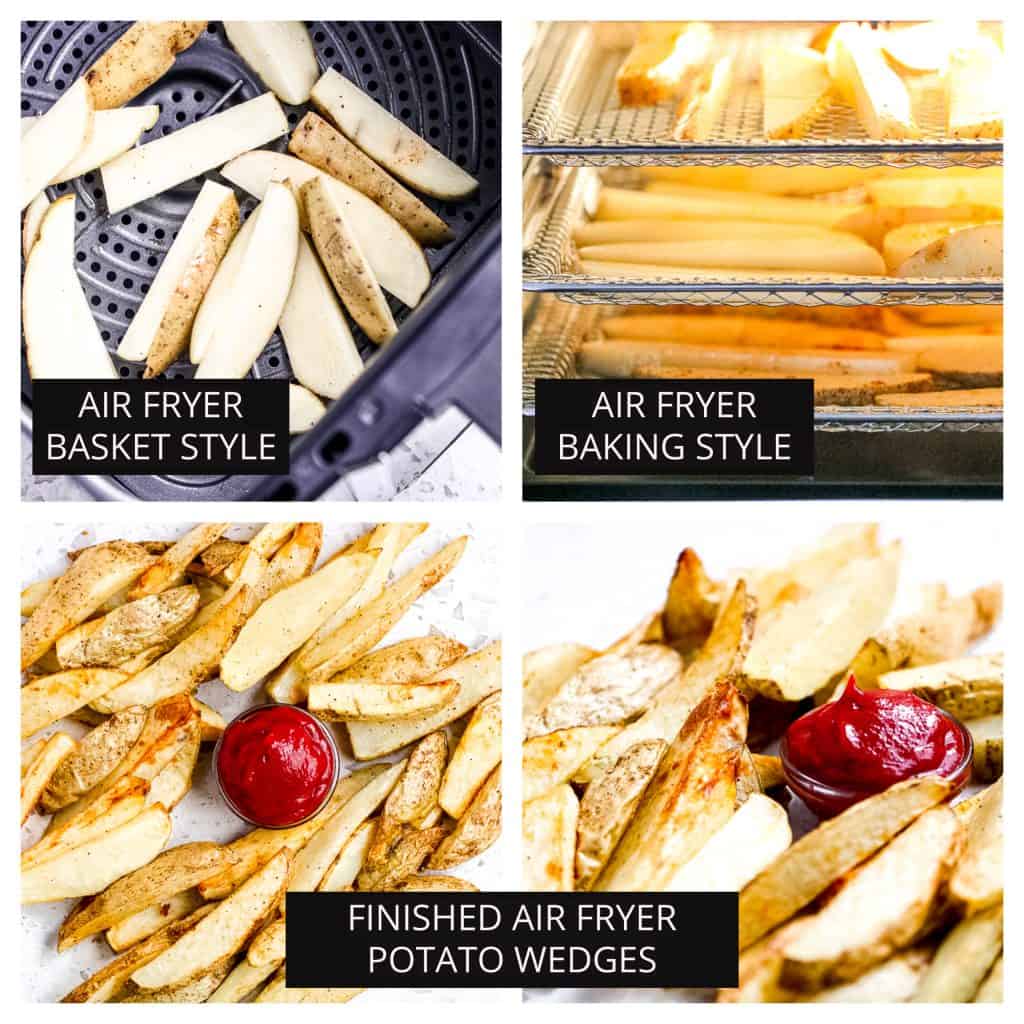 Depending on the time of air fryer you have (basket style or baking style), the potato wedges will still need to be spaced out to allow for even cooking!
Once they are cooked, remove and let cool a few minutes before serving!
Notes and Pro Tips on Making this Recipe:
Soak the potatoes a minimum of 30 minutes, but they can be soaked longer. There is no "max time", but I'd say no longer than 10 hours.
Do not overcrowd the basket!
Use a small amount of oil, a little goes a long way!
Toss the seasoning evenly over the entire batch of fries!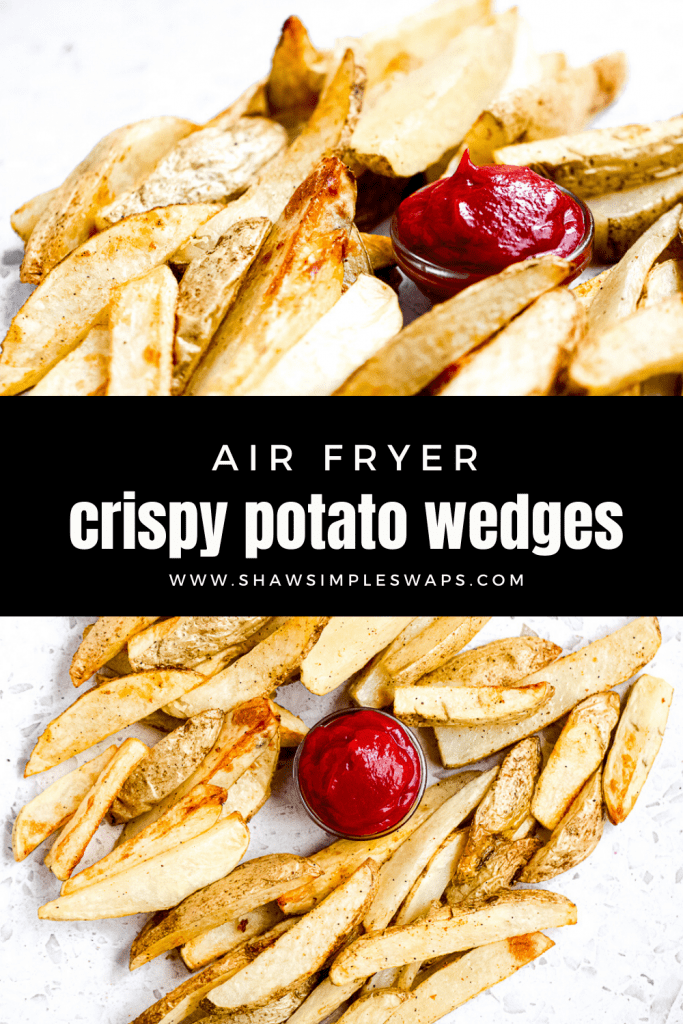 Other Recipes You May Enjoy
Air Fryer Potato Wedges
Ingredients
3

medium

russet potatoes

washed and scrubbed with water

3

cups

filtered water

1/2

tsp

garlic powder

1/4

tsp

paprika

1/4

tsp

black pepper

1/2

tsp

salt

4

tsps

avocado oil
Instructions
Slice potatoes into wedges. Start by slicing the potato vertically into 4ths, then slice those in half or thirds (depending on the thickness you want.) Repeat until all potatoes are sliced.

Submerge potatoes in the water in a large bowl. Let sit 30 minutes on the counter. (If leaving submerged longer, place in the fridge.)

While soaking, mix the spices together.

Once soaking is complete, dry potato wedges with a clean kitchen towel or paper towels.

Toss wedges with oil and spices. Preheat air fryer to 400 degrees F.

For basket model fryers: Add the potato wedges to the air fryer basket and let cook 5 to 7 minutes. Shake the basket and cook remaining 5 to 7 minutes, until outer edges are lightly browned. Remove from basket and keep warm under a low temperature setting on the oven if you have more to prepare. Repeat with remaining wedges.

For baking sheet model fryers: Add the potato wedges to the wire pan and let cook 5 to 7 minutes. Flip the potato wedges and finish cooking for 5 to 7 minutes. For larger volumes, you may need to cook additional 2 to 3 minutes. Keep an eye on the wedges to ensure you have a golden brown appearance. Remove from wired racks.

Serve warm with desired dipping sauce.

Store leftovers in an airtight class container in the fridge. Use within 3 to 5 days. Reheat in the air fryer at 400 degrees for 5 minutes, shaking the basket halfway through.
Notes
To prepare these in the oven:
preheat oven to 400 degrees
place the wedges on an aerated baking sheet (like a pizza pan)
cook for 10 minutes, then use a spatula to flip, and cook remaining 5 to 7 minutes
Nutrition
Calories:
84
kcal
|
Carbohydrates:
15
g
|
Protein:
2
g
|
Fat:
2
g
|
Saturated Fat:
1
g
|
Sodium:
154
mg
|
Potassium:
333
mg
|
Fiber:
2
g
|
Sugar:
1
g
|
Vitamin A:
31
IU
|
Vitamin C:
5
mg
|
Calcium:
13
mg
|
Iron:
1
mg
If you like these types of Air Fryer Recipes, be sure to checkout my latest cookbook, Air Fryer Cookbook For Dummies!
I'd love to hear what you think about these Air Fryer Potato Wedges! Did you make them!? Comment below and tag me (@shawsimpleswaps) on Facebook, Instagram, or Pinterest. I'd love to reshare!