Looking for the perfect vegan burger to enjoy with that can of beets you have in the cabinet? Then this recipe is for you! Filled with bold flavors and easy to make in under 30 minutes, this recipe is one that will have even the skeptical craving! Make this Beetroot Quinoa Burger and I promise you won't regret it!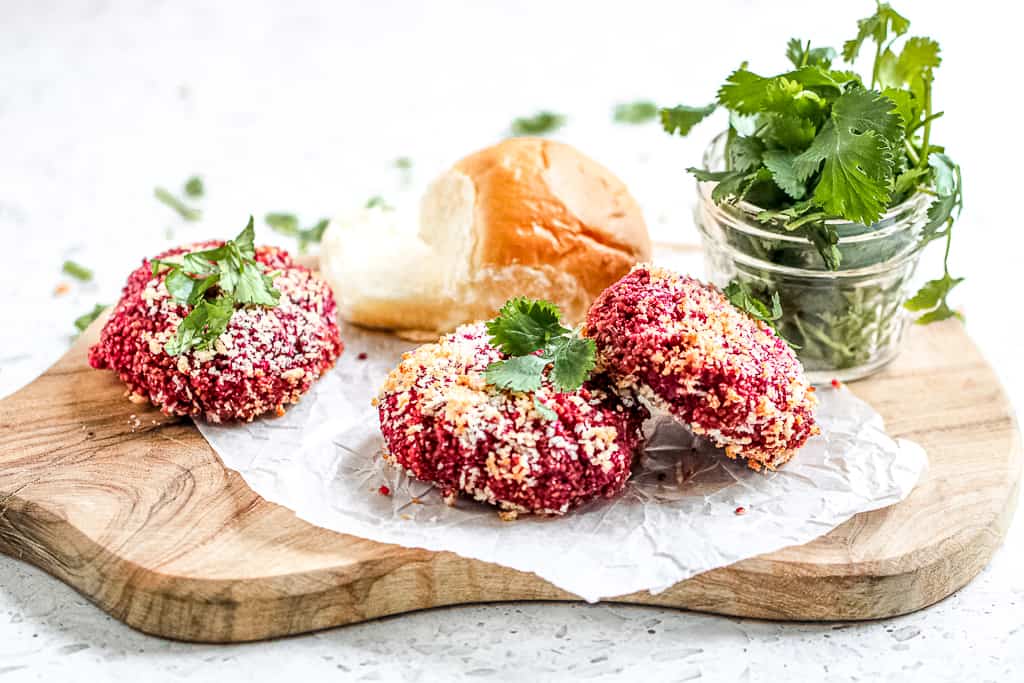 Are you team beetroot?
Willing to bet if you're here, you're answer is yes!
Beets are SUCH a nutrient powerhouse, it's hard not to be a fan of them!
DYK beetroot is a natural anti-inflammatory food!? Plus, it's filled with super important nutrients like:
Folate
Fiber
Manganese
Potassium
Antioxidants
and More!
If you're curious why athletes are super into beetroot juice for performance, I suggest you read this piece here on fueling for endurance racing!
Rest assured this Beetroot Quinoa Burger is certainly a great addition to your diet as well (athlete or not!)
What you need to make this Beetroot Quinoa Burger?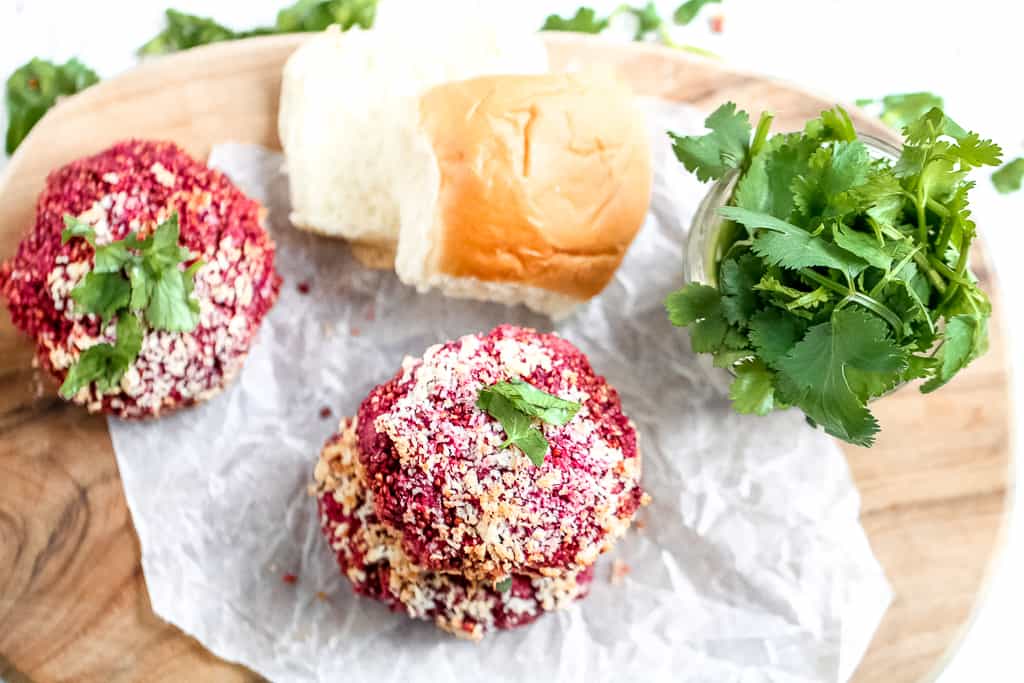 – Canned beets! Preferably pickled, but canned in plain water will work as well. I recommend avoiding the cooked beets in syrup, those end up with a very sweet burger that's high in added sugar.
– Another option: cooked beets. The refrigerated produce section also has cooked beets in a package. These will work, but make sure you keep the liquid and note you may need to add a little balsamic vinegar mixed with water to get the full 1/2 cup of liquid needed.
– Dry polenta or corn grits. Either will work, but make sure it is in the dry form! Cooked will not work in the recipe.
– Fresh herbs or spices. Either will work! Use 1 tsp dried to every 1 tbsp fresh. The cilantro is very mild in here flavor wise, so I promise even if you aren't a cilantro lover, you may still LOVE this!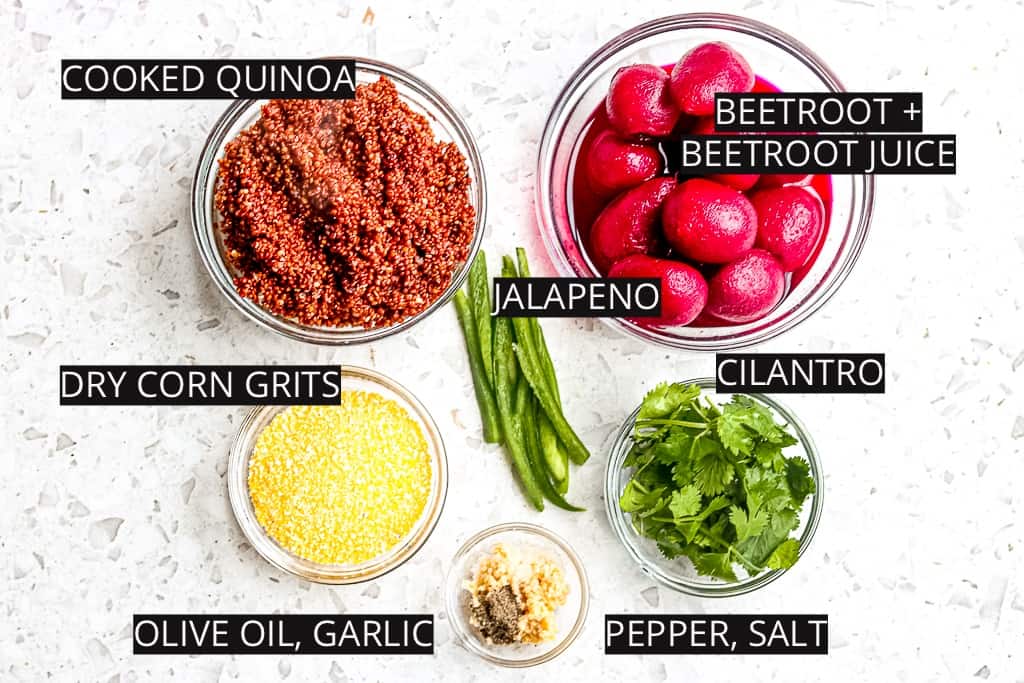 How to make a Beetroot Quinoa Burger
You can make these in your air fryer (which I highly suggest) or in a regular oven as well. I've listed both options in the recipe for you!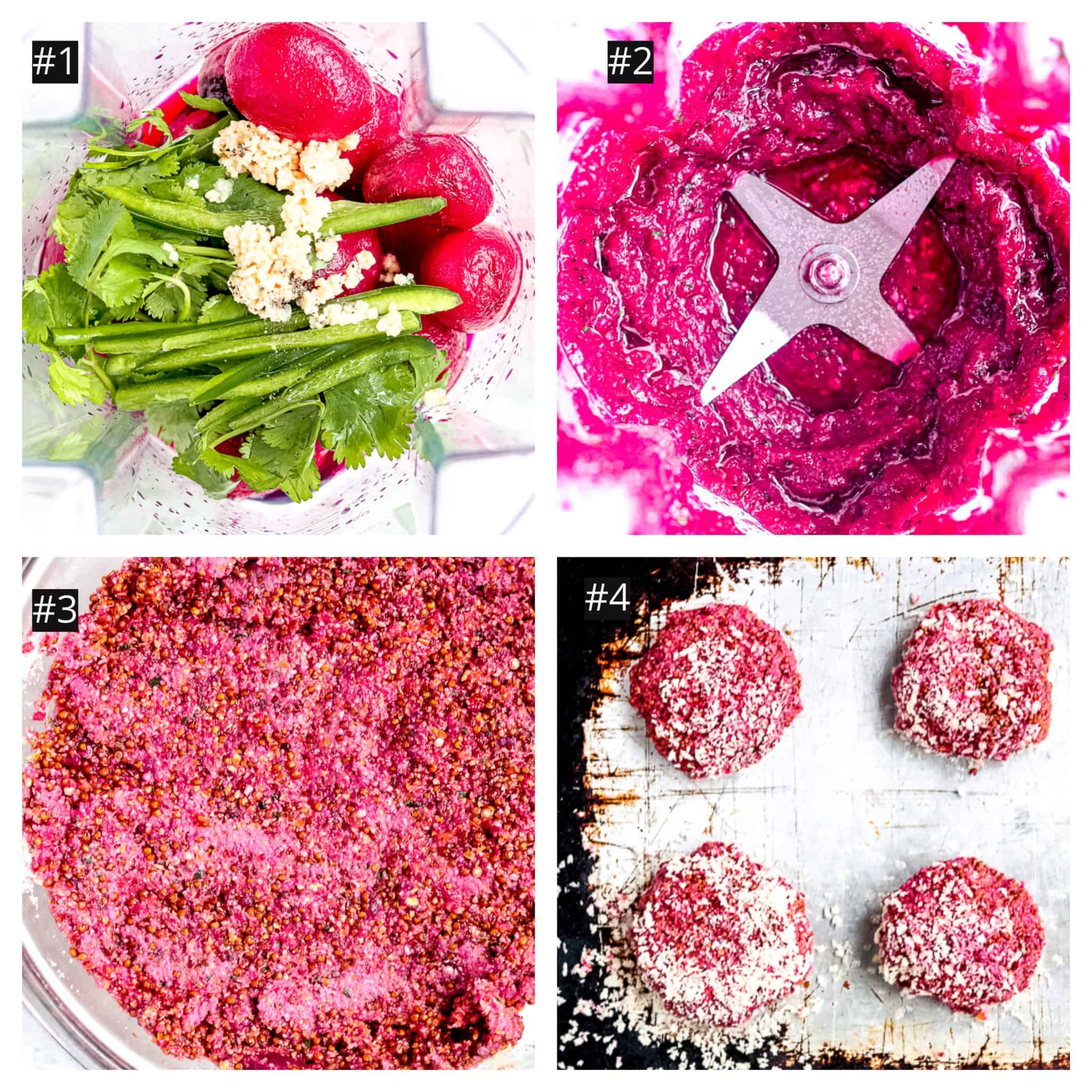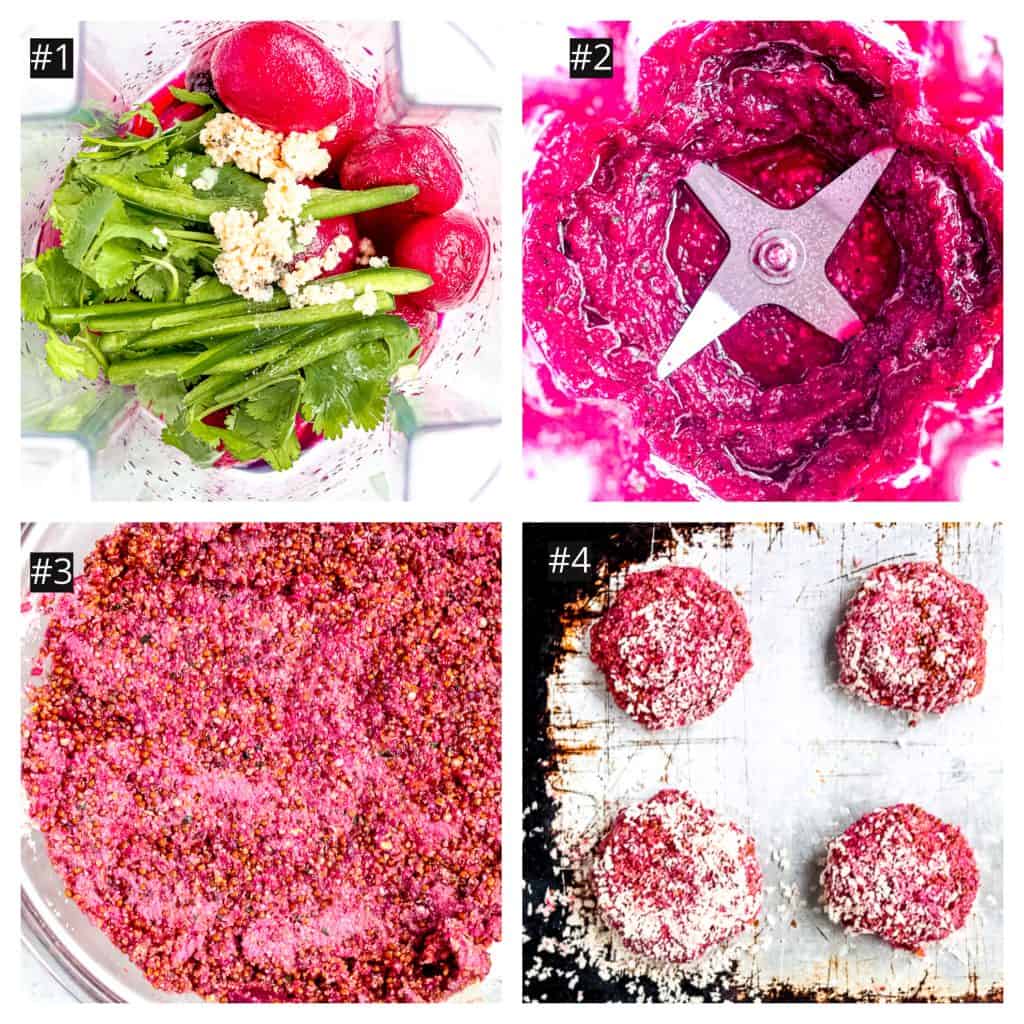 -You can literally toss everything into a high powered blender (or food processor) with the exception of the quinoa and corn grits (#1).
-The mixture should look like a hummus consistency when pulsed together (#2).
-Pour the mixture into a bowl and combine with quinoa and corn grits (#3).
-Form into patties and press in a panko coating (#4).
-Cook then eat!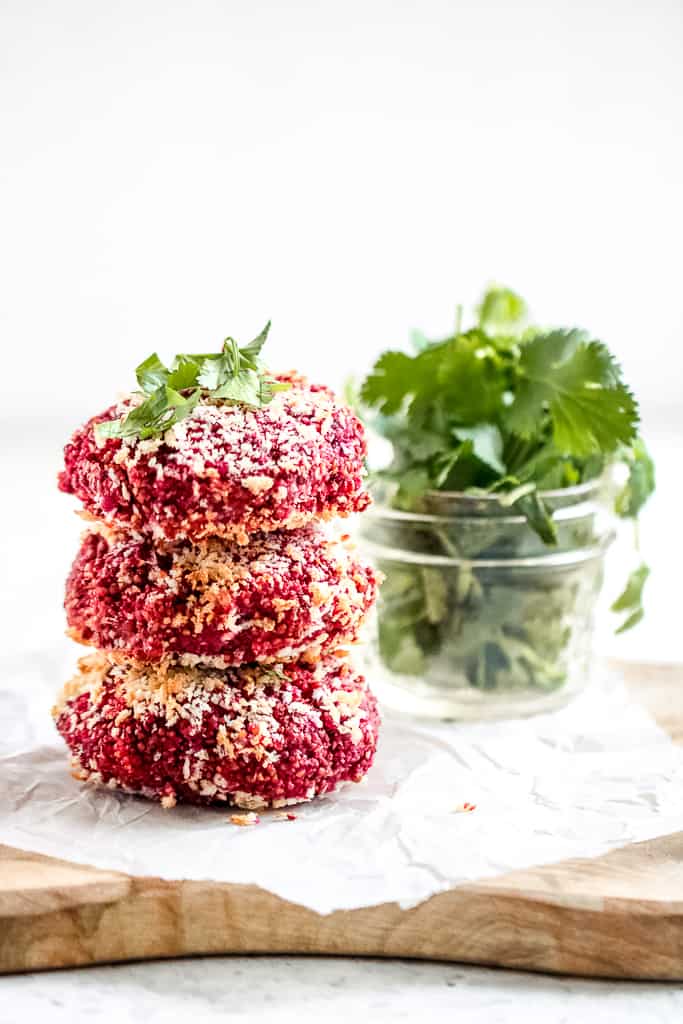 Notes and Pro Tips to Make This Beetroot Quinoa Burger
Use the red beets! The beautiful color in these is from the natural food coloring of the red varieties. Plus, they back a ton of great nutrition!
Ensure you use the right amount of liquid. Too much and the burgers won't form, but to little and they will crumble apart!
If you did add too much of the corn grits, you can add 1 large egg to help salvage the recipe. But, this will make the recipe vegetarian, not vegan anymore.
You can refrigerate the mixture before forming into patties if you want then to be a little easier to handle. Start with 30 minutes.
The burgers are best same day consistency wise. Reheating the burgers may cause them to crumble a bit easier, so consider putting the leftovers over a salad instead and reheat in the microwave!
Other Recipes You May Want to Try:
I'd love to hear what you think about this recipe! Did you make it!? Comment below and tag me (@shawsimpleswaps) on Facebook, Instagram, or Pinterest. I'd love to reshare!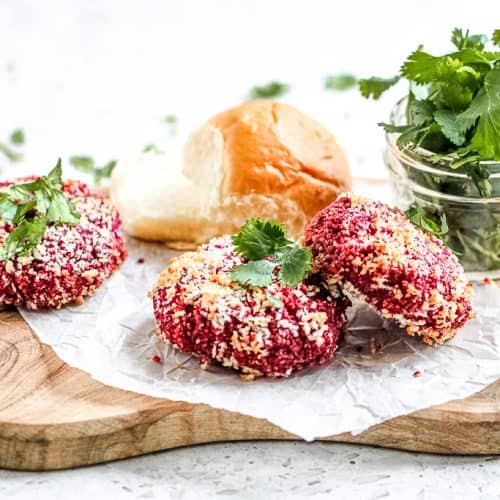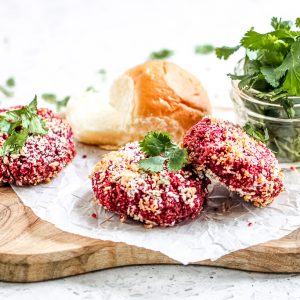 Beetroot Quinoa Burger
Looking for the perfect vegan burger to enjoy with that can of beets you have in the cabinet? Then this recipe is for you! Filled with bold flavors and easy to make in under 30 minutes, this recipe is one that will have even the skeptical craving!
Print
Pin
Share by Email
Ingredients
14.5

ounce

can sliced beets

save 1/2 cup beetroot juice from can

1 1/4

cups

garbanzo beans

cooked

2

tbsp

extra virgin olive oil

2

cloves

garlic

1/4

tsp

black pepper

1/2

tsp

kosher salt

1/2

cup

fresh cilantro

1

large jalapeno

seeded for less spice, chopped

1

cup

cooked quinoa

1/2

cup

dry polenta

(or corn grits)

1

cup

panko breadcrumbs
Instructions
In a food processor fitted with a metal blade, add the beets, beans, 1/3 cup beet juice, olive oil, jalapeno, garlic, black pepper, salt, cilantro and jalapeno. Pulse for 2 to 3 minutes, scraping down the sides of the food processor to ensure an even process. If needed, use 1 tsp at a time of remaining beetroot juice to get a thick, hummus like spread.

Once a smooth consistency is achieved, spoon the mixture into a bowl. Mix in the cooked quinoa and polenta until thoroughly combined. Mixture will be thick and can easily be formed into patties. (Note, if mixture appears to be to sticky, add 1 tbsp more at a time of corn grits until thicker consistency is achieved.)

Preheat air fryer now to 370 degrees.

Pour the panko into a shallow dish and gently place each patty into the panko on both sides to cover patty. Repeat.

Spray your air fryer basket with an olive oil mist, then place the patty into the basket.

Bake for 6 minutes, then flip burgers and bake remaining 6 minutes until outer sides are crisp and panko is slightly browned.

Remove from oven and repeat with remaining burgers (if necessary.)

Serve with desired toppings. Mini burger buns are great with a tahini sauce and arugula.

Refrigerate leftovers for up to 5 days in an airtight container, or freeze for up to 3 months.

Reheat in the air fryer at 350 degrees for 5 minutes. Note, reheated burgers do tend to crumble more easy.
Notes
To prepare these in an oven:
Preheat oven to 375 degrees F.

Line a baking sheet with parchment paper (or spray liberally with cooking spray) and portion dough into 1-inch balls. Press down using the back of a glass to make into circular patties.

Bake 14 minutes, flip, and bake remaining 14 minutes.

Remove from oven and let cool 5 minutes prior to serving.

Serve as desired.
Nutrition
Calories:
185
kcal
|
Carbohydrates:
29
g
|
Protein:
8
g
|
Fat:
5
g
|
Saturated Fat:
1
g
|
Sodium:
304
mg
|
Potassium:
224
mg
|
Fiber:
5
g
|
Vitamin A:
108
IU
|
Vitamin C:
3
mg
|
Calcium:
39
mg
|
Iron:
2
mg