Nuts… I've had a love hate relationship with this nutrient packed food for quite some time. Their crunchy, salty goodness is #addicting… how can you simply eat just 1 oz?!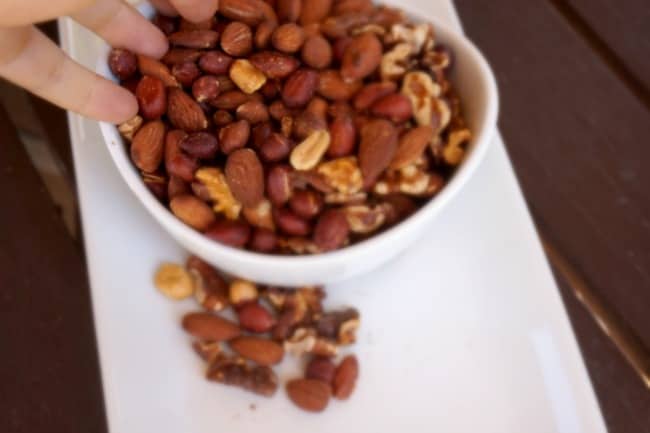 Lucky for me, my favorite nut happens to be raw almonds. Did you know recent research has shown that the actual caloric content of a one ounce serving (approximately 22 almonds) is 20% LOWER than previously reported… WOOHOO! Not only does this superfood still provide its heart healthy benefits and stellar nutritional qualities like being an excellent source of vitamin E and magnesium, it also has nearly 6 grams of protein and 4 grams of fiber per serving.
So, how did almonds all of a sudden drop from 160 kcals per ounce to 129? Well, scientists figured out that the actual digestibility of whole, raw almonds is actually less that what our body absorbs. The "roughage" that is not digested passes through our body intact and is excreted, much like other forms of fiber.
Though there are many limitations to this study and we do need more long-term data to support this hypothesis (hence why those nutrition facts panels still read 160kcals per 1 oz), it's a step forward in science to further understand digestion of different food components and how it affects our calorie absorption!
If you're like my hubby, he is not as keen on the raw nuts. Maybe its because he grew up on BBQ Corn Nuts and needs that extra little sodium kick to really get the satisfying taste from a crunchy nut. I have to admit, I'm all about balance and moderation, but I have a hard time buying Mr. CEO those sodium laden nuts when I can make him a much more satisfying, wholesome bunch at home.
Enter… home roasted mixed nuts! Not only are these babies sodium controlled and naturally roasted, they are budget friendly too. A typical roasted mixed nut 6 oz container in the store will cost you $6.79; this variety of walnuts, almonds and peanuts for the same portion is less than $4.00… what a steal!
Print
Roasted Mixed Nuts
Ingredients
1

cup

almonds

1/2

cup

walnuts

3/4

cup

peanuts

1/4

tsp

sea salt
Instructions
Heat oven to 350*F.

Place nuts on baking sheet and place in oven.

Roast for 35-40 minutes.

Remove from oven, let cool 5 minutes then lightly toss with sea salt.

Once cooled fully, store in air tight container and use within a week for optimum flavor!
Notes
Simple Swap Fact
An average serving of mixed nuts can total nearly 50% more sodium than making your own home roasted nut! Plus, you can lower your total fat by monitoring your oil. Nuts release natural oils...so you really don't need any extra!
Nutrition
Serving:
1
g
|
Calories:
140
kcal
|
Carbohydrates:
5
g
|
Protein:
5
g
|
Fat:
13
g
|
Saturated Fat:
1
g
|
Polyunsaturated Fat:
12
g
|
Sodium:
50
mg
|
Fiber:
2
g
|
Sugar:
1
g