Snack smarter with this recipe for Roasted Mixed Nuts! Made with a subtle grapeseed oil and salt, they're the perfect wholesome salty treat to nosh on when hunger strikes!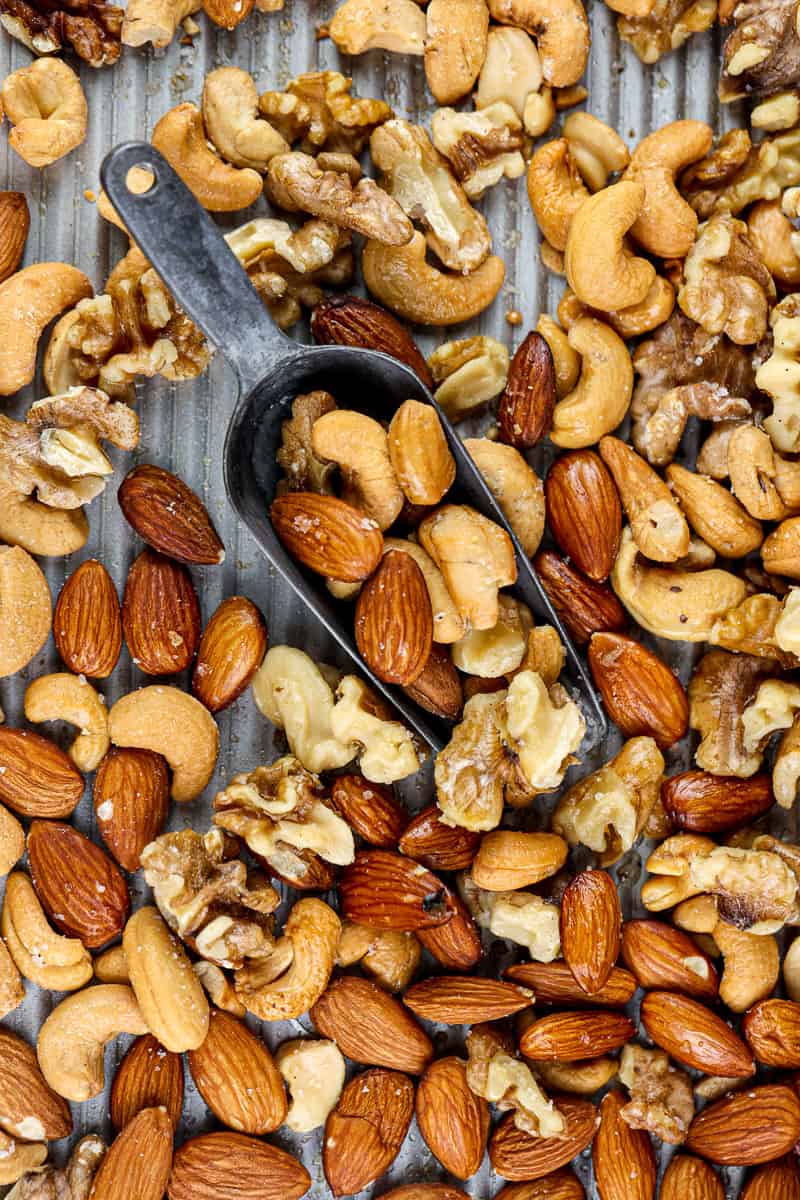 Jump to:
Why you Need to Make this Recipe for Roasted Nuts
We've been on a smart snacking kick lately thanks in large part to this awesome study about snacking on heart-healthy nuts like walnuts to help facilitate weight loss!
While we're not necessarily trying to lose weight, we are trying to eat better and snack smarter. These Roasted Mixed Nuts fits the bill for nutrition, taste great, and would be a perfect on-the-go snack prepared in less than 10 minutes!
What You Need to Make this Roasted Mixed Nuts Recipe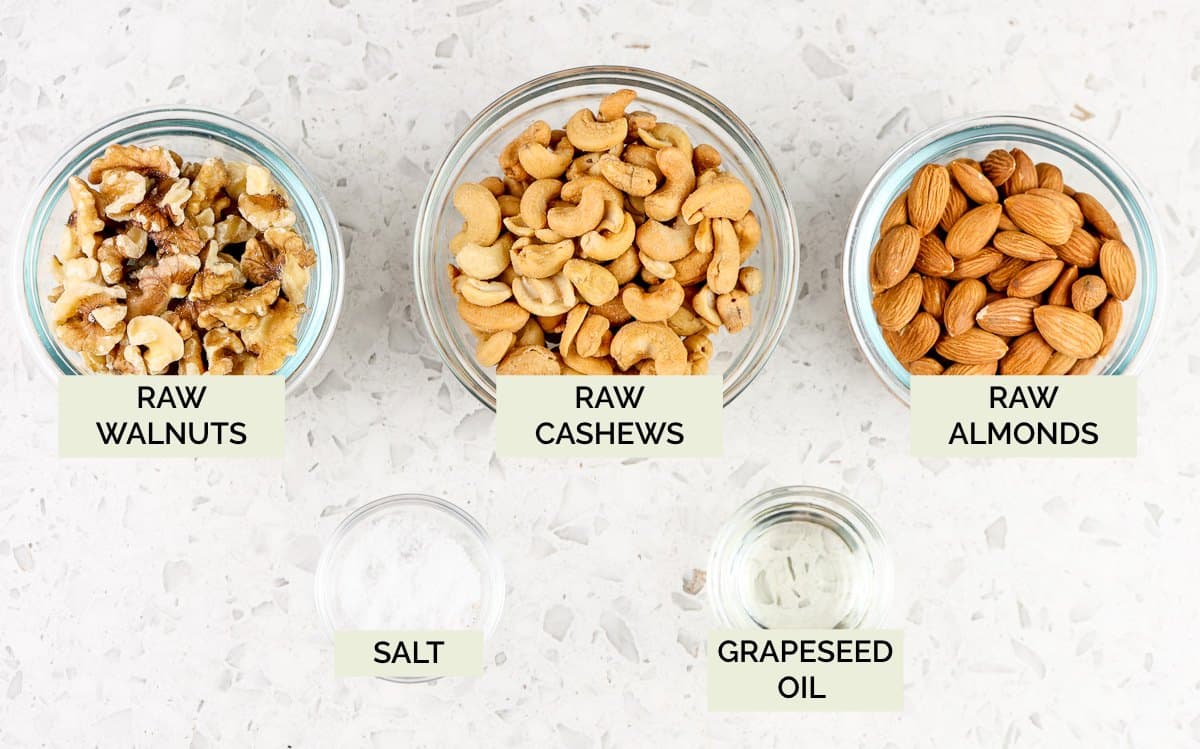 Ingredient Tips
Salt: I highly recommended buying RAW nuts in this recipe! Do not buy seasoned or salted nuts.
Cost Consciousness of Raw Nuts: While raw nuts tend to be more expensive than roasted, that's due to their shorter shelf life. However, roasting nuts in your own kitchen allows you to control the ingredients by using your oil and seasonings of choice. The best way to save money on raw nuts is to seek out local spots near you that keep a large, bulk quantity on hand. This also allows you to bring your own containers and shop a little more sustainably. If there are no stores like this near you, there are some online wholesalers who sell high-quality raw nuts as well!
Ingredient Swaps
Types of Nuts: I recommend using only the larger nuts in this recipe to allow for even roasting! Smaller nuts like pistachios and peanuts will not roast as evenly with larger nuts in this quick-roasting recipe. Other types that would work well in this recipe include pecans, macadamia nuts, Brazil nuts, and hazelnuts. For a recipe with smaller nuts, take a look at my Roasted Peanuts.
Oil: I used grapeseed oil when developing this recipe but if that's not an oil you keep in your pantry, any neutral plant based oil will work like canola, vegetable, sunflower, avocado, etc.
Seasoning variations: Feel free to vary your seasonings! If you like spicy nuts, sprinkle in some cayenne pepper! Craving a sweet or spiced nuts? Add a few dashes of cinnamon or apple pie spice and teaspoon of sugar (or check out Pumpkin Pie Spiced Nuts)! Looking for extras savory? Try a dash of garlic powder and Italian spices, or a few shakes of everything bagel seasoning! This easy recipe for mixed roasted nuts can be tailored exactly to your snacking desires!
How to Roast Nuts
Step 1: Preheat oven and mix nuts with oil and salt on a baking sheet. Make sure the nuts are not on top of one another, then set in the oven to roast!
Step 2: Be sure to shake the pan halfway through baking to ensure even roasting.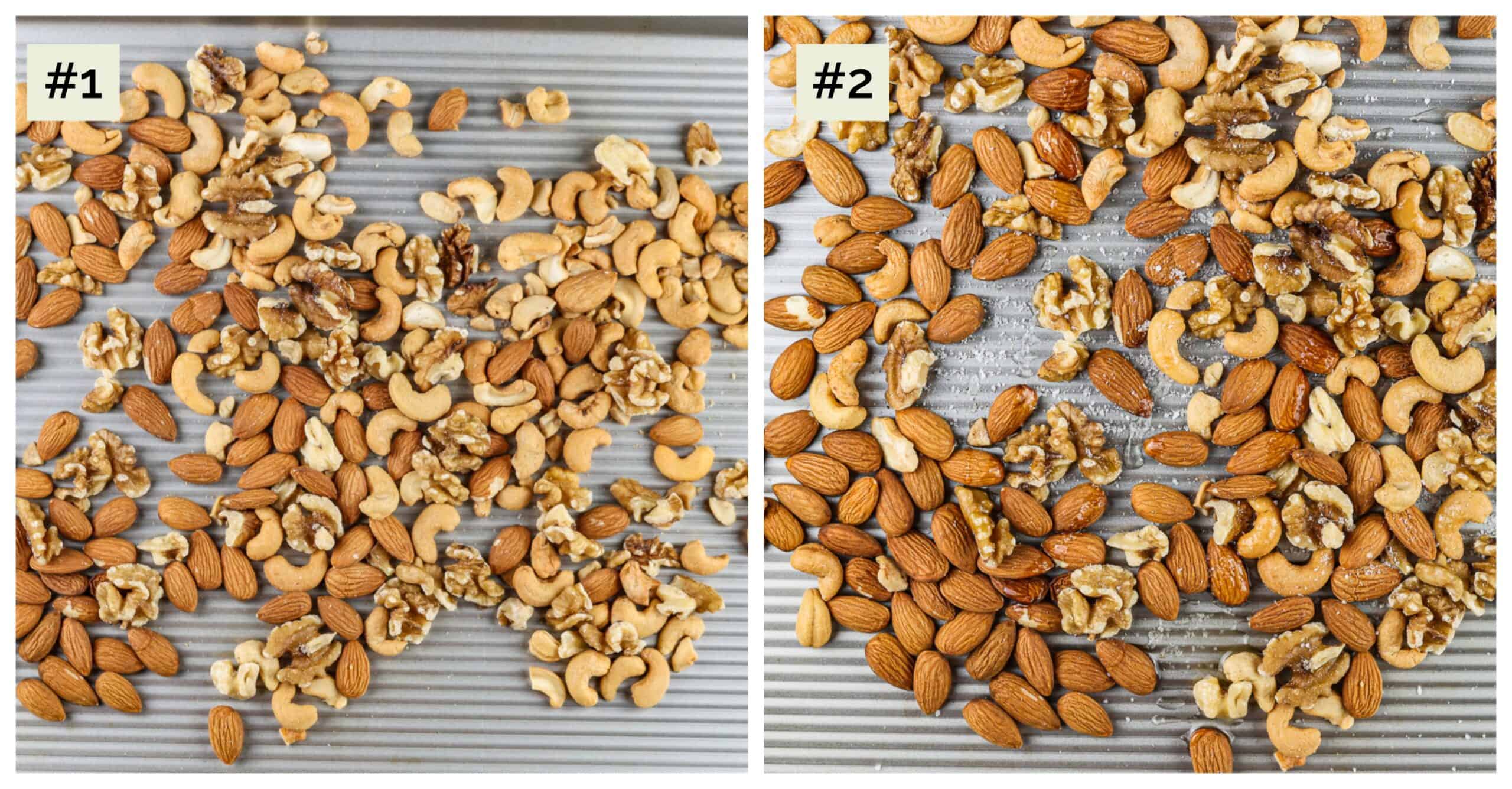 Remove and let the nuts cool before sampling, you don't want to burn the roof of your mouth! Trust me, I learned the hard way!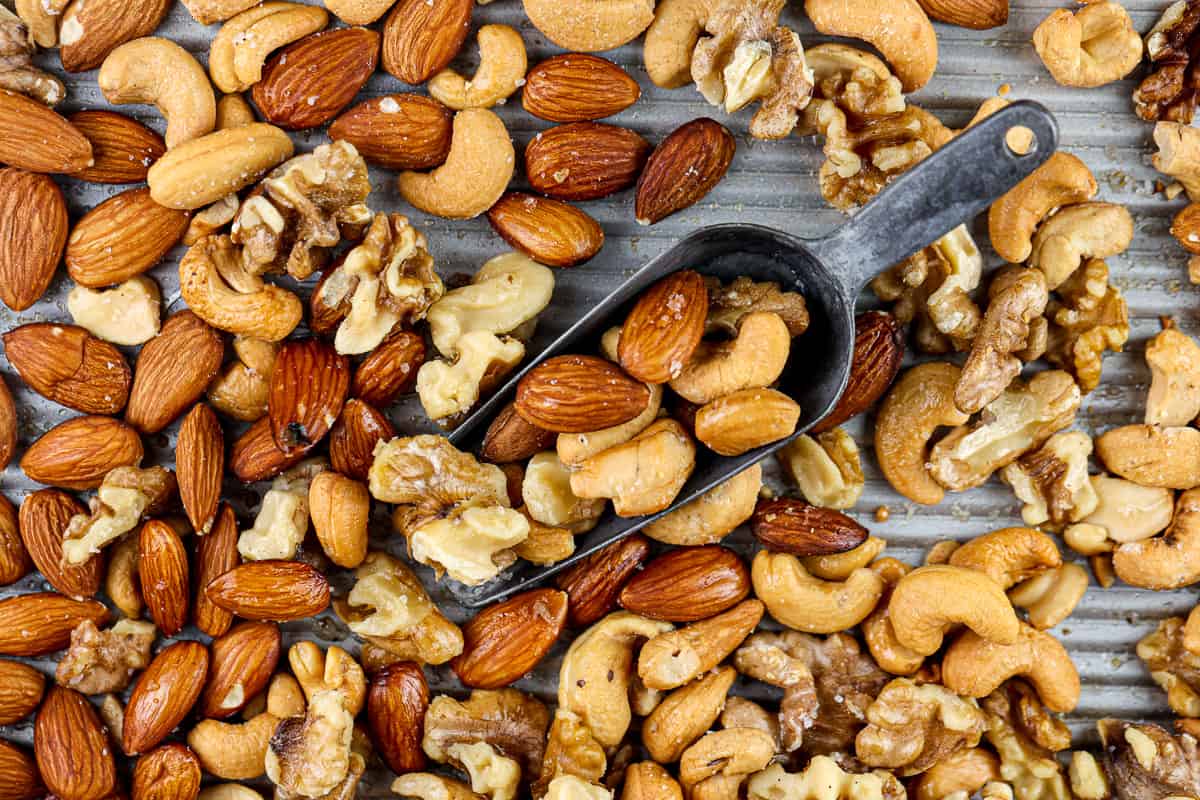 Recipe Notes + Expert Tips
Keep an eye on your roasting nuts! This is a quick-cooking recipe and can turn south if you don't stick nearby! So turn on an alarm, keep your oven light on (if you have it), and watch carefully. Once the nutty aroma is in the air, you know they're ready to come out!
If you're feeling adventurous and want to turn this into a snack to keep you energized, feel free to add in your favorite trail mix add-ins! Dark chocolate chips, unsweetened banana chips, yogurt chips, dried cranberries, etc. The list goes on and on; make these roast nuts your own! (Make sure to let the nuts cool completely before adding any chips that can melt!)
FAQs for the Roasted Nut Recipe
Can you tell me more about the nutrition of nuts?
My pleasure! Nuts are a great source of fat, fiber, and protein, making them the ultimate snacking food to keep you full and satisfied between meals. While they may get a bad reputation for the fats they contain, most of the fats are of the more healthy types i.e., monounsaturated and omega-3 and omega-6 polyunsaturated fats, hence the support from the American Heart Association! As part of a healthy diet, these unsaturated fats have a marked effect in reducing one's risk for chronic diseases such as metabolic syndrome, high blood pressure, and heart disease. It's important to remember, though, that the serving size for whole nuts is a small handful, or 1.5 ounces, so enjoy your delicious roasted nuts mindfully!
How do I store my nuts once they're roasted?
Once cooled, roasted nuts can be stored in an airtight container in a cool, dark place for up to two weeks. They can be kept in the refrigerator or freezer for longer (but they will likely be gone in a week anyway, am I right?). As with any food item that has a notable fat content, nuts are prone to rancidity, so if you stash them away and forget about them, be sure to give them quick sniff upon opening to make sure they've not gone off!
Other Simple Snack Recipes You May Enjoy
If you try this recipe, would you please do me a favor and leave a star rating in the recipe box and/or comment below! This helps immensely in Google to continue delivering high quality content to you. And please be sure to tag and share what you made with me on social, I love seeing your creations! You can find me here: Instagram – Facebook – Pinterest!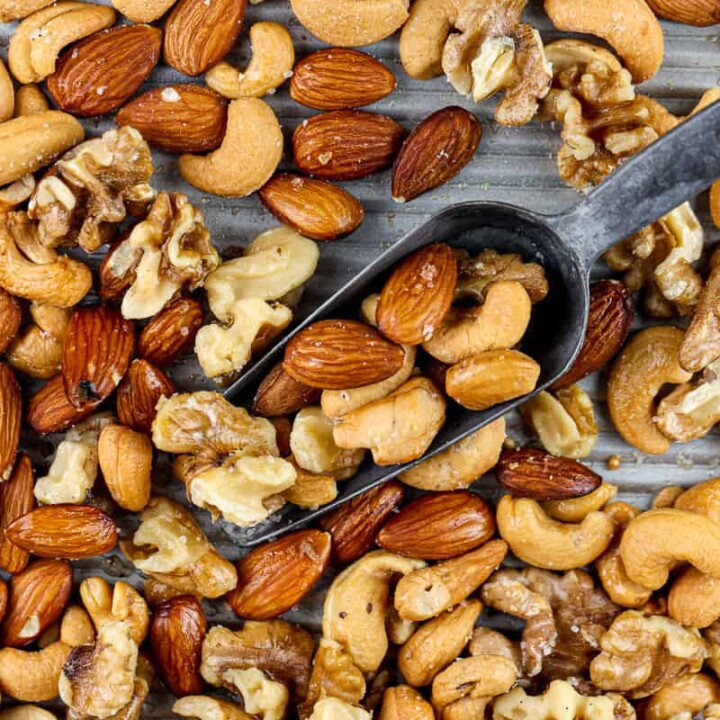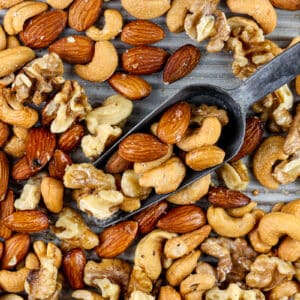 Roasted Mixed Nuts
A nutritious and delicious snack option to help satisfy your hunger. I love always keeping a batch of these Roasted Mixed Nuts prepped for the week!
Print
Pin
Send By Text
Share by Email
Ingredients
1

cup

almonds

raw

1

cup

walnut halves

raw

1

cup

cashews

raw

2

tsp

grapeseed oil

1/2

tsp

salt
Instructions
Heat oven to 350 degrees F.

Place nuts on baking sheet and drizzle with oil and salt.

Roast for 3 minutes, then shake the pan, and roast remaining 2 minutes.

Remove from oven and let cool.

Once cooled, store in air tight container on the counter and eat within 10 days for optimum flavor, or freeze for up to 3 months!
Notes
I recommend using only the larger nuts (like pecans and Brazil) in this recipe to prevent burning the smaller varieties (like pistachios and peanuts), if you are doing a blend, and to allow for even roasting!
You can sub in an alternative oil here; any neutral plant based oil will work like canola, vegetable, peanut, sunflower, avocado, etc.
Keep an eye on your roasting nuts! This is a quick-cooking recipe and can turn south if you don't stick nearby! So turn on an alarm, keep your oven light on (if you have it), and watch carefully. Once the nutty aroma is in the air, you know they're ready to come out!
If you're feeling adventurous and want to turn this into a snack to keep you energized, feel free to add in your favorite trail mix add-ins! Dark chocolate chips, unsweetened banana chips, yogurt chips, dried cranberries, etc. The list goes on and on; make these roast nuts your own! (Make sure to let the nuts cool completely before adding any chips that can melt!)
Nutrition Per Serving
Serving:
1
|
Calories:
263
kcal
|
Carbohydrates:
9
g
|
Protein:
7
g
|
Fat:
24
g
|
Saturated Fat:
3
g
|
Sodium:
99
mg
|
Potassium:
242
mg
|
Fiber:
3
g
|
Sugar:
2
g
|
Vitamin C:
1
mg
|
Calcium:
55
mg
|
Iron:
2
mg