Pumpkin Pie Spiced Nuts + Meet Truvia® Nectar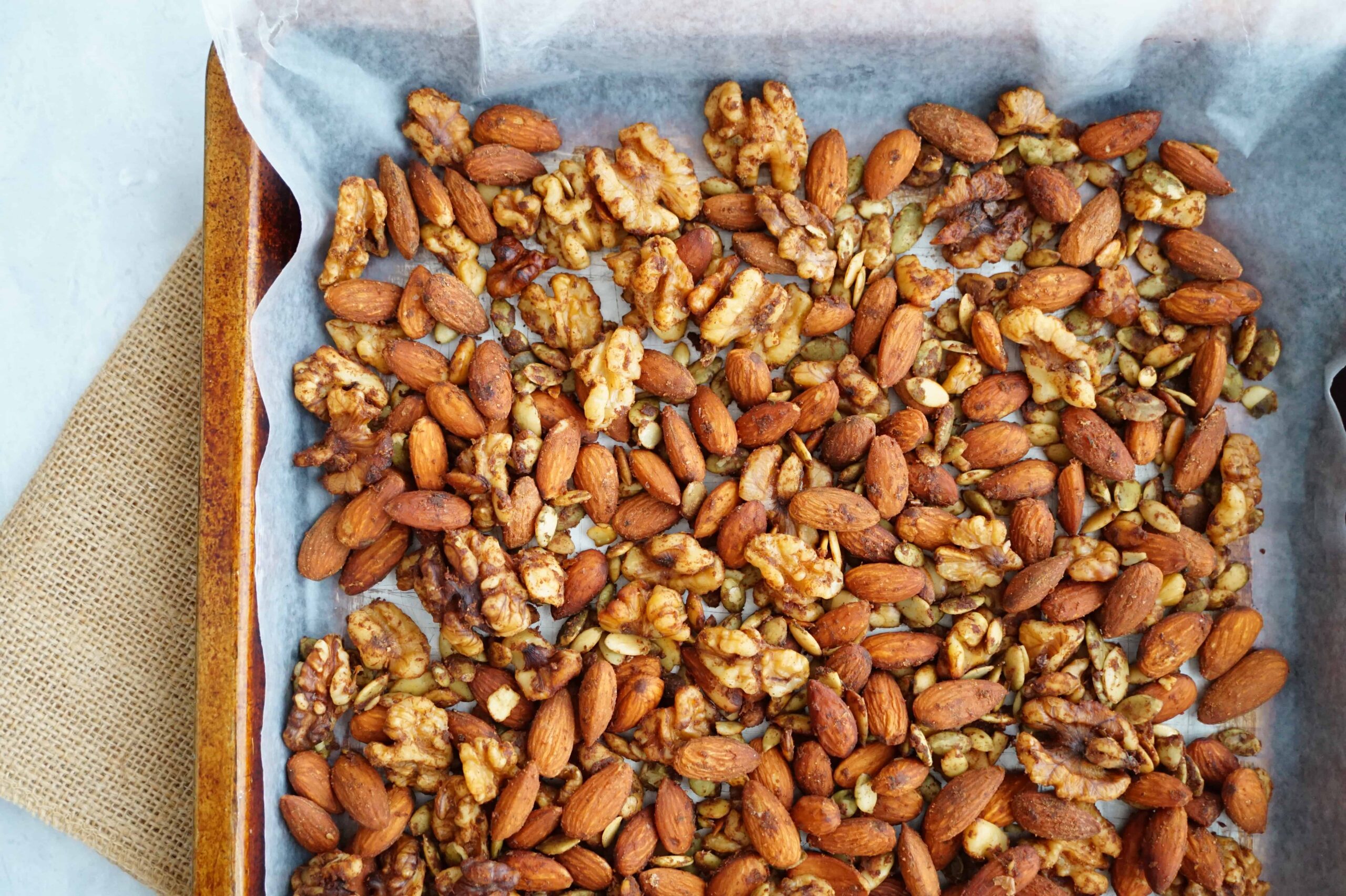 Disclosure: I was asked to participate in the "#UseNectar" campaign as a member of the Healthy Aperture Blogger Network. I was compensated for my time. As always, all opinions expressed are my own!
It was a cold, rainy day in southern California. So, as you can imagine, that RARELY happens.
I needed something to do, something to take my mind off life and let me escape into my therapy land (aka kitchen creations).
With a bottle of Truvia® Nectar in hand, I entered the kitchen with one mission in mind: create a healthy version of Pumpkin Pie Spiced Nuts!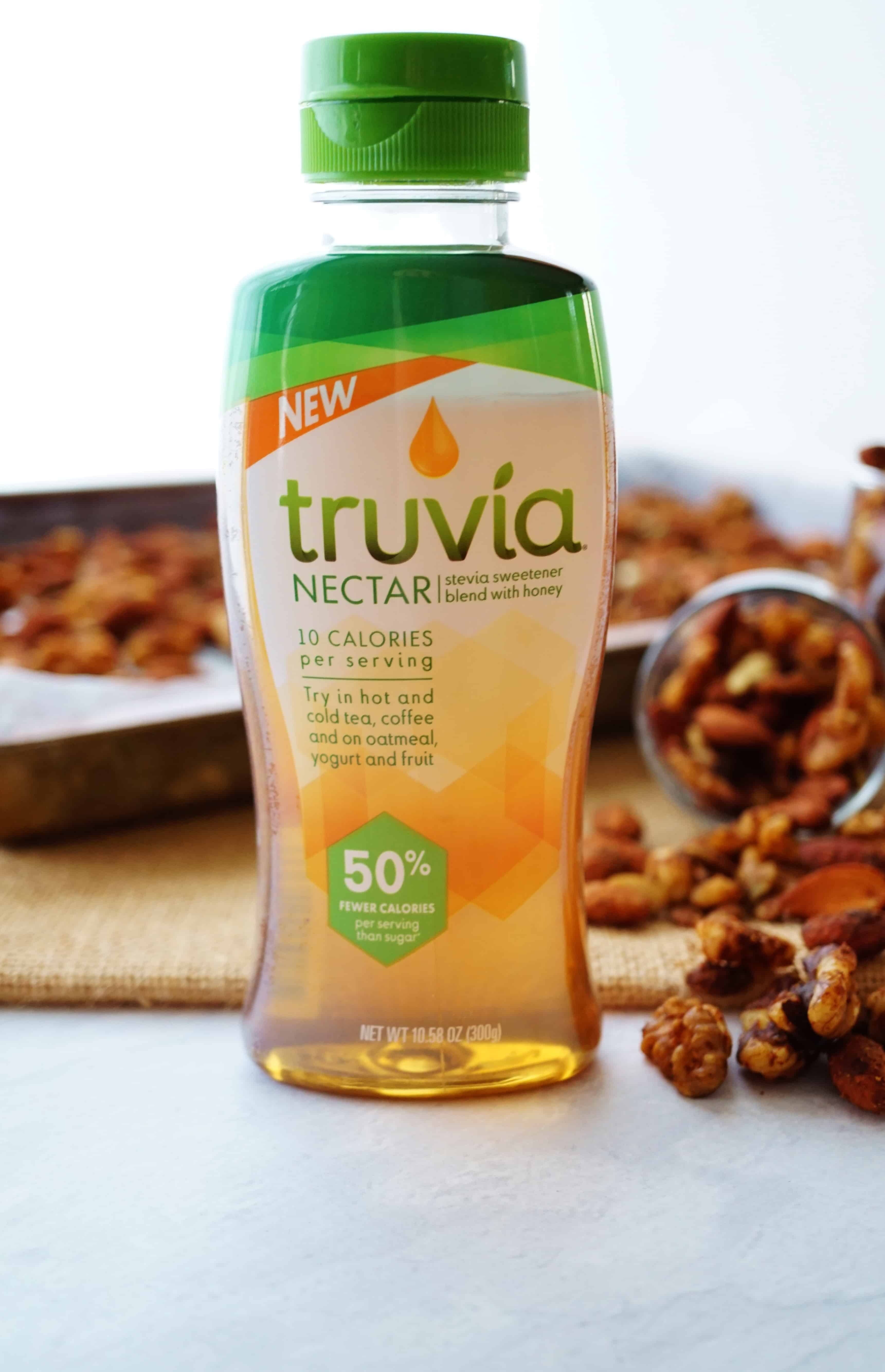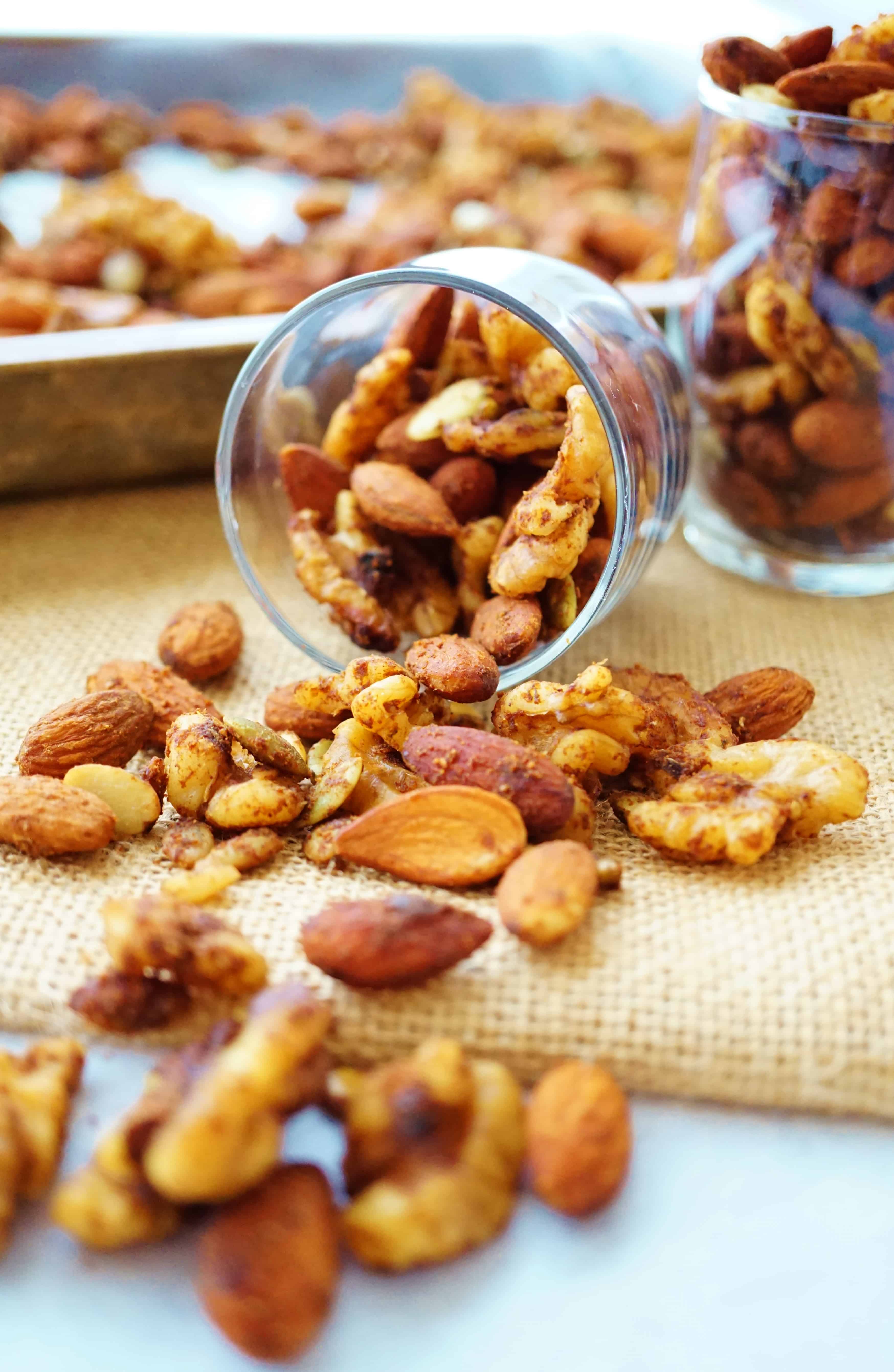 #MrCEO is a big fan of anything pumpkin. Seriously, he now is even so hip he knows what #PSL means! (pumpkin spice latte!)
Wanting to create a healthier version of these white chocolate coated pumpkin nuts my mom gifted him last year, I knew my latest assignment from Healthy Aperture using Truvia® Nectar would be a great fit!
What is this Truvia® Nectar I speak of?
Truvia® Nectar is a new product that blends stevia leaf extract and honey.  It's a great way to add a little sweetness to your recipes while managing sugar intake and reducing calories – of course as part of a balanced diet!
With 50% fewer calories than sugar, Truvia® Nectar is a simple switch that adds honey sweetness to beverages and recipes!
Because Truvia® Nectar is twice as sweet as honey, you only need to use half as much!
Basically, it's the latest innovation to hit the shelves to help Americans reduce their intake of sugar!  As you know, the 2015-2020 Dietary Guidelines for Americans recommend limiting added sugars to less than 10 percent of total daily calories.
Rather than avoiding your favorite treats all together, you can begin to think outside of the box with products like Truvia® Nectar.  Experiment with these culinary innovations in your recipes, like these Pumpkin Pie Spiced Nuts!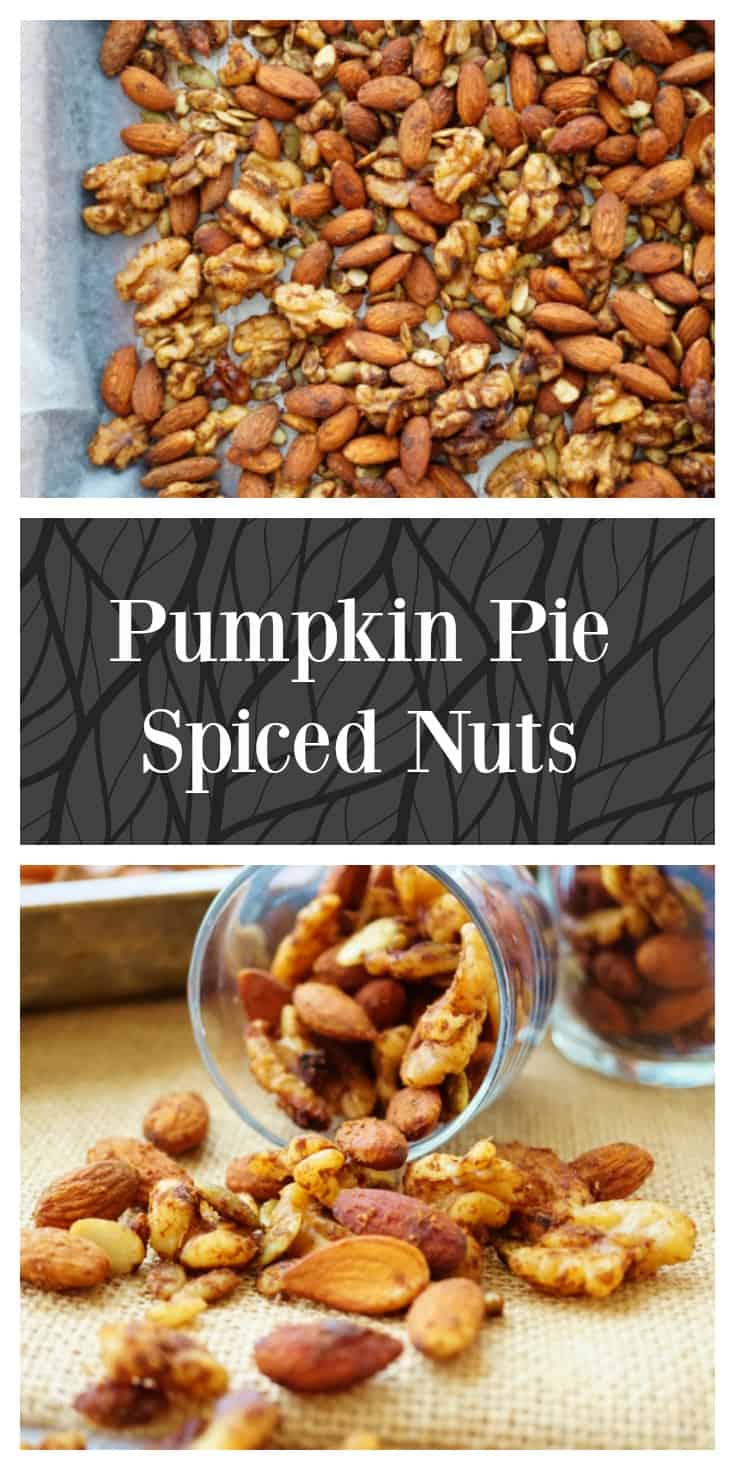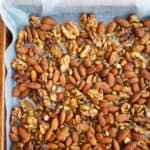 Pumpkin Pie Spiced Nuts
Pumpkin Pie Spiced Nuts are the best addition to any holiday menu! Wrap these up for DIY gifts or serve them as a great pairing with wine and cheese. Bonus, they're lower in sugar, too!
Servings
:
12
servings (1/4 cup each)
Ingredients
1

cup

raw

unsalted almonds

1

cup

raw

unsalted walnuts

1

cup

raw

unsalted pepitas

2

tablespoons

Truvia® Nectar

1

tablespoon

vegetable oil

or melted butter

2

teaspoons

pumpkin pie spice

1/2

teaspoon

ground cinnamon

1/4

teaspoon

kosher salt
Instructions
Preheat the oven to 350°F and line a rimmed baking sheet with parchment paper.

In a medium bowl, combine nuts with Truvia® Nectar, oil and spices, tossing to coat.

Spread nuts out in an even layer on the prepared baking sheet and roast for 20 minutes, stirring halfway through cooking time.

Remove and let cool 10 minutes prior to eating.

Store in an airtight container for up to 2 weeks in the pantry.
Recipe Notes
Variation: Combine almonds, walnuts, and pepitas in a large slow cooker. Stir in Truvia® Nectar, vegetable oil and spices (pumpkin pie, cinnamon and salt). Set slow cooker on HIGH. Cook for 1 hour with lid removed, stirring every 20 minutes. At 1-hour change setting to LOW and cook remaining 1 hour, stirring every 20 minutes. Remove nuts from slow cooker and allow cool for 1-hour on parchment paper. Store in an airtight container for up to 2 weeks in the pantry.
Looking for Truvia® Nectar? Check out their website here to find the market nearest you that sells this gem!
Let's chat! Are you a fan of Pumpkin Pie Spiced Nuts?
Tell me how you'd enjoy these babies in the comments below or connect with me on social here!
Twitter – Instagram – Pinterest – Facebook – LinkedIn – Yummly