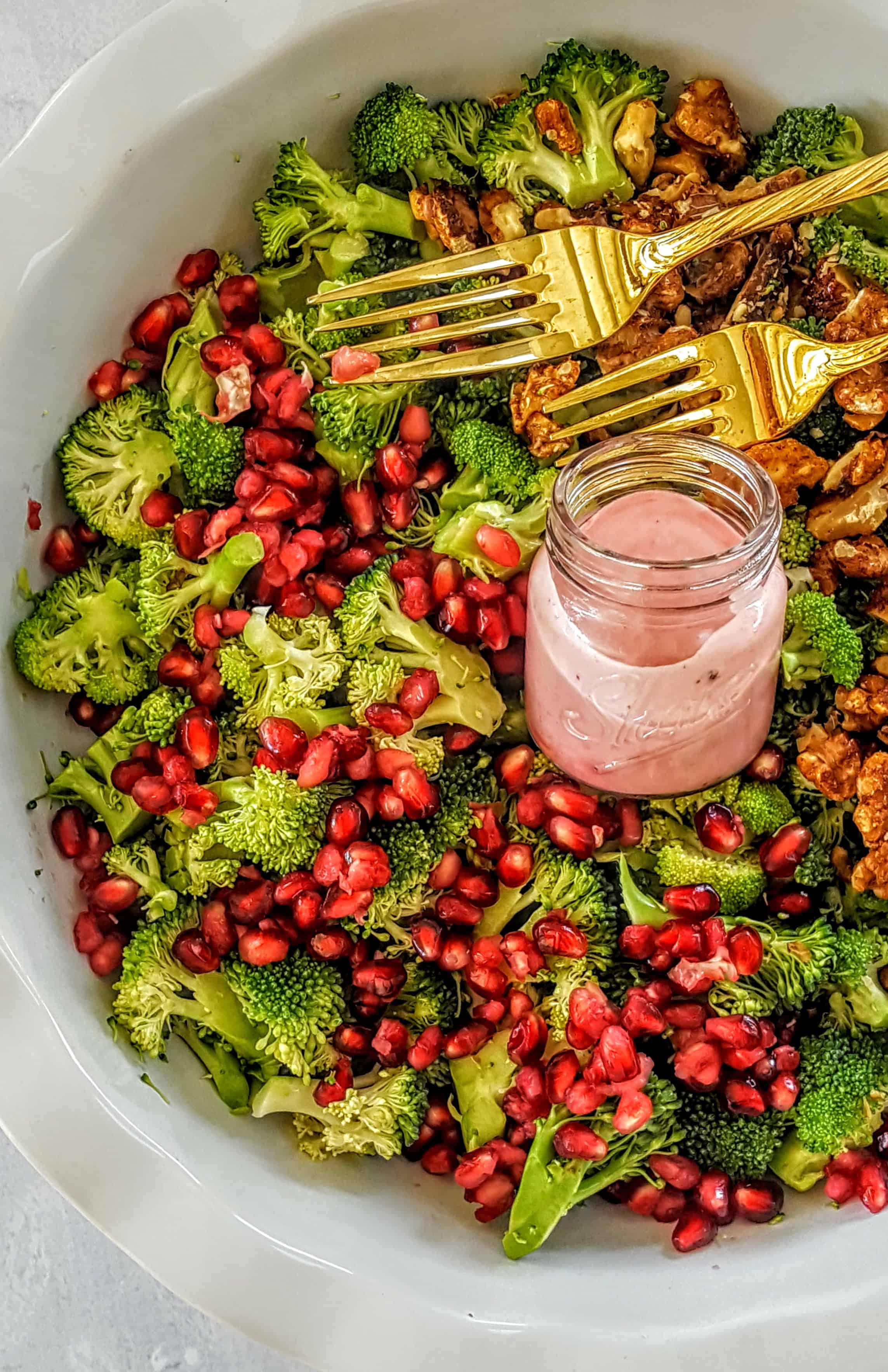 Broccoli Salad with Pomegranate Arils & Maple Walnuts
Shhh… don't tell.
This Broccoli Salad with Pomegranate Arils & Maple Walnuts was inspired by my recent Pandora obsession…
Mariah Carey Christmas! #sorrynotsorry
I know, I know, it's 90 degrees here in California and Thanksgiving hasn't even come yet.
But, I love the holidays!
In all honesty, the season means 3 things:
♥ Hallmark Movies are running ALL.THE.TIME.
Truth be told, I'm DYING for my pops to get me a role in these holiday classic films. Here's to hoping he reads this and I get my Christmas wish early this year!
♥ Mr. CEO & I get to spend a full week together!
This year more than ever I'm looking forward to this. We've been on opposite ends of the traveling spectrum so it'll be nice to spend some quality time hitting the trails!
♥ The tripod (aka Zabel sisters) get to reunite and share the Christmas spirit with strangers in need!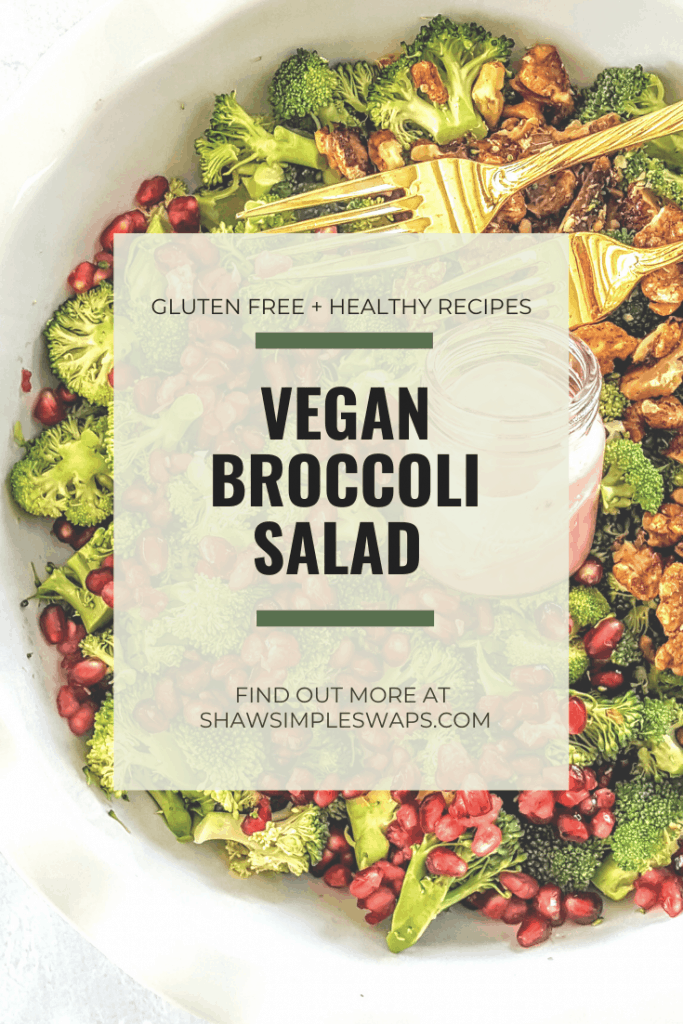 I can't wait for this year to honor Grandma Denise and introduce Operation Champagne Smiles to brighten someone's day! (I promise I'll explain this next week!)
Okay, now that I've put that out in the open, let's talk about this Broccoli Salad shall we?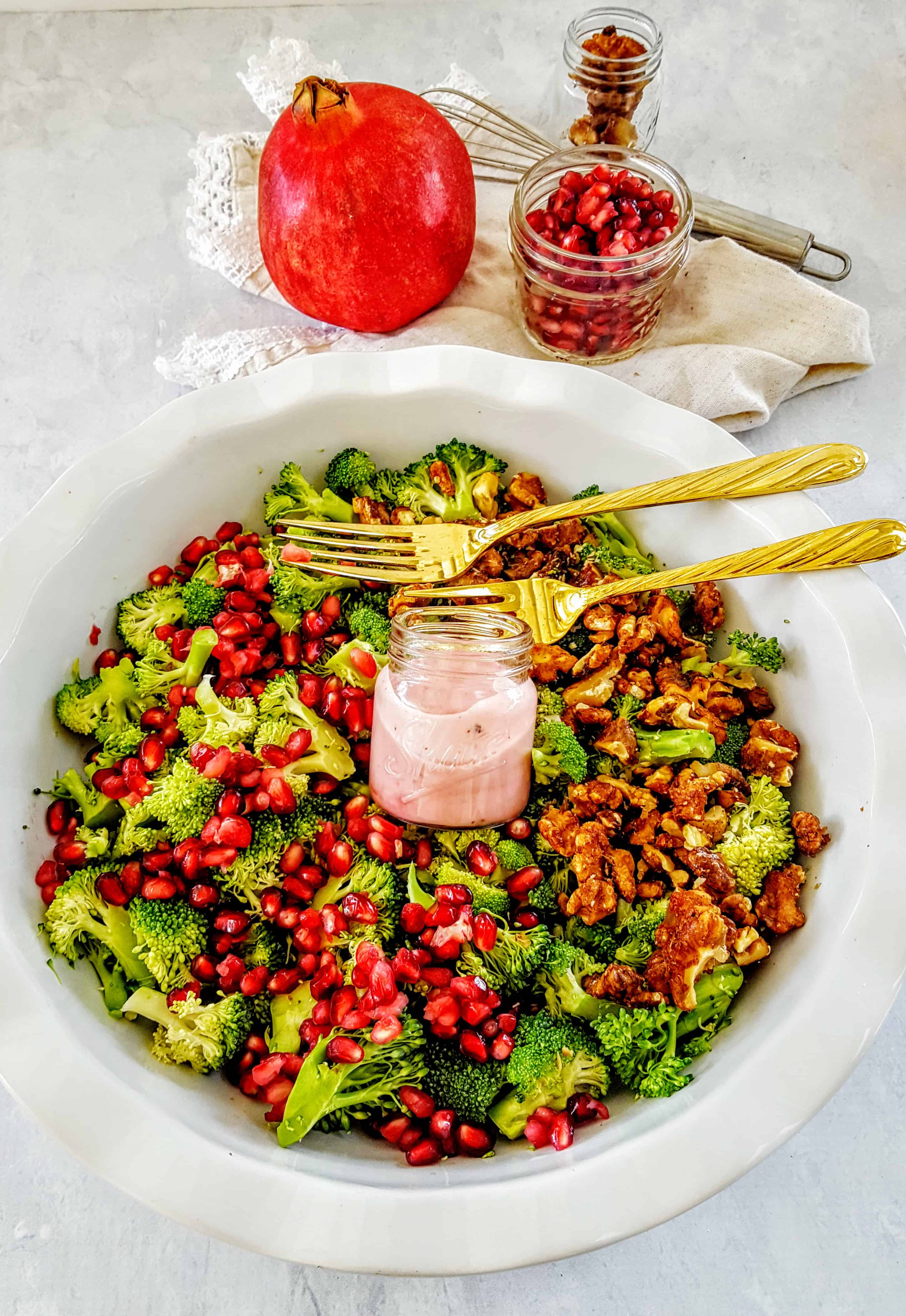 This recipe was inspired by my desire to create a vegan, gluten free side dish that was festive and mom approved!
I'd say… mission accomplished, this Broccoli Salad is a new family favorite! Not only did my mom asked for seconds and my sister even took a serving for lunch the next day.
Now, just how did I do this?
Well my friends, it all comes down to the magic of the pomegranate arils, roasted maple walnuts and my good cruciferous friend, broccoli.
Just look at this beauty… not too bad of a #shawsimpleswap huh?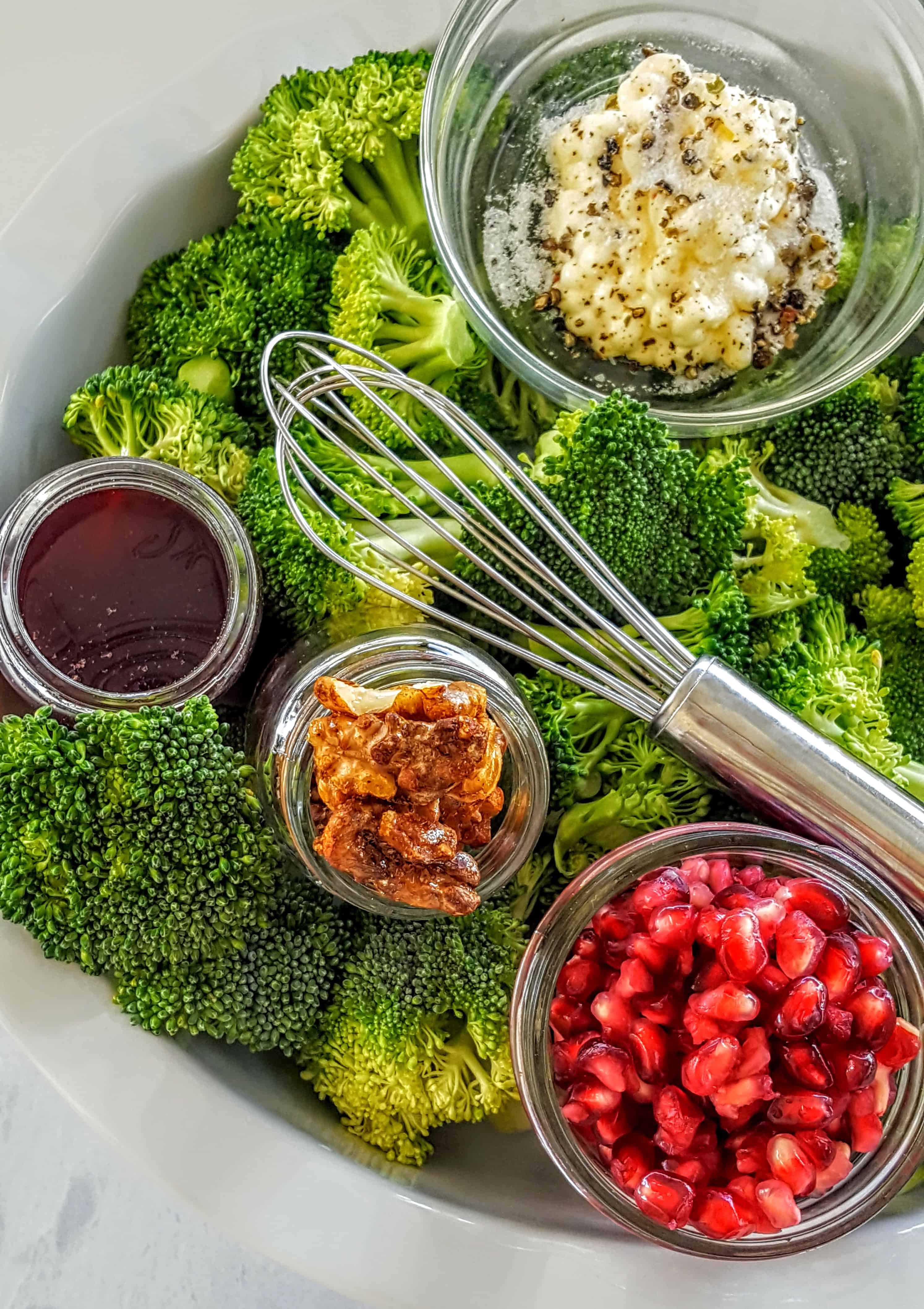 Oh, and of course, mayonnaise!
Yes, I must admit, I knew my mom was not going to love this with my favorite plain Greek yogurt swap, so I enlisted the help of a new vegan find, Hampton Creek's Just Mayo!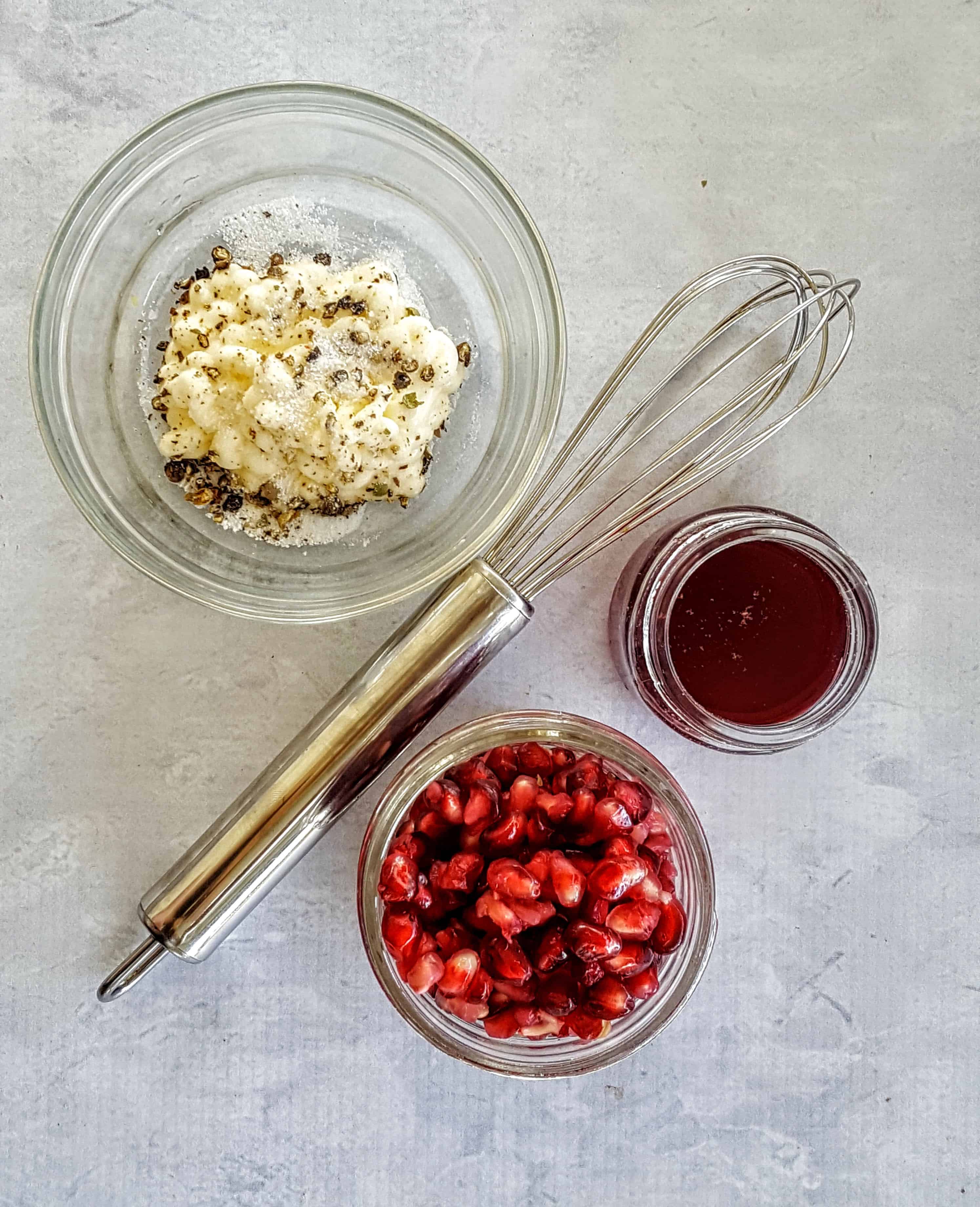 Though I'm still a purist at heart (#Greekyogurtswapperforlife), the family actually devoured this so I know it's a winner.
Don't wait, whip this up now and you'll be the star of the holiday party in no time!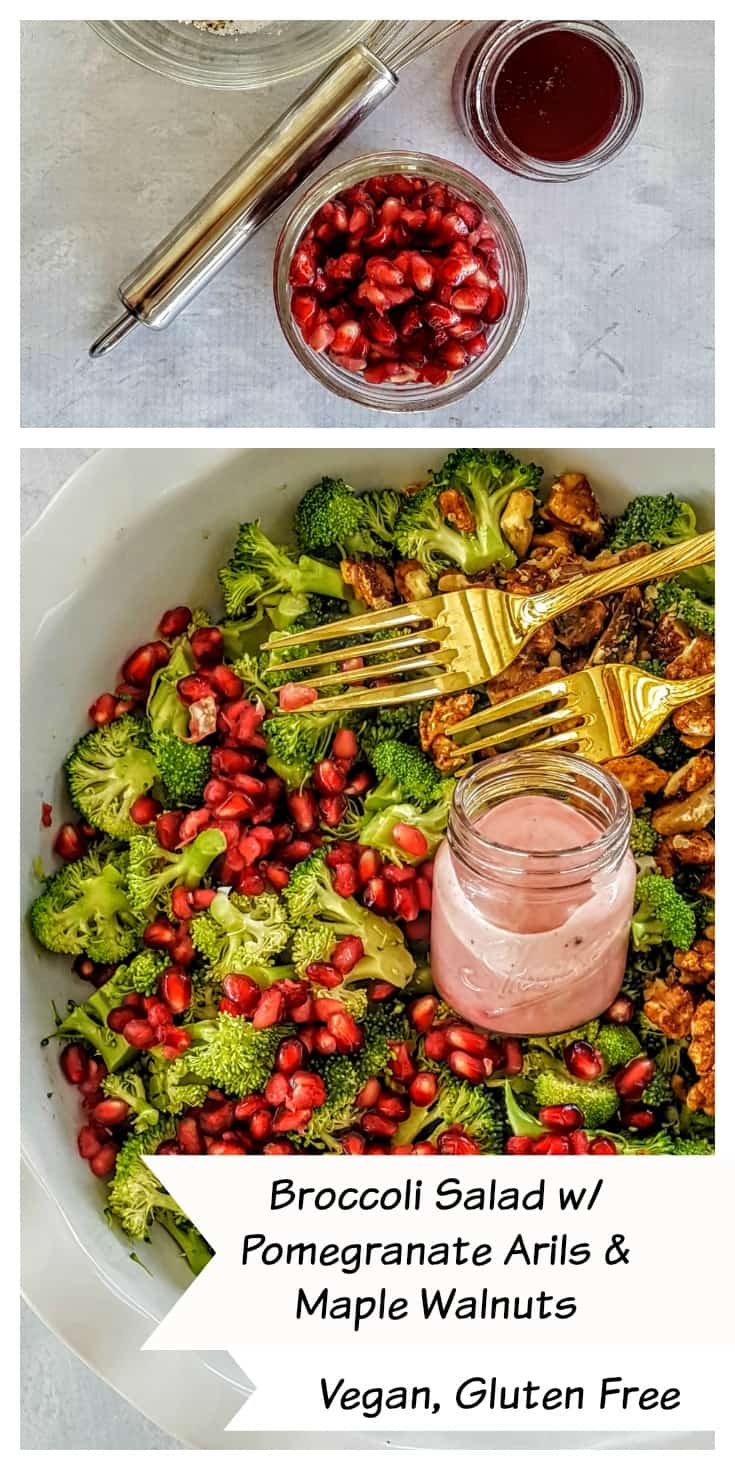 Broccoli Salad with Pomegranate Arils & Maple Walnuts – Vegan, Gluten Free
Summer salad no more! This festive Broccoli Salad with Pomegranate Arils & Maple Walnuts is the perfect addition to your holiday feast! Bonus, it's gluten free & vegan too!
Ingredients
4

cups

chopped broccoli florets

1/2

cup

pomegranate arils

Roasted Maple Walnuts

1/2

cup

chopped walnuts

4

teaspoons

maple syrup

1/8

teaspoon

kosher salt

Dressing

2

tablespoons

100% pomegranate juice

1

tablespoon

water

3

tablespoons

vegan mayonnaise

1/2

teaspoon

cane sugar

1/4

teaspoon

ground black pepper

1/8

teaspoon

kosher salt
Instructions
Preheat oven to 375*F and line a baking sheet with parchment paper.

In a small bowl, combine walnuts with maple syrup and sprinkle with kosher salt.

Place nuts on baking sheet and cook for 15-20 minutes.

Remove and let cool. Finely chop when cooled.

In a medium bowl, combine broccoli florets, pomegranate arils and cooled maple roasted walnuts.

In a smaller bowl, combine pomegranate juice, water, mayonnaise, sugar, pepper and salt.

Pour over broccoli and combine to cover the salad.

Serve immediately.
Notes
Substitute plain Greek yogurt for mayonnaise. If tight on time, use roasted walnuts and mix with 1 tablespoon of maple syrup.
Nutrition
Calories:
158
kcal
|
Carbohydrates:
13
g
|
Protein:
3
g
|
Fat:
11
g
|
Saturated Fat:
1
g
|
Sodium:
159
mg
|
Potassium:
288
mg
|
Fiber:
3
g
|
Sugar:
7
g
|
Vitamin A:
378
IU
|
Vitamin C:
56
mg
|
Calcium:
43
mg
|
Iron:
1
mg