Quinoa Salad with Spinach & Onions – Gluten Free, Vegan & Paleo Friendly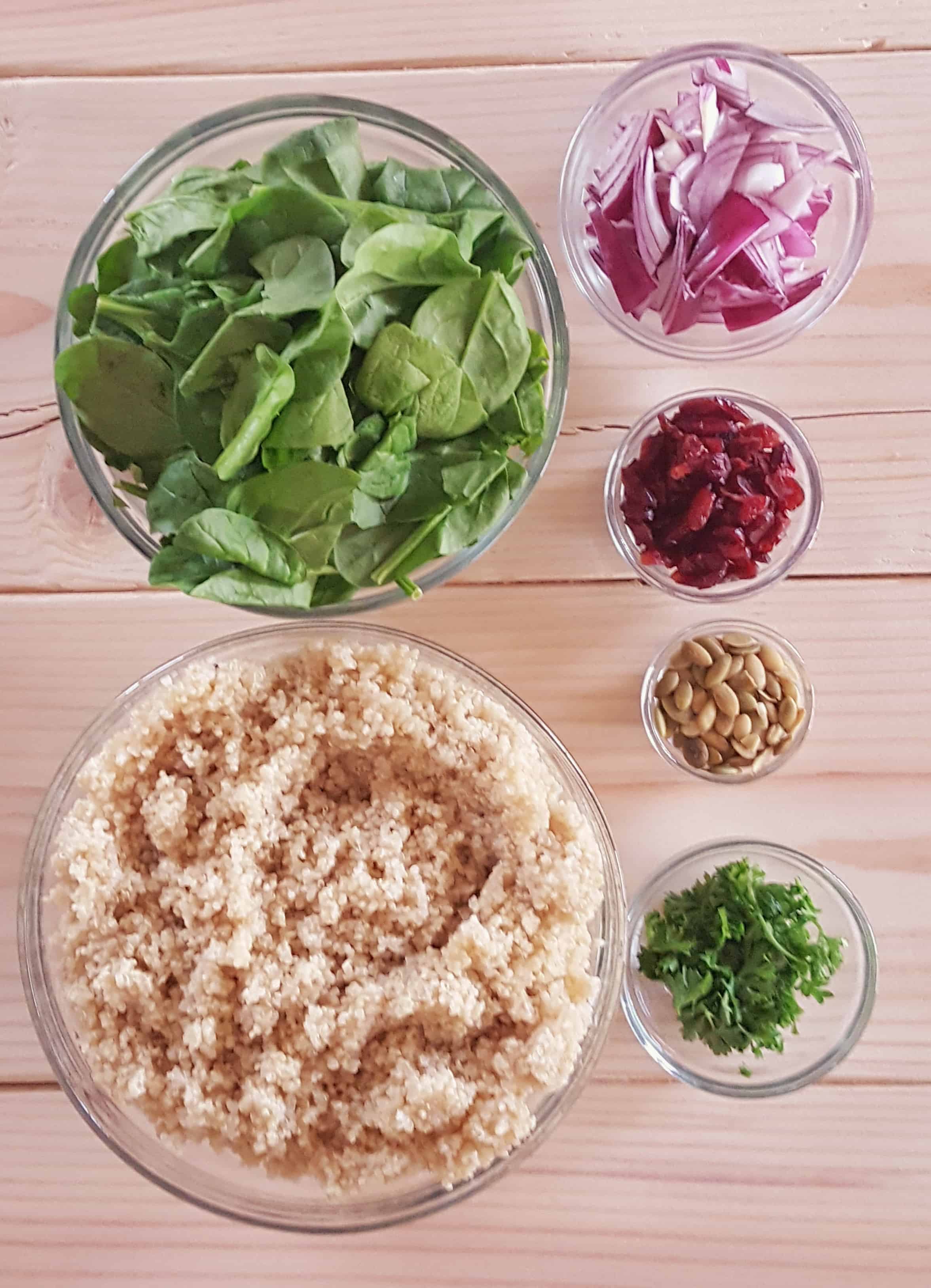 Disclosure: The recipe provided here was part of a sponsored collaboration with ALDI USA. I was not compensated for this post, but for the link included to the recipe demo below. As always, I only partner with brands that I love and can be found in the Shaw Kitchen. 
Ever wake up and think- I NEED A REBOOT!
Friends, today is that day for me.
I've been needing to reset my patterns and focus on more quality nutrition than quick fix meals.
Don't get me wrong, I love my Hummus Quesadilla, but there's only so many days in a row I can have that until I need to let the greens back into my life.
Enter- this Quinoa Salad with Spinach & Onions!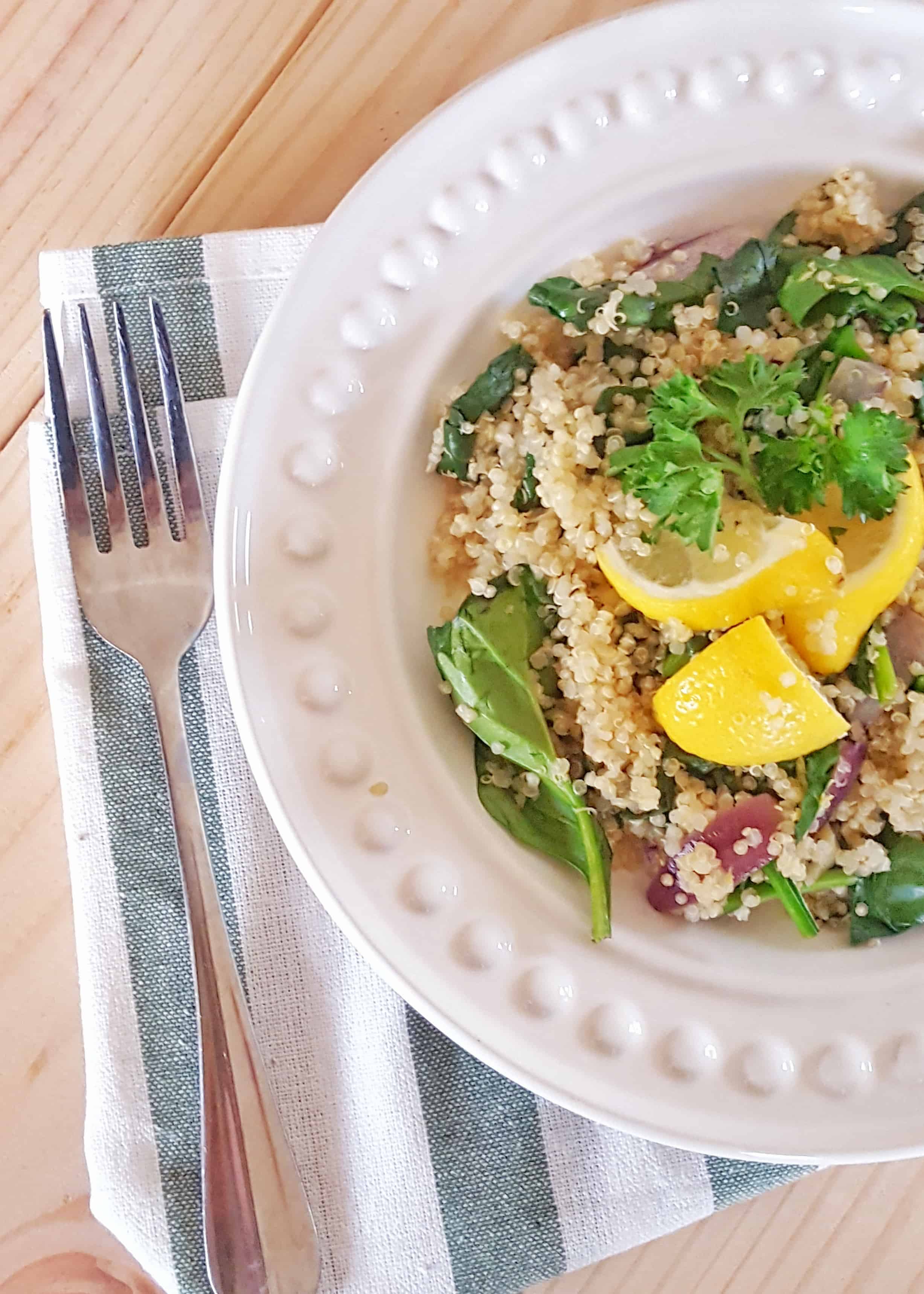 This recipe is not only made in a flash, but it's also great hot or cold, making leftovers the perfect lunch for work!
Bonus, quinoa not only is a complete protein, but it's also packed with vitamins and minerals too!
In just 1 cup of cooked quinoa, you get:
Protein: 8 grams.
Fiber: 5 grams.
Manganese: 58% of the RDA.
Magnesium: 30% of the RDA.
Phosphorus: 28% of the RDA.
Folate: 19% of the RDA.
Copper: 18% of the RDA.
Iron: 15% of the RDA.
Zinc: 13% of the RDA.
Potassium: 9% of the RDA.
Over 10% of the RDA for vitamins B1, B2 and B6.
Small amounts of calcium, B3 (niacin) and vitamin E.
So, it's settled, quinoa is AMAZING!
Join the trend and whip up this Quinoa Salad with Spinach & Onions!
Pinky promise, you won't be disappointed!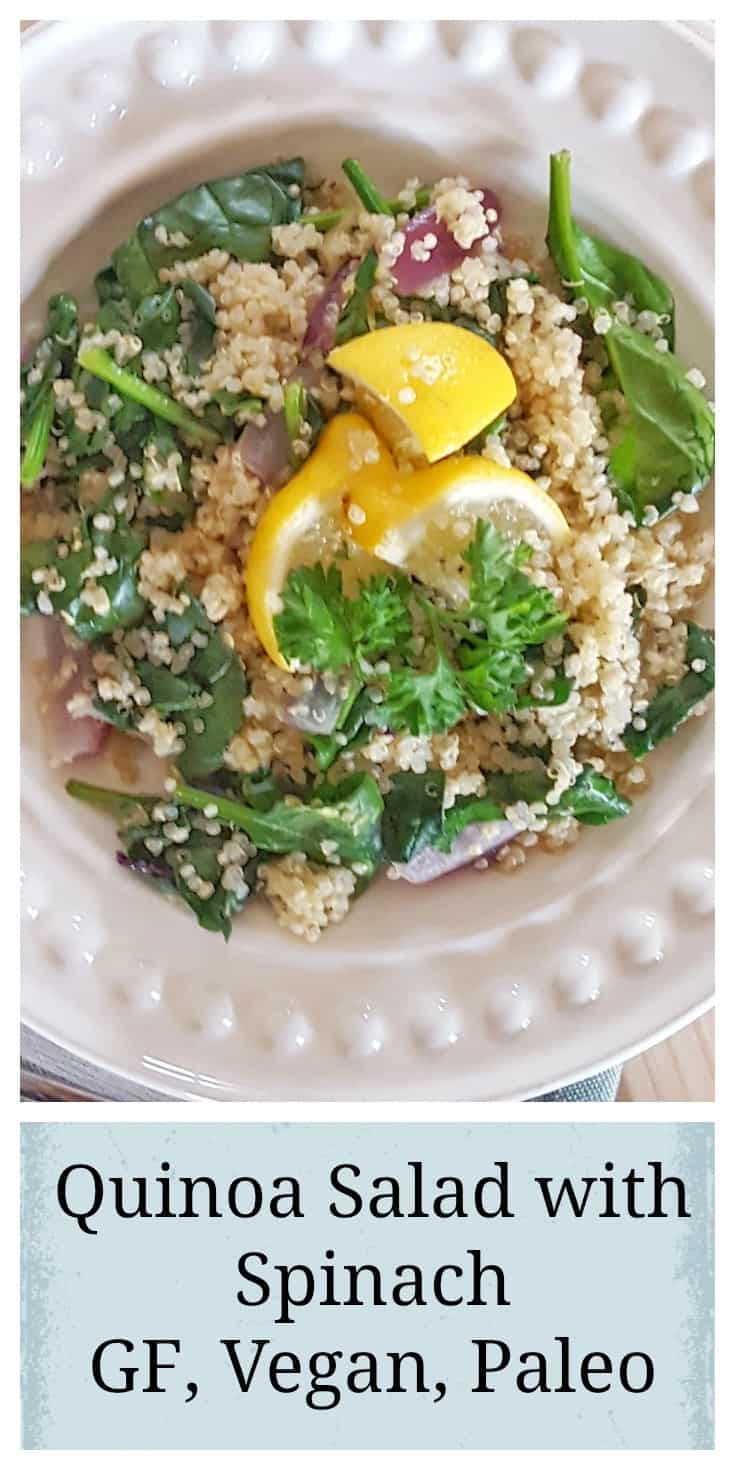 Recipe inspired by Wild Hunt Salad from ALDI 
Quinoa Salad with Spinach & Onions – Gluten Free, Vegan & Paleo Friendly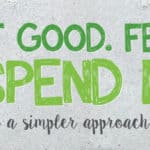 Quinoa Salad with Spinach & Onions is the perfect protein packed meal that tastes delicious hot or cold! Whip this up in under 20 minutes and enjoy it all week long!
2 cups cooked quinoa
2 teaspoons vegetable oil
1/2 large red onion (sliced)
2 cloves garlic (minced)
2 cups baby spinach
1/2 teaspoon black pepper
1/8 teaspoon kosher salt
1/2 lemon (zested and juiced)
1/3 cup dried cranberries (optional)
1/4 cup pepitas (optional)
1/2 cup cooked and chopped chicken (optional)
1/3 cup chopped parsley (optional garnish)
Cook quinoa according to package directions, set aside.
Heat oil in large skillet over high heat and sauté onions and continue cooking until caramelized. Add in garlic and cook remaining 30 seconds. Stir in spinach and black pepper, toss to combine and cook for 1 minute.
Stir onion mixture into quinoa, season salt and lemon juice to taste. Add in the cranberries and pepitas.
Sprinkle with lemon zest and parsley before serving.
WIN a $100 Gift Card to ALDI by watching the video below and commenting!

Click Here! 
Contest runs through 12/2 12 PM PST. Giveaway is not affiliated with Facebook.