Healthy Baked Cake Donuts with Homemade Glaze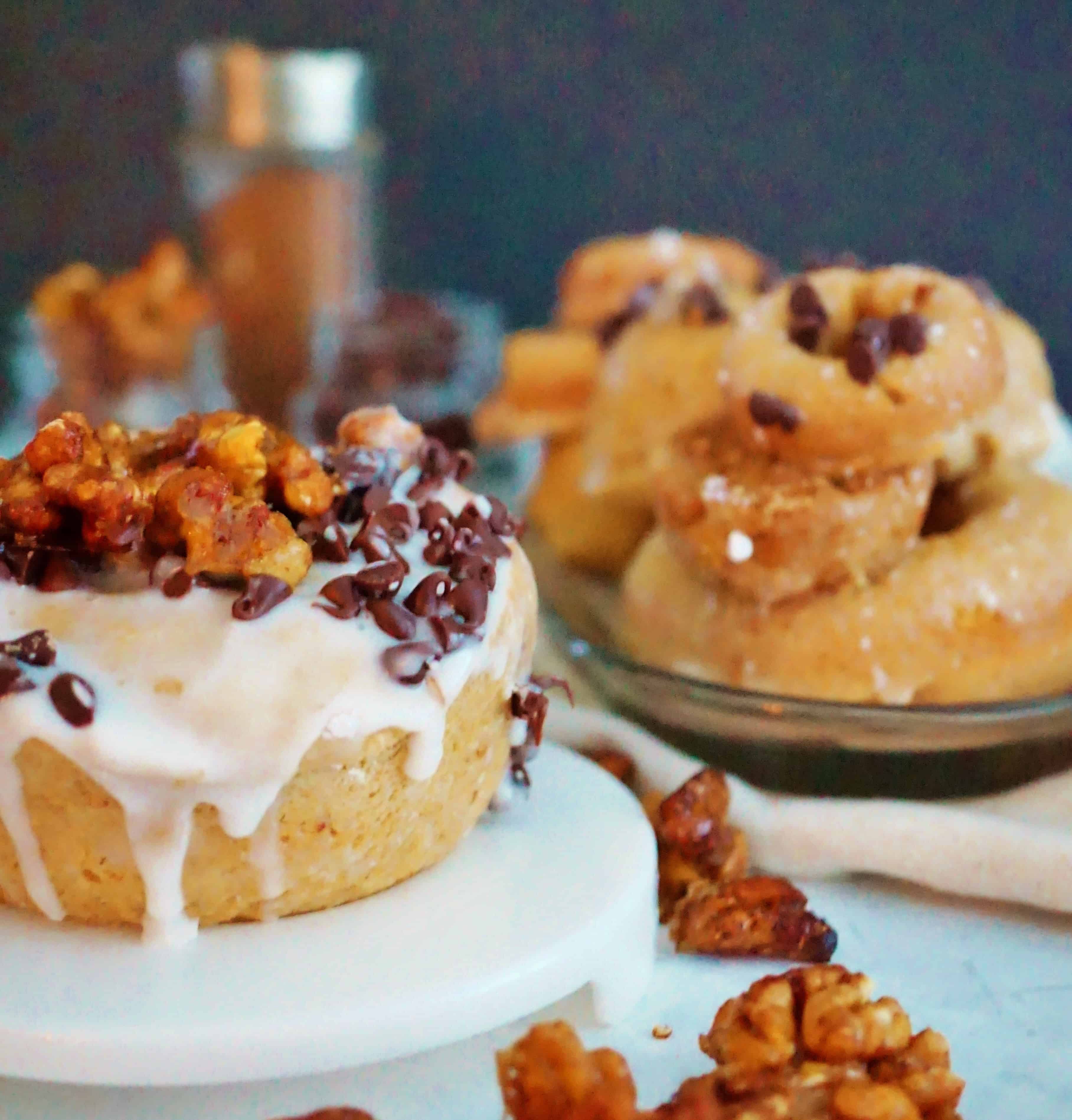 Guess what day it is?!
Healthy Baked Cake Donuts Day
Yes, it's a real day in the Shaw Kitchen!
So, to celebrate, naturally I had to make a donut!
I seriously love donuts, and, luckily, my family does too.
Mr. CEO and I have gone on outings before just to find the perfect cake donut. I'm not kidding when I say we are OBSESSED.
Currently, if you find yourself in San Diego, we recommend Mary's Donuts in Santee, Peterson's Donut Corner in Escondido, or the infamous Donut Bar in the Gaslamp.
I should have added to that bucket list that my goal is to make it to VooDoo Donuts one day too!
Anyways, as much as I love donuts, I know it's not the healthiest thing for me to eat EVERY day.
Sure, everything in moderation, but what's a girl to do when she craves one EVERY SINGLE DAY?
Enter, these Healthy Baked Cake Donuts!
I promise, if you make these now, you can enjoy them all week long!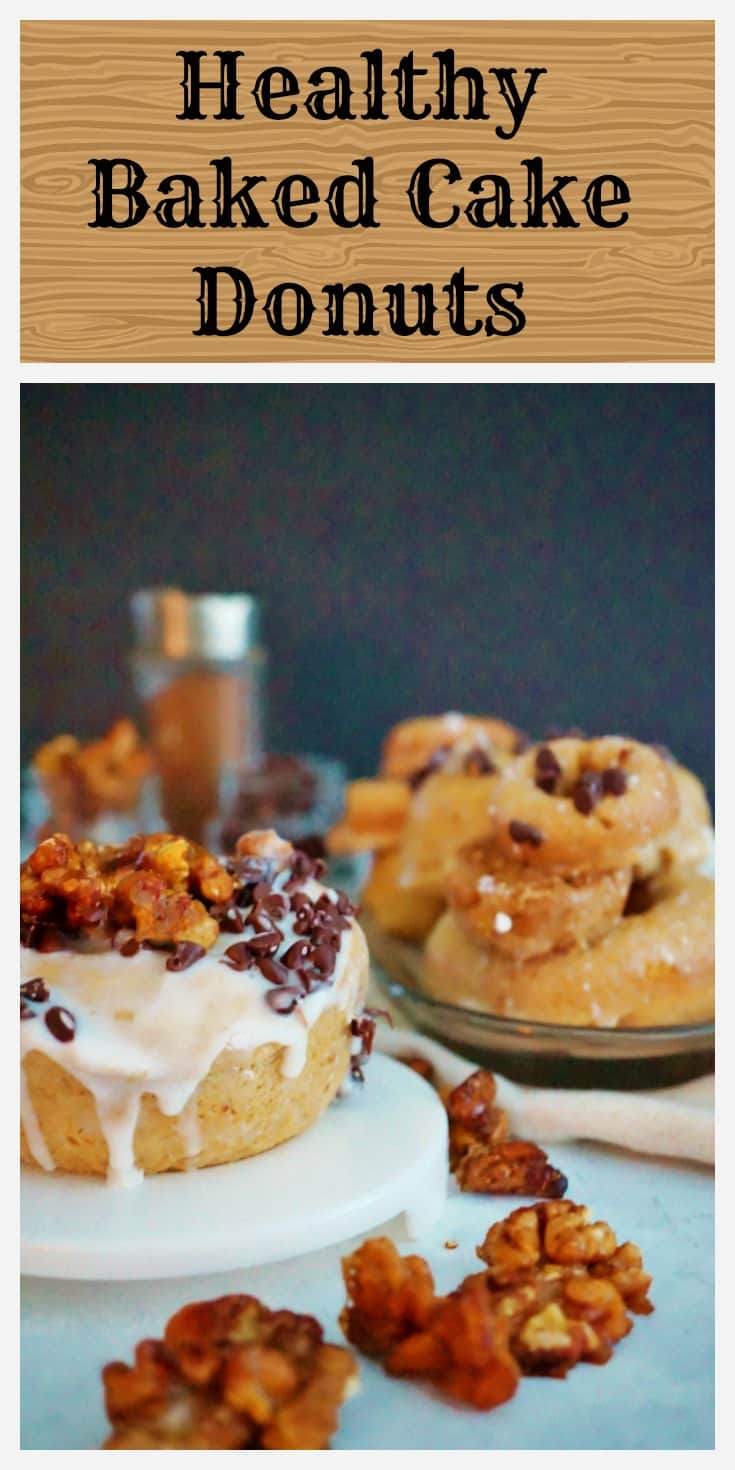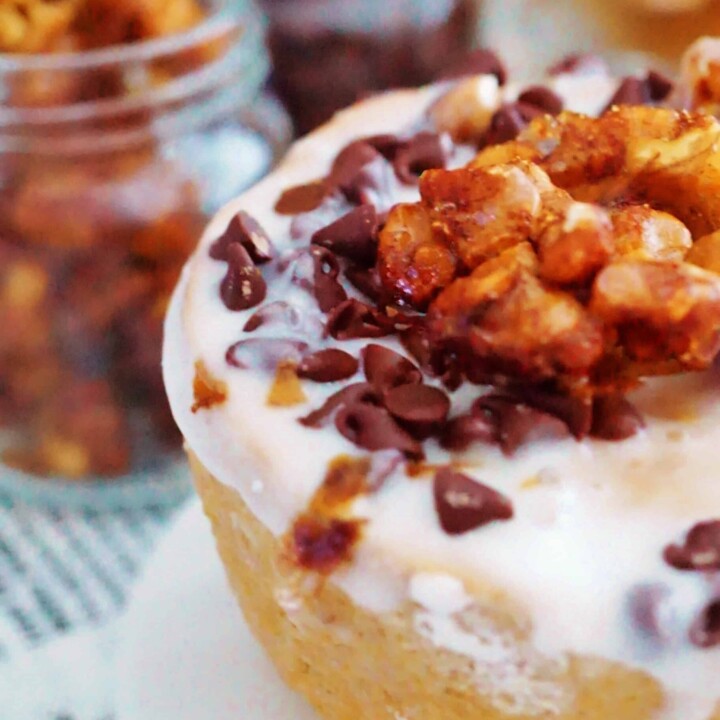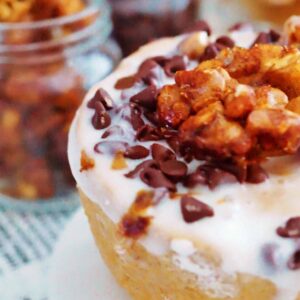 Healthy Baked Cake Donuts with Homemade Glaze
Loaded with protein and calcium! Healthy Baked Cake Donuts will make you rethink your weekend donut shop, letting you stay in your pjs a little bit longer! Bonus, you can even make these into muffins if you don't have a donut pan (yet!).
Print
Share by Email
Ingredients
Donut

¼

cup

packed light brown sugar

1/3

cup

cane sugar

3

tablespoons

butter

melted

1

large egg

½

cup

vanilla Greek yogurt

⅓

cup

whole milk

2

teaspoons

vanilla extract

1¼

cups

sifted whole wheat flour

1

teaspoon

baking powder

½

teaspoon

baking soda

⅛

teaspoon

salt

2

tablespoons

chocolate chips

optional

Frosting

2

tablespoon

powdered sugar

2

tablespoons

vanilla Greek yogurt

½

teaspoon

vanilla extract

2

tablespoons

chocolate chips

for garnish

2

tablespoons

maple walnuts

optional
Instructions
Preheat oven to 375°F. In a large bowl, combine brown sugar, sugar, butter, egg, yogurt, milk and vanilla. Using an electric mixer, beat on medium speed for 2-3 minutes. Set aside.

Combine sifted flour to the large bowl with other ingredients. Add the baking powder, baking soda, and salt.

Mix batter on medium speed for 3-4 minutes. Fold the chocolate chips in with a spatula.

Spray a donut pan with cooking spray. Pour batter into a large plastic bag, cutting a small hole in the corner of the bag. Fill donut pan with batter. Bake for 12-14 minutes. Remove and let cool on a wire rack. Repeat with remaining batter for other 6 donuts.

Prepare frosting by mixing powdered sugar, yogurt and vanilla extract in a bowl. The consistency of the glaze should be thick enough so that it coats the back of a wooden spoon. Using your hands, dip donut in glaze and let it set up on a cooling rack. Top with optional chocolate chips and maple walnuts.

Store in an airtight container in the fridge for up to one week, or freeze plain donuts for up to two months.
Notes
NUTRITION INFORMATION
PER SERVING: Calories 140; Fat 4g (Sat 2.5g); Protein 3g; Carb 22mg; Fiber 2g
Note: On a sheet of wax paper, sift the white whole wheat flour (make sure to measure out flour first then sift).Make into 12 muffins and bake at 350°F for 20-22 minutes.
Nutrition Per Serving
Calories:
145
kcal
|
Carbohydrates:
23
g
|
Protein:
3
g
|
Fat:
4
g
|
Saturated Fat:
2
g
|
Cholesterol:
22
mg
|
Sodium:
109
mg
|
Potassium:
76
mg
|
Fiber:
1
g
|
Sugar:
14
g
|
Vitamin A:
125
IU
|
Calcium:
40
mg
|
Iron:
0.5
mg