What happens when avocado unites with it's second cousin?
Roasted Beet Toast is born!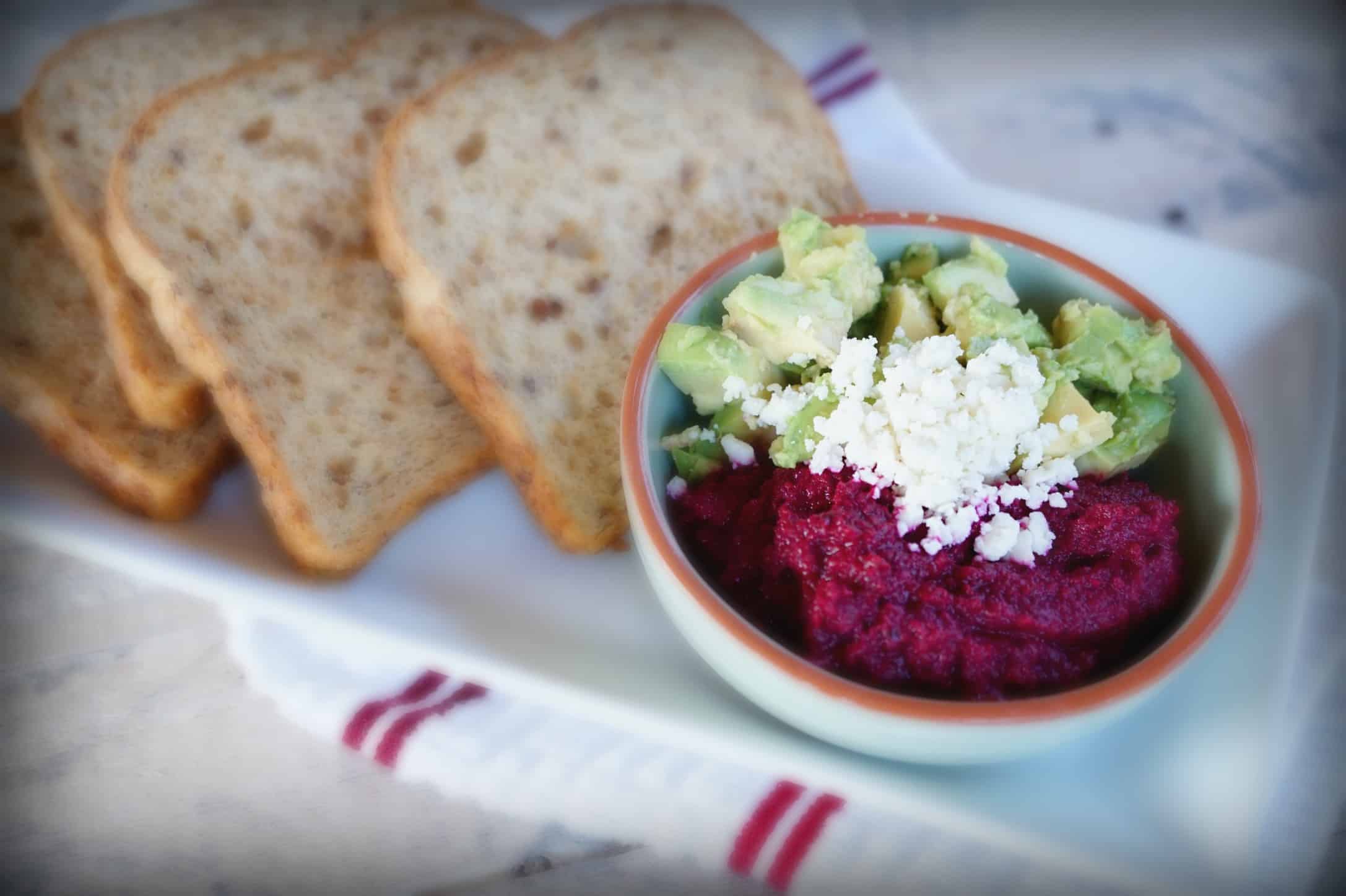 There's something about roasted beets that I've seriously been swooning over for a solid three months now. It all started with the Swiss Chard and Pickled Beet Cole Slaw I whipped up for The Recipe ReDux and then my love just blossomed from there…
Hands down I love their color. I mean just look at that beautiful purple POP. So gorgeous!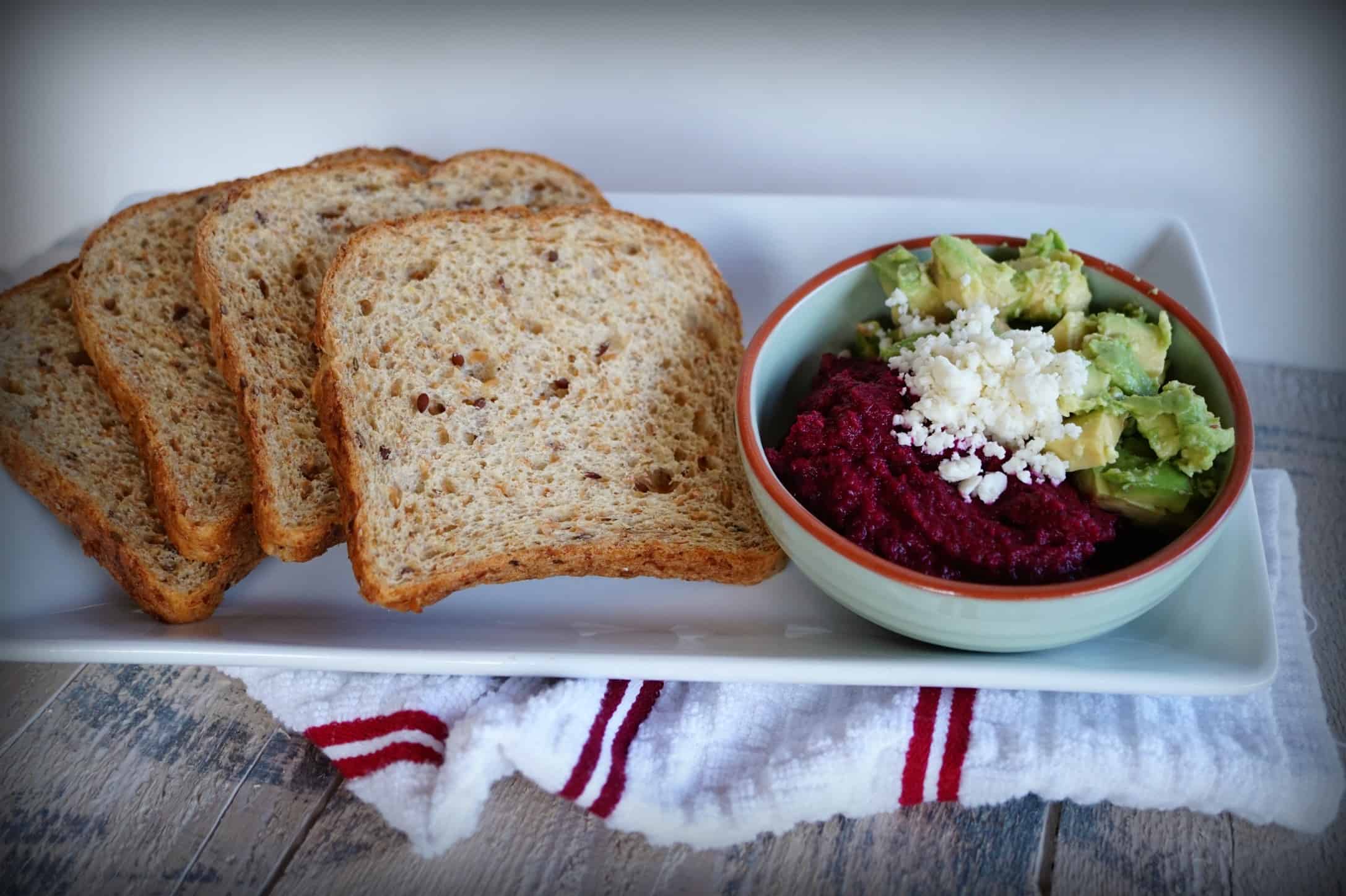 I have to admit though, beets haven't always been my thang. When my sister used to eat them, I would gag at the smell and felt like they were picked right out of the dirt. Gross!
Suffice it to say, my palate changed and my eyes were opened to the wonderful flavors and nutrition that the beet contains after Mr. CEO and I dined in New Zealand.
Beets are packed with anti-inflammatory properties and contain a hearty dose of antioxidants in addition to fiber. They contain a natural phytonutrient known as betalains that assists with detoxification as well. It's important not to over cook your beets though, for prolonged heat exposure has shown to decrease their nutritive properties. I suggest cutting them into quarter pieces and boiling for 15 minutes or roasting for 40 minutes.
The red beets can dye your clothes and skin, so be cautious if you are wearing your favorite blouse while prepping these gems.  On the flip side, because they do contain such a strong red pigment they are excellent to use as a natural food dye to add a pinkish hue to your baked goods.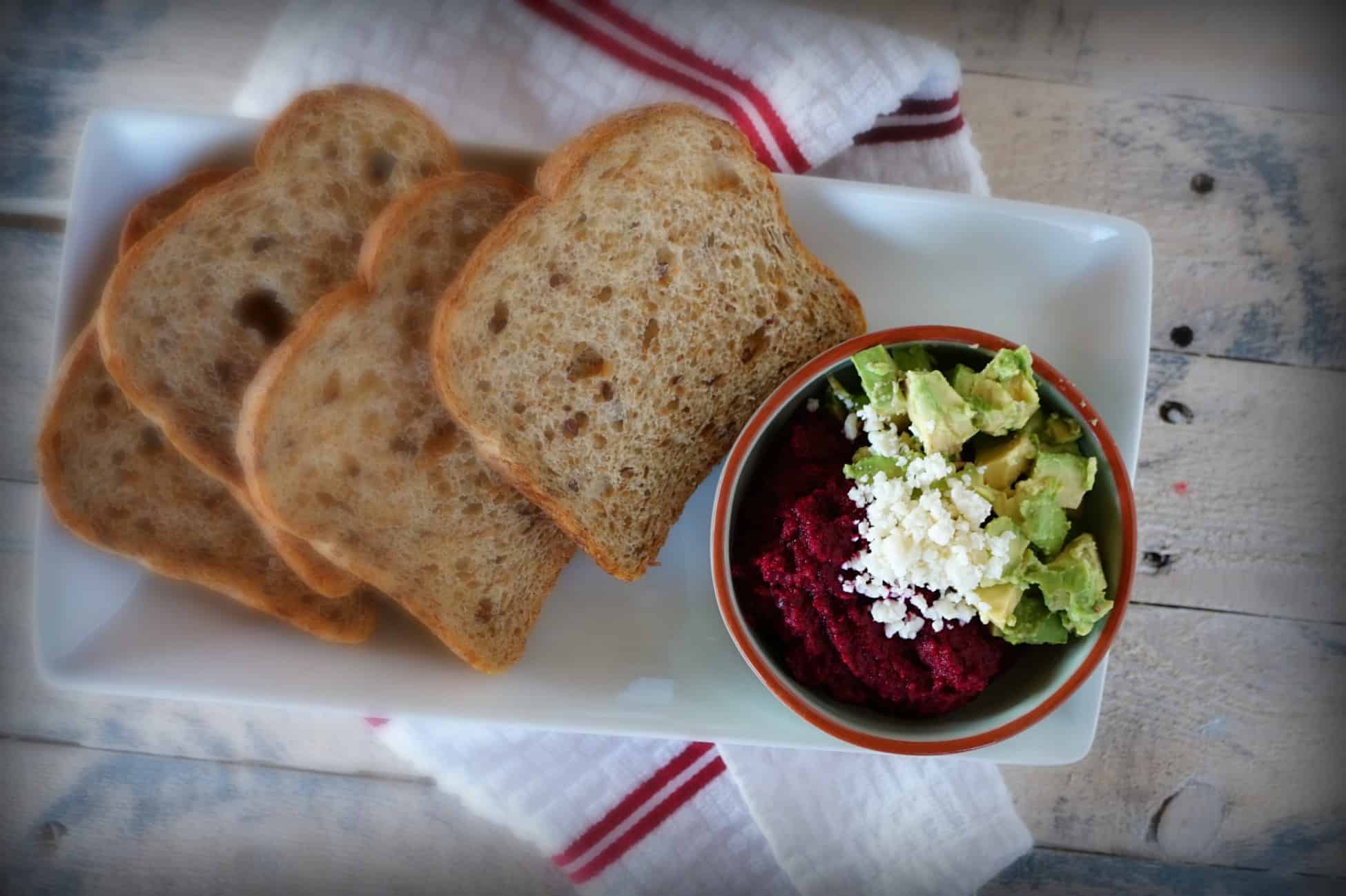 I have a few recipes I've whipped up with these beets over the past few months, but unfortunately I have not been able to snap a "blog worthy" photo for you until this simple Roasted Beet Toast came about. Stay tuned for the killer Feta Beet Burger coming soon and a little Red Velvet Donut too!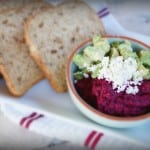 Print
Roasted Beet Toast
This simple, nutrient powerhouse beet dip is the perfect smear to top that whole grain toast. Add a few slices of avocado and you've got a healthy meal in minutes!
Ingredients
1 1/2

cups

beets

1

cup

water

1/2

cup

distilled white vinegar

1/4

cup

white vinegar water

see below

1/4

cup

rice wine vinegar

2

tablespoons

balsamic vinegar

1

small jalapeno

seeds included

1

red chile pepper

3

cloves

garlic

Optional:

2

slices

whole grain toast

2

oz

sliced avocado

1

oz

feta cheese
Instructions
To prepare beets, peel outer skin and chop into quarter inch pieces.

Place beet pieces in 1 cup water and 1 cup white vinegar for up to 48 hours.

Add beats in the water-vinegar solution to 1 cup of boiling water. Heat for 15 minutes or roast in a pie dish for 35 minutes at 350*F. Whichever you prefer!

Remove and let cool.

In a food processor or blender, add a part of the water-vinegar solution that was boiled, rice vinegar, balsamic vinegar, a jalapeno, chile pepper and garlic. Puree until smooth.

Remove and store in an airtight container for up to a week in the fridge!

Enjoy on top of toast, on veggies or as a spread for your sandwich or crackers!
In the meantime, let's KISS (keep it simple, silly) and focus on this one and done Roasted Beet spread over hearty whole grain toast. It most certainly can be enjoyed morning, noon and night. As you can see, I love a runny over medium egg cracked right on top! Meals in minutes, I think yes!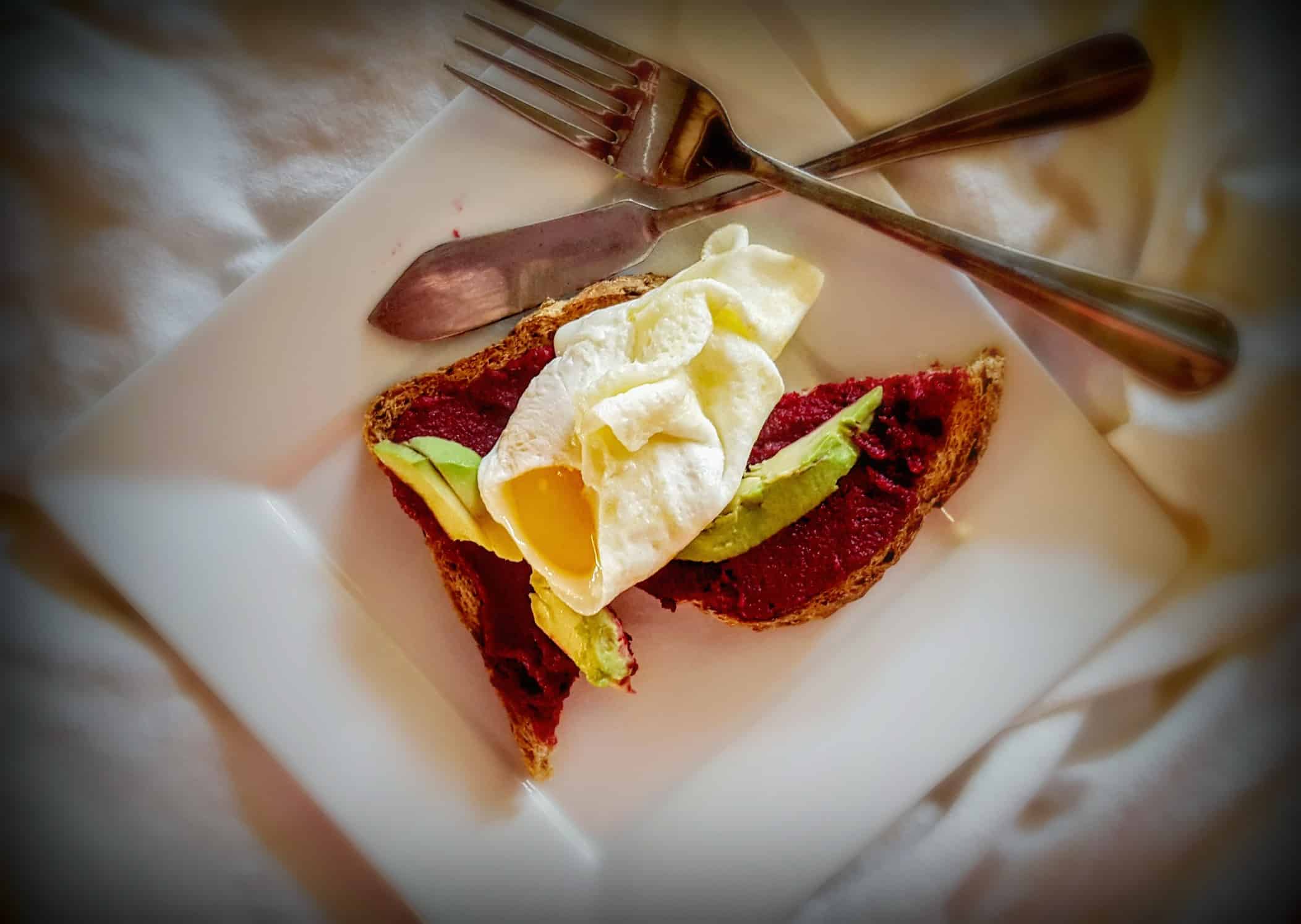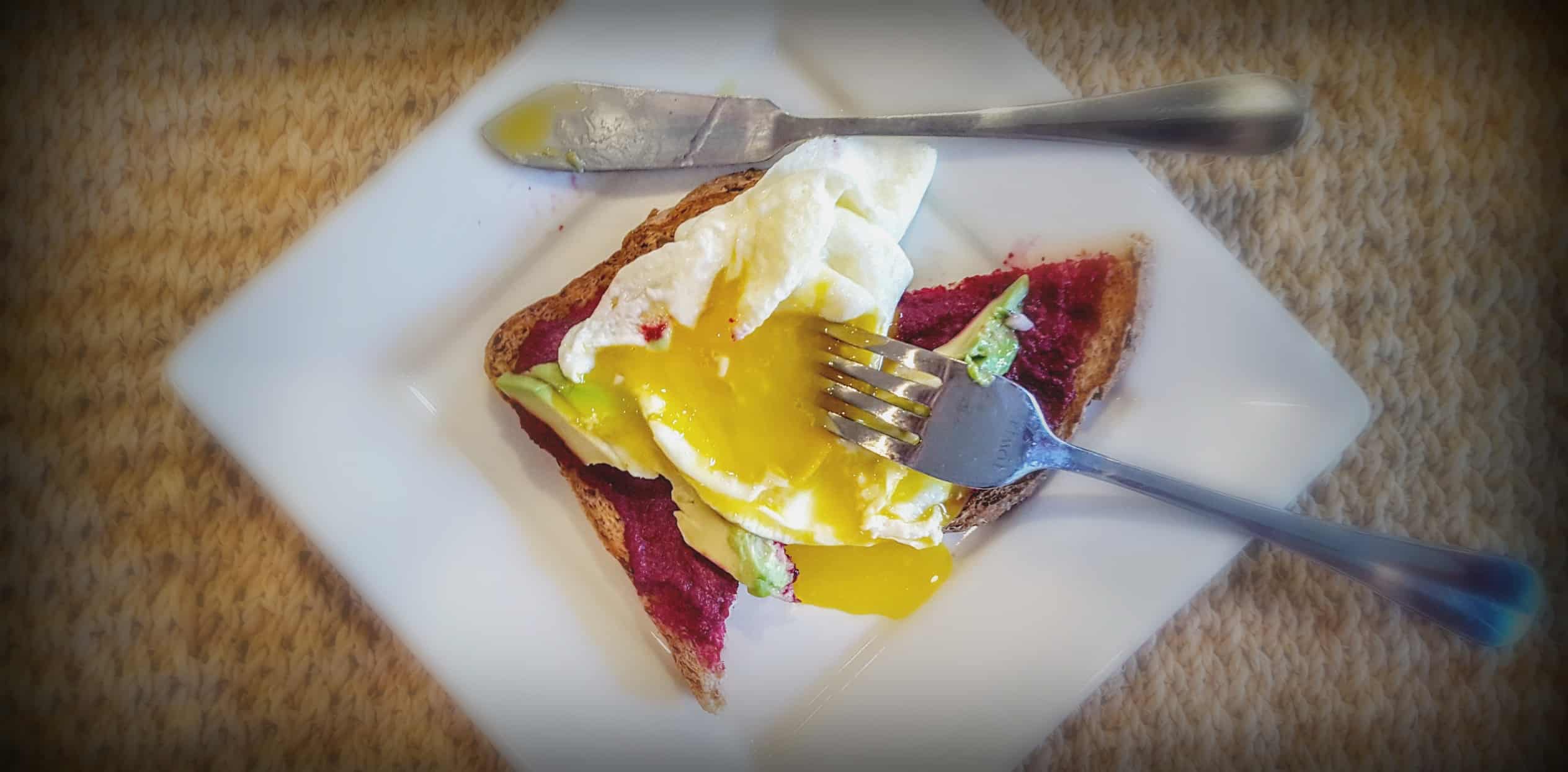 Let's get chatty! Have you ever tried a roasted beet? What's your favorite way to eat them?