Looking to bring a little variety into your weekly meal plan? Then look no further because these Beet Falafel Tacos will be your new best friend.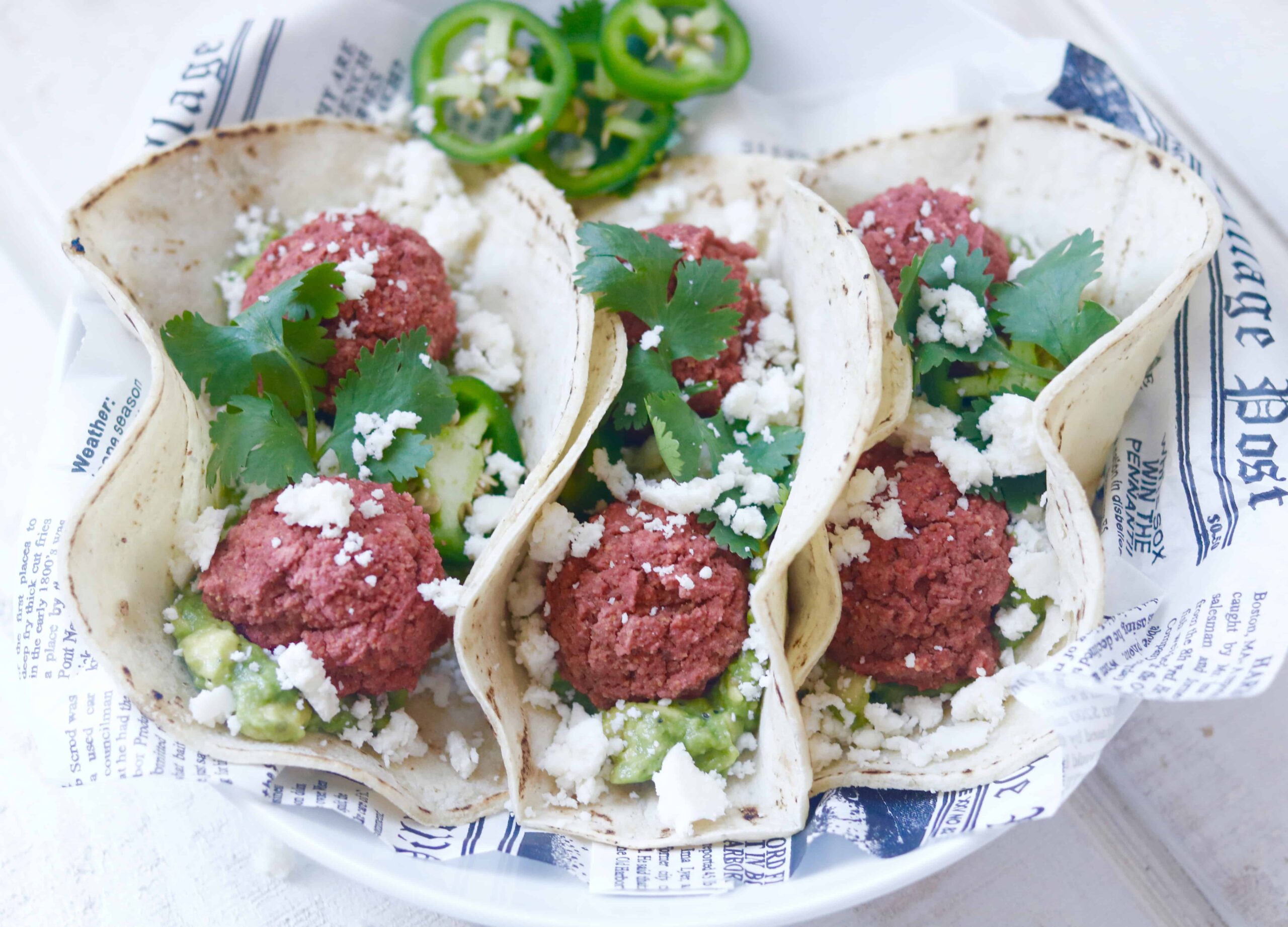 Wait, What? Beet Falafel Tacos?
Did I say beet and falafel and taco in the same sentence?
Why yes, yes I did!
And, for good reason.
My dear friend that I'm sure many of you know by now, Sara Haas, recently released her second cookbook, "Taco Taco Taco!"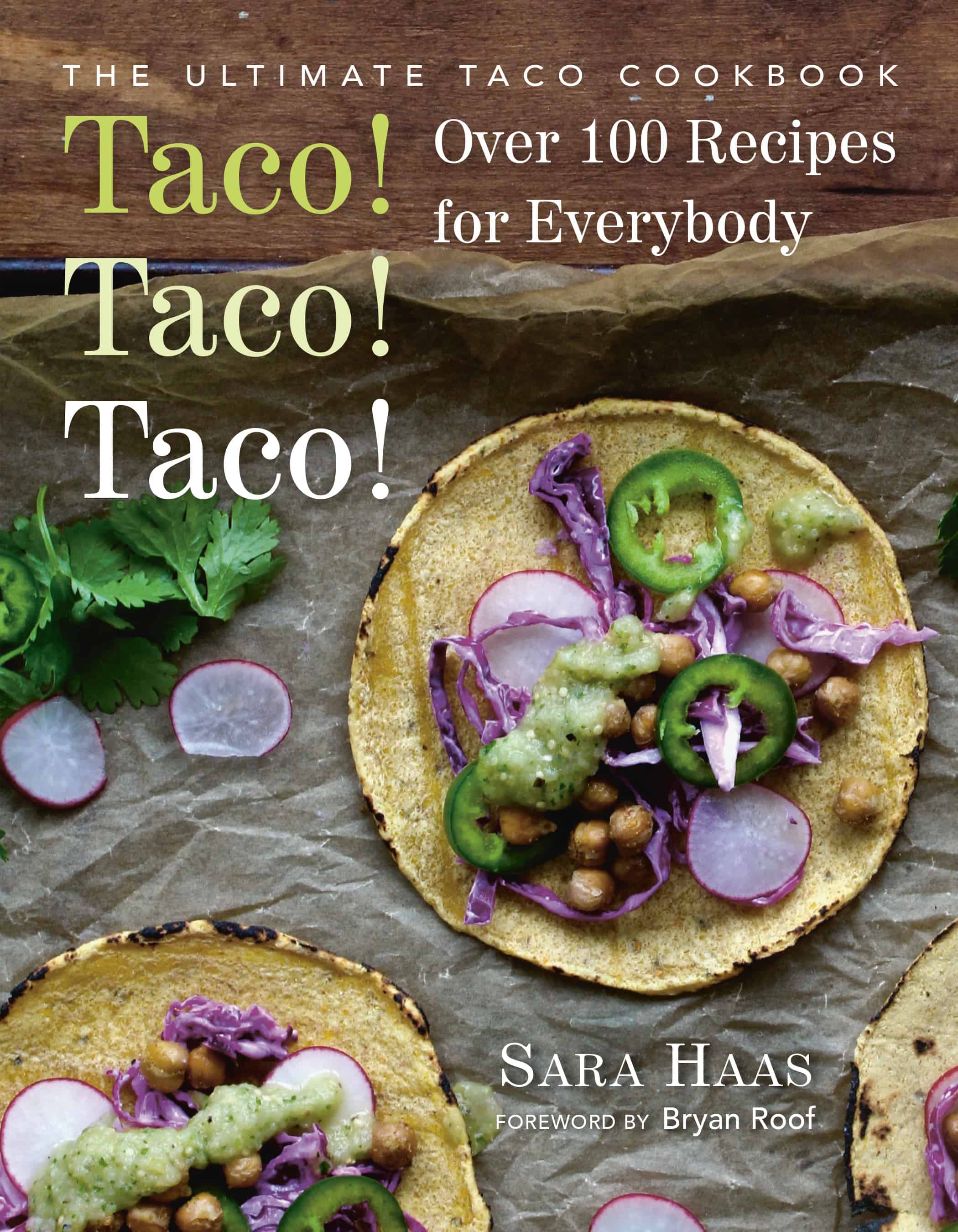 I mean the name itself screams happy am I right?
But, back to how these Beet Falafel Tacos relate to Taco Taco Taco!
You see, Sara reached out to me and asked if I'd like to share a recipe for her cookbook. Naturally I jumped at the chance and decided to create a taco version of the most popular recipe on the blog, these Beet Falafel Sliders!
And then… these were born!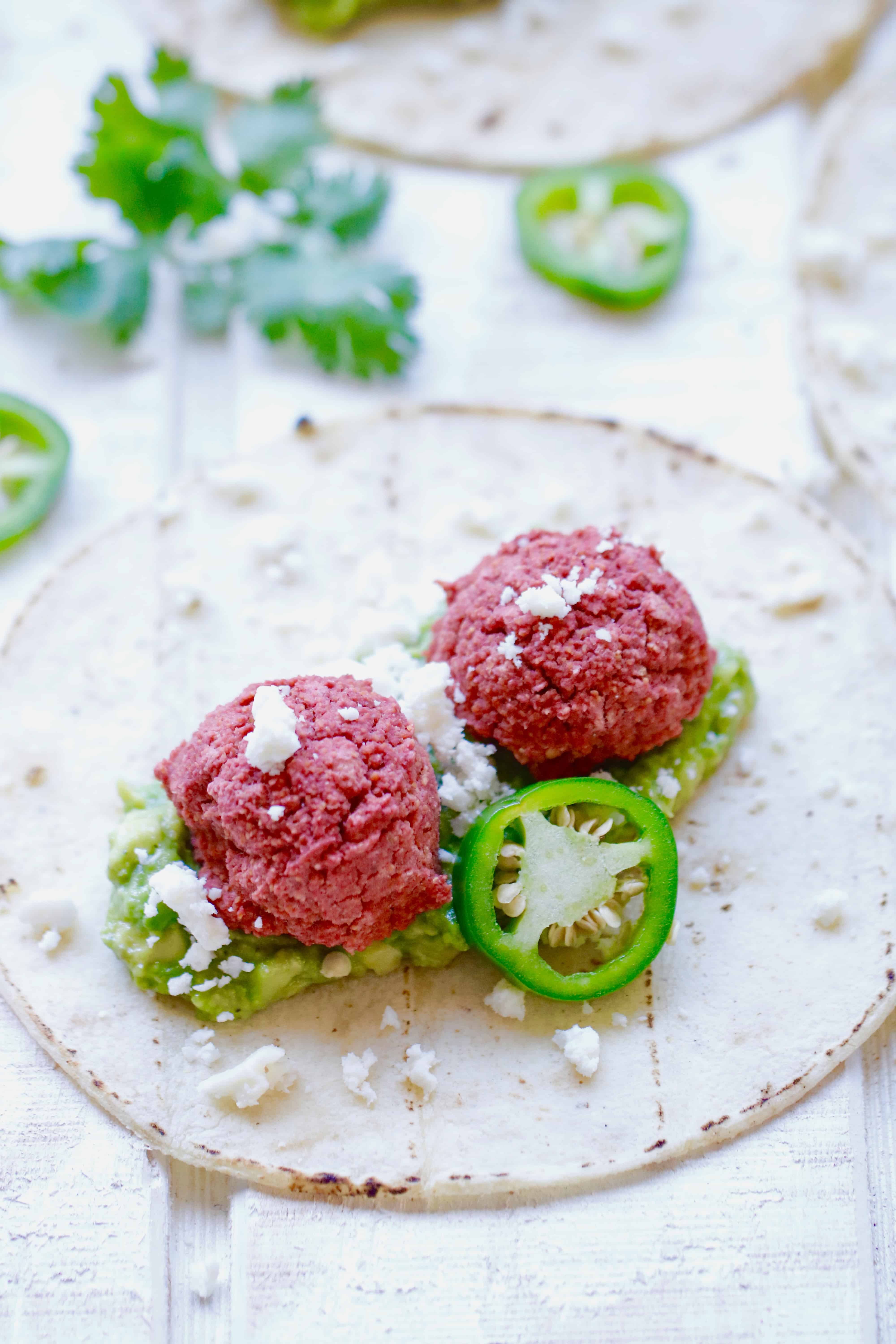 But, seriously, if you are more a carnivore loving taco fan, Sara's got you covered there too!
From Skirt Steak Tacos to Pineapple Pork Tacos and even an entire selection of dessert tacos, there's a taco for every person in this book.
If you're in the market for a fabulous cookbook to add to your summer recipe collection, I highly recommend ordering yourself a copy of Taco Taco Taco here on Amazon.
Plus, you can rest easy knowing each and every recipe is chef tested, toddler approved!
Yep, Sara's sous chef, her 5-year old daughter, has tested and retested each recipe to ensure it's the highest quality for you and your loved ones.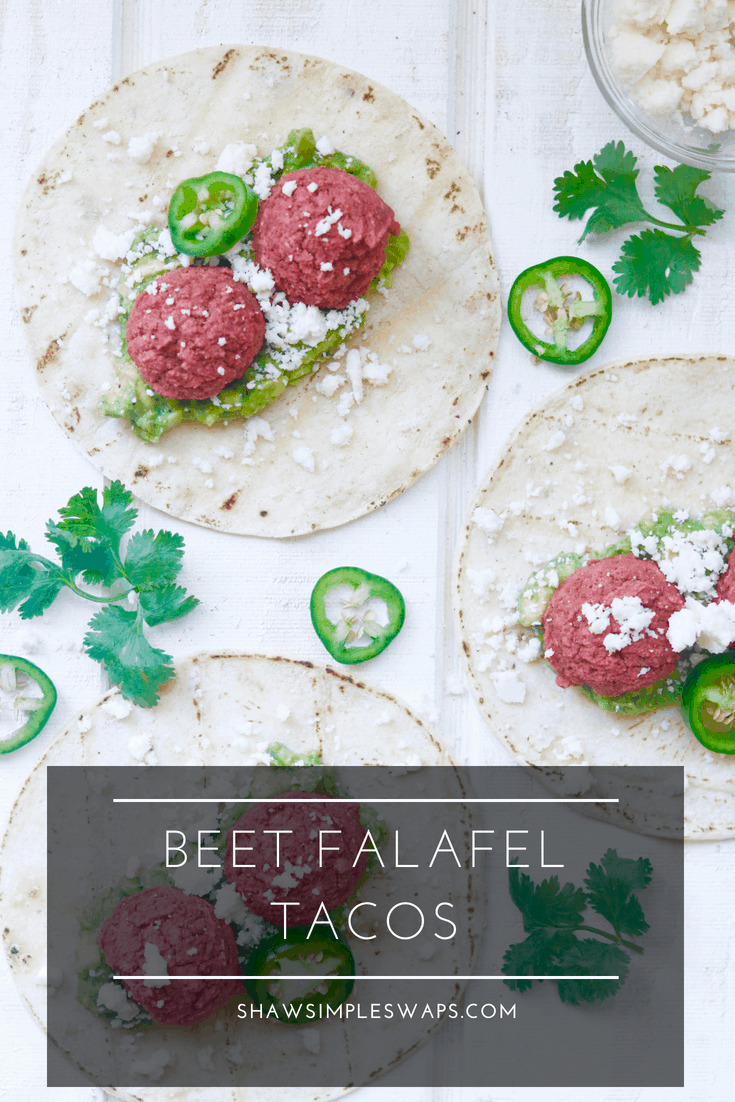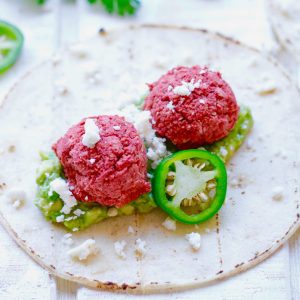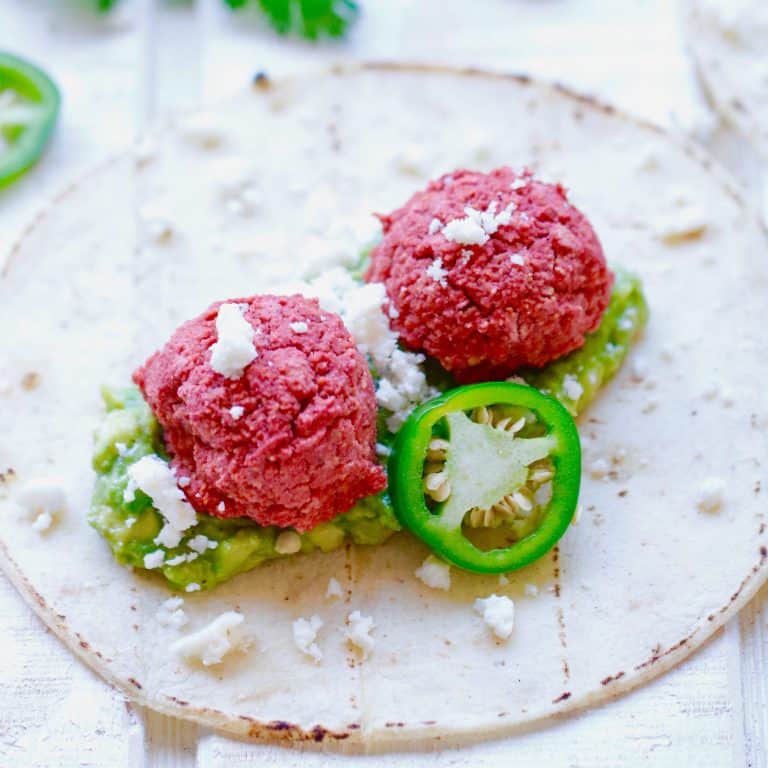 Ingredients
For the Beet Falafel:

1

15-ounce can beets, rinsed and drained

1

jalapeño pepper

seeded and roughly chopped

3

cloves

garlic

1

15-ounce can garbanzo beans, rinsed and drained

2/3

cup

masa harina

2

tablespoons

chopped cilantro

1

tablespoon

balsamic vinegar

½

teaspoon

kosher salt

For the Avocado Mash:

1

medium

ripe avocado

1

tablespoon

lemon juice

2

tablespoons

chopped cilantro

2

tablespoons

finely chopped white onion

2

teaspoons

finely chopped jalapeño

¼

teaspoon

kosher salt

For the tacos:

8

6-inch corn tortillas

½

cup

chopped cilantro

2

ounces

crumbled cotija cheese
Instructions
To make the beet falafel: Preheat oven to 375℉ and coat a large baking sheet with non-stick cooking spray.

Using a 12-cup food processor add beets, jalapeño pepper and garlic cloves. Pulse a few times, scrape down the sides of the processor with a spatula and pulse a few more times, until chopped. Remove lid, scrape down the sides again and add in garbanzo beans, pulse 10 to 12 times, scrape down sides again, and process another 20 seconds. Add in masa harina, cilantro, cilantro and salt and process 10 seconds, scrape down, process another 10 seconds or until combined. Mixture should resemble cookie dough consistency.

Divide batter into 16 equal-sized pieces. Roll each piece into a ball then place on prepared baking sheet. Bake for 25 minutes or until tops are lightly browned.

To make the avocado mash: Remove flesh from avocado and add to small bowl. Mash with the back of a fork until smooth. Mix in garlic, lemon juice, cilantro, white onion, salt and pepper. Set aside.

To assemble: Warm tortillas and spread avocado mash over the center of each. Add 2 falafels on top and garnish with cotija cheese and chopped cilantro. Enjoy!
Notes
Saving Tip: Falafel can be store in an air-tight container in the refrigerator for up to 5 days or in the freezer for up to 3 months.
Nutrition Facts
Beet Falafel Tacos
Amount Per Serving (2 )
Calories 238
Calories from Fat 36
% Daily Value*
Fat 4g6%
Cholesterol 6mg2%
Sodium 455mg19%
Potassium 316mg9%
Carbohydrates 44g15%
Protein 9g18%
Vitamin A 190IU4%
Vitamin C 6mg7%
Calcium 103mg10%
Iron 3mg17%
* Percent Daily Values are based on a 2000 calorie diet.