Step up your #GameDayEats with these Air Fryer Meatballs made with a tangy plum sauce! Can be made both gluten free and dairy free.
Are you new to the air fryer?
Then welcome to the coolest club on the block!
The air fryer is truly the perfect appliance to make your favorite eats and treats come to life in a matter of minutes.
From these Air Fryer Meatballs to Chocolate Chip Muffins, there is literally very few things the air fryer can't make!
To kick off the first round of recipes for you to whip up in your air fryer, these meatballs are here for you.
The beauty of this baby is that it likely uses ingredients you already have on hand. #winning, I know!
How does the air fryer cook meatballs?
By circulating hot air around you food!
There are a few different models of the air fryer, but each one works pretty similarly.
The air fryer distributes hot air around the food in the basket and evenly crisps and cooks all edges of the food.
Depending on the type of food, it's important to shake or flip the recipe during cooking to ensure that even crisp is part of the end result!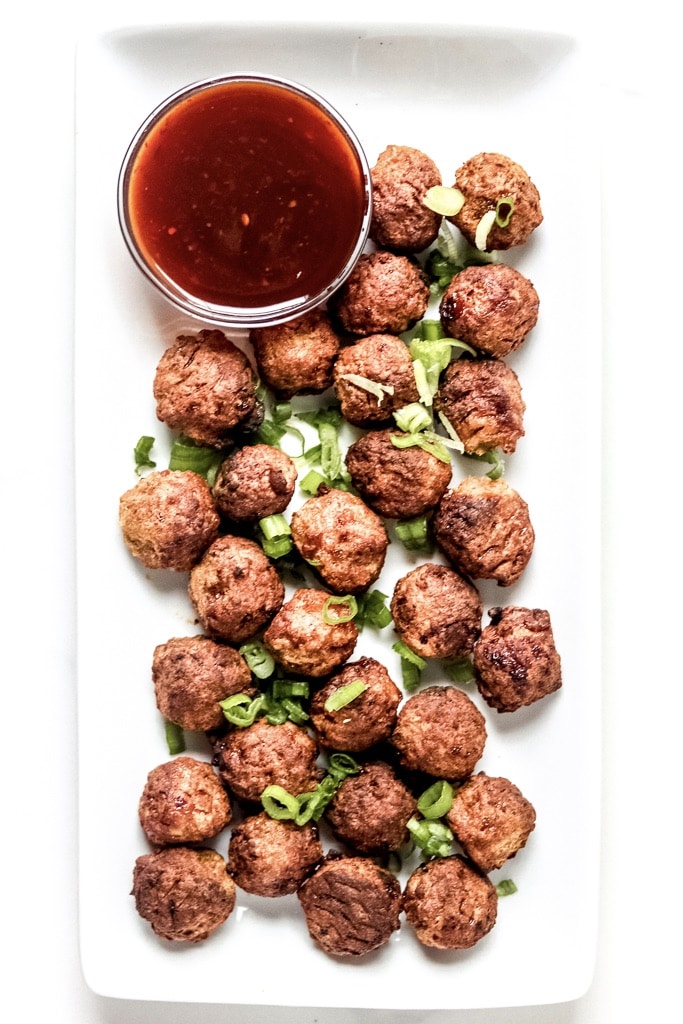 Is the air fryer healthy to cook with?
The air fryer is safe!
But, there are some tips to ensure you are preparing your food the safest it can be in your air fryer.
Purchase a BPA free plastic air fryer.
Do not spray cooking spray inside the fryer. Instead, use an olive oil mister.
Soak all starchy foods (i.e. potatoes, beets, etc.) in water for 30 minutes before cooking to help decrease the level of acrylamide formed during high temperature cooking.
Put produce in the air fryer! It's not just for fried chicken and tots!
But, rest assured, this RDN is on board the air fryer train!
How can I modify these?
Don't have panko?
Make your own breadcrumbs. Simply spray some olive oil on two pieces of bread and toss in the air fryer until toasted. Let cool and pulse in a food processor!
Prefer a different spice blend?
Use that instead!
Some of my favorites are taco, blackened, jerk and BBQ seasoning.
Need to be egg free?
Use a flaxseed egg in place of the large egg (more on that here.)
Can I make these fit my diet type?
Absolutely.
For a Keto diet, modify by:
Use full fat beef in place of the lean ground turkey.
Swap breadcrumbs for crushed pistachios or walnuts.
For a Whole 30 diet, modify by:
Swap breadcrumbs for crushed pistachios or walnuts.
For a Gluten Free diet, modify by:
Swap breadcrumbs for a gluten free option or oats.
Have a specific dietary need? Email me and I can help you!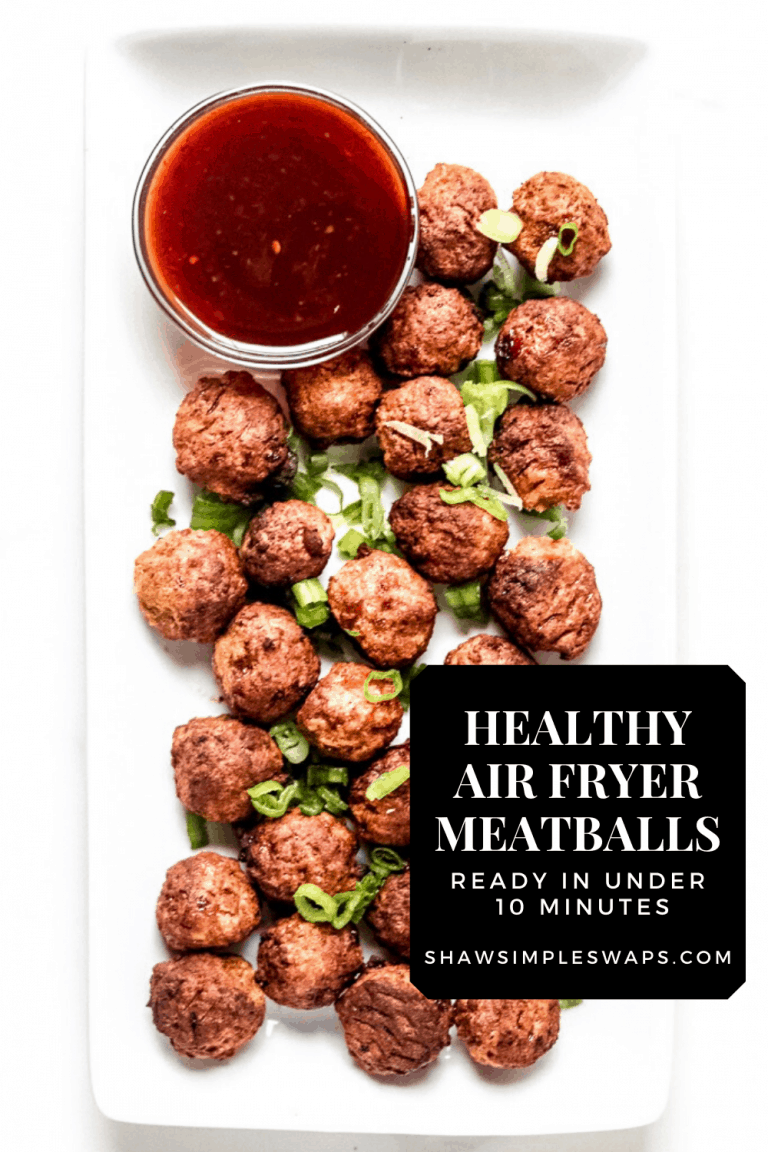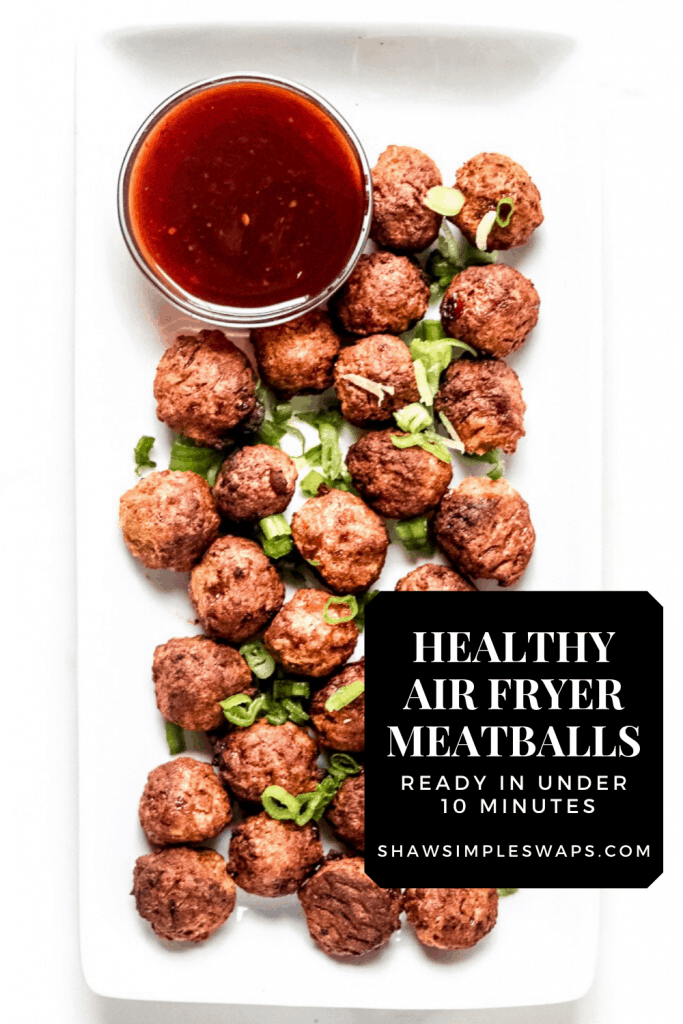 Grab the recipe below and get your #GameDayEats on with us!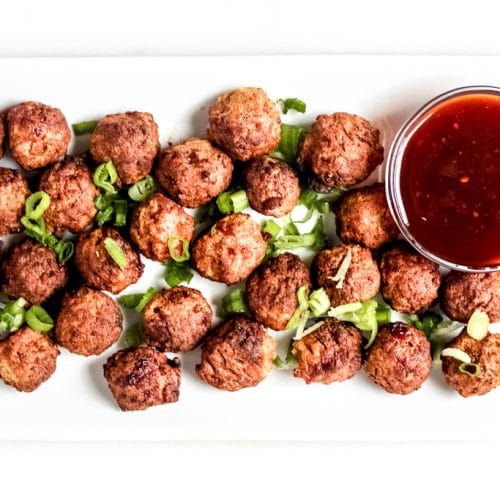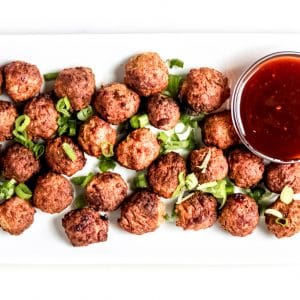 Air Fryer Meatballs
Step up your #tailgate eats with this simple recipe for Air Fryer Meatballs!
Print
Pin
Share by Email
Ingredients
1

pound

lean ground turkey

1

teaspoon

garlic powder

1 1/2

teaspoons

smoked paprika

1/2

tsp

black pepper

1/4

tsp

salt

1

large

egg

1/3

cup

panko breadcrumbs

1/2

cup

plum sauce

1

tablespoon

chopped parlsey
Instructions
Preheat air fryer to 375 degrees F.

In a large bowl, combine turkey, garlic powder, smoked paprika, pepper, salt and the egg.

Mix together until all ingredients are blended together, then mix in the breadcrumbs.

Use a 1-inch scoop, scoop out the turkey mixtureand form into 24 balls.

Lightly spray the air fryer basket with cooking spray. Place the meatballs inside and cook for 10 to 12 minutes (or until internal temperature reaches 165 dgerees F.)

Remove from air fryer and top with parsley. Serve with sauce.

Enjoy!
Notes
Store turkey meatballs in an airtight container in the fridge for up to 5 days. Reheat in the air fryer at 400 degrees for 4 minutes.
To make in the oven: Preheat oven to 375 degrees F. Place on a baking sheet and bake for 20 to 22 minutes (or until internal temperature reaches 165 degrees.) Remove and serve immediately.
To make your own plum sauce, follow this recipe!
Nutrition Per Serving
Calories:
40
kcal
|
Carbohydrates:
1
g
|
Protein:
5
g
|
Fat:
2
g
|
Saturated Fat:
1
g
|
Cholesterol:
23
mg
|
Sodium:
68
mg
|
Potassium:
71
mg
|
Fiber:
1
g
|
Sugar:
1
g
|
Vitamin A:
121
IU
|
Calcium:
7
mg
|
Iron:
1
mg