Looking to amp up your salad game this year? Then this recipe is just for you! Ready in under 10 minutes and fit to serve a king, this Healthy Waldorf Salad with Chicken is for you!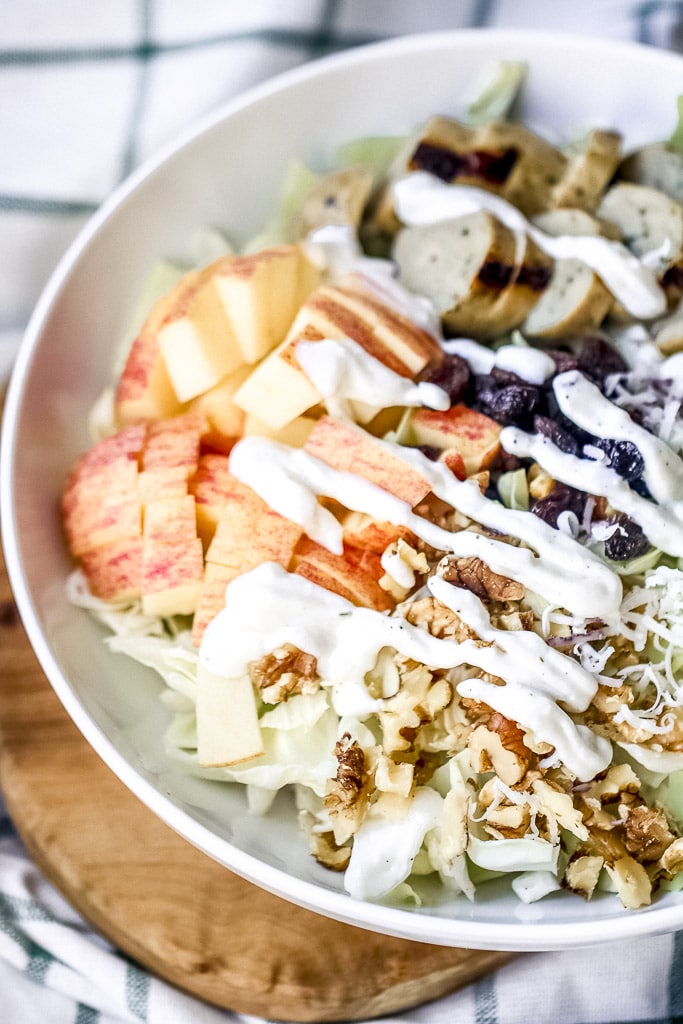 What is a Waldorf salad?
A salad that sounds super gourmet because it originated at the high class Waldorf hotel in the late 1800s but is perfect to prepare from the comfort of your home!
Crunchy apples, sweet raisins, heart-healthy nuts and more nestle into the lettuce bed before being tossed with a creamy dressing.
While many versions have surfaced over the years, the Shaw Kitchen took its own twist on this salad by creating this Healthy Waldorf salad below!
We enlisted the help of precooked chicken sausages to give it our own unique spin while amping up the protein and keeping time in check too.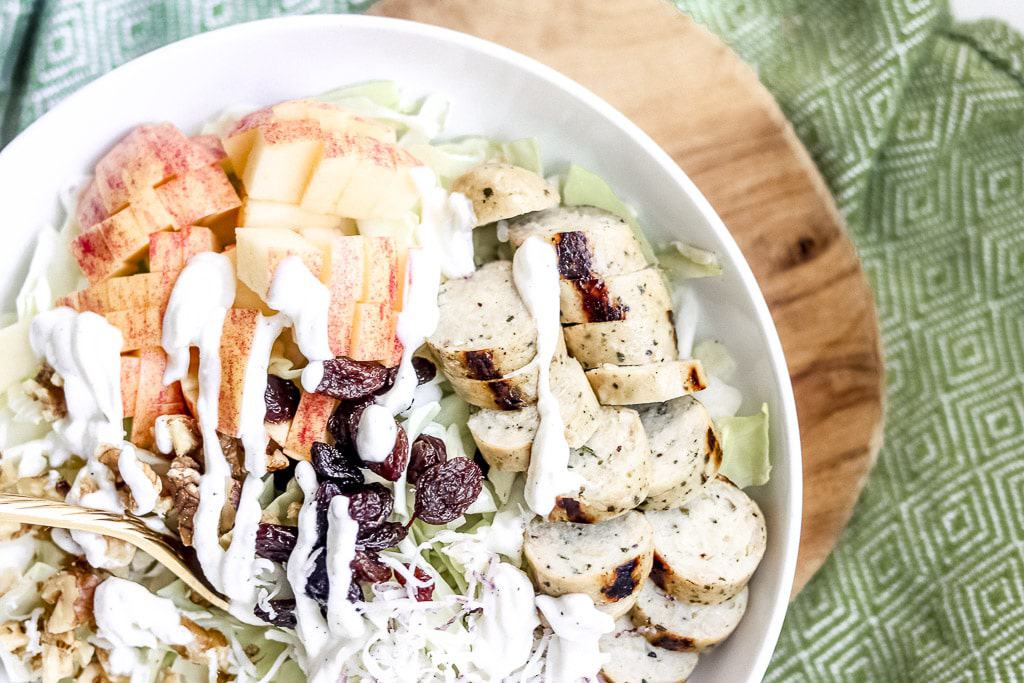 How is this a healthier version?
I'm glad you asked!
Truth be told, there's a back story on this. I came to know about Waldorf salads when I was working in high school at the Ronald Regan Library in their pub.
I used to prepare a similar salad that was sold in their grab and go cooler. But, since we were preparing this salad in large volumes, that also meant we were mixing 10 pound vats of mayonnaise nearly every 3 days.
Truly, if that doesn't make your stomach turn, I don't know what does!
It took me nearly 15 years before I could stomach mayonnaise again after that, and along the way I picked up a few simple swaps that made this healthier version come to life.
Read, it doesn't mean it tastes like crap!
No, no way Jose!
This salad is still packed with flavor but uses 1/2 the mayonnaise of a traditional salad and instead gets that same creamy mouthfeel from Greek yogurt.
Tangy, high protein and all natural… YUM!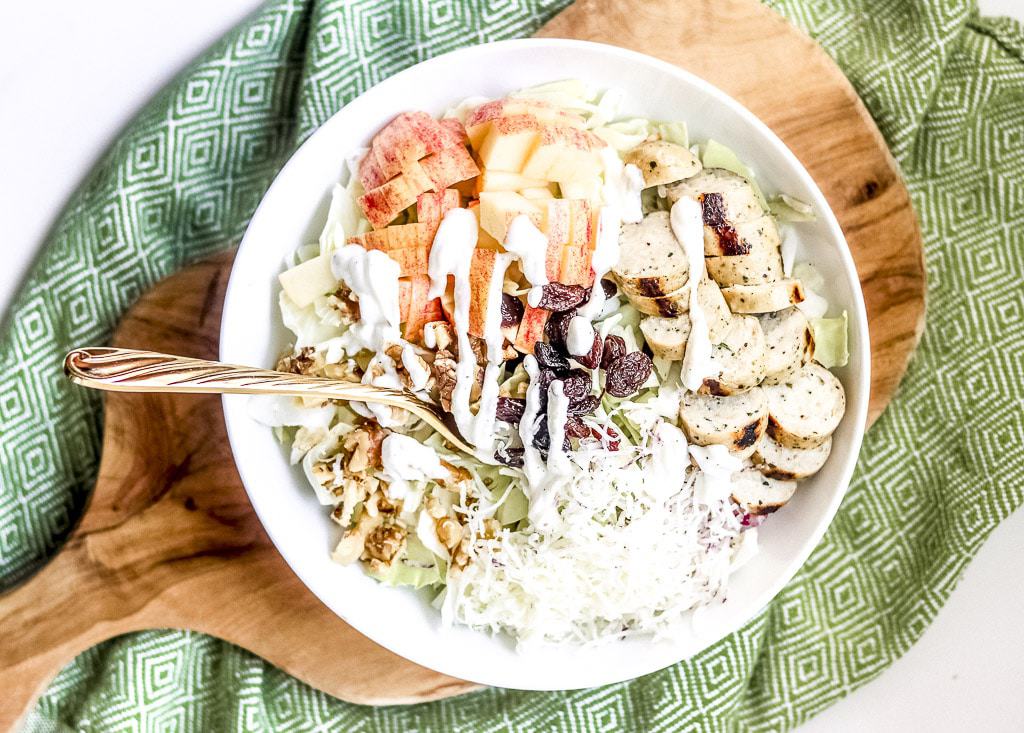 Can I make this Waldorf Salad for a larger group of people?
Yes, you sure can!
What I recommend is batching the recipe up to yield the number of people you're expecting at the event.
For instance, if there are 12 people attending the event, I'd increase the portions of ingredients by 3 times to yield the 12 servings.
It's simple, I promise!
And, the best part, you can prepare this a la carte, meaning keep the chicken to the side so it can satisfy you're vegetarian guests too!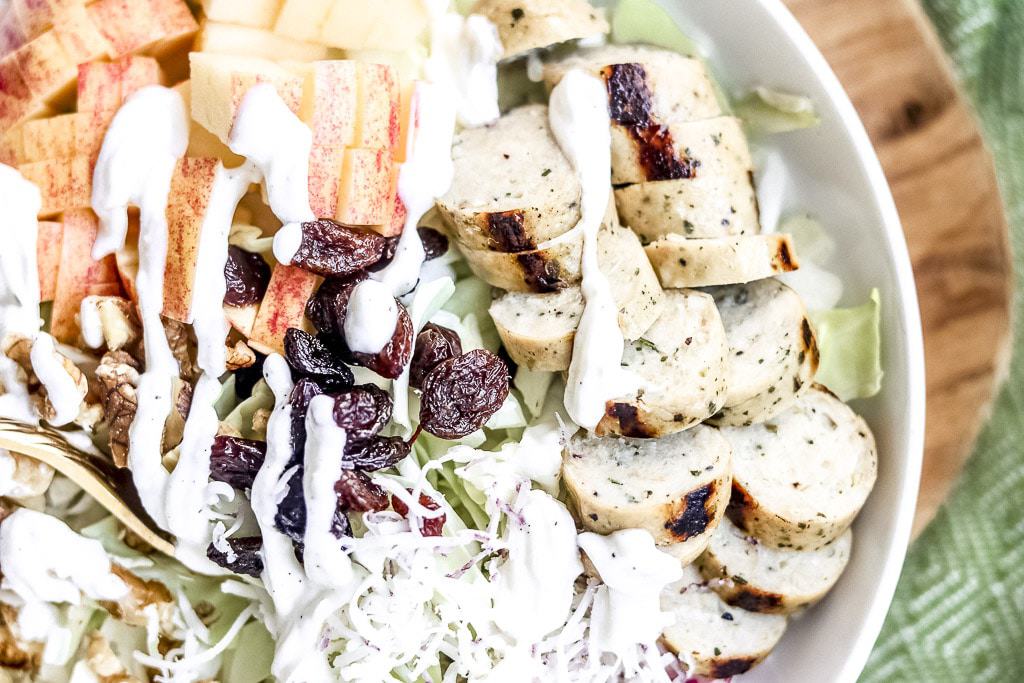 Can I make this vegan?
You bet!
Swap in a vegan mayonnaise for the light mayo and yogurt below.
Vegan mayo uses an oil based fat when making the dressing versus eggs found in traditional mayo.
Or, for a fun twist, swap in a creamy hummus instead (ps, just like I did here in this dairy free Tuna Salad recipe too!)
Replace the chicken sausage with garbanzo beans and the cheese with a vegan, soy based cheese.
Viola, a plant-based meal for your vegan friends too!
Alright, no more waiting, let's make this Healthy Waldorf Salad now!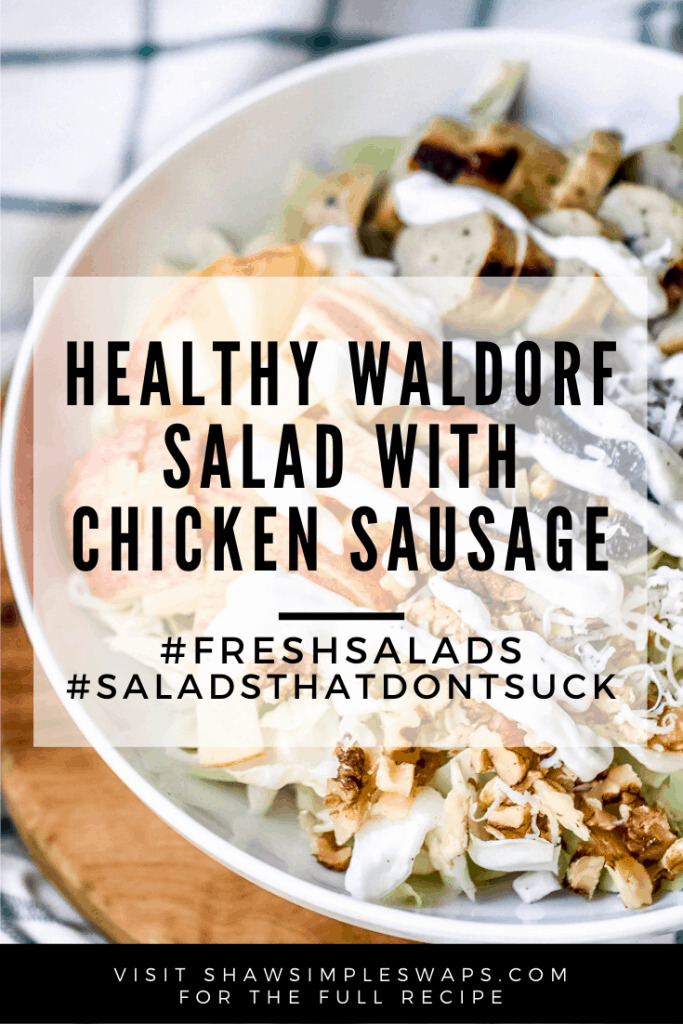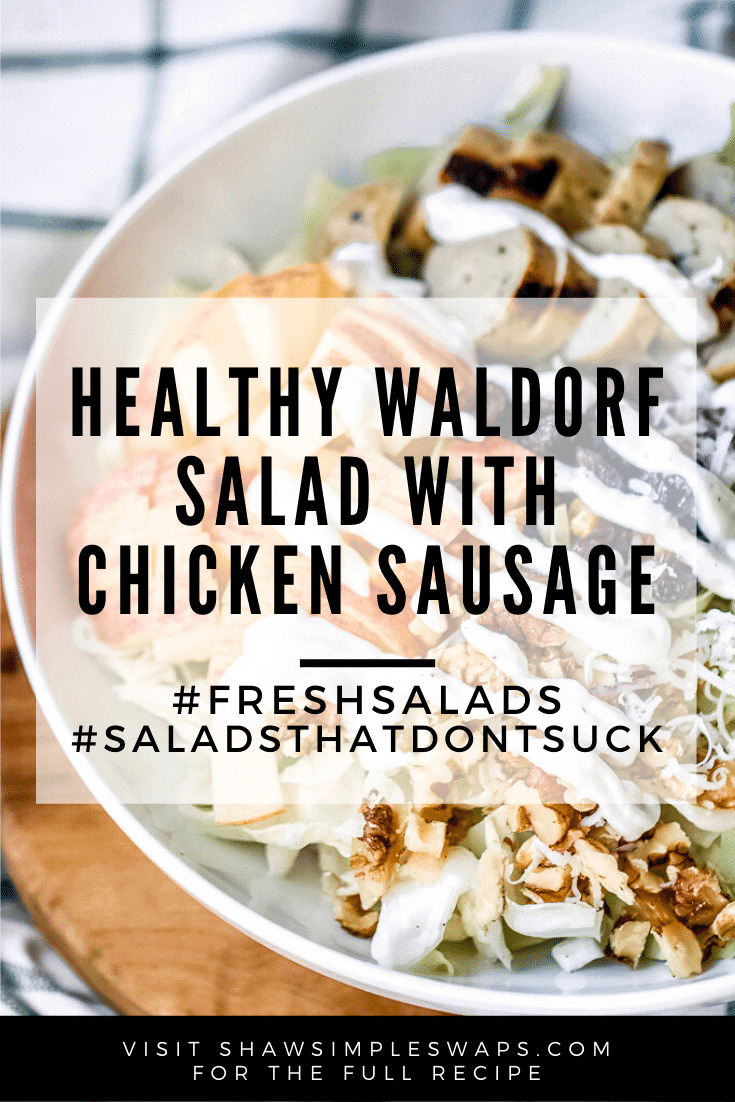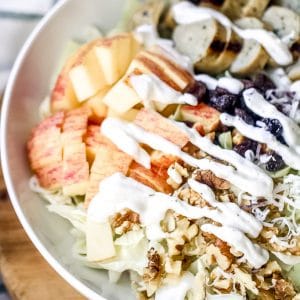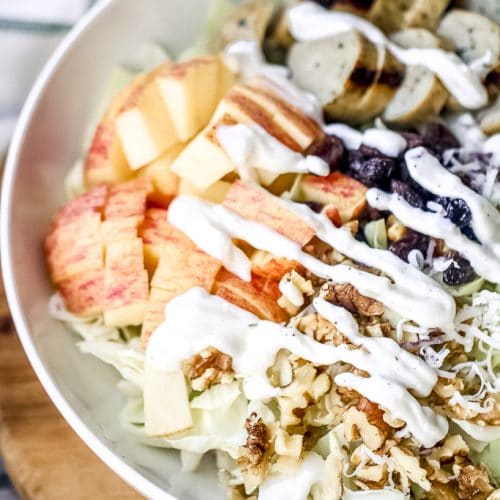 Healthy Waldorf Salad
A deliciously simple salad that is easy to make but can pass as gourmet! This Healthy Waldorf Salad is something everyone will enjoy!
Print
Pin
Share by Email
Ingredients
3

tablespoons

light mayonnaise

3

tablespoons

plain Greek yogurt

2

tablespoons

red wine vinegar

2

tablespoons

filtered water

1/4

teaspoon

garlic powder

1/4

teaspoon

salt

1/4

teaspoon

black pepper

1/2

teaspoon

sugar

4

each

cooked chicken sausage links

6

cups

chopped romaine lettuce

2

cups

shredded green cabbage

1/4

cup

finely shredded red onion

1/4

cup

chopped walnuts

1/2

cup

raisins

1

medium

apple, chopped

2

ounces

gorgonzola cheese
Instructions
Whisk mayonnaise, yogurt, vinegar, water, spices and sugar in a bowl. Set aside.

Heat chicken sausages in a castiron skillet for 3 minutes per side (internal temperature should read 165 degrees F). Remove and slice.

Assemble salad bowls evenly with lettuce, cabbage, and remaining ingredients.

Drizzle dressing oven the top and enjoy immediately.

If preparing for lunch, consider using a precooked deli chicken meat (nitrate free) in place of cooked chicken sausages. It will taste better cold!
Nutrition Facts
Healthy Waldorf Salad
Amount Per Serving
Calories 251
Calories from Fat 126
% Daily Value*
Fat 14g22%
Cholesterol 14mg5%
Sodium 512mg21%
Potassium 515mg15%
Carbohydrates 30g10%
Protein 16g32%
Vitamin A 6321IU126%
Vitamin C 19mg23%
Calcium 127mg13%
Iron 2mg11%
* Percent Daily Values are based on a 2000 calorie diet.