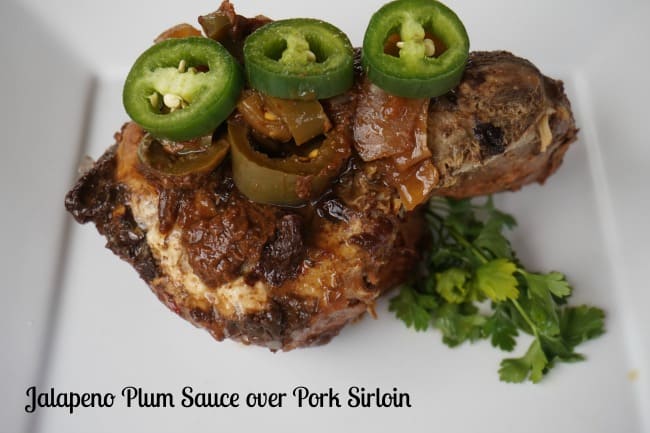 Ready to shake things up a bit? Me too! Though I absolutely love my sweet concoctions, last night's brownie debacle made me realize it's time to step back from the sweets for a bit. Hey… not everything always works, right? That's the beauty of recipe creation, you fail sometimes only to create the next masterpiece down the road; or at least that's what I keep telling myself!
Since I can't throw in the towel completely on my beloved sweet tooth, I decided to experiment with a unique ingredient to the Shaw Kitchen… California Dried Plums! For those of you getting ready to click out of this post, WAIT ONE SECOND! I promise this is not some oatmeal prune puree I am trying to coax you into trying.
Nope, no siree! Instead, I decided to relish in the naturally sweet flavor California Dried Plums have to offer and pair them with a spicy sidekick… the jalapeno!
I've got you now, right. Yep, I knew it! I'm sure my grandfather right now is beginning to spit off all the wonderful benefits of the California Dried Plum, and you know what, he's right! California Dried Plums are not only a good source of fiber, potassium and magnesium, but they also are the fruit (dried or fresh) that contains the highest amount of vitamin K! Vitamin K is essential in our bone health, making California Dried Plums an excellent source of nutrition to help keep your bones strong and sturdy!
Though I myself am not a connoisseur of the other white meat, I knew the sweet and spicy pairing of the dynamic duo of the plum and jalapeno would find its best accompaniment with porky the pig. Maybe it's because I was a huge fan of the movie Babe as a kid and sported the matching PJs for way to long that I just can't fathom eating my little friend! Thus, recipe creation began with Mr. CEO at my side.
I knew right off the bat that I would reduce the California Dried Plums with a little apple cider vinegar and spices to get the perfect consistency. Why? Well, to be completely honest I had seen this done on a cooking show a while back and thought I'd give it a try! Shh.. that's our little secret!
After a thick syrup had been created with a few larger pieces of California Dried Plums in the mix, I combined the sauce into the slow cooker with the pork, jalapeno's and remaining ingredients. Now, time to let that baby cook! Go about the rest of your day and come home to a house filled with the delicious aroma of Sweet and Spicy Jalapeno Plum Sauce. I )promise, if you're a pork eater, you won't be disappointed in this one (says Mr. CEO!)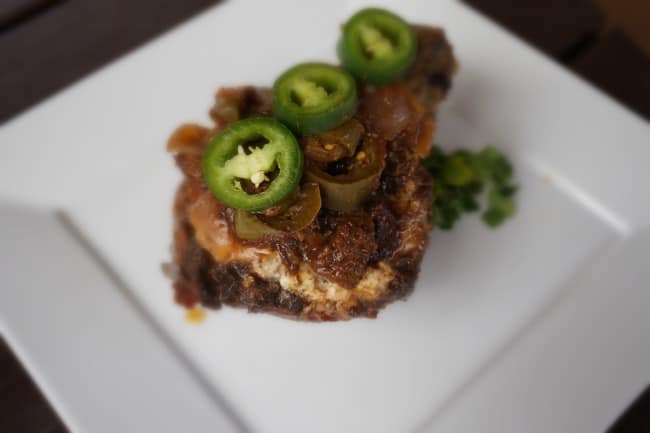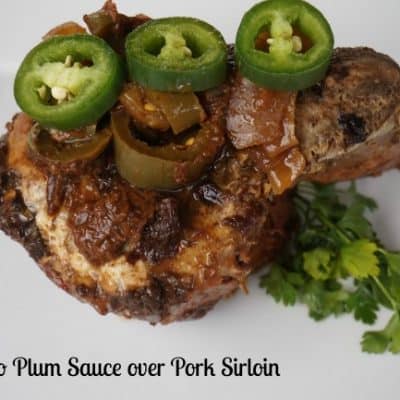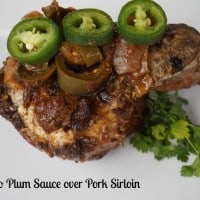 Sweet and Spicy Jalapeno Plum Sauce over Pork Sirloin
The perfect balance between sweet and spicy is this Sweet and Spicy Jalapeno Plum Sauce over Pork Sirloin. A personal favorite of mine for special occasions and weekends!
Print
Share by Email
Ingredients
3

pound

boneless pork shoulder

1 3/4

cups

water

1/2

cup

apple cider vinegar

3.5

oz

California dried plums

1/4

cup

stevia

1

tsp

ginger powder

1

tsp

red pepper flakes

6

cloves

garlic

chopped

1

medium jalapeno

seeds kept in, sliced

1/2

medium purple onion

sliced
Instructions
In a small saucepan over medium heat, add 1/2 cup water, apple cider vinegar, California dried plums, stevia, ginger, red pepper flakes and 2 cloves of chopped garlic.

Heat until liquid begins to thicken slightly, 8-12 minutes.

Using a whisk, quickly force the plums to begin to break apart once they become moist and tender in the liquid.

Remove mixture from heat.

In a slow cooker add the remaining water, placing the red onions, jalapenos and chopped garlic on the bottom.

Place pork shoulder in the slow cooker.

Cover with the sauce and place on low heat.

Cook for 4-6 hours, or until internal temperature reaches 165*F.

Remove from slow cooker, shred or keep in larger portions and serve with the cooked jalapenos and onions on top!
Nutrition Per Serving
Calories:
171
kcal
|
Carbohydrates:
7
g
|
Protein:
26
g
|
Fat:
4
g
|
Saturated Fat:
1
g
|
Cholesterol:
68
mg
|
Sodium:
67
mg
|
Potassium:
512
mg
|
Fiber:
1
g
|
Sugar:
3
g
|
Vitamin A:
127
IU
|
Vitamin C:
2
mg
|
Calcium:
16
mg
|
Iron:
1
mg