Looking to use your air fryer to whip up something sweet? Then these Air Fryer Cookies are just for you! Not only can you make this healthy cookie dough into a cookie cake, but you can portion them into individual cookies as well. The possibilities are endless!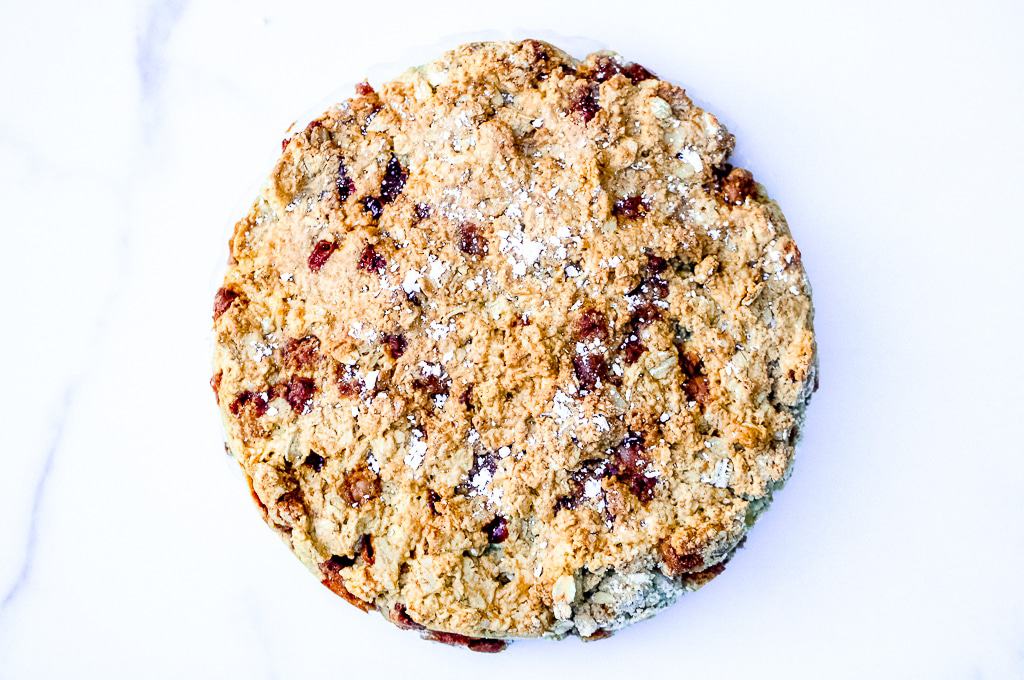 Have you baked yet in your air fryer?
If you haven't, your mind is about to be blown away by how quickly your sweet tooth will soon be satisfied.
From making muffins to cakes and of course these cookies, there are very few things that your air fryer can't whip up for you.
I'm not kidding! I even made two versions of a cheesecake (a keto one too!) for my Air Fryer For Dummies Cookbook coming out later this year.
Point being, if you want to venture out of the Air Fryer Meatballs (though delicious) and into something a bit more sweet, then your air fryer is ready for you.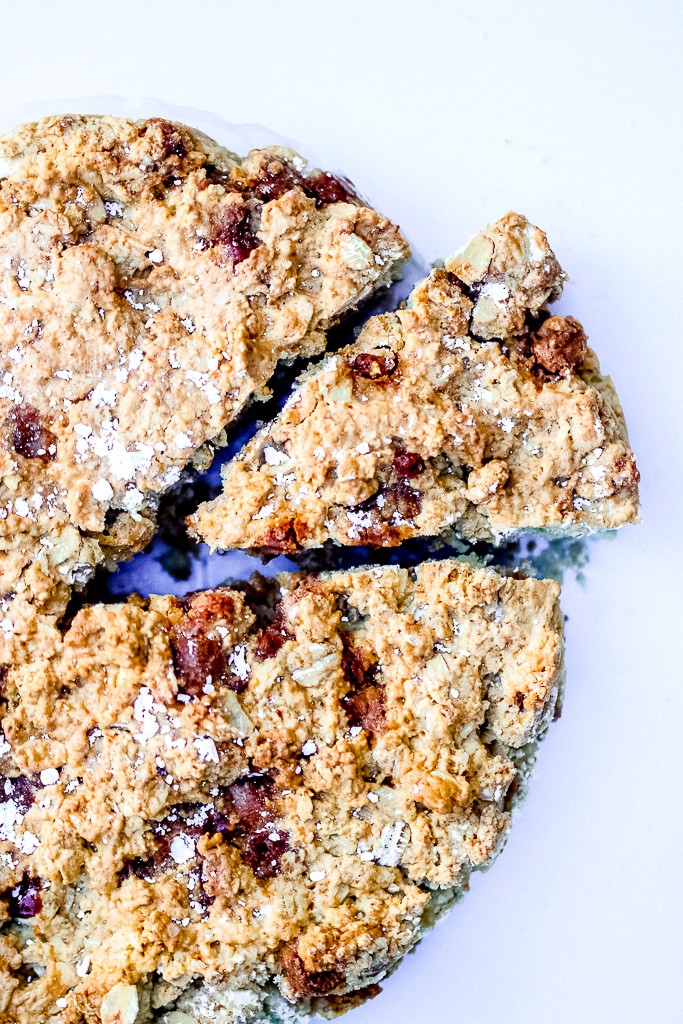 How do I bake cookies in the air fryer?
Truthfully, it's not much different than how you would bake them in the oven.
After you prepare the dough, you want to decide if you will bake them in an air fryer compatible pan as a whole (and then cut them into cookie slices) or single batch them.
Personally, I prefer baking them as a whole to save time.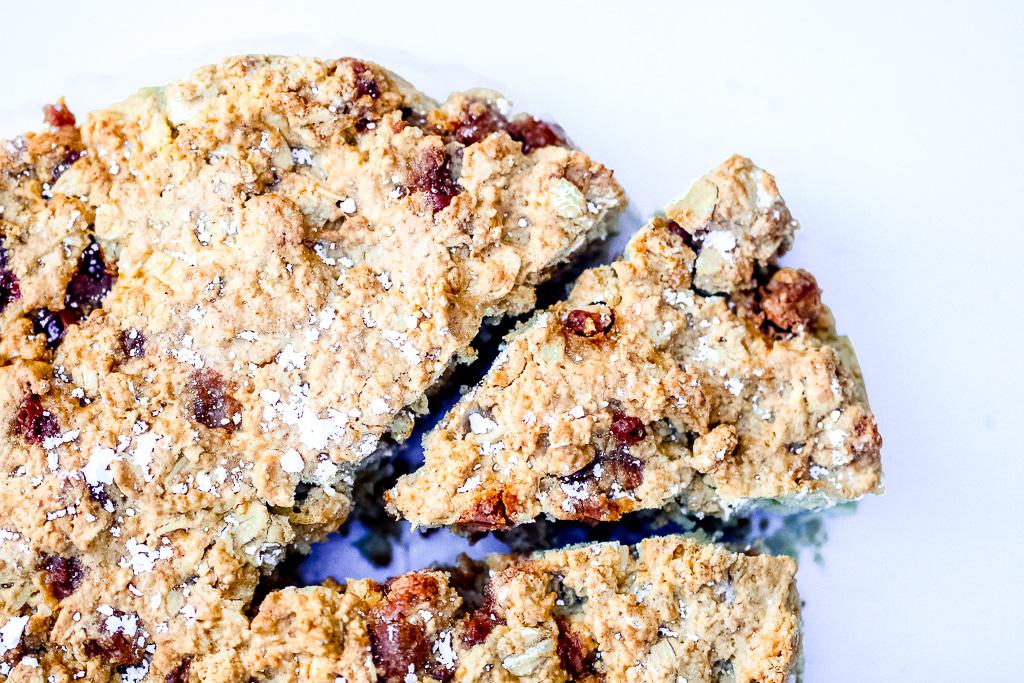 If that's your jam too, all you need to do is simply use an oven safe pan that will fit into your air fryer basket.
Line the bottom with parchment paper and then place the dough directly into the pan.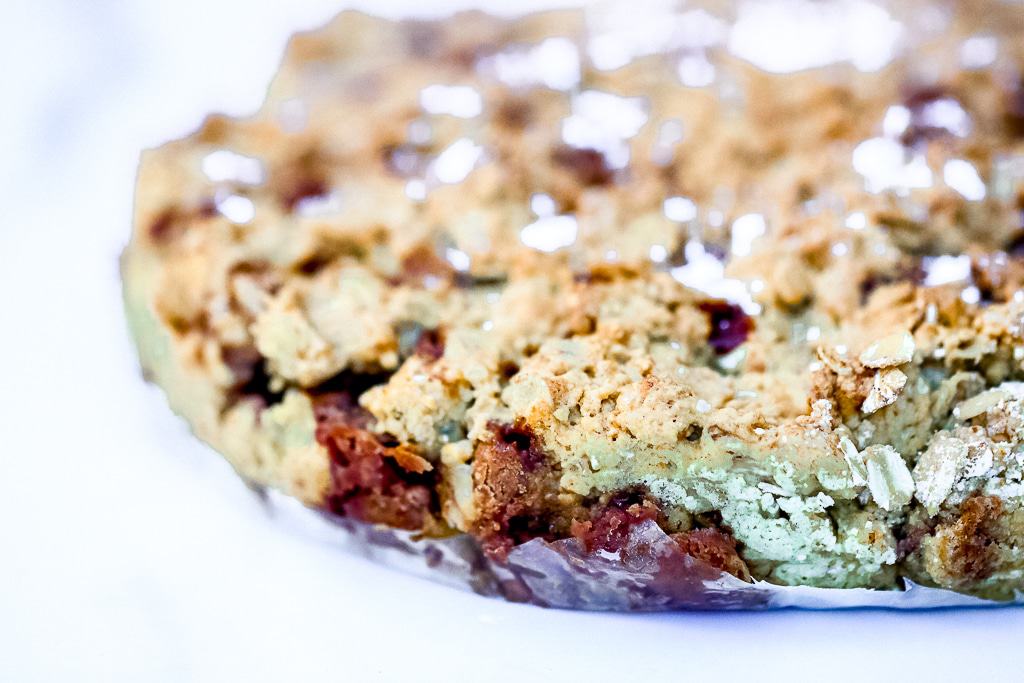 Flatten it with the back of a spatula and viola, it's ready to go in to bake!
If you prefer to bake them in single serve portions, you will want to liberally mist the air fryer basket with an olive oil spray before placing them into the basket.
Personally, I don't recommend using the parchment paper directly in the air fryer basket.
It can easily get caught up in the air circulation and potentially create a catastrophe!
Any advice to prevent scorching baked goods in my air fryer?
I learned the hard way, so let me break it down for you.
Since the air circulates in a smaller space and thus gets a bit hotter, you want to be careful not to burn the cookie dough.
My motto when it comes to baking in the air fryer is:
Take it low and slowwwwwww!
Trust me though, it's not really that slow (you can spend your time taking cute photos of your kiddos sneaking bites of your recipe testing!)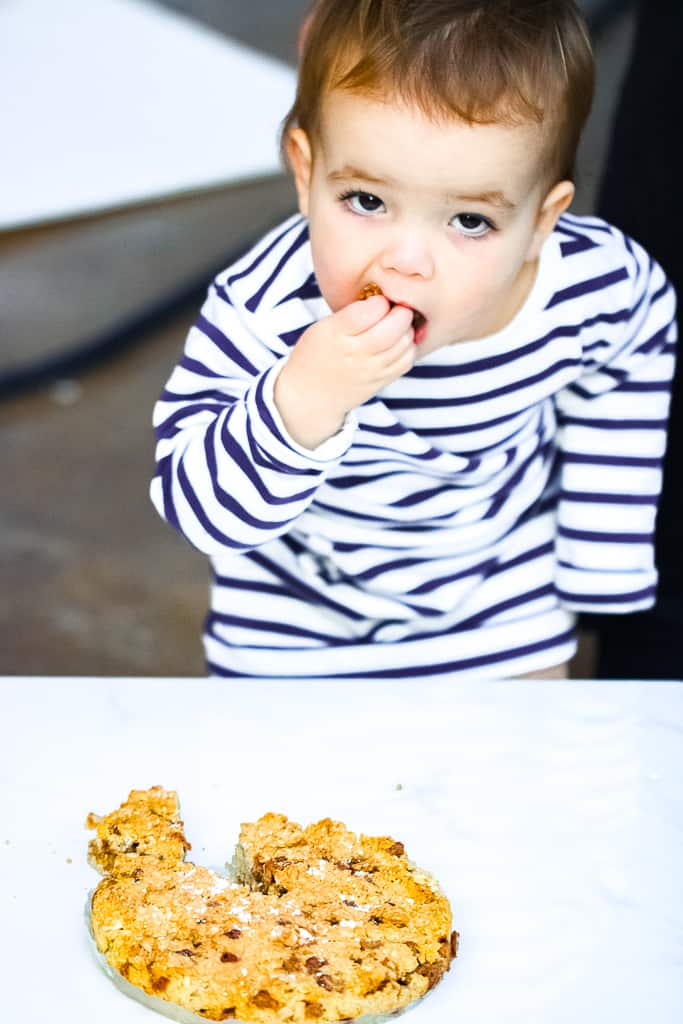 This cookie recipe came together in under 15 minutes, so it's not like you'll be slaving away in the kitchen for hours or anything!
What variations can I make with these cookies?
Use these simple swaps to create a cookie that suits your taste buds in the moment!
Peanut Butter Cookies
Omit the milk, and swap the butter for peanut butter. Increase the peanut butter (melted) to 1/2 cup. Toss in peanut butter chips in place of caramel chips.
Oatmeal Raisin Cookies
Add in 1 teaspoon of ground cinnamon, and swap the caramel chips for raisins.
Basic Chocolate Chips Cookies
Swap the oats with all-purpose flour. Increase the butter to 1/3 cup and omit the milk. Toss chocolate chips in for the caramel chips.
White Chocolate Cranberry Cookies
Swap the caramel chips for 1/4 cup white chocolate chips and 1/3 cup of cranberries.
ENOUGH DROOLING! Pin the recipe now and whip them up later!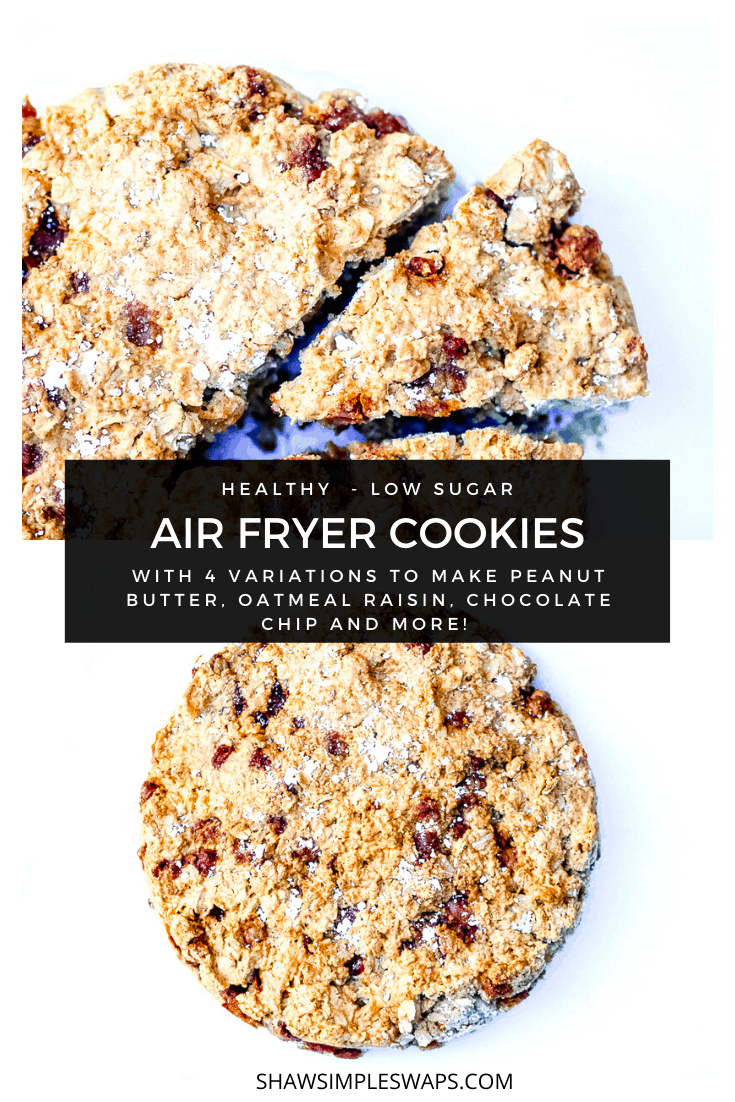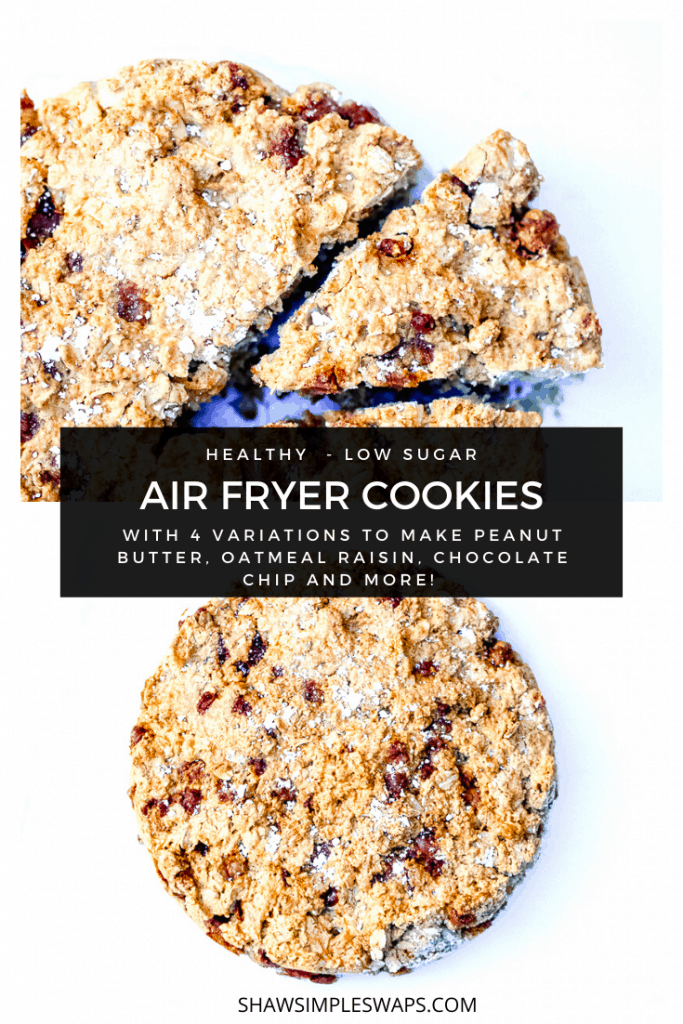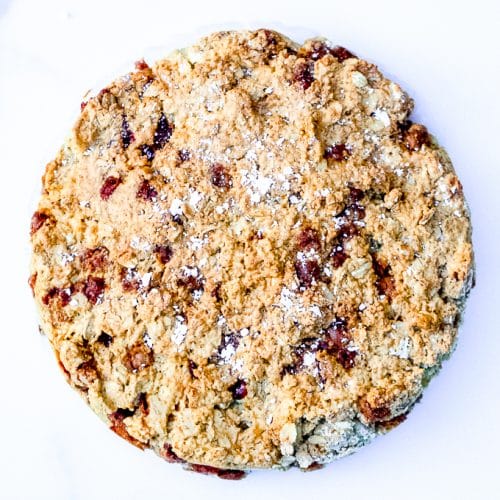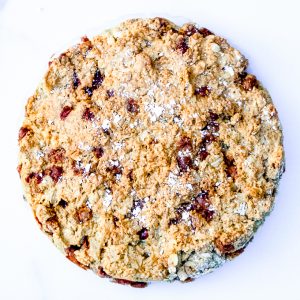 Air Fryer Cookies
A healthy, simple and delicious cookie recipe to prepare in the air fryer with 4 simple variations to try!
Print
Share by Email
Ingredients
1

cup

old fashioned oats

1

cup

whole wheat flour

1/2

tsp

baking soda

1/4

tsp

salt

1/3

cup

brown sugar

2

tbsp

butter

melted

1

tsp

vanilla extract

1/4

cup

milk

1

large

egg

1/2

cup

sea salt caramel chips
Instructions
Preheat air fryer to 330 degrees F.

To a small bowl, mix together oats, flour, baking soda and salt. Set aside.

In a larger bowl, whisk together brown sugar, melted butter, vanilla, milk and the egg.

Slowly fold the dry ingredients into the wet until evenly combined. Fold in the caramel chips.

Line the bottom of an air fryer safe baking pan with parchment paper. Scoop the cookie dough into the pan, using the back of a spatula to evenly smooth the dough in the pan.

Place in the air fryer basket and cook for 15 minutes (or until top is brown and toothpick inserted comes out clean.)

Remove carefully and serve warm.

Store in an air tight container on the counter for up to 5 days or freeze for up to 3 months.
Nutrition Per Serving
Calories:
181
kcal
|
Carbohydrates:
27
g
|
Protein:
4
g
|
Fat:
7
g
|
Saturated Fat:
4
g
|
Cholesterol:
28
mg
|
Sodium:
156
mg
|
Potassium:
155
mg
|
Fiber:
2
g
|
Sugar:
11
g
|
Vitamin A:
110
IU
|
Calcium:
52
mg
|
Iron:
1
mg