Tis the season for all things pumpkin, right?!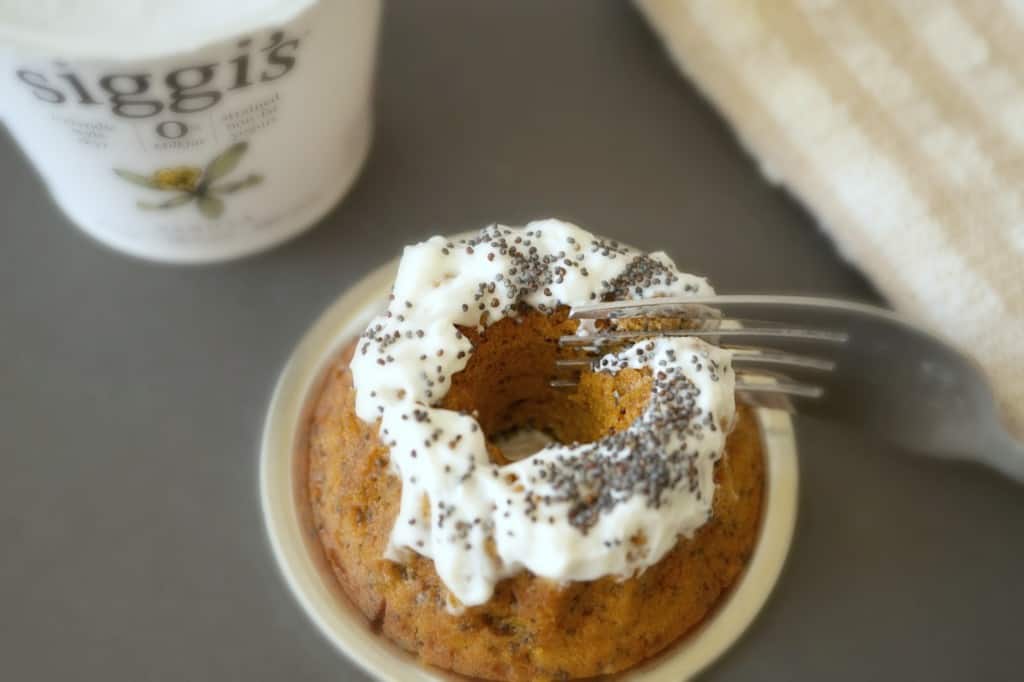 Disclosure: I received free samples of siggi's yogurt mentioned in this post. By posting this recipe, I am entering into a contest sponsored by siggi's yogurt and am eligible to win prizes associated with the contest. I was however not compensated for my time, but did find a new favorite treat! 
FULL DISCLOSURE: As I am writing this post, I am most certainly listening to Mariah Carey Christmas on Pandora…
Alright, now that I've cleared the air, I am going full speed into holiday mode! I love that stores are beginning to fill with holiday wreaths and Pinterest is stocked with Christmas tree and Santa appetizer pins galore! Truly, a foodies dream season.
Though Mr. CEO and I will be leading a somewhat nontraditional Thanksgiving this year (we're headed to New Zealand and Fiji to spend it with the Kiwis), I want to make sure we get in our fair dose of pumpkin. Thus, these Gluten Free Almond Poppyseed Pumpkin Spice Bundt Cakes were inspired by his love for pumpkin and my love for those Lemon Poppyseed Muffins, which came together beautifully with my new found best friend, siggi's yogurt.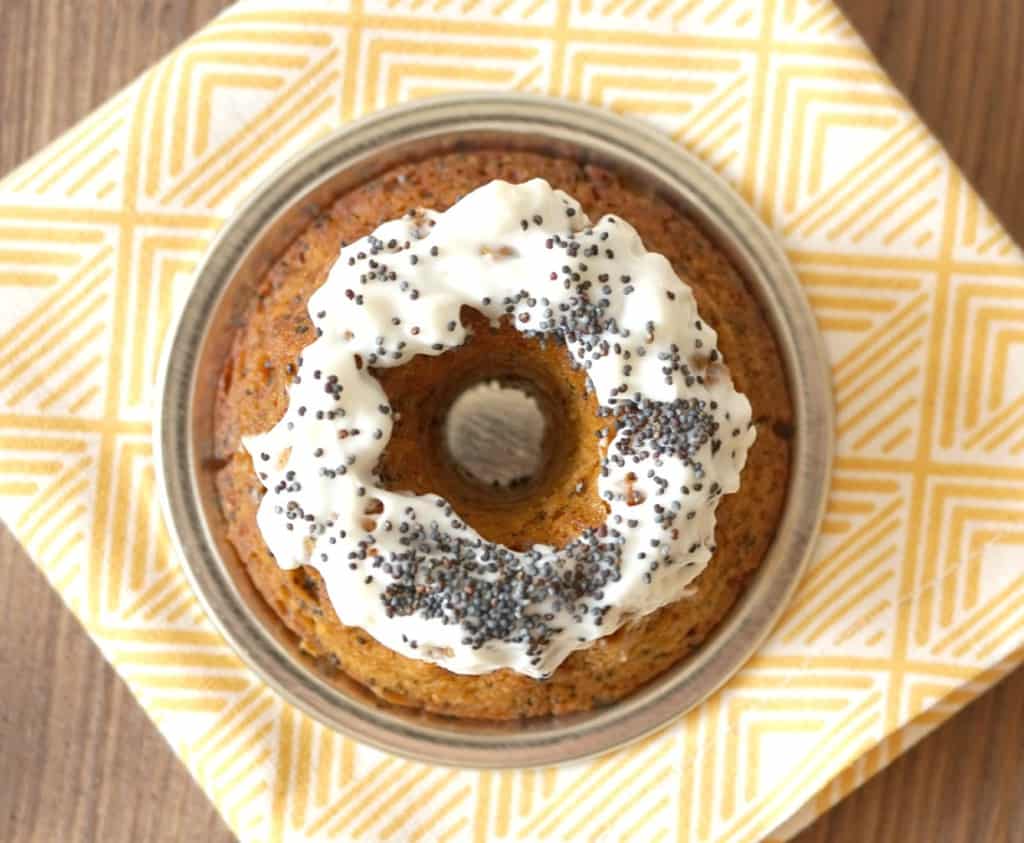 Say what? Don't worry, I'm not pulling your chain! siggi's dairy is a hidden gem in the yogurt selection and just found a permanent home in my fridge. What's great about this yogurt is it has more protein than sugar, something not many yogurts on the market today can claim.
Siggy, the founder and creator of this Icelandic style skyr yogurt, came up with the brand back in 2004 when he longed for the thick, creamy, protein rich yogurt he had as a child growing up in Iceland. He began selling his yogurt at local farmers markets in New York, and within a short time grew his business into a full scale dairy plant in Upstate New York that now distributes the product nationally.
If you're a fellow reader on the West Coast, you can find this gem in Sprouts Market as well as select Safeway and Vons Supermarkets. Nationally it is available at Whole Foods Market. I must admit, I have always wanted to try this yogurt but was skeptical because of the cost. Ranging anywhere from $1.50-$2.00 depending on the market, I was certain it would put me over my spending limit for the week. However, once I tried this, I quickly recognized how satisfied I was! I felt satiated and the consistency and flavor was out of this world.
Because I've kept my sweet tooth no secret, I am known to drop $5 easily on a one time serving of froyo at the local Yogurtland. However, I'm not kidding when I say I would be much more satisfied and content stocking up on a few of the siggi's flavored yogurts to have on hand when my sweet craving strikes. Not only would I keep an extra $3.50 in my wallet, but my calorie count would be kept in check (#realtalk, I easily exceed >500 calories when I load on those M&Ms and Twix bar chunks).
Plus, you could pair it with a delicious homemade Chocolate Chip Cookie Dough Bar, a slice of this Sweet Potato Chia Chocolate Breakfast Cake, or these Gluten Free Almond Poppyseed Pumpkin Bundt Cakes to hit your protein, carbs and dairy all in one feel swoop! Now, cake and sweet yogurt for breakfast, that's something I can get on board with!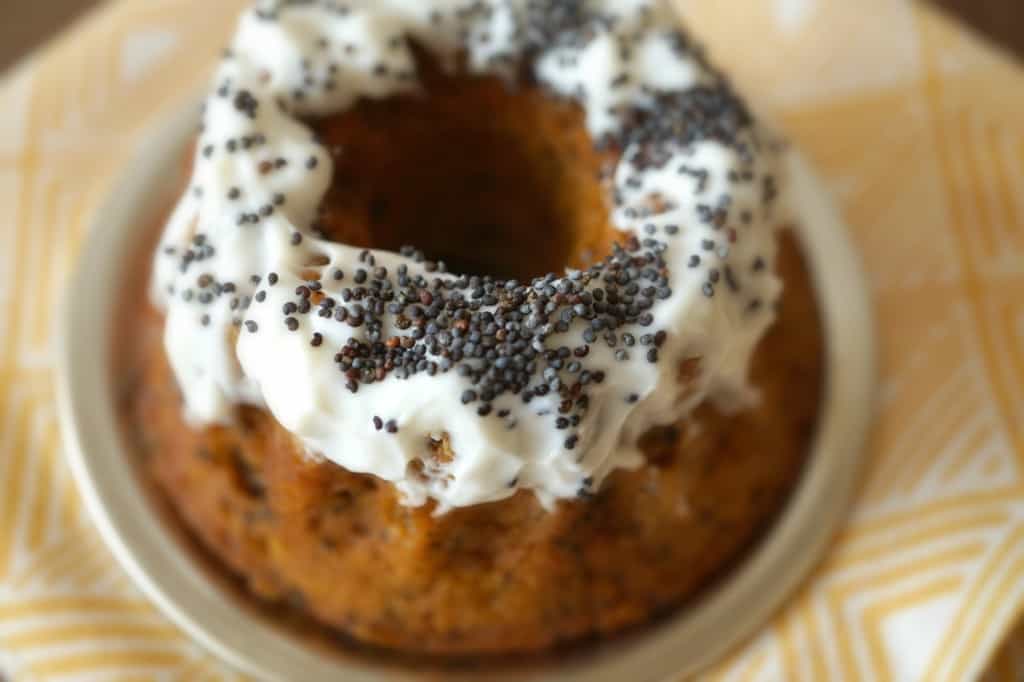 Since Thanksgiving is right around the corner, don't stress out the week of and have to whip up pancakes or something fancy the morning of for your guests. The beauty of these Gluten Free Almond Poppyseed Pumpkin Bundt Cakes is that you can make them ahead of time and pop them in the freezer. Defrost and serve with a delicious lather of siggi's vanilla yogurt and extra poppyseeds; your guests will think you've played Betty Crocker all morning but in reality, you managed to sneak in that run too!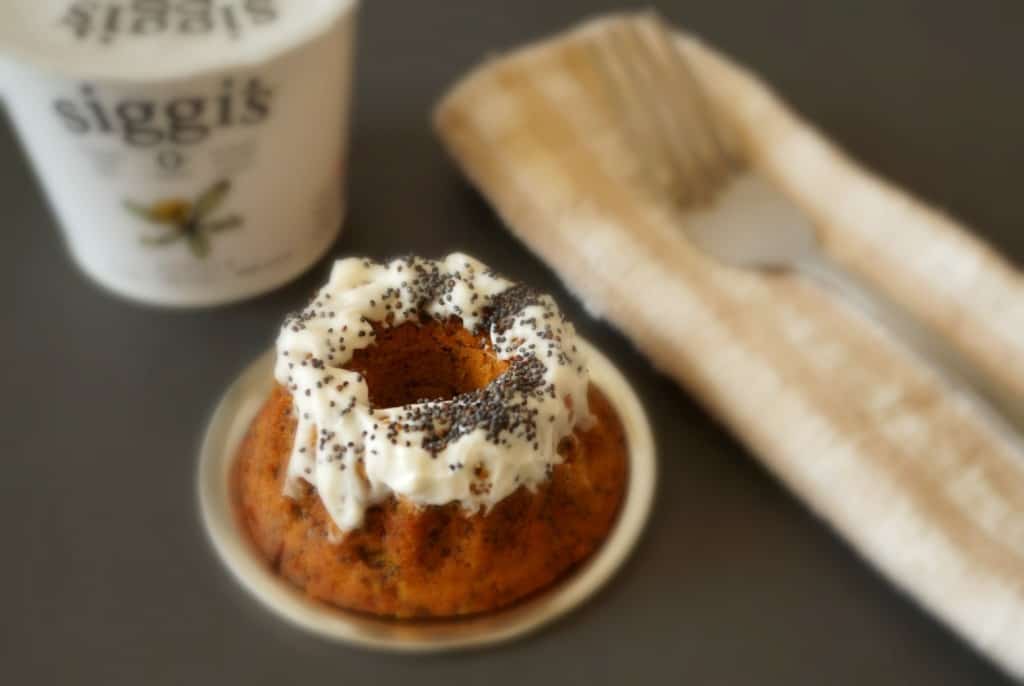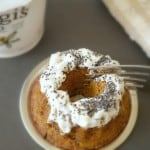 Almond Poppyseed Pumpkin Spice Bundt Cakes
Course:
Breakfast, Dessert
Ingredients
Dry Ingredients

2 1/4

cups

dry oats

pulsed into flour like consistency

1/2

cup

brown sugar

3

teaspoon

baking powder

1

teaspoon

pumpkin pie spice

1/2

teaspoon

salt

Wet

1/4

cup

maple syrup

1/4

cup

vegetable oil

1/2

cup

pumpkin puree

1/2

cup

siggi's 0% vanilla yogurt

1

teaspoon

vanilla extract

1

tablespoon

almond extract

1/2

cup

milk

Topping

1-2

tablespoons

siggi's 0% vanilla yogurt
Instructions
Preheat oven to 350*F. In a food processor, pulse 2 1/4 cups of dry oats into a flour like consistency.

In a large bowl, mix together all wet ingredients with a spatula.

In a medium bowl, mix all dry ingredients.

Gently fold the dry into the wet ingredients, making sure the entire batter is thoroughly mixed.

I like to use a spatula and whisk with my hands, however a hand mixer will also do on a medium speed.

Using a small 2-oz ice cream scoop, pour batter into a pre-greased mini budnt cake pan.

*If you don't have one, feel free to use a muffin tin as well.

Cook for 22-25 minutes, or until wooden pick comes out clean when inserted into the bundt cake.

Remove from oven and cool on a wire rack for 10-15 minutes.

Dollop with siggi's vanilla yogurt and a few poppyseeds.

Enjoy!
Be sure to check out the other creative and unique ways to use siggi's yogurt and click on the links below!