Donut lovers' unite! 80 Calorie Donuts… have I died and gone to heaven?!!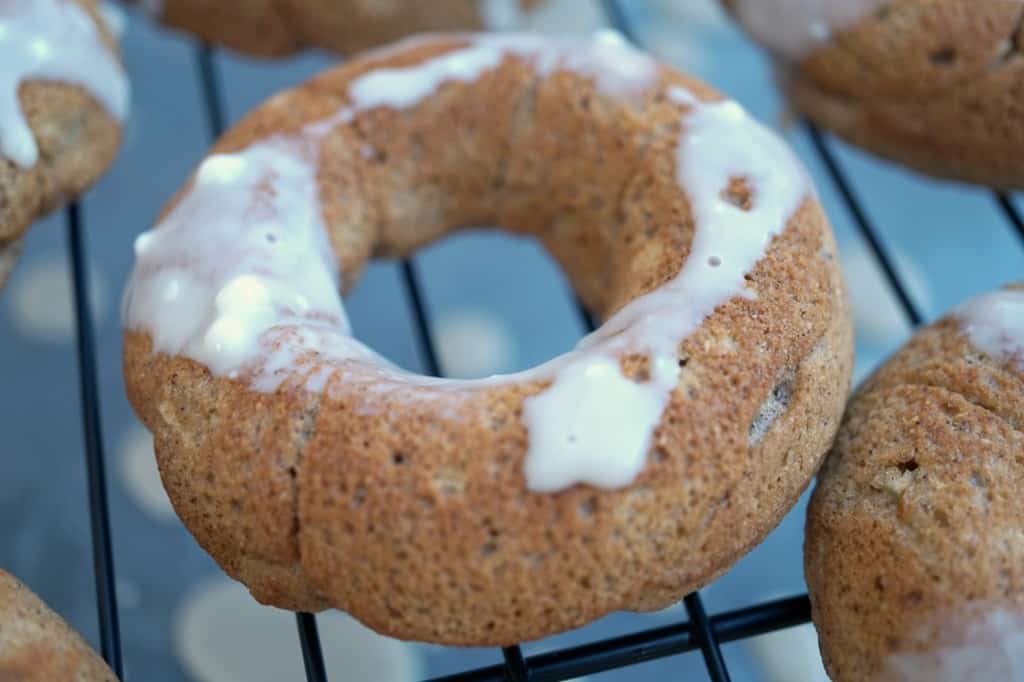 Disclosure: I received free samples of siggi's yogurt mentioned in this post. By posting this recipe, I am entering into a contest sponsored by siggi's yogurt and am eligible to win prizes associated with the contest. I was however not compensated for my time.
I love a good donut as much as the next person. Cake I prefer, however I will usually sneak a bite or two of a yeast if that's the only one left in the box (or as Mr. CEO calls it, "the critter" attacks).
Regardless, I've been yearning for a donut that I could eat everyday and not feel groggy and sluggish like I do after I've had one of those amazingly delicious 100 grams of sugar Chocolate Peanut Cake Donut from Peterson's. Then, low and behold I open the latest Cooking Light Magazine I picked up at my Fit Foodie Race and saw a HEALTHY Sour Cream Donut recipe from a fellow Dietitian.
Immediately I ripped it out and begin my recipe work (aka scratching ideas in my 3 ring notebook I keep as my inspiration pad). After an hour, it hit me, I have the perfect combo!  Let me preface, the perfect combo usually stems from ingredients I have in house and need to use sooner than later. I hate wasting food and will create anything to make sure I use every last piece of it.
Enter, these Apple Pie Walnut Donuts with Vanilla Glaze. Luckily, one of the ingredients I had on hand but was saving for a special moment was my siggi's yogurt for this months Recipe ReDux contest. Knowing what a treat those Gluten Free Almond Poppyseed Bundt Cakes I whipped up last week were, I thought heck, this stuff is gold. I can sub this for nearly all the fat and part of the sugar in these donuts.
Siggi, the owner of siggi's dairy, has built his brand around creating a product that provides a stellar, creamy thick consistency with outstanding flavor that contains minimal sugar. His skyr (pronounced skeer) yogurt line is literally the lowest sugar I've ever seen. He uses all natural sugar sources and real ingredients to add taste to his wide variety of flavors. Plus, it's packed full of protein, making it a great addition in baked goods!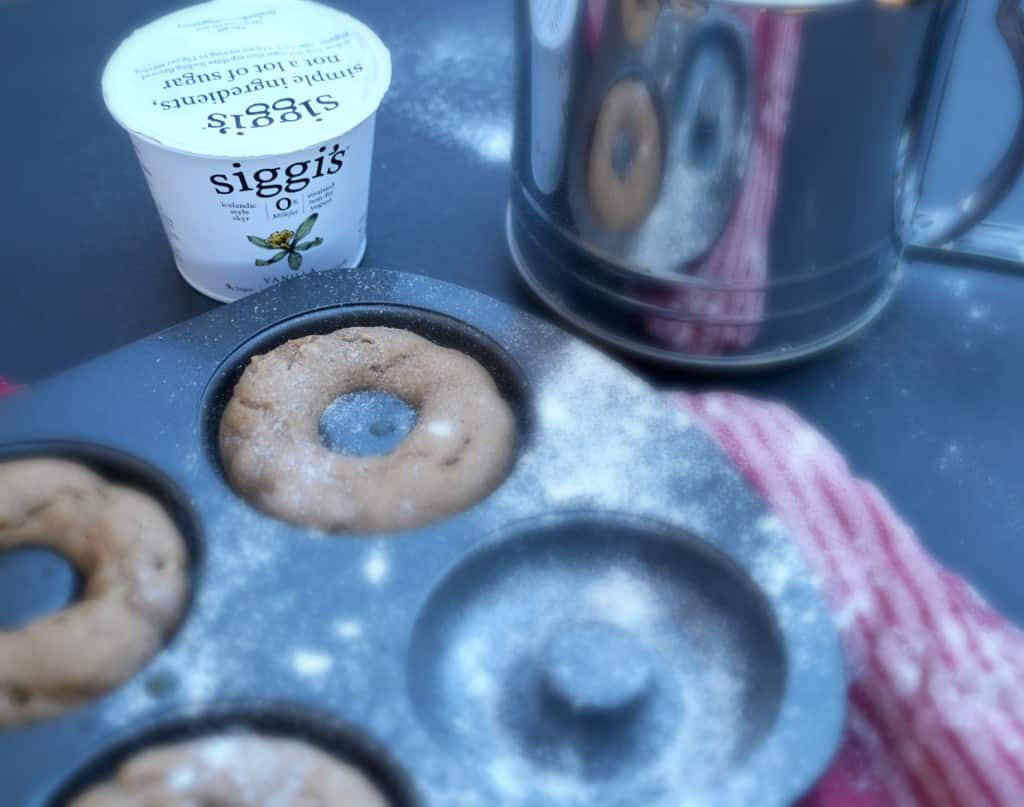 Using the vanilla 0% siggi's yogurt, I combined the bruised and beaten apple from Mr. CEOs lunch he didn't eat (tisk tisk) and created this masterpiece. I usually don't call my recipes masterpieces, but #realtalk, this was the BEST THING I'VE EVER MADE!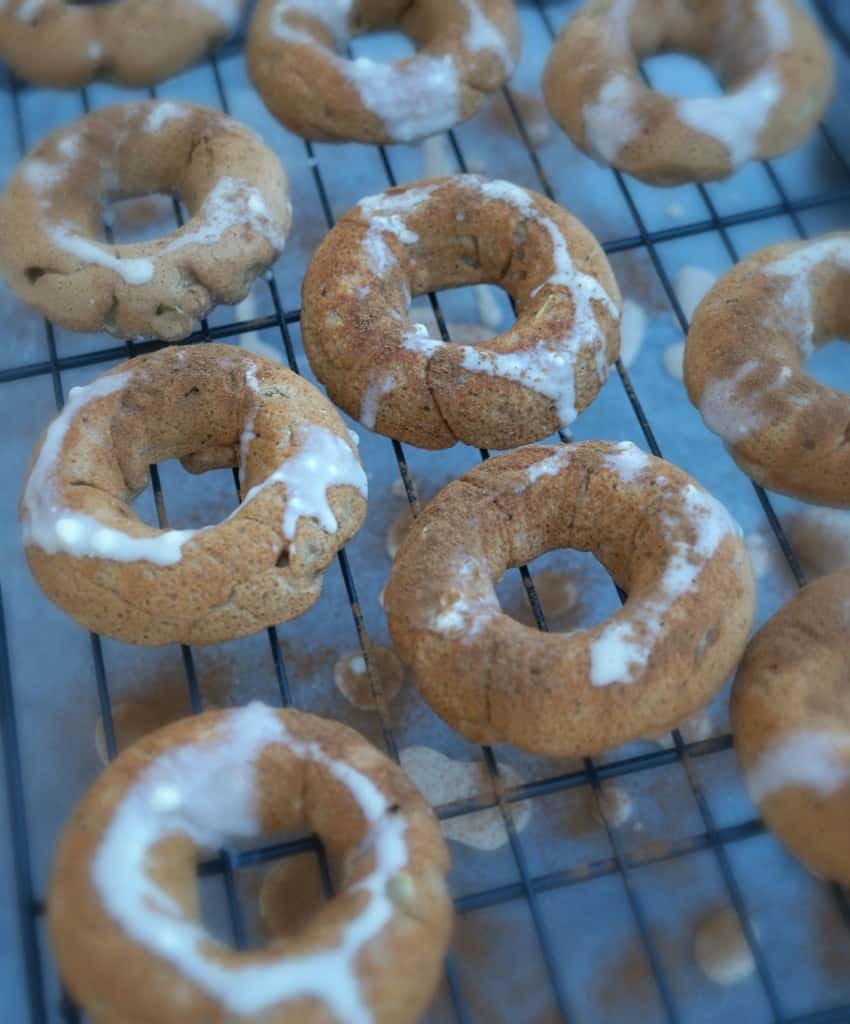 One thing to note is the sifted white whole wheat flour in this recipe. The original recipe I saw in Cooking Light called for pastry flour, which I don't think I've ever purchased. 100% white whole wheat flour has a slightly higher gluten content than a typical pastry flour, but still worked great in this recipe.  Personally, my hypothesis is because I sifted the flour it was so light and crumbly, but that's just my two cents!
The awesome thing about this recipe is not only the stellar nutrition (less than 80 calories per donut) but also that it too freezes well! Whip these up the week before family arrives for the holiday and take them out the night before for breakfast in a flash. Plus, they pair wonderfully with a serving of siggi's dairy on the side for a little extra protein.
Enjoy & Happy Holidays!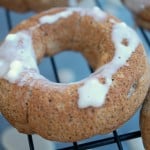 Apple Cinnamon Donuts with Vanilla Glaze
Course:
Breakfast, Sweet Treats
Ingredients
1/4

packed light brown sugar

1/2

cup

sugar*

3

tablespoons

light vegan margarine*

1/4

cup

liquid egg whites

1/2

cup

+ 1/2 cup siggi's 0% vanilla yogurt

divided

1/3

cup

unsweetened vanilla almond milk

1

tablespoon

vanilla extract

1 1/4

cups

sifted whole wheat flour

3/4

teaspoon

baking powder

1/4

teaspoon

baking soda

1/8

teaspoon

pink Himalayan sea salt

1/2

teaspoon

pumpkin pie spice

1

teaspoon

cinnamon + 1/2 teaspoon for dusting

1/2

cup

finely chopped apple*

1

tablespoon

chopped walnuts

1

tablespoon

maple syrup
Instructions
Preheat oven to 375* F.

In a large bowl, combine brown sugar, sugar, margarine, egg whites, siggi's vanilla yogurt, almond milk and vanilla.

Using an electric mixer, beat on medium speed for 2-3 minutes. Set aside.

On a sheet of wax paper, sift the white whole wheat flour. (Make sure to measure out flour first then sift).

Combine sifted flour to the large bowl with other ingredients. Do not mix yet!

Add baking powder, baking soda, salt, pumpkin pie spice and cinnamon.

Now, mix on medium speed with your electric mixer for 3-4 minutes.

Add the chopped apples and walnuts, folding gently into batter with a spatula.

Spray a donut pan with cooking spray.

Pour batter into a large ziplock bag, cutting a small hole in the corner of the bag.

Fill donut pan with batter.

Bake for 12-14 minutes. Remove and let cool on a wire rack.

Repeat again for remaining batter.

Once donuts have cooled, frost with a little dab of siggi's vanilla yogurt and remaining cinnamon.

Enjoy!