Christmas in July… okay! Let's continue with that festive theme and explore the flavors of fall with this Sweet Potato Chia Chocolate Breakfast Cake! 
Alright, I know we don't want to wish time away because it'll be here before we know it, but why not fill your house with a little dash of Christmas cheer with a delicious, fresh baked breakfast cake!
This cake is WAY different than the past Sweet Potato Flax Chocolate Chip Bread or the Honey Flax Sweet Potato Apricot Cookies (hmm… note to self, I love using flax and chia in my breakfast swaps). Anyways, why is this cake SO DIFFERENT than the other two #simpleswap recipes?
Well, for starters, it's much prettier! I admit, I eat with my eyes, as I'm sure many of you do as well. When something looks pretty, immediately my senses of sight, taste and smell engage with the recipe creation. Maybe it's not a #HuffPost winning recipe every time, but my taste buds surely are pleased with the presentation.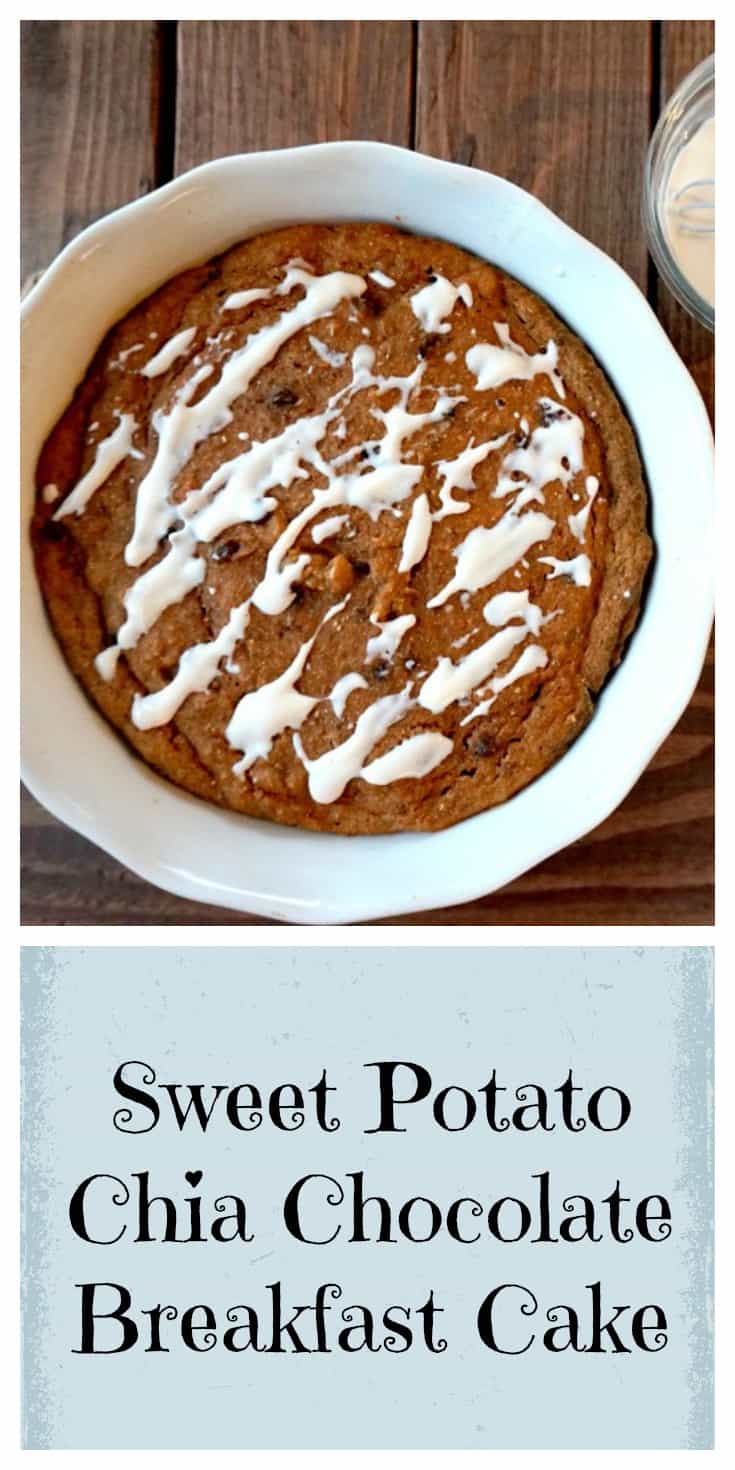 Second, this Sweet Potato Chia Chocolate Breakfast Cake is S-U-P-E-R D-E-N-S-E! What that means to my tummy is I'll be left satisfied and satiated from the fiber and protein combo. Plus, the simple deliciousness of the sweet potato and cinnamon gives the cake such a subtle surge of sugar to appease your sweet craving!
The only downside to this breakfast delight is the 40 minutes it takes to bake.  Sometimes I feel like I just can't wait, so it's a good thing I practice some mindful eating techniques in between and sip on my cup of coffee so I don't over indulge in this beauty when it pops out of the oven! Caution- It will be hot!
I like to serve this up with a nice scoop of 0% Greek Yogurt with a hint of maple syrup to get that extra boost of protein and dairy in my meal. At under 200 calories and over 12 grams of protein for this combo, I will be back for more!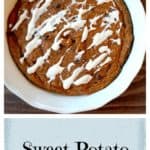 Print
Sweet Potato Chia Chocolate Breakfast Cake
Ingredients
2

medium sweet potatoes

baked, without skin

1

cup

whole wheat flour

2/3

cup

stevia

or sugar of choice

1/2

tbsp

baking powder

1

tsp

pumpkin pie spice

2

tbsp

cacao chips

2

tbsp

chia seeds

1

tbsp

flax seeds

1

egg white

1/2

cup

unsweetened almond milk

2

tbsp

margarine

vegan
Instructions
Preheat oven to 350*F.

Begin by mashing sweet potatoes into a smooth consistency with your hand mixer in a medium bowl.

In that same bowl, add the almond milk, margarine, egg white and sugar. Mix together.

In a separate bowl, mix remaining ingredients together.

Slowly incorporate the dry into the wet until a thick, uniform consistency is achieved.

Pour batter into a greased pie pan or circular pan and bake for 35-40 minutes!

Knife should come out clean when cake is finished.

Let cool 5 minutes to firm up, then cut and enjoy warm with a glass of milk or cup of coffee!
Nutrition
Serving:
1
g
|
Calories:
130
kcal
|
Carbohydrates:
20
g
|
Protein:
4
g
|
Fat:
4
g
|
Saturated Fat:
1
g
|
Sodium:
500
mg
|
Fiber:
5
g
|
Sugar:
2
g