Savor the flavor with this Sweet Potato Pie Greek Yogurt Parfait!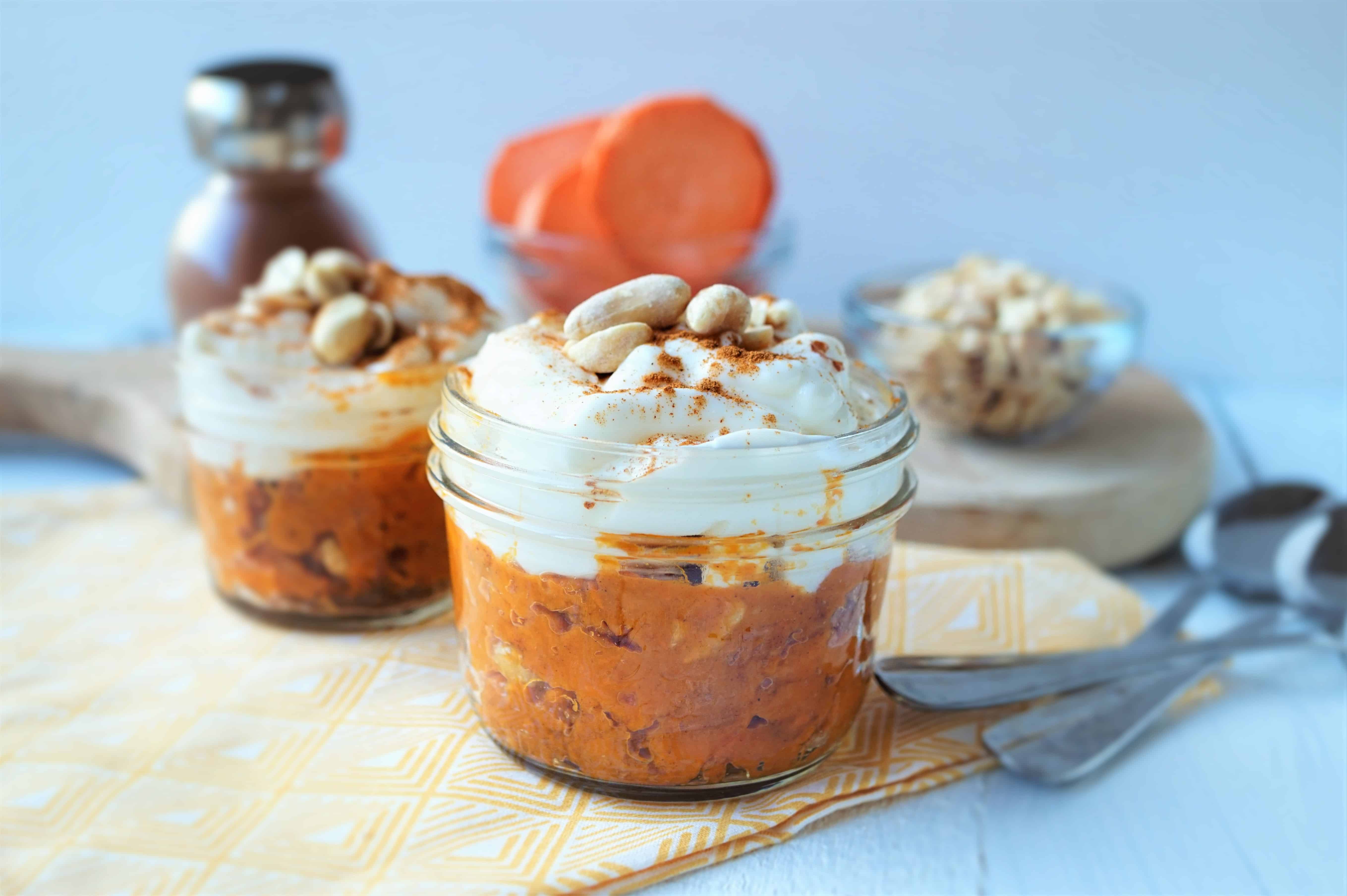 Sweet Potato Pie Greek Yogurt Parfait – the answer to your sweet tooth!
Alright San Diego, what's up with the weather? One day you're gorgeous and glowing, the next your gloomy and cold. I won't complain though, I'd much rather have a weekend of early June gloom than be back in the bitter cold and snow of the Midwest. Been there, done that, no thank you!
The one good thing about the chillier weather is that it has me craving fall comfort foods. There's nothing like a big ole bowl of chili, a fresh baked beer biscuit, and a delicious slice of pie! Luckily I had a few frozen containers of chili I defrosted, but sadly no pie. Sigh, what's a woman to do?! Bingo, I had it; Sweet Potato Pie greek Yogurt Parfait to the rescue!
Honestly, I really had no idea what I was going to whip up when I put the sweet potato in the oven. Seems like a constant theme with me, right? I could taste the slice of pie on my lips, but definitely did not have the energy to bake one. I wanted that instant satisfaction and an hour of waiting was not going to do it for me. That's when this creation came to mind.
After 30 minutes in the oven, my sweet potato was soft and caramelized…. Yaaaaaas!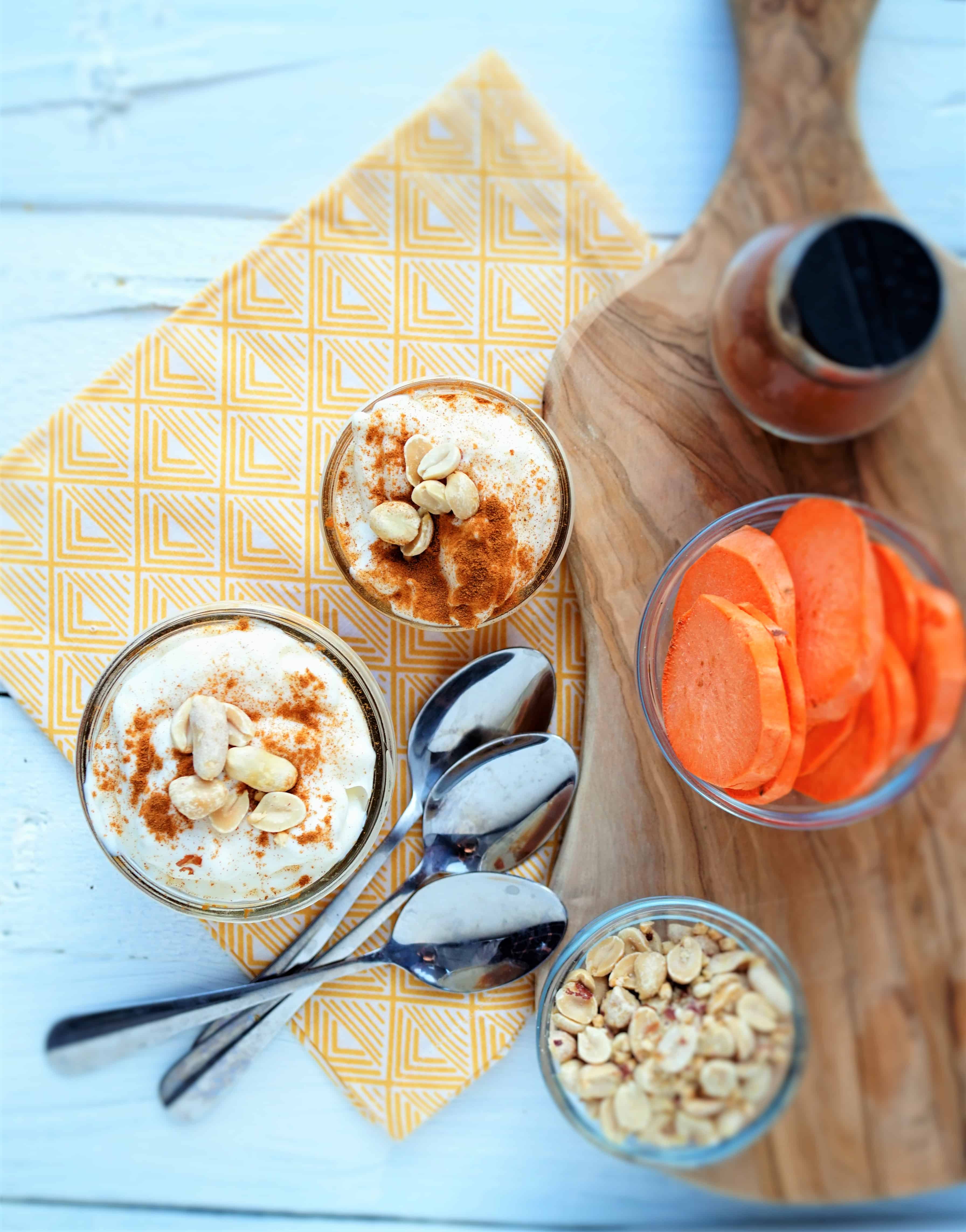 Did you know sweet potatoes have nearly 200% of your daily value of vitamin A for under 200 calories?
♦ Plus, sweet potatoes are filled with fiber and anthocyanins, which boast great anti-inflammatory properties.
♦ Yes, all of your suffering with inflammation, flare ups of arthritis and other medical ailments, take note. Though right now research is only in animal studies, I can promise it won't hurt you to amp up your intake of sweet potatoes ladies and gentlemen!
♦ Canned sweet potatoes are great too for an on the go, nutrient dense option when timing is tight. Just look for a variety without added sugar and drain the liquid before mashing together!
Now, back to the Sweet Potato Pie Greek Yogurt Parfait.
Literally, easiest thing since sliced bread. Whip the sweet potato, add a little cinnamon, vanilla extract, and if you're a peanut butter addict like me, two tablespoons of powdered peanut butter. Stir in a tablespoon of crushed peanuts, top with Greek yogurt and viola, Sweet Potato Pie Greek Yogurt Parfait is served. Enjoy!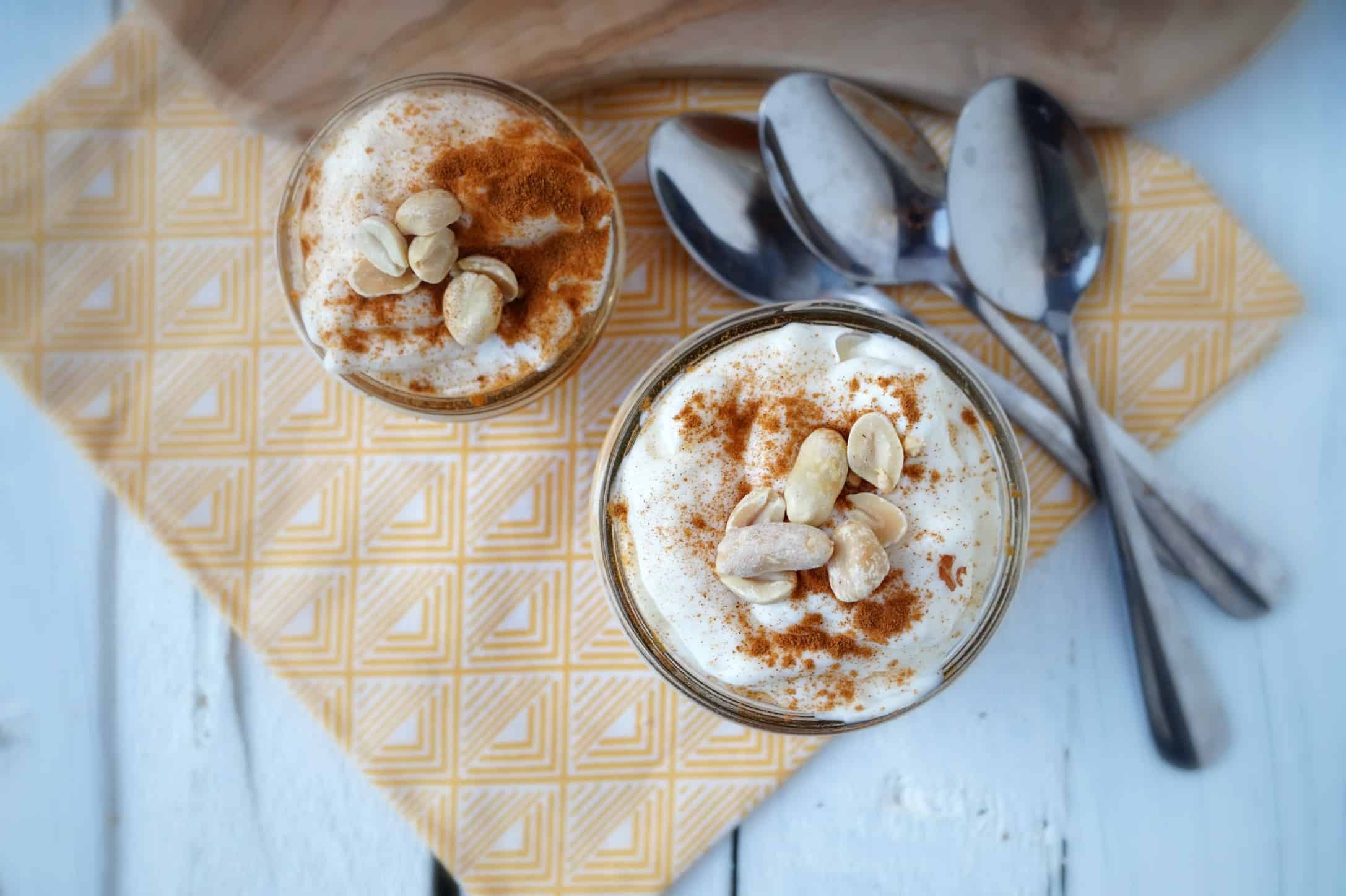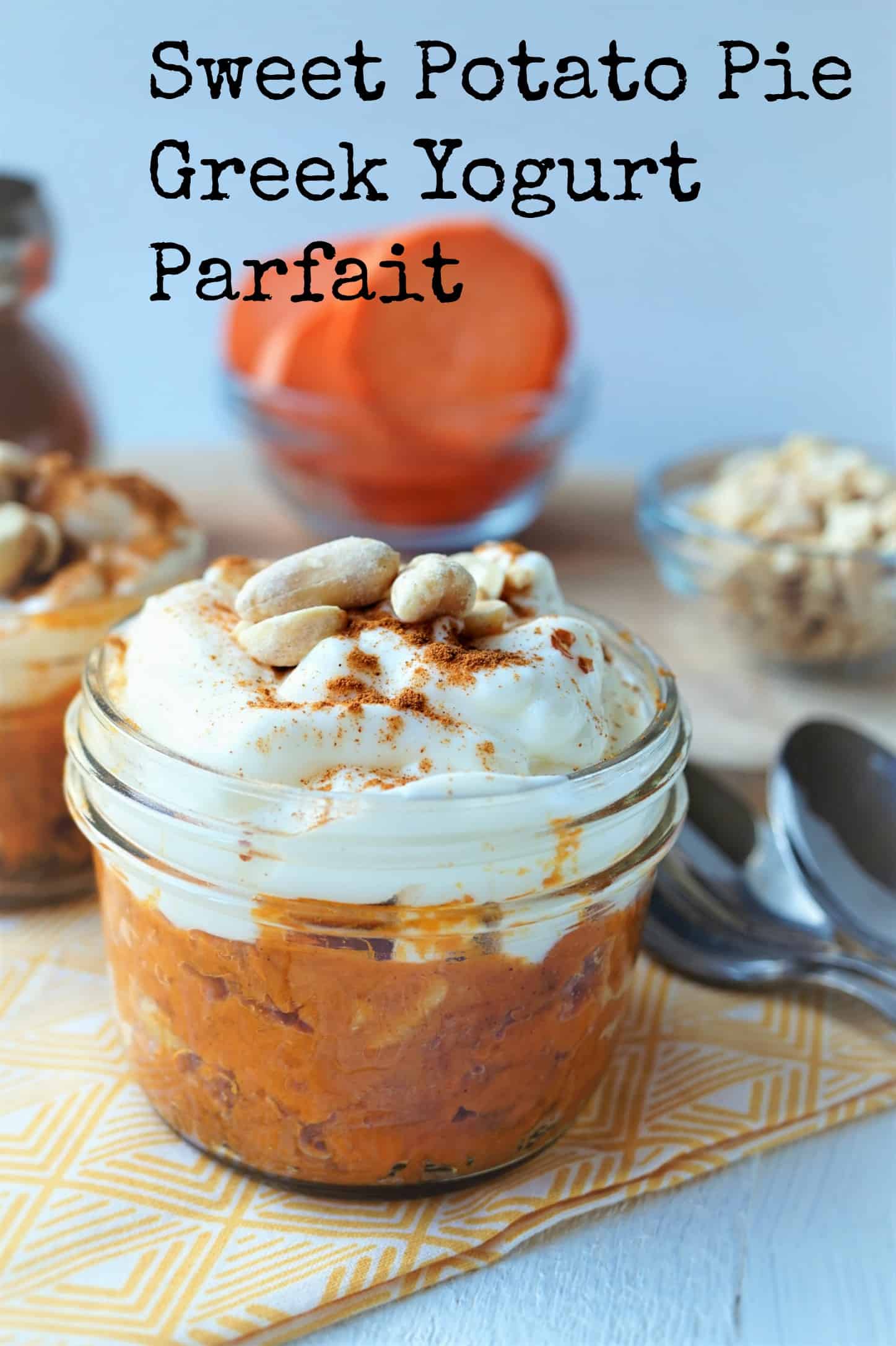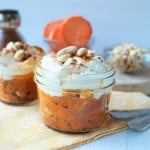 Print
Sweet Potato Pie Yogurt Parfait
Dive into a slice of Sweet Potato Pie sans the calories, fat and added sugar! This Sweet Potato Pie Yogurt Parfait is the answer to your prayers. You're welcome!
Ingredients
1

cup

mashed sweet potato

1 cup of canned or 1 medium sweet potato, baked, skin removed

1/4

teaspoon

cinnamon

1/4

teaspoon

vanilla extract

2

tablespoons

powdered peanut butter

optional

1/2

teaspoon

sugar of choice

optional

1

tablespoon

crushed peanuts

optional

1

cup

vanilla or plain Greek yogurt

divided into 1/2 cups
Instructions
Preheat oven to 375*F and bake sweet potato for 20-30 minutes, or until soft.

Remove and let cool.

Remove skin and whip sweet potato using electric mixer.

(Note-If using canned sweet potatoes, drain excess liquid and beet sweet potatoes using electric mixer.)

Add in cinnamon, vanilla, peanut butter and sugar, if desired.

Stir in 1 tablespoon of crushed peanuts.

Divide into half portions and place in bottom of small jar.

Top each with 1/2 cup Greek yogurt of choice.

Top with crushed peanuts.
What flavor of fall are you craving?