Ring in summer with this Crisp Lentil Salad!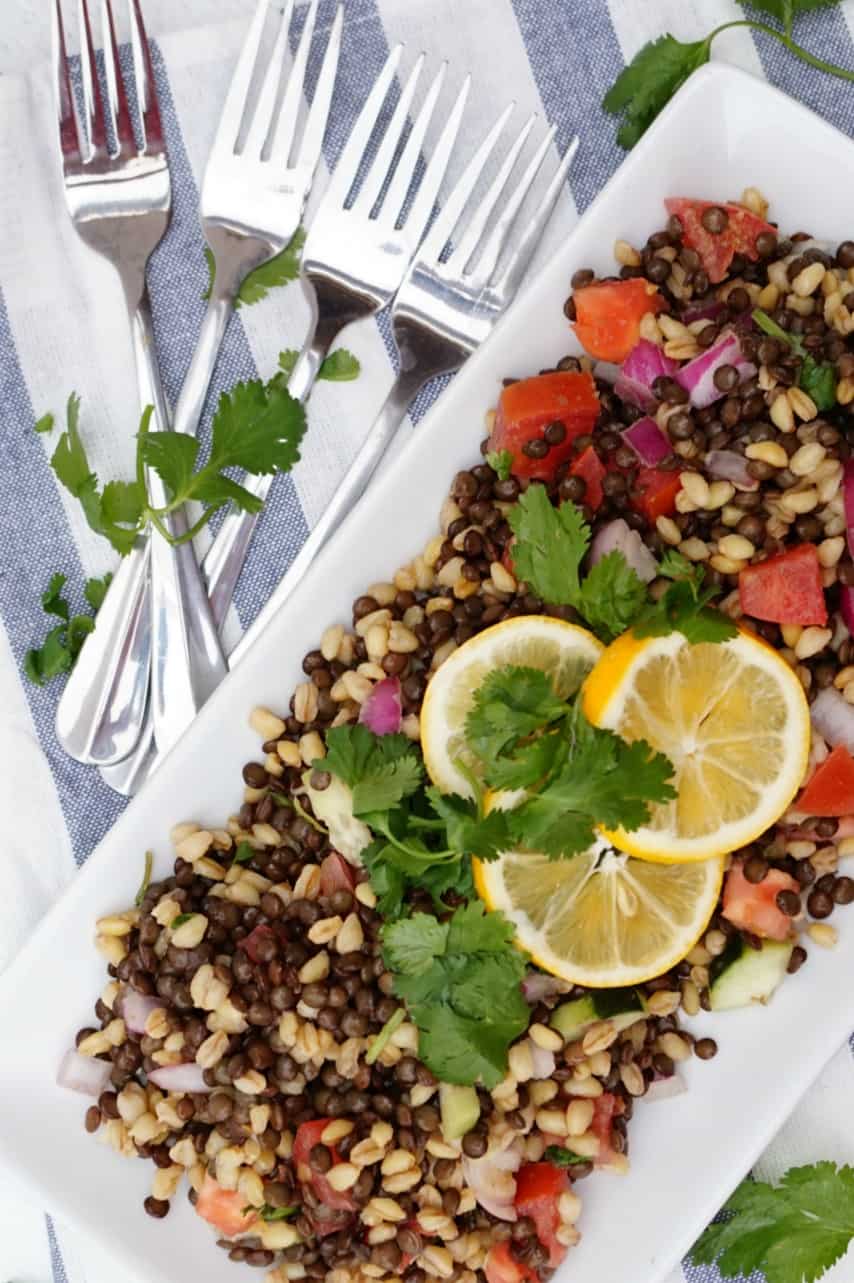 I can't tell you how excited I am that the San Diego June Gloom is finally starting to fade. I know, I shouldn't complain; after all, I know we pretty much live in paradise 333 days of the year!
Since it totally feels like summer, I've been craving salads. The other day I literally opened up my fridge, poured a bag of lettuce on a plate, opened a can of beans, washed and rinsed them, then put the entire can over my lettuce. I mean literally it looked like a 3 year old made it, but let me tell you, it was like heaven on plate!
Okay, I know that sounds crazy, but I'm not lying! There's something so satisfying in the crisp, fresh taste that your body gets with those veggies and pulses. I mean look at this Crisp Lentil Salad – your mouths watering, huh?!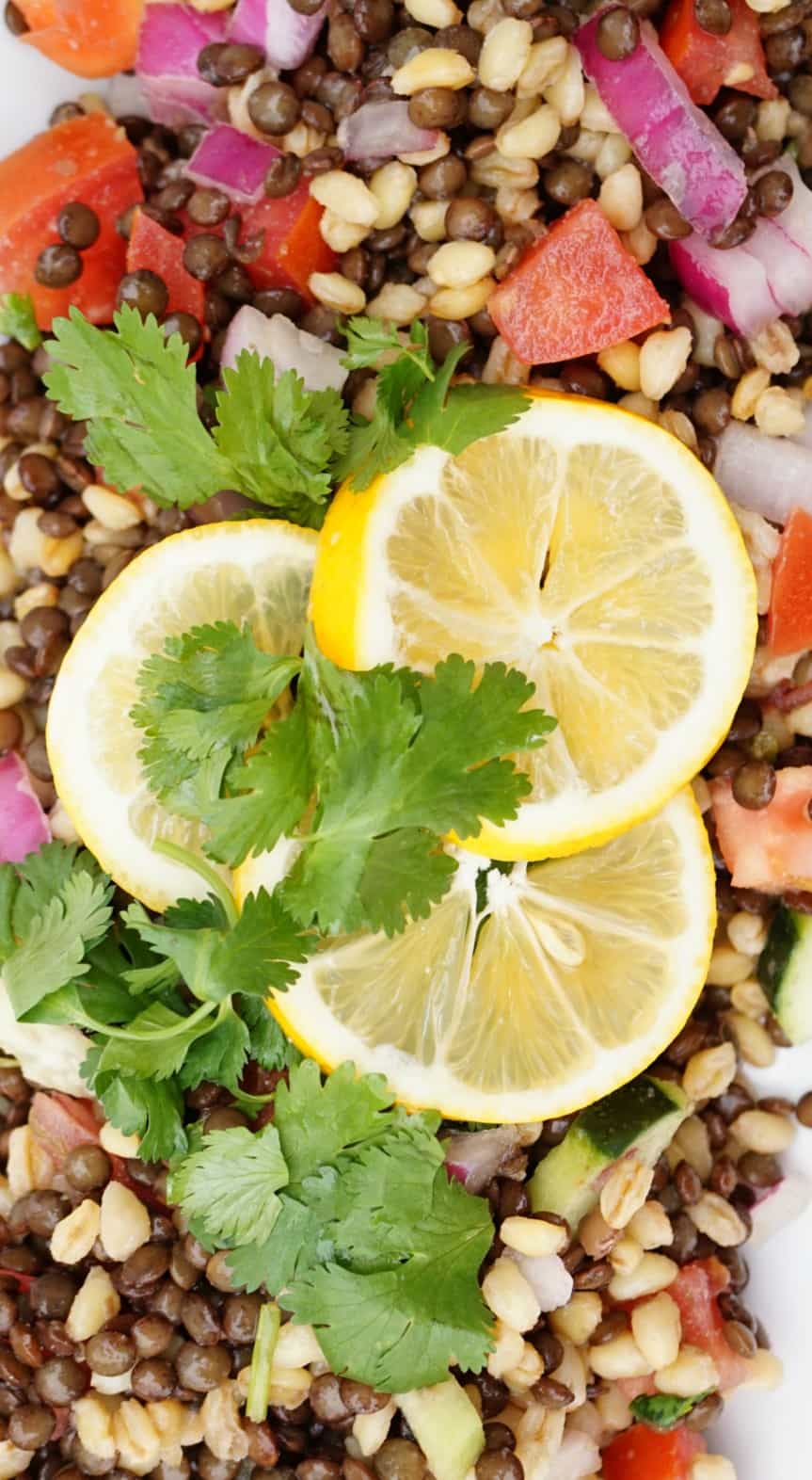 Riding high on my salad kick, I knew I had to recreate a beauty from my friend Kim!
To introduce Kim to you, I asked her to answer a few questions. Just like Mr.CEO last week, but lucky for both of us, she was a bit more enthused to talk to me!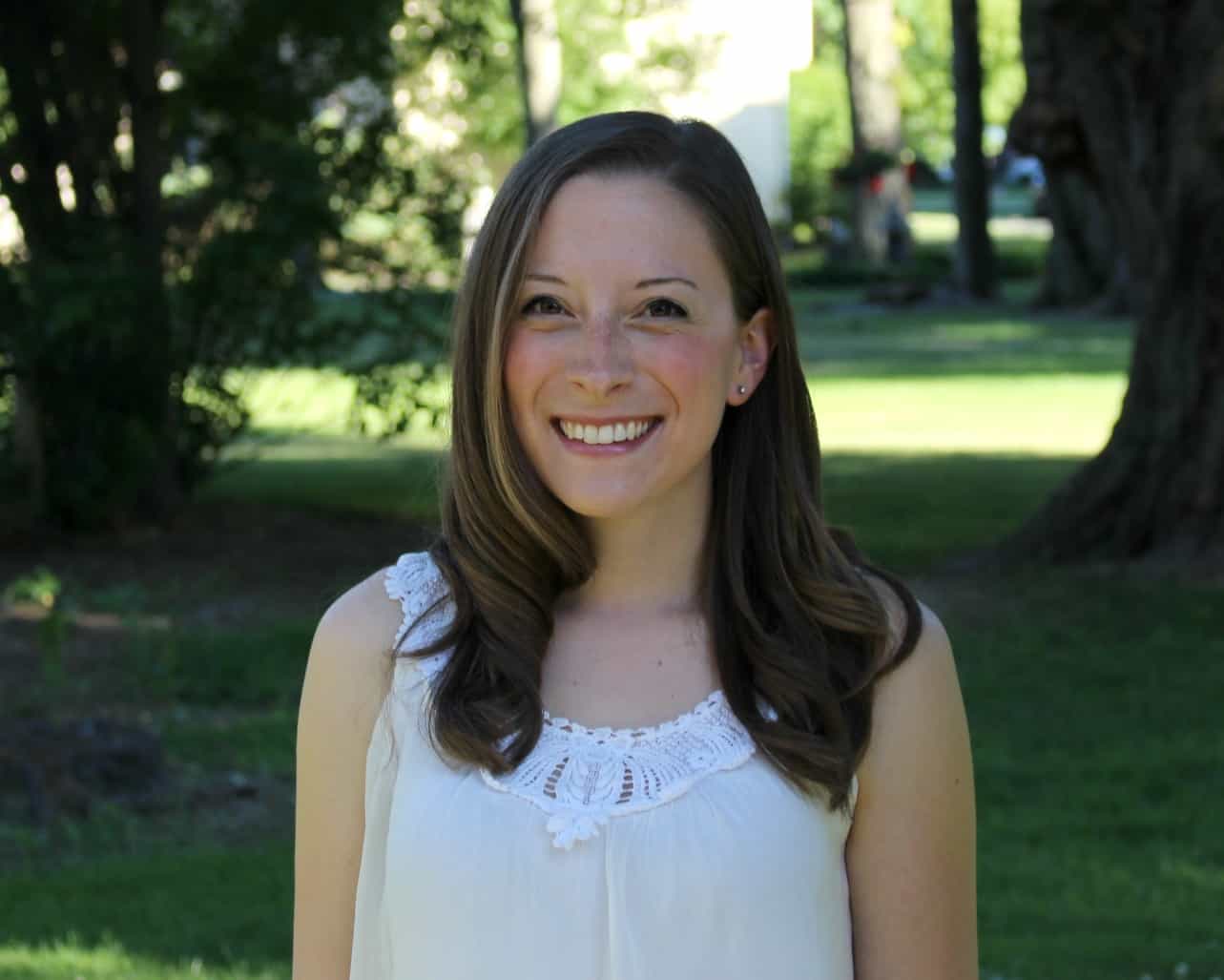 Hi everyone! I just want to start out by saying how honored I am that Liz chose my recipe for our monthly post. I'm a huge fan of her recipes and blog, so it's very exciting for me! 🙂
A little bit about me… My name is Kim and I am a Registered Dietitian living in Buffalo, NY with my husband, Dan and our dog, Bauer. I was born and raised on Long Island, NY, spent a few years in Virginia going to school for Business Administration (Go Dukes!), and then decided to return to NY to get my RD. After working in event planning for a few years, I realized that nutrition and cooking was where my passion was.
I LOVE food and everything about it, so creating and sharing recipes for Jump, Jive & Kale brings so much happiness to my life! Aside from the blog, I work full time with a NY state grant program called Eat Well, Play Hard. Through this program I go into day care centers and work with the pre-school age children, their parents, and the center staff to educate them about how to lead a healthier lifestyle. We do food tastings, recipe demo's, introduce new game/physical activity ideas for busy parents, and help to educate families that healthy food does not have to be expensive! It is very rewarding and I love what I do.
What made you want to start a blog?
I started my blog a year and a half ago as a creative outlet for recipe creations and to keep a record of my meal planning adventures. I am a huge proponent of meal planning, I think it can make everyone's life a lot easier! Once a week I post the menu that my family ate that week, including recipe links when applicable. That was really the basis for the blog, and then from there I got more adventurous with making my own recipes. Although I wish I could blog more, my full time job keeps me busy, so I share as often as I can!
Where did the name, Jump Jive Kale, come from?
It's actually a play on the song "Jump, Jive an' Wail!" I wanted a name that incorporated the importance of physical activity with healthy eating. So without making the title too lengthy, I thought this was the perfect fit! 🙂
What is your all-time favorite recipe you love to make?
I'm only part Italian, but a lot of the love of food and culture in my family comes from the Italian side, so I'm always most comfortable with something like spaghetti and meatballs, lasagna, manicotti, etc. Ironically, I don't have a recipe for any of those on my blog! The closest thing would be my Mediterranean Turkey Meatballs , which I love to eat with whole wheat pasta and tomato sauce.
What recipe on your blog do you think is the BEST but ironically has not done as well as you wish?
My favorite recipe on the blog is actually for a smoothie; my mocha protein smoothies. I am a coffee/chocolate lover, so when I was able to combine those loves and make it pretty healthy, I was really excited! I make them often, especially in the warm summer months. My Honey Crisp & Pecan Chicken Salad is also something I could eat any day, anytime, but haven't gotten a ton of feedback on.
If you could have one wish, what would it be?
Oh my gosh! What a great question. I'm going to go the super-hero route and wish that I could fly. I hate airplanes and the whole flying process, it gives me lots of anxiety! So it would be great if I could just fly myself to cool destinations!
Thank you so much Kim for your kind words and awesome intro! Be sure to visit Kim over at Jump Jive Kale and follow her adventures with her cute pup, Bauer!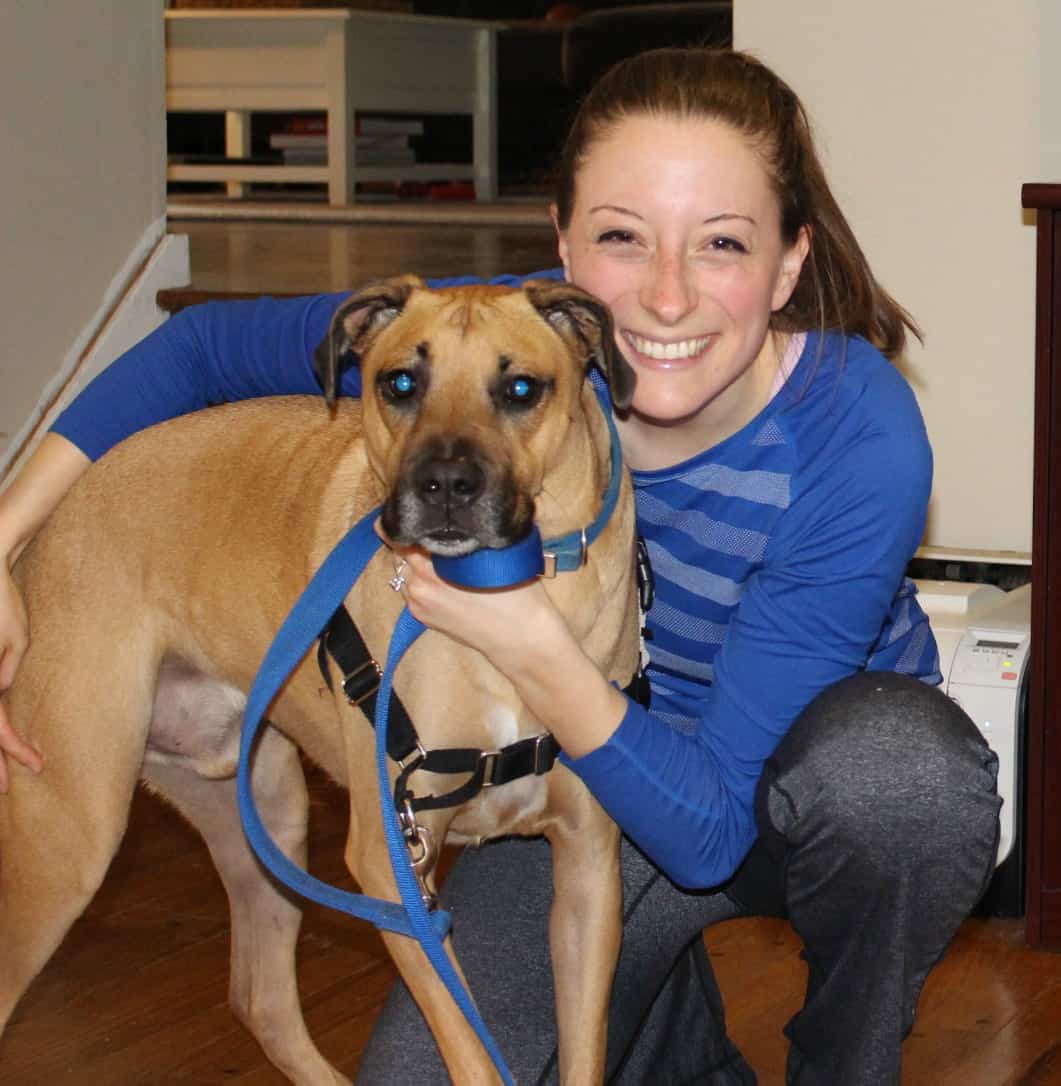 Now, dig into this Crisp Lentil Salad with me, inspired by her Lemon Lentil Pasta! I definitely recommend for those non-vegans to ADD THE FETA! That's never a bad idea!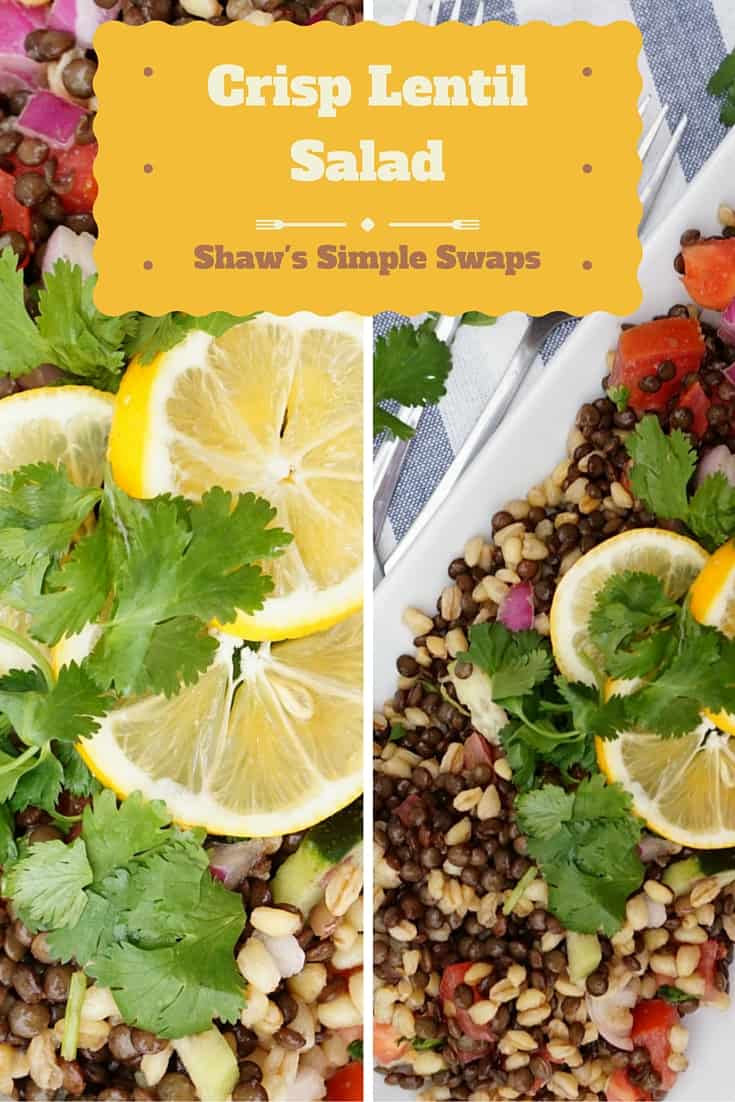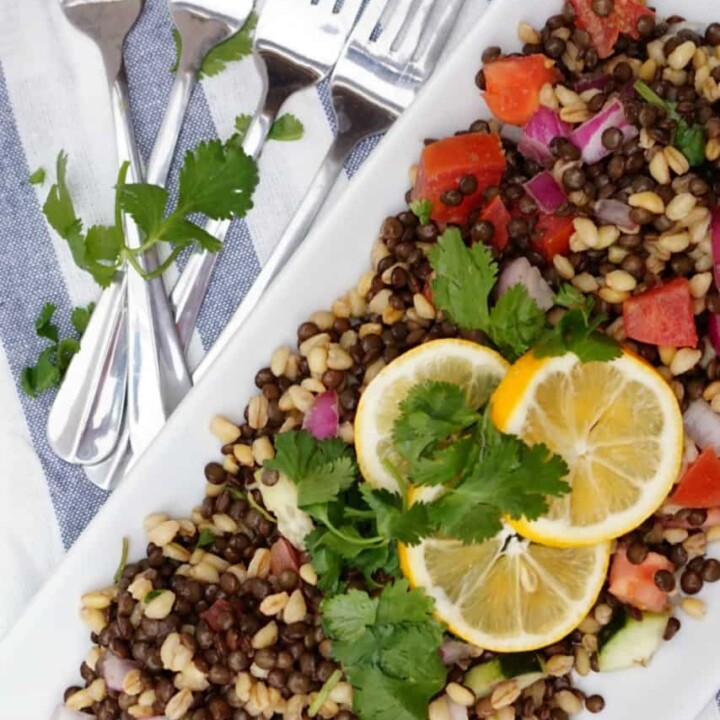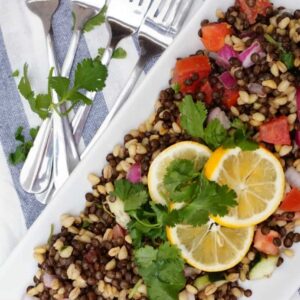 Crisp Lentil Salad
Salads are the perfect meal or snack to whip up on the fly! This Crisp Lentil Salad is protein packed and perfect a la carte or served with toasted chips or pita bread!
Print
Send By Text
Share by Email
Ingredients
4

cups

vegetable stock

1

cup

French lentils

2

cloves

garlic

chopped

1

pinch black pepper

1

cup

dry couscous

1

can of diced canned tomatoes

no salt added

1/4

cup

chopped red onion

1

large cucumber

skin on, chopped

1/4

cup

red wine vinegar

sea salt

to taste
Instructions
In a large stove top pot, place vegetable stock, garlic, black pepper and lentils. Cook on medium heat until water absorbed.

In a separate pot, place remaining 2 cups of vegetable stock and whole grain of choice. About half way through cooking, add in 1 can of the diced tomatoes. Let simmer until liquid absorbs.

Remove lentils and grain from heat, let cool.

Combine lentils and grain in a large bowl, stirring in red wine vinegar, chopped onion and cucumber. Salt to taste.

Set in the refrigerator and let cool until ready to serve.

Perfect with toasted chips, pita or served on top of mixed greens.
Notes
I've also tried this in the crock pot and it worked wonderfully! Place all vegetable stock, lentils, grains and tomatoes in. Set low and cook for 3-4 hours.
Remove and let cool. Add in the dressing and vegetable and place in fridge!
Nutrition
Calories:
224
kcal
|
Carbohydrates:
42
g
|
Protein:
11
g
|
Fat:
1
g
|
Saturated Fat:
1
g
|
Sodium:
550
mg
|
Potassium:
204
mg
|
Fiber:
10
g
|
Sugar:
3
g
|
Vitamin A:
337
IU
|
Vitamin C:
8
mg
|
Calcium:
45
mg
|
Iron:
3
mg