The best pasta salad to hit your BBQ line up yet! Light, fresh and full of flavor!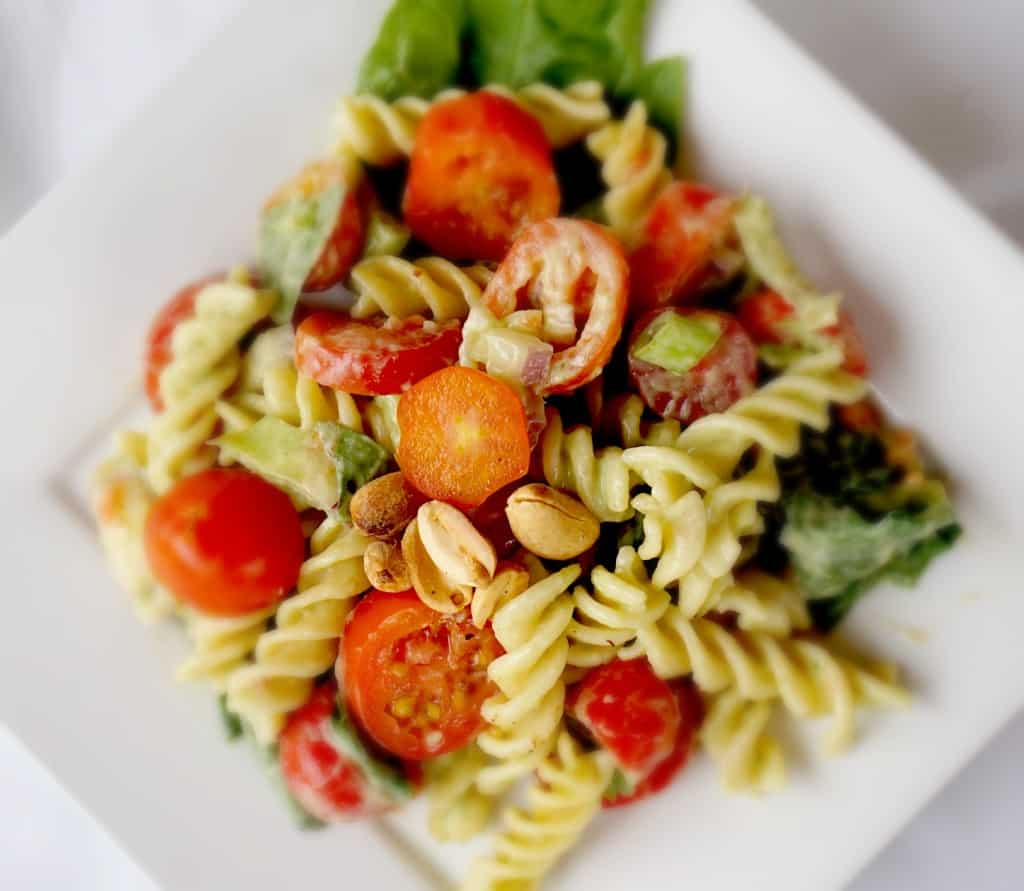 It's a good thing I married a man with farming in his blood because this lady is head over heels for fresh garden produce! Unfortunately the California drought has us hurtin' this year, but Mr. CEO is relentless to appease wifey and get me at least one spaghetti squash to whip up some Habanero Pad Thai.
I hate to admit it and if you tell him I'll deny it, but it's not looking so promising. I fear only time will tell until our garden green sprigs wither away just like our our pretty green brown grass.
Luckily we were able to salvage a bundle of delicious garden tomatoes. Phew…if you only knew what it was like living with a farmer who had NO harvest!
With my basket of tomatoes in hand, I was determined to come up with something that would excite and ignite your summer flavor palate. Though I can't tell you what kind of tomatoes they were (to be honest, they came from a bag of random seeds my pops passed along), I can say they resembled somewhat of a cross between a Cherry and a Roma… we'll just call them the "Zabel-Shaw hybrid" variety!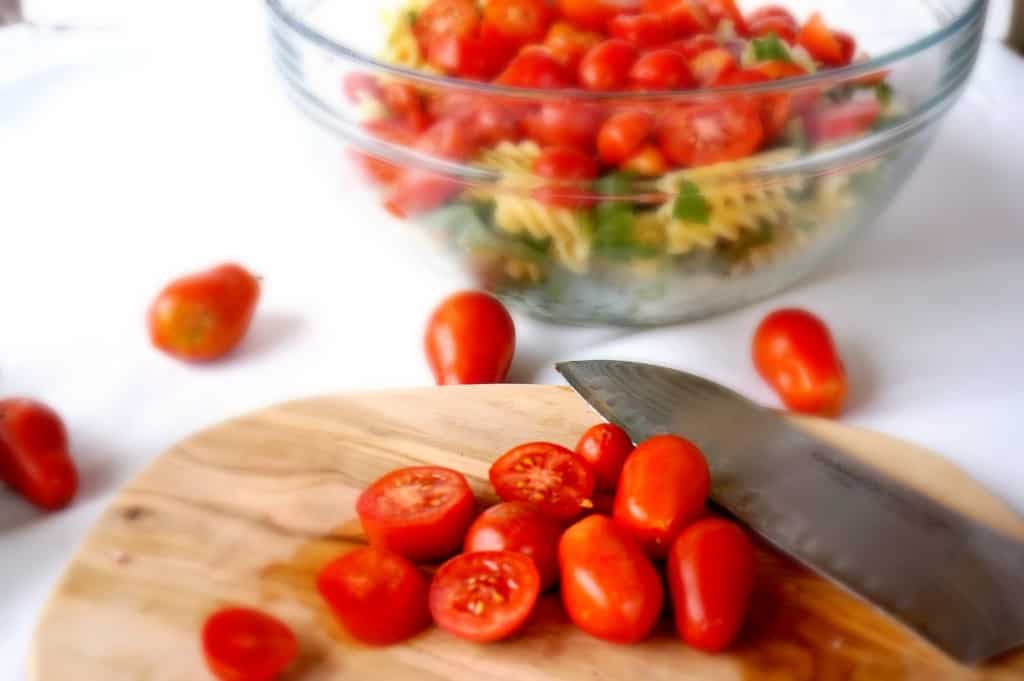 Nothin' speaks summer more that a crisp, cool pasta salad. But, who really want's that mayonnaise laden variety that sticks to your ribs and leaves you up a few pounds at your weekly weigh-in?
To keep your nutrition in check, I decided to combine our wonderful friend, avocado, with a blend of spices and Greek yogurt to throw a twist on the traditional pesto sauce. Not only did this #simpleswap creation create a creamy, rich sauce to coat the pasta, it also added a little pizzazz to boot! Plus, to take it up a notch, I diced up those Zabel-Shaw tomatoes and threw them generously into the salad. The pop of red with the hint of green made it feel just like Christmas in July!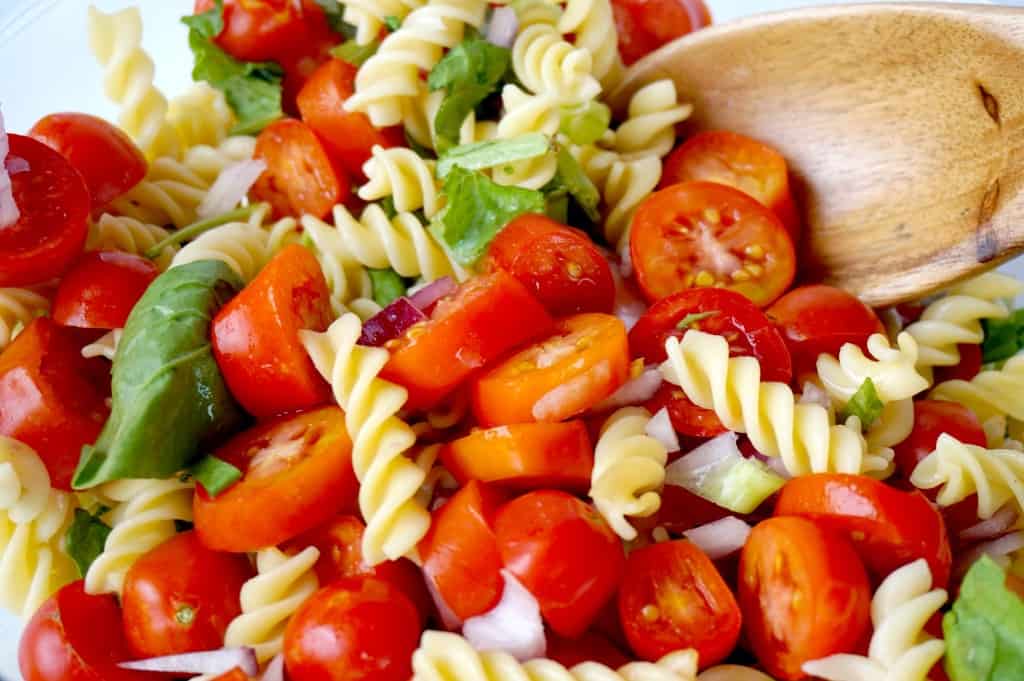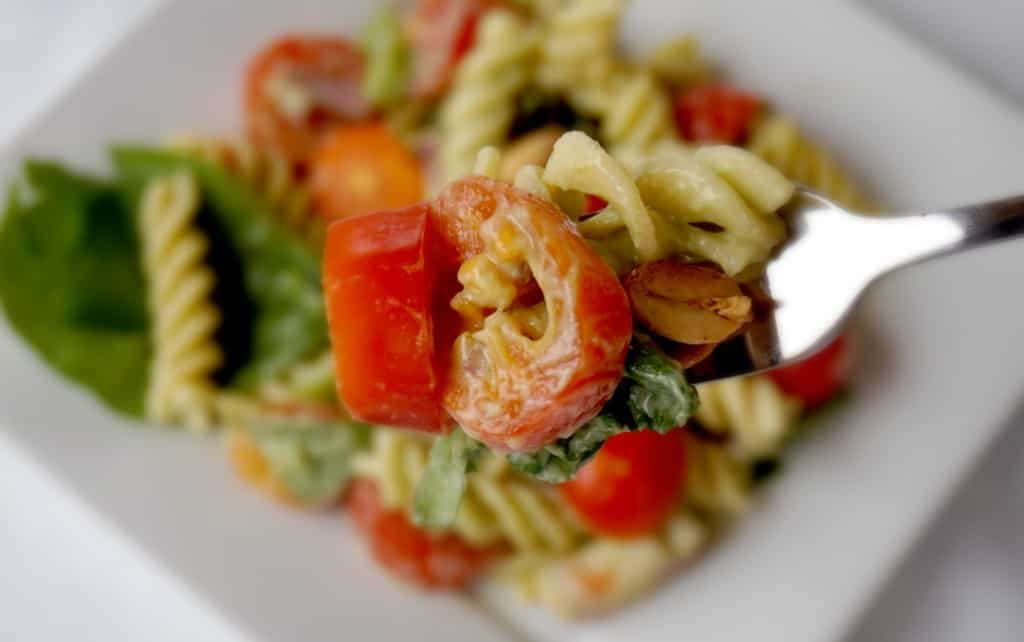 Now, what's the BEST part of this whole creation? It's SIMPLE! Literally, in under 15 minutes you have a delicious and nutritious salad to bring to your neighborhood potluck or throw in the fridge for an easy go to lunch or dinner… multiple days of the week! #Cha-ching!
Print
Avocado Pesto Pasta Salad
A delicious blend of your garden veggies with a special lightened up avocado pesto!
Ingredients
Avocado Pesto

1

medium avocado

1/2

cup

plain Greek yogurt

3

tbsp

rice wine vinegar

1

tsp

lemon juice

1/4

tsp

jalapeno powder

or spicy pepper

3

cloves

garlic

chopped

1/4

cup

cilantro

Pasta

8

oz

rigatoni pasta

cooked

2

cups

cherry tomatoes

diced

1

cup

spinach

1/4

cup

red onion

chopped

1/4

cup

feta cheese

2

tbsp

peanuts
Instructions
In a food processor, pulse avocado, yogurt, lemon juice, rice vinegar, garlic, cilantro and jalapeno powder into a thin, sauce like consistency.

Combine vegetables, pasta (cooled), and the pesto sauce in a large bowl. Add in the tomatoes, spinach and red onion. Stir in the feta cheese at the end.

Portion out and top with freshly roasted peanuts!

Enjoy as a side or a main meal with a slice of fruit!
Nutrition
This dish can easily be made gluten free by subbing out the pasta for a brown rice variety. Take it a step further and use a silken tofu and dairy free cheese to make it vegan as well!
What's you favorite summer salad? I'd love to hear them!