Buffalo Chicken Grain Bowl – The Best Thing to Hit Your Weekday Menu!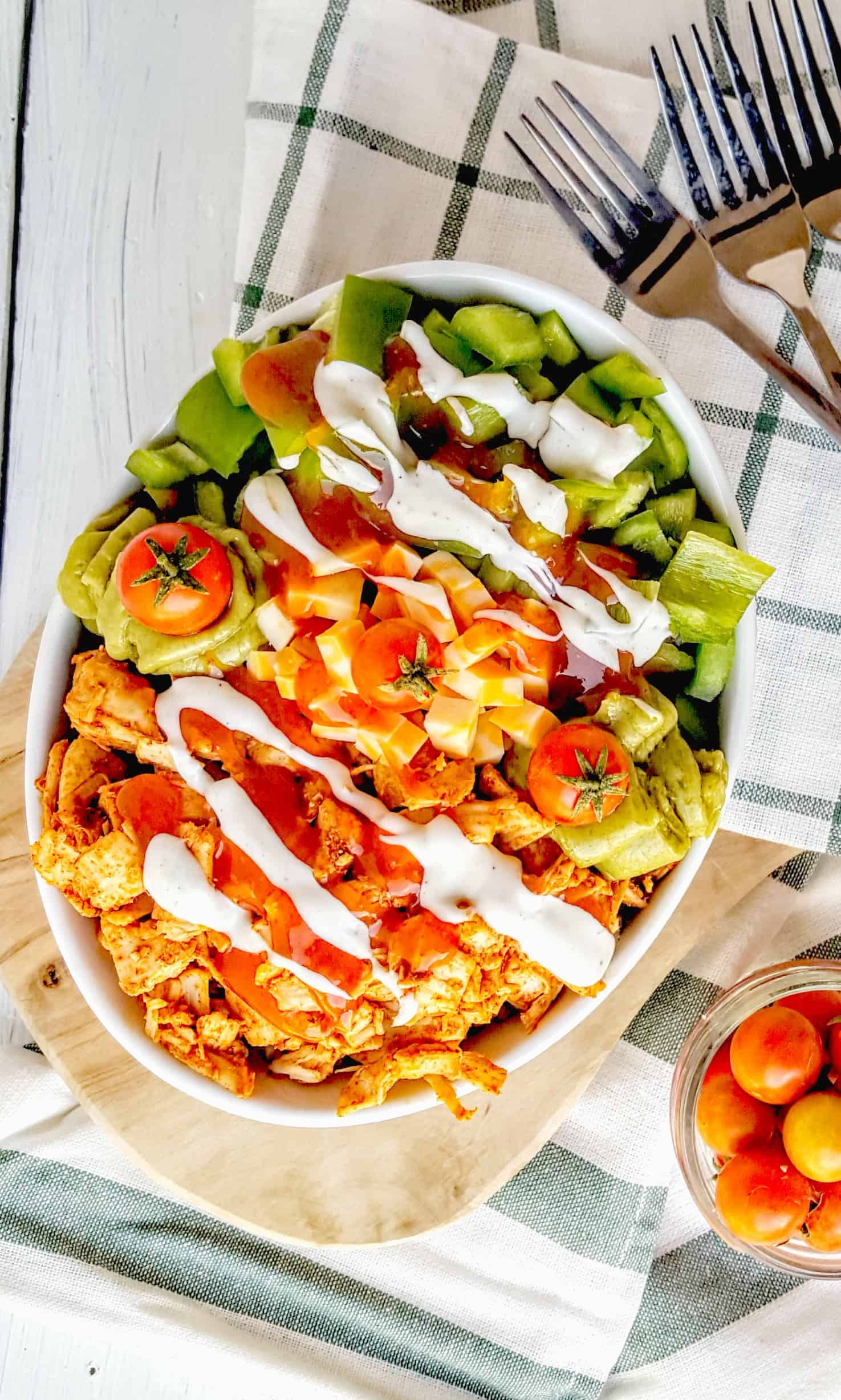 Welcome friends! How was your Fourth of July Weekend?
Mr. CEO and I were pretty mellow. Being the big Hawaii Spartan Race is coming up in a month, we both are on pretty strict training plans right now. Being I've made him my client for the last few months, I take what I feed him pretty seriously right now. I love seeing the results that great nutrition plays in his recovery!
While he went out on his 7 hour run Saturday morning, I took to the kitchen to whip up some tasty new delights! I promise I'll share more on this soon!
However, I did manage to sneak away from my recipe creation to meet him for a HIT (high intensity interval) training workout during his "break" from the 6 mile repeats up Iron Mountain. It was actually really fun! 45 minutes later and a pretty sore bottom, I felt invincible!
So, back to the kitchen I went, sure to create the best meal ever for my Spartan Beast. He needed protein, carbohydrates, healthy fats… the whole shabang!
Enter, this Buffalo Chicken Grain Bowl!
Not only did it take me less than 10 minutes to whip this up, but it is packed full of nutrition! The shredded chicken can easily be taken from the leftover grilled chicken you had from your Fourth of July Cookout, or simply stop and pick up a rotisserie chicken from the market.
Add that shredded chicken to a small bowl with a little dab of buffalo hot sauce mixed with Greek yogurt, yummmmmmm!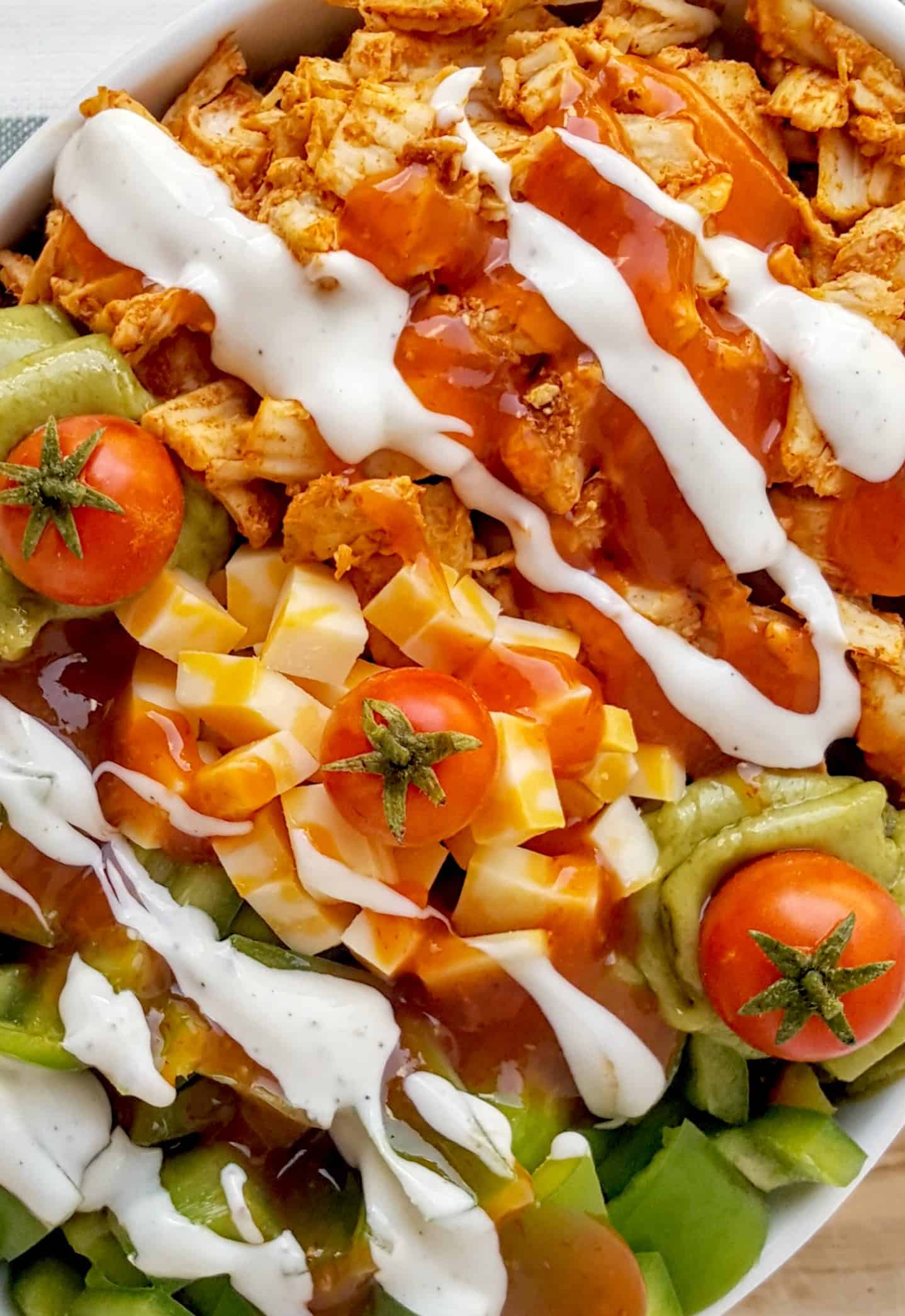 Now, pile that chicken on a bed of mixed greens with a scoop of those whole grains you have saved from the potluck.
Or, take out that boil in a bag brown rice and season it with a little garlic and pepper. Layer the chicken and grains in a big bowl, topped with avocado (a great way to lower inflammation post workout), shredded cheddar cheese (calcium!!!) and cherry tomatoes (lycopene, baby). Garnish with a drizzle of that yogurt hot sauce.
There you have it, a DIY Buffalo Chicken Grain Bowl that is hands down delicious, nutritious and a killer recovery meal!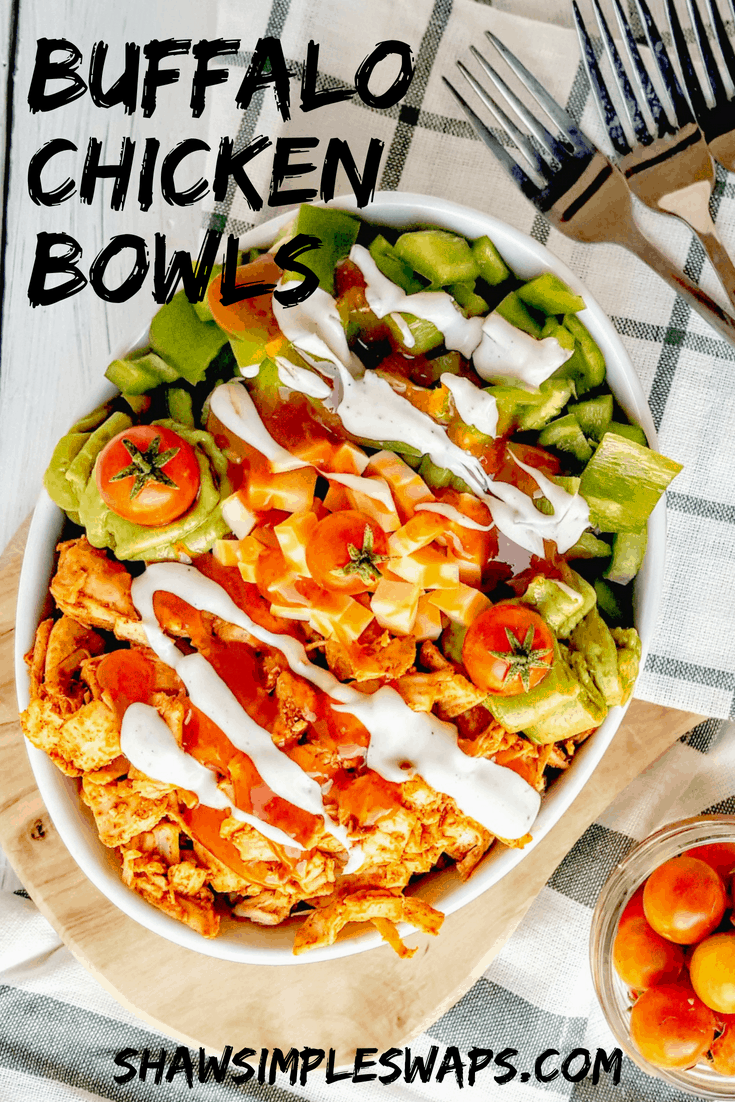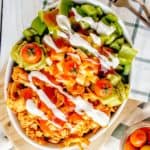 Print
Buffalo Chicken Grain Bowl
Paleo, Gluten Free and Delicious! This Buffalo Chicken Grain Bowl is the perfect meal to compliment your training program!
Ingredients
12

ounces

shredded chicken

cooked

1/2

cup

plain Greek yogurt

divided

1 1/2

teaspoons

Buffalo hot sauce

divided

4

ounces

avocado

mashed

1

clove

garlic

minced

1/4

teaspoon

kosher salt

2

cups

whole grains

cooked

4

ounces

romaine lettuce

chopped

1

cup

cherry tomatoes

halved
Instructions
Mix 1/4 cup yogurt and 1 teaspoon of hot sauce in a medium bowl. Add shredded chicken and mix until coated. Set aside.

Mash avocado with garlic and salt.

In a small bowl, mix the 1/4 cup yogurt with remaining 1/2 teaspoon Buffalo hot sauce.

Take 4 serving dishes, layer each with equal portions of romaine lettuce, 1/2 cup brown rice, 3 oz shredded chicken, and 2 tablespoons of mashed avocado. Garnish with 1/4 cup cherry tomatoes and a drizzle of yogurt glaze.
Notes
Many ancient grains work well in this recipe. I've tried couscous, bulgur and kamut. Keep it gluten free by using a gluten free grain, like brown rice or quinoa.
 What's your favorite DIY meal in minutes?