Looking to enjoy a healthy and delicious sweet treat? Then this Carrot Cake Smoothie Bowl is for you! Filled with wholesome ingredients, like an oat milk, you won't even know it just so happens to be dairy, gluten and sugar free!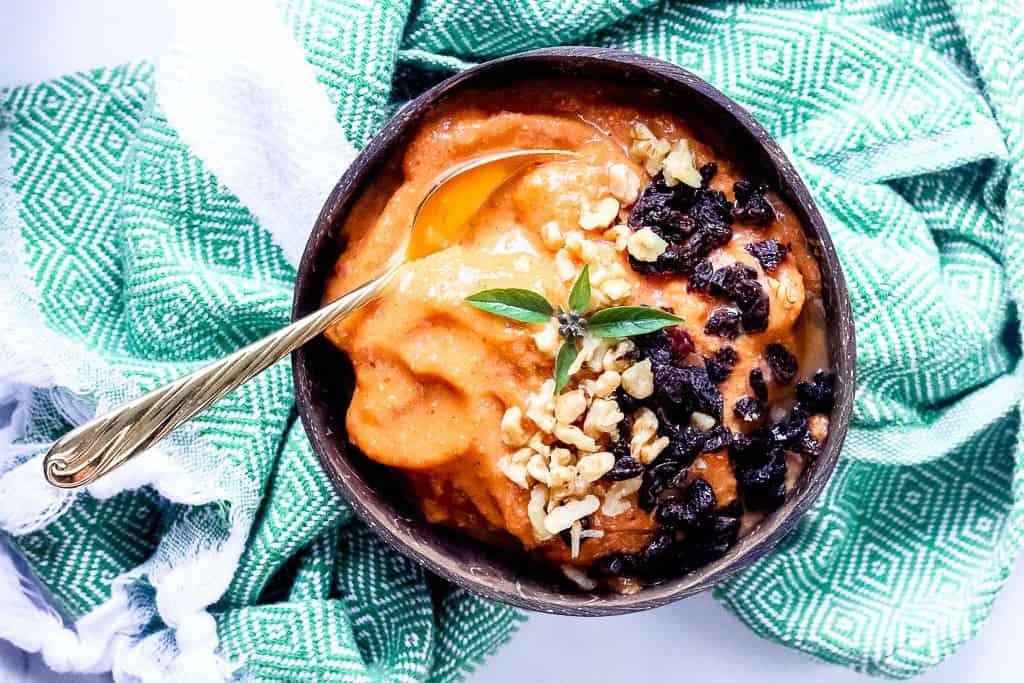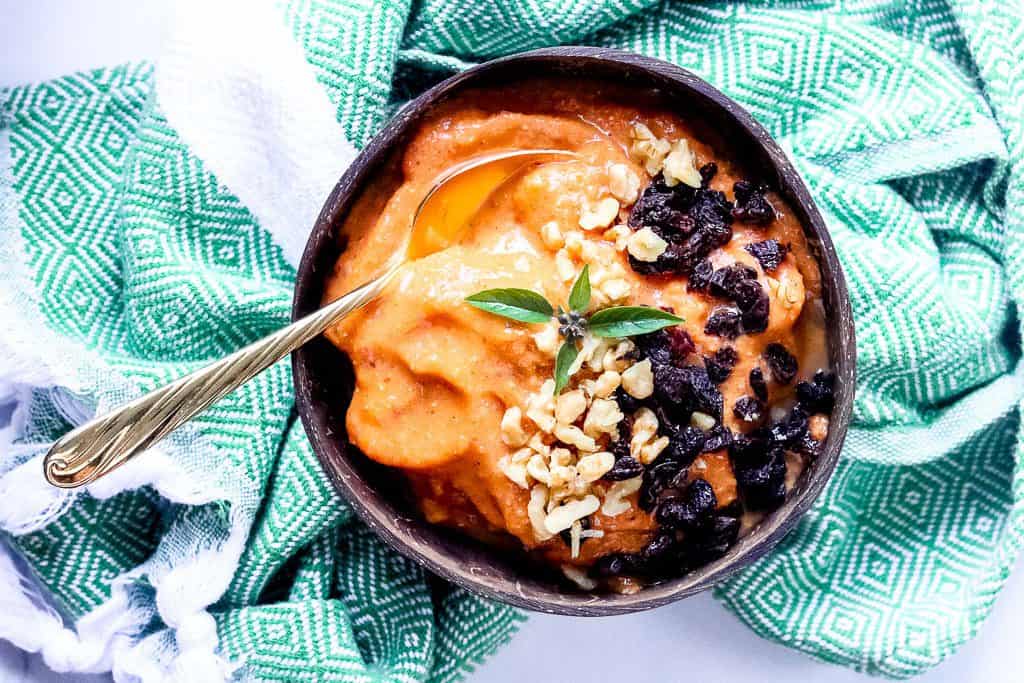 Are you a carrot cake fan?!
If you aren't quite sure how to answer that (then you haven't tried my carrot cake cookies yet) I assure you will be after this recipe!
Truthfully I think I love carrot cake so much because it reminds me of spring!
Smoothie bowls make a comeback in the Shaw Kitchen every year as the temperatures rise (currently it's 75 in my house at nearly 8pm) to cool us off around this time of year.
Regardless of the reason, spring, I'm here for you!
While the Shaw Kitchen may be lacking in smoothie bowl recipes, it doesn't mean it's because they aren't happening. Frankly, I usually just end up throwing whatever frozen fruit I have on hand into the blender and adding some sort of yogurt and liquid to the mix.
Satisfying, sure, but crowd pleasing, meh.
Determined to come up with a delicious, nutritious and plant-friendly alternative that all my guests could enjoy, I went on the hunt to find a new dairy alternative to use.
Lo and behold, I found an oat beverage! It's just as creamy as some of the other plant alternatives on the market but also happens to have some fiber in it too!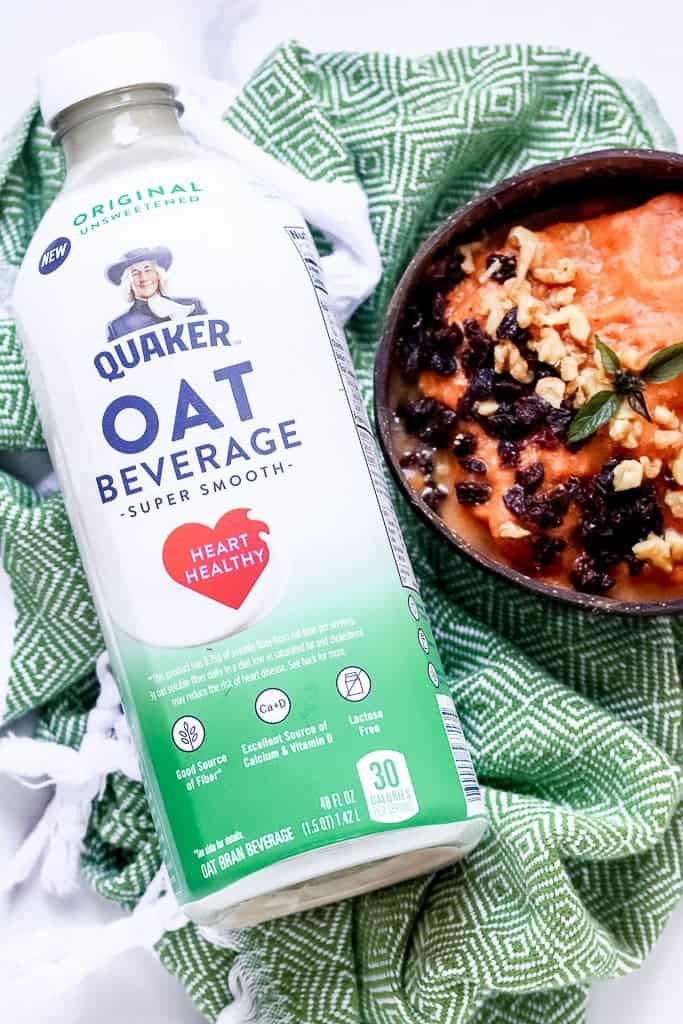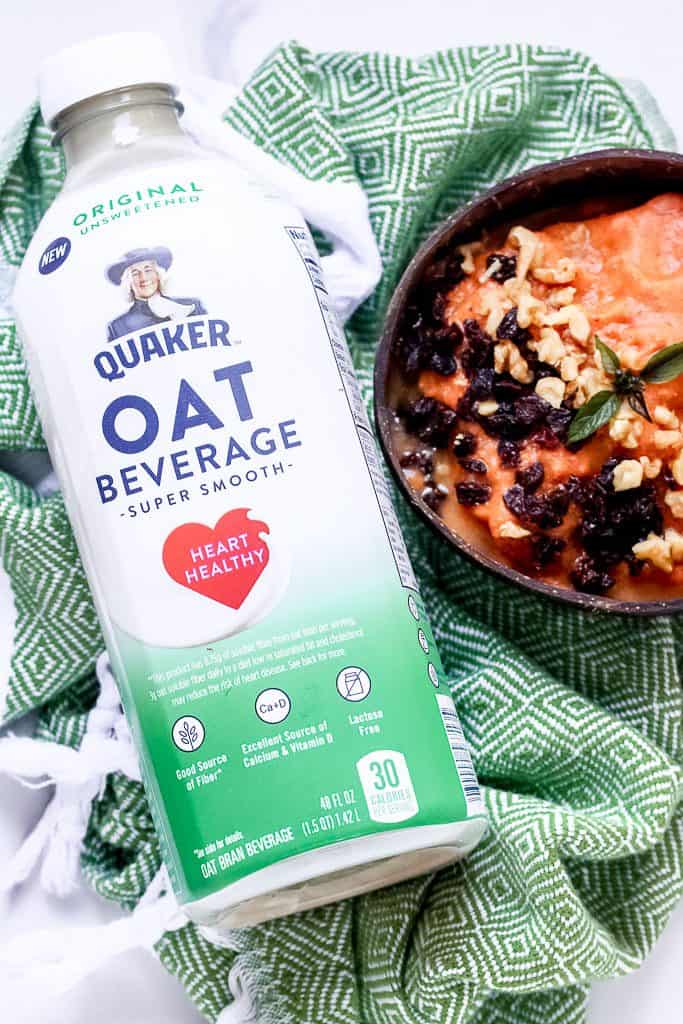 Is oat "milk" good?
Oat beverages are surprisingly super smooth and creamy. Truthfully, I was shocked!
I had tried oat milk years ago at a food show and was not a fan. But, thankfully that has since changed so I too can enjoy the plant-based smoothie bowls I serve my guests!
Depending on the type you buy, they usually have a few different varieties. If you are looking to watch your added sugar, I highly suggest choosing a variety that is unsweetened with no added sugar!
Is oat milk healthy?
Now, as far as healthy goes, oat beverages are not a replacement for cows milk, meaning the nutrient density of oat "milk" is not equivalent to cows.
It can however be fortified with calcium and vitamin D, but will lack the protein and other vitamins and minerals found in cows milk.
On the plus side, oat beverages like the one pictured below do contain some fiber! That is largely in part due to the beta-glucan from oats.
Beta-glucan is a soluble dietary fiber and the primary active component of oats that may help reduce cholesterol in the blood.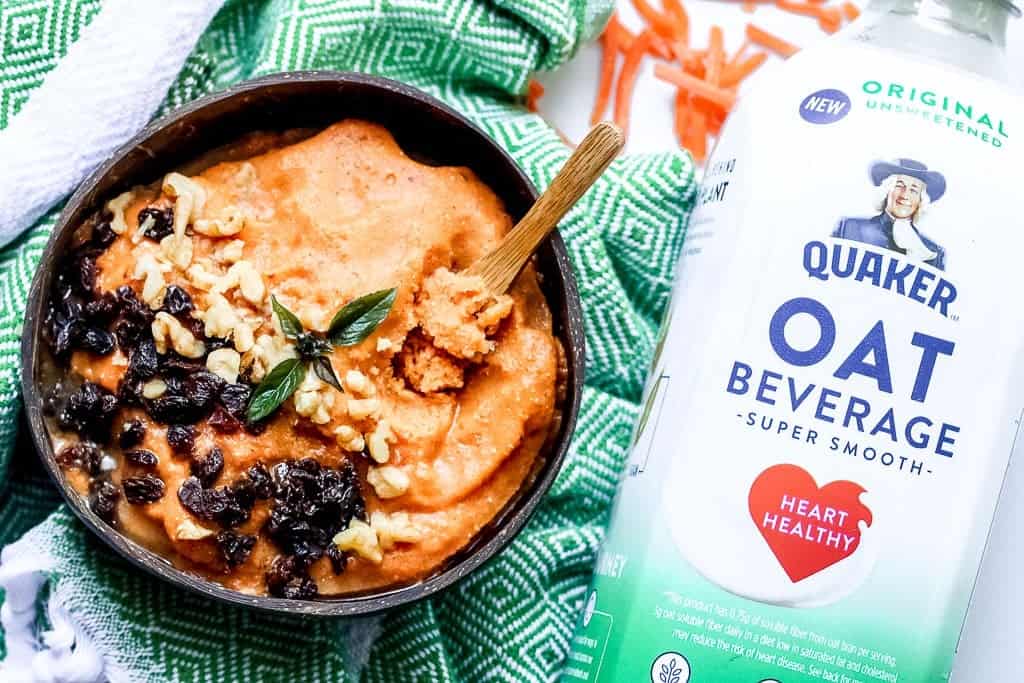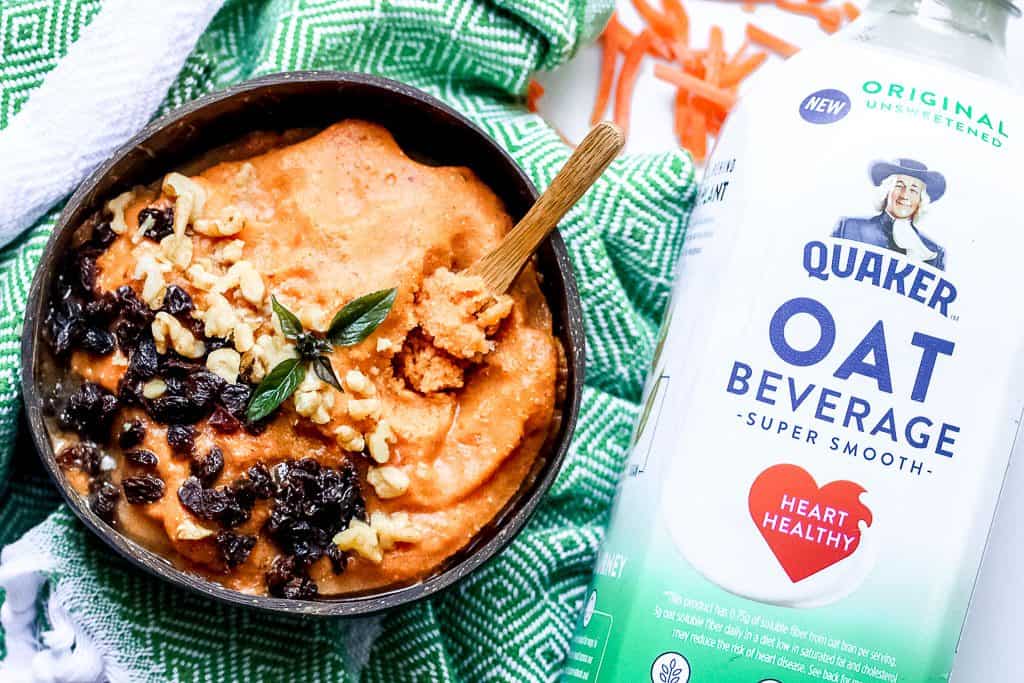 Can I make this carrot cake smoothie bowl a smoothie?
You bet! While this is in a bowl form, you can certainly add a tablespoon or two more of liquid to make it a bit easier to drink in smoothie form!
I highly recommend if you are looking to replace a meal with this considering to add in a pea or soy protein powder to keep it vegan, or if you are fine with vegetarian, adding in a whey protein!
The protein powder addition will help to keep you fuller for longer!
Alright, no more waiting! Pin the recipe below so you have it saved for later!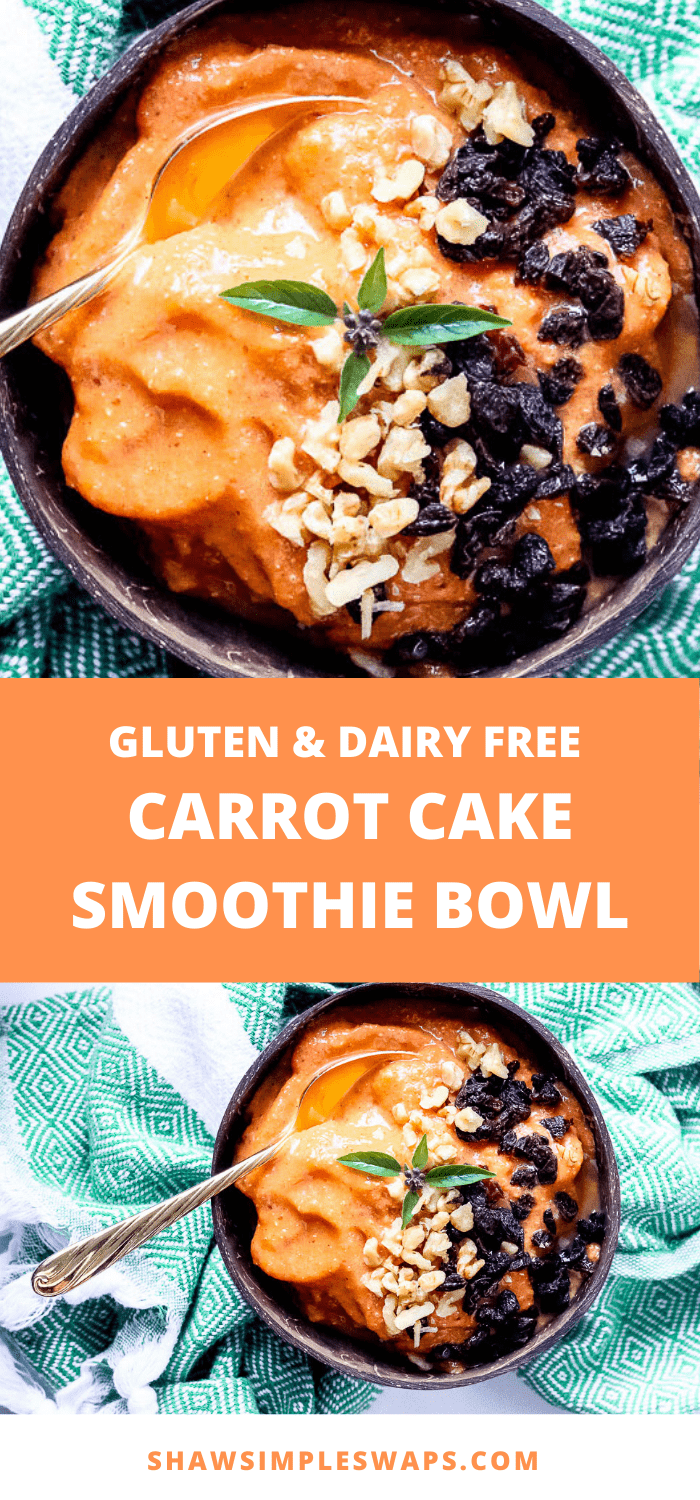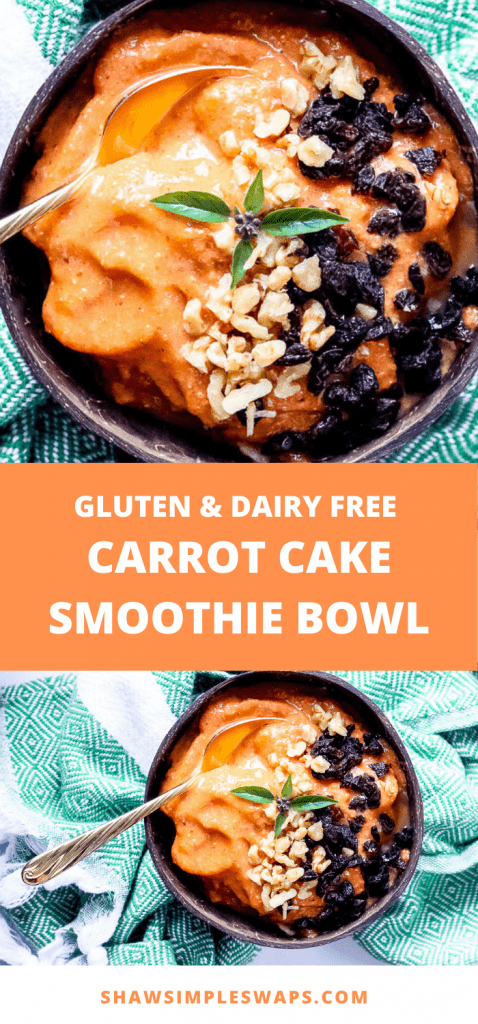 Now, let's dive in!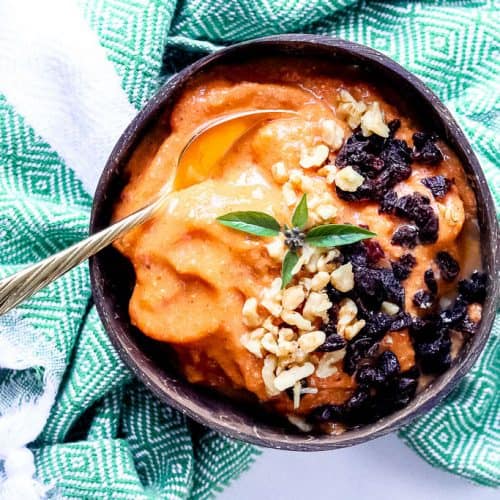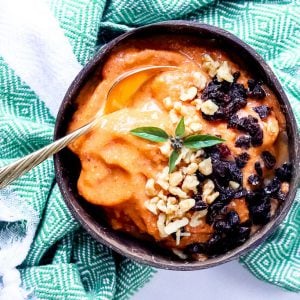 Carrot Cake Smoothie Bowl
A deliciously refreshing smoothie bowl made with the new Quaker Oat Beverage. No added sugars or artificial ingredients in this bowl, and 100% plant based!
Print
Share by Email
Ingredients
1

cup

Unsweetened Oat Beverage

divided

1 1/3

cups

cooked, frozen carrots

5 ounces

1/2

cup

frozen butternut squash

2 ounces

2

each

pitted dates

1

tablespoon

ground flaxseed

1/4

teaspoon

ground cinnamon

3/4

teaspoon

pure vanilla extract

2

teaspoons

finely chopped walnuts

1

tablespoon

finely chopped no sugar added raisins
Instructions
Pour 1/3 cup oat beverage into ice cube trays and freeze for minimum 2 hours.

When ready to assemble smoothie bowl, place frozen Oat Beverage ice cubes into the bottom of a blender. Pour remaining 2/3 cup of Oat Beverage, carrots, butternut squash, pitted dates, ground flaxseed, cinnamon, and vanilla extract into the blender.

Blend on smoothie setting (or medium speed) for up to 1 minute (or longer depending on your blender).

Pour into a chilled bowl and top with walnuts and raisins. Serve immediately.
Notes
*If you don't have a high-powered blender, heat a cup of water in the microwave for 60 seconds and place dates into water for up to 5 minutes to soften.
**To increase protein, add 1/3 cup high protein yogurt of choice.
Nutrition Per Serving
Calories:
353
kcal
|
Carbohydrates:
64
g
|
Protein:
8
g
|
Fat:
8
g
|
Sodium:
238
mg
|
Potassium:
1079
mg
|
Fiber:
11
g
|
Sugar:
39
g
|
Vitamin A:
36445
IU
|
Vitamin C:
24.8
mg
|
Calcium:
453
mg
|
Iron:
3.4
mg