Disclosure: This post is in collaboration with The Quaker Oats Company. As always I only work with brands I myself have purchased and use in my home. Thanks for supporting the brands that keep the Shaw Kitchen up and running!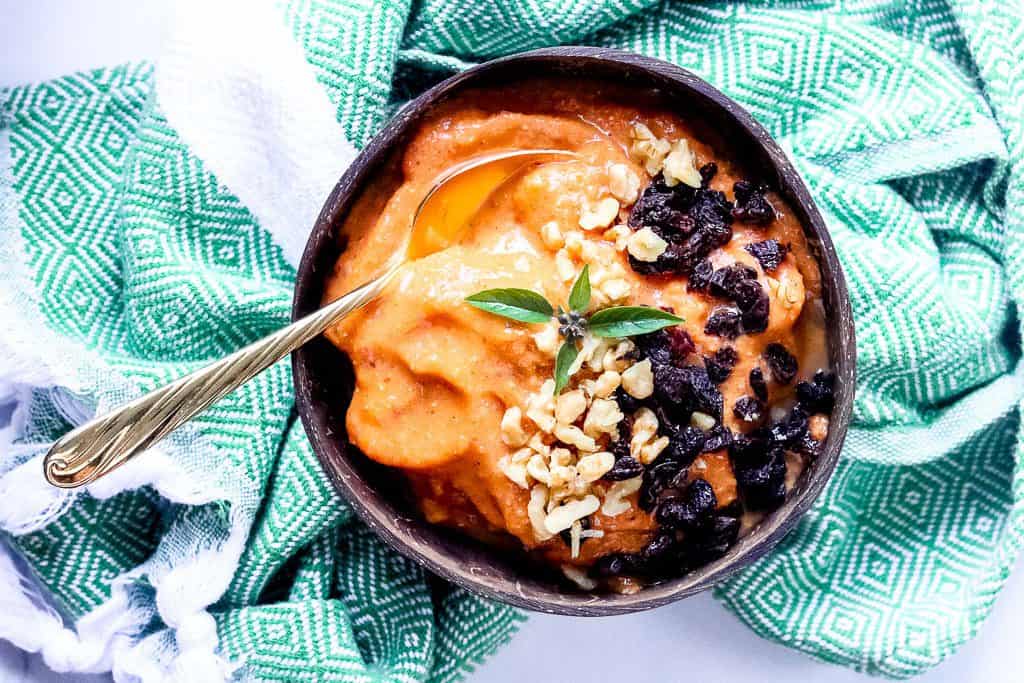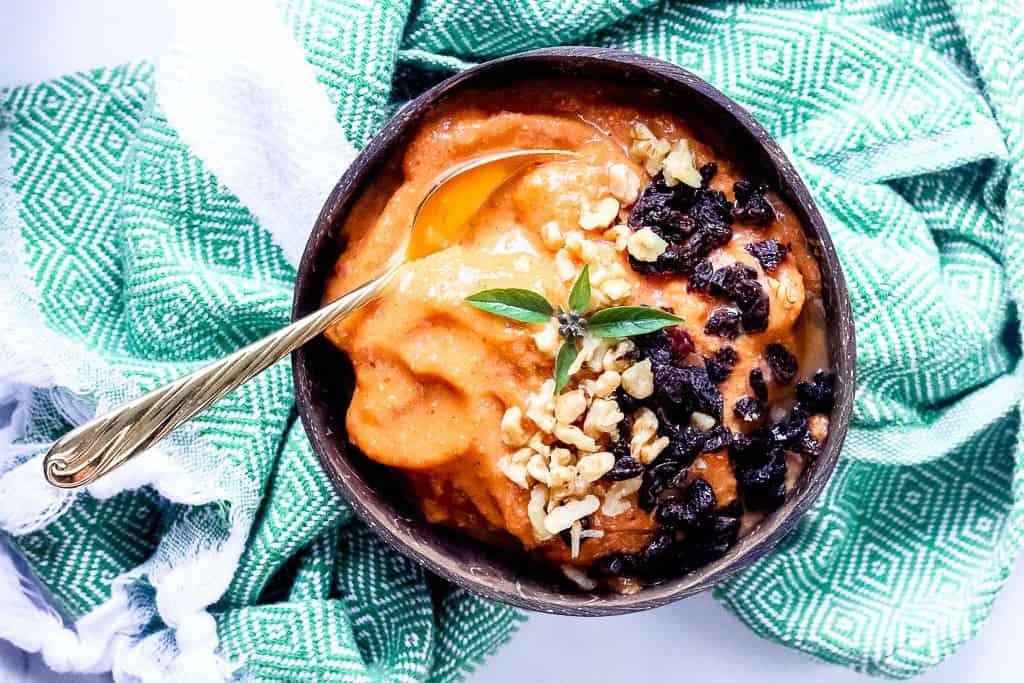 What's your favorite season?
Personally, I used to answer that question without any hesitation (summer, obviously) but lately I'm beginning to have a strong affection for spring!
Maybe it's because Hayden and I have taken up gardening and seeing her face light up when we go into the greenhouse is literally the best thing ever.
Maybe it's because smoothie bowls make a comeback as the temperatures rise (currently it's 75 in my house at nearly 8pm) to cool us off.
Or, perhaps it's because the Shaw Kitchen has doors swinging to and fro as visitors from across the US come and go.
Regardless of the reason, spring, I'm here for you!
While the Shaw Kitchen may be lacking in smoothie bowl recipes, it doesn't mean it's because they aren't happening. Frankly, I usually just end up throwing whatever frozen fruit I have on hand into the blender and adding some sort of yogurt and liquid to the mix.
Satisfying, sure, but crowd pleasing, meh.
Determined to come up with a delicious, nutritious and plant-friendly alternative that all my guests could enjoy, I went on the hunt to find a new dairy alternative to use.
Lo and behold, one of the trusted breakfast brands had their own plant-based beverage, the Quaker Oat Beverage!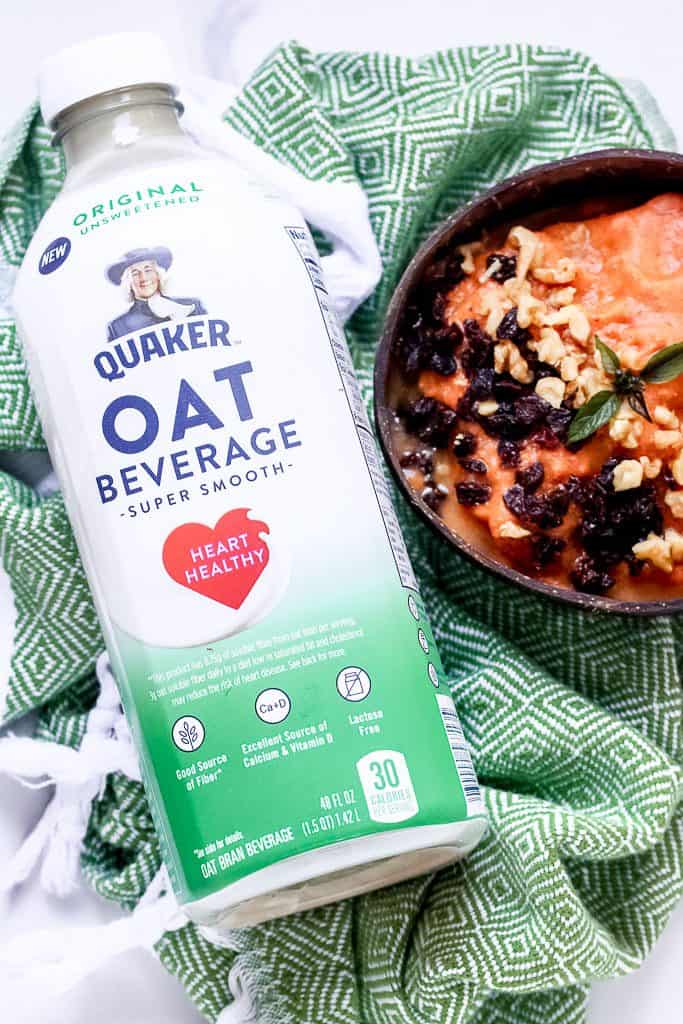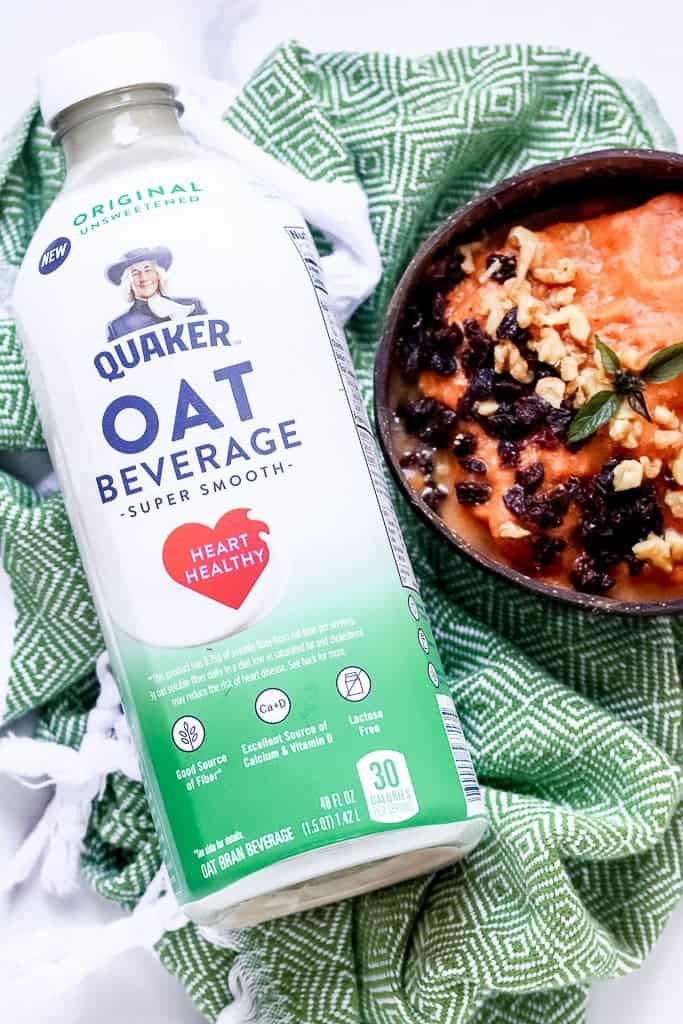 After a quick taste test, I quickly realized how super smooth and creamy the Oat Beverage was. And, truthfully, I was shocked! I had tried oat milk years ago at a food show and was not a fan. But, thankfully that has since changed so I too can enjoy the plant-based smoothie bowls I serve my guests!
The new Quaker Oat Beverage comes in three delicious flavors – Original, Original Unsweetened, and Vanilla – making it totally versatile for whatever it is you're having. Try the Vanilla in your coffee, the Original Unsweetened in this Carrot Cake Smoothie Bowl, or the Original in your pancakes! Seriously, I'm not kidding when I say Mr. CEO and I have tried them in all the above and gave it two thumbs up. Literally our new favorite weekend tradition is oat milk pancakes!

We know taste and texture are super important when it comes to trying new products (no one wants to drink something that doesn't sit well), but the real winner in my humble opinion is the nutrition profile of the Quaker Oat Beverage.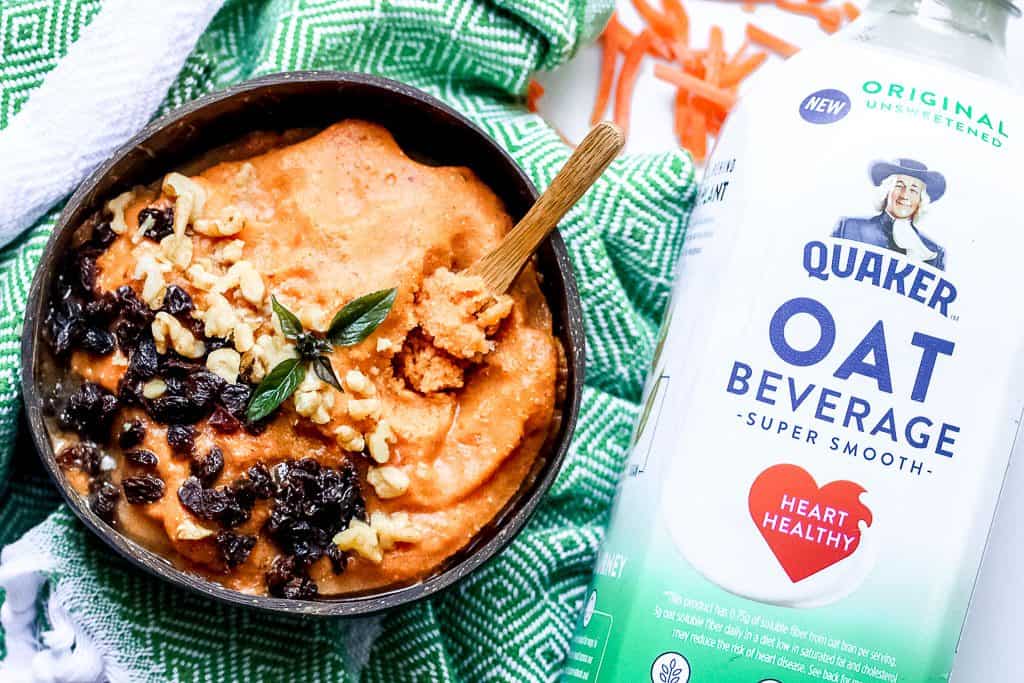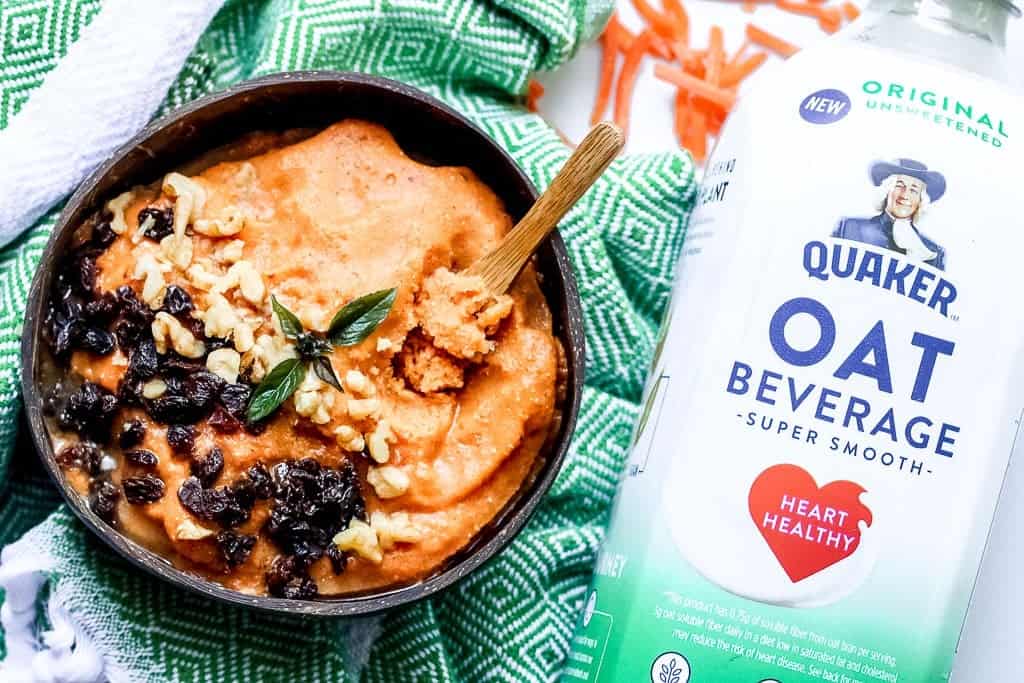 Let me give you the brief 4-1-1 on just what an 8-ounce serving of the Quaker Oat Beverage has:
.75 grams of a soluble fiber** called beta-glucan from oat bran. Beta-glucan is a soluble dietary fiber and the primary active component of oats that may help reduce cholesterol in the blood.
An excellent source of calcium and vitamin D
A good source of fiber from oat bran and chicory root extract
30 to 50 calories
A lactose-free option
** Studies show 3 grams or more of soluble fiber daily from oat bran, as part of a diet low in saturated fat and cholesterol, may reduce the risk of heart disease. Oat Beverage has .75 grams of soluble fiber per 8 oz. serving.
If you've jumped on the dairy-alternative bandwagon to find a lactose-free option that still contains calcium and vitamin D (plus fiber, too!), then rest assured, the new Quaker Oat Beverage has you covered!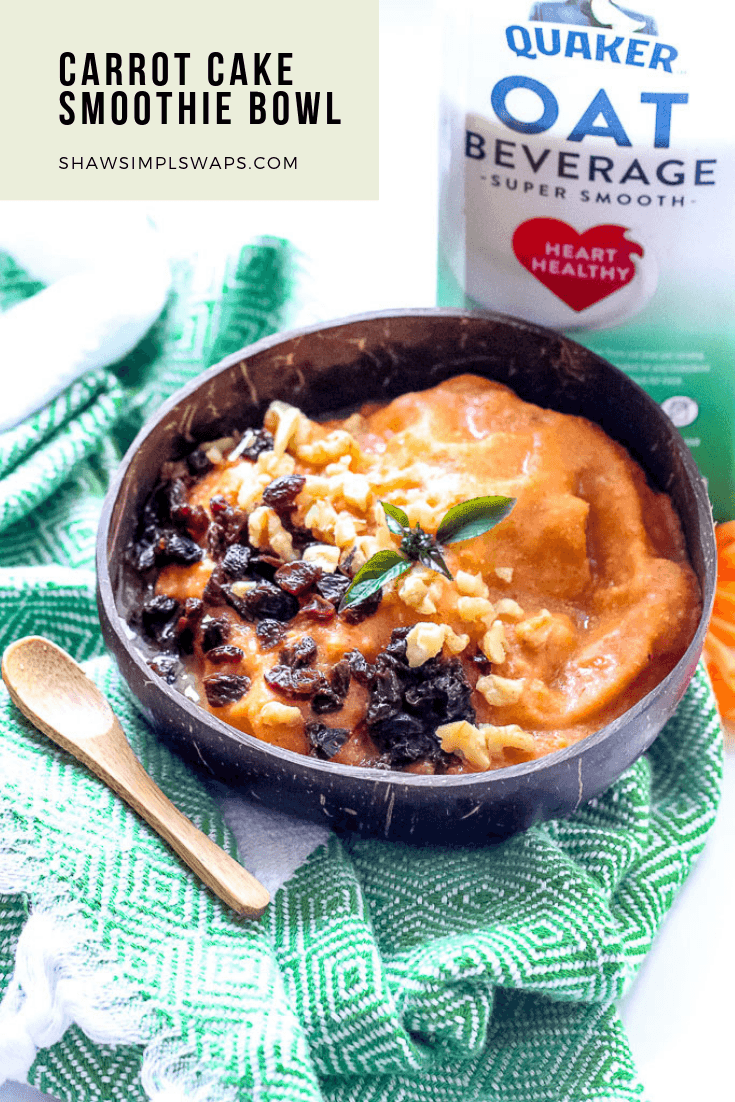 I wish I could serve you all in the Shaw Kitchen but since that's a little unrealistic, I'm going to do the second best thing I can do: virtually share this Carrot Cake Smoothie Bowl with you!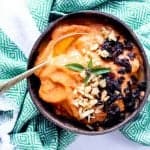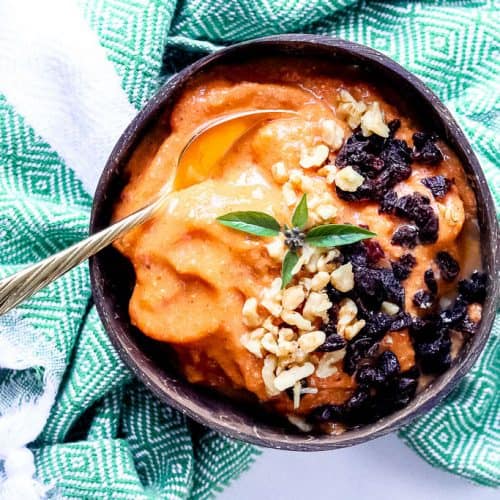 Print
Carrot Cake Smoothie Bowl
A deliciously refreshing smoothie bowl made with the new Quaker Oat Beverage. No added sugars or artificial ingredients in this bowl, and 100% plant based!
Ingredients
1

cup

Quaker Original Unsweetened Oat Beverage

divided

1 1/3

cups

cooked, frozen carrots

5 ounces

1/2

cup

frozen butternut squash

2 ounces

2

each

pitted dates

1

tablespoon

ground flaxseed

1/4

teaspoon

ground cinnamon

3/4

teaspoon

pure vanilla extract

2

teaspoons

finely chopped walnuts

1

tablespoon

finely chopped no sugar added raisins
Instructions
Pour 1/3 cup Quaker Oat Beverage into ice cube trays and freeze for minimum 2 hours.

When ready to assemble smoothie bowl, place frozen Quaker Oat Beverage ice cubes into the bottom of a blender. Pour remaining 2/3 cup of Quaker Oat Beverage, carrots, butternut squash, pitted dates, ground flaxseed, cinnamon, and vanilla extract into the blender.

Blend on smoothie setting (or medium speed) for up to 1 minute (or longer depending on your blender).

Pour into a chilled bowl and top with walnuts and raisins. Serve immediately.
Notes
*If you don't have a high-powered blender, heat a cup of water in the microwave for 60 seconds and place dates into water for up to 5 minutes to soften.
**To increase protein, add 1/3 cup high protein yogurt of choice.
Nutrition
Calories:
353
kcal
|
Carbohydrates:
64
g
|
Protein:
8
g
|
Fat:
8
g
|
Sodium:
238
mg
|
Potassium:
1079
mg
|
Fiber:
11
g
|
Sugar:
39
g
|
Vitamin A:
36445
IU
|
Vitamin C:
24.8
mg
|
Calcium:
453
mg
|
Iron:
3.4
mg
To join the fun, pick up the Quaker Oat Beverage on your next supermarket trip (it's in the refrigerated dairy section) and whip up this Carrot Cake Smoothie Bowl. Snap a picture and tag me (@shawsimpleswaps) or use the #ShawKitchen so I can see what you make!
Now tell me, have you tried oat milk yet?!