Pomegranate Apple Smoothie with Butternut Squash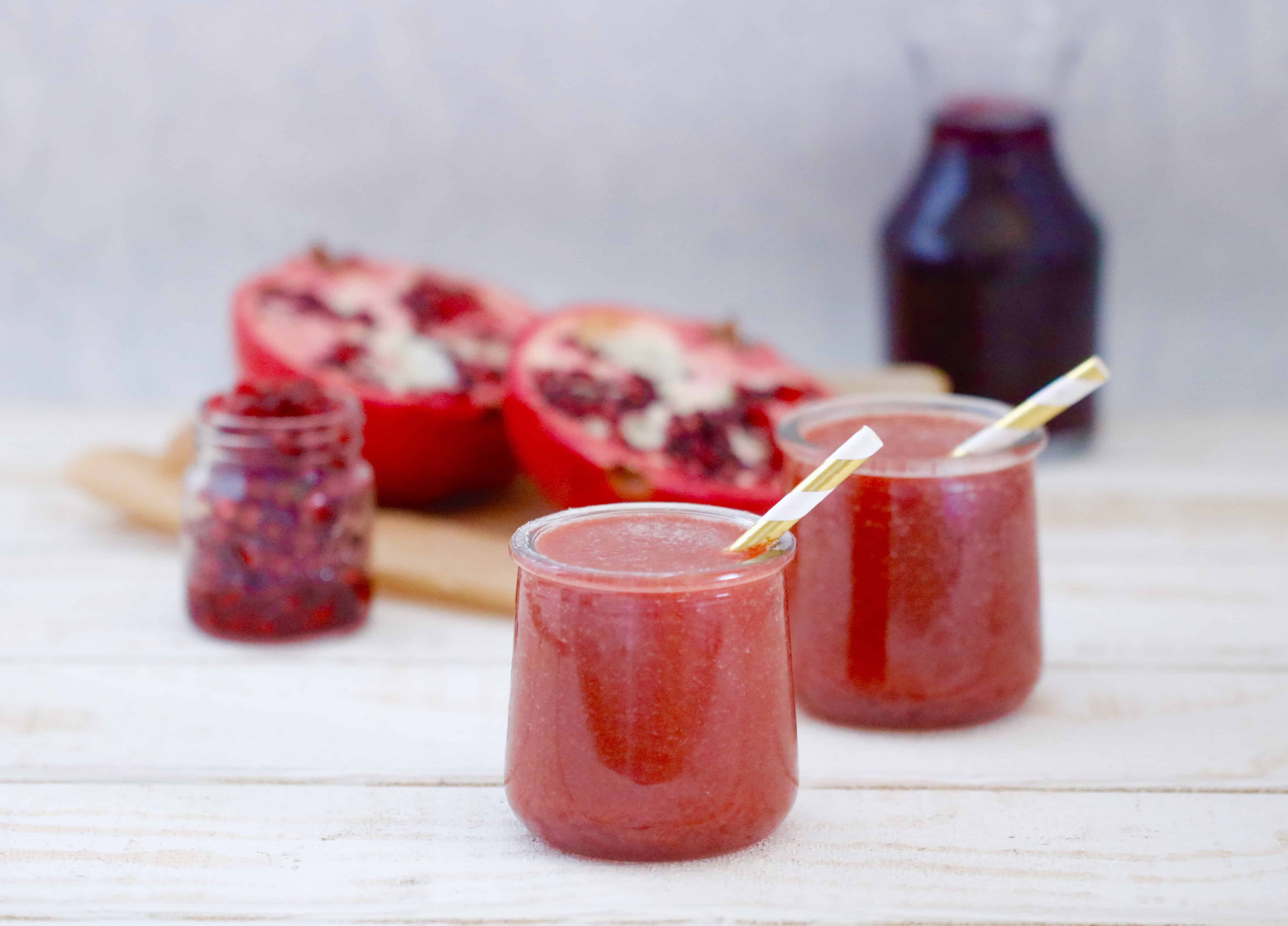 Disclosure: I received free samples of POM Wonderful mentioned in this post. By posting this recipe I am entering a recipe contest sponsored by POM Wonderful and am eligible to win prizes associated with the contest. I was not compensated for my time.
Who's ready to live #CrazyHealthy? 
My friends at POM Wonderful are and boy oh boy am I excited to share with you this new gem I came up with!
But, before we get to the goods, I've got to fill you in on a few secrets.
First things first, I have my mom on a strict regimen to drink 8 ounces of POM Wonderful 100% Pomegranate Juice daily (like in this Pomegranate Apple Smoothie!)
Why?
Well, because of the effects pomegranate juice has on memory and cognition!
In a preliminary 2013 UCLA study, it was found that a small group of older adults with age-related memory complaints who drank 8 oz. of pomegranate juice daily had increased verbal memory per- formance and functional brain activity in fMRI testing after just four weeks.
*These early scientific re- sults on the impact of pomegranate juice on the brain have not yet been adequately studied. Further clinical research on larger populations is needed to help establish causation and to determine the long term effects of pomegranate on memory and cognition.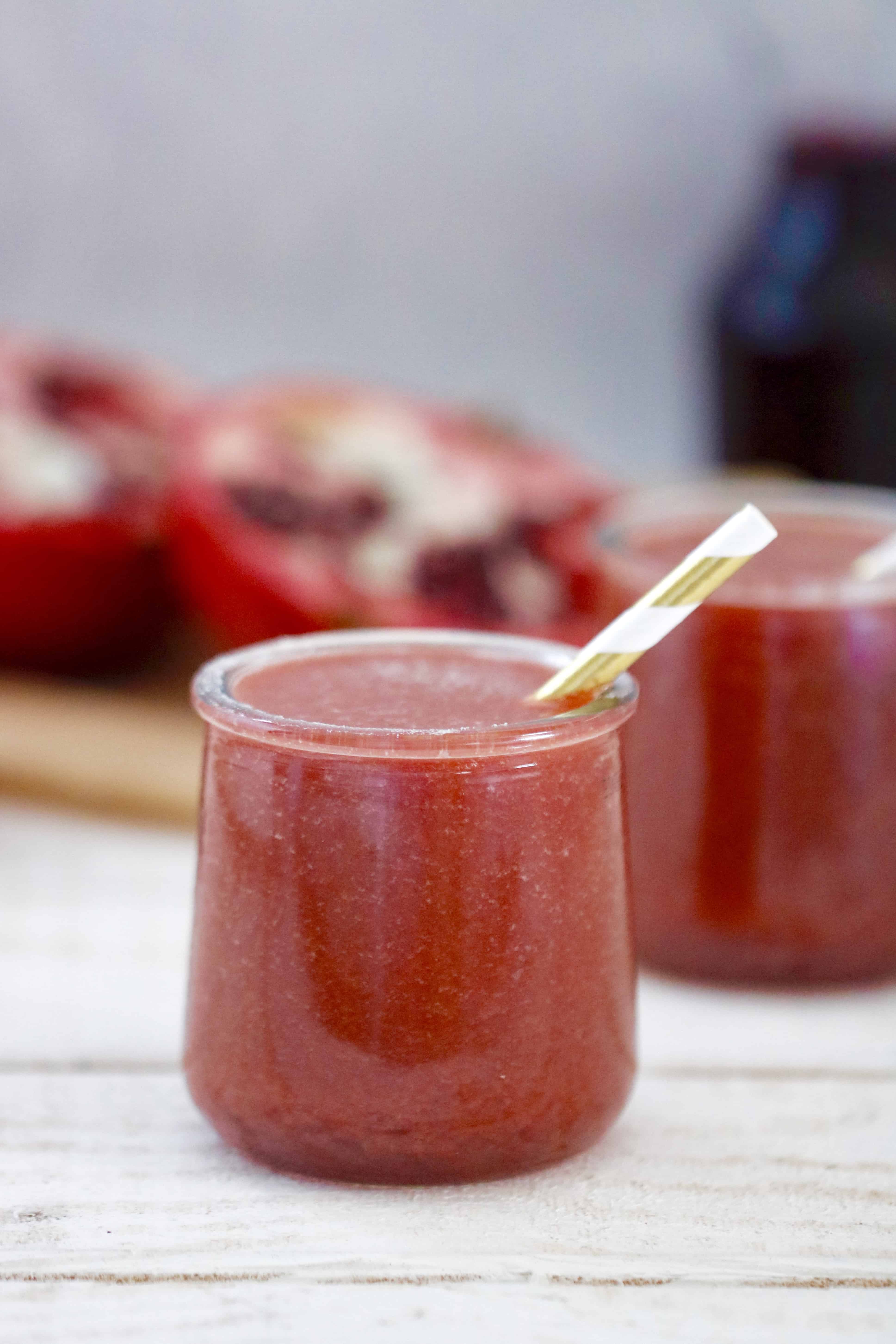 If that's not enough, here's a few facts about the ruby red wonder. 
POM Wonderful 100% Juice is powered by antioxidants. The pomegranate is whole-pressed, meaning a unique blend of polyphenol antioxidants from two whole pomegranates – including its fruit, pith and rind – is found in each 8 oz bottle.
Research that includes POM Wonderful 100% Pomegranate Juice uses 8 oz per day in its studies on muscle strength recovery, memory and cognition, microbiome, and more.
POM Wonderful 100% Juice is a good source of potassium. Each 8 oz bottle contains as much as a medium banana.
And, because POM Wonderful is committed to their research, I love the findings that are promising in the post-workout realm, too!
100% pomegranate juice is powered by unique polyphenols that early research suggests have promising results for post-workout muscle strength recovery. Certain types of polyphenol antioxidants, like those found in pomegranate juice, may help increase nitric oxide bioavailability by protecting it from breaking down in the body. Nitric oxide helps your body get the oxygen and nutrients in needs during exercise.
*Although the research reported is promising, additional clinical research is needed to estab- lish causation and the potential impact of pomegranate polyphenols and exercise.
If you're ready to enjoy a smoothie that tastes like a little bit of heaven, then gear up for this beauty!
I'm no chef, but I was blessed with a little cheat sheet at the Food and Nutrition Conference Expo this past October that gave me the low down on pomegranate pairings!
Suffice it to say, apples, butternut squash and pomegranate are a trifecta of flavor when paired together.
Before I show you the smoothie, here's a few other gems I've whipped up with pomegranates so you can rest easy knowing you can use this ruby in more than one way!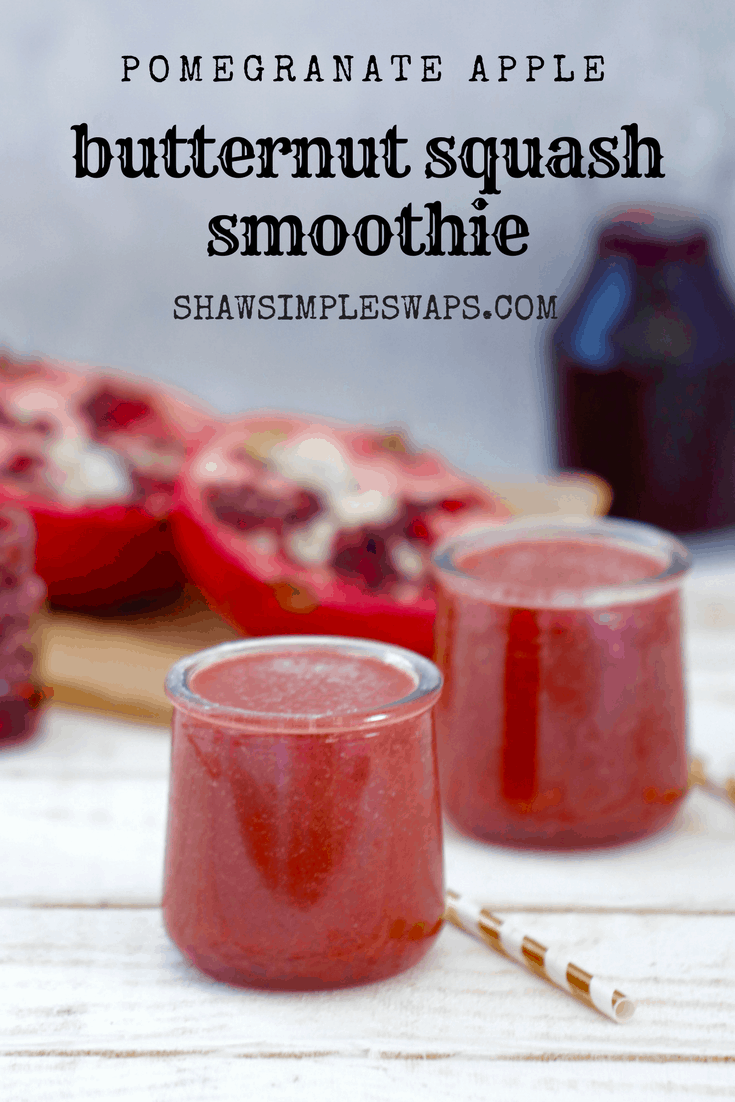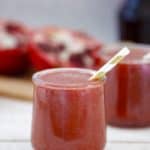 Pomegranate Apple Smoothie with Butternut Squash
Pomegranate Apple Smoothie with Butternut Squash, The perfect refreshing drink that's packed with fiber, too!
Ingredients
1

cup

8 ounces POM Wonderful 100% Pomegranate Juice

1/2

medium

3 ounces apple, chopped

1

cup

6 ounces frozen butternut squash

1/4

teaspoon

ground cinnamon
Instructions
To a blender add POM Wonderful 100% Pomegranate Juice, apple, butternut squash and cinnamon.

Puree until smooth, about 2 minutes.

Serve immediately.
Recipe Notes
Serves 1-2 depending on your desired fullness!
Nutrition Facts
Pomegranate Apple Smoothie with Butternut Squash
Amount Per Serving (1 g)
Calories 230
% Daily Value*
Carbohydrates 60g20%
Protein 2g4%
* Percent Daily Values are based on a 2000 calorie diet.
While I'm a little biased and think you should make this smoothie (hello 7 grams of fiber), be sure to check out the other #CrazyHealthy ideas below from members of The Recipe ReDux using POM Wonderful this season!