Is it hot in here or is just me? JUST KIDDING! But, really, it's been getting hot up in the Shaw Kitchen this past week and for good reasons.
Last weekend we visited the local farmers market and picked up a plethora of jalapenos, habaneros and serrano peppers…#spicy! Not quite sure what I was going to do with 20 jalapenos and 15 habaneros, I took our new found friends and entered the kitchen with a pen, paper and mission in mind.
It's no secret, as I mentioned in my Sweet Potato Chili recipe, Wayne and I are OBSESSED with hot sauce, spicy condiments and anything of the like. Unfortunately though, when trying to lead a heart healthy lifestyle, high sodium consumption is frowned upon. With hypertension going hand in hand with heart disease, decreasing ones intake of sodium is highly recommended to help lower blood pressure and improve your heart health.
With Valentine's Day rounding the corner, I decided I would surprise the Mr. with his very own, #simpleswap Sweet & Spicy Habanero BBQ Sauce! Wayne and I have never been big into the gift giving for the Hallmark Holiday, but absolutely LOVE doing small things for one another to show our appreciation. I knew if I could pull this one off, I'd score big time in marital points!
Having made BBQ sauce about a month ago for my first time, I knew I needed the staples (ketchup, brown sugar, Worcestershire Sauce, and vinegar). But, because I knew I wanted to infuse the habanero flavor into the sauce, I didn't want it to be so hot it was unbearable. I was determined to find the perfect balance of spicy and sweet to create that to DIE for flavor.
After a pinch of this, and dash of that, and a whole lotta love, this #simpleswap original recipe was created!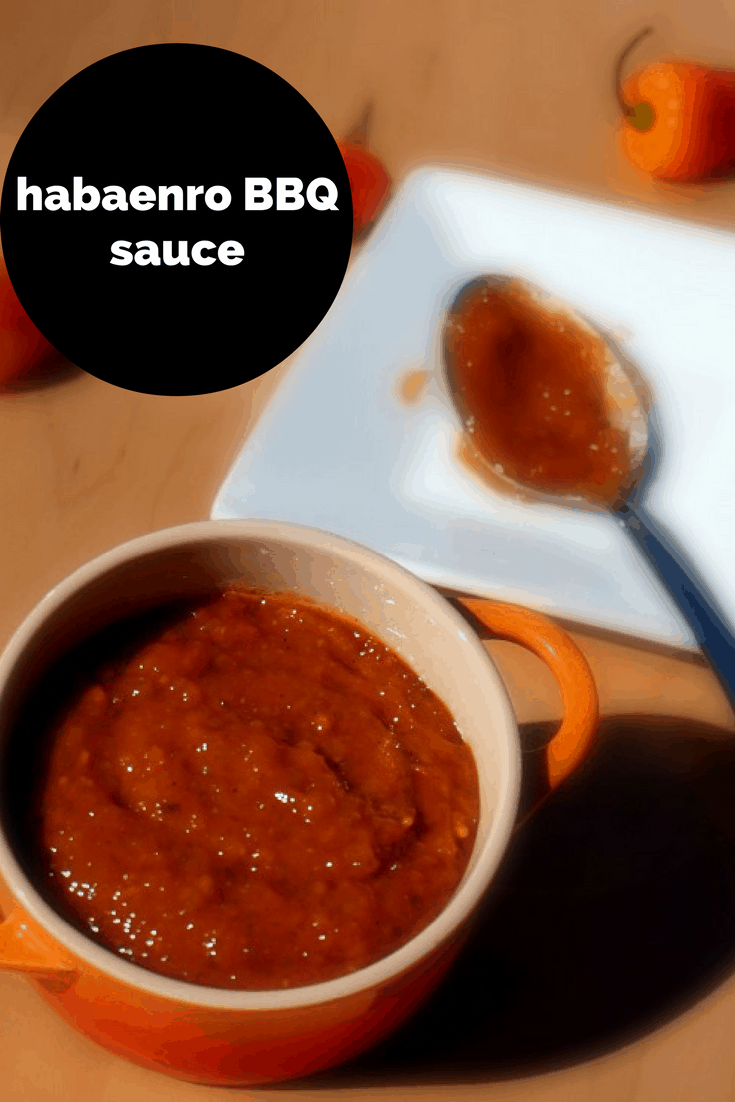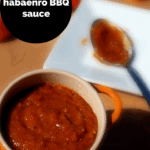 Sweet & Spicy Habanero BBQ Sauce
Ready to get your grill on? Try this Sweet & Spicy Habanero BBQ Sauce.
Ingredients
6

habanaeros

chopped, stems removed

11

jalapeno

chopped, seeded

1/4

cups

brown sugar

loosely packed

2/3

cup

ketchup

1/4

cup

yellow mustard

3

cups

apple cider vinegar

1/4

cup

distilled white vinegar

1/2

cup

water

2

tbsp

Worcestershire Sauce

1/4

tsp

salt

1

tsp

cayenne pepper

1

tsp

smoked paprika

1/2

tsp

black pepper

3

tsp

onion powder

3

tbsp

corn starch

3

tbsp

whole wheat flour

optional
Instructions
In a medium saucepan over high heat, combine vinegars, water and peppers.

In a separate bowl, combine spices and corn starch.

Turn to medium heat, combining ketchup, mustard and brown sugar into pan.

Slowly stir in spices and cornstarch mixture, mixing continuously to avoid clumping.

Heat for another 10 minutes on low.

Transfer to food processor and pulse for 1 minute.

Return to saucepan and heat on low.

If desired consistency is not reached, add 1 tsp flour at a time to thicken, stirring continuously.

Enjoy!
Recipe Notes
Simple Swap Tip
Store bought BBQ Sauce racks in over 500mg of sodium per 1/4 cup serving, however sadly the sugar content is roughly the same in both.
To lower added sugars, make your own ketchup using pure tomatoes with no added sugars!
Nutrition Facts
Sweet & Spicy Habanero BBQ Sauce
Amount Per Serving (1 g)
Calories 90
% Daily Value*
Sodium 220mg9%
Carbohydrates 24g8%
* Percent Daily Values are based on a 2000 calorie diet.
Though the sugars in here could use a little work, I will boast that this sauce is low in sodium and made of all pronounceable ingredients… which in my book, that's a win!
Not sure what to use this on? Try topping your burgers, chicken or heck, even tofu with this bad boy. The hubby even mixed a tablespoon with some Ranch Dressing to kick his salad up a notch… see, endless possibilities!