Ever feel like the delicious taste of a summer BBQ is meant for weekend indulgences only? Why is that? I mean come on, it takes less than 10 minutes to fire up that grill and throw on some chicken for dinner on a Tuesday.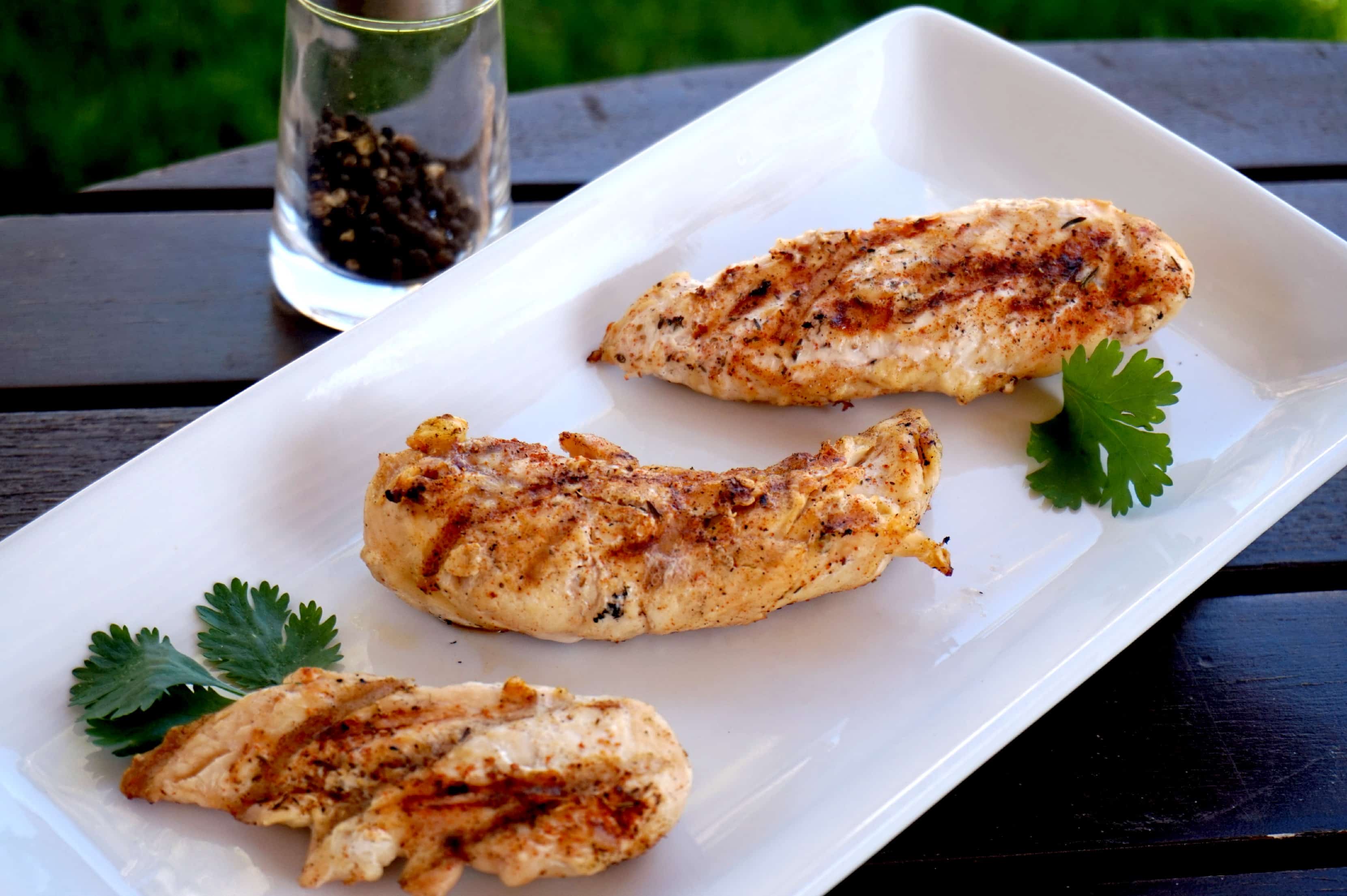 If you're like me, maybe it's because your still not 100% how to turn on the grill, light that match and ignite the flame without burning down your house! I'm not ashamed, but do plan on making Mr. CEO teach me "How to turn on our BBQ Grill 101" this summer :).
In the meantime, I do have a #SimpleSwap suggestion that you can easily do TODAY, making your dream of a mid week BBQ Bonanza come true. It's no secret, to make this happen it will require you to plan ahead and meal prep over the weekend. Let's say you're featuring a delicious grilled pork chop on Sunday; how can this Sunday meal transpire into a Turkey Burger Tuesday theme for your family?
For starters, you MUST plan ahead. Did I mention this already, oops …sorry! But you get my point, planning is key to making your mid week dinners a reality.
By planning ahead, you take into consideration the following:
Purchasing lean ground turkey, chicken breast, zucchini, Portobello mushrooms, sweet potatoes or whatever animal protein or veggie you want to work into your menu that week.
Thawing animal proteins out ahead of time so when you grill that pork chop Sunday, you also are grilling those burgers for Tuesday.
Picking up 100% Whole Wheat Buns, a fresh head of red leaf lettuce or whatever other accompaniment for your mid-week meals.

Think MULTI-MEAL! Can that grilled chicken for Wednesday's BBQ Chicken Salad also turn into a Taco Thursday?
These are just a few of the main points I like to consider when I do my weekend shopping and meal prep planning so I am not trying to run to the store on my way home Monday. Plus, studies do show when you enter those sliding doors of your local market on multiple occasions throughout the week you are more likely to make impulse purchases; which, let's be honest, do not always fit with your pre-planned meals for the week. (Trust me, I've done it too, coming home with popcorn and mini chocolate chips that I SWORE to Mr. CEO was part of our Cilantro Chicken Sweet Potato meal theme :).)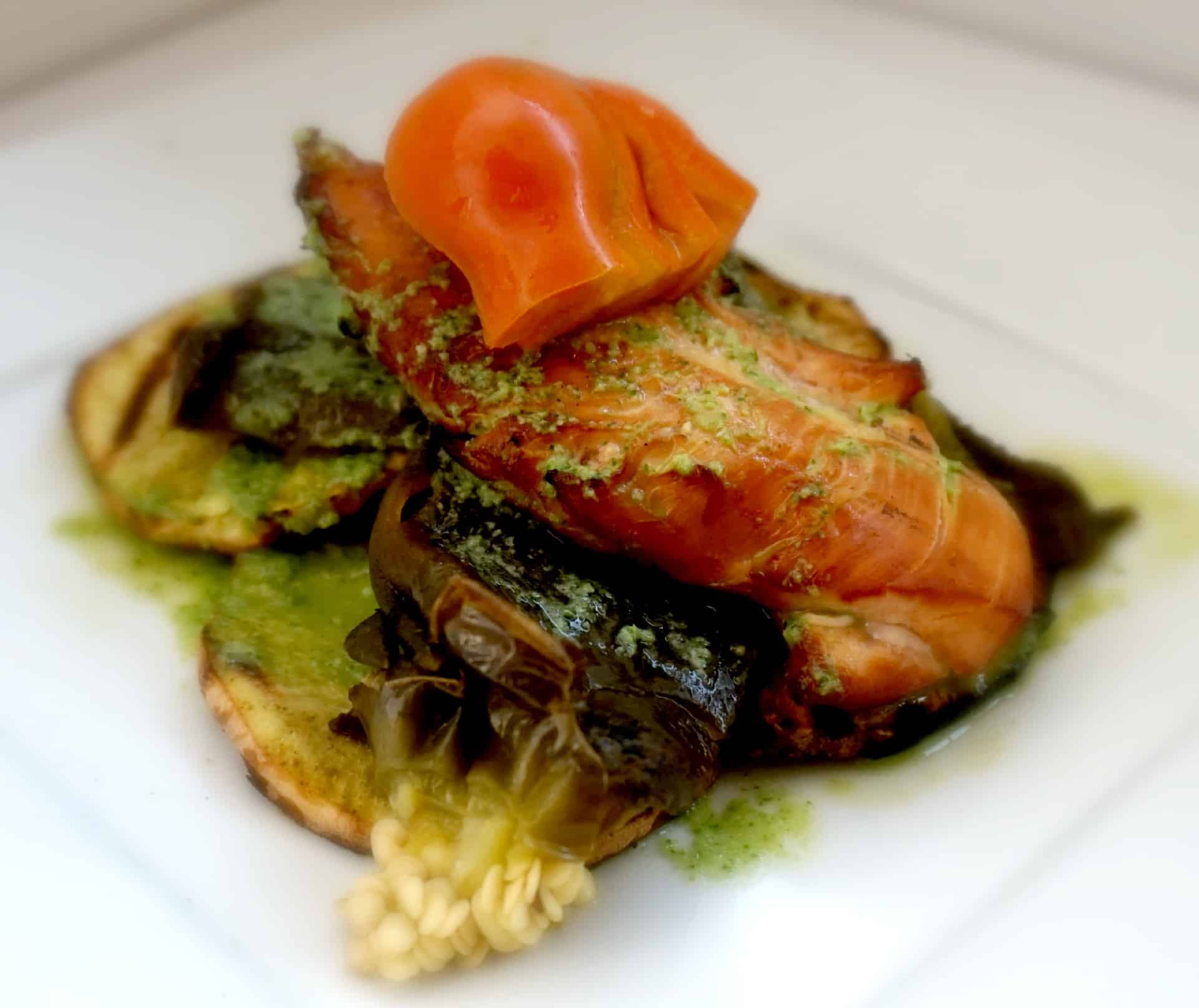 Now that you're all squared away, let's revisit our BBQ Bonanza process. You've got your chicken or zucchini strips on the grill Sunday. After you've cooled them down, you store them in Tupperware in the fridge. So, how can you get that same fresh taste (or as close as possible) come Tuesday when you're ready to use them?
I suggest the following:
Preheat your oven to 250*F. Throw your burgers, chicken or vegetables on a cookie sheet and bake for 8-10 minutes. This low temperature will help to reheat your proteins without overcooking and creating a rubbery, dry product.
Using a nonstick pan, place your protein/vegetable over medium-high heat. Flip after 3-4 minutes to ensure the heat distributes to your entire product.
Okay not highly recommended for flavor, however if you're tight on time, feel free to throw in the microwave and heat at 30 second intervals until product reaches 165*F (the proper temperature for reheated foods :)).
The important thing to remember when you precook in this fashion is food safety! Be sure you are properly thawing, cooking, storing and reheating your items to keep your family safe and meals delicious.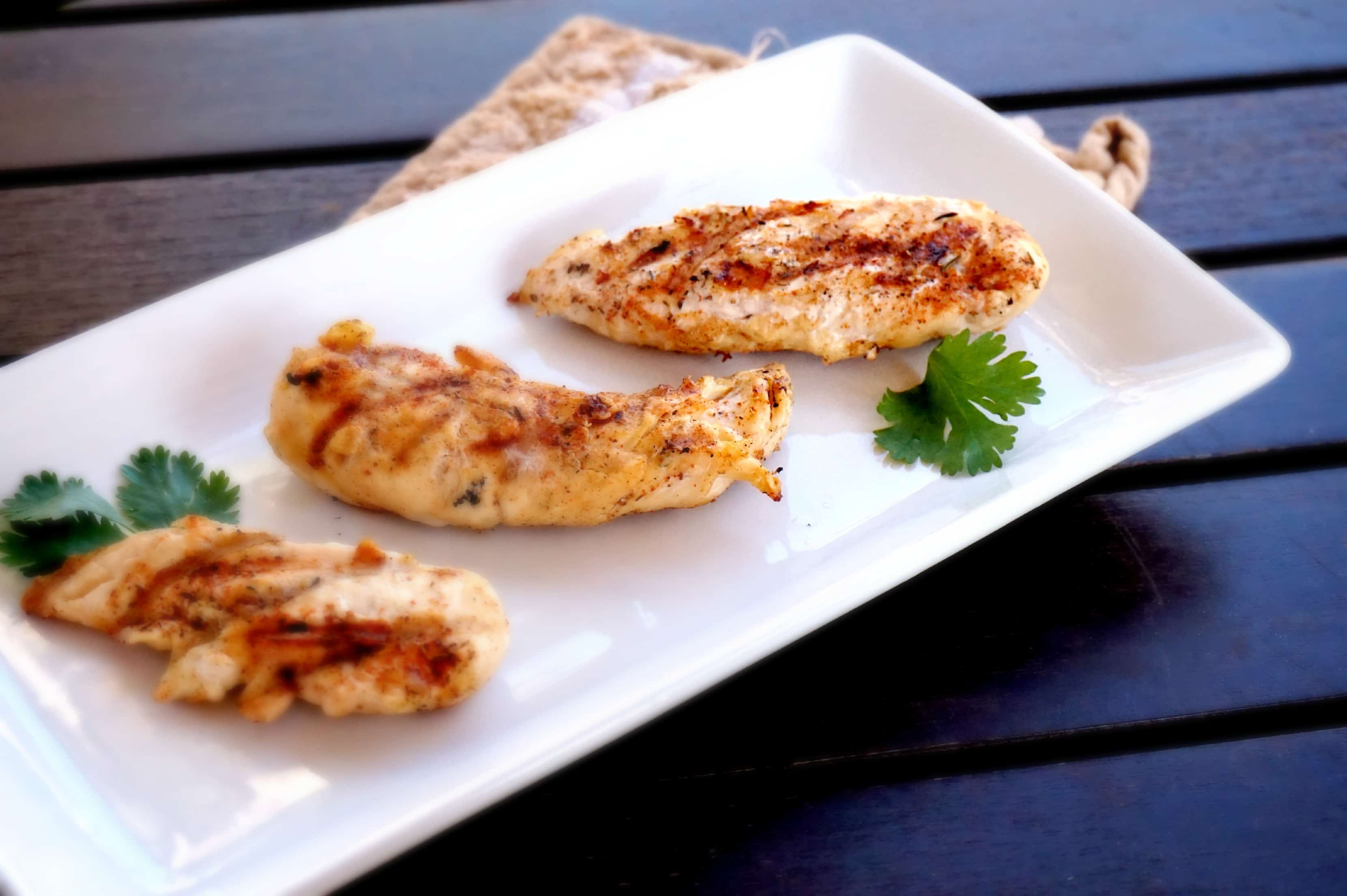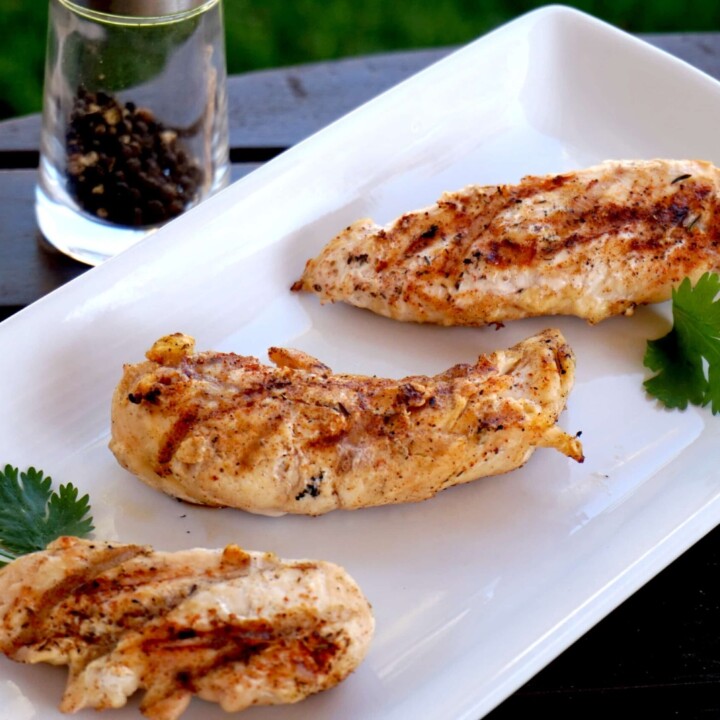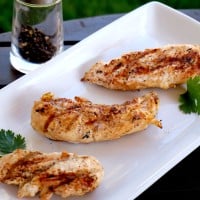 BBQ Grilled Chicken Breasts
BBQ Grilled Chicken Breasts are tender and full of flavor. Paired perfectly with a side salad, rice, and veggies!
Print
Share by Email
Ingredients
12

oz

raw chicken tenders

breast meat only

1

tsp

garlic powder

1

tsp

cumin

1

tsp

chili powder

1

tsp

oregano

cooking pray
Instructions
Mix spices in a bag. Coat each chicken breast tender in the spice mix.

Heat over BBQ grill on low until internal temperature reaches 165*F.

Cool chicken within 2 hour to 70*F, then within 4 hours below 41*F.

Refrigerate chicken in Tupperware with secure lid until use (use within 3-4 days).

Reheat chicken to 165*F using oven or stove top method for preferred quality.
Nutrition Per Serving
Serving:
1
|
Calories:
190
kcal
|
Carbohydrates:
1
g
|
Protein:
16
g
|
Fat:
13
g
|
Saturated Fat:
4
g
|
Cholesterol:
64
mg
|
Sodium:
69
mg
|
Potassium:
188
mg
|
Fiber:
1
g
|
Sugar:
1
g
|
Vitamin A:
267
IU
|
Vitamin C:
1
mg
|
Calcium:
22
mg
|
Iron:
1
mg